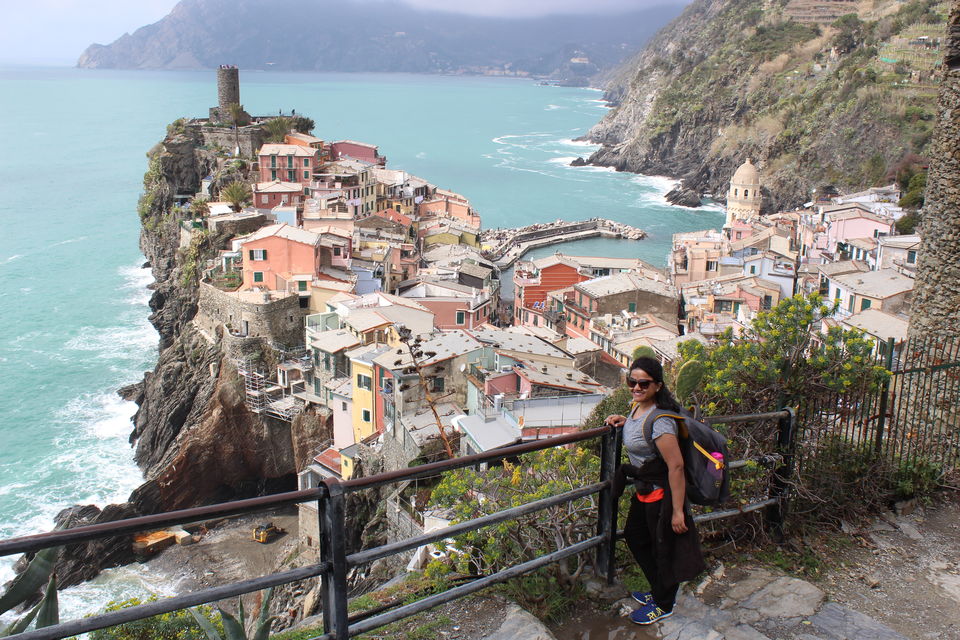 WHY ITALY? Ever since I got married in 2015, I wanted Greece to be my first international destination. For three years I dreamed of it. I kept reading and looking at photos of friends to plan my own one day. On my second anniversary i.e. 27th November, 2017 out of the blue, I had this feel as if jolted up from a reverie and I said to my husband "Let's go to Italy".
It came as a shock to my husband too.
"What happened to Greece"? He asked.
"I don't know, I think I wanna go to Italy."
My husband gave a don't-know-what-these-women-want look and slept. But my dreams changed from then on. It didn't feel like a dream that was unreachable. It looked like it could be achieved and was close enough for me to touch it.
Only a week had gone by and I had already booked the tickets to Mumbai-Rome-Mumbai via Kuwait airways for 27th March, 2018. The tickets came in pretty cheap for two. Any guesses? Only 60k for a couple. I booked it through the official website of the airways. Distant dream seemed closer.
Which are the places I visited you ask? Our trip was this big circle on the land of Italy starting from the center i.e. Rome. So, a short itinerary would say Rome-Naples-Florence-Cinque Terre-Milan-Venice-Rome.
HOTEL BOOKINGS: This was simple as I have done a lot of this in my life. Looking through reviews, you have to be careful of the location first. It shouldn't be too far from the places you want to visit. If it was a bit far, I looked for ways for easy commute if there were any. Traveling an hour each day to the center of the city just coz the hotel is cheap is a big no-no for me. It eats into your time. So I booked OK-ish far and cheap hotels with decent commute facility to the places I would be visiting in each city in which cancellation was possible until a maximum time. And yes, with Wifi. Haha ! Breakfast was a plus-point but was not my priority while booking.
VISA ANXIETY: Next was the scary Schengen visa process. I studied for this. As I had booked no dummy tickets but the real ones and paid for it, I didn't want to take any chances and wanted to go thoroughly prepared for the visa. Now, people do that though. They book dummy tickets so that the visa money does not go waste. You ask why I booked my final tickets and not some dummy ticket? Coz I was super positive that this was my chance. Nothing was going to mess this up.
To tell you the basics about it, Schengen Visa is a visa which grants entry to approximately 26 countries of Europe. In theory, you have to avail the visa by submitting the desired documents in the VFS agency which is located in many cities in India. This is an agency which facilitates your visa process. For Schengen visa, you have to apply it for the country in which you are going to stay the longest or (in case you are staying in two countries for equal time) else where you are entering Europe.
Well, gathering all the documents is a pain in the bum. I am listing down the required documents to help anyone who is reading this and is as anxious as me to get it all right.
• Application form duly dated (fill it up at the visa counter in the VFS agency and signed with passport-size photo).
• Two photographs (get this done in a photo studio as the size of Schengen visa is specific).
• Original and copies of Passport
• NOC from office
• Detailed itinerary
• Hotel/AirBnB booking reservations for all days as proof of accommodation.
• Salary slips of last 3 months,
• Latest 03 months bank statements (Savings and Current Account), PPF saving statement & FD statement certified by bank authority.
• Form 16 (A) or ITR of last 3 assessment years.
• Travel Insurance with benefits coverage of 30,000 Euro for each person travelling.
• Confirmed flight ticket via __________ Airways for (Origin) – (Destination) – (Origin) on (departure date) to (Arrival date).
• Last but not the least ONE CRISP COVERING LETTER explaining your job here, who you are travelling with, why you want to visit the country. Any extra information you want to give can be written in the letter.
Next you have to take an appointment through the VFS global website for submitting the documents and be there on time, in person. The authorities will ask you to deposit the visa fees at the counter. The Visa fee for Italy was approximately Rs. 6,000/person. You will have to hand over your passport to the authorities. They will give you a receiving and you can check the status of your visa on the website. You can also pay extra at the counter for SMS updates. Our passports with a visa stamp on it came back in 6 days. Yayyyy!
INFORMATION GATHERING: Europe is filled with palaces and museums and art and architecture. It does not make any sense going there and looking at the things with blank faces with no idea whatsoever what is going on around you. Now, you may have a lot of money and you may hire a guide everywhere you go or you may be a middle-class like me so you do the one thing I did before going and that is to read/research your ass off.
I never wanted to go to a foreign country unprepared and spend a lot of money there without seeing much. I read a lot about the history of Italy. Not that I was totally blank but I gained an in-depth knowledge about the monuments I was going to see and places I was going to visit. Coz what is the meaning of it if you see it and don't know what it is. I read and was mesmerized about the things I was going to see.
I watched a lot of Vlogs on YouTube on safe travelling too. To tell you about it, Italy has a lot of pickpockets and scammers. We didn't want to lose any of our hard-earned money or get scammed in a foreign land where we were going to pay a lot in our currency for even 1 buck of theirs.
I also researched about the cheapest ways to get to the places. Buses, trams, metros, trains, cabs etc. whatever the case may be.
MONEY MATTERS: Ya, it does. One thing that scares a lot of people before they head on for their destination is money. How much to carry, do I keep my card with me, what if I withdraw from an ATM there? Ok, so in short we carried a chunk of our money in FOREX card which we bought through Book My forex. At the time, Euro was going at the level of Rs 79. We transferred money through internet/net banking which got converted and stored in our FOREX card as Euros which could be used for swiping during shopping or to withdraw cash without any conversion charges in Italy. DON'T USE YOUR CREDIT CARD FOR ATM WITHDRAWALS in a foreign land. They cost you a lot.
We got cash in hand too. About 200 Euros. And we kept one debit card with us and informed the bank regarding our trip so that they allow international withdrawal on the card. And mind it; we were very very careful with our stuff on the trip. We had our eyes on each other's bags and cases and were mindful of it whenever travelling in local trains or buses.
INTER-CITY TRAVEL: You know that intercity travel is going to be beautiful in Europe when you have watched numerous movies since your childhood which manifests it as some dreamland to be in. I couldn't miss that. Sitting in a train having a book in my hand and gazing into the scenes through the window was a dream sequence in my mind. I wanted that so badly. And as all of us know that travelling to the airport; going through security checks, boarding and stuff takes at least 5 hours even if your flight is merely 1 hour long. I decided we would travel by train and train only. That way, we could just jump on the train Kajol and SRK style and head for our destination without much thought.
But but but, me being me, booked all the tickets beforehand through trainline.eu coz it gets costly when booked at the last minute. And really, what a decision that was. All intercity travels for both of us cost us Rs. 15,000/-. If you think that is not less, just imagine Ahmedabad to Mumbai to and fro for a couple is around 4000 bucks. And we traveled from Rome-Naples-Florence-Cinque Terre-Milan-Venice-Rome in 15k. Just coz we booked early. Dreams are nearer.
BOOKING MUSEUMS AND EXPERIENCES: Well, now I might be sounding crazy to you at this point. Who the hell books the museums in advance? I do. I did and I will do whenever I go again. This was one thing that made our life far easy than it was going to be. Do you know how long the queues in front of all museums in Italy are? You can't fathom. And who the hell wants to wait in a 2-hour long queue to see a church or a museum when you can do something else instead. Well, we did the church and the something – else in that time frame. WHY? Coz we booked ahead. Just show the printed ticket and move ahead. No waiting in queues for buying the ticket. We did wait in one or two places but most of the places we went right through.
The other thing we did was we booked a whole-day experience through Airbnb in a wine-yard off-Florence with an Italian family which included pasta making class and lunch and wine-tasting. Apart from this, we also pre-booked a Bike tour across Ancient Rome with authentic pizza breakfast and lunch which included cheese and wine tasting along with authentic Gelato dessert. How lovely does that sound! It all was! Details will follow in the succeeding blogs.
SIM CONNECTIONS: What about phone? What about internet? Where do I buy the SIM? Don't you feel kind of lost when internet is not working on your phone? Well, TBH, you are lost in that case. Data and SIM can be bought after reaching the place. We bought ours the second day first thing in the morning. But before leaving from India, I had tracked the exact location of the first AirBnB we were going to stay in and saved the location. I had also written the directions from the train station to the AirBnb on a paper. Like which metro to catch and in which direction to head after that. Having a hard copy keeps you secure in case an electronic media stops assisting you. Be double sure!
The SIM we bought costed 25 euros!!! But that lasted for 18 days of our travel. I used data when searching for locations, metros and buses otherwise kept it shut and enjoyed the view around. And calls I made none. I guess 30 mins International calling was available in the SIM but Whatsapp calls from AirBnBs were enough to contact back home.
THINGS TO BUY BEFORE HEADING: Packing light for a trip is a big challenge when you want to show-off your clothes and accessories for photos but that wasn't a priority for us so we packed minimum and enjoyed maximum. But some essentials even we couldn't avoid are below:
• Umbrella coz Europe mein kabhi bhi baarish ho sakti hai
• Universal charger coz who in this world can live without phones now.
• Extra SD card for camera coz you wouldn't want to miss a picture for lack of space.
• Woolens coz its cold out there man !
• Ticket print outs
• Receipt of payments of tickets
• Airbnb booking print out
• FOREX card coz you know why!
• Other travel essentials which you always travel with.
• PASSPORT…where would you go without that man!
Edit: Most important is a pair of good walking shoes. In Europe, you are going to walk like you have never walked before. Buy a good pair of shoes and break into it. Walk at least for a week in them to let them get into perfect shape of your feet. And if you want to do better than that, get into the habit of walking 2-3 km/day 1 month before leaving. Believe me, it is going to change the way you explore the cities and you'll need that a lot.
What else is left to do, just pack and go….Dreams nearest!
P.S. – Much to follow…Keep reading!
Follow my story!
Follow: http://instagram.com/itz_preeti