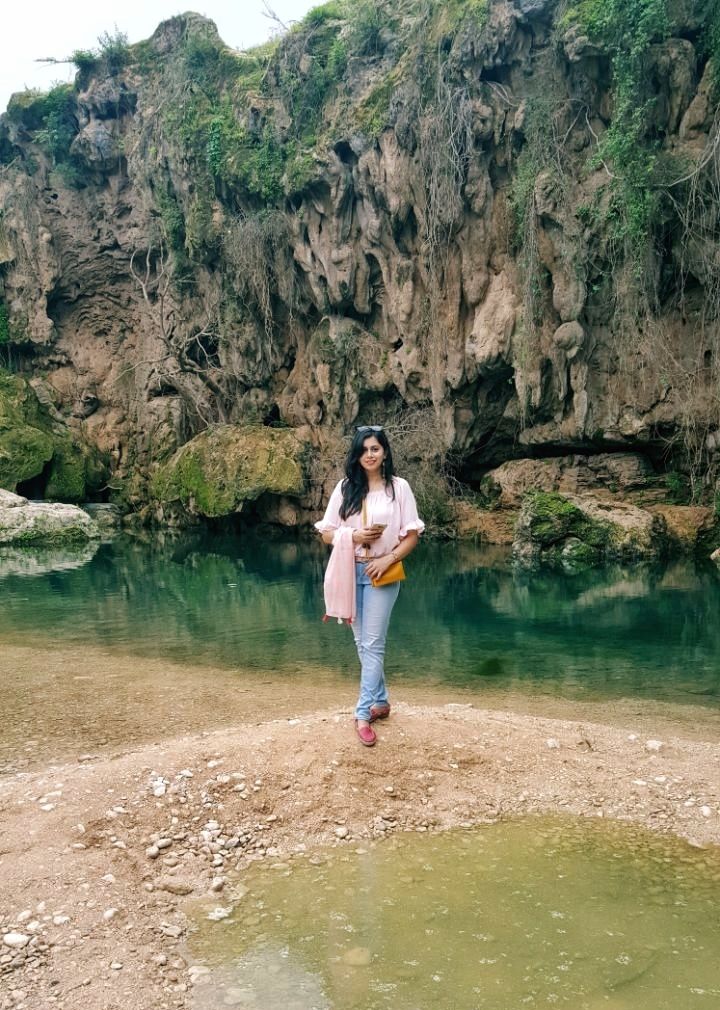 If you are looking for a nearest tourist spot then plan your trip to Ayn Garziz.
Ayn Garziz is located about 10 minutes away from the main city of salalah on your way to ittin mountains.
Just follow the sign boards and you will reach ayn garziz within 10 to 15 minutes.
Ayn Garziz is famous for its natural spring waterfall which forms a huge turquoise colored pool. The color of the pool will definitely make you fall in love with place. The water is so crystal clear that you will notice it reflecting the valley, the beautiful lave rock formations, as I have mentioned it later.
This water is full of aquatic life but is not fit for swimming.
During khareef season the spring water is generally overflowing. The main spot at ayn garziz, where you can notice small waterfalls is surrounded by gorgeous lava rock formations. The valley looks really beautiful and you can also spot natural climbers covering these rock formations.
This place has two main natural caves accessible to public.
The area has been kept as naturally as possible.
You also have benches covered by a hut to just sit and enjoy the view.
The weather is really good starting from july till January.
During khareef season you can spot lot of facilities for the tourist like horse riding for children's, small sheds selling toys and foot items.
Parking is not a problem here. The drive is also scenic and there is no entry fee. You can visit this place before sunset only as it gets really dark.
Incase you want to enjoy some local food you can visit some famous restaurant in the foothills of ittin.
Ayn Garziz is a nice place to visit throughout the year and especially during khareef season.
You can also watch the vlog of ayn garziz on my youtube channel : upasana venaik,
https://youtu.be/EPWnn-f3yx0
Instagram: upasana_2407
Happy Reading !
& kindly don't litter when you travel :)