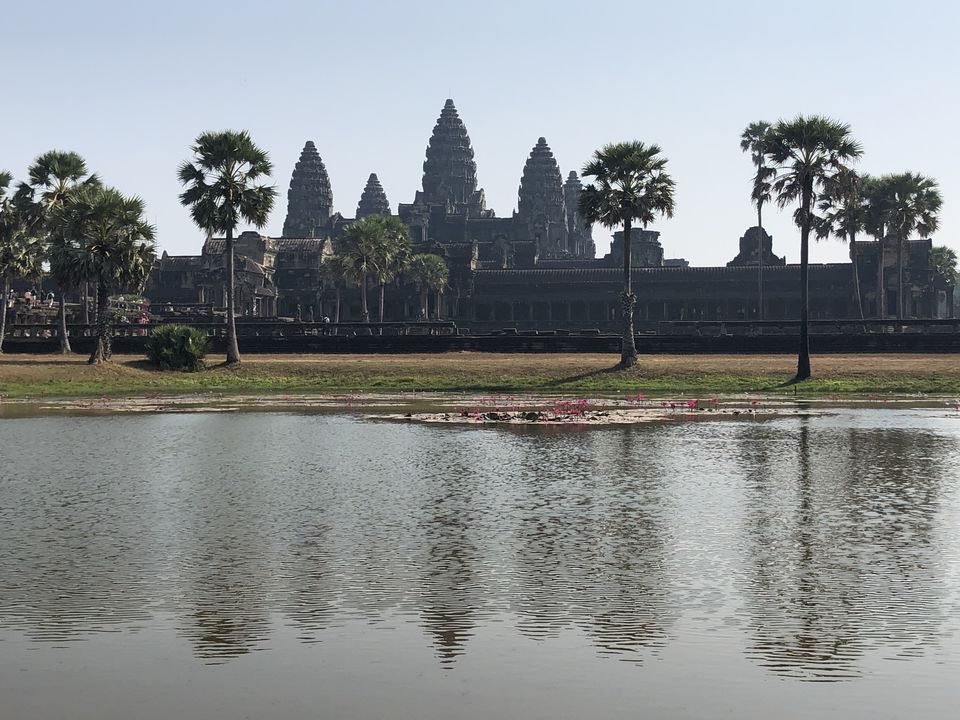 We need $ 30 (visa Charges), that's how our trip started to Siem Reap, city in northwest Cambodia, city which uses $ more than local currency, city which is house to most ancient temple – Angkor Wat, city which has only 2 seasons – dry and wet, city where mangoes are available for 12 months a year and we can have huge – literally huge coconut for 1 $.
We landed on the Siem Reap international airport at around 9:30 AM Local Time. We were greeted by our local guide Mr Moeurn who was really happy, that his only task today was to drop us to the hotel. We slept and slept, jet lag may be, till evening.
In evening we hired a Tuk Tuk (local rickshaw) and visited to the old city area, which is famous for road side shopping, food and pub street. One cannot afford to miss Pub street, as it is literally a street full with pubs on both sides with lot of music, 1$ milkshakes, 2$ ice-creams and 2$ juices and whole lot of mocktail and cocktails. We partied a little, but left early as we had to get up early the next morning.
One thing we realized that the classic "Indian Standard Time" does not apply here. People in Cambodia respect the value of time and are always on time in this part of world, so we were ready at 7.00 in lobby after a wholehearted breakfast consisting of eggs and fruits (I am vegetarian and couldn't try out the non-veg delicacies). Disclaimer : Indians Beware. The food is really bland. Mr Moerun was right on time waiting for us in the lobby. How can this be possible, they are always on time. Respect!!
We met our driver, a nice guy, who enjoyed pampering us by ensuring that cab door was open when we wanted to hop on, with water and wet tissues. He took us directly to Angkor Reserve Area – a complex which houses more than 30 temples one of them being Angkor Wat – the temple which I saw only in pictures in my college days.
Angkor Wat – a 11th century one of the largest Hindu temple, just looked awesome and mesmerising in morning sun. It would be an awesome site, if we can be there to witness sunrise. Angkor wat – a capital city of temple, is largest in world, was originally constructed as Hindu temple dedicated to Lord Vishnu, the preserver.
This is where, we understood the importance of our guide, there were a lot of guides speaking lot of languages. He was fantastic, explaining every part of temple, its Hindu history, its Buddhist history, its French connection, its architecture, its kings and its war. He explained everything ! It helps if one were to do a little bit of homework by reading out about the places on TripAdvisor or Wikipedia before visiting the temple. Tourists are required to dress appropriately; short clothes are not allowed in the complex.
We spent about 4-5 hours inside the temple. Once again it was time for the 1$ mango shake to recharge our batteries and be ready to next one – Angkor Thom.
The Angkor thom is not just another temple – it's a whole city. It includes temples, gardens, royal palace and many more historical sites. We entered the city through south gate (one which can be seen in movie tomb raider) – that reminds me to tell you that you should not forget to click lot of photos. Angkor thom was founded by King Jayavarman VII, being Buddhist led mass conversion from Hindu to Buddhist. Angkor Thom was central hub for population of around a million. Cycling around the complex will be a great idea – which we didn't do as Nish thought it was not a good idea at that point in time.
We were tired, and was starving for some lunch. We loved peanut salad, with rice and vegetable curry and sweet banana (not a good combination to mix sweet banana to a curry). To top it all up, we had some great coffee, which we must emphasize is a whole lot different than the Indian Nescafe and the Indian filter coffee.
Tired ! dead tired ! but that did not dampen our spirit and we visited the Ta Prohm, famously known as Tomb Raider temple, the great Lara Croft in hunt for treasure. The temple is really in ruins, as it was abandoned for long period, which is evident from temple complex. Large trees, and even larger roots have grown over the temple, which makes it mesmerizing to take pictures. It was indeed a matter of pride that the Government of India has joined hands with Government of Cambodia to restore and maintain the temple.
Later in evening, we had to go back to pub street as let's be honest, we missed it. We enjoyed a foot massage which changed our entire mood and made us from being dead to being like college kids party people. We had mocktails, cocktails pizza. We danced and partied hard till late in night finally calling it our day.
The next day we went to few more places like River of 1000 Shivalingas, sleeping Buddha on the highest rock and also took a dip on lovely waterfall. One thing is for certain, nothing was more wonderful than Angkor.
Now that was it. Visiting Angkor should be on to do list for travellers/tourist. Please keep 2-3 for Siem reap. Accommodation will not be an issue for anyone as we can have hotels ranging from $ 30 per night to $ 150 per night. Offcourse we have 5 star and heritage hotels. Places that one should visit are
a. Angkor reserve area (Temples)
b. Old town (Pubs)
c. Tol sap lake tour
d. 1000 Shiva lingas river
e. Water fall
Love you All
RM
PS. Thanks to
1. Travel Triangle
2. Jenny – Tiny tours and Travels (+84 916810188)
3. Mr Moeurn – local tour guide (+855 92686938)