My Journey for Kingdom Of Wonder "Cambodia" started from "Mumbai"on June 24,2016 .
We bunch of excited photographers group were heading to the journey discovering new country .We all were "wanderlust" ,some known faces & some new faces I met in this journey . On 23 June'16 night 11.00pm we gathered at CSIA ,Mumbai moving ahead towards . We introduced ourselves and kick started with our very first group picture.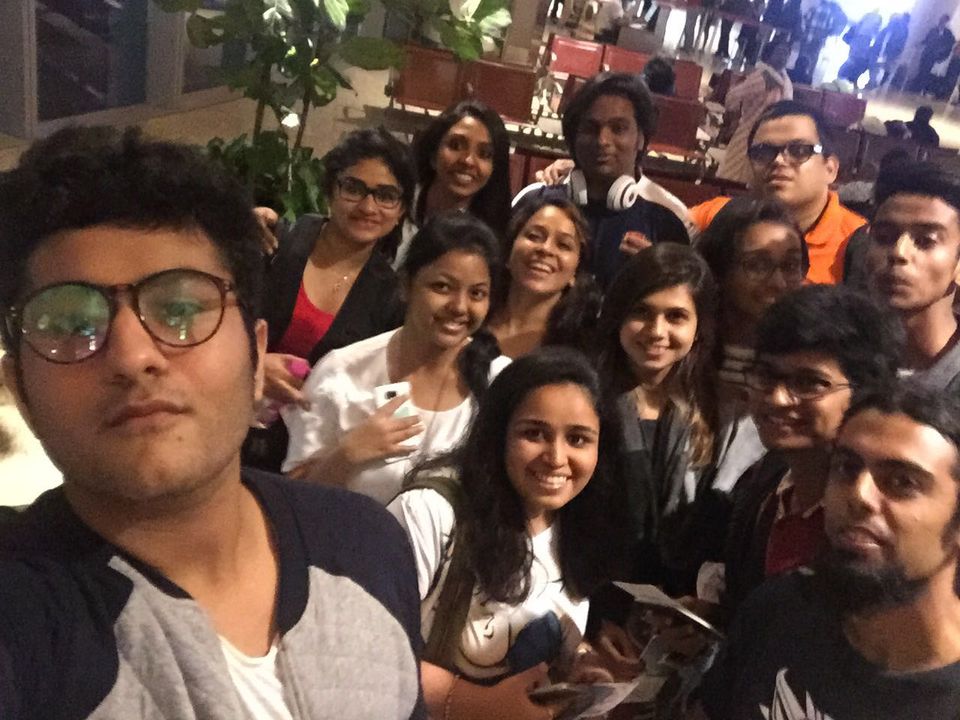 As there is no direct flight to Cambodia ,we had via flight from Malaysia to Siem Reap,Cambodia .
5 Hours Journey from Mumbai to Kuala Lumpur,Malaysia between somewhere Bay Of Bengal saw this beautiful sunrise in clouds .
We reached Kuala Lumpur & Our main destination was of duration 2 hours to reach Siem Reap,Cambodia .
We reached Siem Reap,Cambodia
After reaching Siem Reap,Cambodia we headed toward Immigration .
We can choose on arrival visa or you can get visa's earlier. As I choose to go for on arrival visa , before immigration we need to pay 30 USD$ for visa.
After all our procedure at airport were over we headed out the airport awaited for our adventure to new place.
Siem Reap
Transferring from airport to our hotel in Siem reap. We first went to local Indian restaurant for lunch at Flavors of India . Then we Checked In in our hotel . Hour of getting fresh we went out for town tour . Our First visit at Siem Reap Crocodile Farm in evening.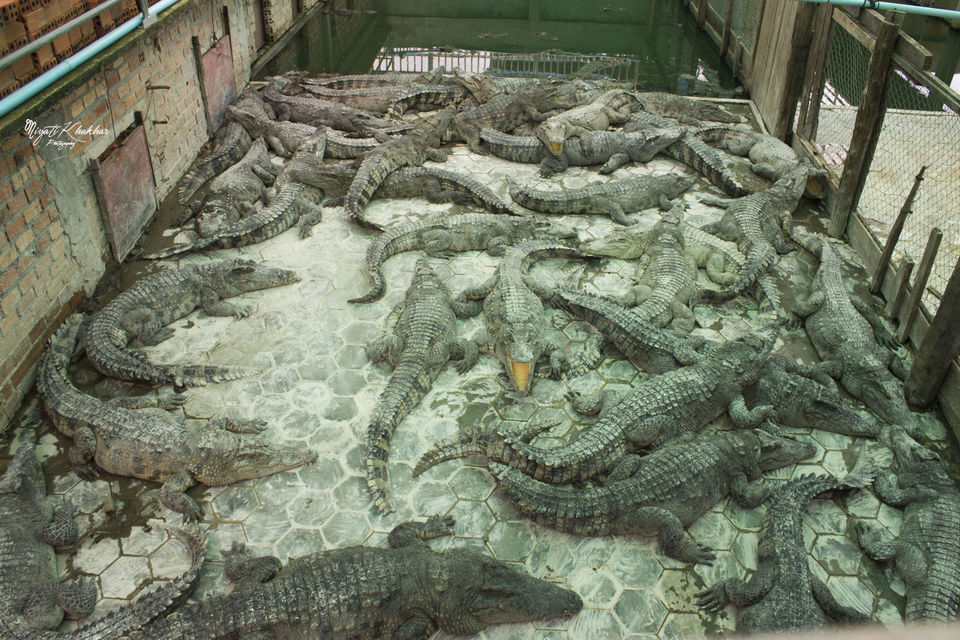 The beautiful surrounding near crocodile farm soothing view at evening.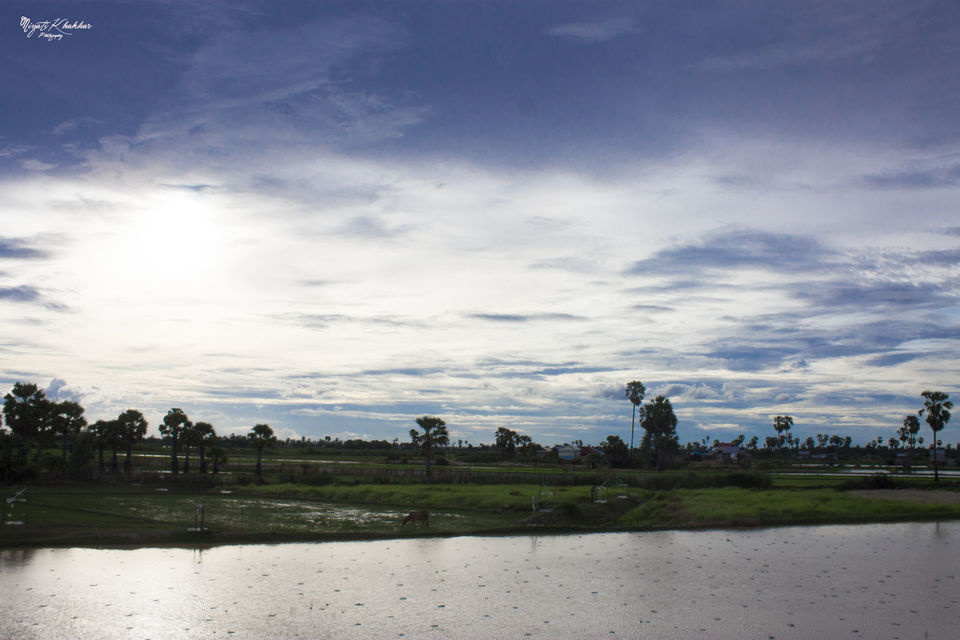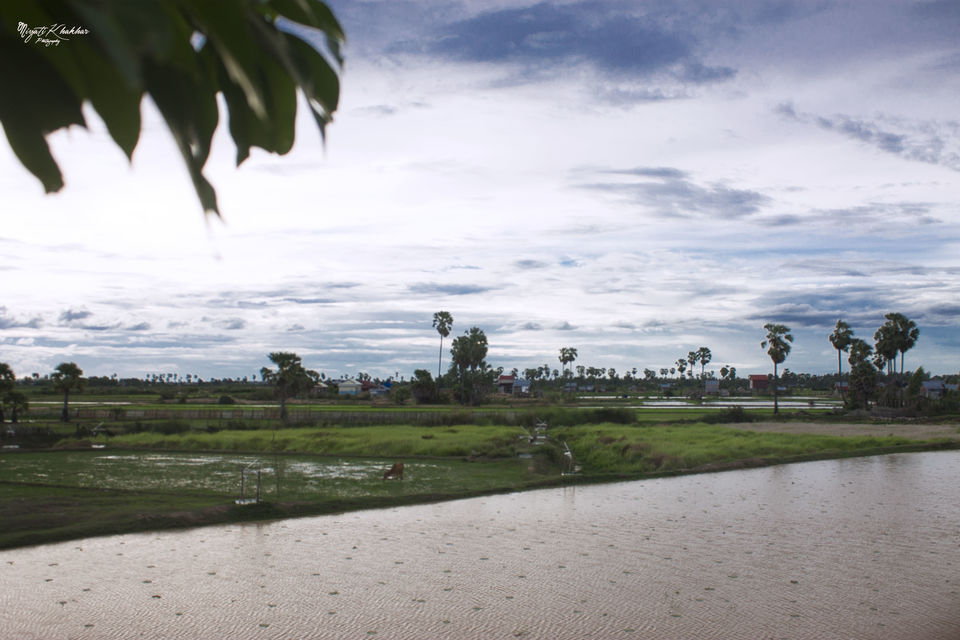 After farm visit we went to Pub Street,Siem Reap,Cambodia.
Pub Street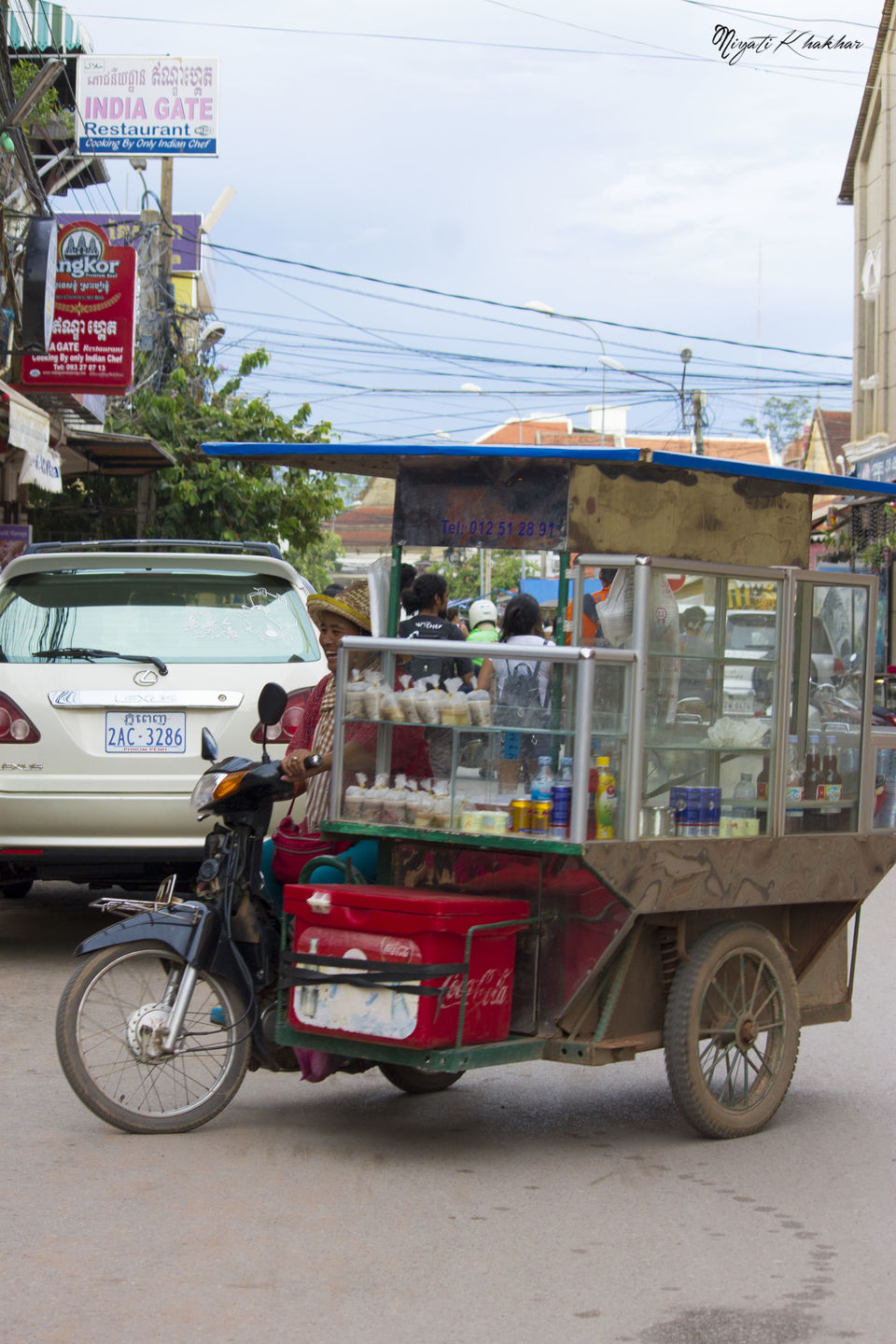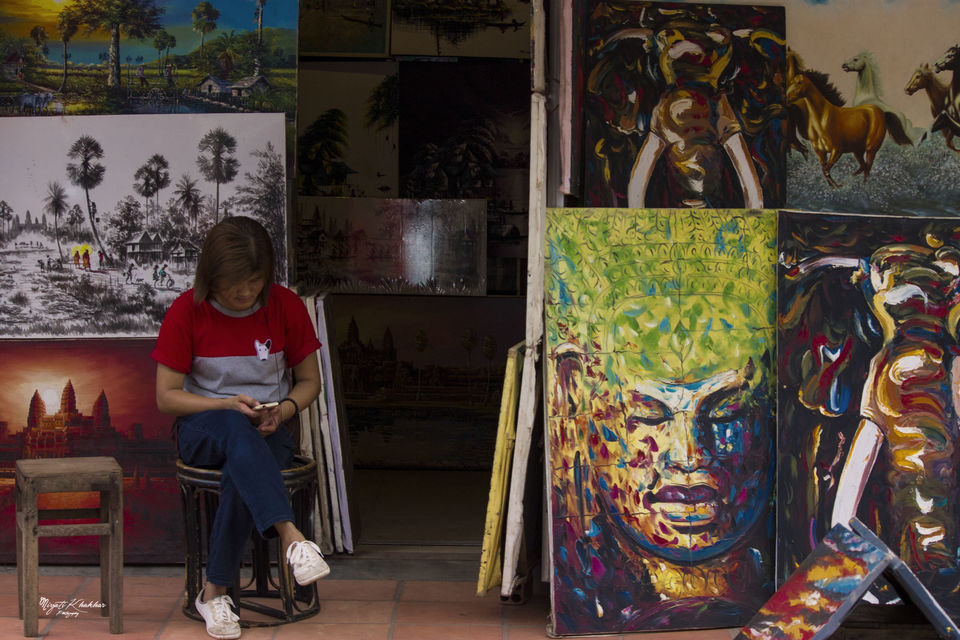 Local Artist at Pub Street ,Siem Reap ,Cambodia.
Pubstreet - Siem Reap's nightlife scene comprises lively bars, cocktail lounges, international restaurants and vibrant nightclubs that stay open (and busy) until 04:00 every day. For backpackers, Pub Street in downtown Siem Reap is ideal for a night out of bar-hopping with like-minded travelers as its numerous bars are easily accessible on foot while unique cocktails and beers cost only US$1 (or less) during happy hour.
After visiting Pub Street ,we headed for dinner at Apsara Dance Show. Where they show has been performed by the local artist for the guests showing their culture through dance.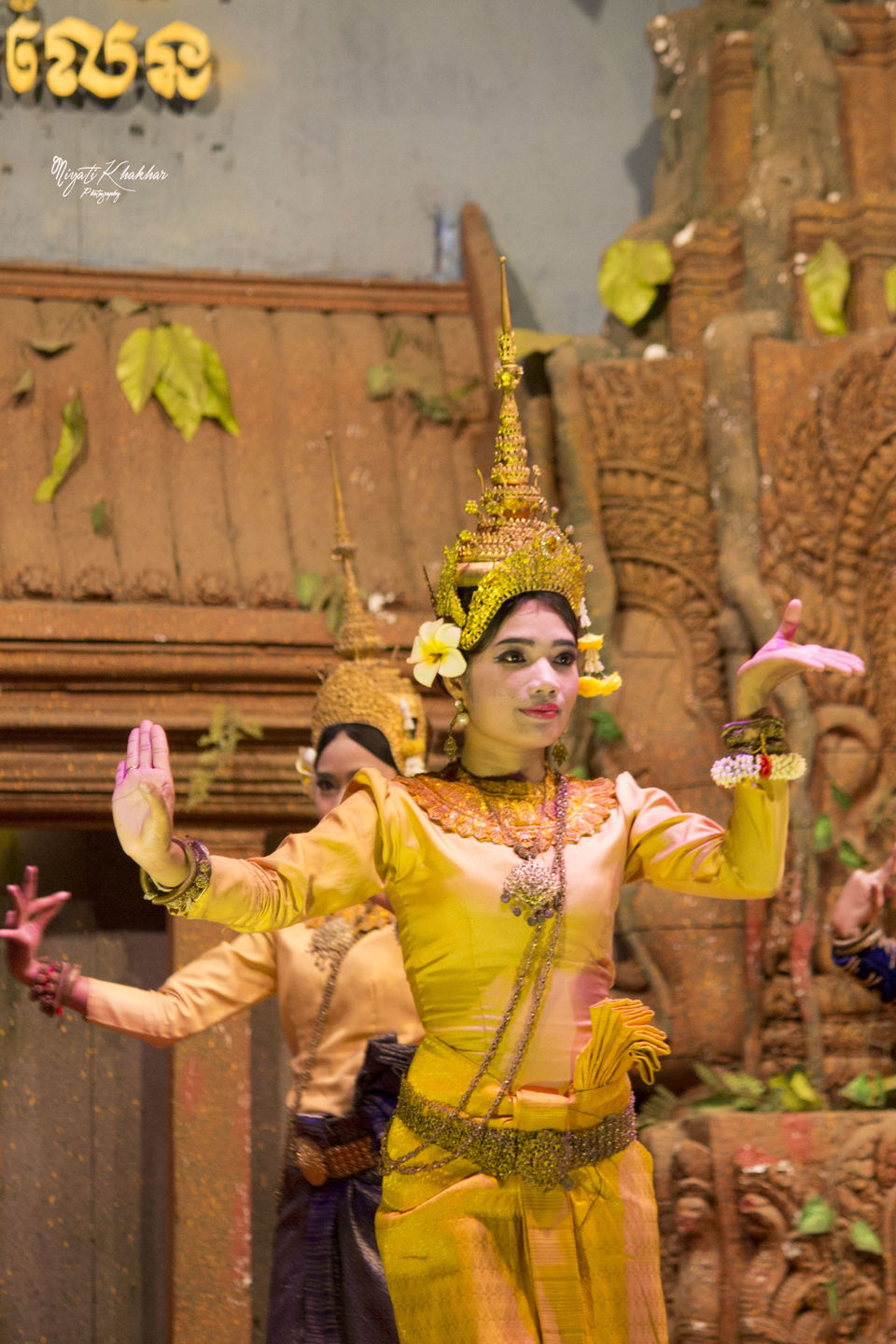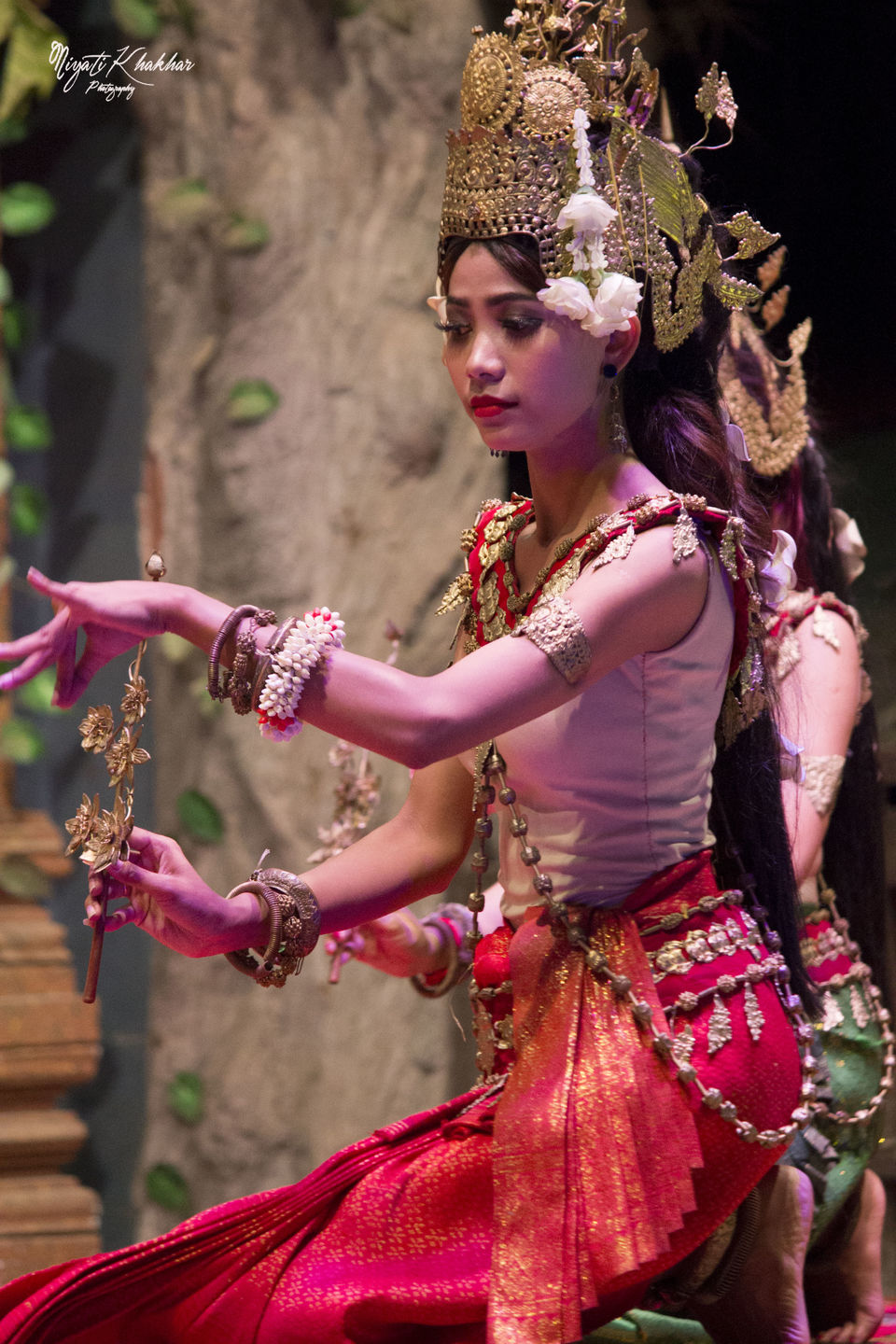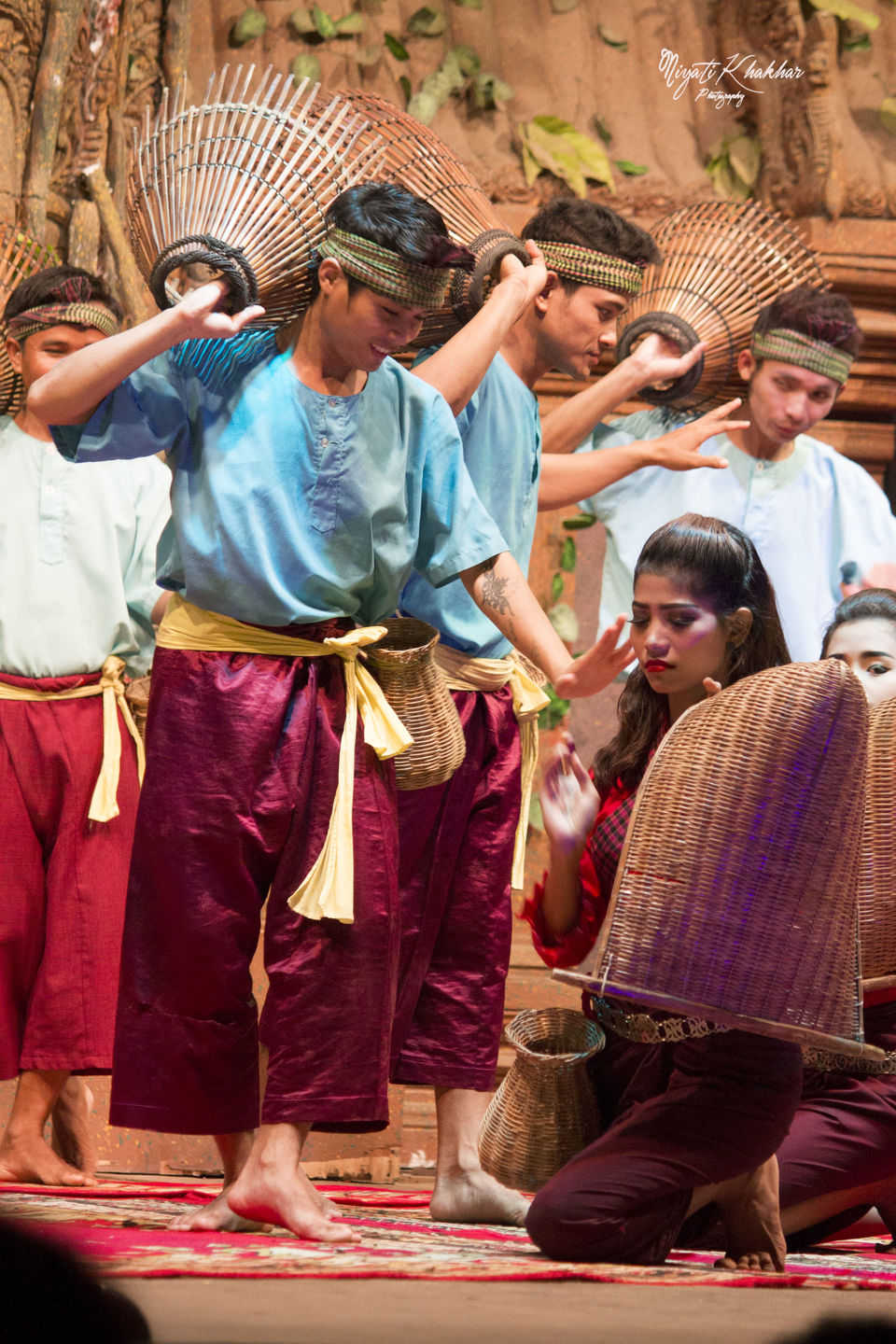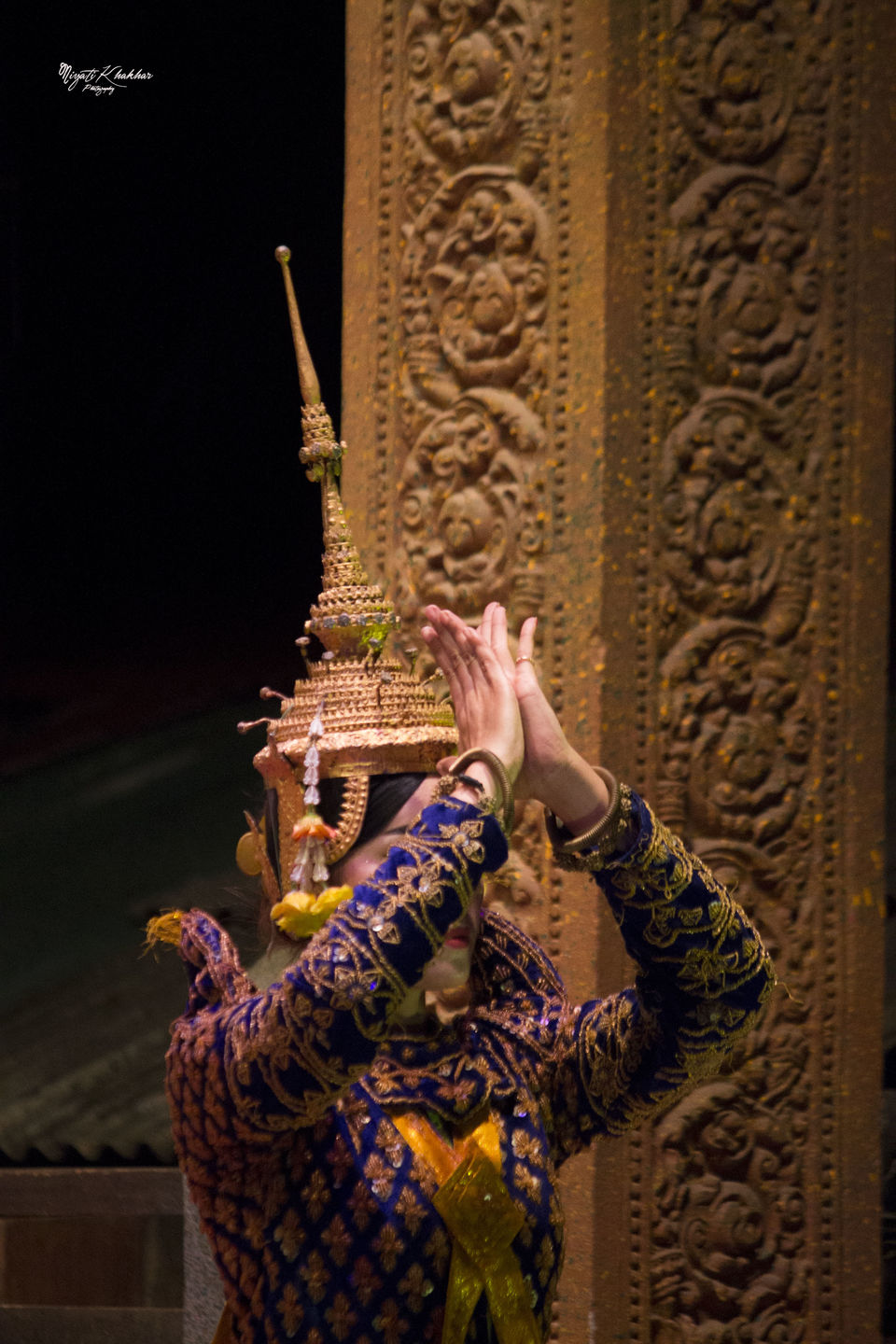 Day -2 Angkor Wat Temple
After the Day 1 ended with exploring local place at Siem Reap . Our Next day schedule was Visiting Angkor Wat early morning for sunrise shoot. As per we had to leave by 4 am from our hotel for Angkor Wat. Me & my roommate were awake from morning 3 am,we were told if we dont meet by 4 am at hotel reception they wont wait & the group will leave. Last day as we had checked in together we had our group members at our floor but surprisingly they had changed their room & have shifted to down floor & we weren't aware of this . Morning we were waiting for someone who might leave room early will knock our doors but no one showed up & no one informed on whats app group so me & my room mate missed our bus for Angkor Wat and other group members too went for the shoot.
We were Thankful to our Hotel Receptionist for being so humble . He dropped us at morning 4 am till the ticket counter of Angkor Wat. As we reached there we saw again our bus missed again helpless as we had to get tickets from there . We queued up for the ticket & bumped our other two group member who had missed bus from hotel same.
We four had to go Angkor Wat from the ticket counter .Morning we had been up for the task in unknown country . That's how something made memorable day for us and lesson learned be on time . We took an Local Transport from there is called "TukTuk''. We need to bargain the prices 1$ per person you can give for travelling. We finally reached our destination found our group already sitting near the lake to get the perfect shot we missed our chance but fortunately they said due to climate being cloudy sunrise was not able to captured sign of relief we saw four of us to each other .
After done with sunrise shoot schedule we headed inside the Angkor Watt.Beautiful Place
Short visit at Angkor Wat Temple in morning ,we went back to our hotel for breakfast freshen up and went back again to Angkor . We visited South Gate at Bayon,Angkor Thom.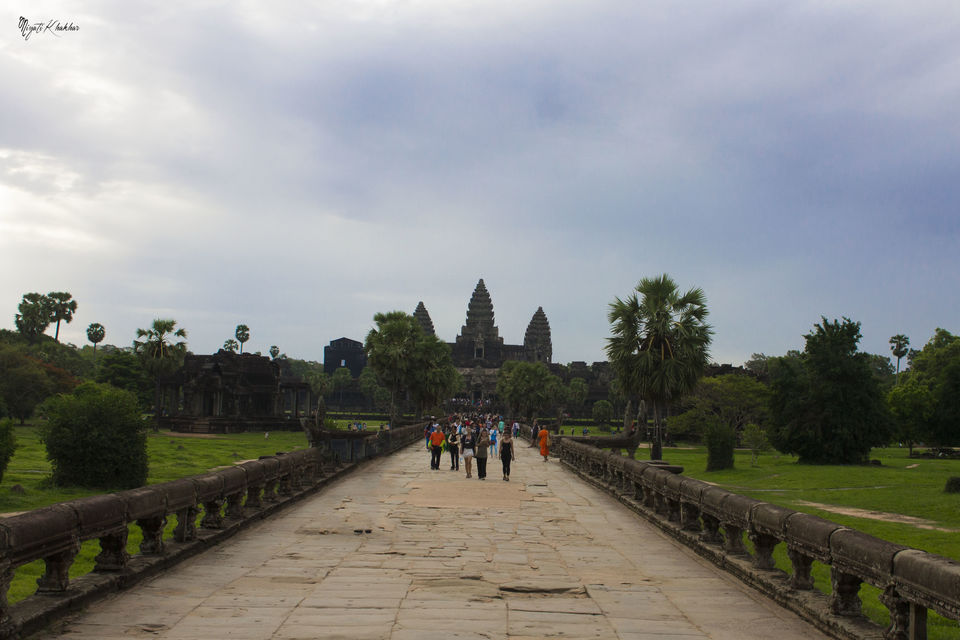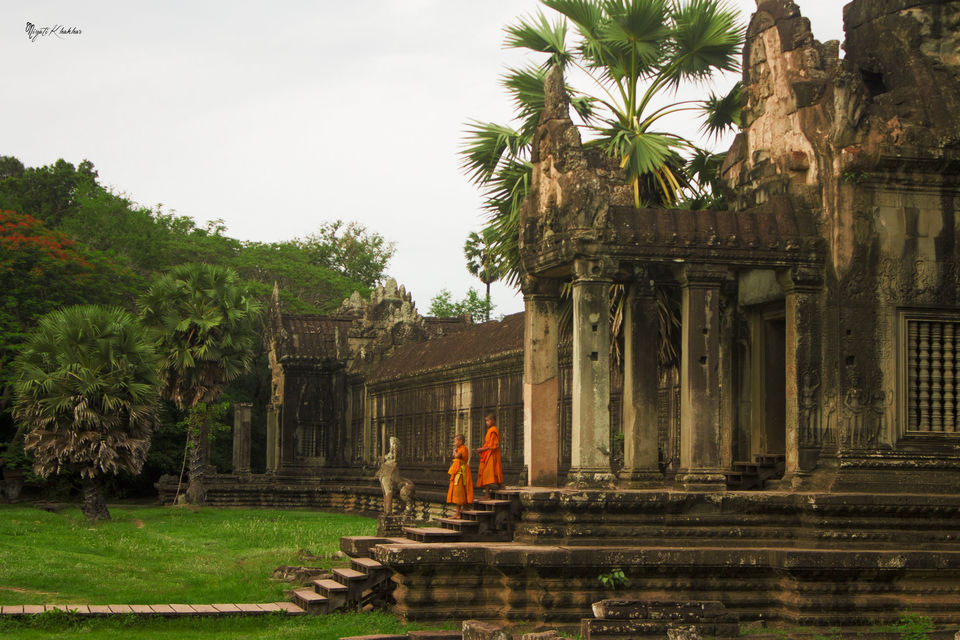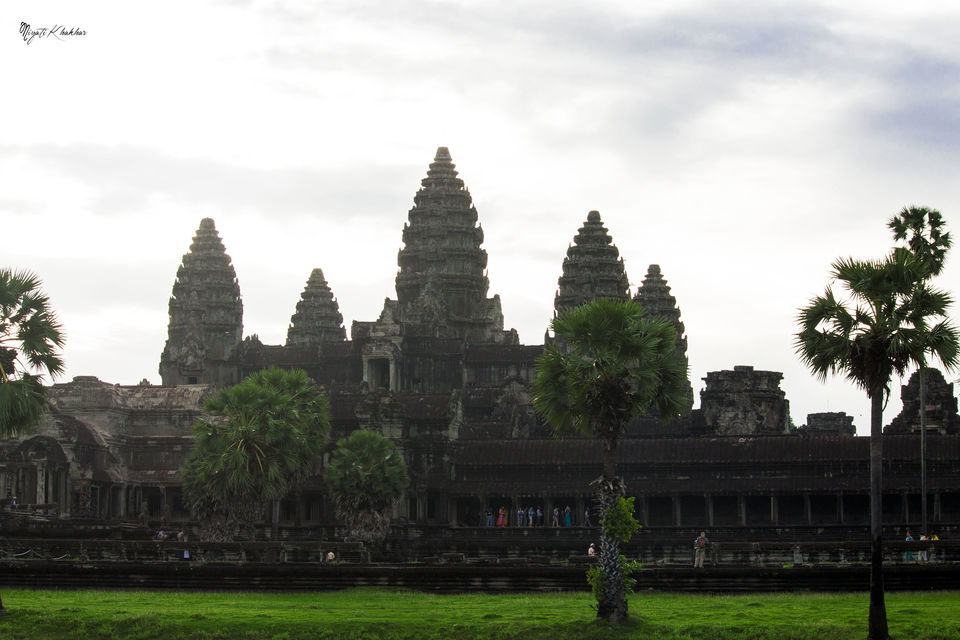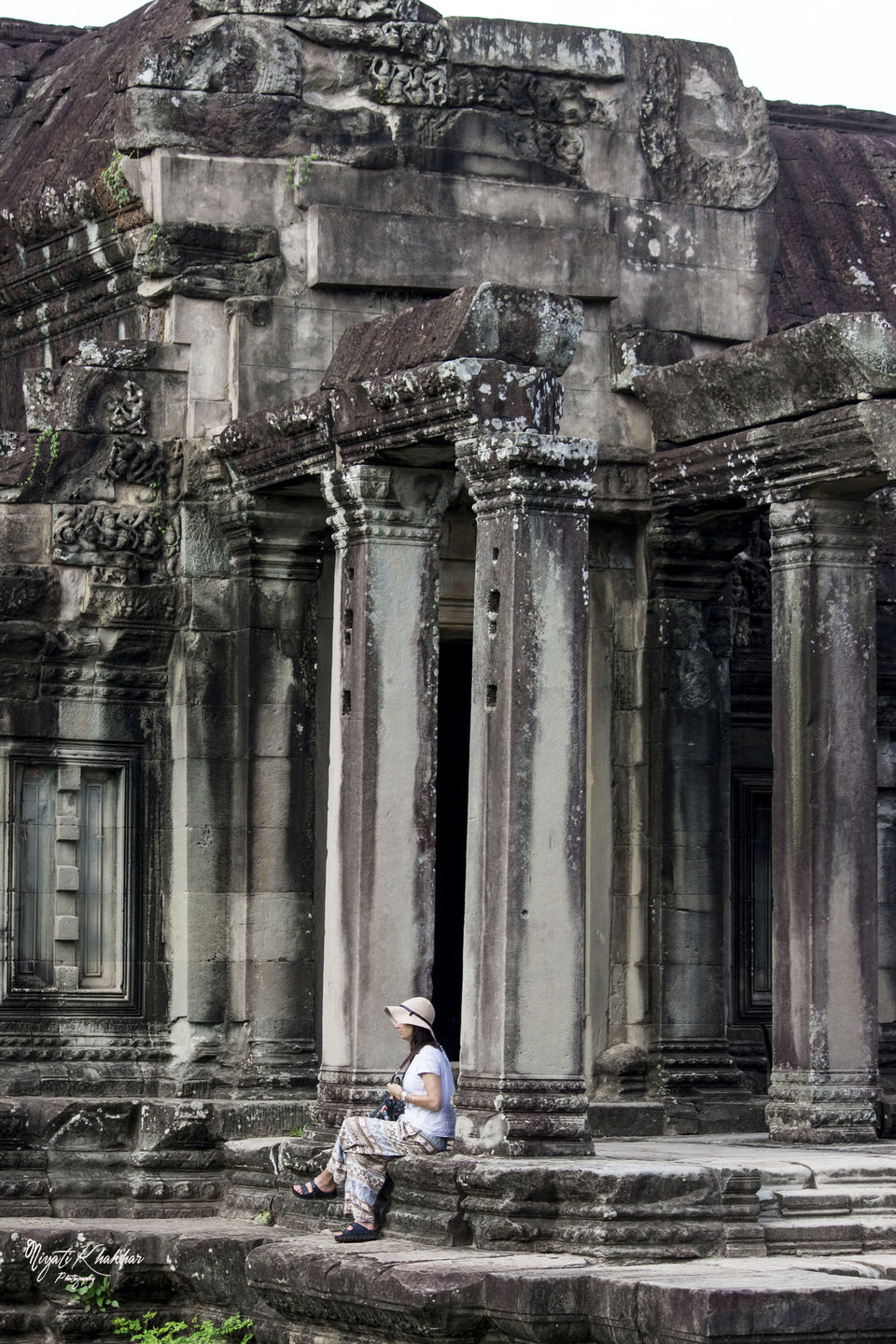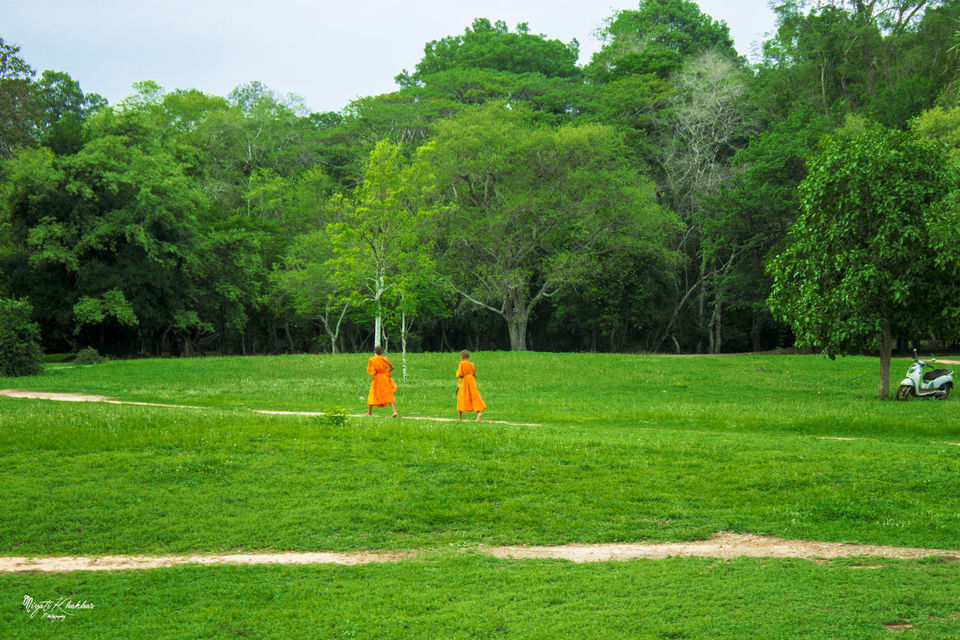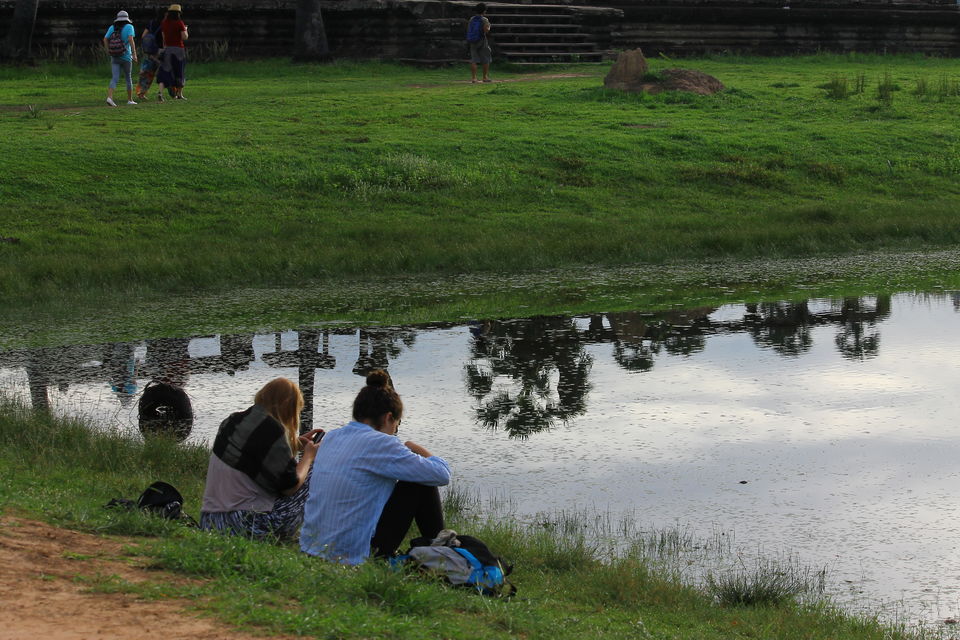 Bayon Temple
After visiting Bayon Temple , next place we went was Ta Prohm Temple.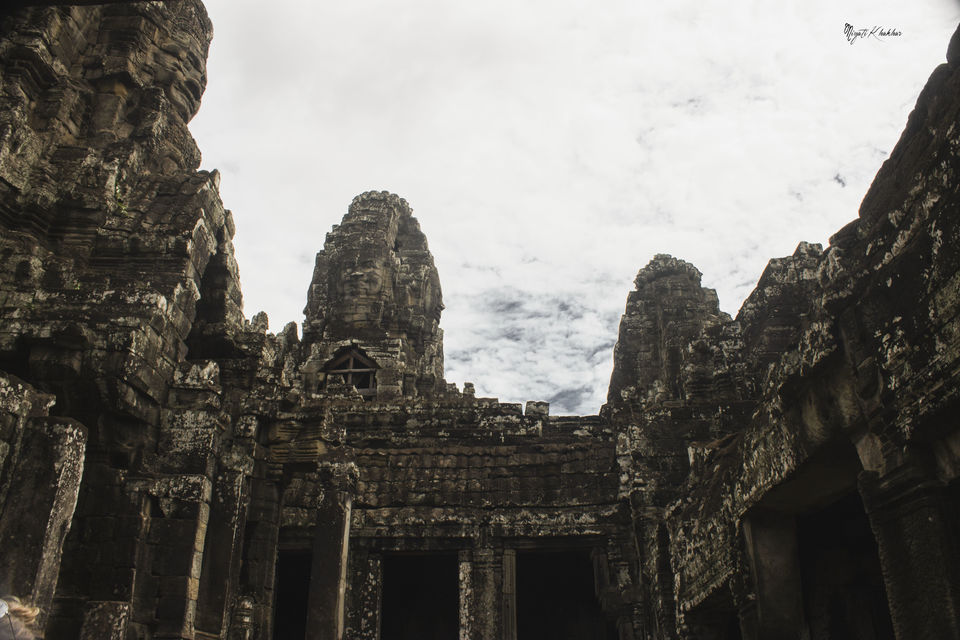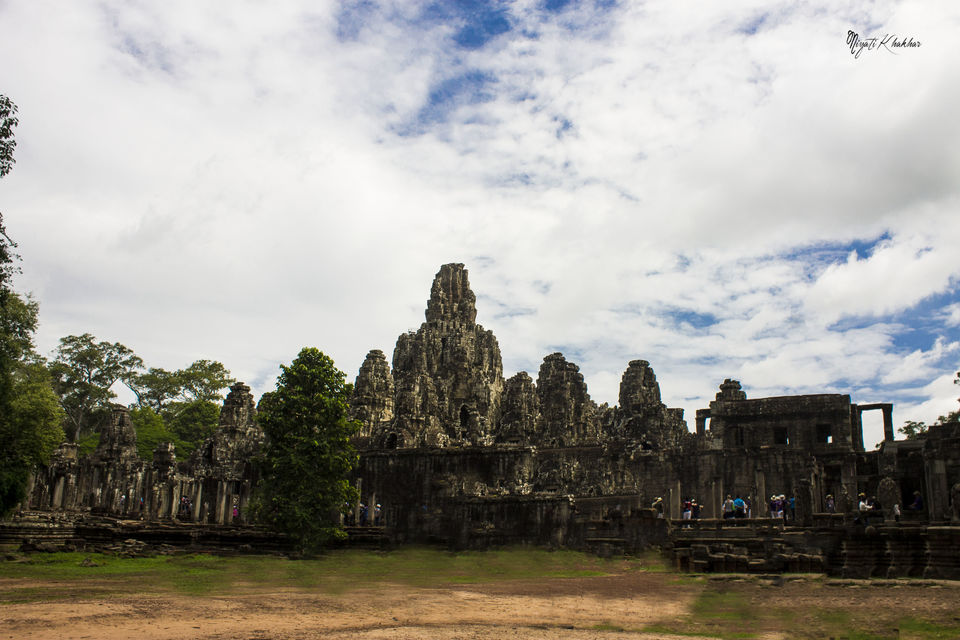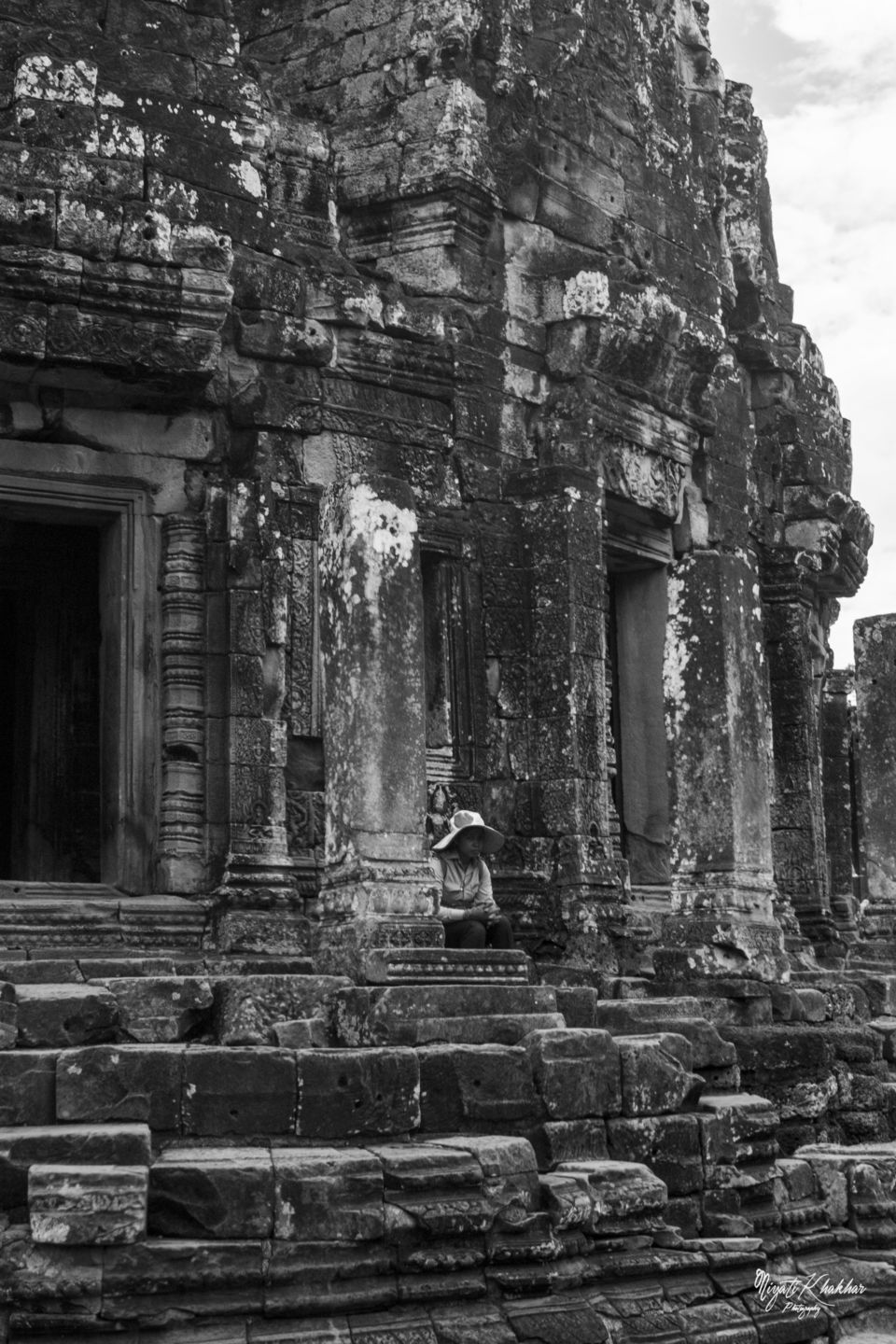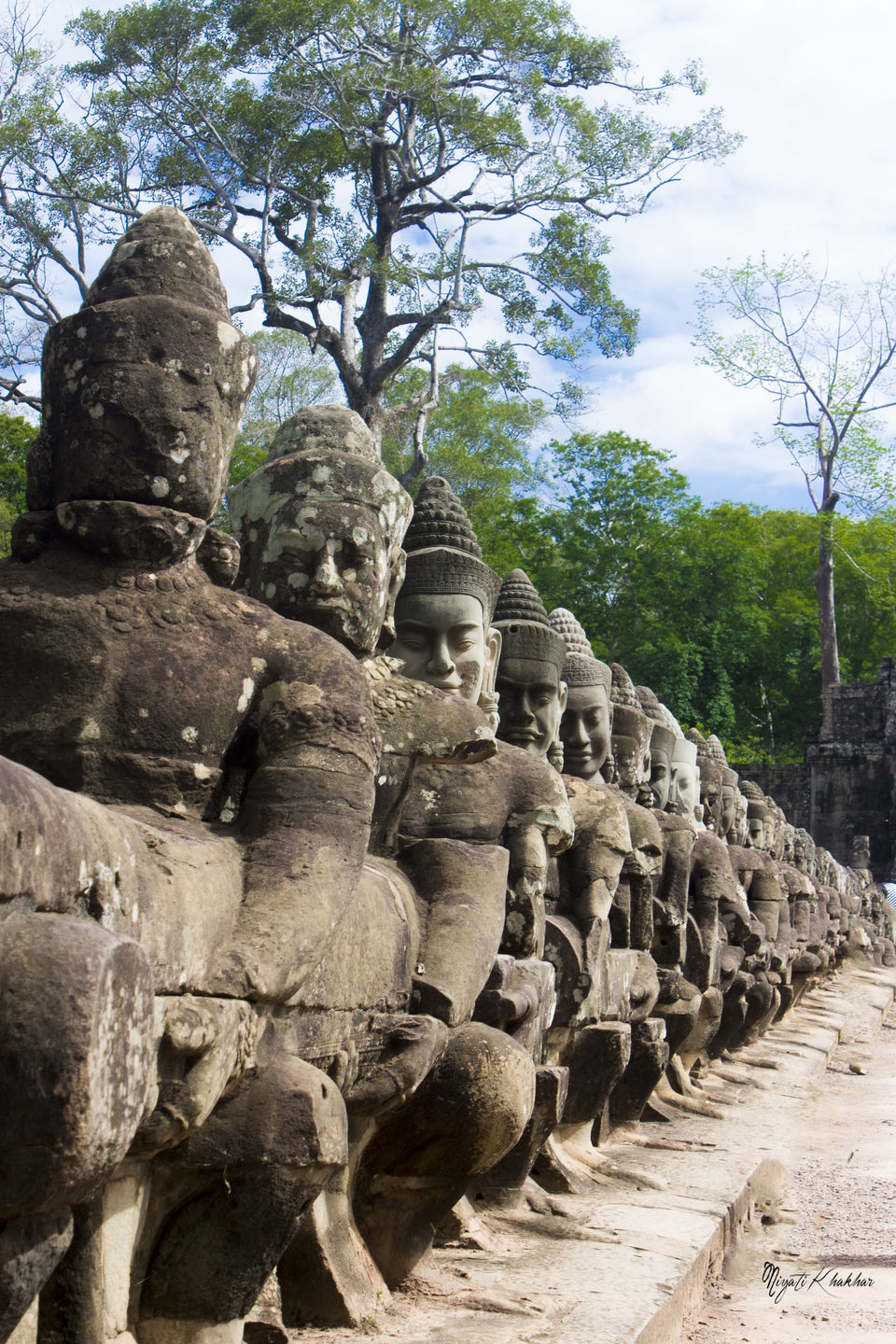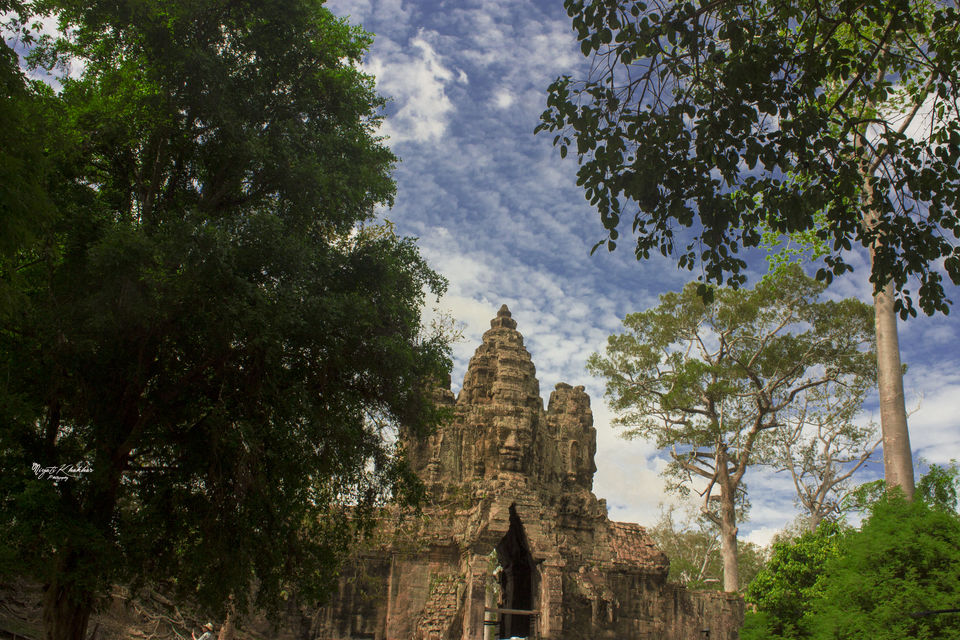 Ta Prohm is an ancient temple originally knowned as Rajavihara [Monastery Of The King] located one km from east of Angkor Thom. It was founded by King Jayavarman VII of Khmer.
It is famous for its trunks & roots over the temple. Its a place to get lost and explore yourself.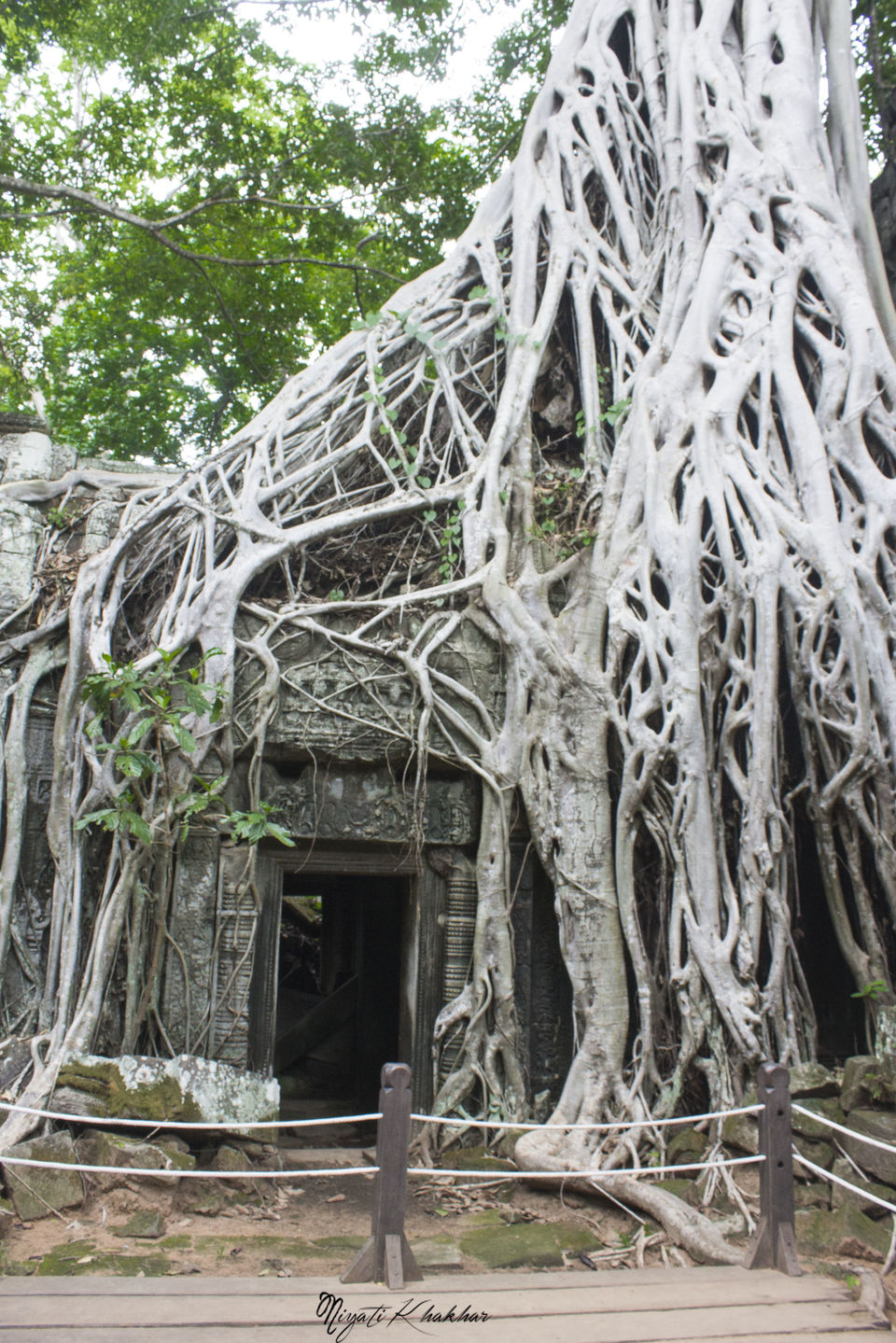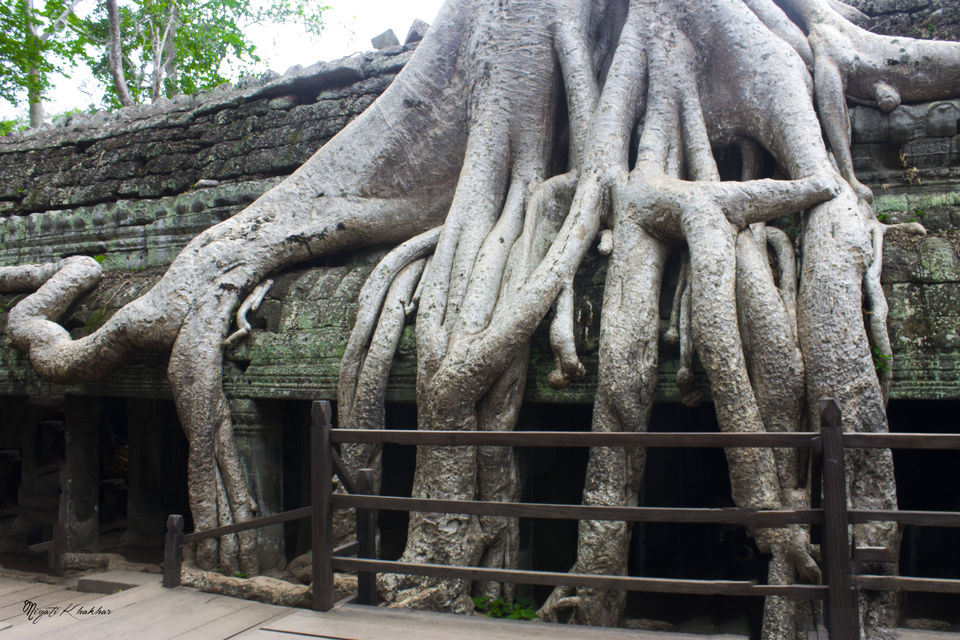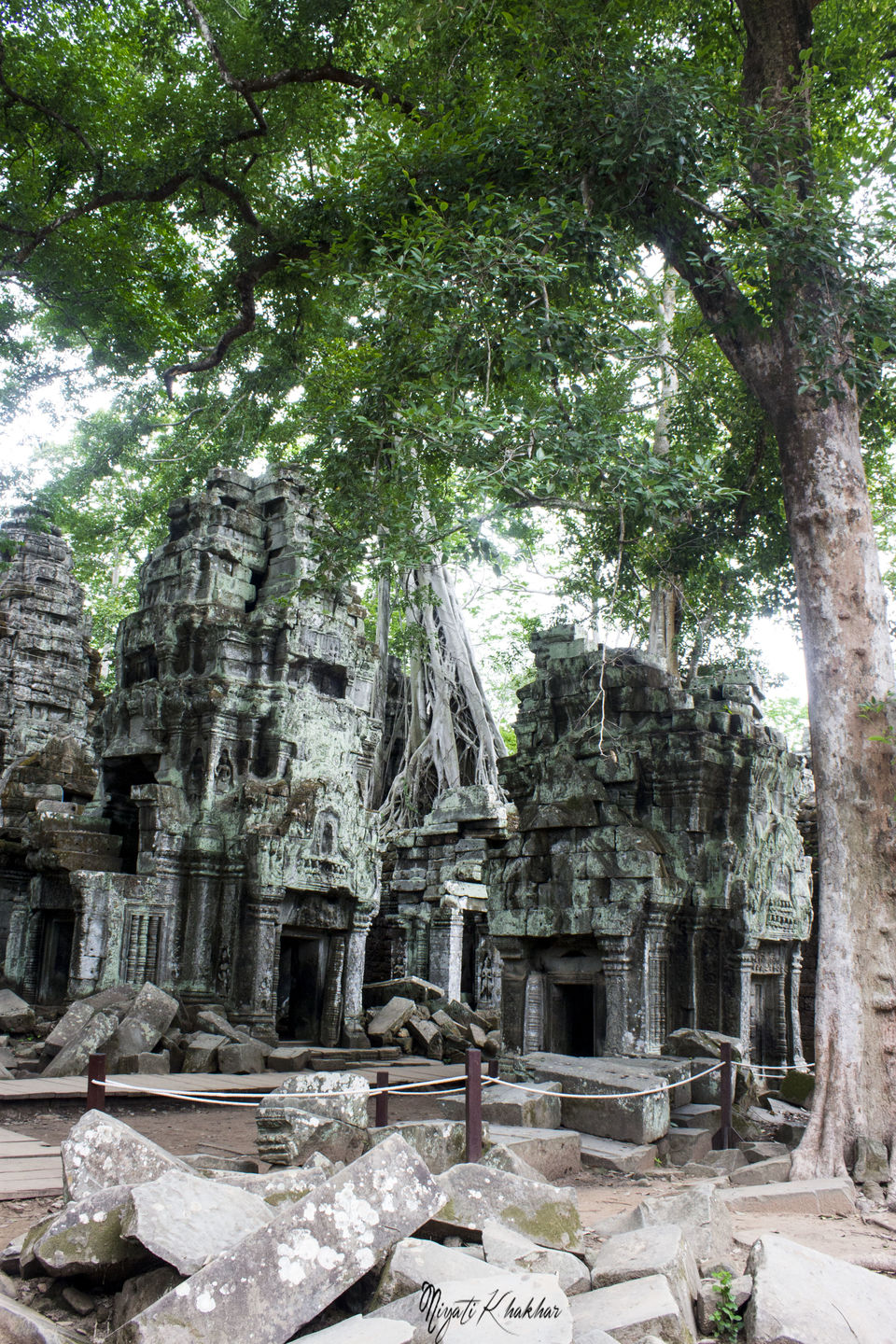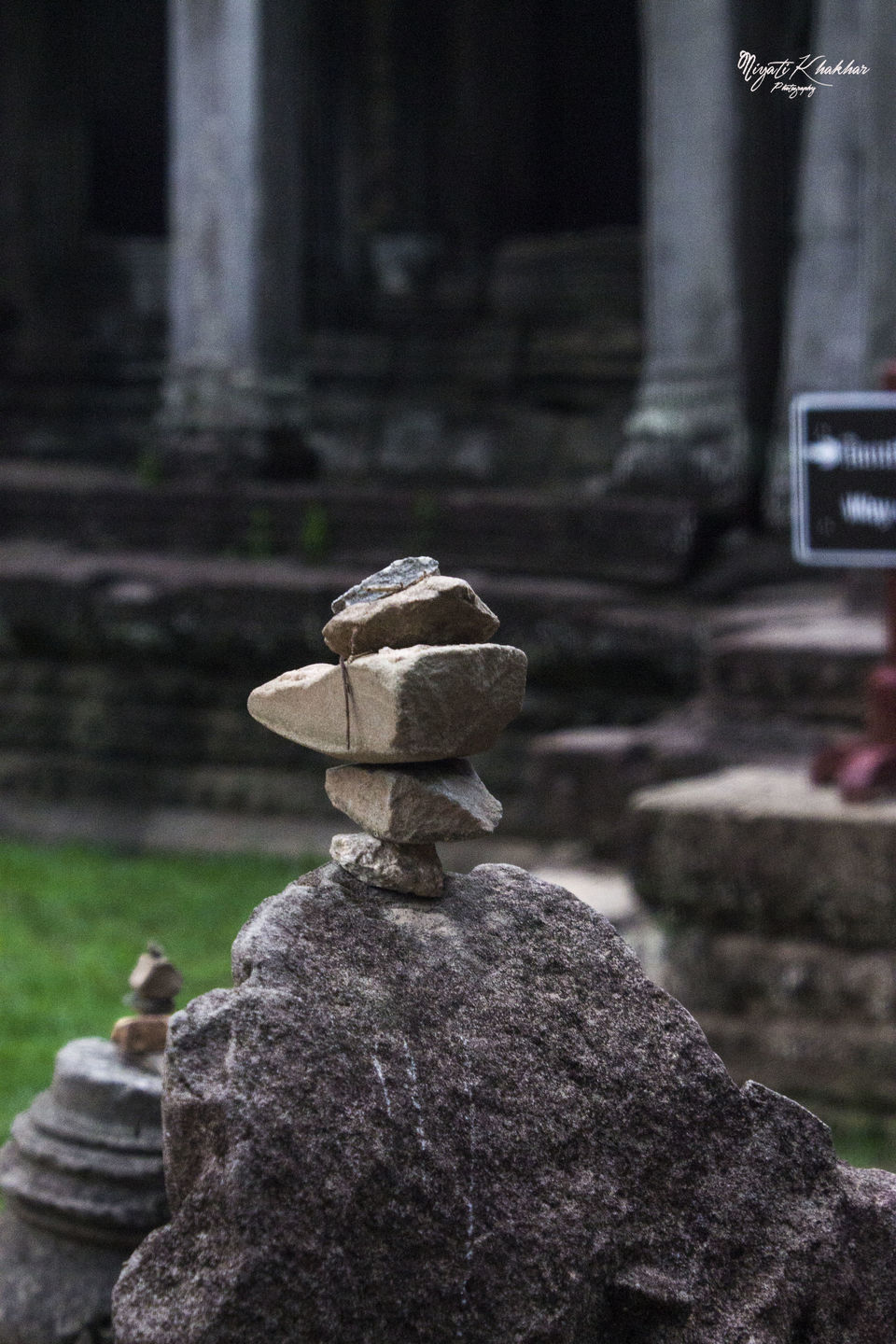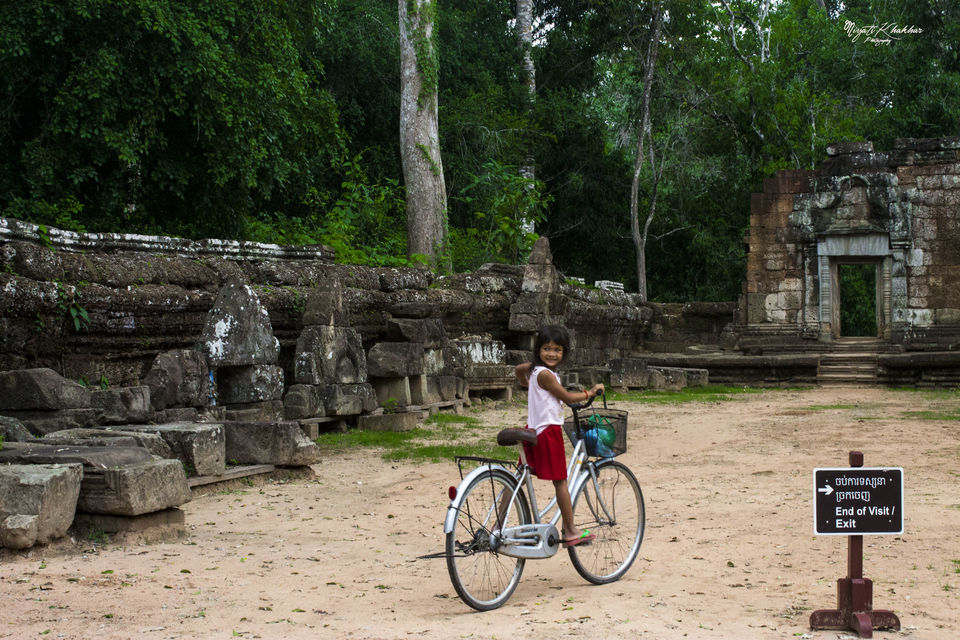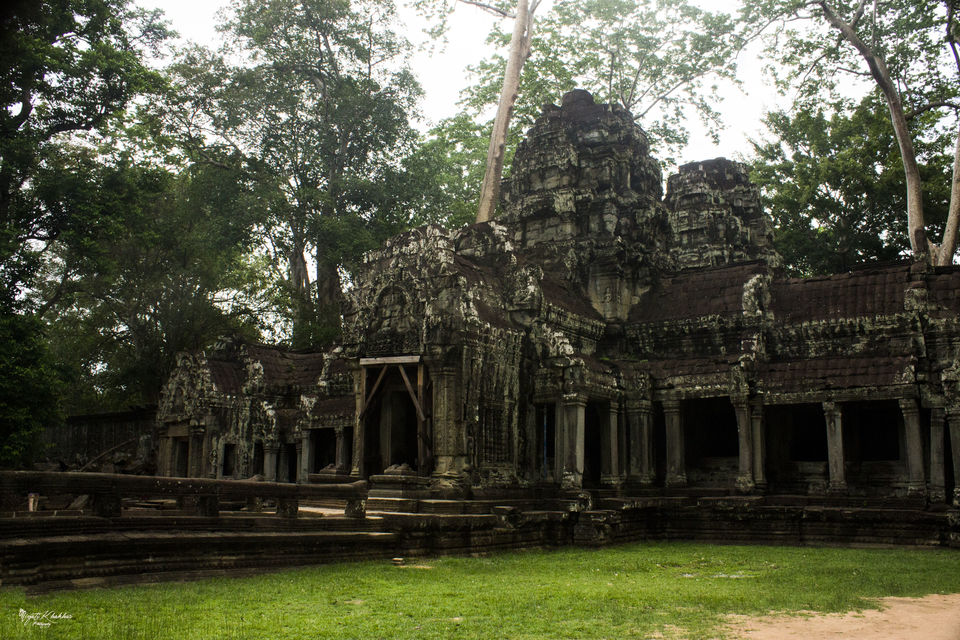 Moving forward after exhausting day walking around temples our royal lunch was waiting at Angkor Miracle Resort & Spa. After our great time at Miracle Resort . The last stop was the exploring Angkor Wat ,the largest Religious monument of the world UNESCO World Heritage.
Originally it was Hindu Temple dedicated to God Vishnu. Later it was converted into Buddhist Temple in the 14th Century & statues of Buddha were added.
With the ancient interiors of Angkor Wat . It is said the angkor wat is at center of the universe .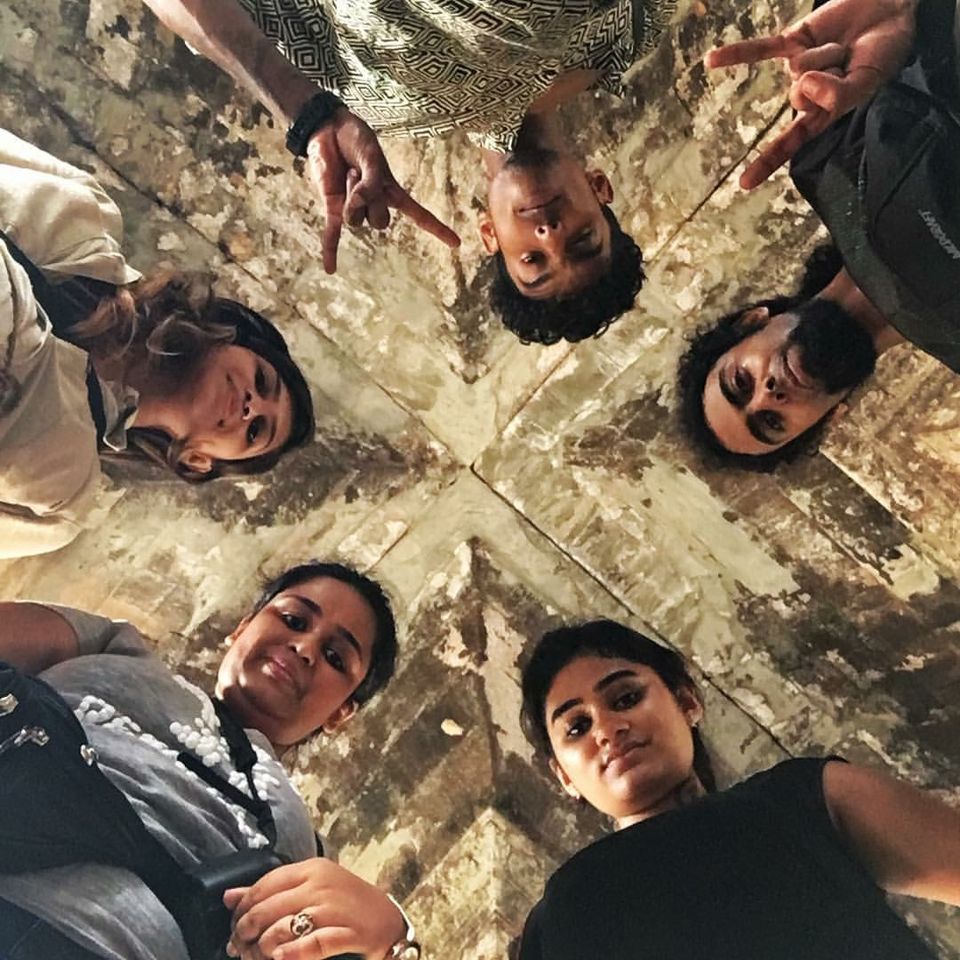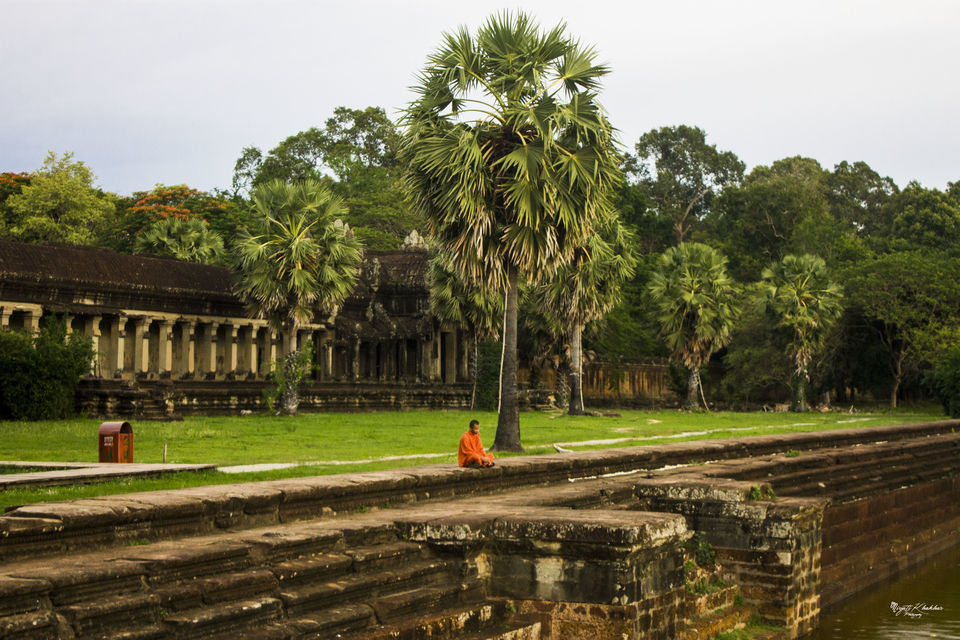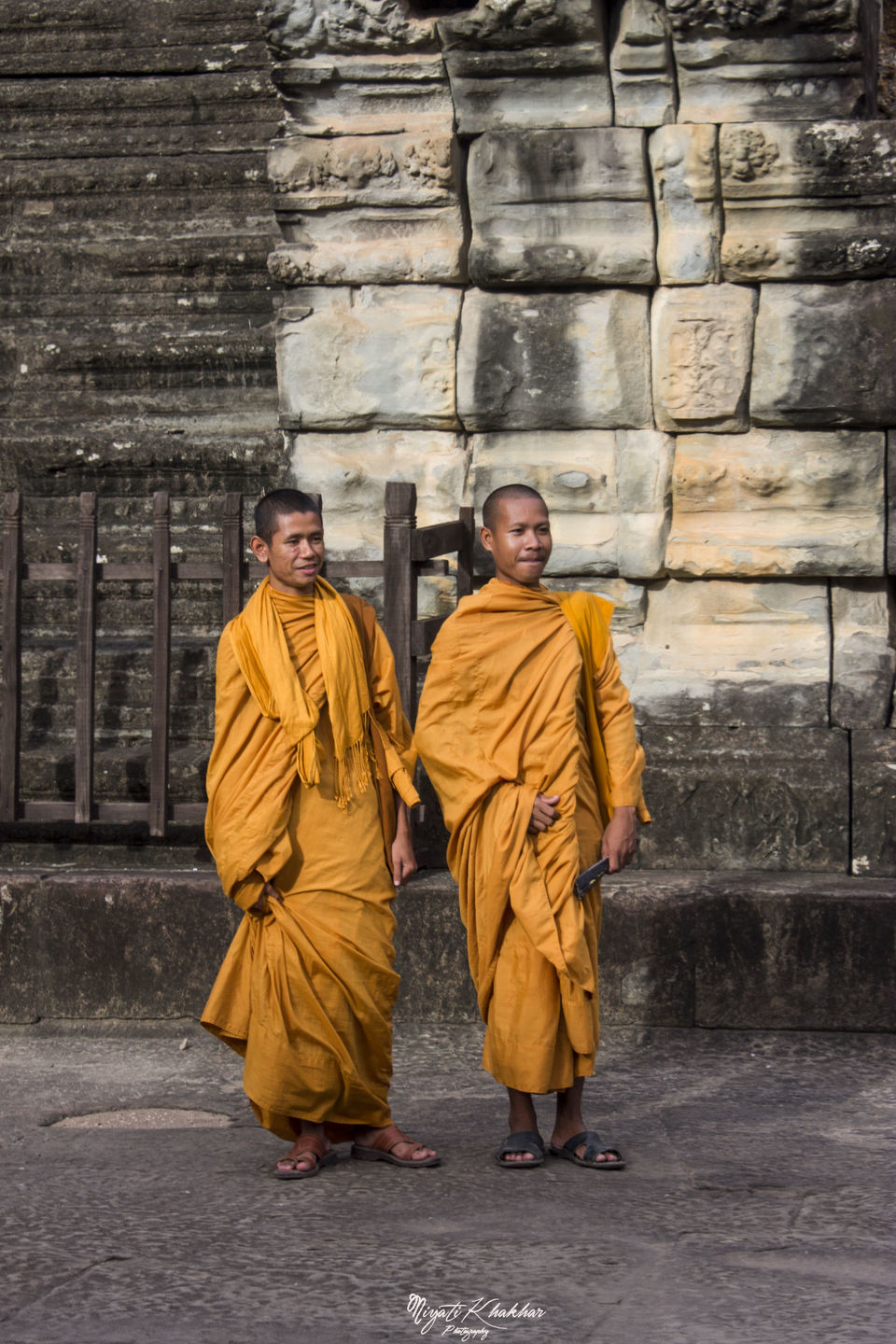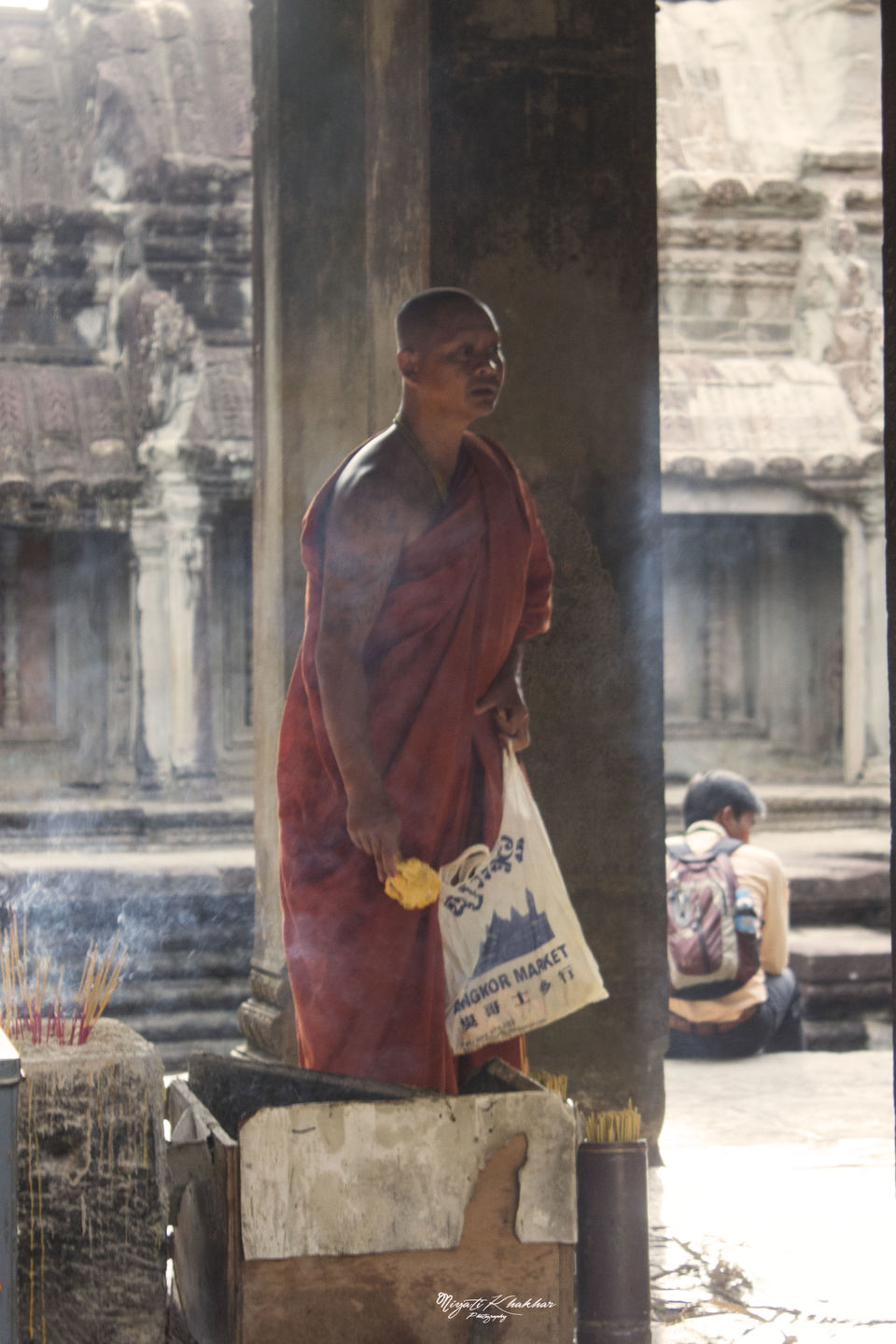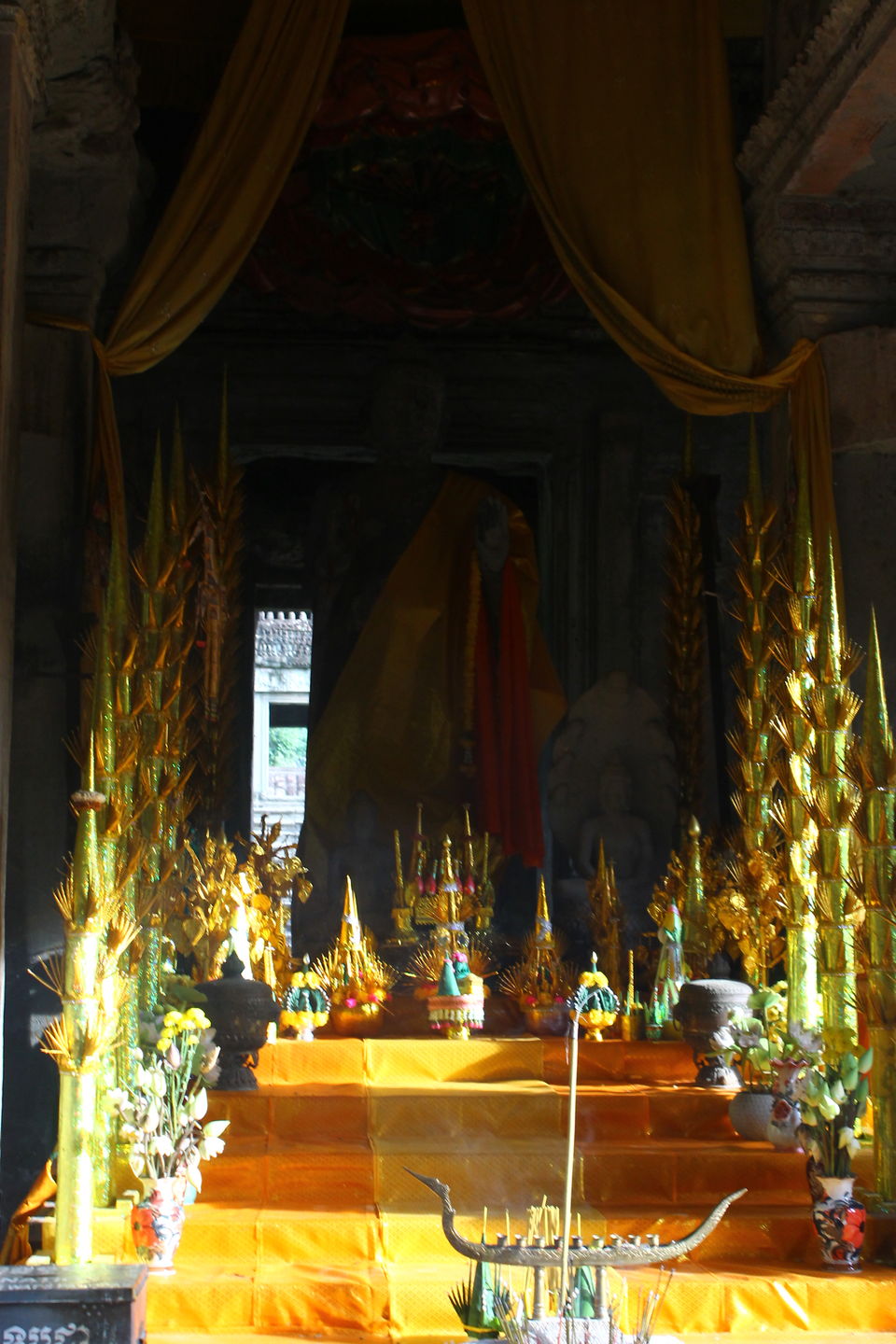 After wandering around ancient temple of Angkor Wat ,we went back to Pub Street for the enjoying our rest of our evening there with cool massages , spa , shopping,Hungry foodies. There we go for fish massage.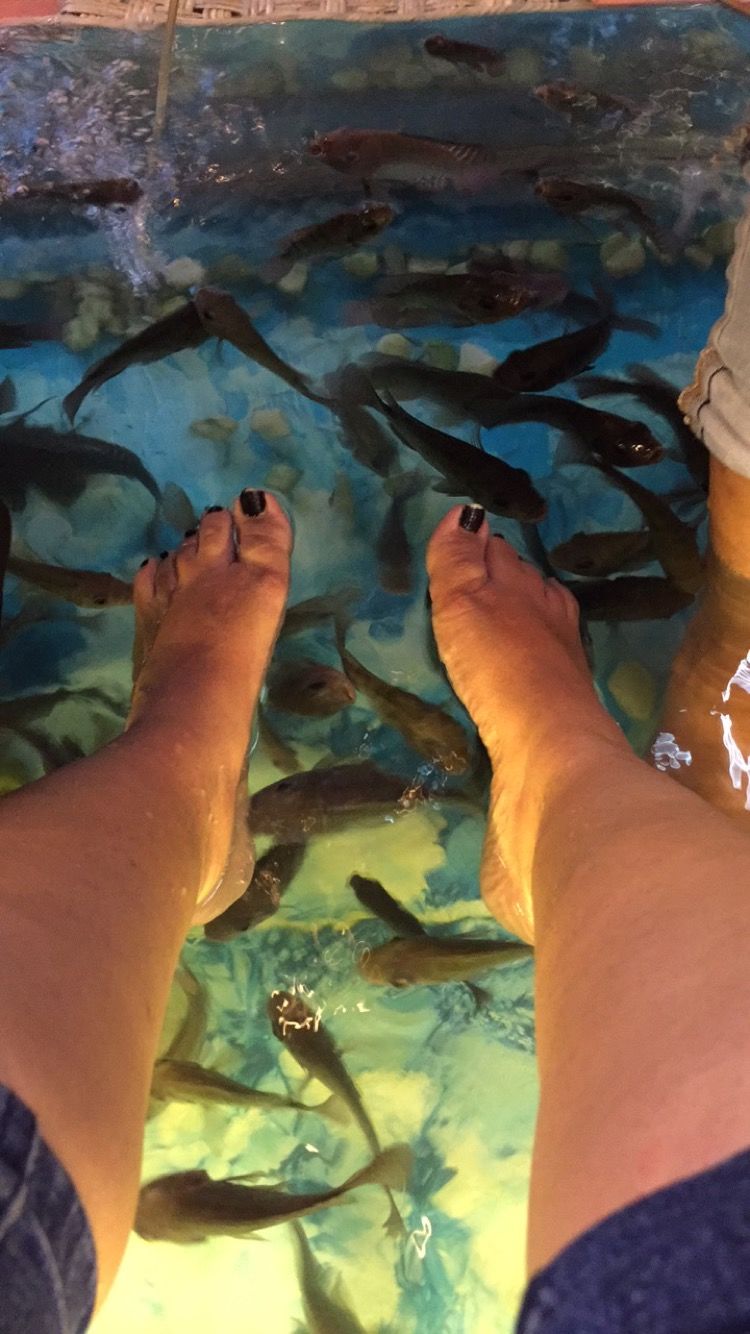 then lately after some shopping we hoped to Temple Bar,Siem Reap and experienced our night life last night at Siem Reap.
Day 3 En route Capital of Cambodia -Phnom Penh
Leaving behind Siem reap with crazy memories ,Heading towards the city life of Cambodia,before we start our journey ,visited places Silk Farm in Siem Reap,Where we were showed how silk is been made & how the process has been done
Frequent Searches Leading To This Page:-
cambodia packages from mumbai, cambodia trip from india, streets in cambodia, cambodia group tour packages, ancient buildings in cambodia