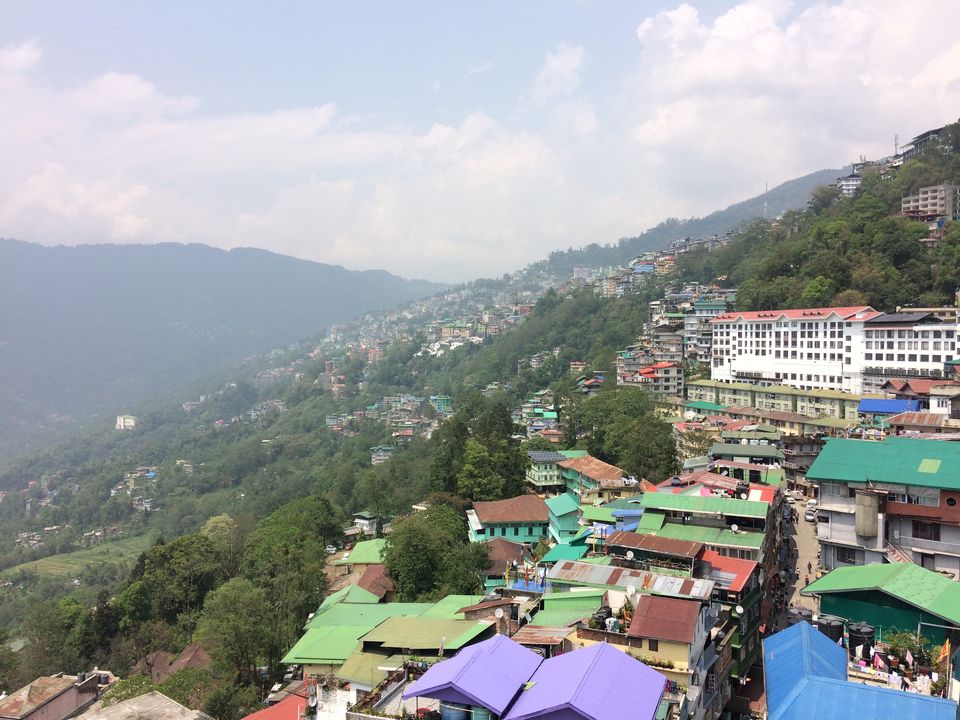 We reached Gangtok - the capital of Sikkim from New Jalpaiguri (NJP) Railway Station. It takes around 4 hours without any stop to reach Gangtok (Sikkim) from NJP (West Bengal). There are many cabs mostly Tata Sumos that will take you from NJP to Gangtok and the fare varies from 300-400 per person for a shared taxi and 3000-3500 for a reserved taxi which is negotiable.
Gangtok like all other capital cities is definitely a busy place and being a tourist hotspot has numerous hotels, restaurants, pubs, markets, bars and so on. Even though the place is quite populated Gangtok is among the few cities in India that manages to keep the place clean and garbage free.
The pleasant weather, the mountains surrounding the city, the greenery and the clouds floating by are what makes it an absolutely beautiful place.
Visit M.G. Market area and there's noway you won't enjoy your time. Numerous options for food, shopping, games and also one can just sit there relax, chill and observe the people pass by. My suggestion would be to go there during the evening and be done with your shopping if you want and then get a seat and sit there enjoying the beautiful atmosphere and may be grab a plate of momos or paneer roll and it'll be worth it. Taste of Tibet is a great restaurant to taste some local flavours of noodles and soup which is both comforting in the cold and lip-smacking.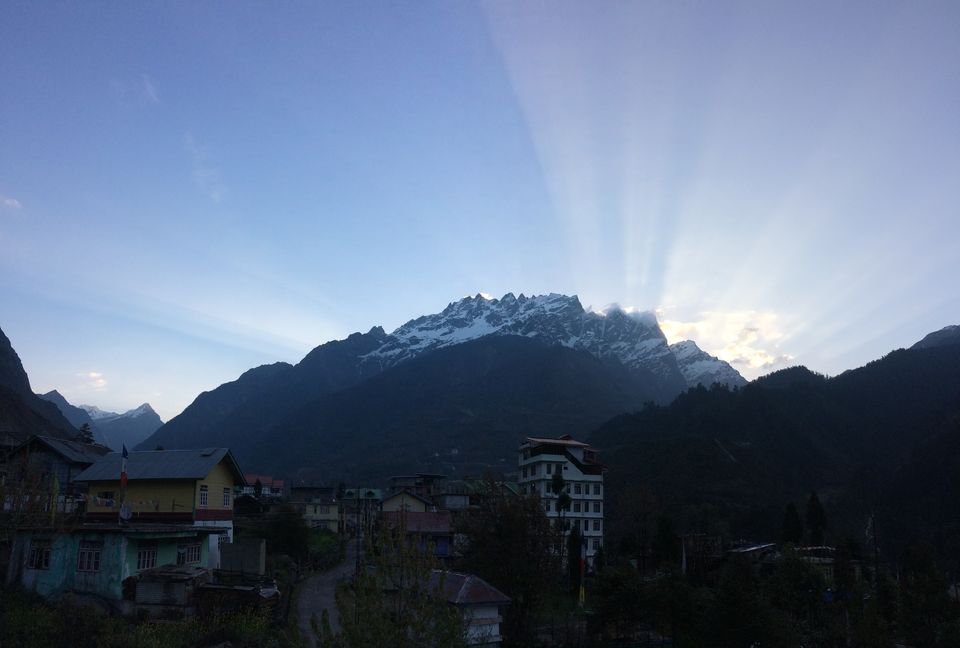 Gangtok to Lachung by shared or reserved taxi and one night stay there. The way to Lachung from Gangtok could not be anymore beautiful. There are a few waterfalls too where you can stop by stretch your legs and enjoy the fresh air and the sound of the waterfall that's crushing though the mountains and paving its own path.
While on your way have lunch at Mangan village (ask your cab driver to make a stop at a good restaurant) and the scenery from the village is breathtaking. There is mostly vegetarian food but for all the non-veg lovers trust me the ambience, scenery and the atmosphere will be so soothing you won't be bothered about the good, nevertheless the food is quite tastily too.
You reach Lachung during the evening when it's mostly cloudy and dark as dusk hits so there's nothing much to see around just enjoy the quietness, calm and serene atmosphere and may be enjoy a few drinks to keep yourself warm as Lachung is located at an impressive height of 8858 ft.
It is the next morning that'll surprise you the most. Wake up early, as early at 4 a.m. to witness then stunning sunrise and suns rays cutting through the mountains and illuminating the surrounding forest area and Lachung Village. This will surely be one the highlight of the trip.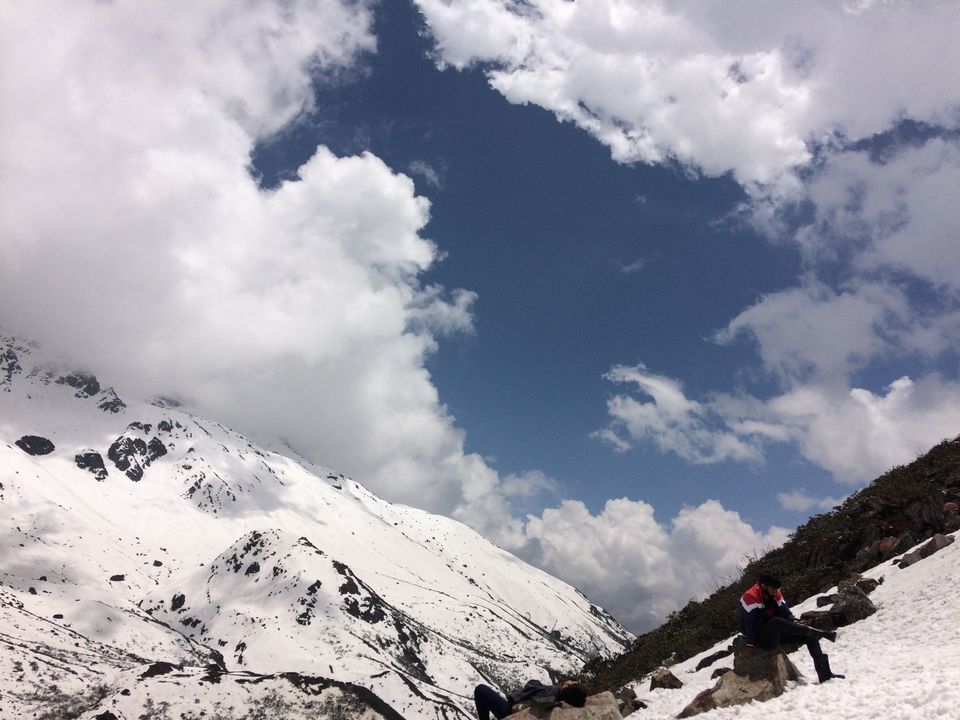 That day itself leave for Yumthung Valley and Zero Point. It takes 3 hours to reach Yumthung Valley from Lachung and it is one of the most beautiful places you'll ever see. Snow caped mountains on one side and on the other side forest covered mountains and cutting through the mountains runs the roaring Teesta River. The valley is designed to be an absolutely photogenic place, there are also seats for resting as at the height of 12000 ft walking or hiking takes a toll of the body. Inspite everything, this is a must visit place which if you're visiting during February-March will be covered in snow and it surely adds to the already beautiful location.
After immersing yourself in the beauty of Yumthung valley and playing in the fresh snow, you go back to Lachung and have your lunch and then leave for Lachen which is about a 4-5 hours and then you stay there for that night.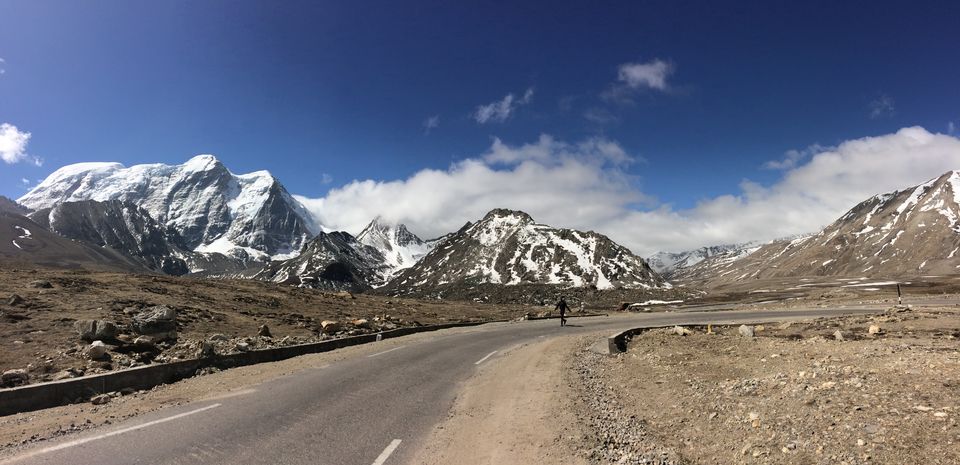 The next day you leave early morning for Gurudongmar Lake which is one of the highest tourist places in whole of Sikkim and one of the highest points to visit in India. You can also visit Kala Patthar which is the Mt. Everest Base camp and is covered in snow throughout the year. Since these two places are located at an altitude of more than 17,000 ft I would highly recommend you to take proper precaution and be prepared with medicines for altitude sickness. Coming to the view it is absolutely stunning. The roads resemble that of Leh and Ladhak and the scenery is breathtaking. Though its a very dry region and you will hardly see any vegetation but it is surrounded by mountains throughout and the snow capped mountains seem so near as if you can just spread your arms and touch the snow. Gurudongmar Lake is also known as the Frozen Lake for it is frozen for most of the year and temperature is at a minus even during the afternoon hours. This is is surely a must visit place for all mountain lovers. From there you return to lachen, have lunch, rest a little and then drive/ride back to Gangtok that night itself which is quite a long drive so be prepared.
A little trivia, While your way back to Gangtok take a halt at Chungtang. There is an excellent shop that serves amazing food and great tea/coffee, just what you need during a tiresome cold ride/drive. Just located at the junction where roads bifurcate for Lachung, Lachen and Gangtok. Make sure to have a bowl of soup and may be tea.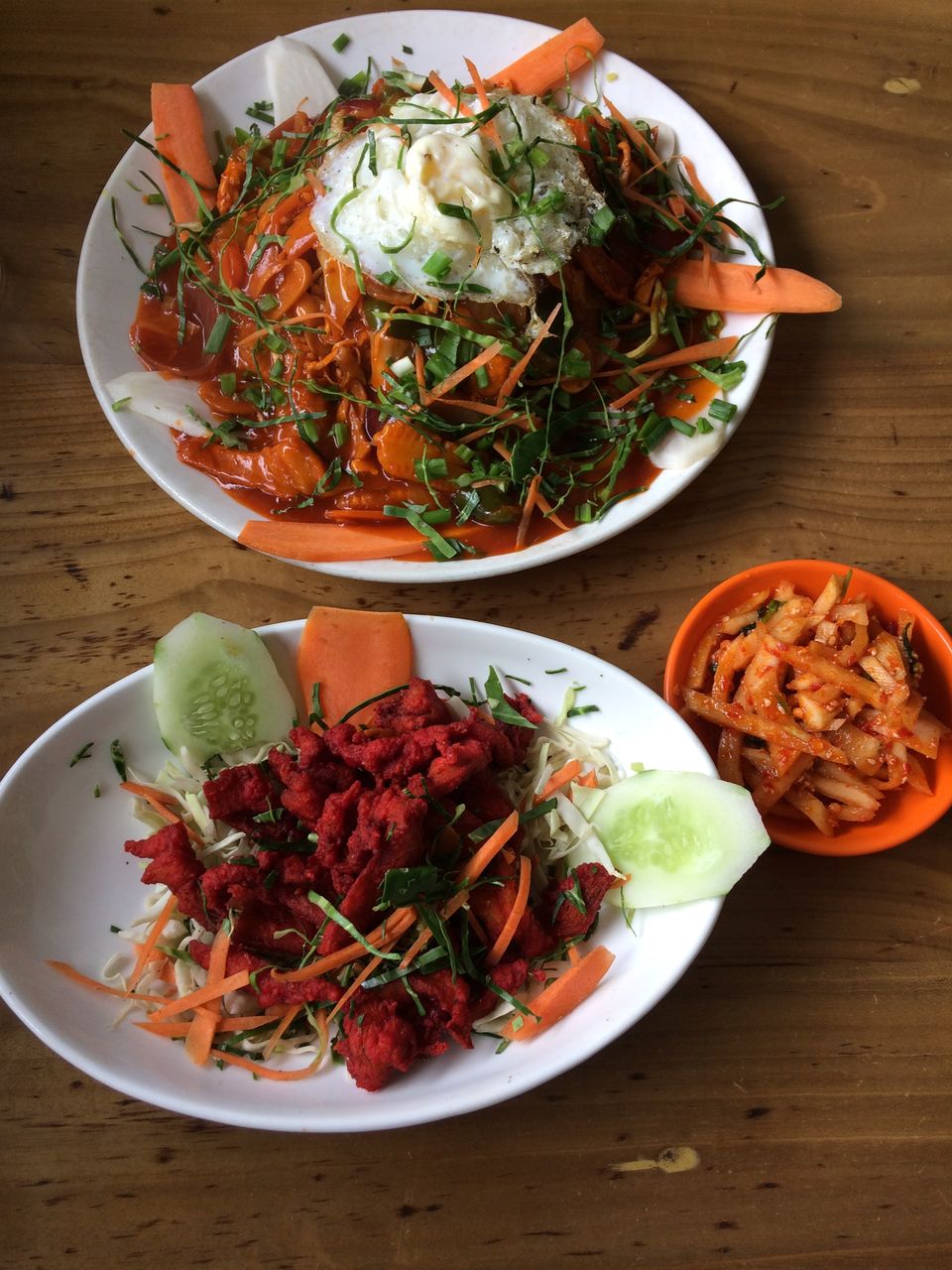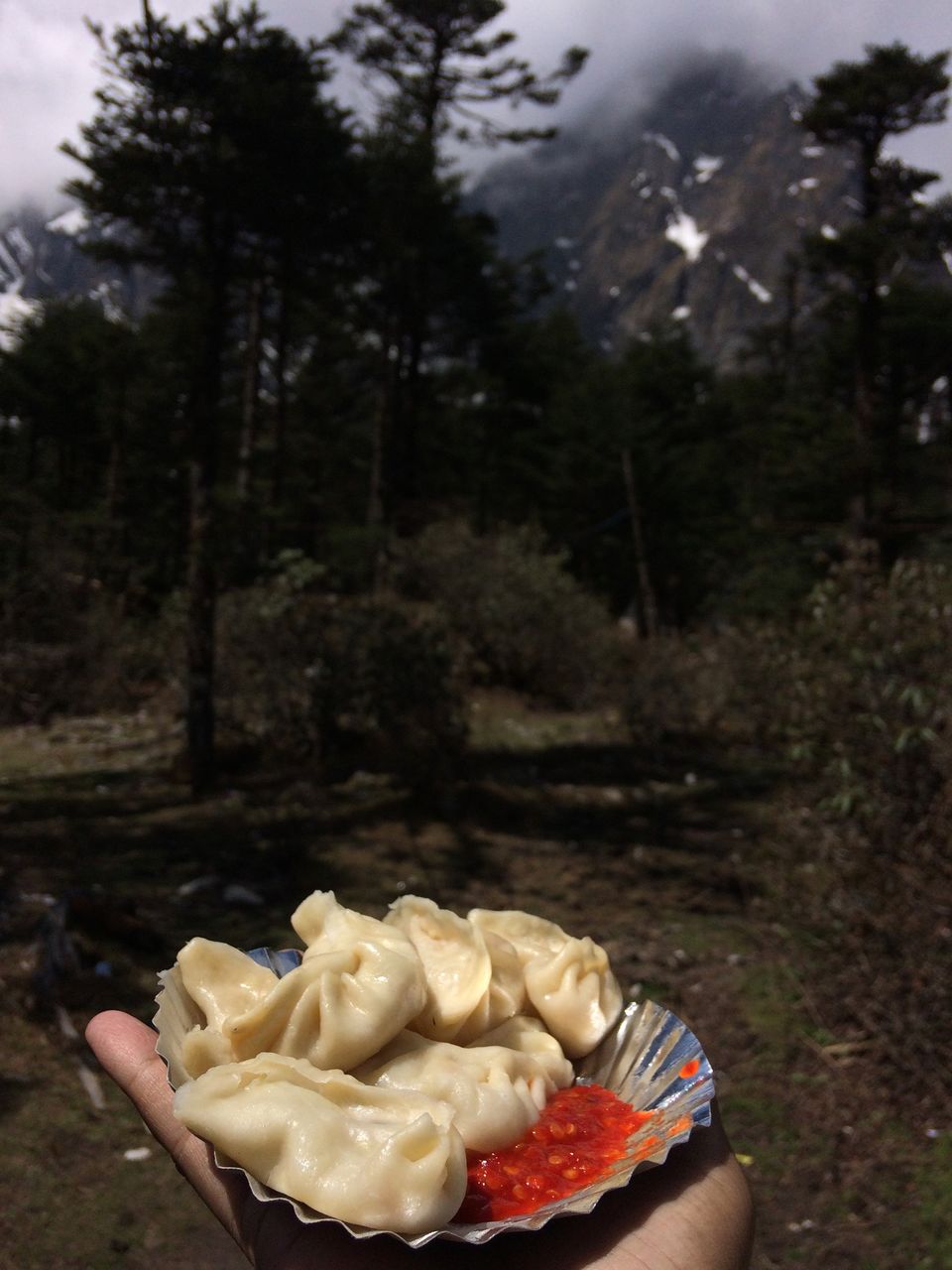 Gangtok Local Sightseeing is not that eventful but still there are a few monasteries like Rumket, Enchey and also there is the ropeway/cable car to enjoy and also take a stroll and view the city like a local. Gangtok city itself isn't any less scenic than everything I talked about so enjoy some local food, especially the momos and immerse yourself in the local vibe.
Take a ride back to Siliguri saying Goodbye to Gangtok.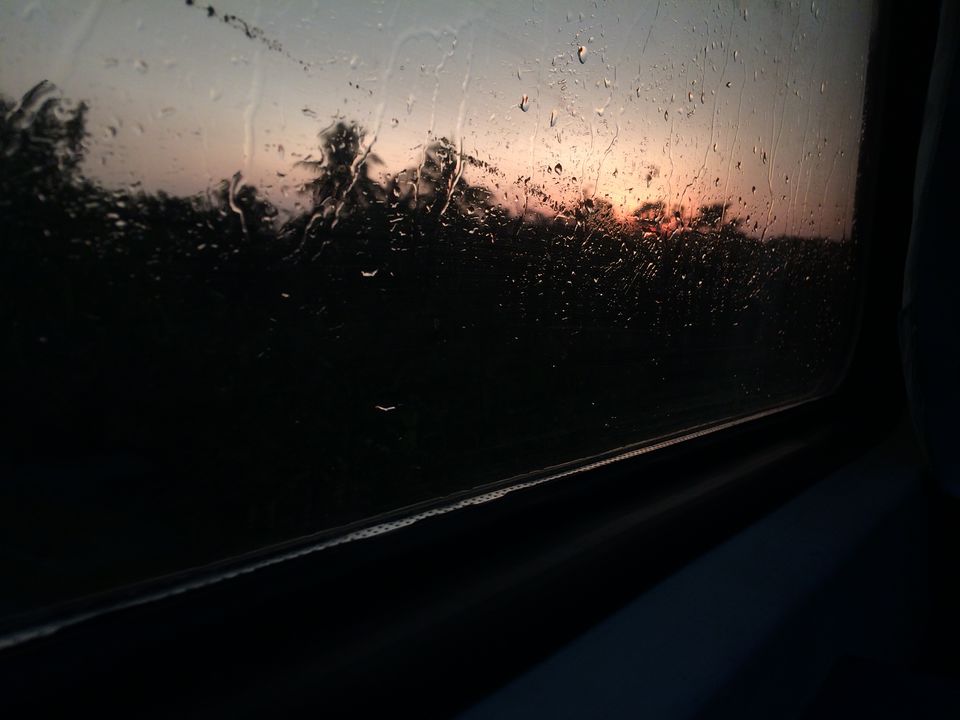 Frequent searches leading to this page:-
cheapest gangtok tour package, north sikkim tour operators in gangtok, gangtok honeymoon package from delhi, sikkim gangtok package, sikkim and gangtok tour package