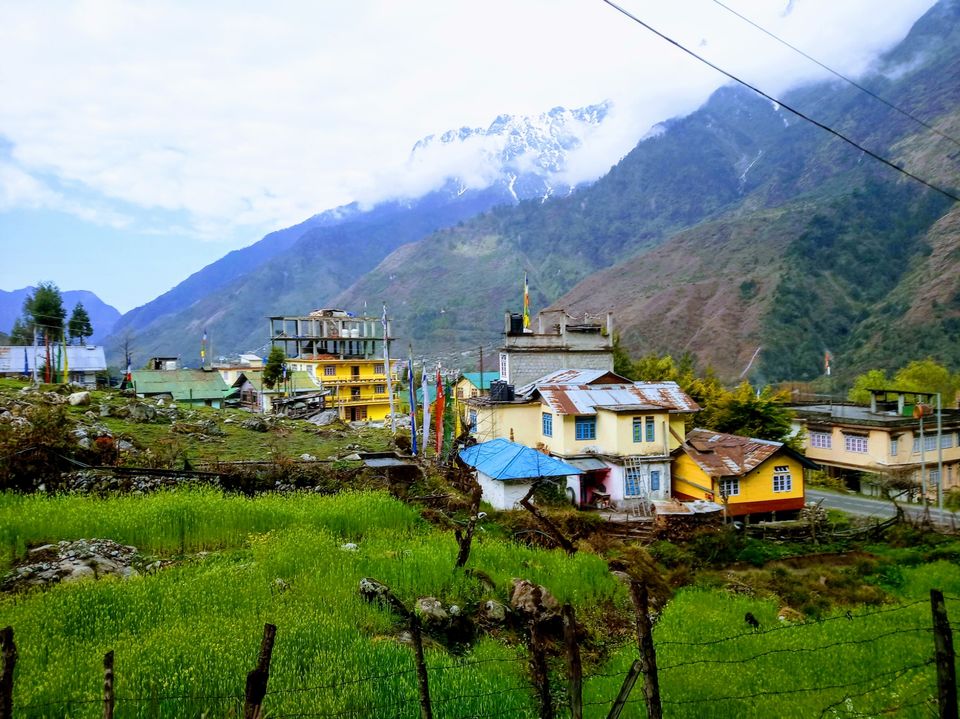 Landed in the land of Lamas in the scorching heat, though it was Mid - April still the sun was not kind 😕. To witness the beauty of this mini Switzerland the best time is between April - June, when the flowers bloom and the beauty of mother nature is at its peak🍀. To reach that heaven I needed to either land at NJP ( New Jalpaigudi Station)  or Bagdogra airport. I chose the former one obviously & after a drive of 4-5 hours I reached my hotel in Gangtok. This day you just need to rest for the day and acclimatize. But if you don't wanna sit and relax then get ready book a local cab and go out for exploring. I went on and explored many local sight seeing places like - Banjhakhdi falls, Hanuman Tok (it's a temple but with the best views of the whole city), Ganesh tok, the famous M.G Marg market and etc. As I was hungry and it's always good to eat at local eateries so had my Thukpa, and trust me these decisions are always best to eat and explore at local eateries, exploring their cuisines.
* Booked a tour package for North sikkim as you cannot go there without those packages and need to take the permits to go and stay there too. Booking packages from locals is always a good idea, they charge less than those companies and may be they can suggest you some supercool spots❤.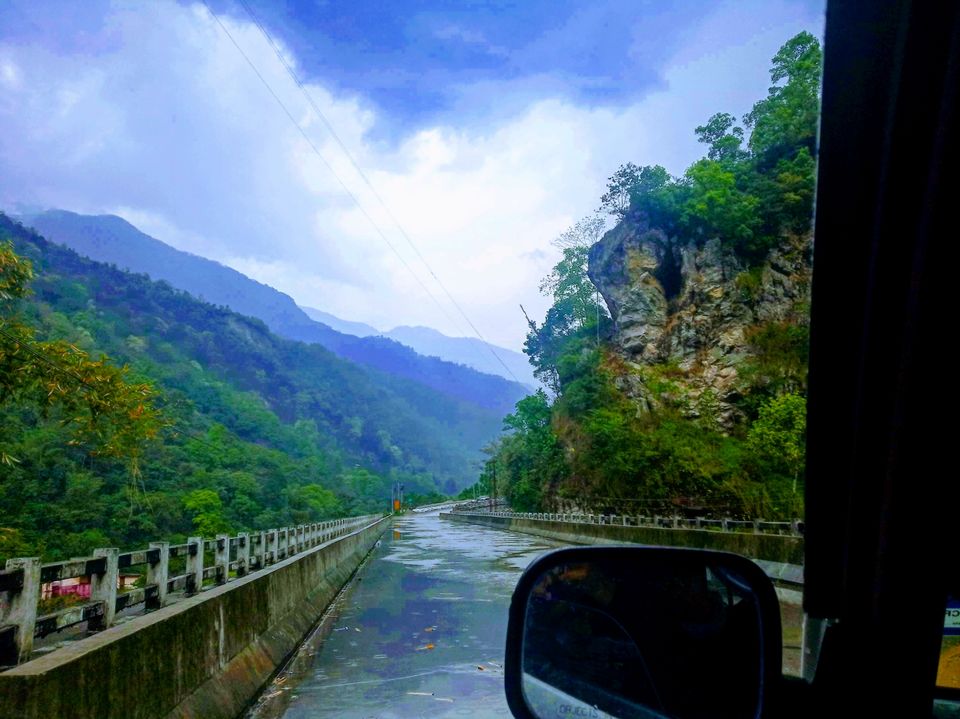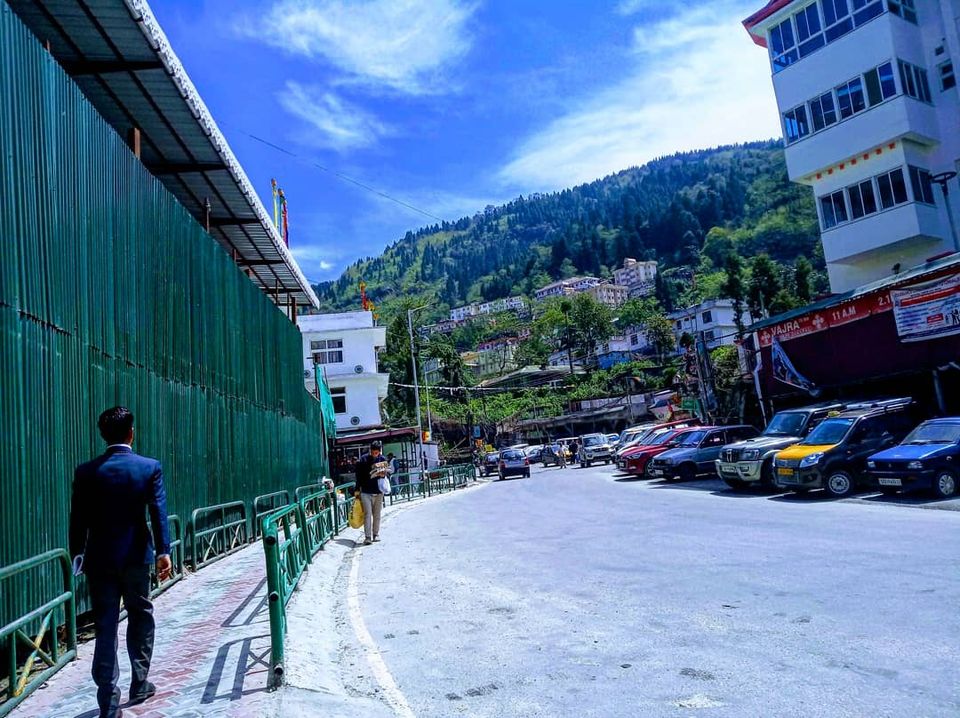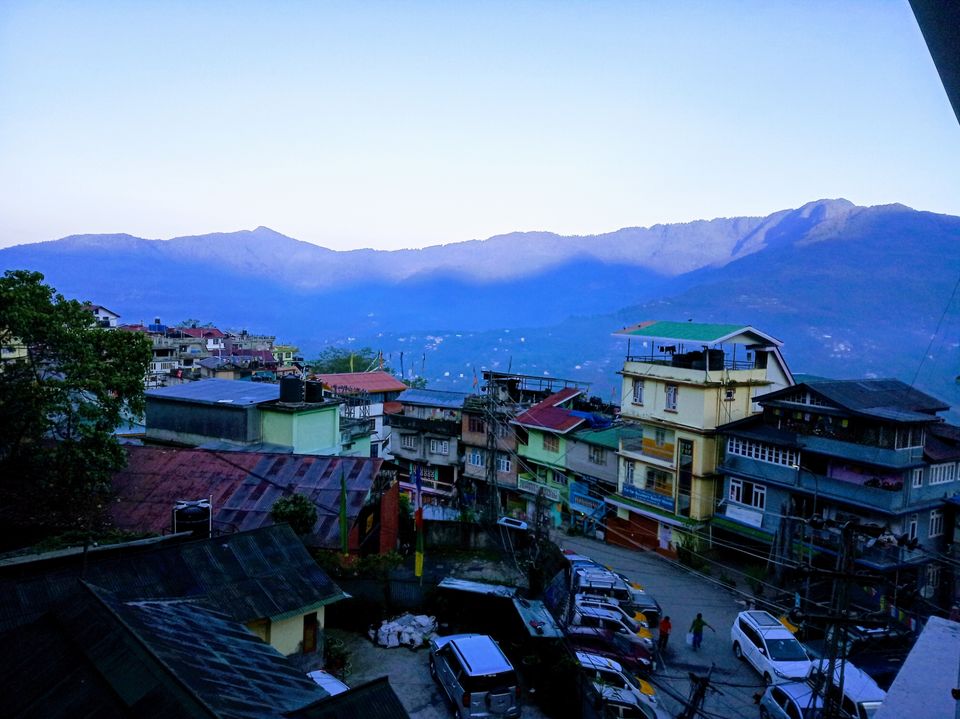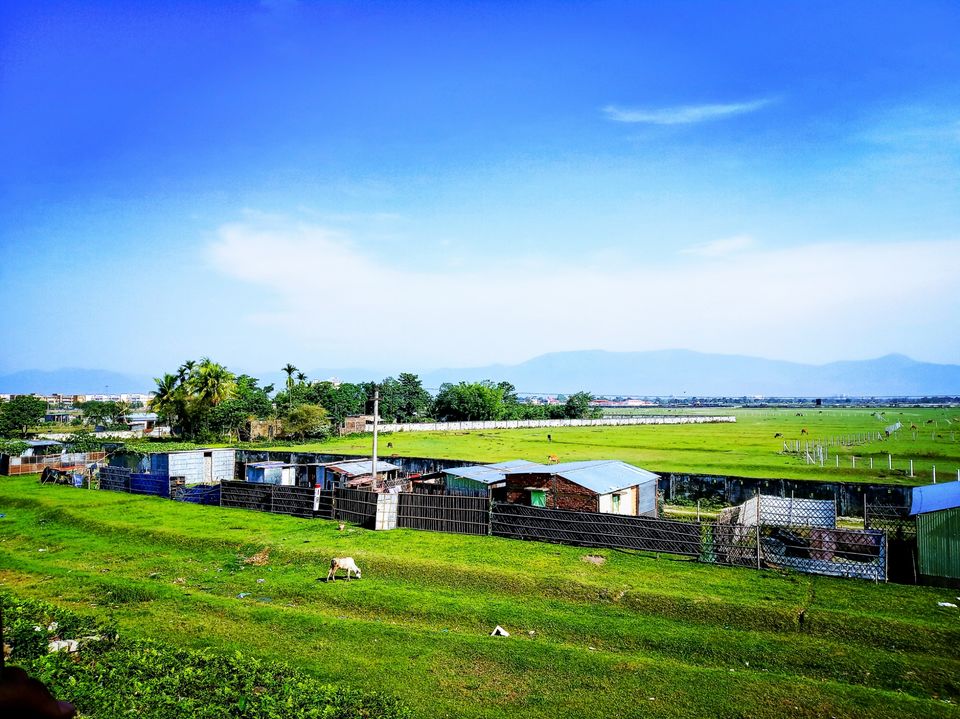 Early morning had my breakfast and ready for the unexpectedly beautiful & hectic journey. A journey which is among The best Road trips. The journey from Gangtok towards North sikkim is something you will never forget. It takes 6-7 hours in short a whole day but you will not regret a single second on the road. The roads in the mountains are more than beautiful in its own way. It's covered by lush green vegitation and mountains, waterfalls from all sides and sometimes landslides too. The more you are closer to Lachung ( major city of North sikkim)  the more you will find waterfalls and views which are to die for. On the way there are waterfalls like the butterfly waterfall, Naga waterfall, a village which is free of plastic waste. The higher the altitude, prettier the views in the lush green mountains, with milky streams passing by the hilly roads. Even though you are captivated in the car, you would scramble to take photographs of green landscape and colorful flowers along the way.
Before Lachung we need to stop at a place for lunch and let me tell you if you want a good taste then stop by hotels near Chungthang village, they serve delicious food. After a hot piping meal you can move forward for Lachung again and by the evening after seeing mesmerizing views and mystic sound of the water bodies nearby we reached Lachung &  if you are lucky enough then can spot multiple rainbows🌈 too, on my journey it started raining heavily and once the sky was cleared for the first time I witnessed multiple rainbows🌈. You need to take stay in Lachung whether a homestay or in hotels. It is quite colder than Gangtok city as it's on higher altitude and surrounded with mountains so cover yourself up properly, have lip smacking food and take rest because next day the trip starts in the early hours as in 5/6 am.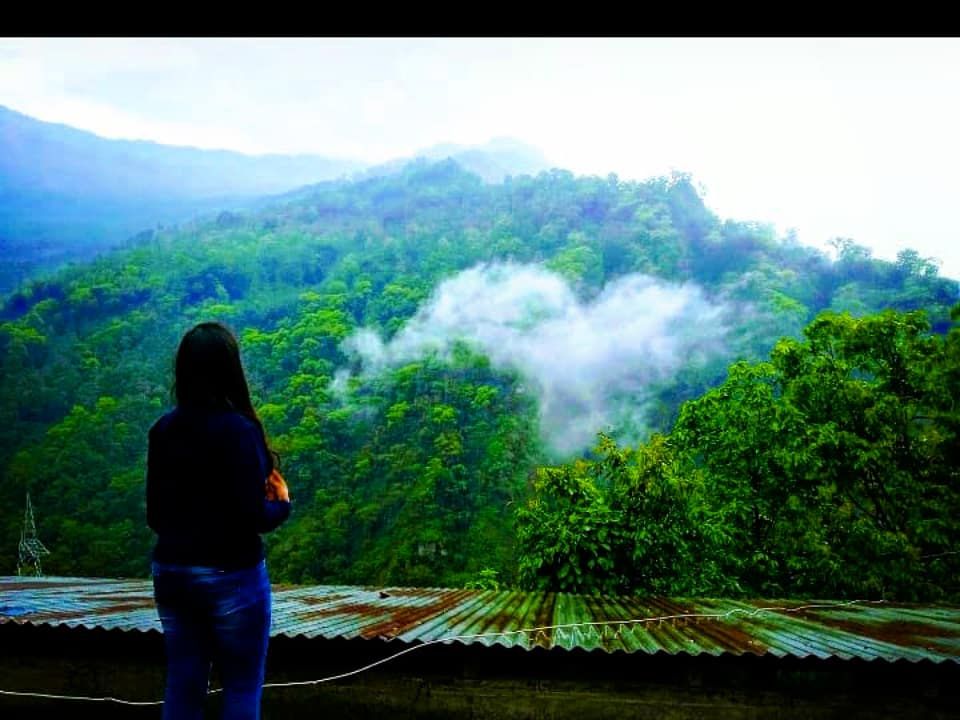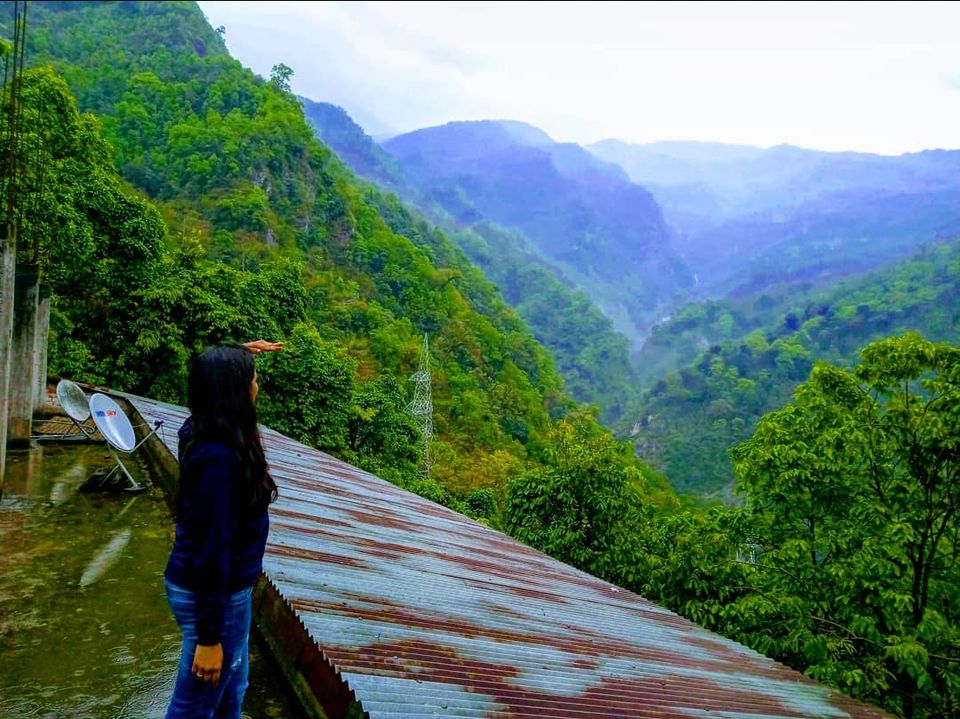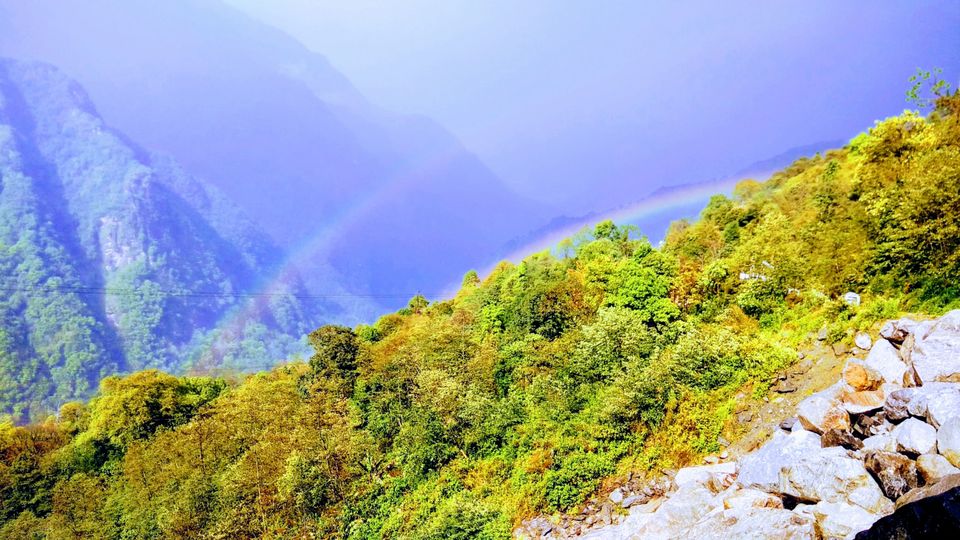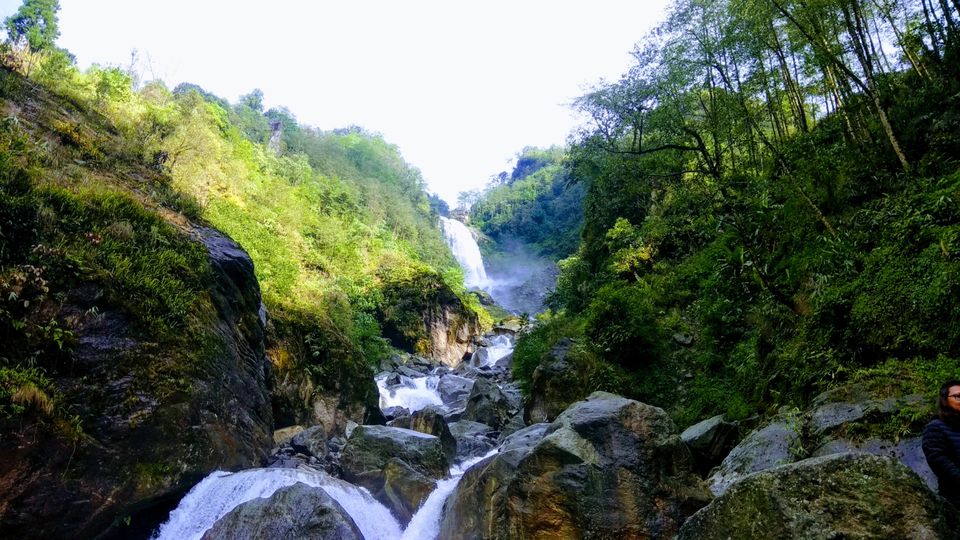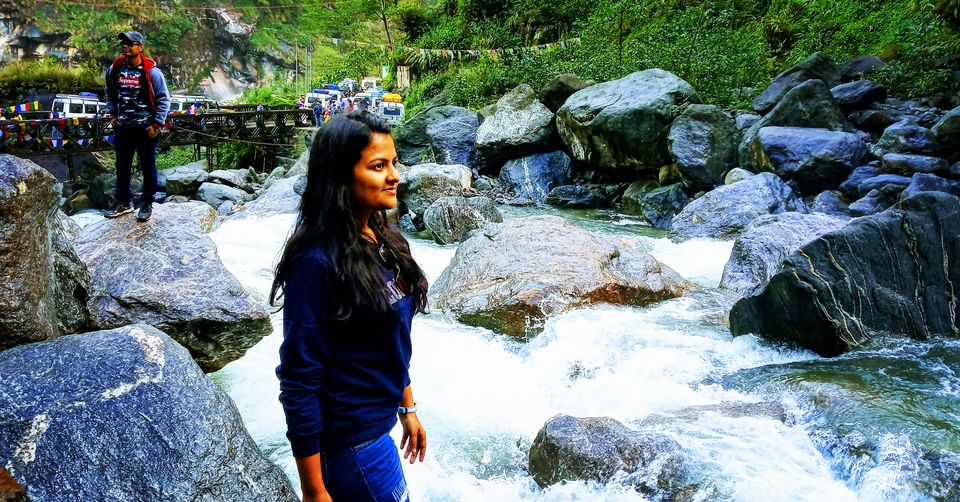 After asking the locals for suggestion on some unexplored mesmerising places,got to know about Mt katao. Nestled in the northern part of Sikkim, Mt Katao is one of the most stunning sights imaginable, the surreal mountain provides a splendid view to its onlookers. However, to enter this area, a permit is required from the army since the place where Mt Katao is located at a military base. Covered with natural vegetation including poppy, rhododendron, and primula, the base ground of Mt katao comprises of numerous adventure sports activities. This amazing place is situated at an elevation of 15000 feet and remains covered in snow almost throughout the year. 
After spending some time at this tranquil places we moved for Yumthang valley aka the valley of flowers. Again the journey was nothing less than breathtaking with snow turning waterfalls, mountains on all sides with beautiful flowers all over the ground.
On the way we came across Lachen, The quaint Sikkim town is known for its lush vegetation that contains mainly grasslands and shrubs along with apple orchards. The pine-covered valleys and black cliffs of snowy-white hills of the Eastern himalayas. After exploring this breath taking places we came back to our homestay and explored the nearby areas of  Lachung. It's a small town in Sikkim which has majestic mountains all around that tempts to stay here forever. It has several snow covered mountains, sparkling streams, peaks, amazing waterfalls and much more. It is the perfect place to spend your precious days amidst apple orchards, peaches and apricots. The market in Lachung is filled with handicrafts such as exquisitely woven rugs and blankets. Lachung means 'Small Mountain ', and it gets this name as it is outlined by majestic mountains.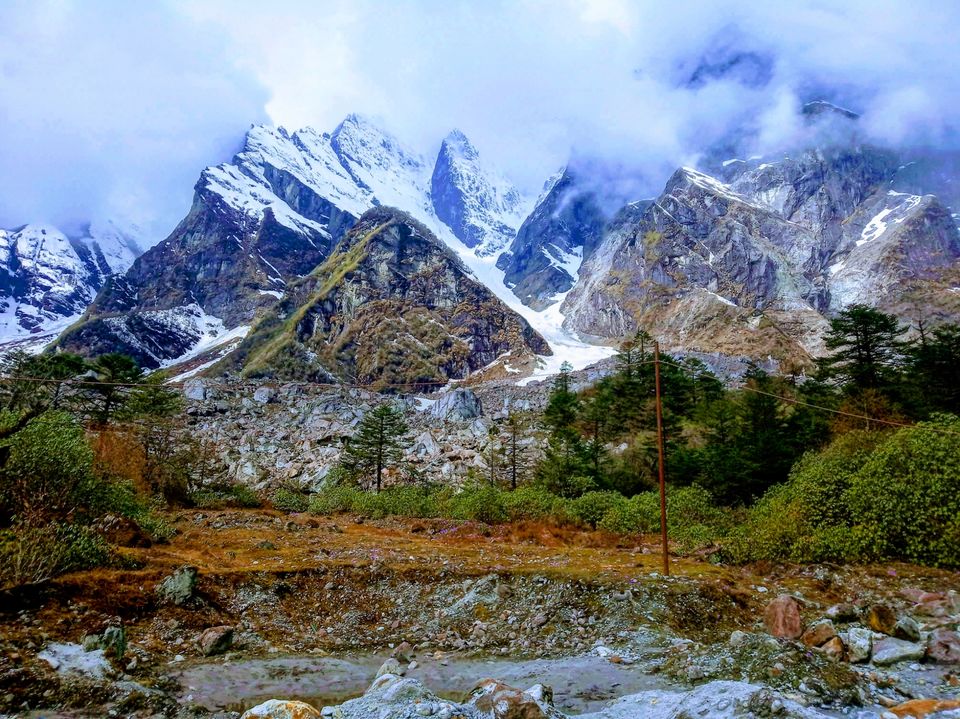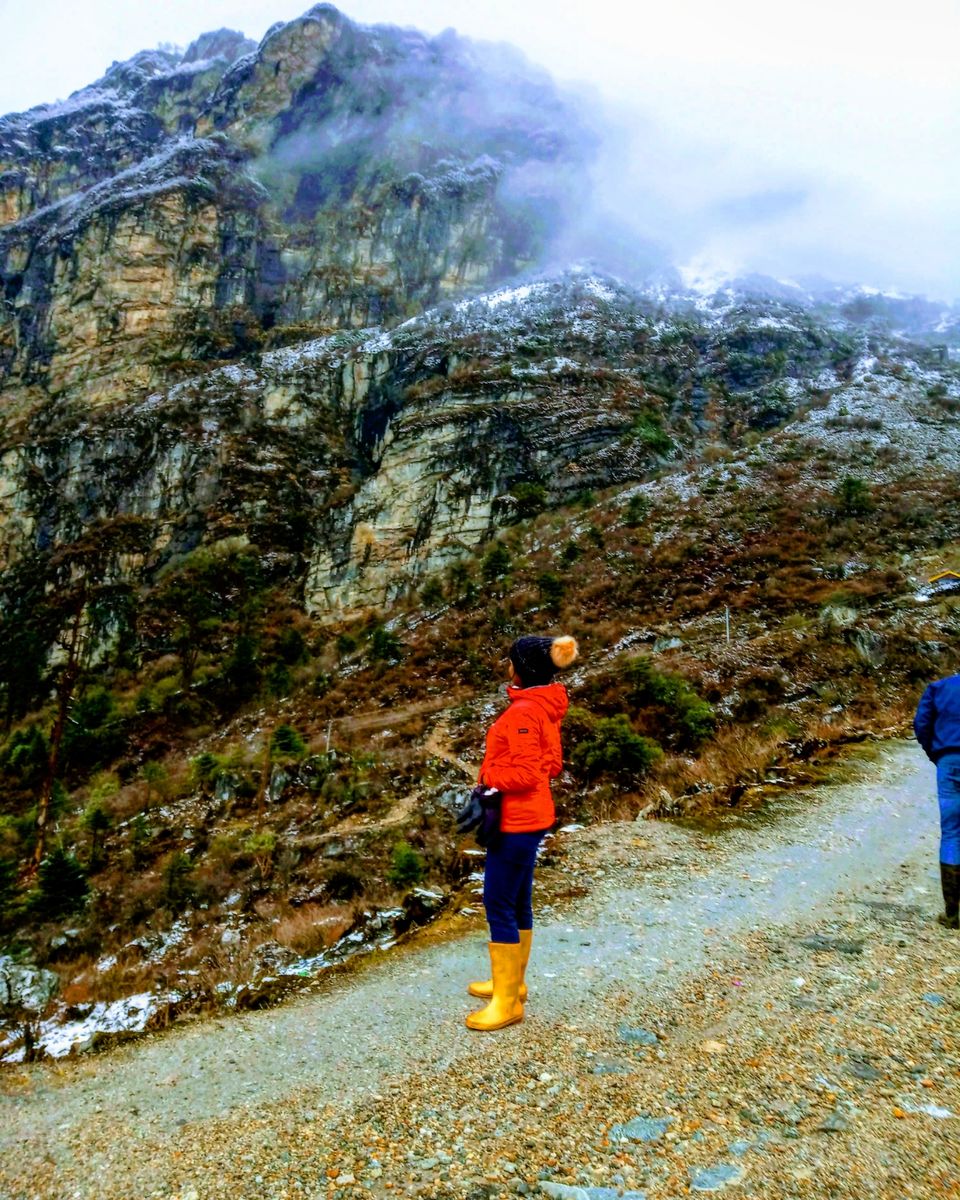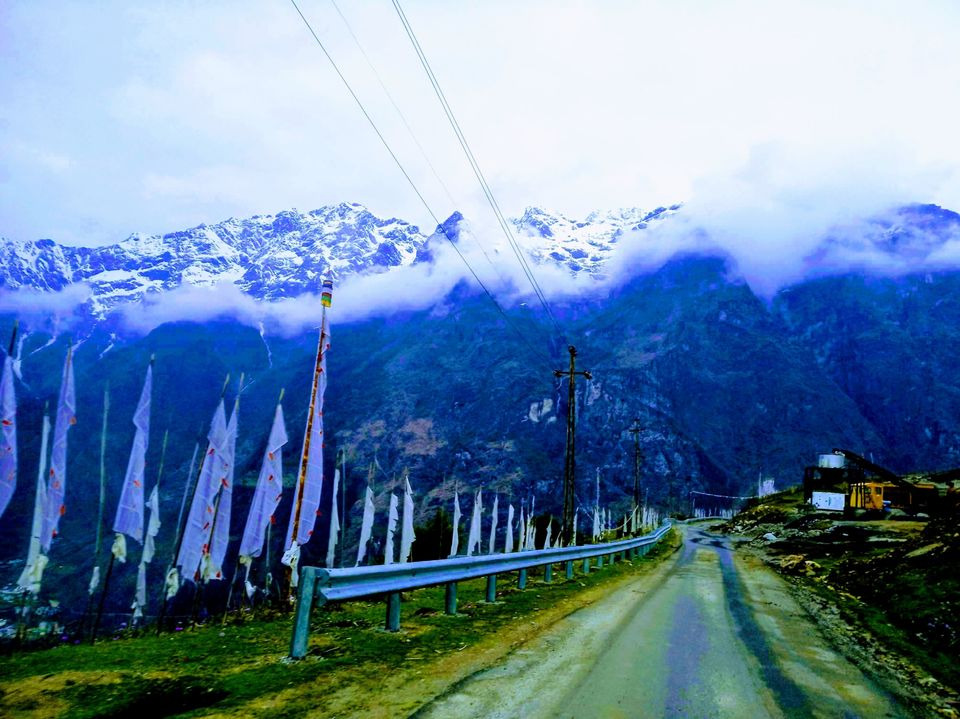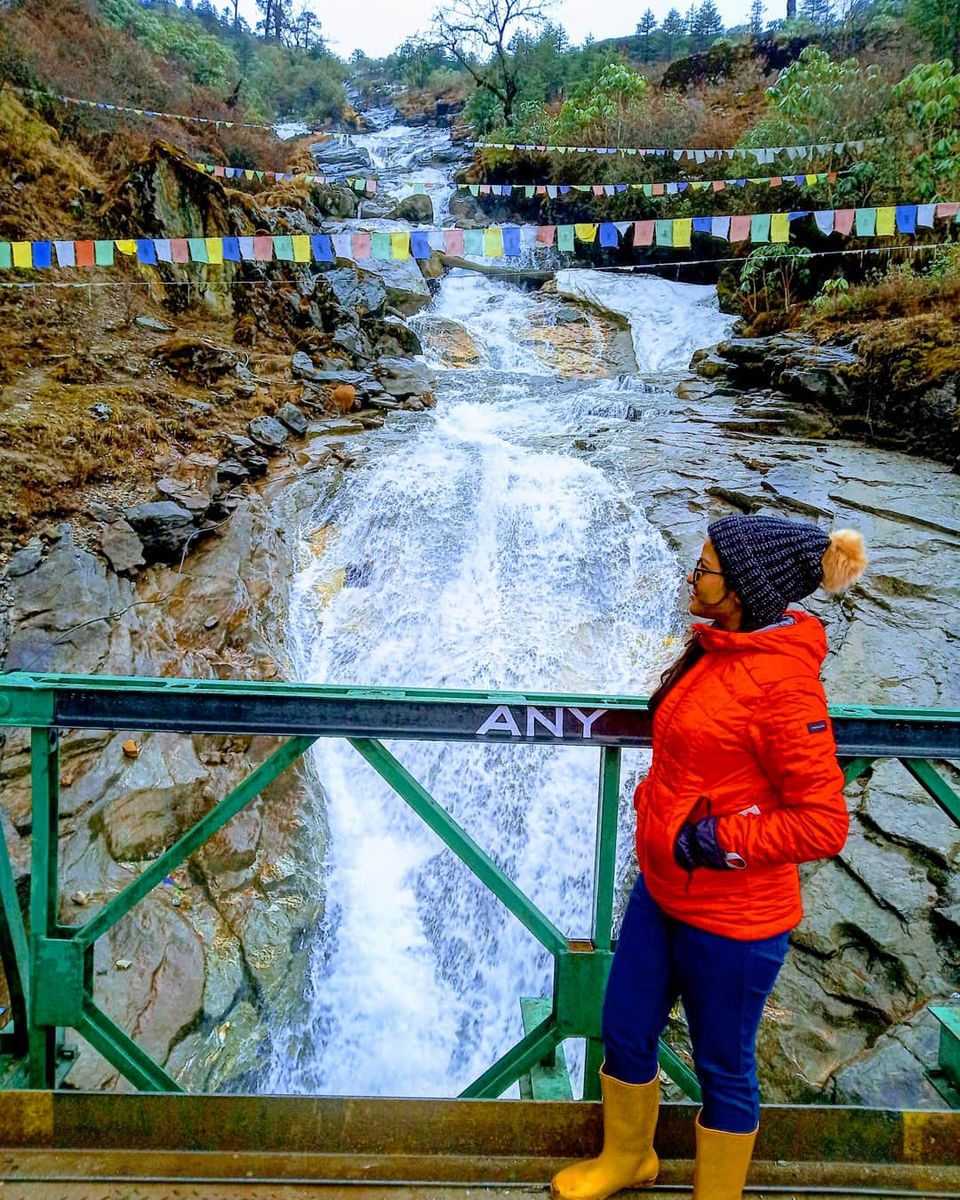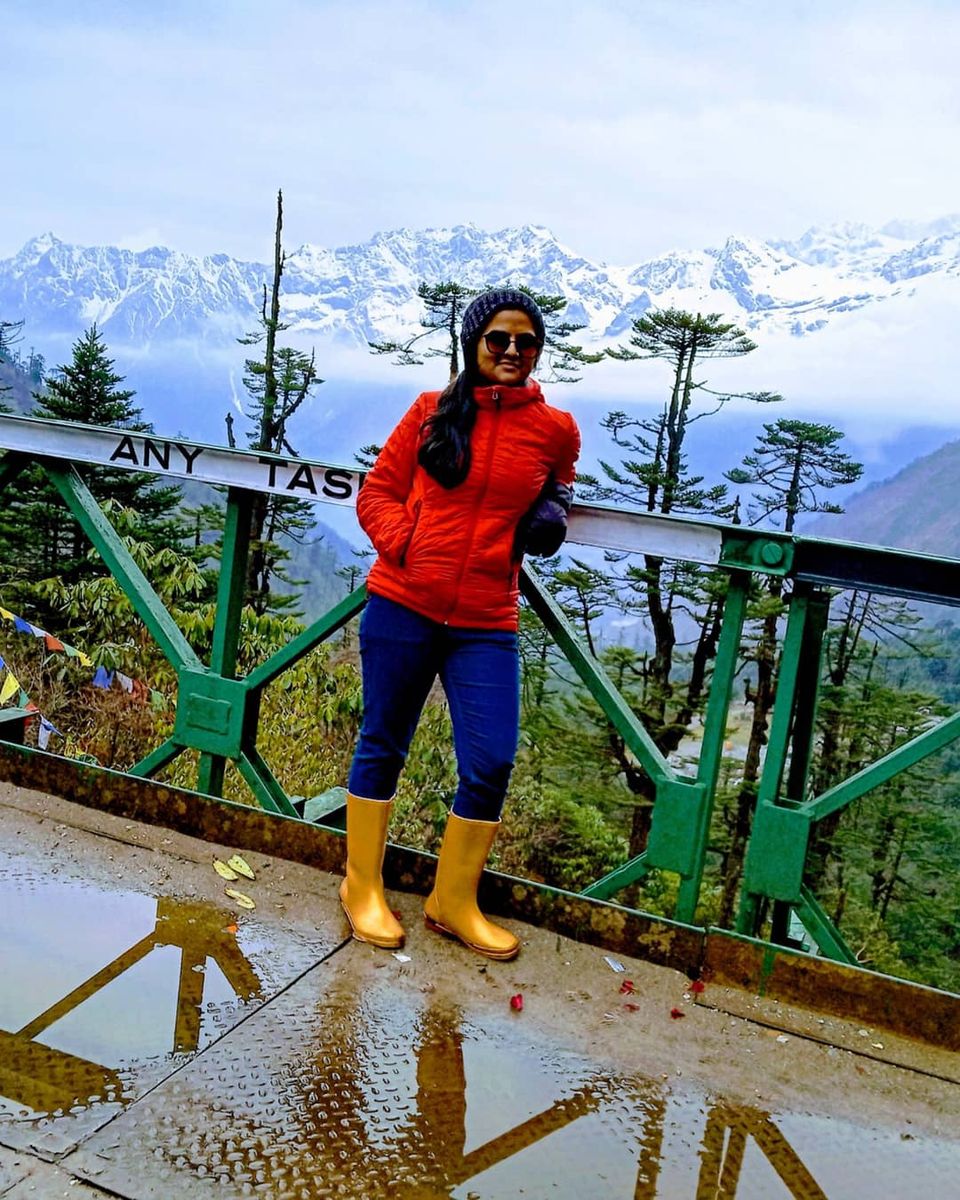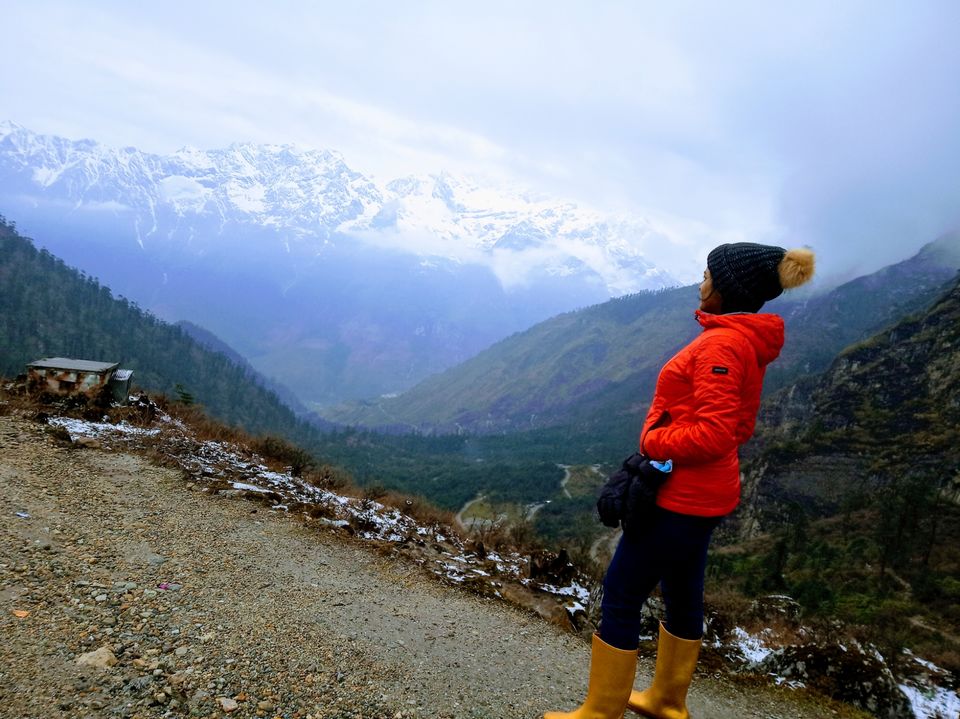 Morning started enthusiastically among the beautiful mountains. The cab was ready to take me to the most beautiful part of my journey towards Yumthang and Gurudongmar lake, Located at the height of 17,100 feet is one of the fifteen highest lakes in the world.  Encircled by snow-capped mountains and crystal clear icy water, It is considered to be a very holy lake.
So my journey commenced through the  cosmic green meadow, plush green forest abundant in Pine and silver fir trees, gushing waterfalls and streams along with a splendid view of peaks. Yumthang valley is also called "Valley of flowers", this is in a  rare and exotic location with hot springs, rivers, yaks and lush green meadows, this stunning valley is a paradise for nature lovers as it houses the Shingba Rhododendron Sanctuary which has over 24 species of Rhododendron flowers.
A few hot springs are situated here which is often visited by tourists as they are believed to have miraculous healing power. There is also a stupa of the buddha in the valley. After spending time in this enthralling valley and witnessing ❄ snow fall ❤ we moved towards Gurudongmar Lake, however we came to know that unfortunately the roads have been closed due to some reasons and we had to return from a particular place some kms down the way of Gurudongmar lake and it was something that's really felt like a postcard picture. That place was like straight out of those picturesque places of Switzerland... The splendid and scenic beauty of the place is breathtaking and the beautiful view of Mount Siniolchu and Kanchenjunga is a sight to behold and cherish. After such a breathtaking journey amid the mini Switzerland it's time to return to Lachen and then to Gangtok as the package completes today and we cannot extend that sadly. I reached my hotel in Gangtok at 8:30 pm and that's quite late in those areas.
Another reason for this package system may be the sustainable tourism and the landslides as there are numerous waterfalls and the weather is rainy mostly it makes this area prone to landslides. So don't forget to book the package from a good local operator and travel responsibly.
Day 1 ~ NJP railway station / Bagdogra Airport - Gangtok
Day 2 ~ Gangtok - Lachung
Day 3 ~ Lachung - Lachen - Mt Katao
Day 4 ~ Lachung - Yumthang valley - Gurudongmar lake - lachung - Gangtok