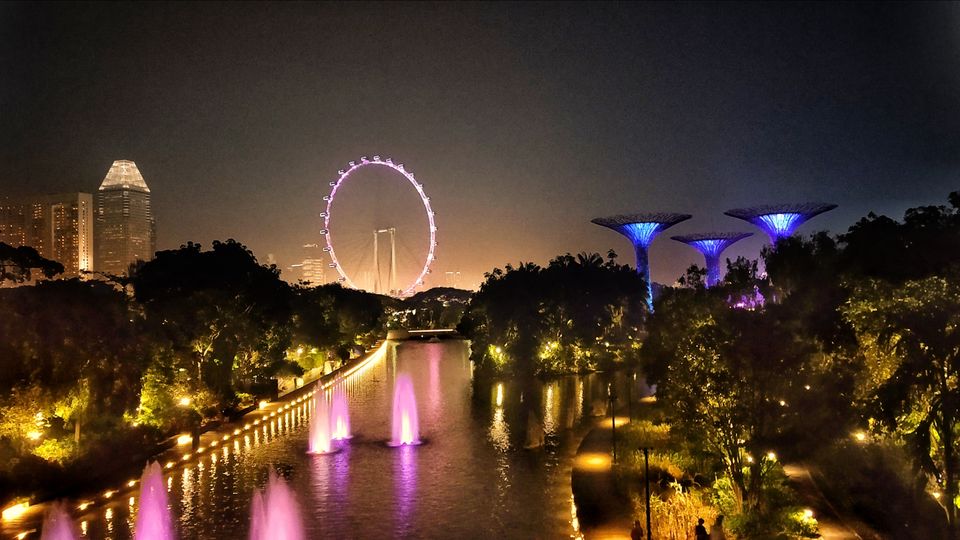 Singapore is the most visited tourist destination in southeast asia. At least for most of us Indians, Singapore must definitely have been the first international trip! But apart from the sightseeing, how many of you have actually gone out of the way to try the food in Singapore? Not many I presume. So here's a snippet of all the stuff that we tried on our latest Singapore trip and some tips to wade through the food scene... Without creating a dent in your wallet!
About Singapore!
Singapore is a multi cultural hub, and that reflects on the food. Obviously there's heavy influence of the south east Asian culture on the food options and the spices but there are likewise western cuisine options too. Chinese, Korean, Indonesian, Thai, Indian all go hand in hand with the American and European cuisines. There's just about everything for everyone.
Singapore is an expensive city. That's just the truth and there's no way to escape that fact. But notwithstanding these things, the food prices come in all shapes and sizes, from the budget eats, where you can have a full meal at 200 INR to the pricey restaurant eating where you might blow up anywhere upwards of 10,000 INR on meagre things. And then there's the taxes on alcohol which make it a tad expensive where the beer prices vary from 200 INR in grocery stores to atleast 500 INR for a pint in restaurants. And that's just the cheapest alcohol options I am talking about.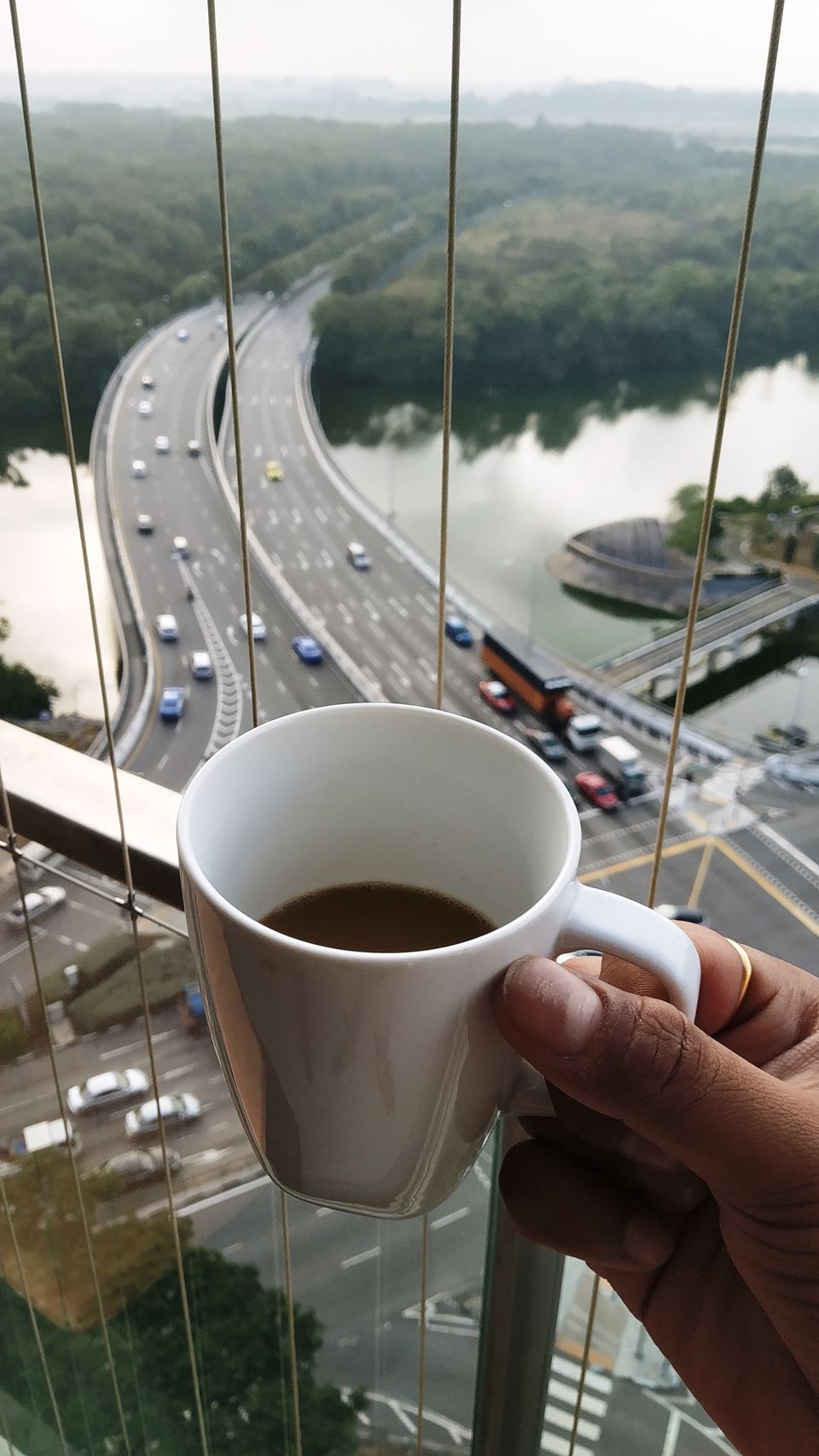 Where to eat?
The food scene is broadly divided in two options- the kopitiam and hawker stalls and the restaurants and food chains.
Kopitiam and hawker stalls-
A kopitiam, as Google would say, is an open air coffee house, but this term can be expanded to include the stalls that serve different foods and beverages along with the coffee. A hawker centre is just an elaborate version of the kopitiam with much more stalls and much more varieties of food to choose from.
For your budget eating needs, any hawker centre is your go to place. A full meal here can range from 2.5 SGD to 7 or 8 SGD depending on what all you order. And this same can cost you around 10 to 15 SGD at the food courts in most malls in Singapore.
The cuisines, I noticed at most hawker centres, were predominantly Southeast Asian. So strap in and enjoy that fishball noodle, or chicken rice, or roast duck, or the various shrimp and fish preparations! Most stalls have the various meat preparations on display, so you just have to walk up to them, order rice and noodle or soup and point out the different meats that you want to go with. Simple enough.
Restaurants and food chains-
These are just your run of the mill usual restaurants and there's nothing great to be said about them, except for the fact that they are pricier than the hawker centres. And there's a whole range of prices for that too which ranged from literally 30 SGD to almost a 100 SGD for two, considering the fact we picked the budget options. But there are restaurants here more costlier than these. And of course you won't miss your favourite food chains like McDonald's or KFC or Starbucks here. They are aplenty. A meal here would set you back around 10 SGD approximately. (Starbucks is definitely pricier than back in India)
Research?
Obviously Google is your go to tool for that. Most of the restaurants have their own websites and typing menu after the place's name will give you an idea of the pricing there, so you can plan accordingly. Apart from that you can use apps like eatigo to look for restaurant and they even offer discounts. One other site is Chope which you can use for restaurant reservations, and they offer a discount of 10 SGD if you pre purchase 100 SGD for the meals from them. Even if you just go out to explore on your own without any research plenty of restaurants will have their menus displayed outside, so be sure to take a peek and then head inside.
So let's get down to the various places that we visited and which you can definitely give a try!
Uncle Leong seafood
They have a few outlets in Singapore and we visited the Punggol one. They have a huge sitting and also a sit out to eat by the river. The food was very good and i tasted some of the best chilli crab here. And not to forget those cute little mini buns which literally were melt in the mouth. Also we tried the superior soya sauce prawns which were pretty decent quantity wise and tasty!
There are a number a places to try chilli crab in Singapore, which is quite famous here. The prices vary as per the weight and a weight of 1kg is sufficient for two. Another place to try, which is just as good, is Melben seafood, which i had tried on my previous visit.
Chilli crab (1kg)- 56 SGD
Superior soya sauce prawns- 20 SGD
beer pint- 10 SGD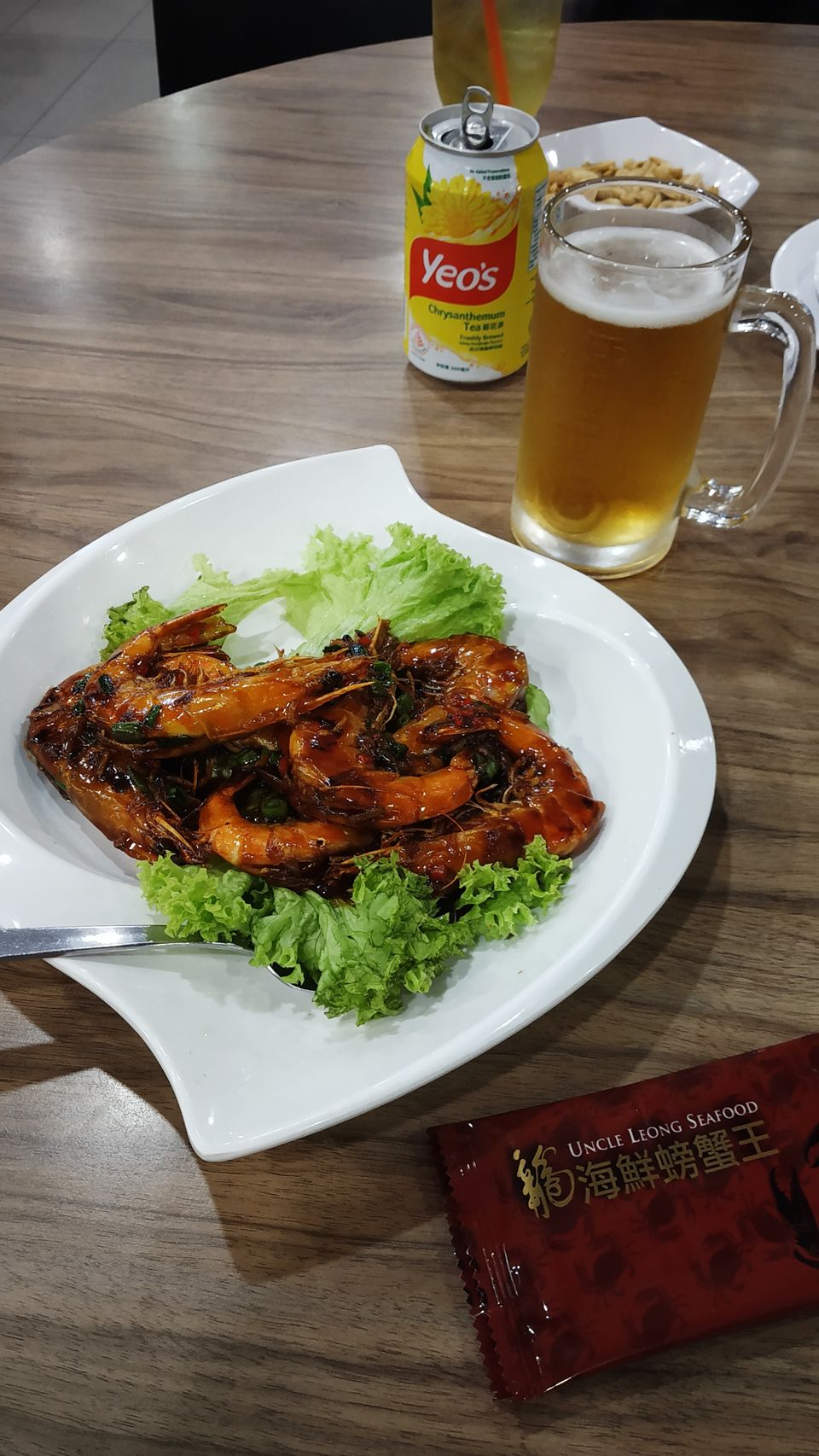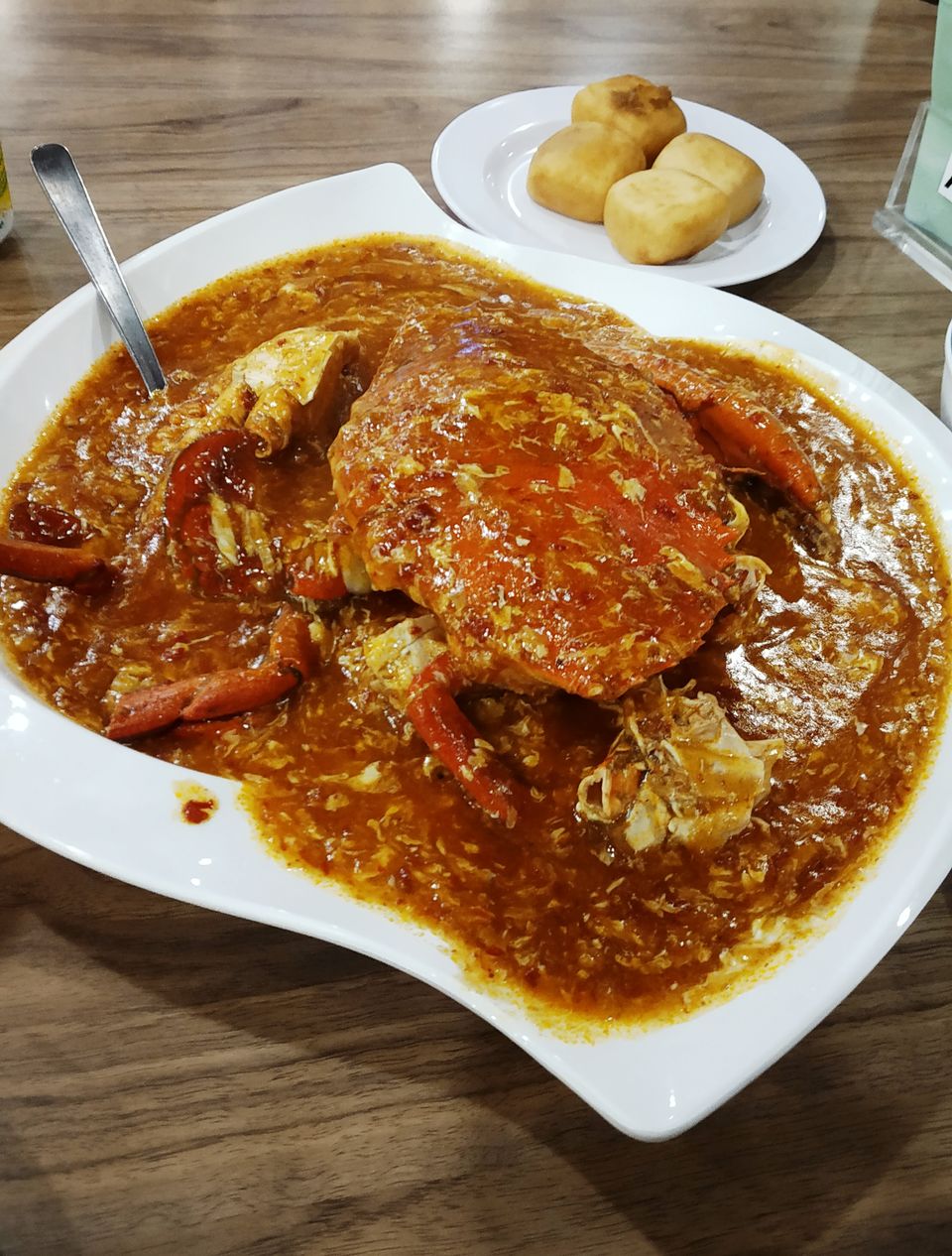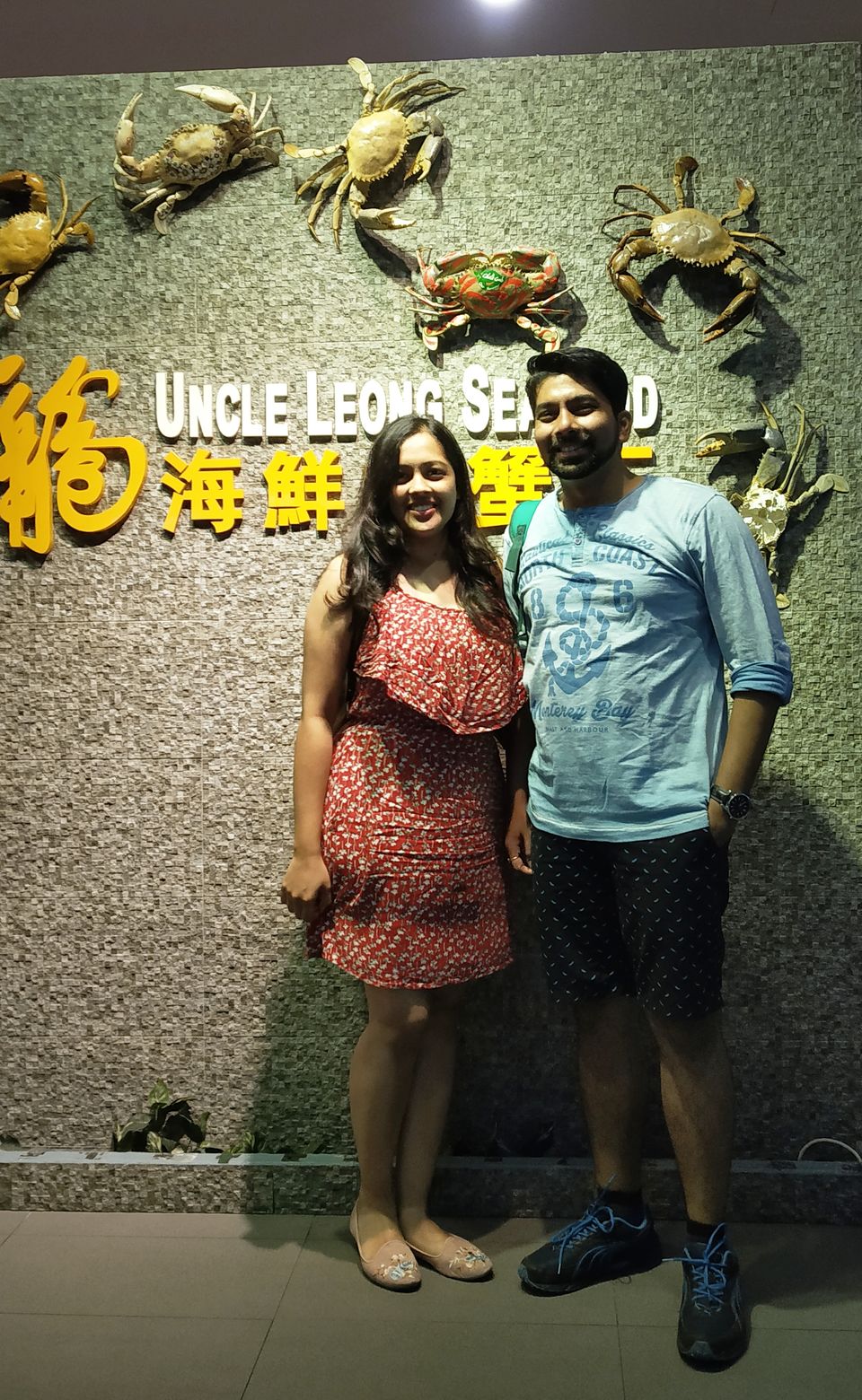 Newton food centre
This is an elaborate hawker centre located Just outside of Newton MRT. To be truthful I first heard of this place on the movie 'Crazy rich Asians' and decided to gave it a try. Sure it was all worth the visit.
It consists of almost 80 stalls serving almost all of asian cuisine under one roof (no wait, it was an open air sitting). Try going early by 5pm and you'll find a place, which you'll feel glad for later when it becomes very crowded. The pricing for the food is almost the same for all the stalls. Try ordering stuff which has got a fixed price as per their menu. There have been incidences of tourists getting fleeced by the hawkers here, and the usually happens for the items which have seasonal pricing like some exotic fish or crab.
Things we tried - Satay (all varieties) from TKR yummy chicken wing, sambal Stingray from Guan kee grilled seafood, oyster omlette from Hup kee oyster omlette, carrot cake, otah, which were all so yummy. And there's a whole lot more to try here! Try getting the smaller portions so you can try more new stuff!
Satay sticks- 10 for 7 SGD
Otah- 1.2 SGD
Oyster omlette- 6 SGD
Carrot cake- 3 SGD for the white one and 5 SGD for the dark soy one.
Sambal Stingray- 12 SGD
A full bottle of beer costs around 7 SGD for tiger beer and 10 SGD for Asahi and Heineken. There are other beverages too like cold coffee for 2SGD, iced tea, coconut water and others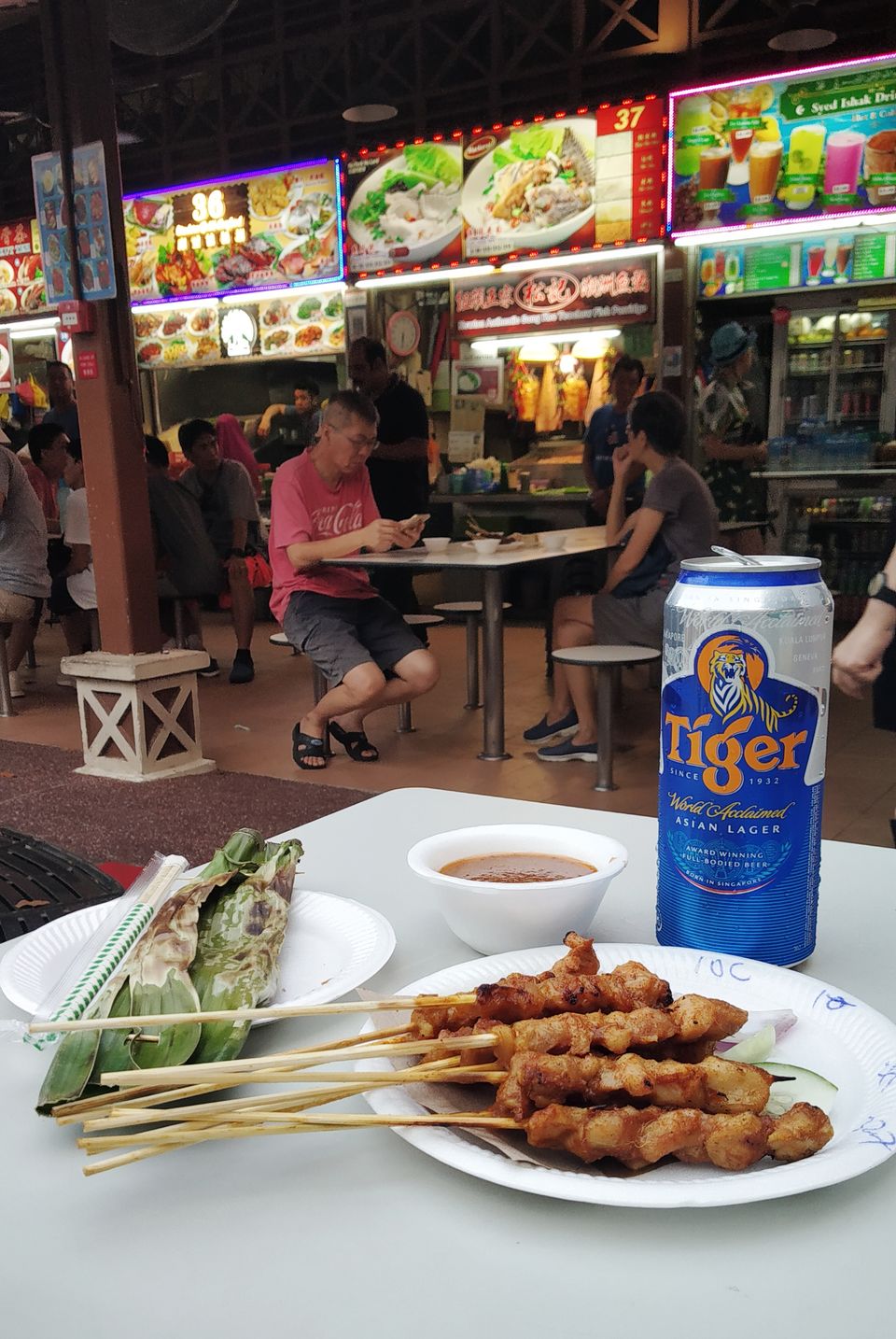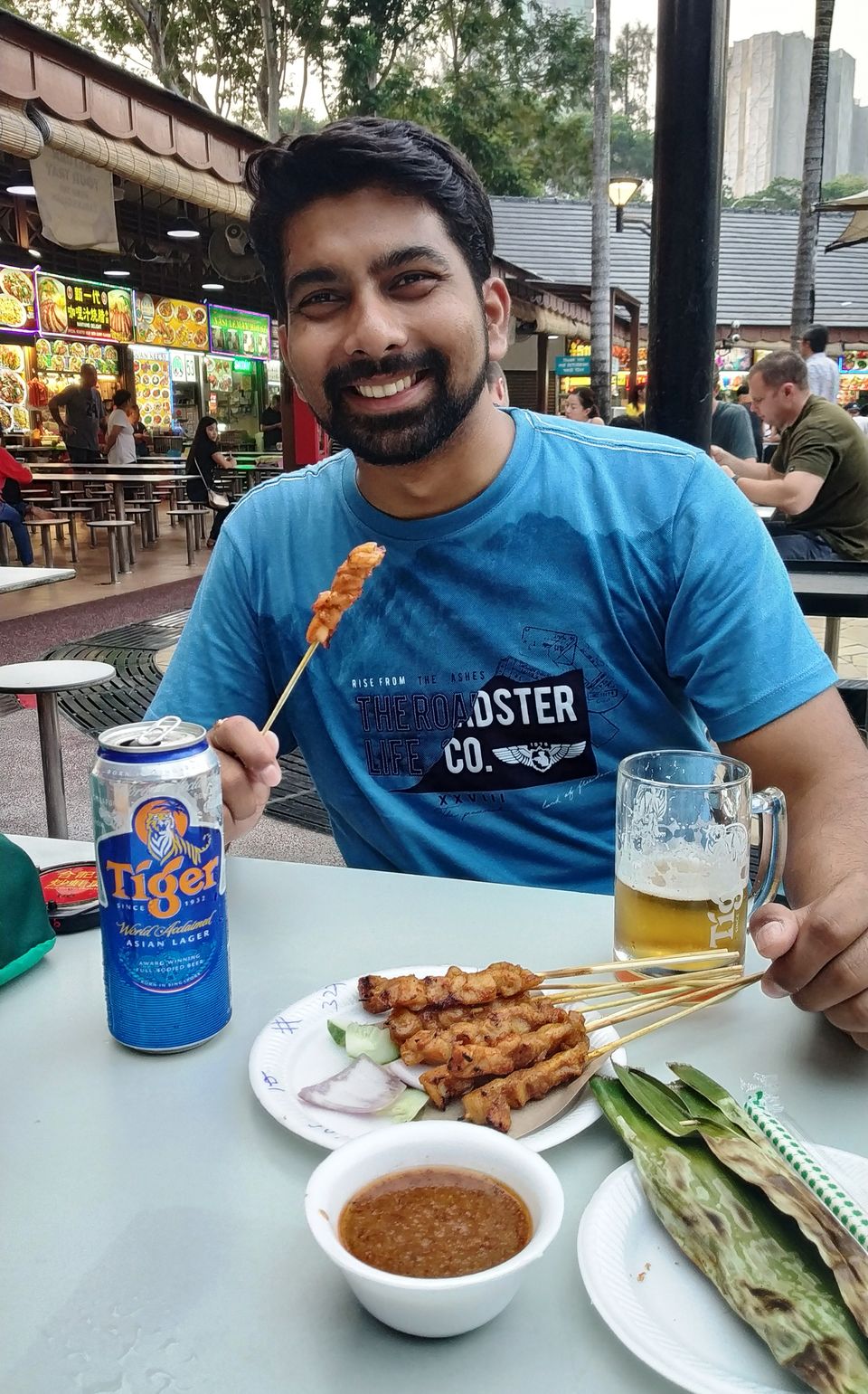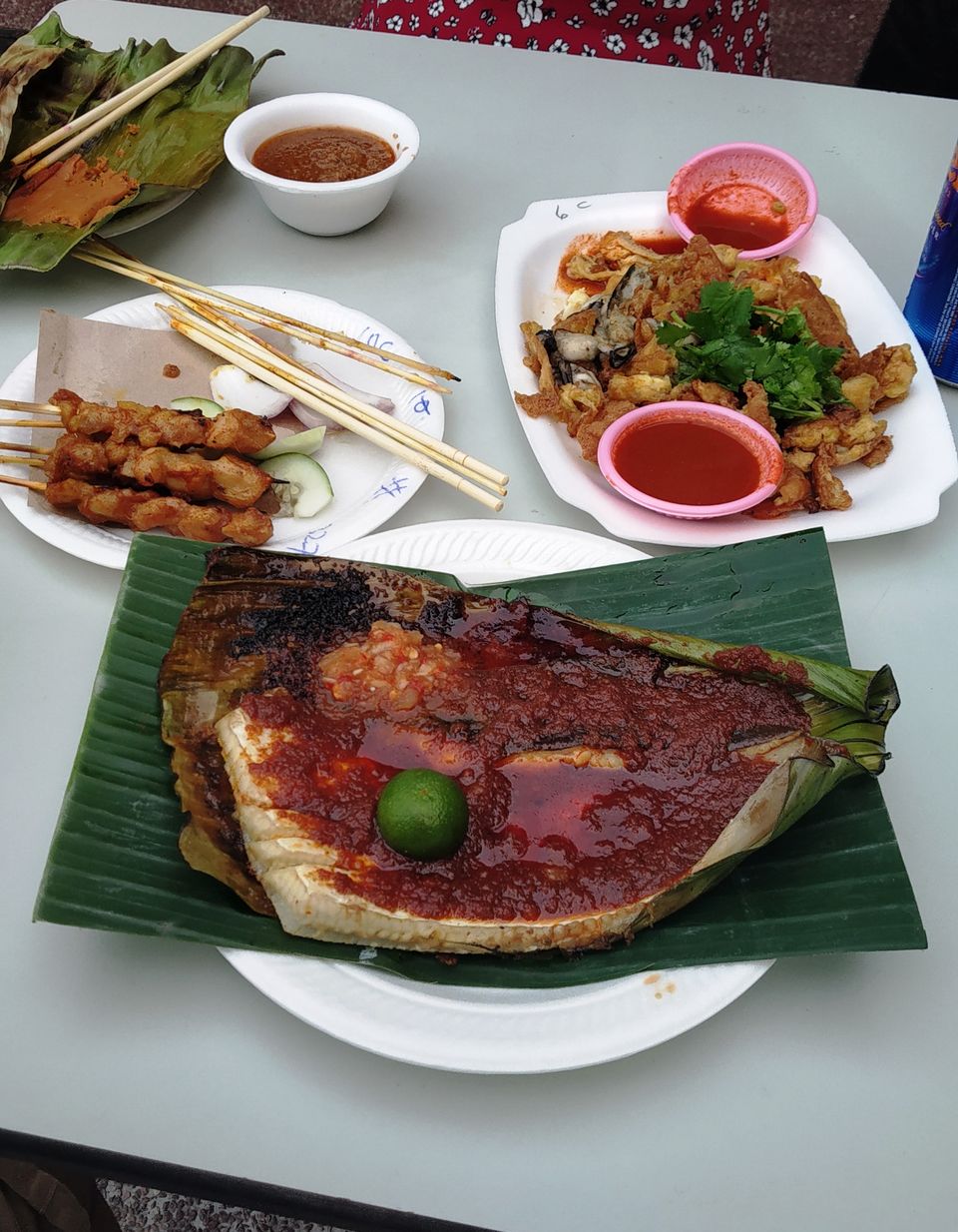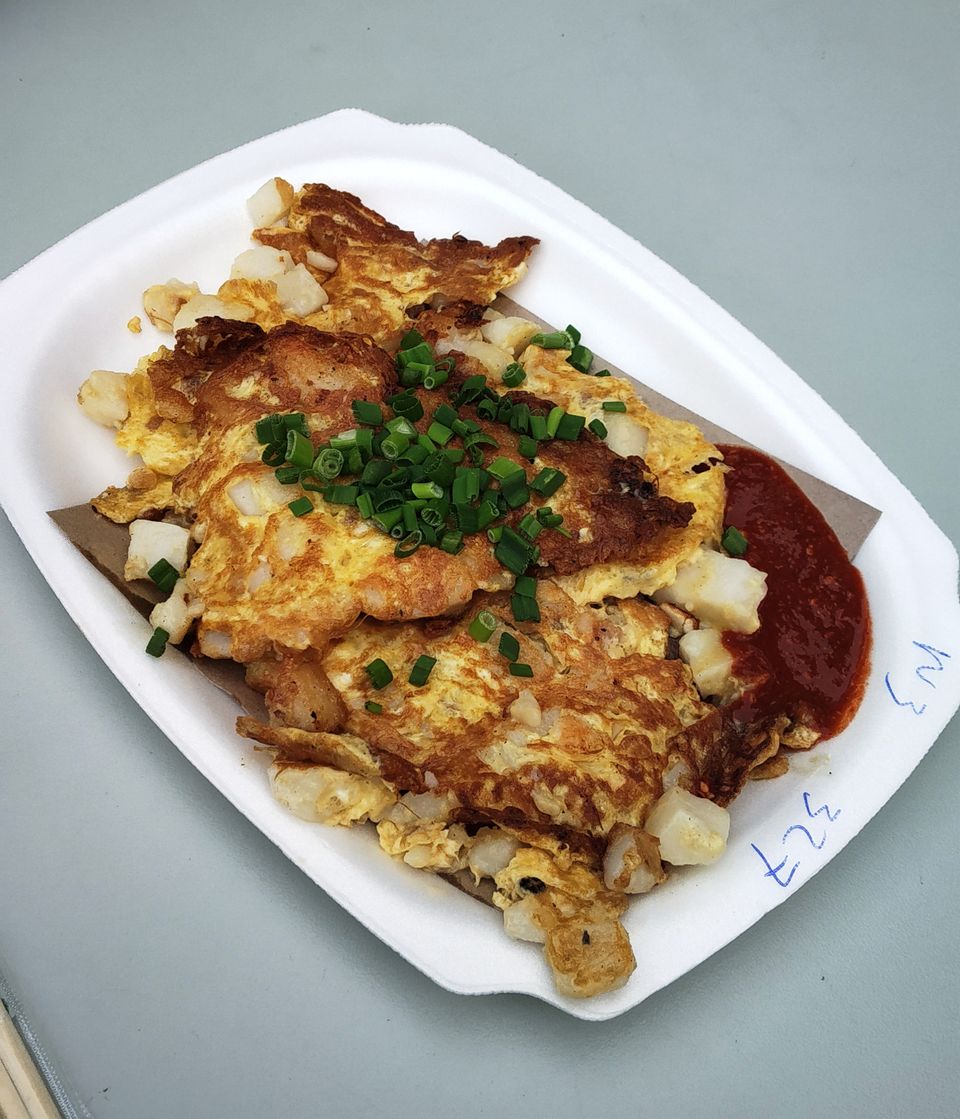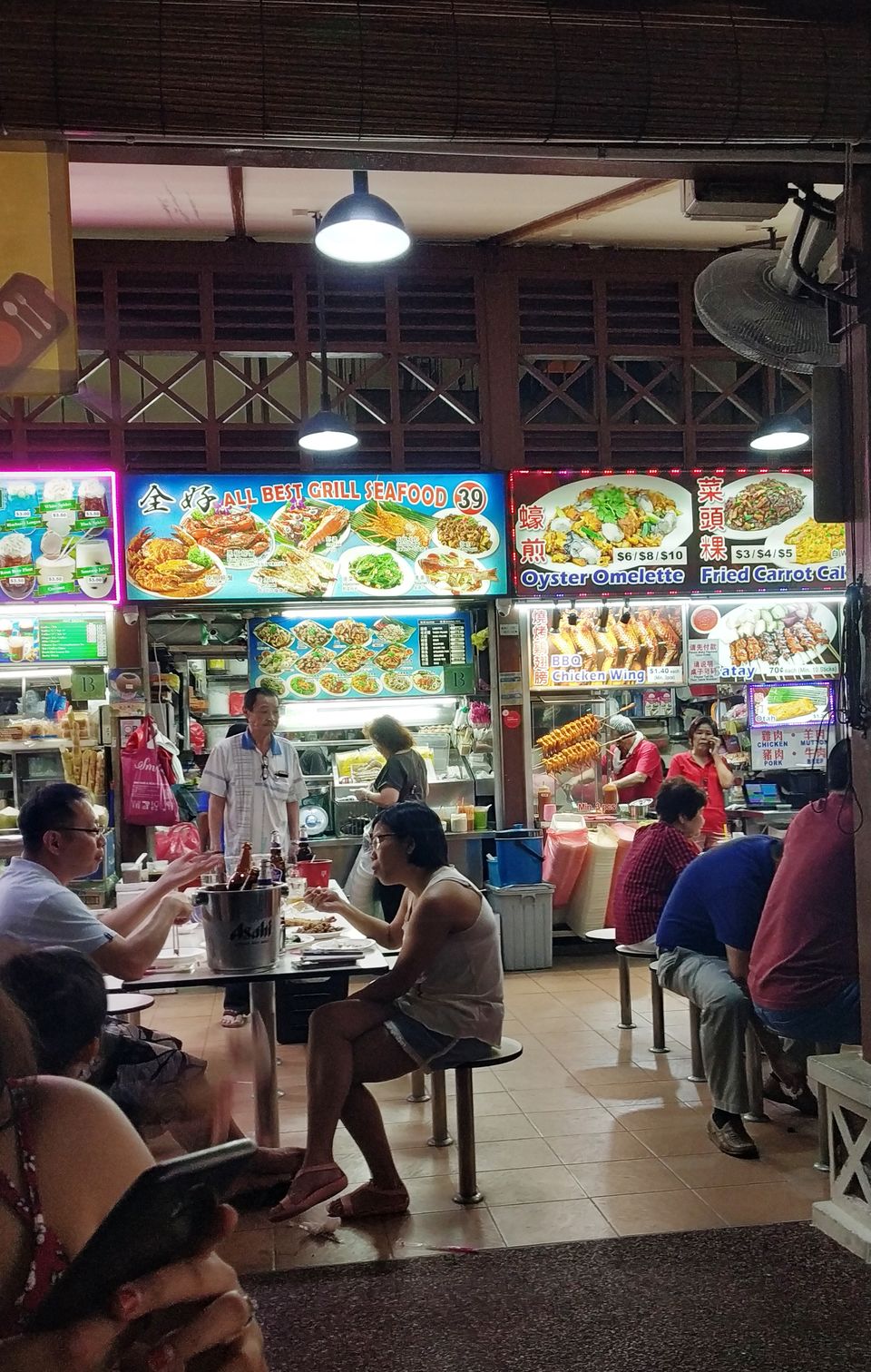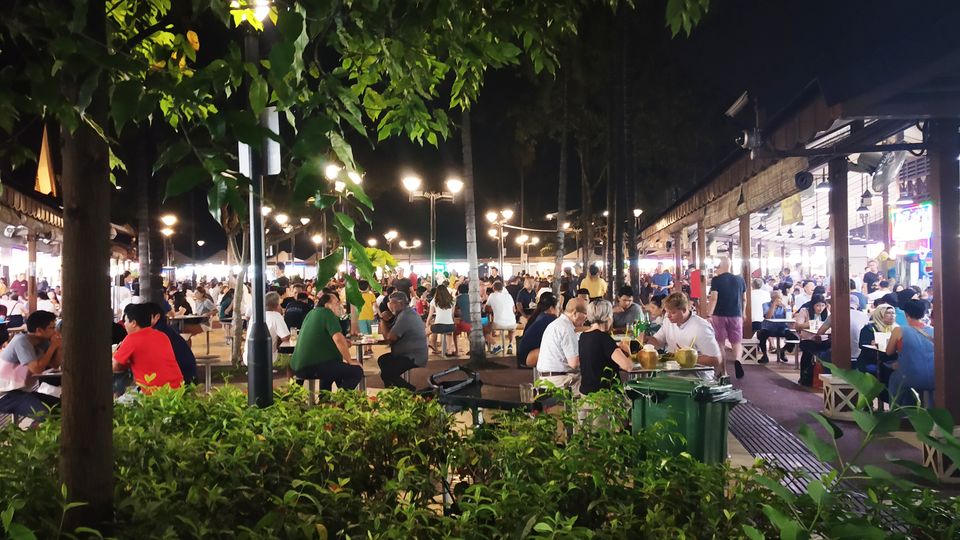 Clarke quay
At a walking distance from Clarke quay MRT, this riverside, bumbling nightlife hub of singapore should definitely find a spot on your food journey. What could be more fun, than enjoying a cold beer with some great food to the sound of live music and by the riverside. The food here caters to every cuisine imaginable. Costs vary from restaurant to restaurant with the indoor ones being a tad expensive than the outdoor ones. Most of the places have their menus displayed, so do check them before heading in. There are offers on alcohol at most of the places here so be sure to check those out too. On an average a bucket of 5 pints will cost about 40 SGD.
To be truthful i was a little bored of the usual asian food, so we went for american food at a place called 'Hooters'. Quite a few of the places here are open past midnight, some even till the wee hours of morning.
Chicken wings in bbq sauce- 17 SGD
Prawns in hot sauce- 17 SGD
Tiger crystal beer- bucket of 5 pints for 38 SGD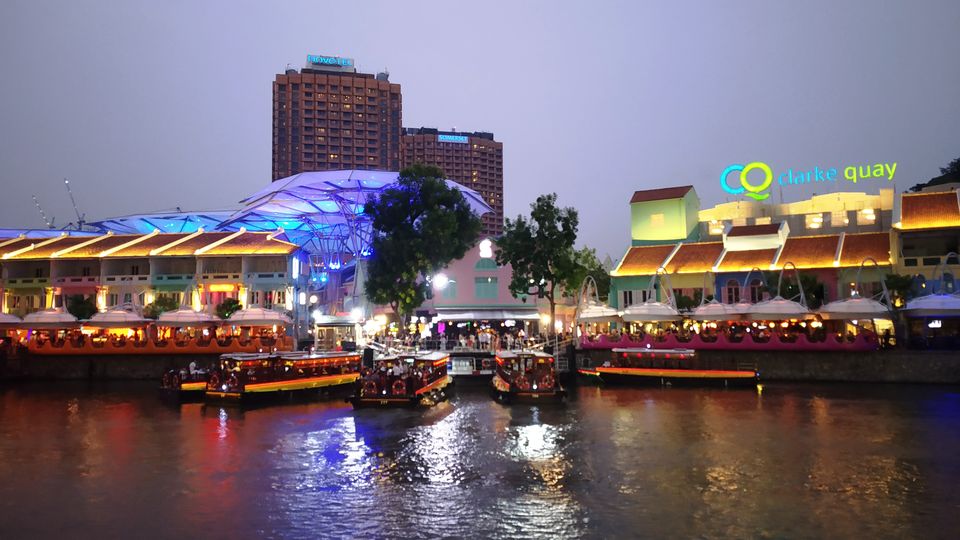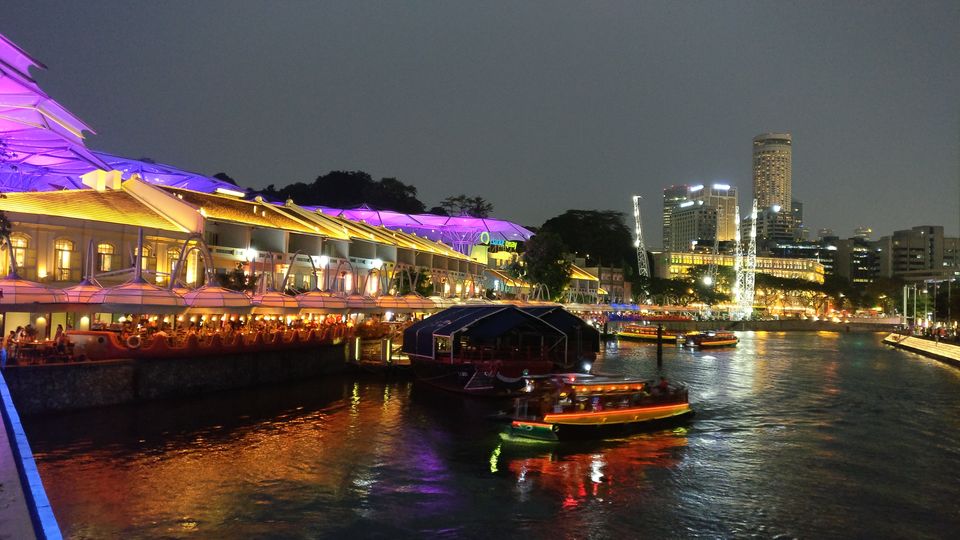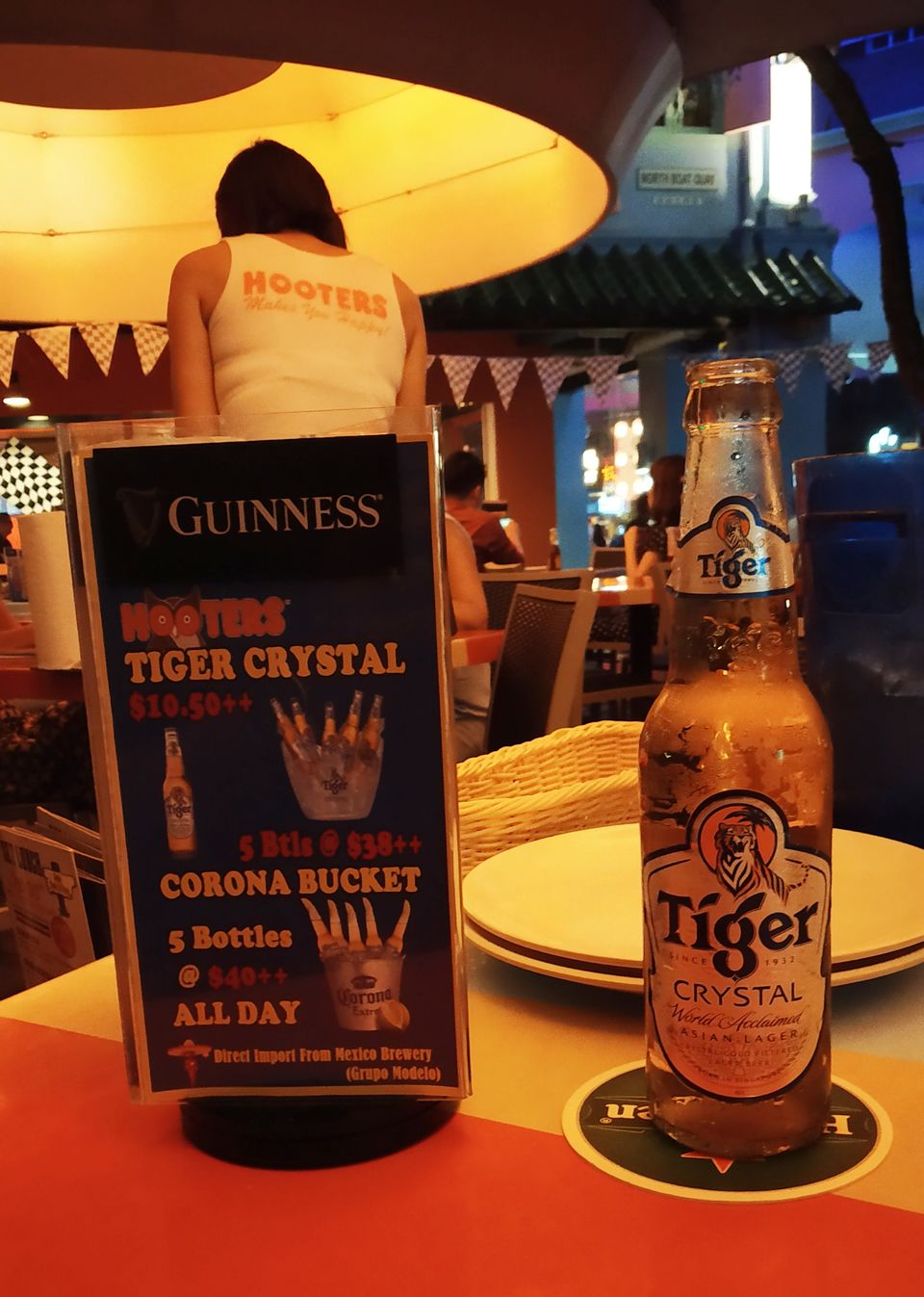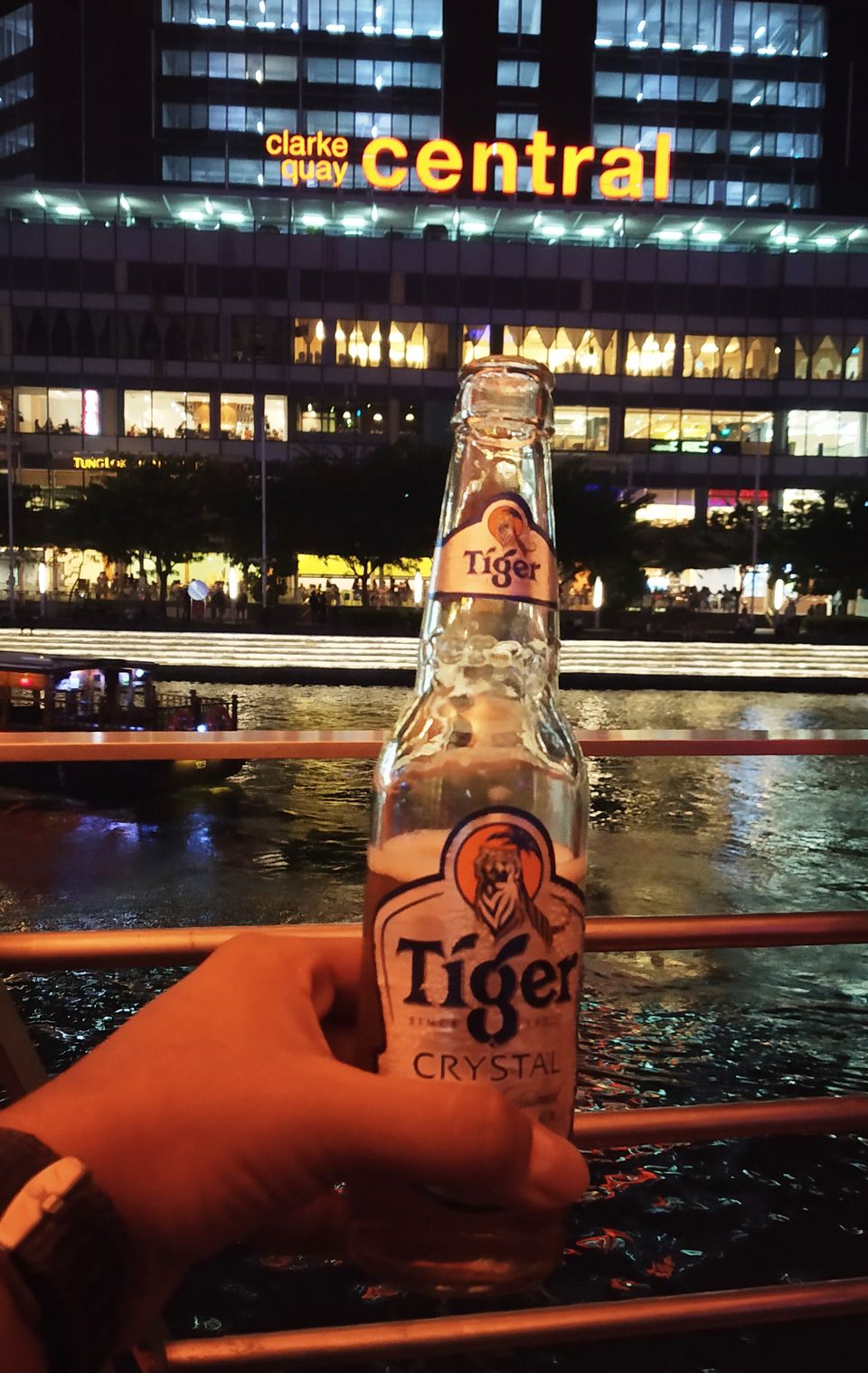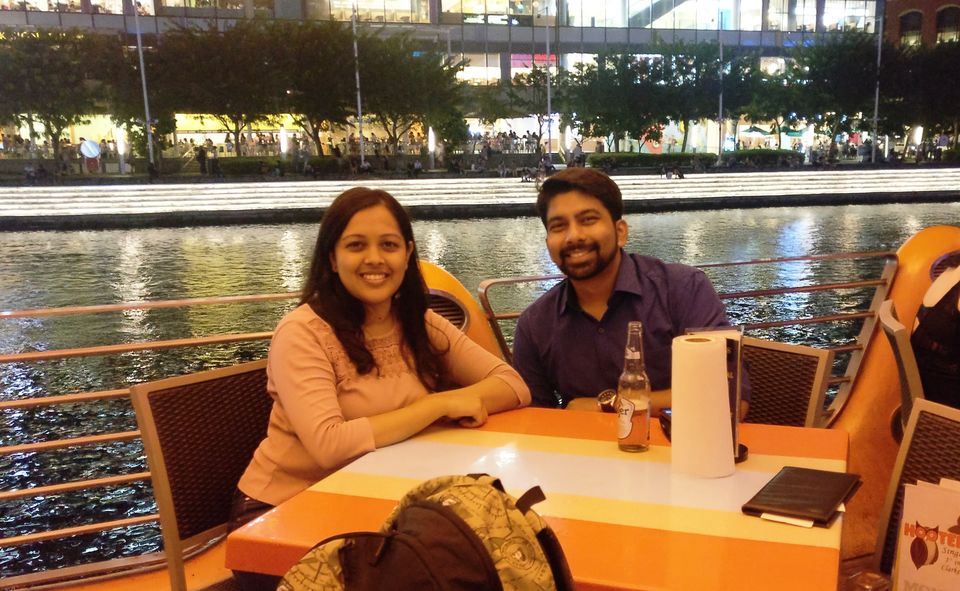 Rasapura masters
This is an upmarket hawker centre located at below the marina bay sands hotel and shopping complex. Chances are you have visited it after you watched the water and light show at the waterfront. The cuisines you might find here are Chinese, Japanese, Korean, Indian, Malaysian, Vietnamese, javanese and fillipino. The prices for your meal here will be approx 15 to 20 SGD, more expensive than the other hawker stalls you'll find in Singapore.
We tried Javanese cuisine, with roasted chicken leg and noodles for 18 SGD, fried pork dumplings for 6 SGD, and icecream 4.5 SGD.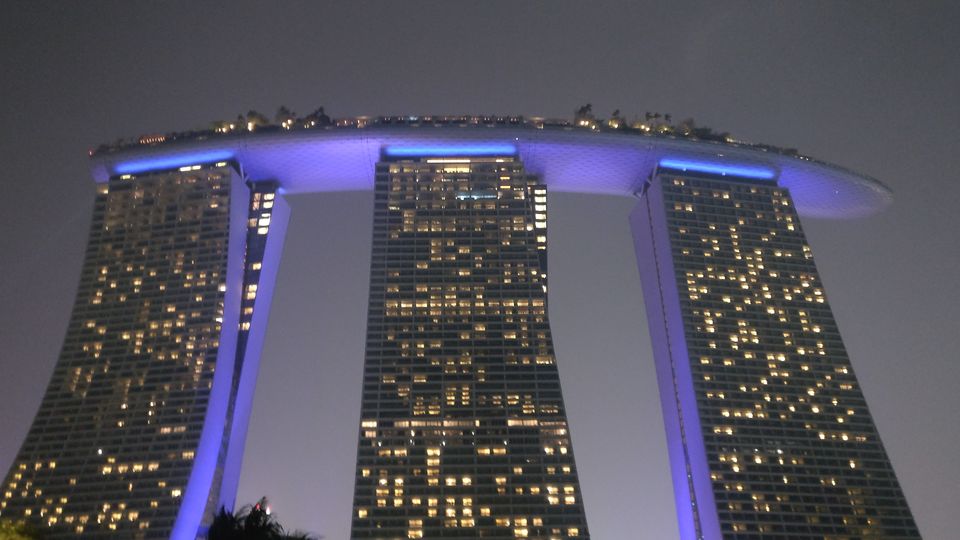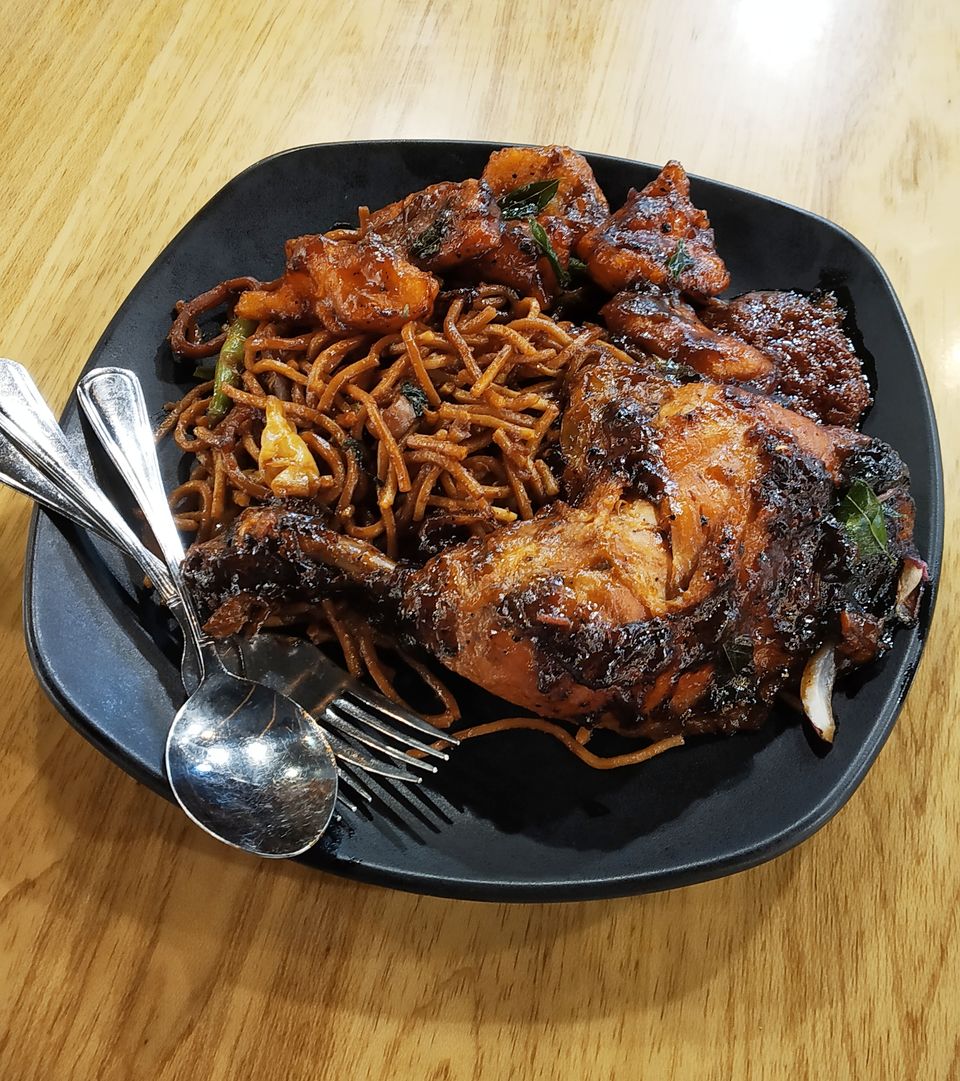 Food republic
Located inside Vivocity mall, this is your go to place after a long day of sight seeing at Sentosa Island and Universal studios. You can find it right where you exit from the Sentosa rail (which drops you back to mainland for free). You can find all cuisines here and a meal here will cost you around 10 to 15 SGD. We went for a fish and chicken Bento set for 8 SGD, which had some fried chicken, an ample slice of grilled salmon, soup, rice and salad!
They have a nice sitting area giving a retro asian feel, complete with wooden tables, and the hanging lamps. There are some pretty delicious desserts at the Ice shop here. Desserts vary from 2.5 SGD to 6 SGD. Try the ice kachang for 2.8 SGD, an ice dessert with three different flavoured syrups with lichee bits, jellies and sweet beans!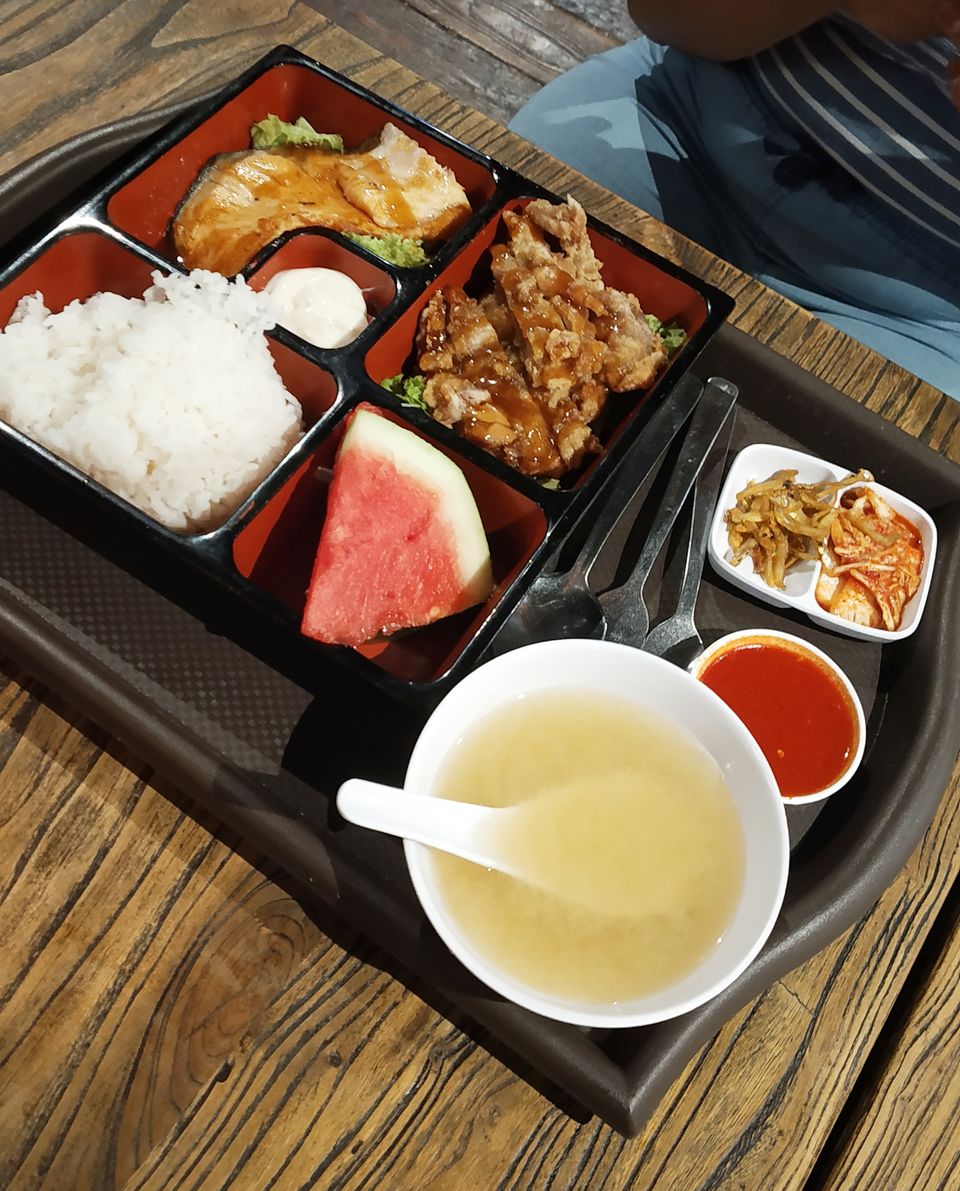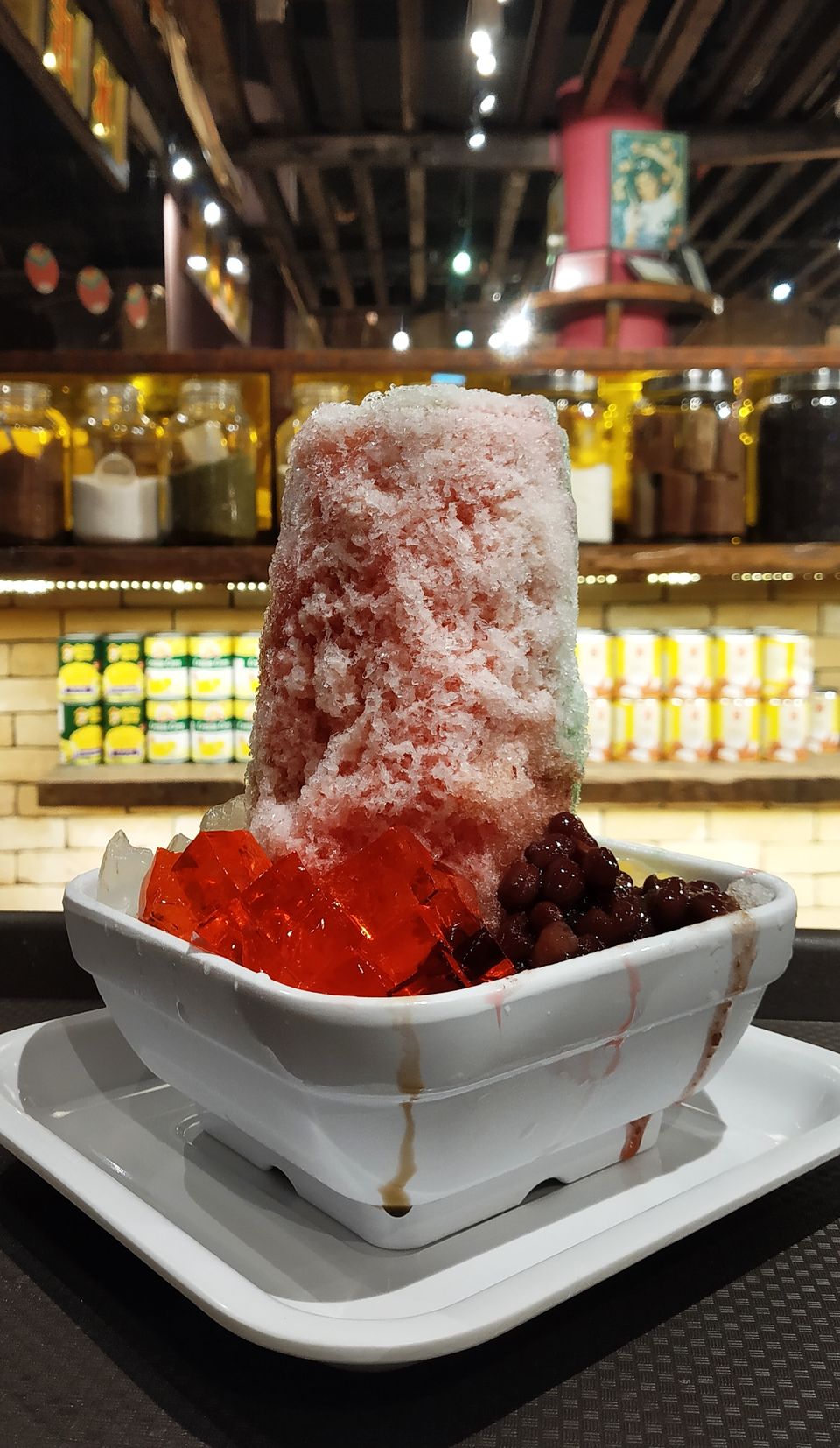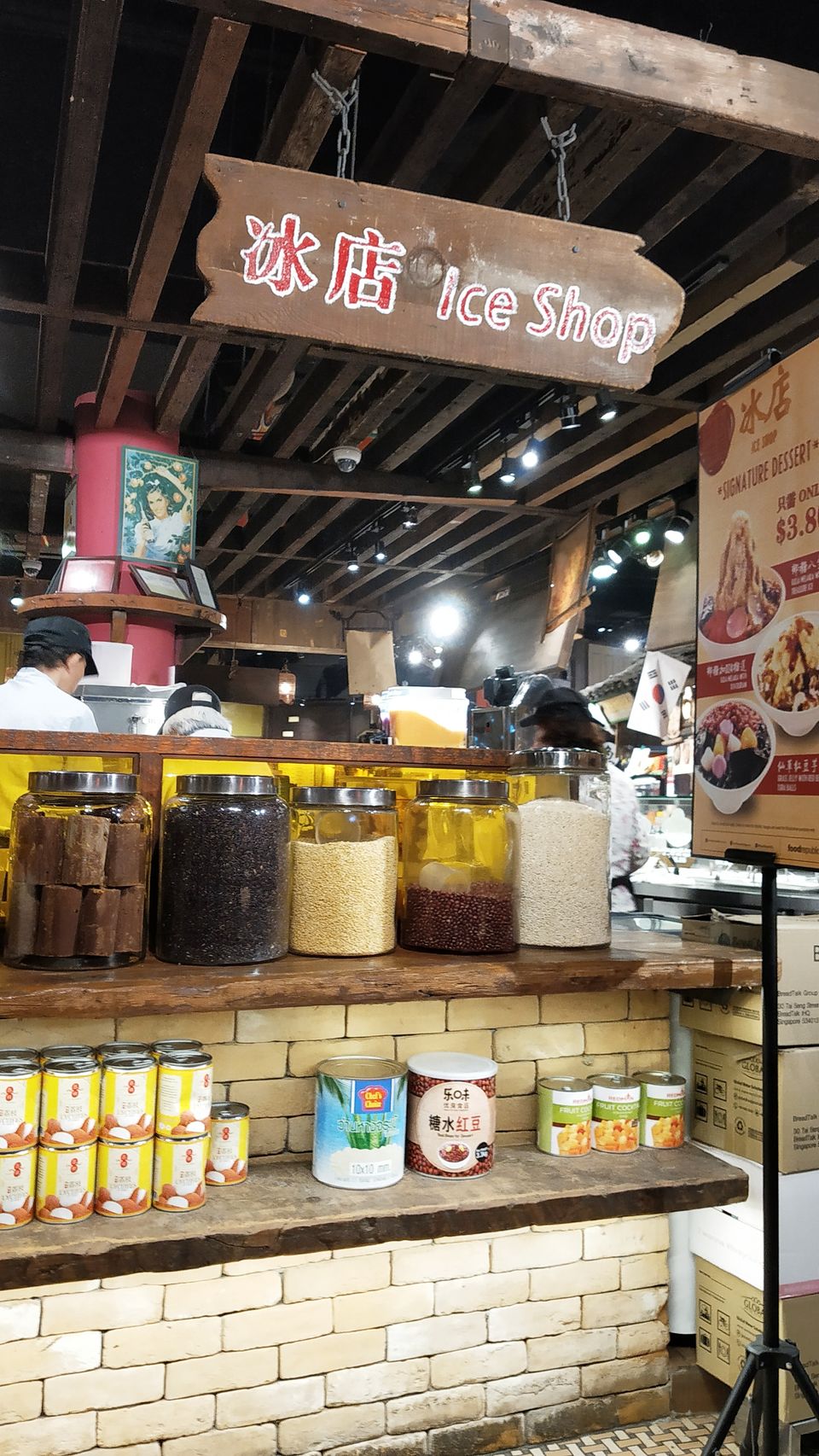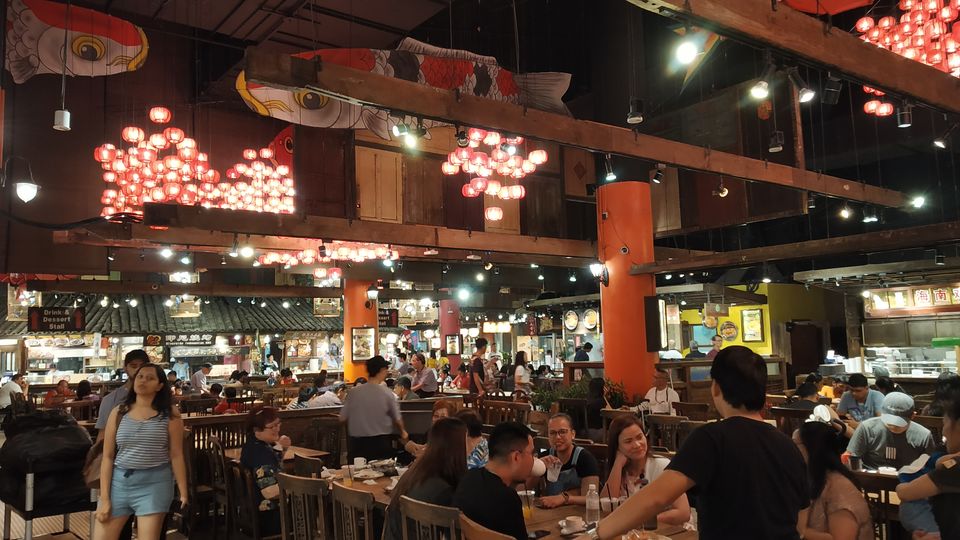 Japanese gourmet town
You will not believe us, but we actually found a restaurant place where the prices were just shy of a food court. Located in vivocity mall, this restaurant has pretty basic interiors, but they also have outdoor seating overlooking the sea. Their menu is displayed, complete with a replica of all the dishes. A fried chicken tenshin han set, which included the tenshin han (fluffy crabmeat omlette on rice, covered in gravy), soup, and 4pcs chicken gyoza cost us just 15 SGD. It was some of the tastiest japanese food we had tried here and so much pocket friendly. Their menu and quite extensive and all sets like the one above are between 12 to 18 SGD. That literally makes for a full meal.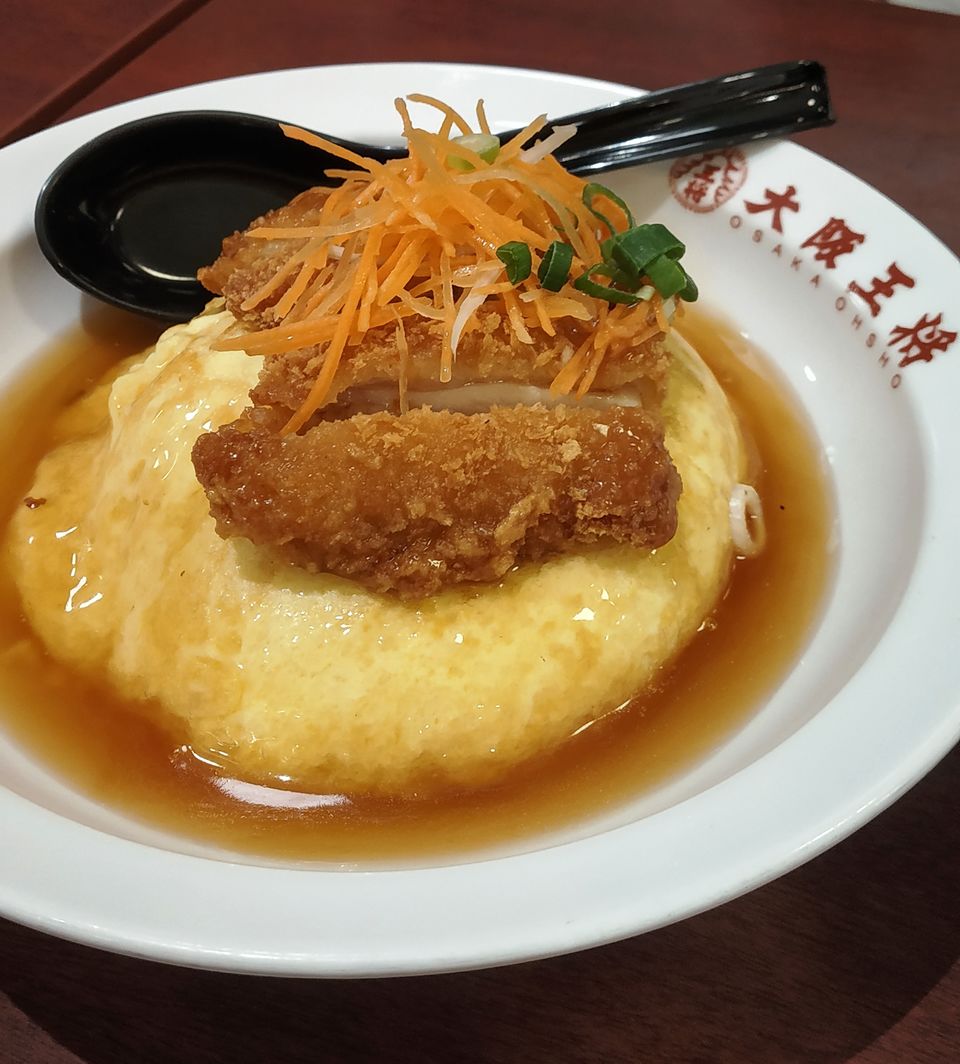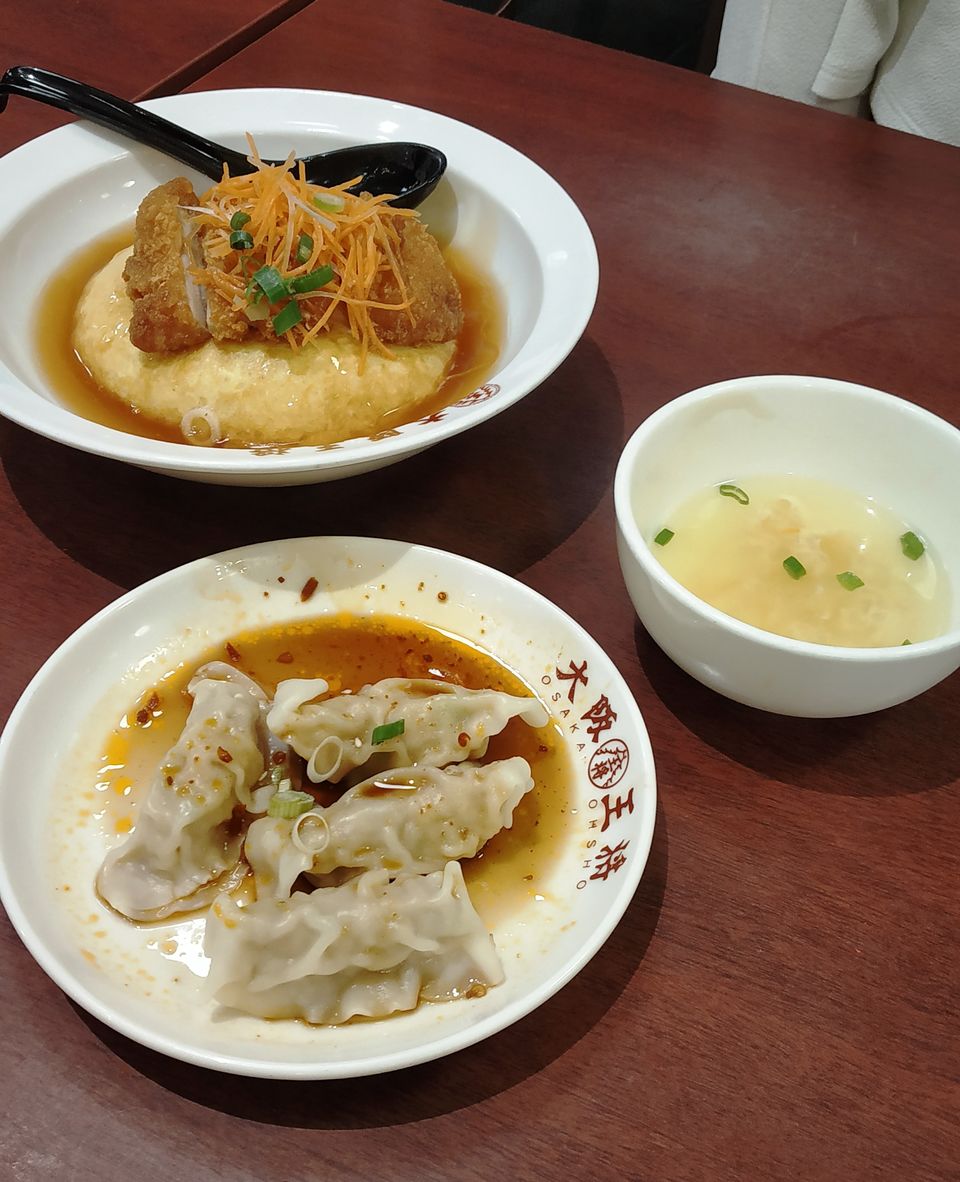 Marche Movenpick
Let's not forget that Singapore is not only about Asian food. Have a go around at Marche, a Swiss restaurant, located at vivocity terrace. Full points to the restaurant for its ambience which converts it into a market place complete with vegetables all around you. Pick up your card when you enter the restaurant, which also doubles up as your money inside the market place. Head up to the various stalls which serve different items, right from crepes, pizzas, grilled meats to the delicious swiss rosti. They have a counter for drinks too and you can try a hand at some beer like veltins lager.
Rosti with chicken sausage- 8 SGD
grilled chicken- 15 SGD
pizza- 24 SGD
Pasta- 16 SGD
Crepes- 15 to 20 SGD
Beer- 15 SGD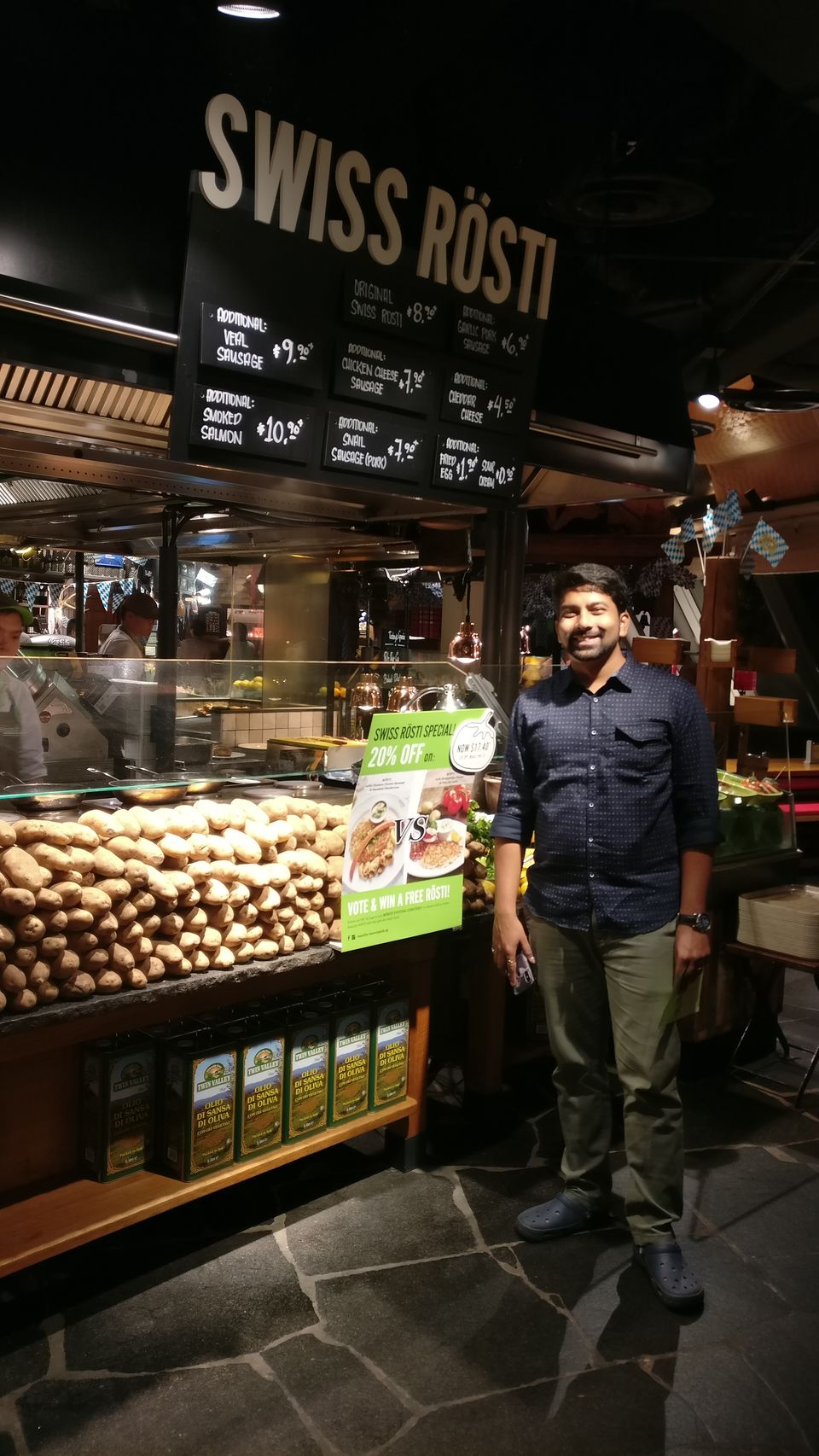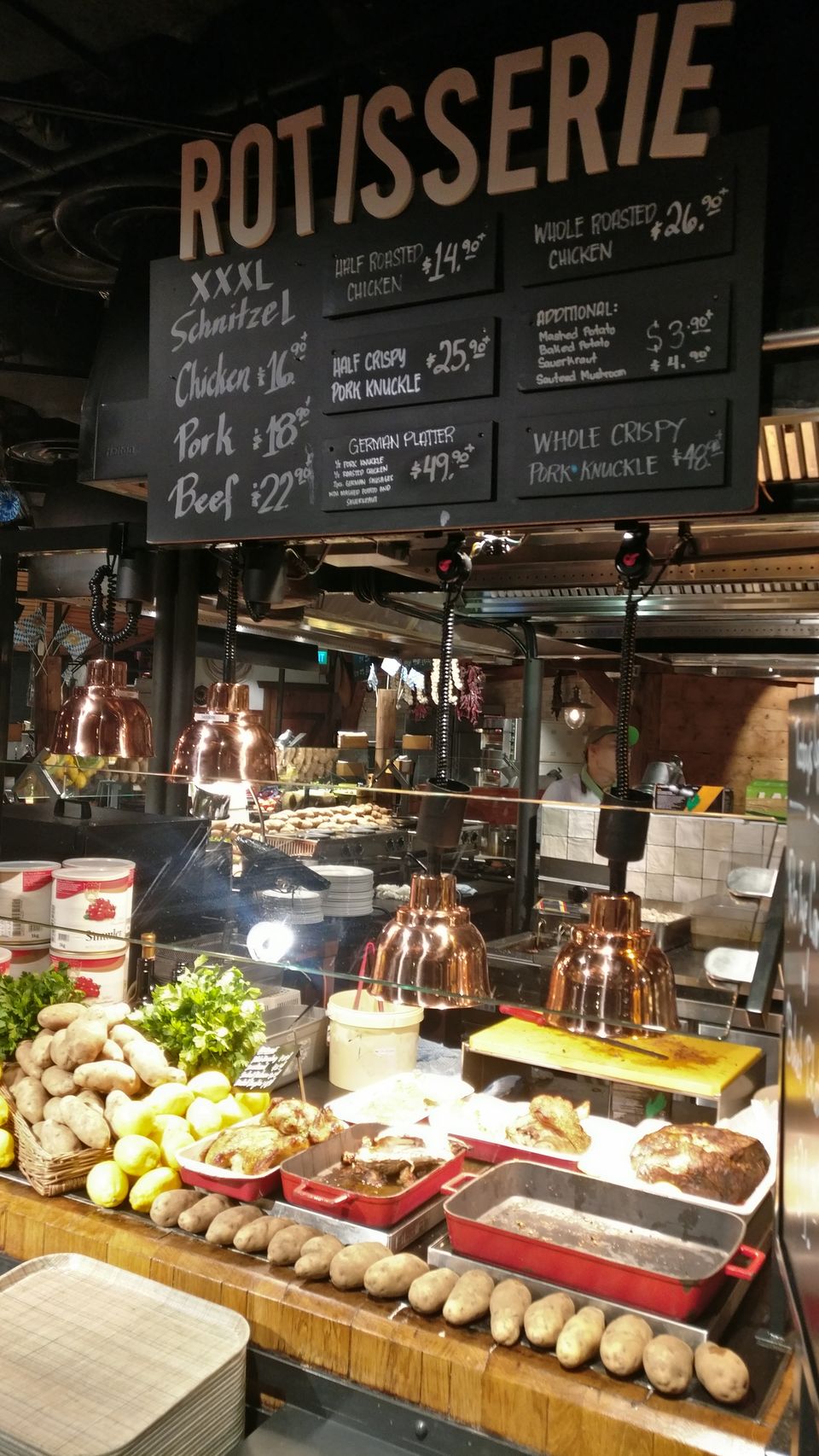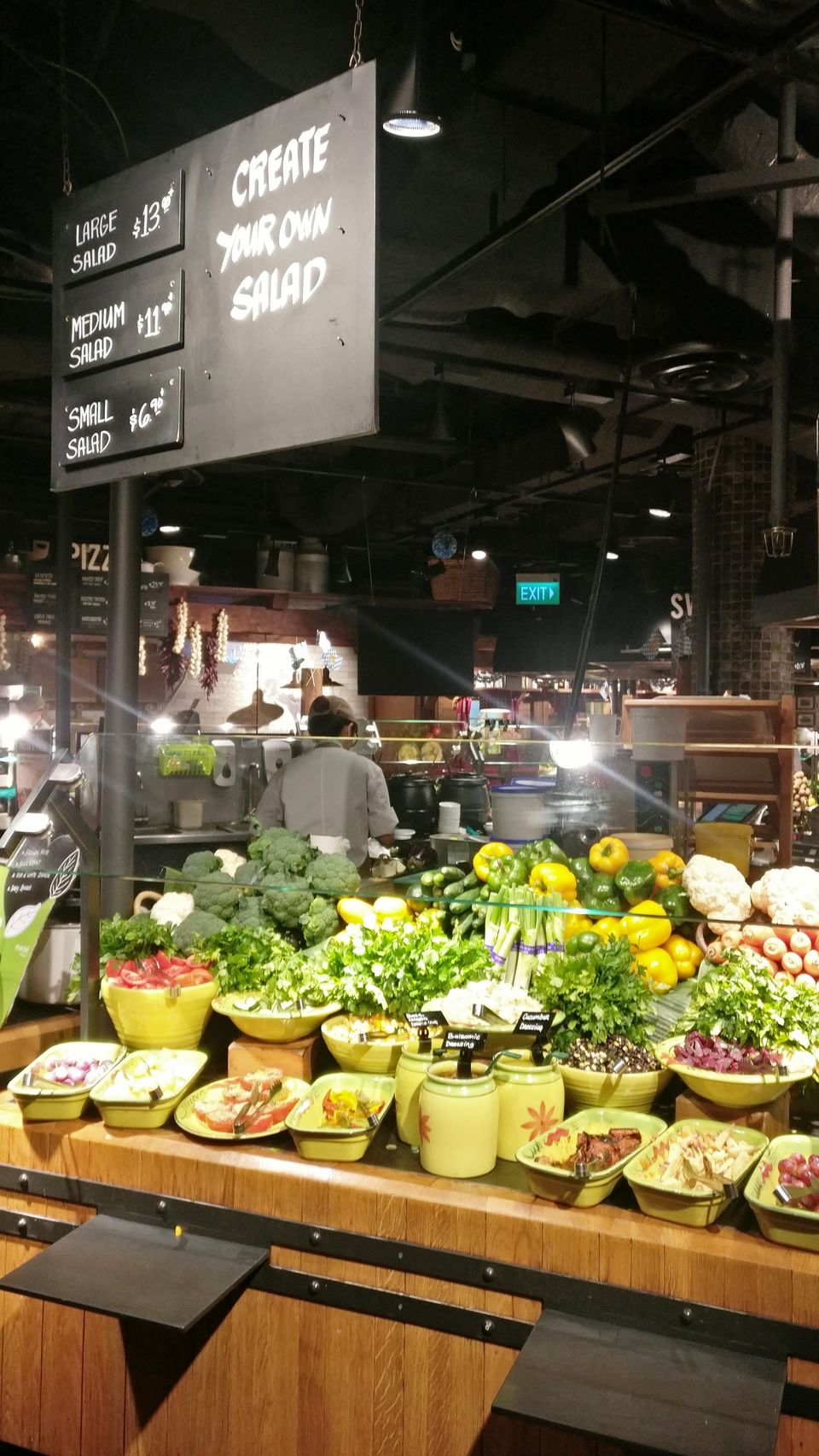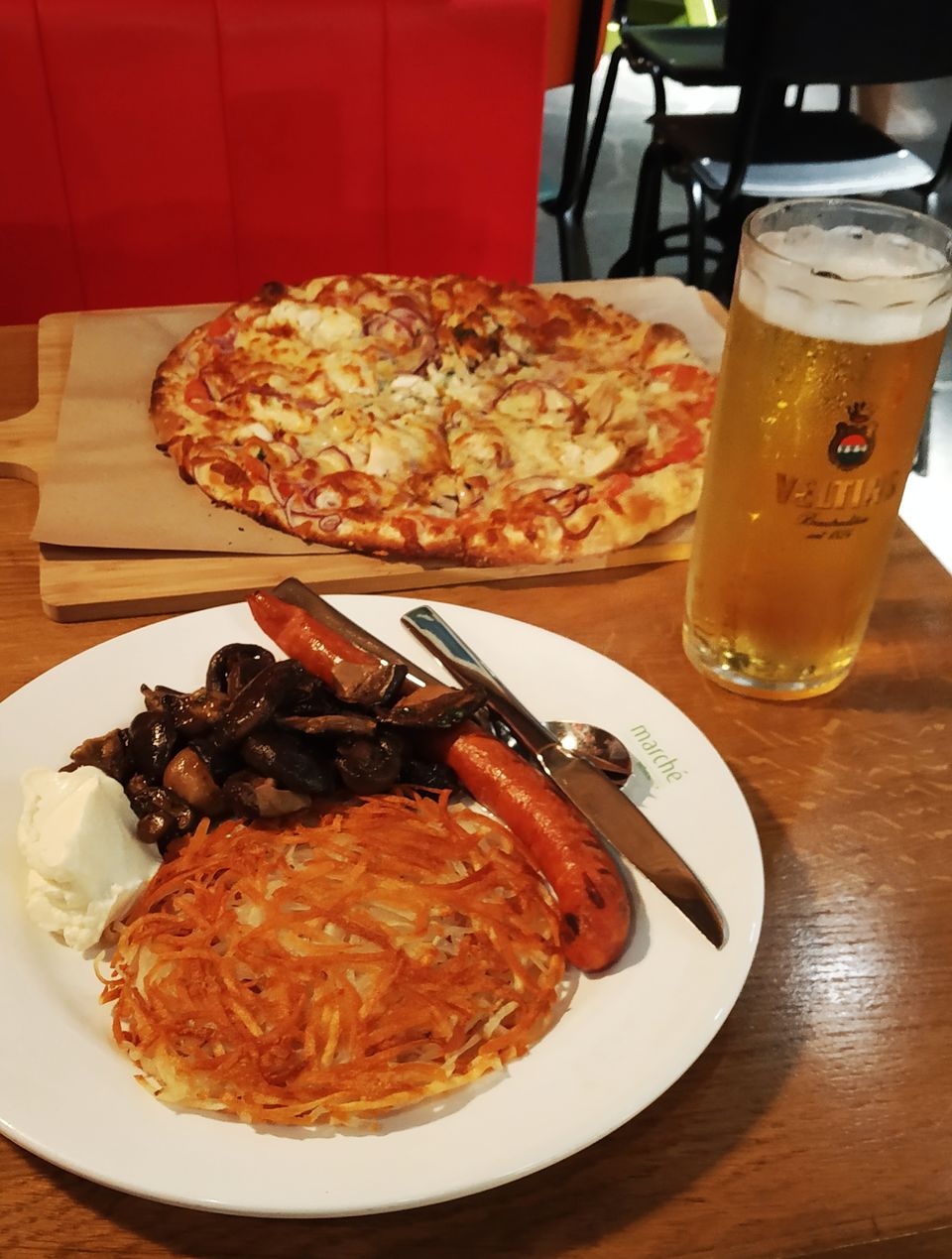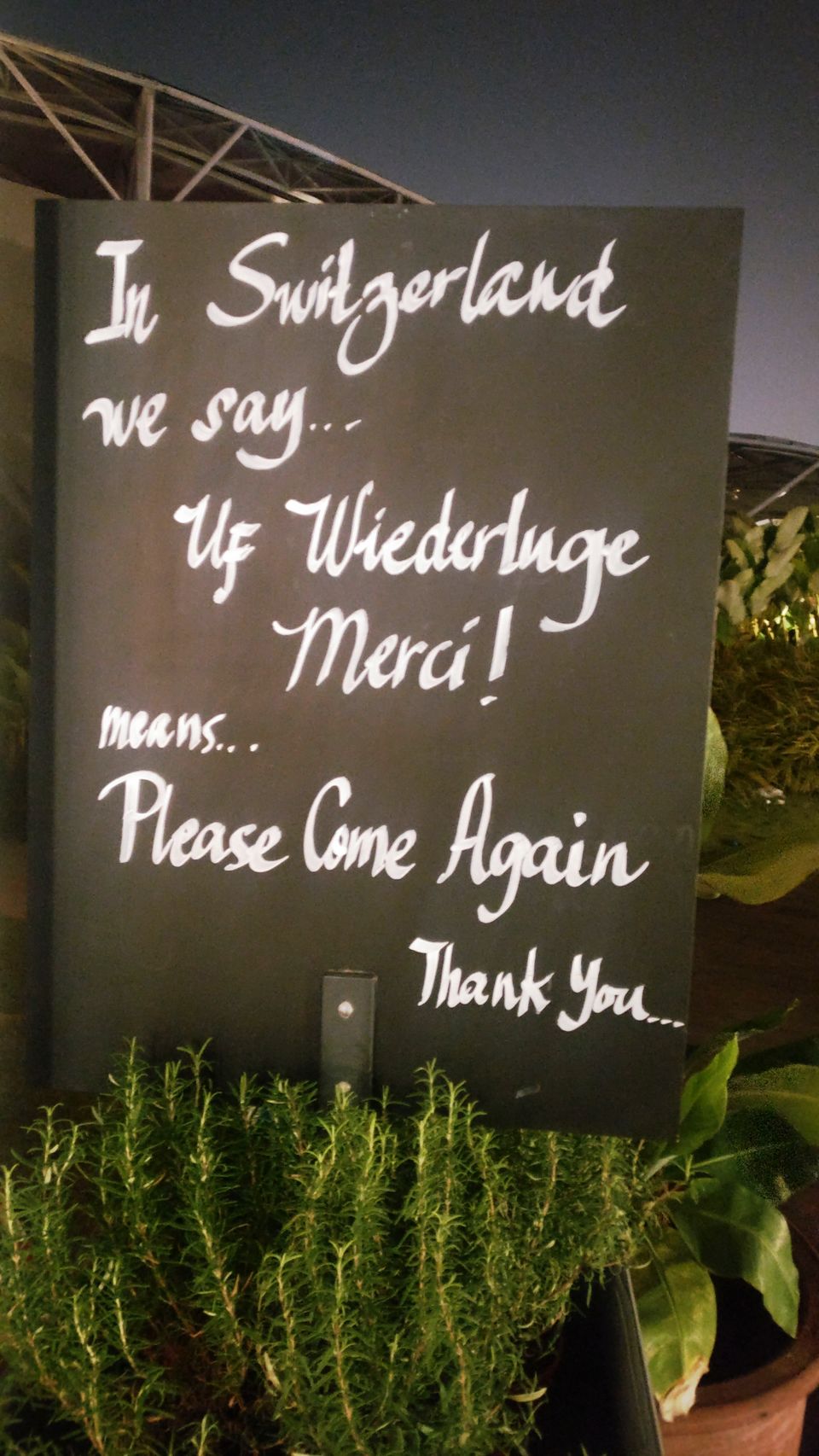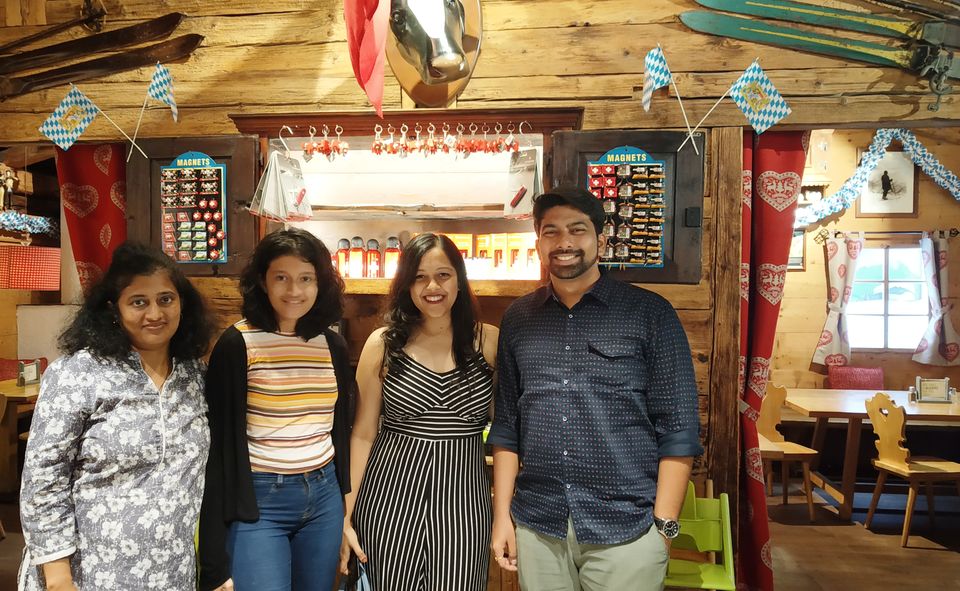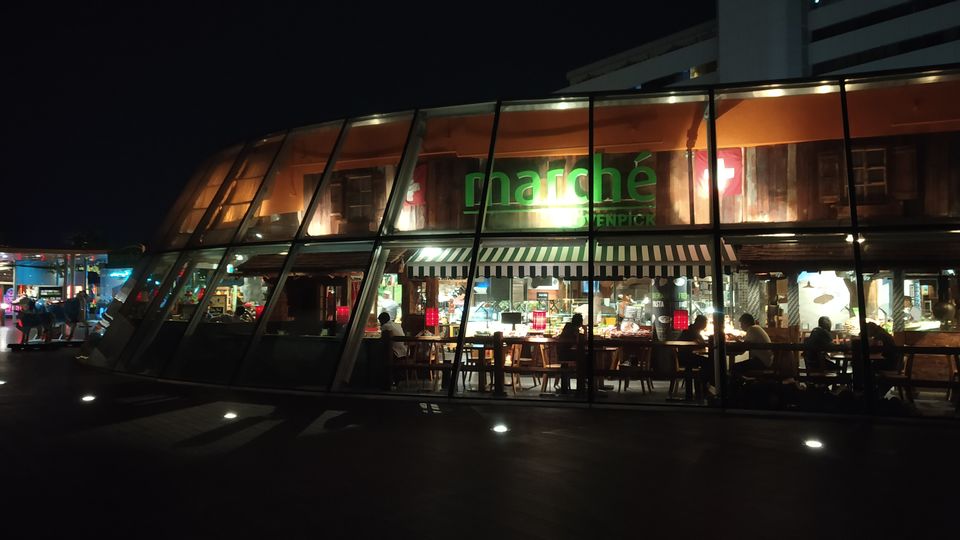 Honeymoon dessert
There are very few dessert places here which don't serve you the usual icecream or pastries. This was one of them. They have an extensive menu featuring exclusive asian desserts. Prices range from 4 SGD to 7 SGD.
We tried the Thai black glutinous rice with mango for 5.5 SGD and double boiled milk with baked walnuts and almonds for 5.5 SGD. Both desserts were mouthwatering and a must try when you visit here.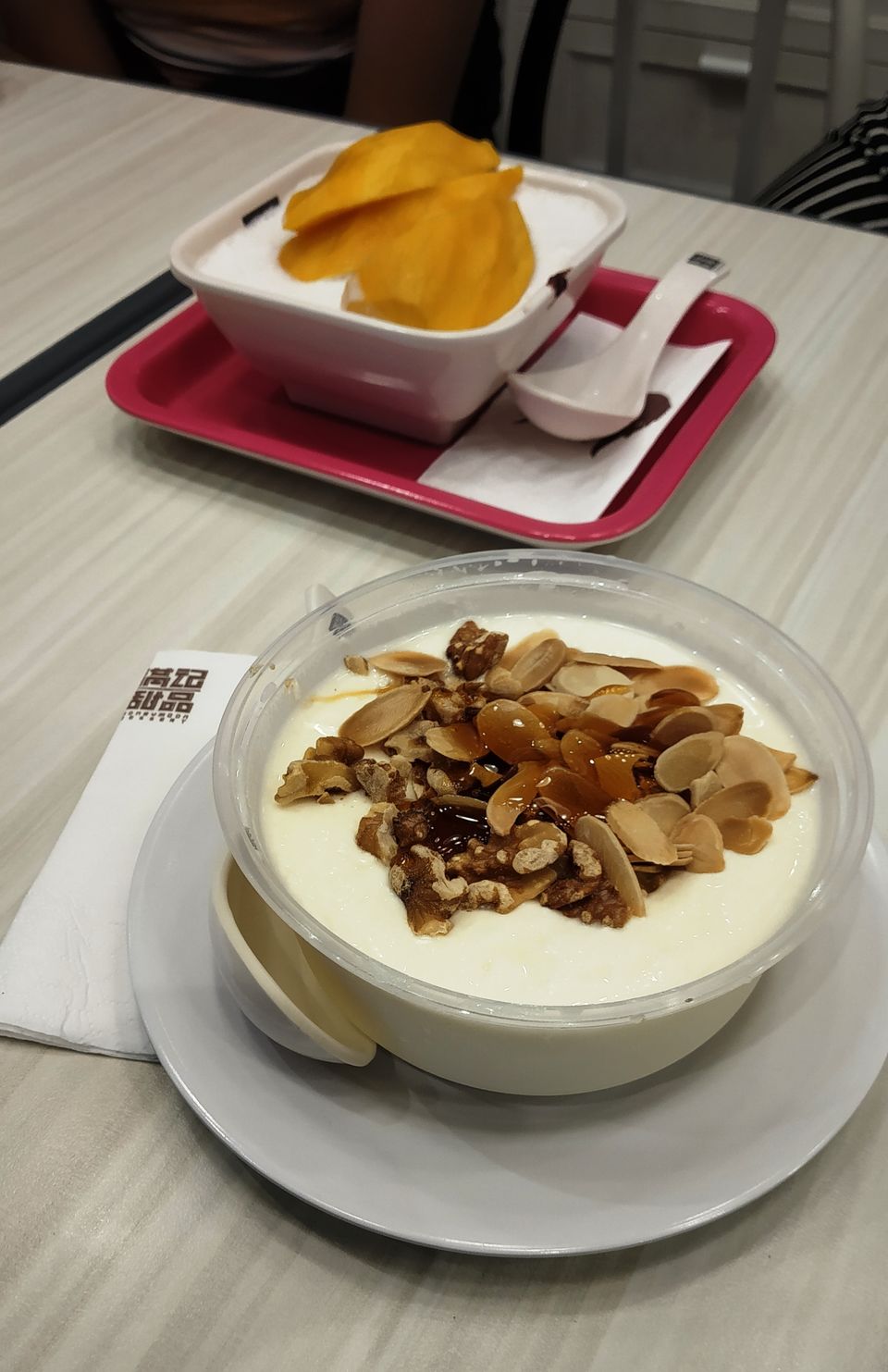 Co+nut+ink
If you fancy a coconut icecream right inside a coconut husk with coconut water by the side, this is the place where you head to. Their coconut ice cream comes with many topping options like dry fruits, water chestnuts, jellies and more. Icecream with toppings in a husk costs around 7 SGD.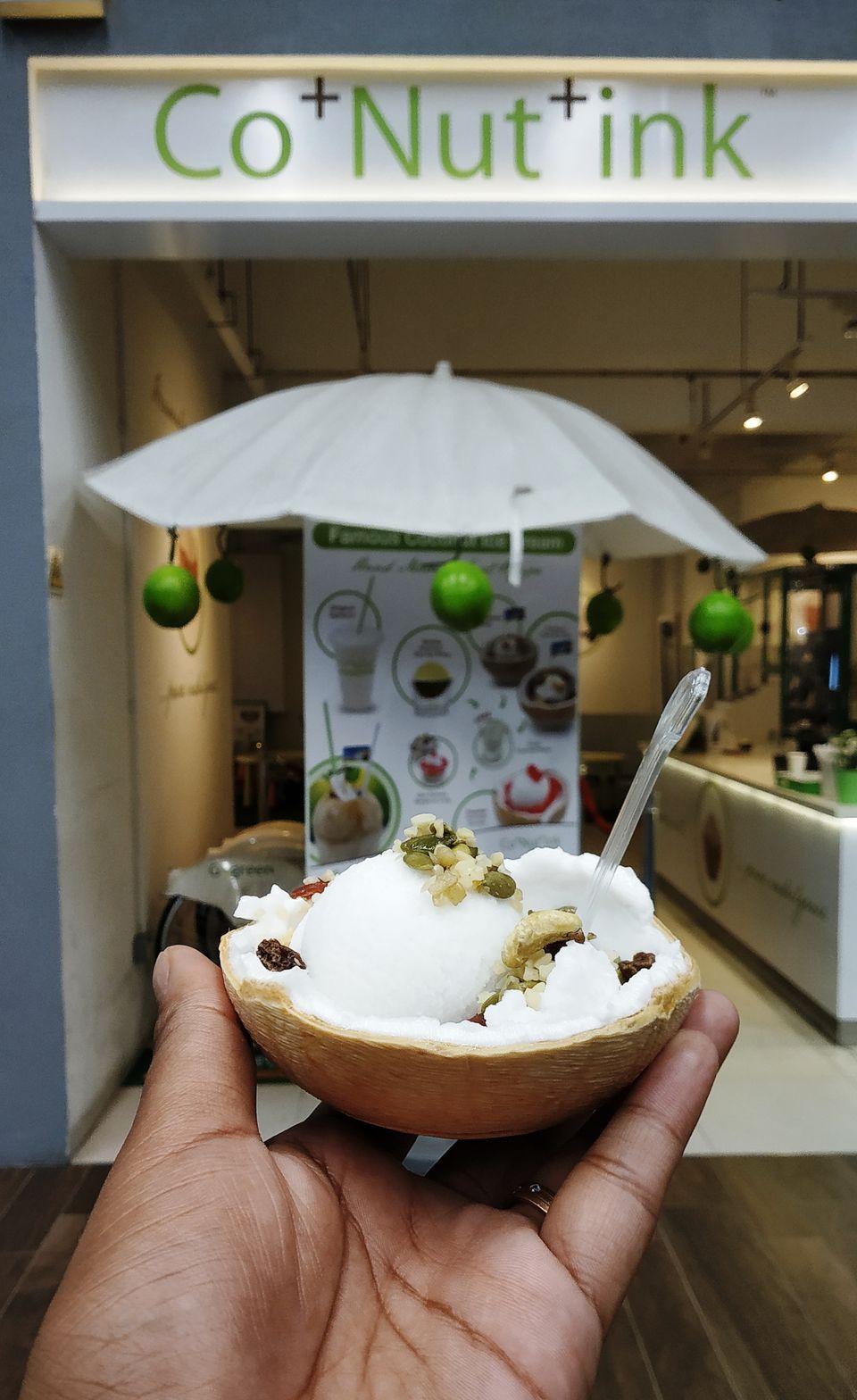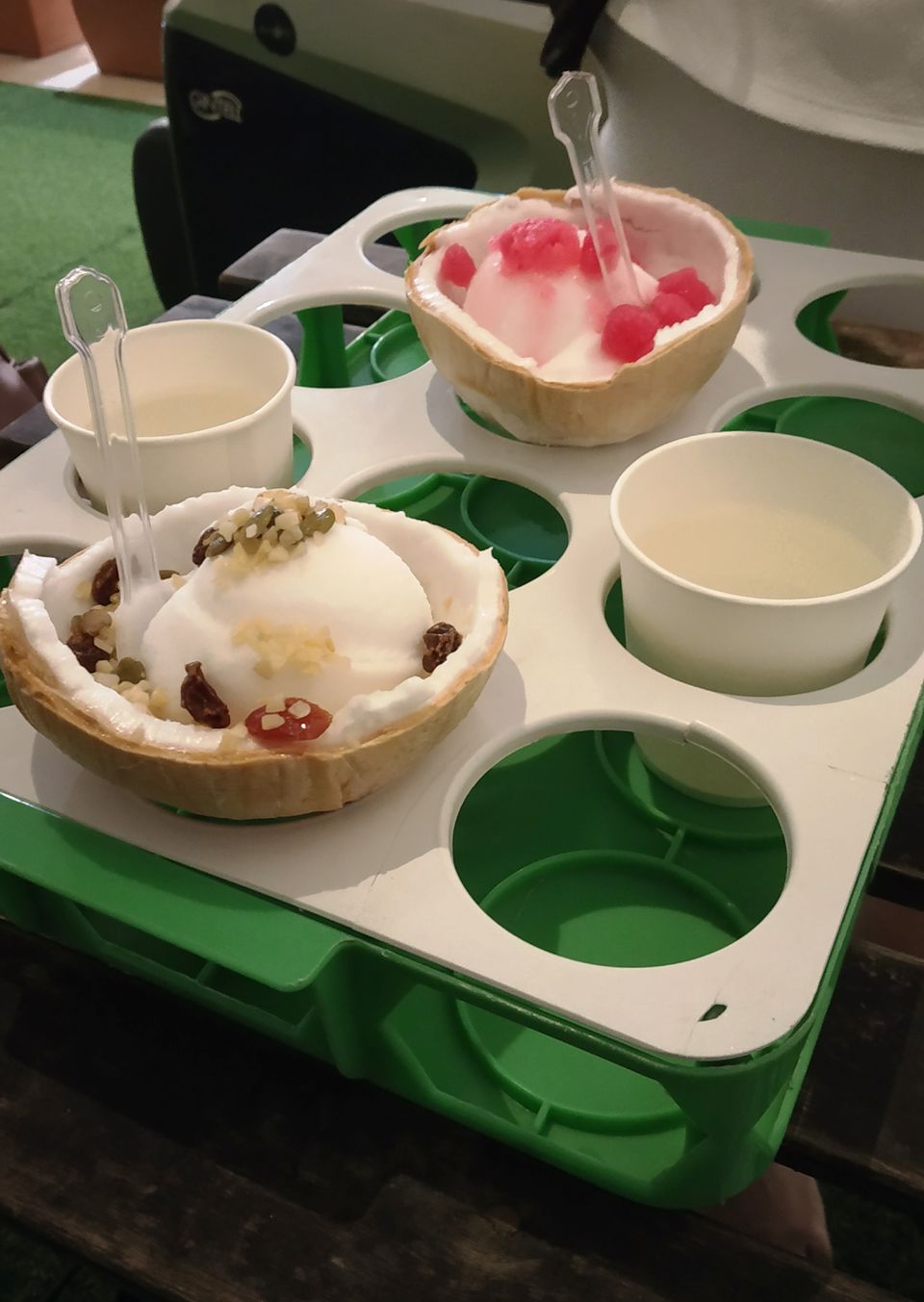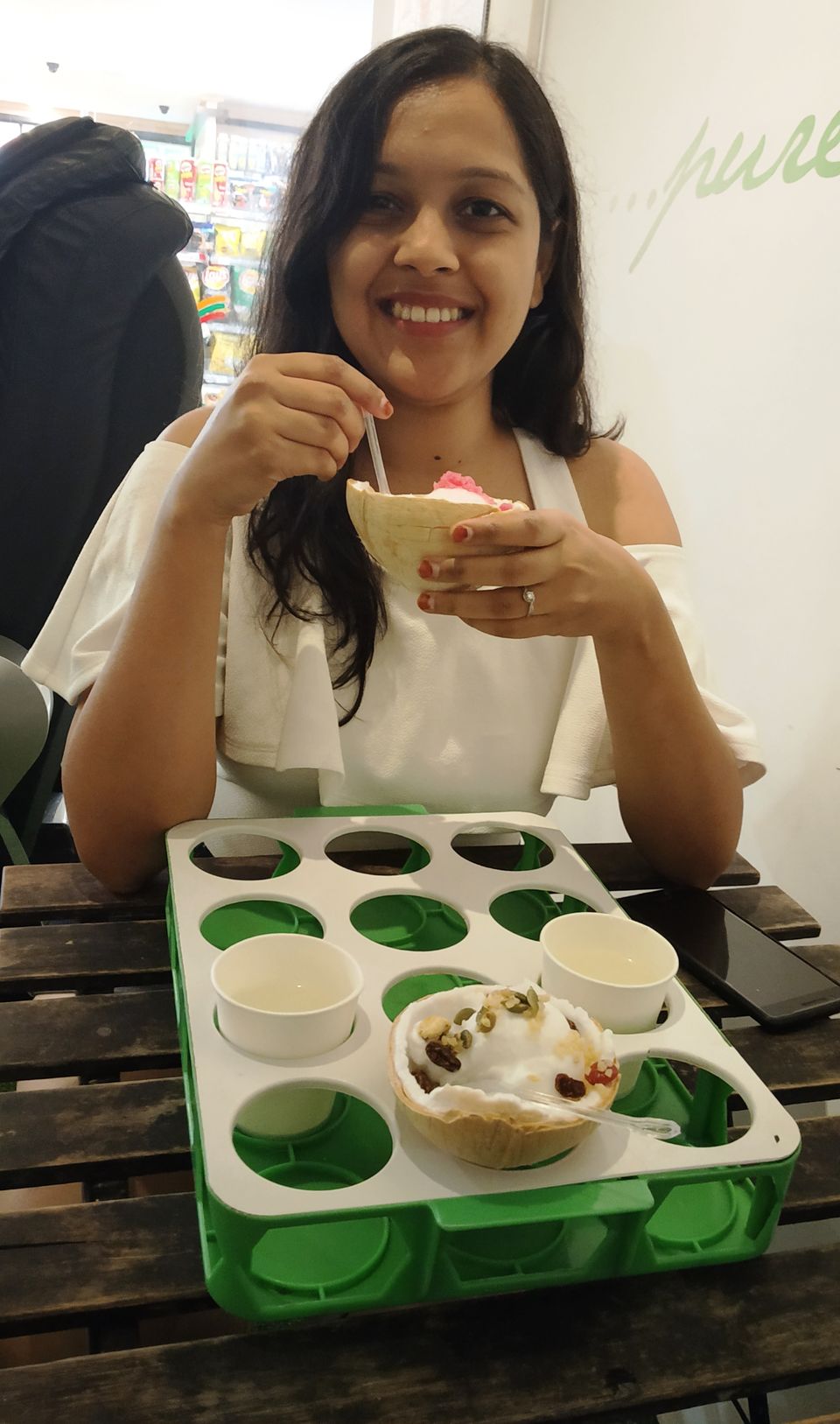 Budget places in Sentosa
The Malaysian food court is the cheapest of the lot here and we had chicken clay pot rice for 12 SGD which was more than enough for two of us.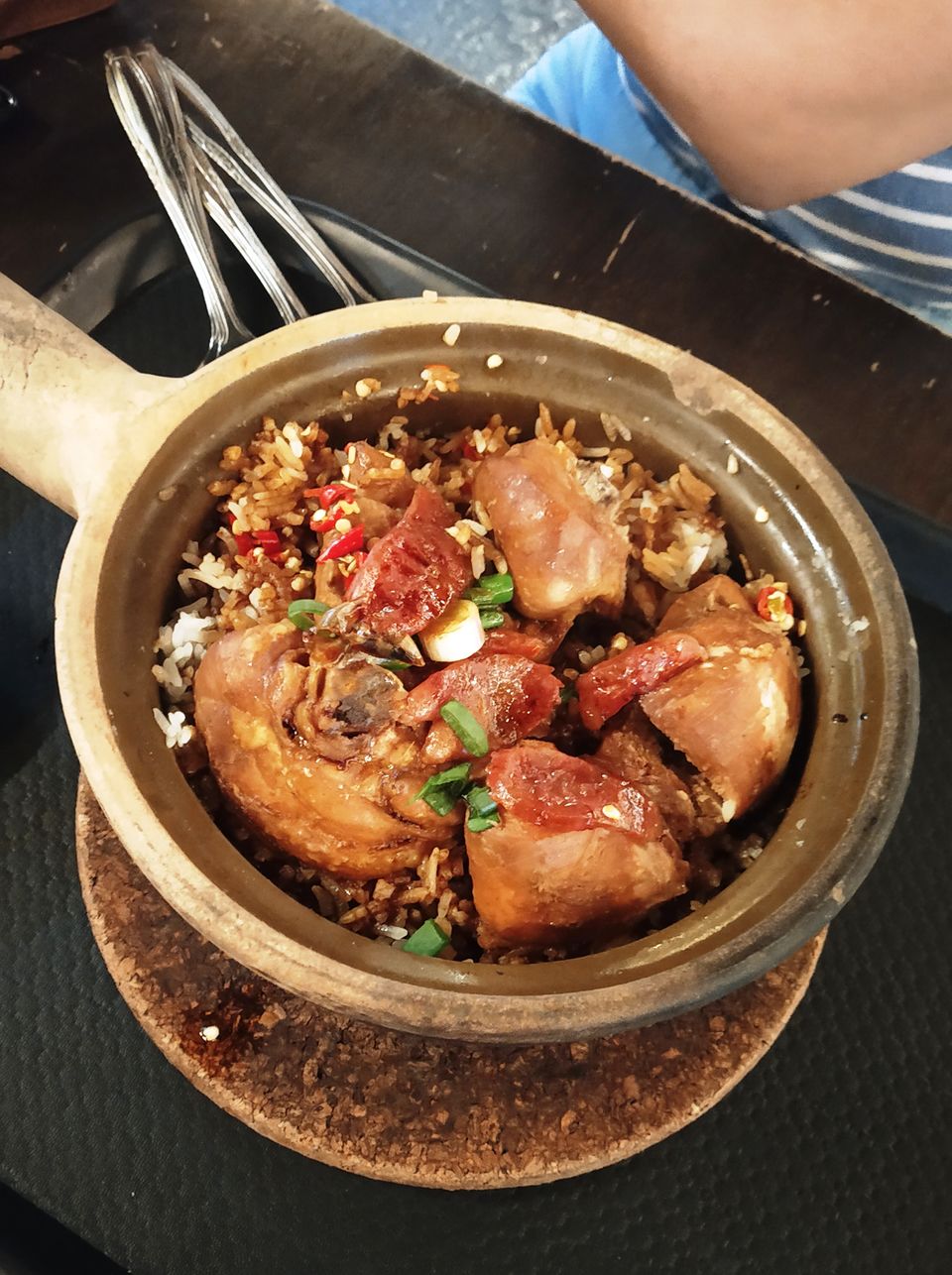 Budget places in Universal studios
The food courts here are more expensive than the Sentosa ones, but we found the one at the Madagascar exhibit to be the cheapest and filling.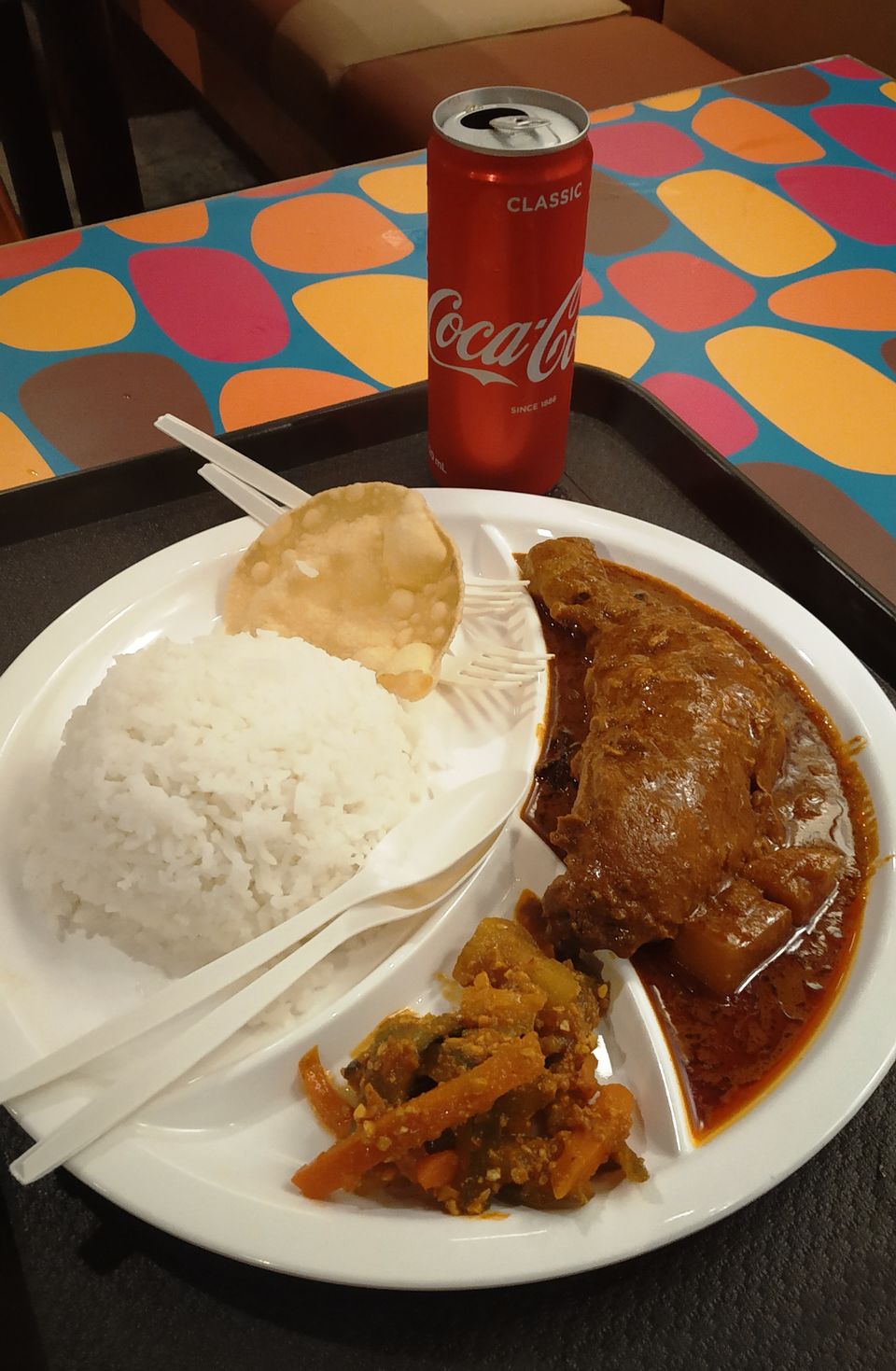 Budget places at the zoo
KFC is the cheapest option here. And a meal for two with two burgers, fries and a drink will cost you 13 SGD. Also there is Ben & Jerry's ice cream, costs about 7 SGD a scoop! But it was worth it.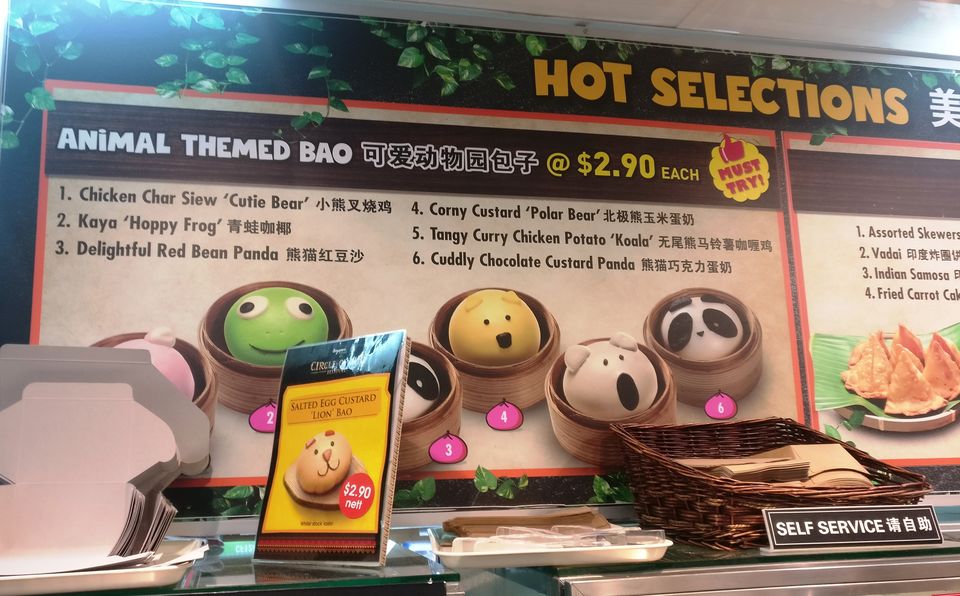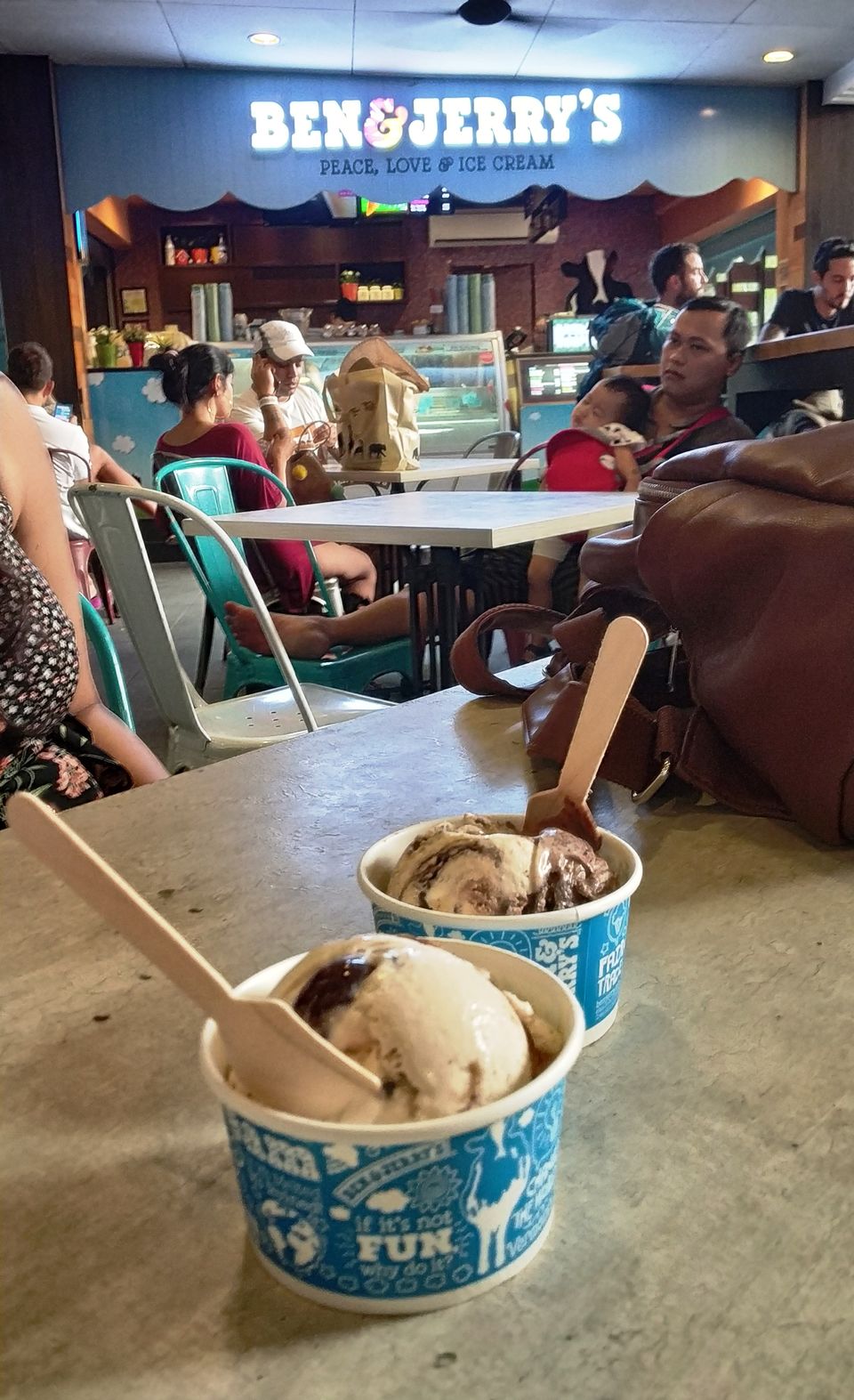 The usual food chains
Meals at KFC or McDonald's will usually cost around 7 SGD for a burger, fries and drink. Coffee at Starbucks costs 7 SGD for the most basic one. Try to make these your back up options rather than the first ones, if you really want to enjoy the food culture in Singapore!
These were just a few of the places that we tried when food hunting in Singapore. There's plenty more to try out here and we are definitely planning to go back there and explore more!
#singapore #singaporefood #uncleleongseafood #newtonfoodcentre #chillicrab #tigerbeer #satay #honeymoondessert #japanesegourmettown #foodrepublicvivocity #clarkequay #sentosa #universalstudios #cokestevia #kopitiam #prawns #hootersclarkequay #nightlife #foodtrail #foodie