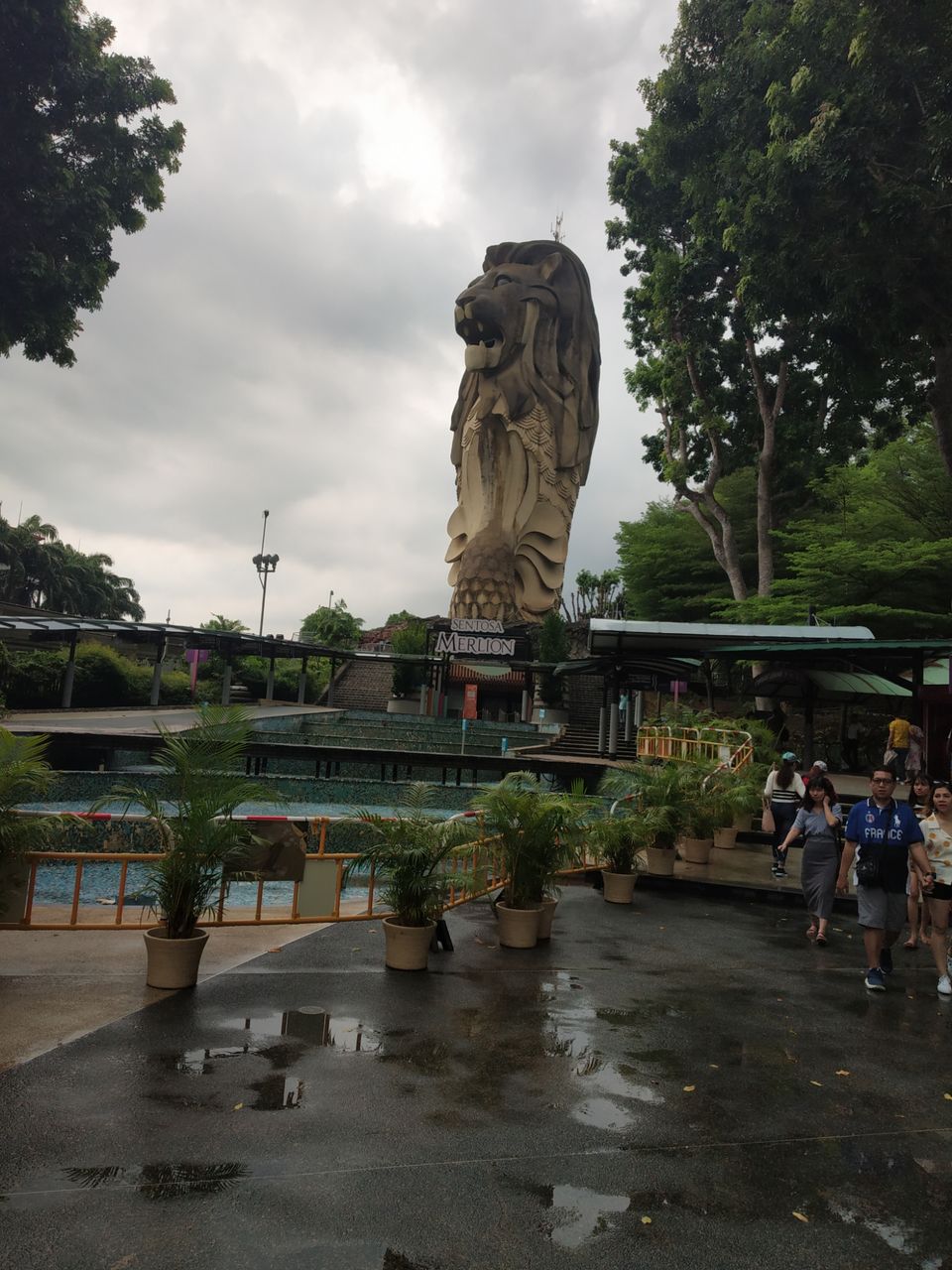 Don't wait for happiness, create it for yourself. Just like the dream of million others, I decided to work towards my dream of solo travel. The 4 day trip to Singapore was like a luxury vacation for myself and a time off from the daily routine to find the real me. Let me take you on a journey to show how it became the most important agenda of my life at one time and how I went on to fulfil every large and small wish of mine. The 3 months of planning was exhilarating just like the trip itself and it's worth sharing. I had already imagined each and every bit of it and had written the minute details of the experience in my mind ( din mein sapne dekhna at its peak :D :p).
Planning:
Booking the flight tickets: My priorities were to find the best airlines with minimum budget and minimum travel duration; the one that offers food and beverages and a comfortable atmosphere (the first step towards pampering myself ;) ).
Booking the hotel: I had planned for a 3 day stay in an average hotel with reasonable cost which offers the basic amenities along with safety. The last day of my stay, which was my birthday (totally planned ;) ), was in a luxury hotel with additional facilities of swimming pool, spa, gym and bathtub.
Visa booking: Prior to your visa application, you need your flight tickets, hotel bookings, photographs, last 6 months bank account statements, office ID, salary slips and NOC from parents in my case since I was a solo female traveller. Singapore Visa takes around 4-5 days to arrive and there are many travel agents out there which make it easy for you.
Finding the best cafes and spots to be explored: To make the most of your trip, it's always better to plan and make a list of some of the best spots and places to be visited. Travel blogs, sites, magazines and social media are good resources for this information (If you are a foodie, do make a list of the cafes and restaurants to be tried. If you are planning to party, add some clubs as well like I did :p).
Booking for the major attractions: No one wants to waste their precious and limited holiday time by standing in a queue. In order to avoid that, book your tickets for the major attractions beforehand. Keep track of the national holidays and weekends to avoid unnecessary crowds and do not miss any non functional days.
Cherries on the cake: Getting my hair coloured, getting a hair straightener, finding the best outfit I had always dreamt of wearing and achieving the perfect physique for the perfect look were just cherries on the cake (So much to take care of for pretty pictures :D).
Getting photography lessons: Thanks to my photographer friend for teaching me some of the basic techniques of getting a good pic, be it the angle or the effect or finding the most suitable spot for the perfect pose.
Safety: Being a solo female traveller, safety was my prime concern. I had pepper spray to help me in the worst situations.
Packing: Packing was fun and exciting since it marked the beginning of my most awaited vacation. Do check the weather conditions before packing, it might add up some more items. (Singapore rains almost everyday, it was a good idea to have an umbrella with me :D ).
Commute and SIM card: Grab is generally used in Singapore for daily commute or you can use metro for a budget friendly commute (Trust me, Singapore is a costly city :/ ). You can opt for a 3 day tourist metro pass from the nearest metro station. SIM cards are available at the airport or you can go for an international pack on your existing number.
The trip
Day 1:
One of the main ideas of this trip was to challenge myself and to face my fears. My phobia for rides was well confronted on the first day at Universal Studios, Sentosa. The chilling and thrilling rides definitely took away my breath for sometime but the overall experience was incredible. The place brings out the child in you with the amazing rides, 4D movies and games. Also, it adds some pretty good pictures in your collection. The evening was totally unplanned and a taxi driver helped me find a food village by the sea side with multiple outlets for seafood ( I have been a pure vegetarian earlier ;) )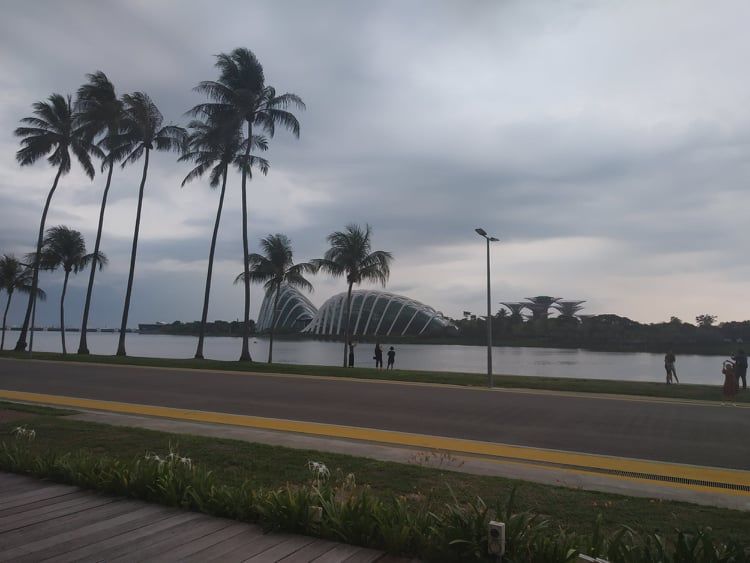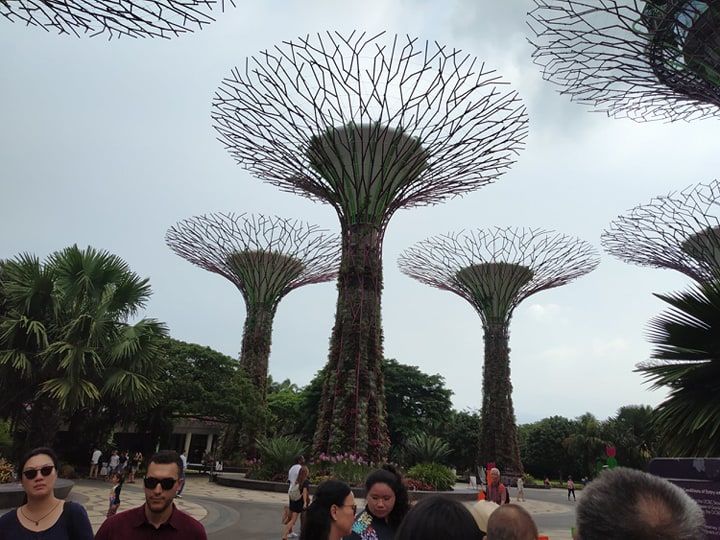 Day 2:
The next day started with an exciting cable car ride to Sentosa which gave an amazing view of the scenic beauty of Singapore from the top. It was followed by a visit to Madame Tussauds, S.E.A. Aquarium and Festive walk. On my ride back, I had an accidental visit to Siloso beach. The view of the ships sailing to the port and the eternal yellow-brown colour of sunset made my day. The serendipity of events was so enthralling that I couldn't take my eyes off it. The day ended on the beats of desi Bollywood songs in the hotel room and my dhinchak dance moves in front of the mirror. :p
Day 3:
The next morning was probably one of the best mornings of my lifetime with 1 hour of cycling at the East Coast park, followed by fishing and an hour of peaceful reading by the seaside. The evening was well planned at Gardens by the Bay, Singapore flyer and a party place in the Marina Bay Sands. Everything was perfectly lined up until there was thunder, lightning and rain, when all these attractions were suspended (total siyapa :D ). But, when plan A didn't work out, I switched to plan B and decided to enjoy the evening with a glass of red wine by the pool side in the hotel.
Day 4:
The bright sunny day was perfect to complete the unfinished business of the previous day. The last day was open for exploration and while I was wandering on the streets of Singapore, I managed to pamper myself a little more :p and concluded the trip by buying some gifts and souvenirs for friends and family members.
The experience was incomparable and although I have managed to put it into words, it's difficult to express what my mind and heart has actually captured. I had left no stones unturned to make the most of it and realised the best of me to make it an experience for lifetime.