'Yaadein mithai ke dibbe ki tarah hoti h ek bar khula to sirf ek tukda nhi kha paoge'
Imtiaz Ali khan...!! His movies has inspired me to travel to Himachal..!! Jab we met - beautiful locations of Shimla, Ye Jawani h Deewani- in Kullu Manali and Highway - Picturesque Spiti valley has made my heart fall for Himachal..!! This time I wanted to live as Naina of Ye jawani h deewani.. So Manali was all in my mind.Ye Jawaani hai Deewani inspired us to believe in the concept that we have one life and we have to live it to the fullest.
Waqt kisi k liye nhi rukta , Beet ta waqt h lekin kharch hm hote h . Isi liye dosto is se phele karch ho jao Ghoom lo .. cos Zindgi na milegi dobara ;)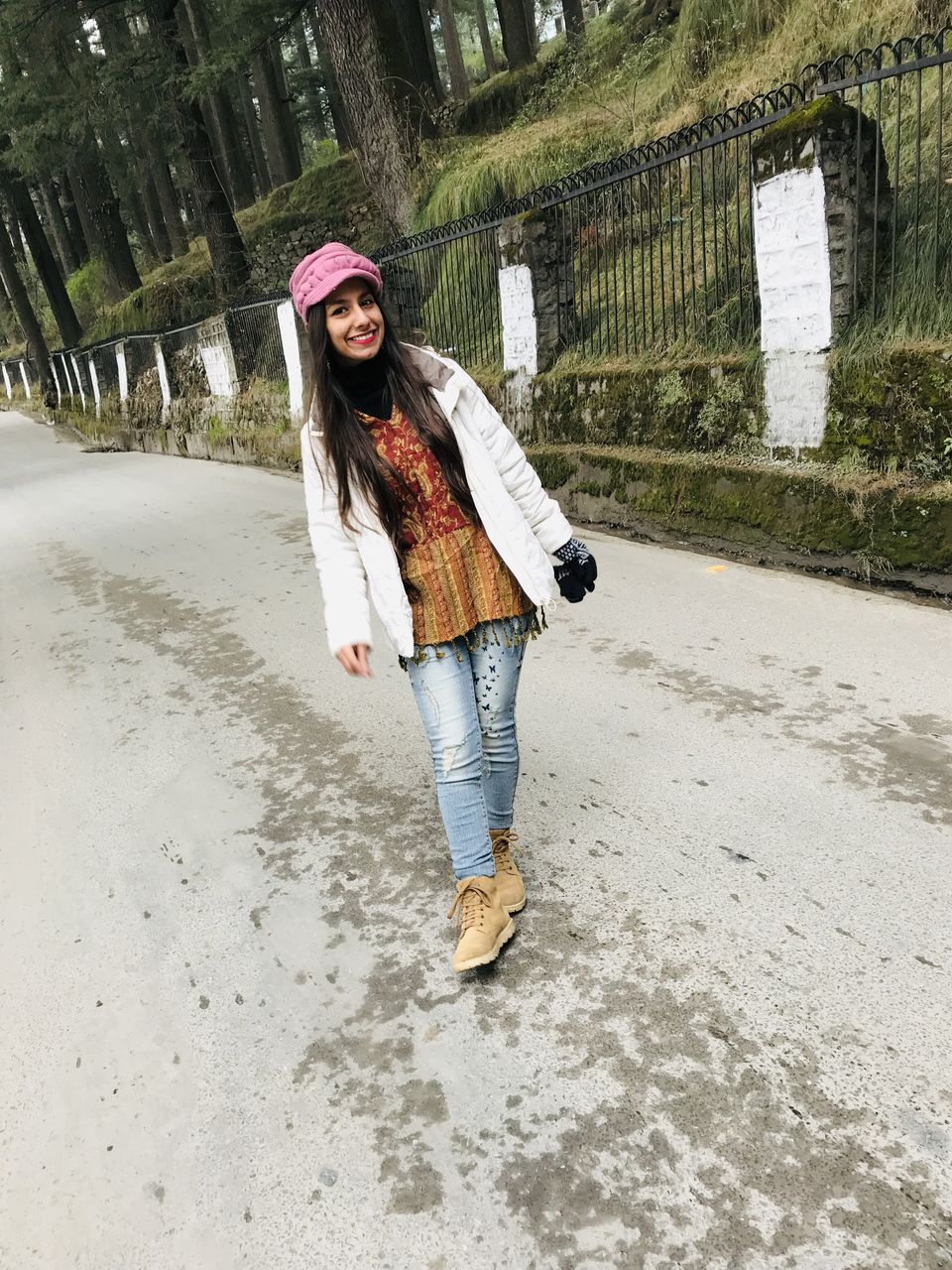 To give a pretty awesome start to 2019.. I and pooja one of my colleague left for Manali on 10th of Jan 2019 . We booked private Volvo from Delhi to Manali. It is about 520 km from Delhi and took 15 hours to reach. Guys here's a Budget travel Tip: Private Volvo will drop you at parking so in spite of spending money by taking a cab you can wait for 5 to 10 mins for local bus it will take you to mall road in just Rs. 10-20  Since we booked our hotel near mall road it was walking distance from The mall road. We checked in around 10:20 a.m. We rested for half an hour and then left for local sight-seeing.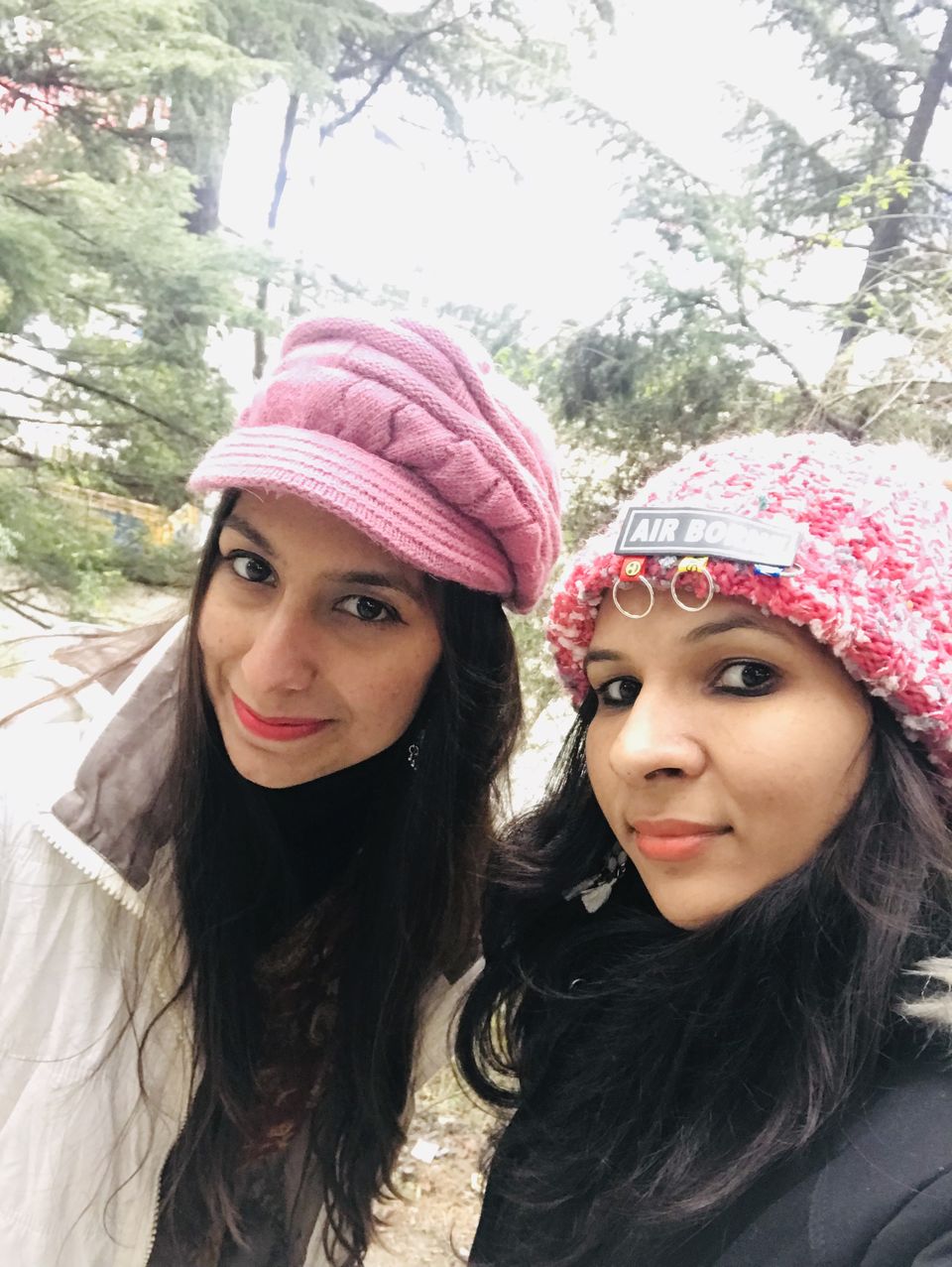 Bright Sunny day , Blue sky and chilling air away from hustle bustle of NCR.. I wonder..everything was so beautiful.., the life I've always dreamt of. To the place my heart belongs to.... I seek solace in the mountains. After breakfast we decided to start our journey by seeking Blessings from Deity Hadimba.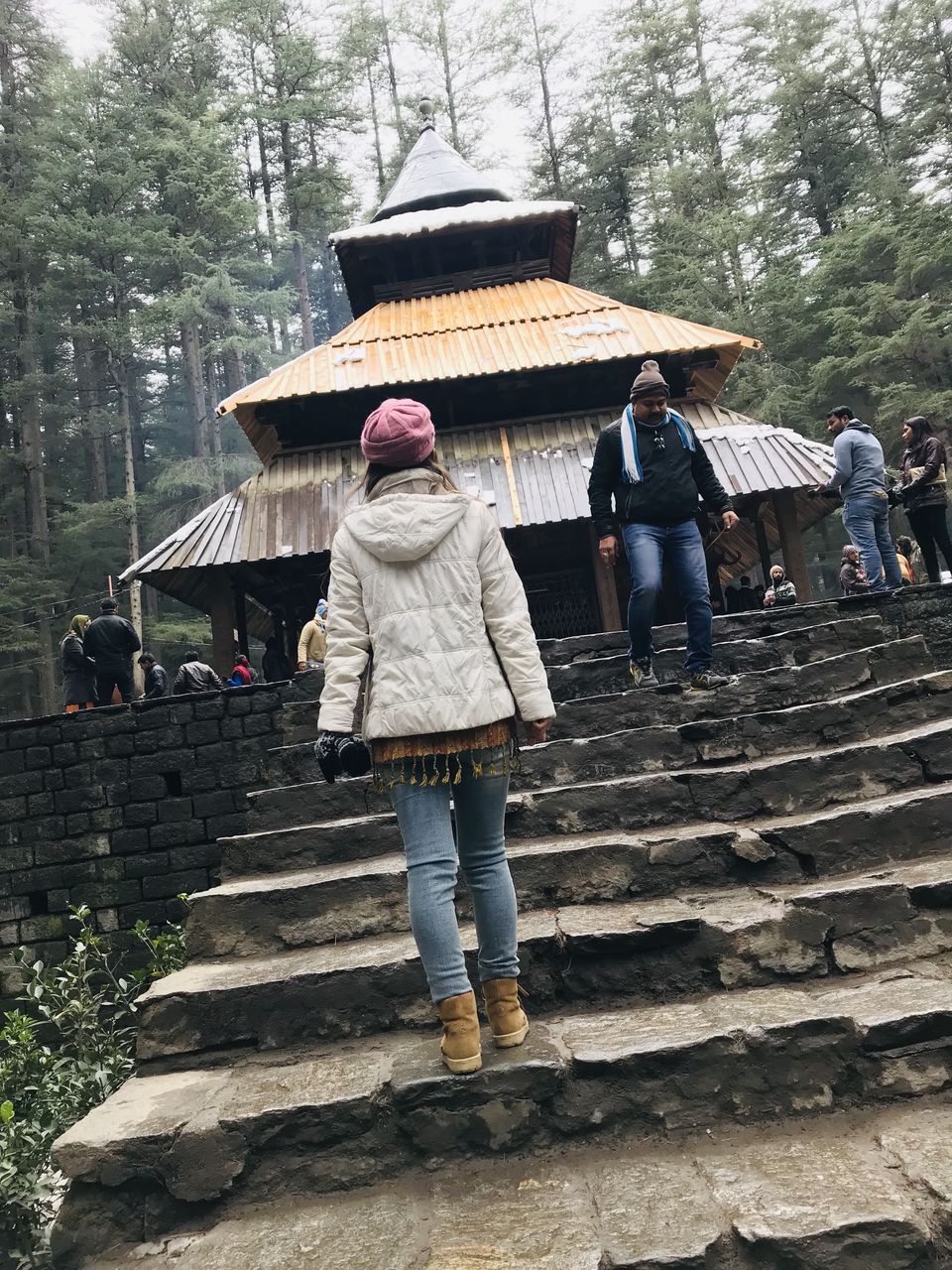 The Hadimba devi temple was built in 1553 AD. Very Beautiful temple covered with 1000 years old Deodar trees.
Then we went to circiut house,We found snow there lots of it..!! Old manali .. Coolest place where you will find hippie culture..Lovely roads, sweet little eateries and gushing sounds of Beas river , many local as well foreign tourists chill here near river side cafes with live music. I ordered thupka in a very cute river side resturant, it felt so dreamy. Music of river with snow covered mountains and chilling air with hot soupy thupka and of course me...nothing could be more perfect..!! It was time to head back to hotel. Our first day was amazing as we expected.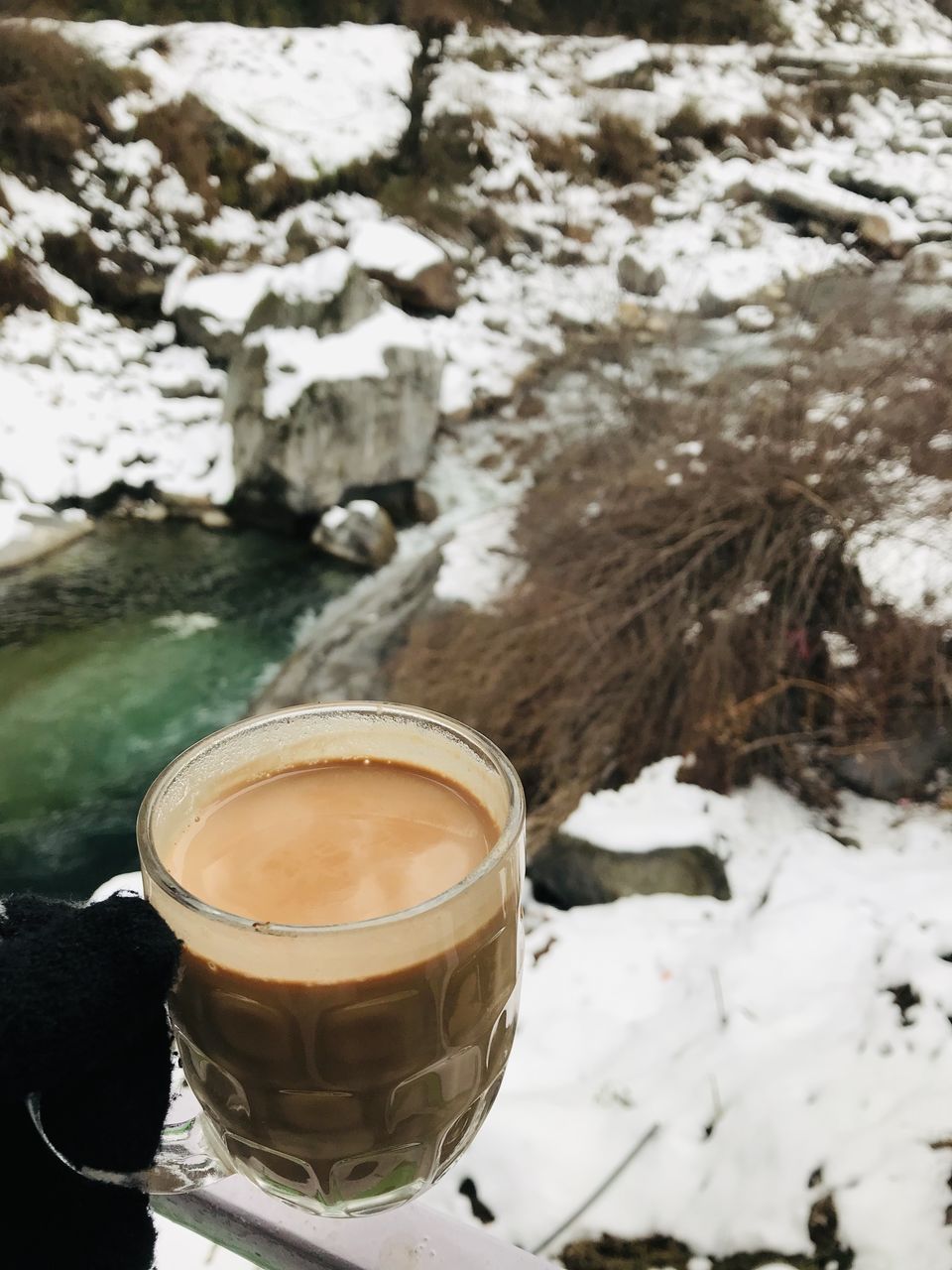 Our Second day started with Punjabi Breakfast Aloo k pranthae and chai..!! It was an amazing start of the day for a foodie..!! Since Rotang pass was closed due to heavy snowfall we decided to go to Solang valley via Palchan village. The weather again took it's turn this morning and we were greeted with snowfall. Now i could say we had successful trip, for what we were craving, we got it right here in Solang.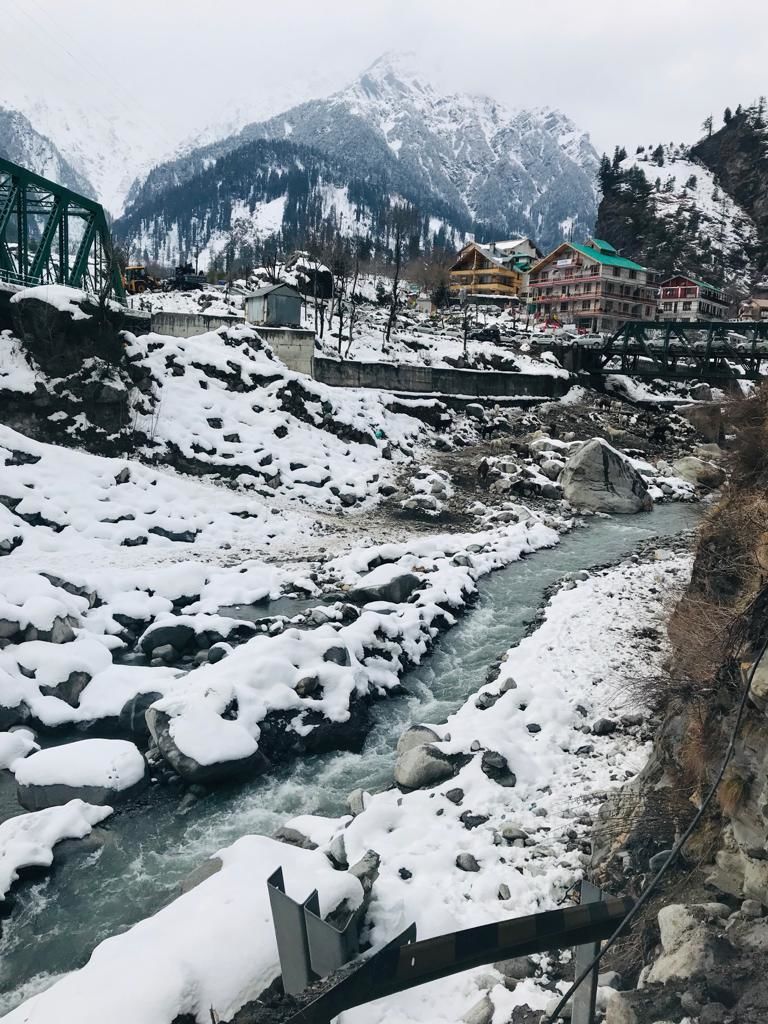 The way to the valley is stunningly beautiful, with picturesque snow capped mountains. As they had received a good dose of snow last night, they looked even more beautiful. The valley looked mesmerizing surrounded by white snow covered mountains and Apple orchards adding to the beauty of Valley. It is truly said trip to Himachal is incomplete without Maggi and Chai from "Khopcha".
It started to snow insanely in solang . We were so blessed to experience wonders of nature in beautiful place. We spent some time in snow and enjoyed thrilling sports. It started getting dark.. our driver called us to leave as due to heavy snowfall roads might get blocked. It was damn cold . It took one hour to reach Manali . We got back to hotel and relaxed then we went to mall road at around 9 for dinner. It started raining so we came back to hotel. While i was reading novel, i heard loud music and people singing , I went outside and yes it started to snow again..!! It was so amazing . People on mall road were dancing , singing ,enjoying i joined a group of people performing 'Natti' Folk dance of Himachal. Yes i totally fell in love with the place all over again. It was around 11:45 at night so i went back to hotel.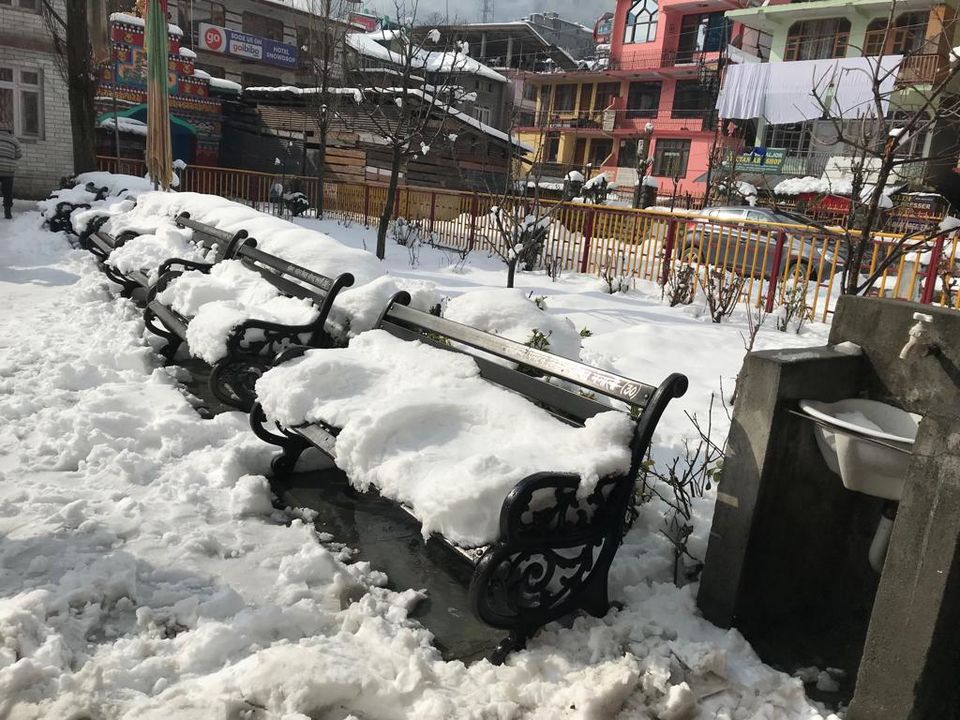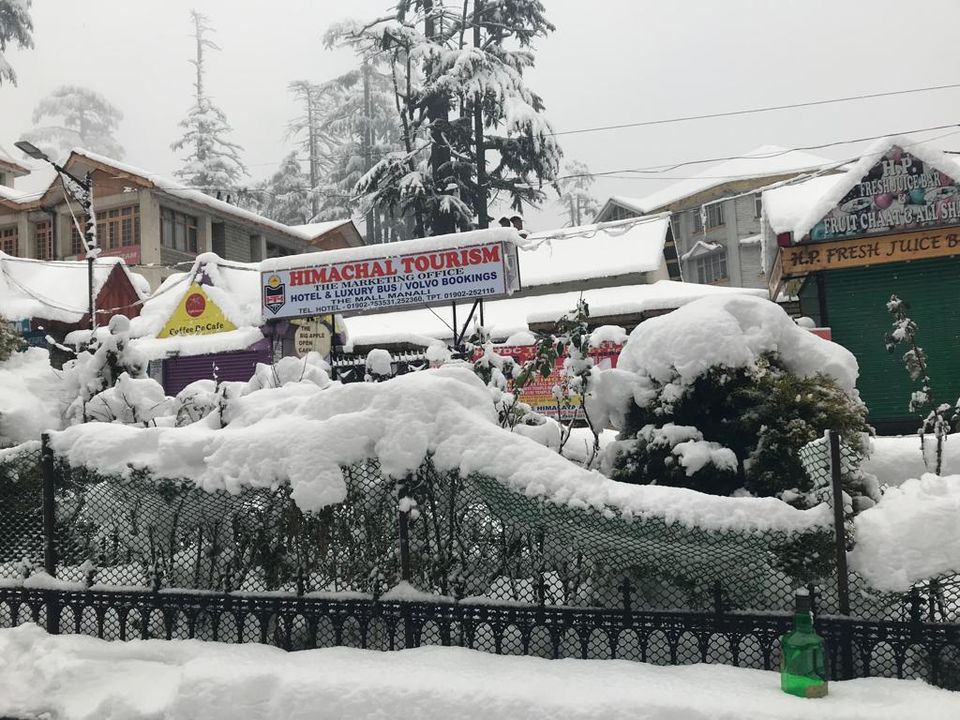 Next morning we woke up to Beautiful view . Everything covered with a thick blanket of snow. It was a special occasion of lohri. We went on a mesmerising walk to snow coverd mall road. It was still snowing.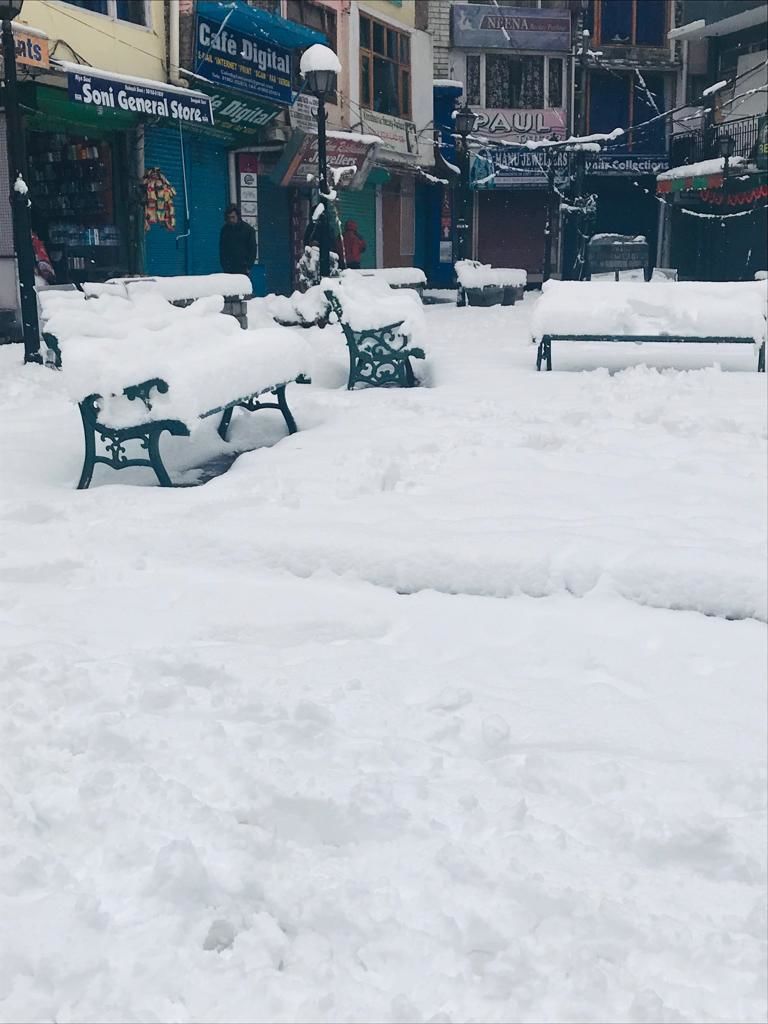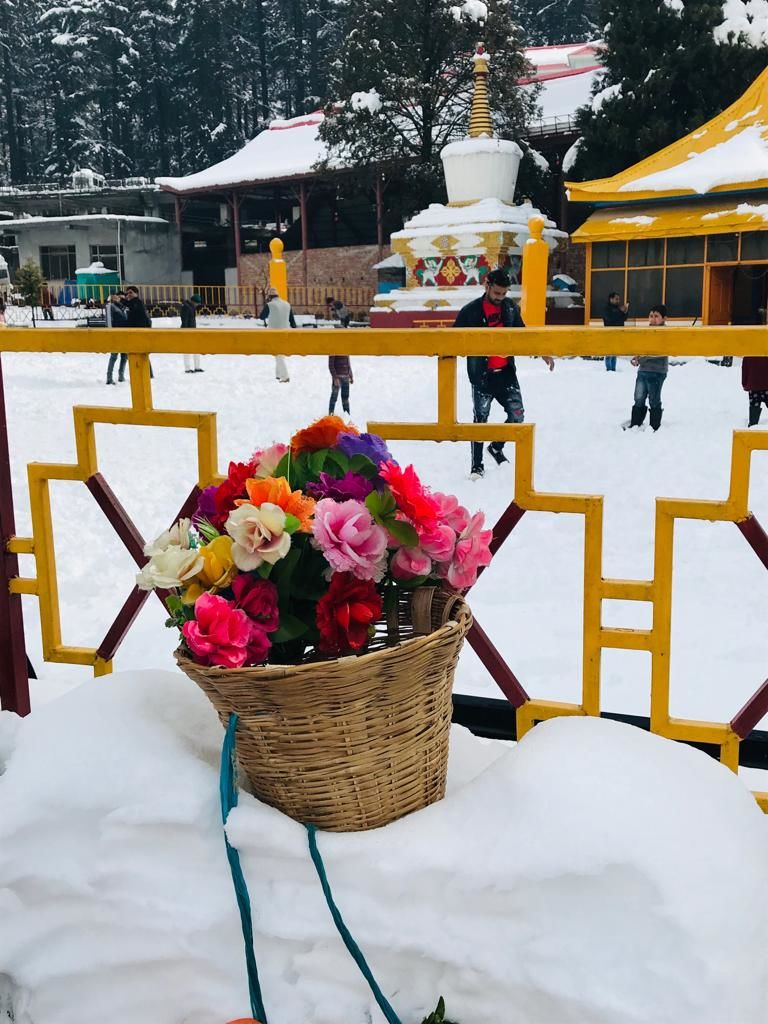 We had breakfast and stopped over for shopping and finally had to go back. It was time to say Good Bye. We were taking back beautiful memories with us which would be enough for us to spend 3-4 months untill the next Adventure.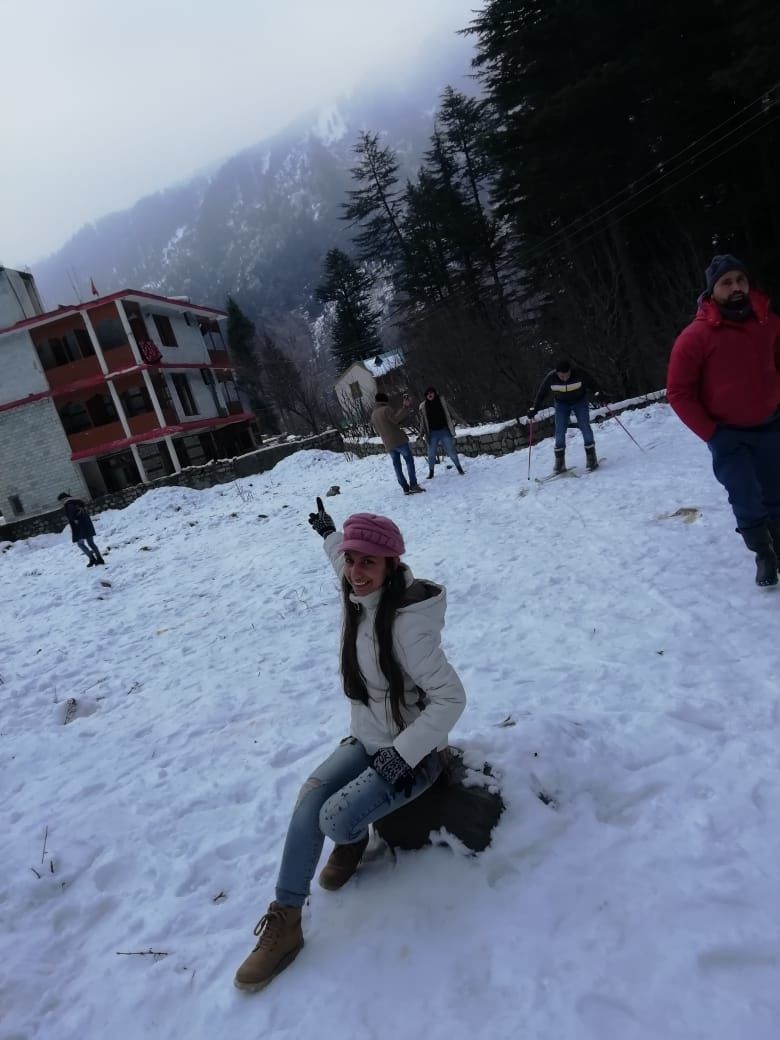 Wahan us pahad ki hawa mein ek nasha tha...or vo nasha ishq tha..Maine apni zindigi m itni khushi kbhi mehsoos hi nhi ki thi..Pyaar ho tha mujhe.. In waadio se ..!!!
"Travelling is like flirting with life . It's like saying I would stay and love you , But i have to go , this is my station."