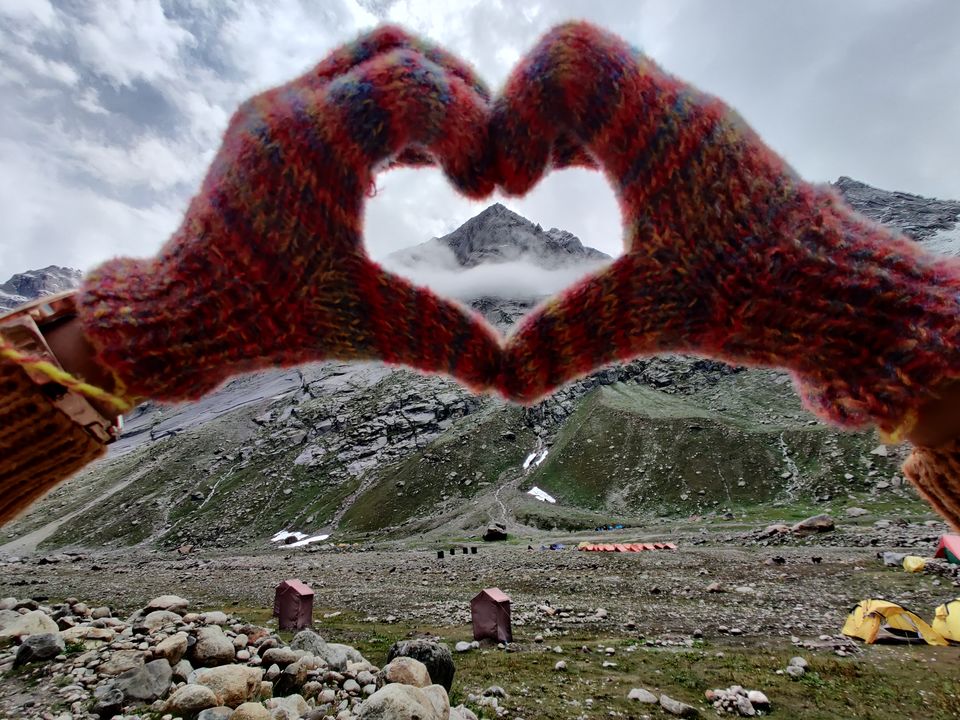 "Guys, there's gonna be a lot of ruckus at the airport with all the independence day happening ... extra security, checking and more checking"
Well, I for one was sure I gotta leave around 5 in the morning from Bannerghatta Road to catch the 9 30 flight. So I hitch hike my way to the bus stop, reach there at 6:15AM only to realise that there are no direct buses to the airport (thanks to the metro construction going about). (Start thinking dumass... you're already running late by an hour, no buses...what next?!) I board the next lumbering bmtc that came my way and I think to myself, man oh man I'm gonna miss my flight! I drop off a couple of blocks down the road and board a taxi that drops me off at the airport at 7 45! (Phew! So much for getting late). I meet Subha and we board the flight together! On to our next destination...where we get hold of our next co-traveller, San.
Chandigarh! the most planned city in India. I was so keen on visiting here having heard a thousand praises for it by fellow travellers, I just had to see for myself. Then reality slams you on the face, its not really what you expected! I mean the infrastructure is great...wide roads...great drains...obnoxiously huge parking...(even perks for women on buses). I kinda expected a bit more...bit more in terms of things to do within the city...or maybe I was wrong, given the fact that we could spend only a couple of hours there...we hit Sukhna lake and the Rock Garden...boarded the bus at night and called it a day.
I wake up to the sound of screaming girls as we pass through narrow roads with the river skimming the edges of it with all its ferocity....Ah! We've arrived. The lust green was so out stretched that my eyes could not absorb it all...It was heaven! And there was rain...heavy rain...in heaven!
We quickly off-board the bus, and wait to hop into a cab to take us to our stay at Old Manali. Now, remember cabs aren't exactly cheap over here (a distance of 3kms costed INR 300...well you do the math)
We head over to Mall road post that to get to the main item on our check list - Spiti Valley. After a thousand enquiries and half a mind of travelling there (since it never stopped raining ever since we stepped foot) , we decide to go with the guide suggested by the Owner of our stay.
Now that's sorted, it was 5 PM and plenty of time to kill. What next...a quick map check and we found Vashishtha temple on the way. The cold rains retained us from getting a dip in the hot springs, this was a miss since we had heard plenty about it.
Our cab arrives at 7 in the morning (I so wished he had turned up at 5 instead). We board the cab, with the still intense rain and the ferocious Beas running along throughout the stretch. As our cab lugged it's way through the one of the most dangerous routes in India we finally make our way to our first pit stop - Marhi. By this time the rain had taken a whole new shape, it was 5 times intense making it super hard to navigate. The steaming maggi and the piping hot coffee slid down easy like a lemonade on a hot summer's day. Mindful that this could be our only meal for a long stretch ahead, we pack supplies - water, bread, snacks and everything we could lay our hands at the nearby store - and our secret elixir - Old Monk.
Chatru was a relief for us travellers after the taxing ordeal, the huts were packed at this point with a mixed crowd, waiting for their food to arrive. A simple dal chaval seemed like heaven! And then the driver says,"Don't worry guys!We have crossed all the hurdles.The journey is gonna be fun ahead and we three muskeeters wrapped in the blanket of excitement that Woah!We are enroute Chandrataal, completely unaware of what lay ahead.
Just some kilometers away from Chatru,we encountered a river crossing named as "The Pagal Naala" by the localites. Well!It was indeed a Pagal Naala. With strong water currents coming from one side flowing into the ever so ferocious Beas on the other,there is a hump in the water crossing where the cabs usually get stuck. So!It was customary for ours to get stuck as well. With the dripping temperatures and the cold waters,our cab got stuck in the middle of nowhere,we no aid as far as you can see. So the driver and I,tried really to push the car ,whereas the girls started to panic standing on a rock in the rains.
We were just hoping if we could see just some vehicle around ,we may ask for help.And we have the saviours, the Himachal Police, or the guardians as we may say. But to our sheer disappointment those guys left without giving in much aid.And like us some other travellers also got stuck at the "Paagal Naala" in this "Paagal Weather".
So,our driver routed us to a guest house which was at a kilometer distance from the water crossing. Drenched in the mad rains,we made our way to the guest house and our driver reached out to the owner for help. With the rains getting intense and high probability of landslides around,we just got a sigh of relief in the guest house where the owner helped us with some tea and snacks.Luckily,the driver managed to get the cab soon with the owner's help and we decided to continue with the journey.
As it was getting dark and Thor,our one favorite Avenger was in a playful mood,we thought that it is better to pit stop somewhere at night and we'll resume journey to Kaza the next morning.So,the driver took us to Tenzing's tents located just at the Kaza border.
At an altitude of 13000ft about sea level,panic stricken,completely drenched in the rain,shivering because of the cold and in an area of zero network connectivity, all we were looking for was a safe sanctuary for the night. Needless but I must stay that in case you ever get stuck at Kaza border or just simply feel like spending the night around Kaza,Tenzing's tent is the place!!!
It was just not the tents that were extremely well built, or teh picturesqueness that the place offers(that you would definitely not notice in a situation like this), but it is the host,Tenzing himself that makes it feel like a homestay.The guy comforted us with quilts and coffee and asked us to sit around the bonfire . Need of the hour! We did exactly as he said , but he was one amazing host that we could have got. He served us the now-not- so-secret elixir of survival,the Old Monk indeed, that we were little apprehensive first on taking from him, but gradually, he bought us all at so much ease that we actually got relaxed mentally and physically. Post that we had dinner and went off to sleep and with the rains subsiding, we expected it to be a bright sunny day the next morning.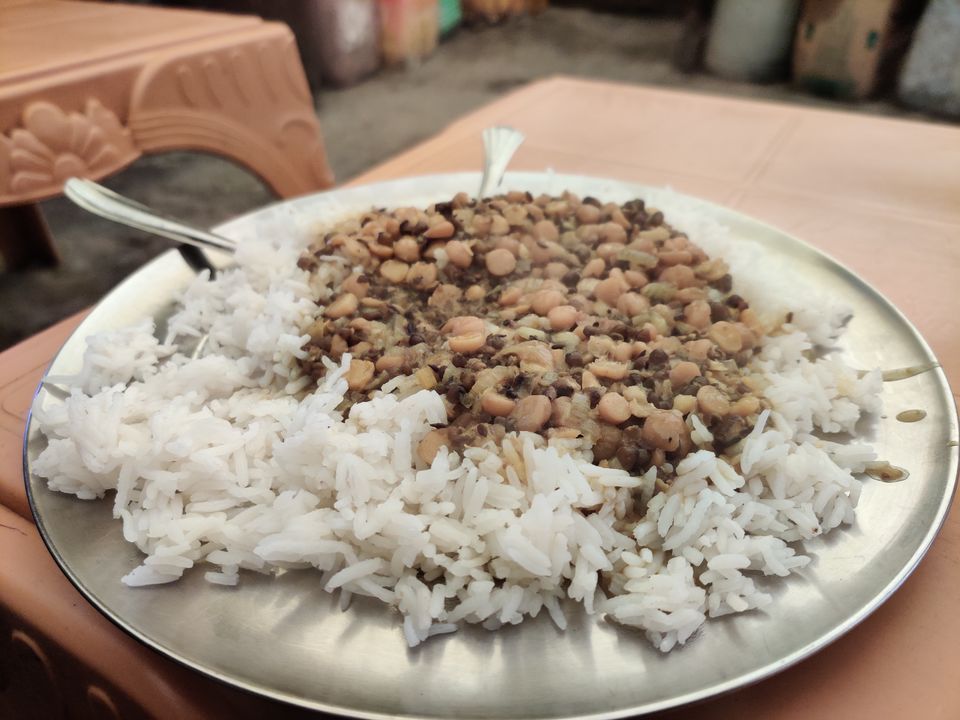 And the next morning partially turned out to be what we had expected. The rains had subsided so we were like 50%cent correct. It was just that our thought of a bright sunny day was replaced by -5 degree temperature snow cover!!!!!
Yes,you read it right!It's 6 in the morning and we wake up to get ready for the day summing up the adventure that we had the day before and nature just surprises us! As we opened the zip of the tent, we saw a snow cover upto 4ft tall and as far as you can see, it's all white.Just imagine!You are seeing snow for the first time in your life,but you are stuck in a zero network area, with limited food supplies and no electricity . So, our dream comes true but with some twist! And we are now like,that as the roads are closed on all ends, we might have to spend entire day here.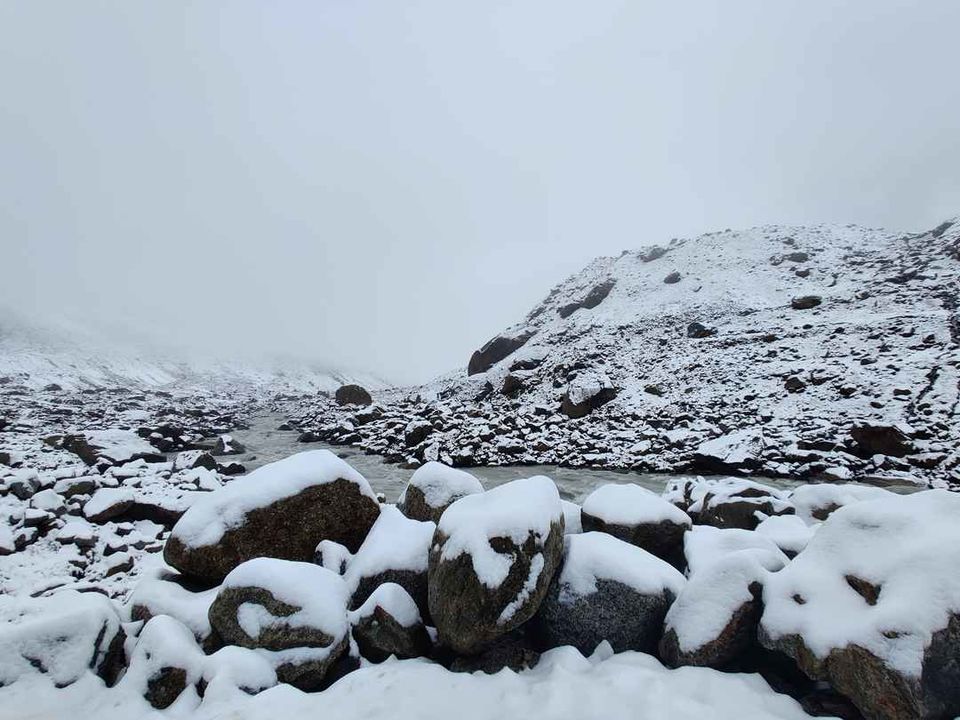 But the cab driver is smart. He says that the other cabs are moving back to Manali and we should get along with the group.In any case, Spiti is a no-no as the roads to Spiti are covered by the snow now. So, with Spiti-Still a mystery we head our way back to Manali.
This is not THE END.....
The adventure had just begun. This snowfall in August was one historic moment that had happened after some 70 years and we were about to create some more historic moments!
So,this entire fleet of cabs started heading back to Manali crossing one hurdle after the other. We encountered multiple landslides on the way, and the cab drivers along with the male tourists, removing boulders off the road,adding stones to the river crossings,cleared out each of them,hoping that we don't encounter anymore just after the latest one.
On our way back, we pitstop at Chatru to witness that the tent that served us the Dal Chaval had turned into one refugee camp with the food supplies being in very less proportion to the number of people around and the price of the dishes increased 3 times from the day before.However, the weather started becoming Sunny at Chatru as we had left most of the snow covered hilltops behind. Considering the change, all the tourists pulled out their wet thermals,jackets,shoes and the other gear to dry.
And then heading back to reach home soon, we encounter a landslide as big as a hill.The drivers went out to reach for help. After some time,we noticed some co travelers starting to walk off to a village called Shishu some 6 km from where the lanslide had occured.
As it was growing dark,we decided to head out and see if things are falling in place or falling apart.And not to much of our surprise,they were falling apart. The last night, at the Tenzing's we had met a young fellow from Delhi,who rode all the way to Spiti and today, we come across nothing but his corpse wrapped in a thick quilt. His friends told, that he fell sick and could not survive the cold.
With survival in our mind and panic in our body we decided to take all our stuff from the cab and get along with the other folks to walk all the way to Shishu. The sun was setting and it had started to rain,light showers though but heavy enough to panic us even more in the situation. Walking along the path,helping each other,we come across a patch that needs to be crossed by going downhill,crossing a stream of the violent river and going uphill again. With no clue how to do it, the BRO came to our rescue and packed us all on a lorry to drop us to Khoksar village located 12km from where the landslides occurred.
At that moment,the B.R.O. force was like God to us . It was that because of the corpse,the drivers had managed to send a wireless to the B.R.O. and they had come to lift the dead body when they came to know of the actual situation.
Anyways, after that one lorry ride,we reached this amazingly beautiful village Khoksar,located in one serene valley with the best views that nature had to offer but it made no sense then.Just after getting dropped,we were looking out for options to reach Manali.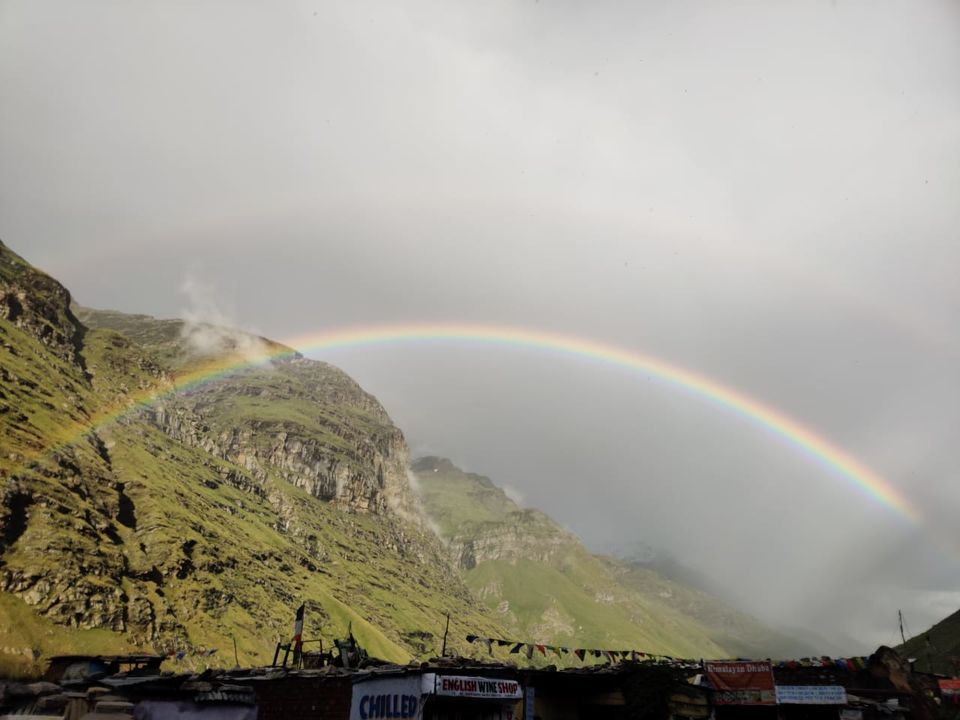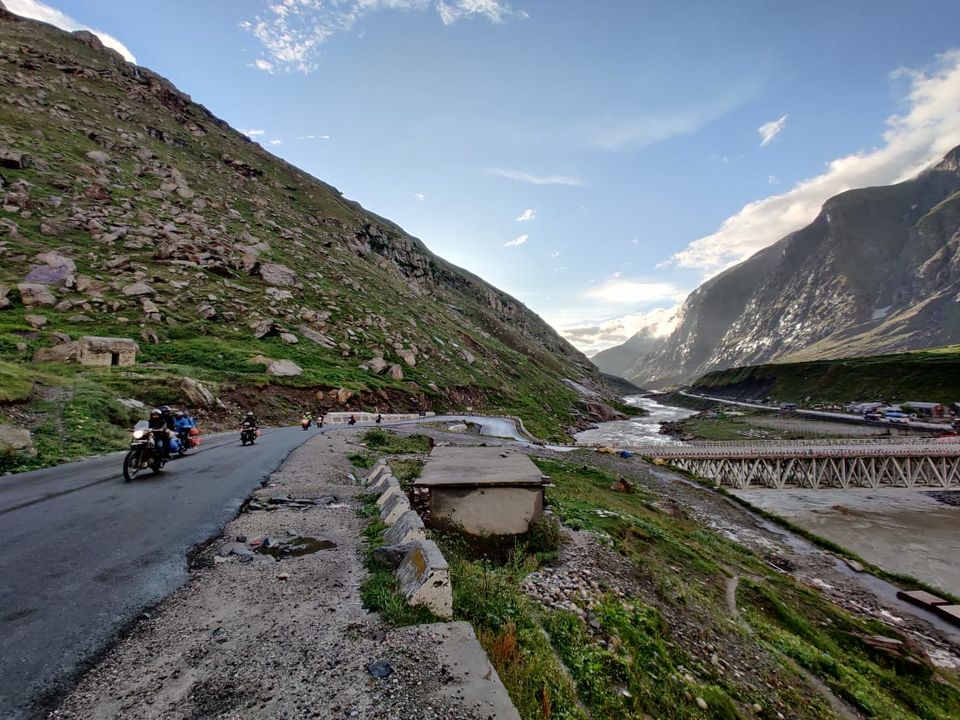 The public transport was not available and considering the rains,there were chances of more landslides the next morning.Even worse!The Rohtang Pass could have also got closed because of the weather. Manali was the only thing in our mind.Finally,the three of us along with four other travelers managed to take lift from 2 truck drivers going to Manali.
On those roads,just as wide as the width of the truck ,the ride was also nothing less than an adventure. Trying to maintain calm but completely engaged in fear, we somehow reached Manali.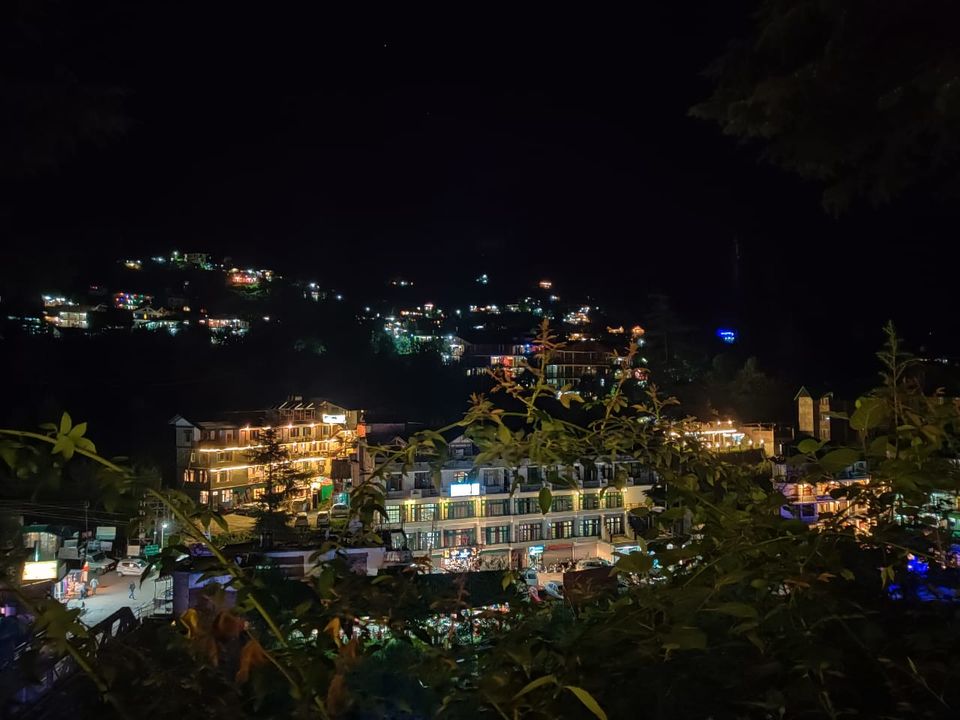 From the bus stop where the driver dropped us,we booked a hotel and stayed till the storm subsided.
"One hell of a trip!!" is what we call it now.
Zindagi Na Milegi Dobara - this phrase makes much sense now as we think about the Spiti that we survived.We lived each moment of the history without becoming HISTORY!!
By God's grace,we all reached safe back home remembering this trip of a lifetime where every step led to roads not taken... and moments never expected , completely unaware of what lay ahead!
#travelfails