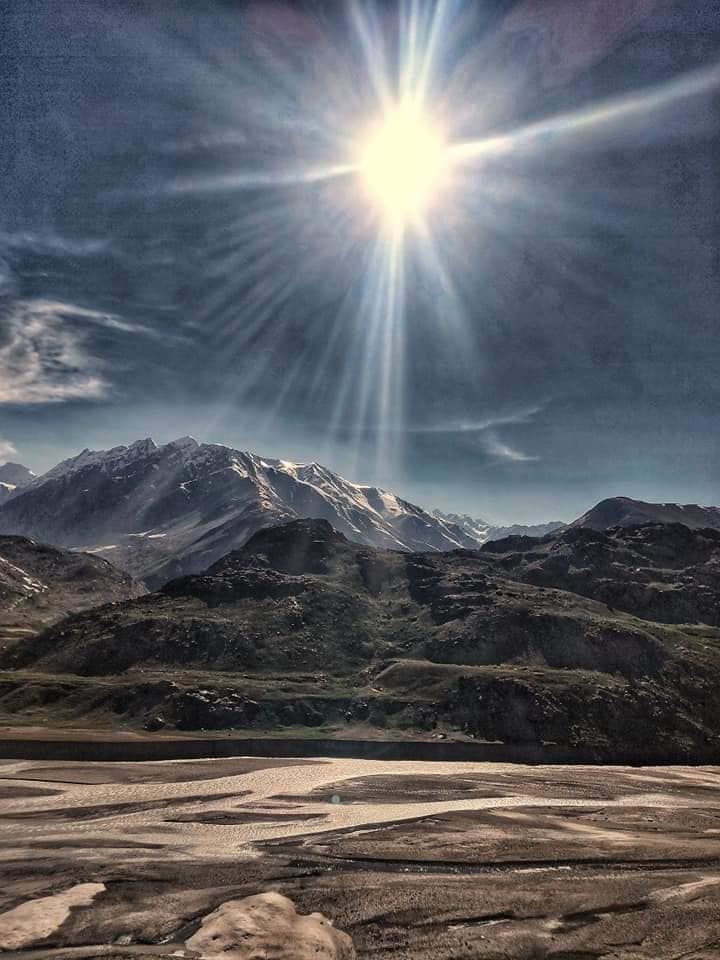 Spiti – Also known as Mini Ladakh, altogether a Different World or I can say World of Mountains.
It's a Place of Pristine Lakes, some of the World's Highest Inhabited Villages, Beautiful Cold Desert, Stunning Breathtaking Landscapes.
How to Reach
By Air
The nearest airport to Spiti region is the Kullu Airport at Bhuntar, Kullu. This airport is well-connected to the important cities of the country. One can rent a cab or taxi to reach the destination. The journey is somewhere around 5 hours.
By Train
The nearest railway station to Spiti valley is Joginder Nagar railway station and Shimla railway station. To reach the valley, you can rent a taxi from the railway station or can also board a bus going to Spiti.
By Road
The two alternative routes to reach Spiti by road are:
One is via Manali: Manali – Rohtang Pass – Gramphu – Chattru – Kunzum Pass – Kaza (Spiti Valley)
The other one via Shimla – Kinnaur Valley as Shimla – Kinnaur – Nako – Sumdo (Spiti Valley) – Tabo – Kaza
On the way from Manali to Kaza, crossed a few villages like Chatru, Lossar, Hansa, Balta,
Visited few of the Remotest High Altitude Villages, Mountain Pass, Highest Bridges
First time I was going for a full week trip in the mountains to a magical place with Safarnama.
This trip was a Group trip + a Solo trip too for me. After a long wait, departure day came and it was like all the bad things happening on this day like stopping me from the trip, weather got rainy when I woke up so didn't go to office, then some water issue came at home and some other few these type of issues at home. But finally, in the evening I got ready to reach the departure point (Majnu ka Tila) to catch Volvo. It was a group trip with strangers so met the travelers at Bus stand. It was the first time, there were 5 doctors in our group. After some time, Bus arrived, and we had taken our seats for a week-long journey.
It was Volvo Bus from Laxmi Holidays, it was comfortable for long travels
In the morning we reached Manali and we were transferred to our Hotels. We stayed in Sparsh Resorts, the place was good in-between Greenery and very close to the famous Hadimba Devi temple and Old Manali. We checked in our rooms on sharing basis. Relaxed for some time and after that went out to explore Hadimba Devi Temple, Old Manali, etc. Chilled out in one café for some time and reached back to the Hotel in the evening. Took rest for some time and after that dinner was ready, during dinner we had some moves over music and get back to our rooms for asleep.
Day 2 : Manali to Kaza (Stayed in Camp in between due to landslide)
Next morning, we need to leave early, we woke up with awesome weather, it was raining outside, we got lil bit late, had our breakfast and met our Tempo Traveller Driver bhaiya Dawa Ji, he has amazing driving skills that I came to know later in the day. We started towards Kaza, stopped at Rohtang pass for some time, clicked pics, etc and started the Offroading path (100+ km) towards Kaza. There was no road just an offroad space with valley on one side and kind of a sandstones all over. Road is not for weak hearted people. We crossed Chatru and later in the day we stuck in between due to landslide. It happened in front of us as all stones mud water on the way and we started thinking what to do now. We went a little back and there was a newly opened campsite, so we asked them to give us a camp to stay at night. There were many travelers stuck and mostly all reached there and there was a shortage of camps but that was his 1st day of camping site and it was like a boon for camp owner. We were given one big camp where we all travelers spent our night. We all were feeling Hungary and in dinner, it was rice dal, in that situation this simple food also looks tempting.
This Camp was at a very nice place in a valley with high mountains on both sides, river and water streams nearby. We only had one problem here was of Washrooms. There I met a group of bikers who started from Gujarat and covered Rajasthan, Leh, etc and now towards Spiti. I was so tired and slept early.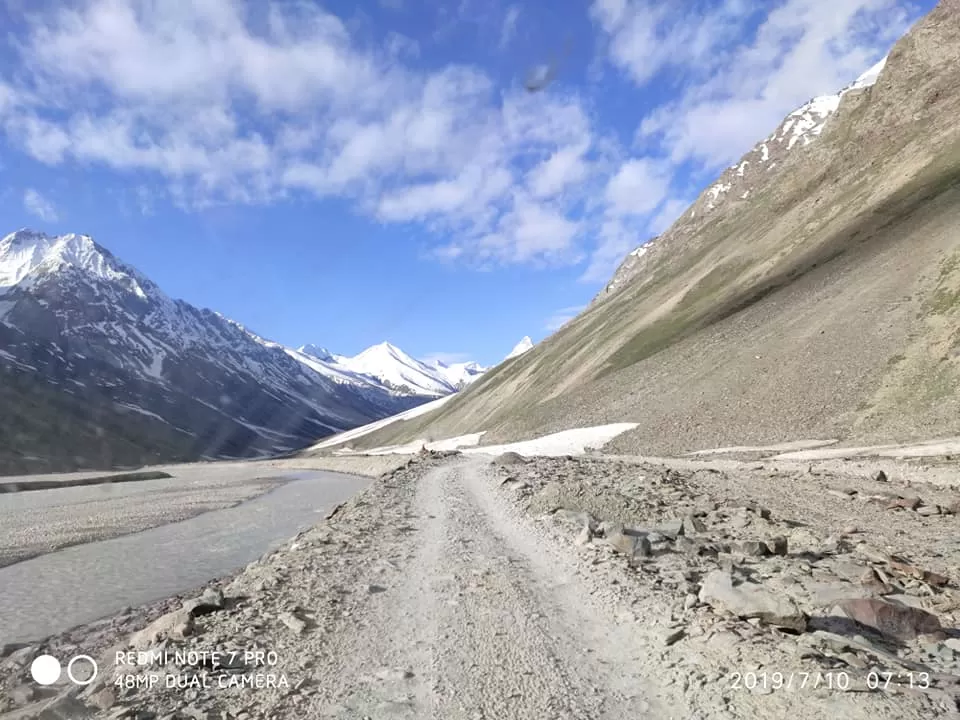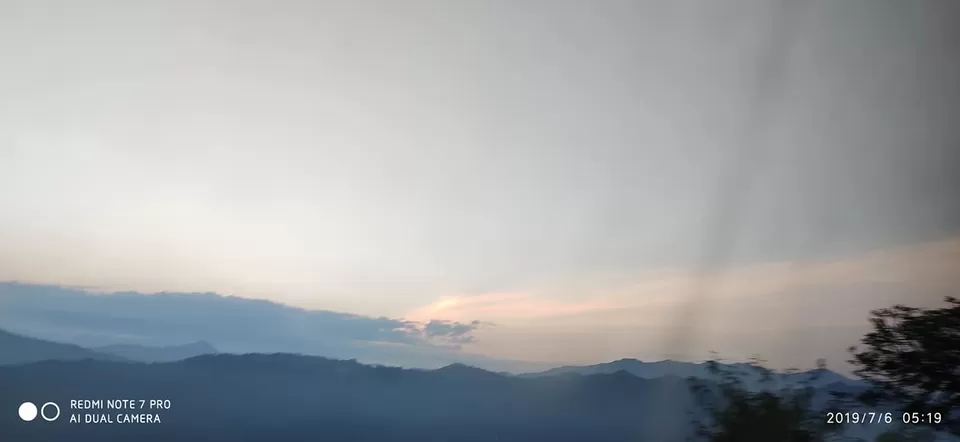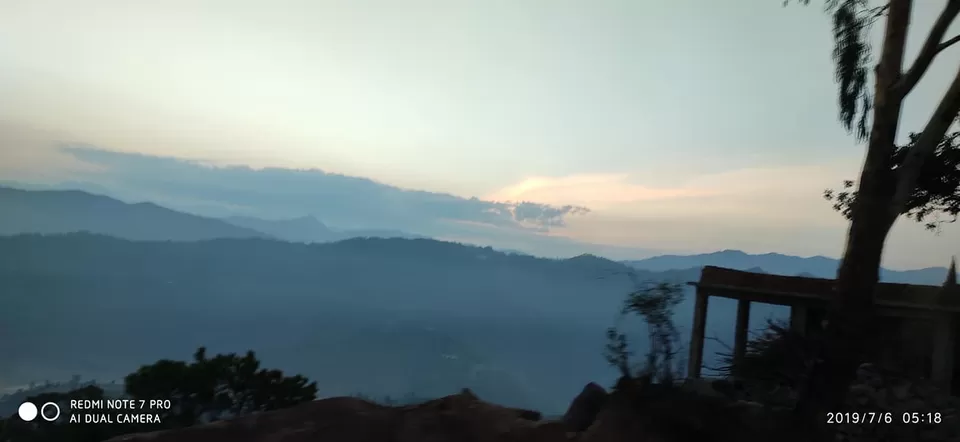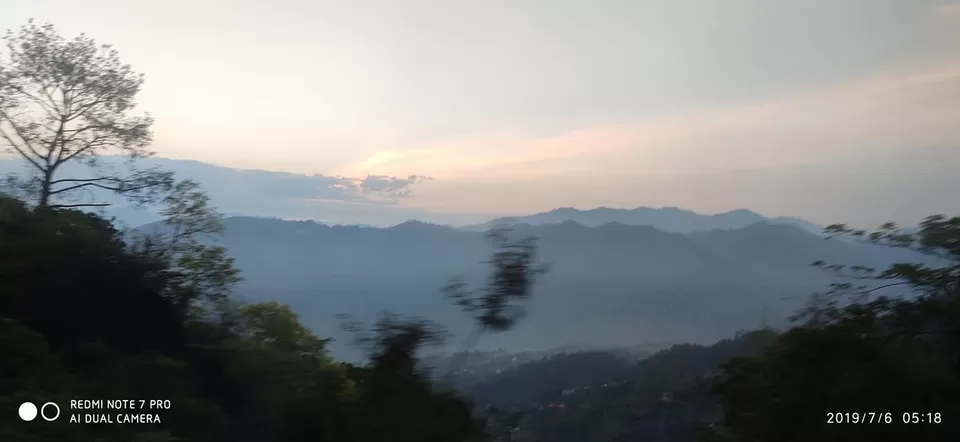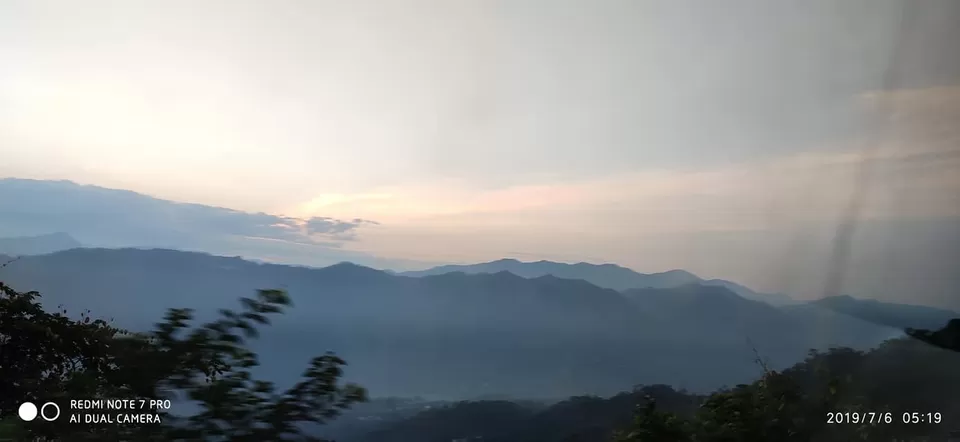 The next day I woked with a noise of water stream, get out of the camp, had hot Tea, then I walked a little bit towards the river, sitted along with river for some time and after that we all did the breakfast and left from the camp. Luckily the path was open and we were short on time so decided to visit few places before reaching Kaza. We crossed Kunzum pass, had darshan at Kunzum temple, visited Asia's highest bridge, Chicham bridge, had some fun dance clicks, had lunch at Lossar., visited Kibber. and at last, reached Key Monastery. Amazing landscapes to view from this monastery, had butter tea inside, spoken to monks. Inside the monastery, in meditation rooms, it was too silent. Few details for these places as below:
Kunzum Pass: Kunzum Pass at the height of ( 4,590 m or 15,060 ft), is a high mountain pass on the eastern Kunzum Range of the Himalayas some 122 km (76 mi) from Manali. It connects the Kullu Valley and Lahaul Valley with the Spiti Valley of Himachal Pradesh, India. It is on the route to Kaza the subdivisional headquarters of Spiti.
Chicham Bridge: Chicham Bridge situated at a dizzying altitude of 13,596 feet above sea level and declared as the highest bridge of Asia. The Chicham Bridge connects Kibber with Chicham village and reduces the journey between Kibber to Losar by 40 km.
Kibber: Kibber is situated at an altitude of 4270 meters. The village has a population of 366 as per Population Census 2011. It has a Kibber Wildlife sanctuary
Key Monastery: It is a famous Tibetan Monastery in Lahaul and Spiti district of Himachal Pradesh and is located at an altitude of 4, 166 meters above sea level. This beautiful monastery is positioned on a picturesque hilltop and is very close to the Spiti River, in the Spiti Valley
After that, we reached Kaza in the evening and check-in our Hotels (The Travelers Shed), a nice hotel and a good place to sit outside. I was so tired, took a bath and some rest. Later around 8 pm, I and a few others visited the local market to buy a few things. After dinner, few of us sitting together, late-night discussions over drinks Love Hatred, etc, singing songs Truth n Dare, etc. Also, we wished our fellow Traveller a very happy Birthday at 12. After that, we get back to our rooms and slept.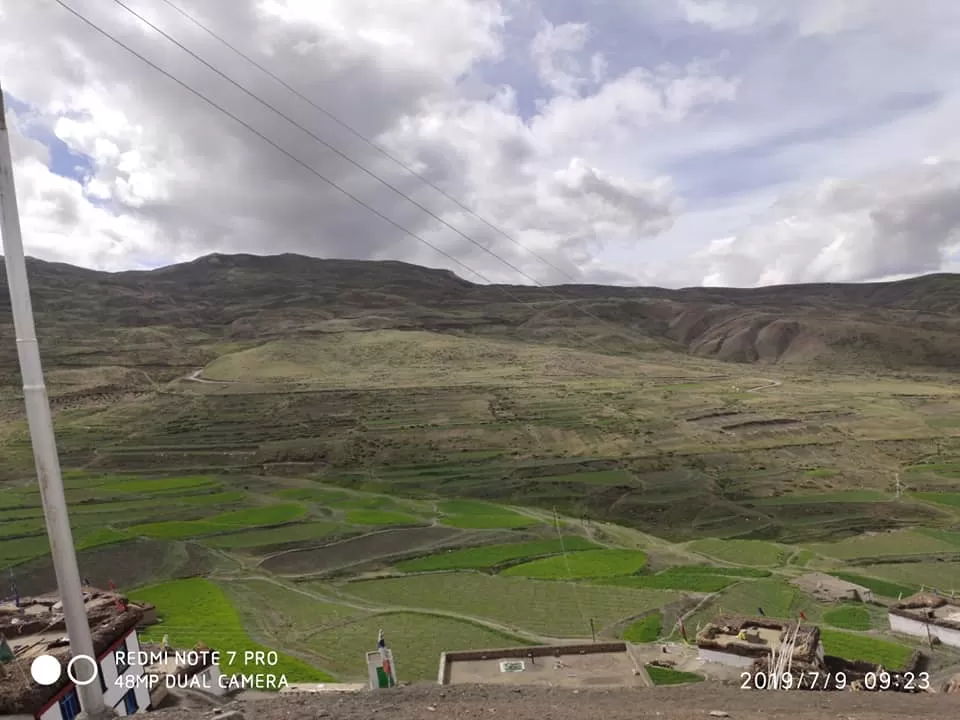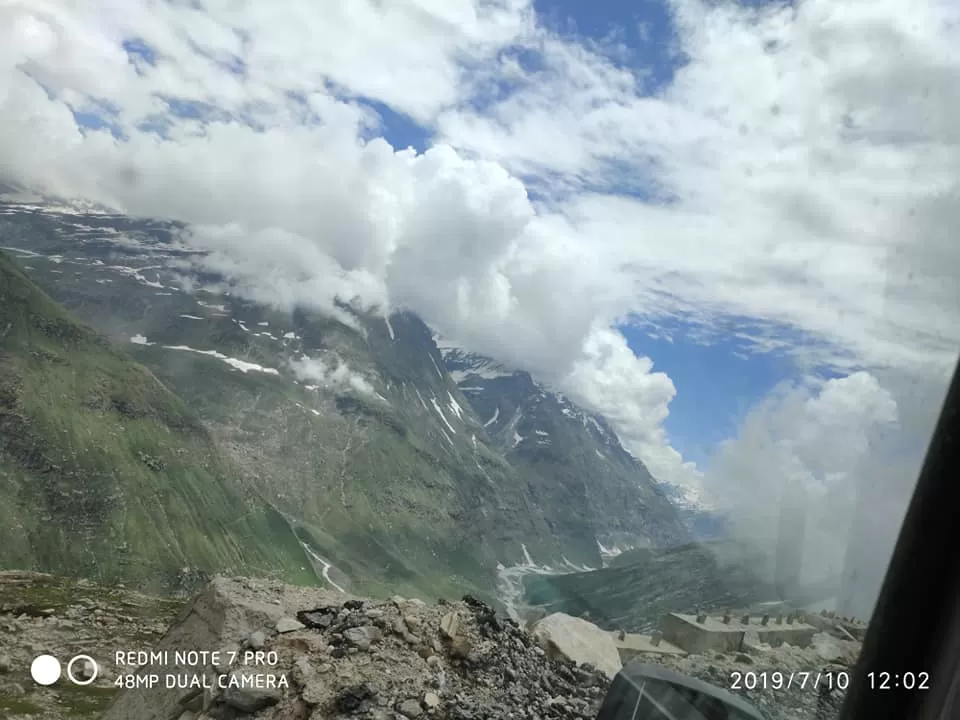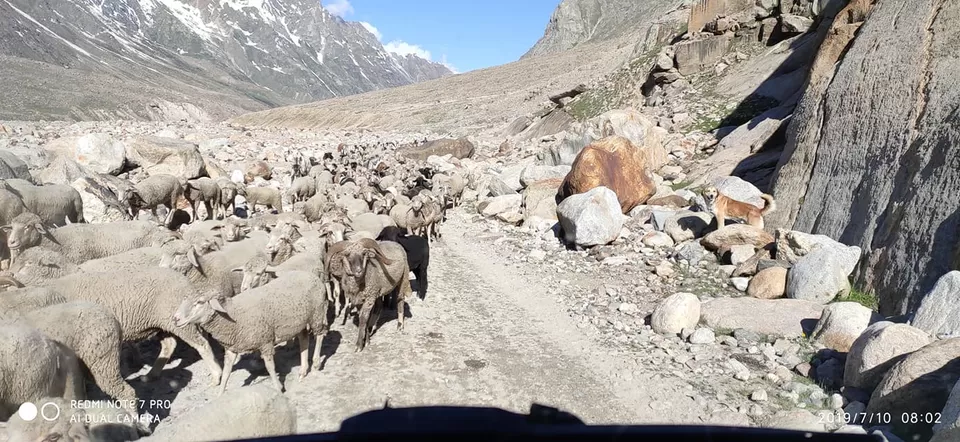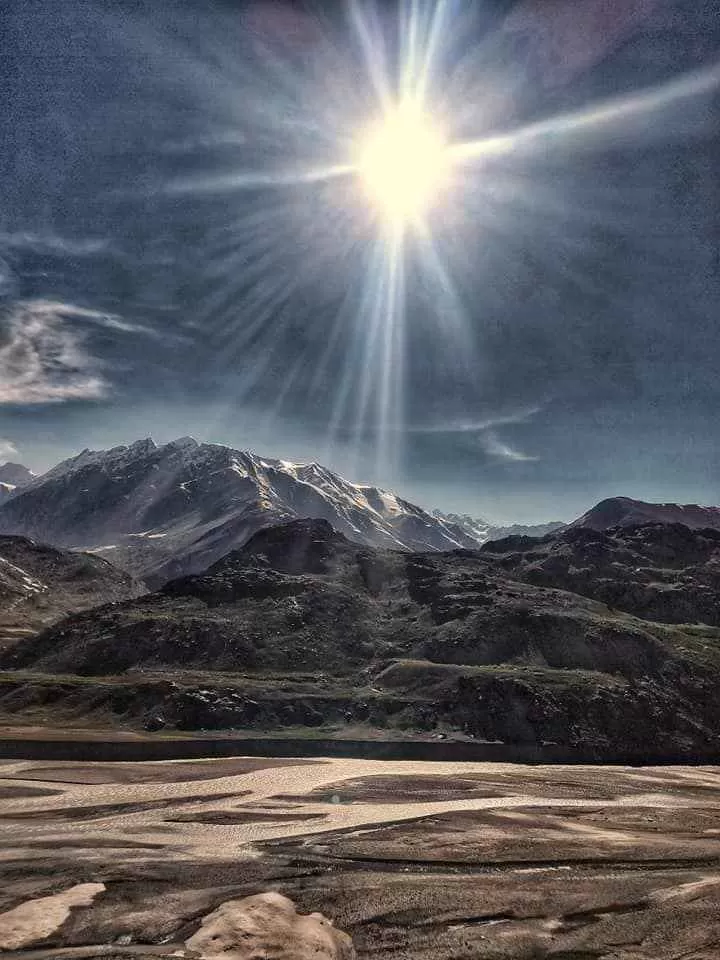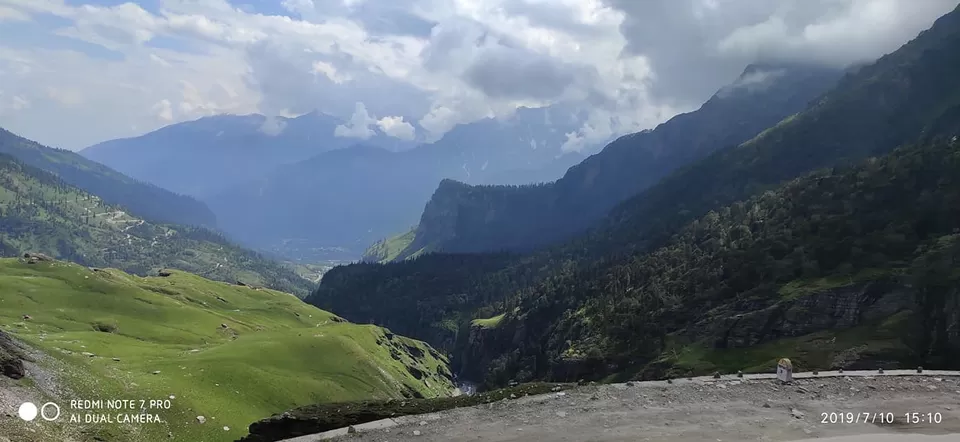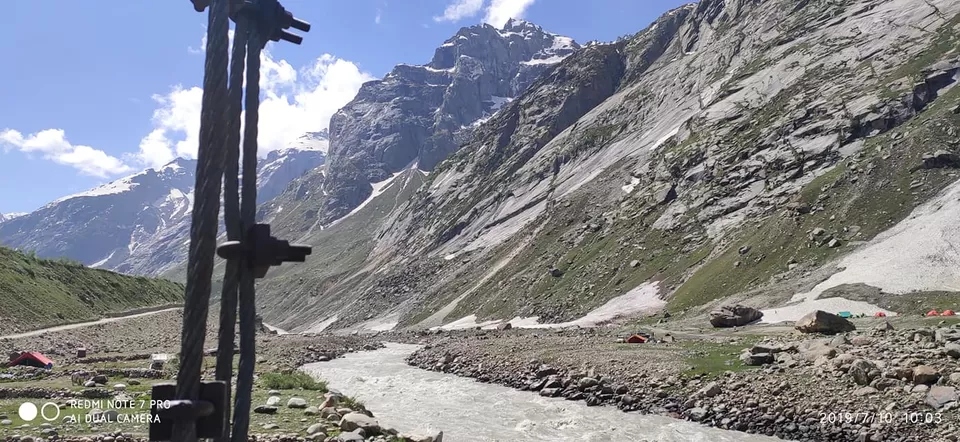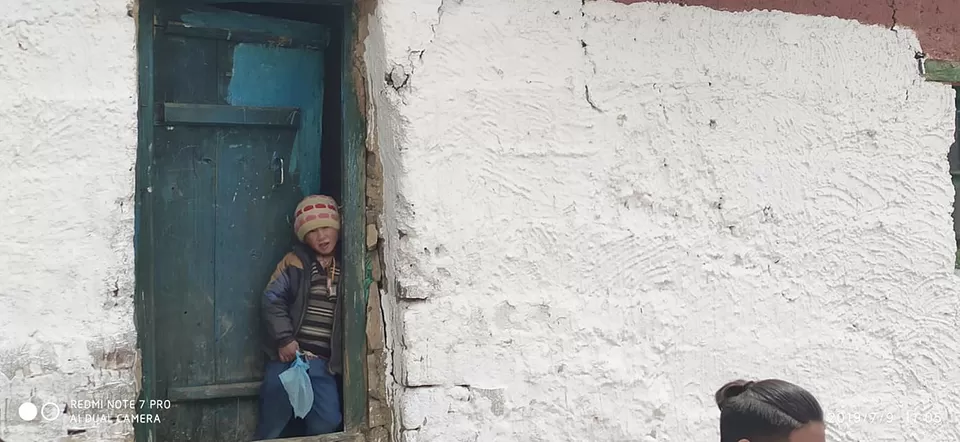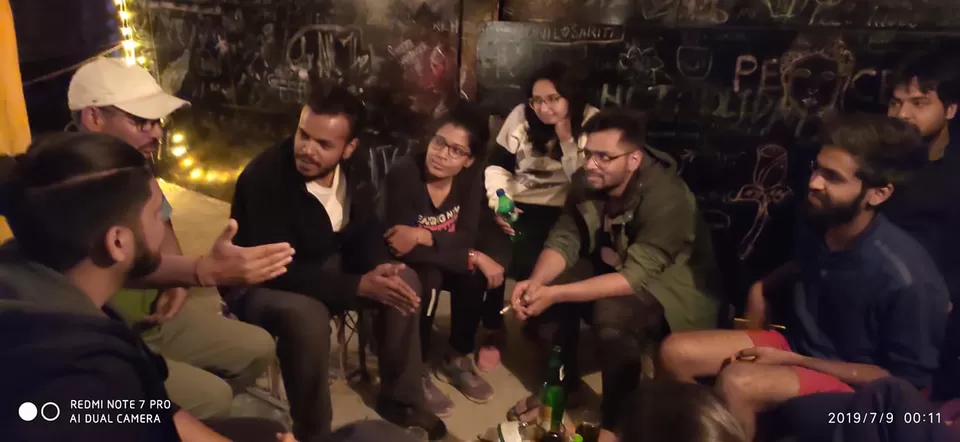 Day 4 : Kaza Sightseeing to Chandratal Lake
We woked up early in the morning and our breakfast was packed, we reached Langza village and experienced the charm of village, few houses that can be counted over fingers. Village is situated at an altitude of 4400 meters It is surrounded by green pastures, snow-clad mountains and barren landscapes It houses a population of approximately 137 people, who are dependent on agriculture and business for their livelihood. Major Attraction of Langza Village is the statue of Lord Buddha, overlooking the valley, an ancient monastery, and mud houses.
Then we headed towards Hikkim and Komic.
Komic is the highest village in the world connected with motorable road. It is situated at a height of 4587 meters. Komic which means "eye of a snow cock" (Ko – snowcock, mic – eye), is a remote village in Spiti valley. Scenic view from this village is breathtaking, There is also a small café known as Organic Kitchen, tea is a must-try.
Hikkim village has a post office situated at an elevation of 4,400 m (14,400 ft) and this post office is the highest post office in the world. All the travelers send postcards from here. Take click with postmaster is a must.
After that, we headed towards Chandratal and reached by afternoon. After walking few meters we reached a lake.
Chandratal Lake also called "The Moon Lake" in Spiti Valley is one of the most enchanting lakes in the Himalayas, the view was truly breathtaking, too beautiful can't explain in words. It is a lake in the valley between mountains, chilling air, I took a few meters walk along the lake, rested for some time on stone, took some clicks, etc. Weather was awesome too chilling. After that, we moved towards Camping site near to the lake. Camps were good with attached Washrooms. We all were tired as was traveling from morning, took some rest and after that had a cup of hot tea in chilling weather. Here only we felt like cold, in Kaza, it was not cold. At night we did our dinner as dinner was good and all the things available at that height.
During sleep, at this height it was too peaceful, silence all around in camp I was actually able to hear my heart beats so clearly and it was like boom boom inside my body like some generator is running , means too loud noise of heart beat I was able to experience, might this was due to high altitude.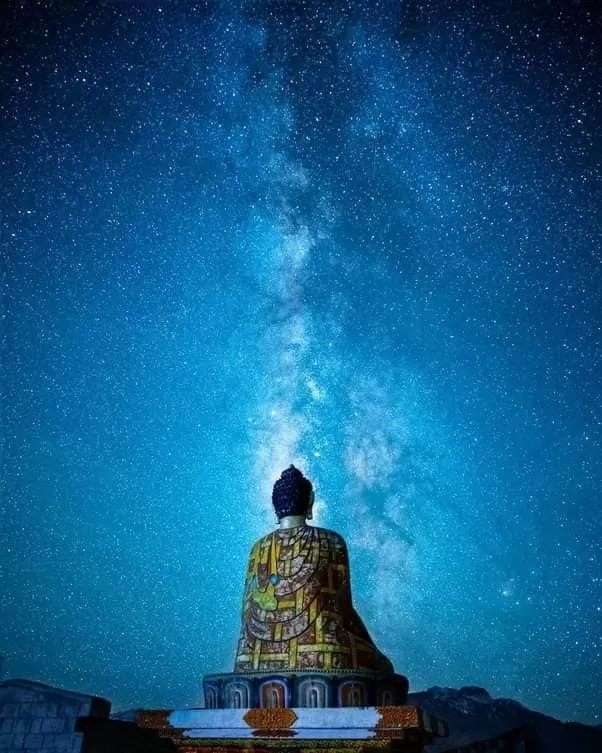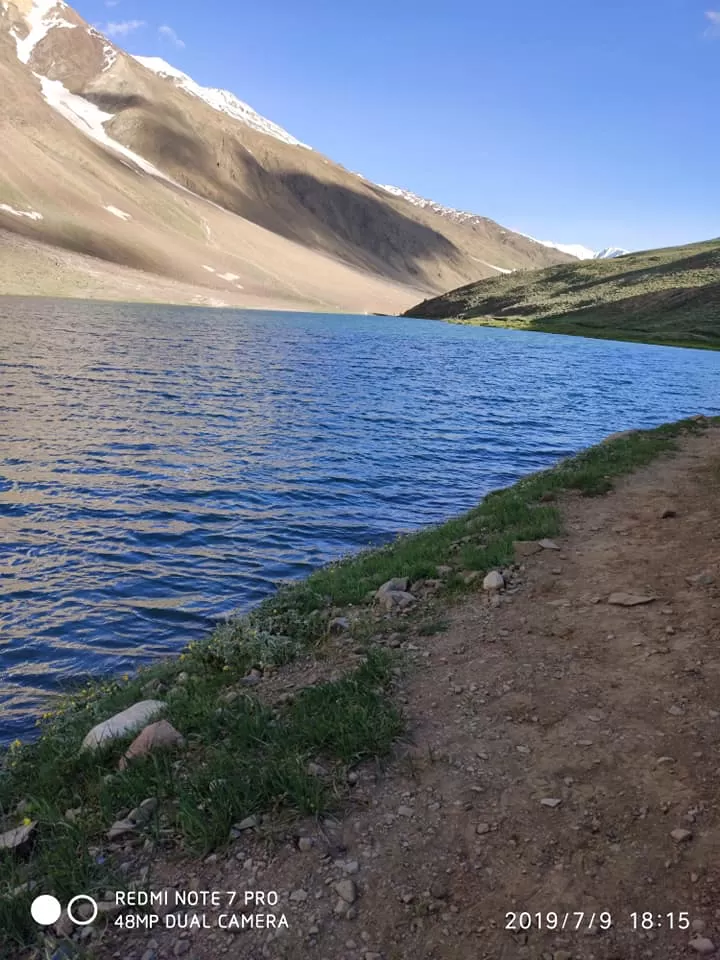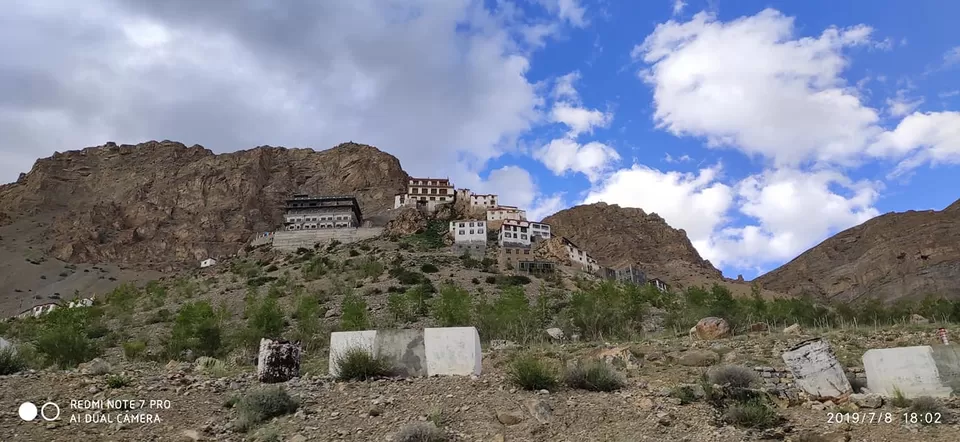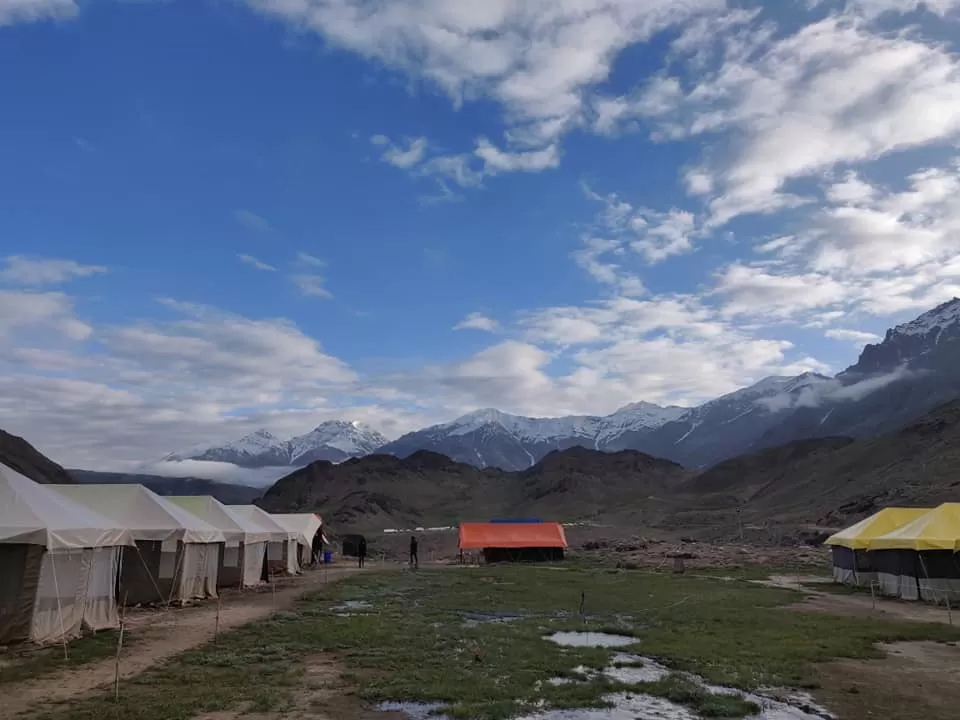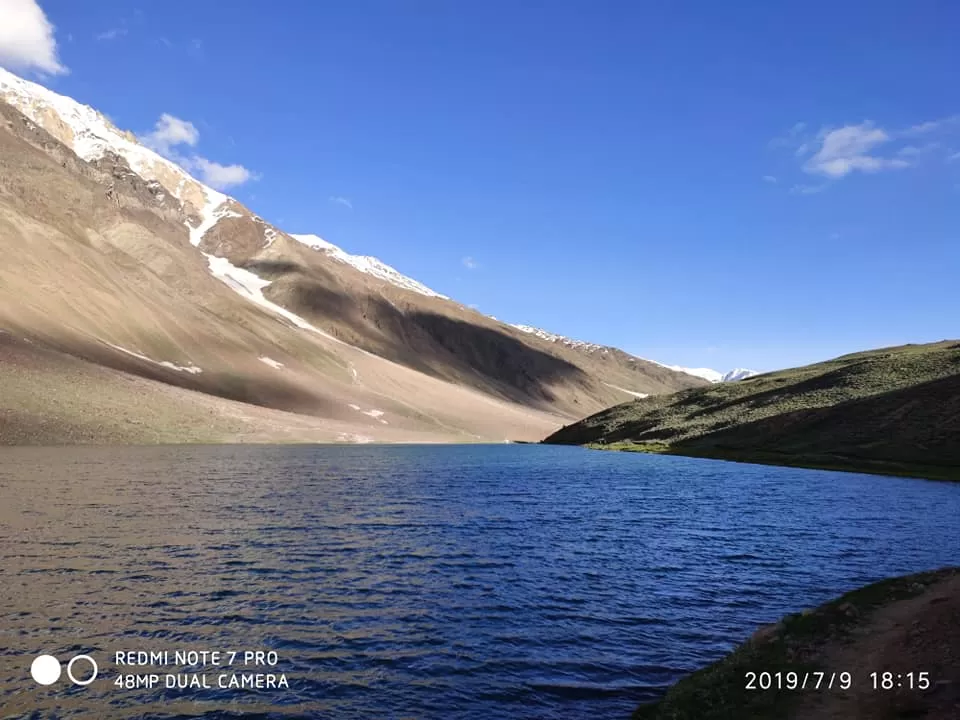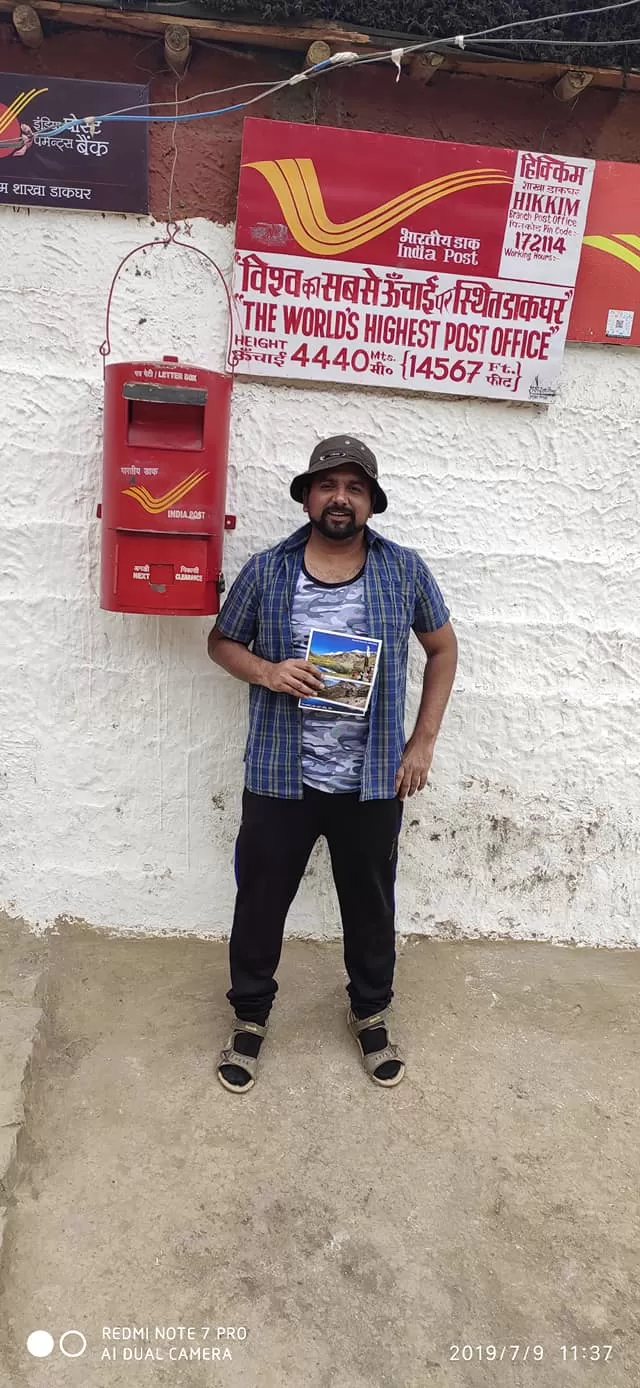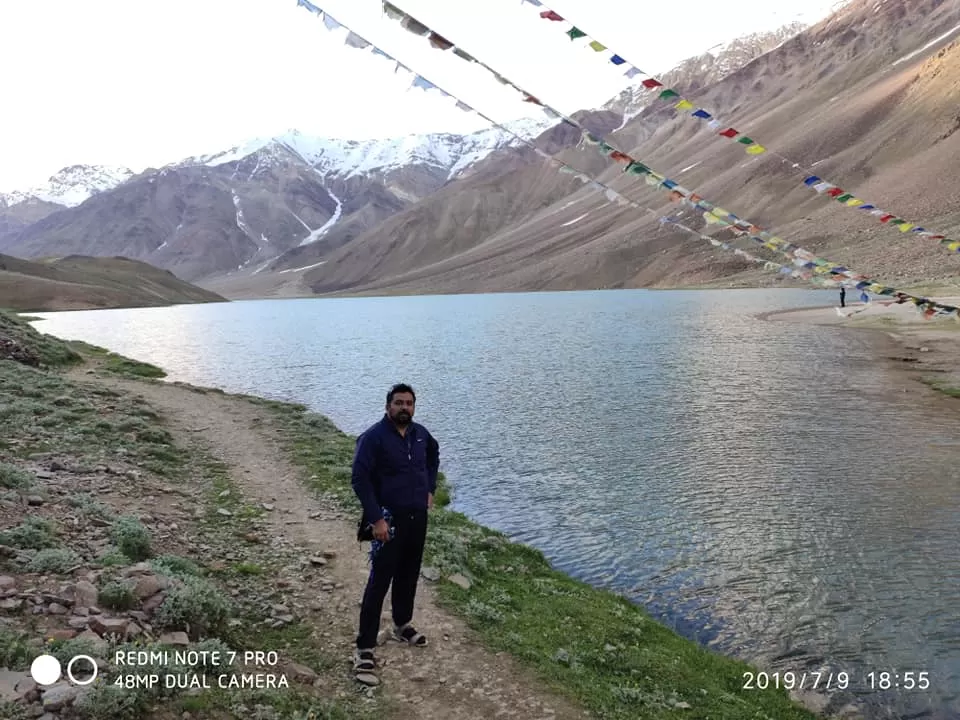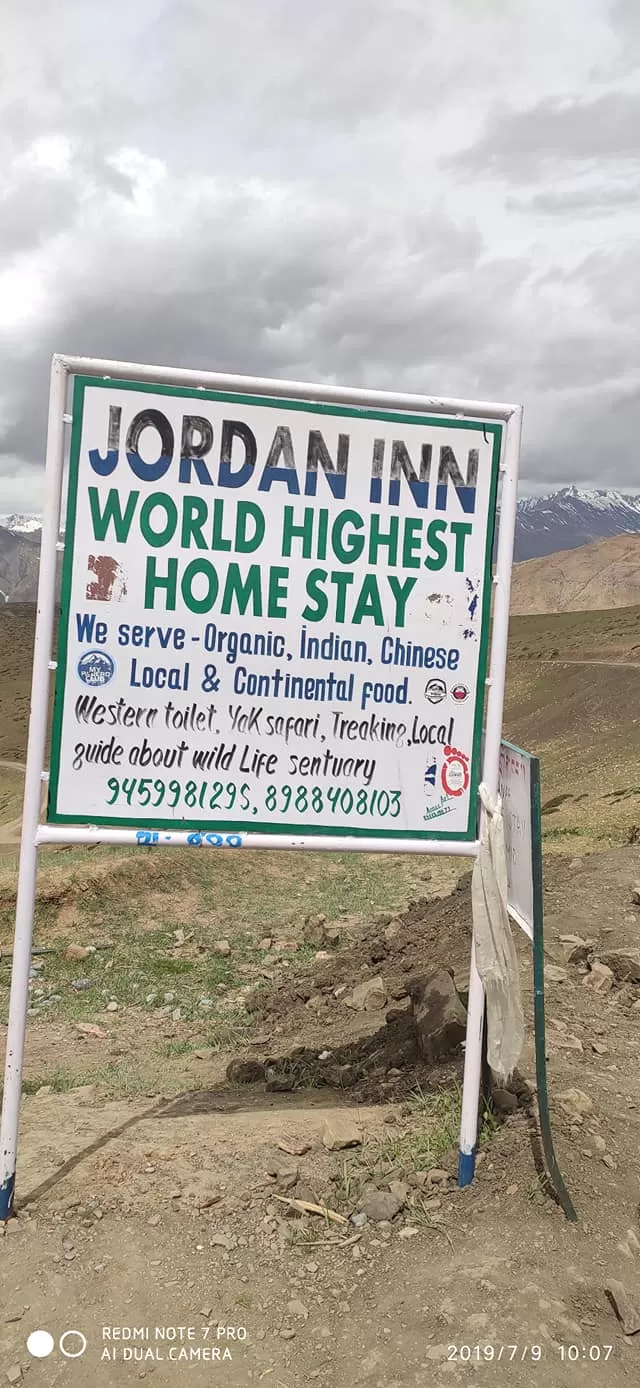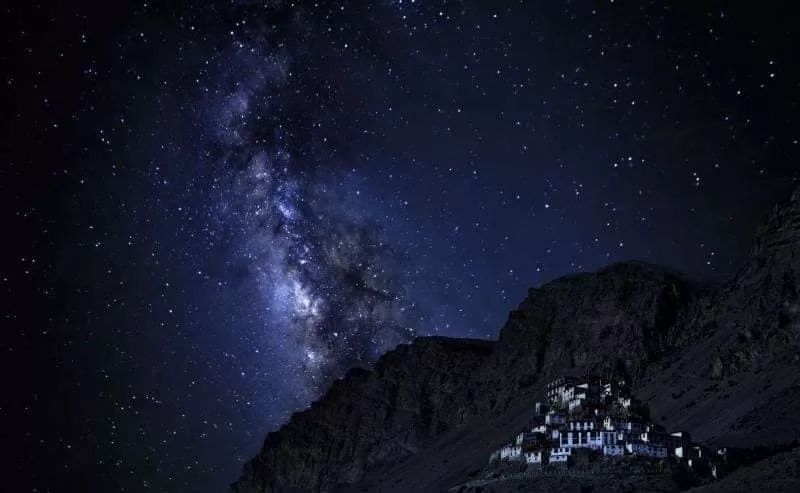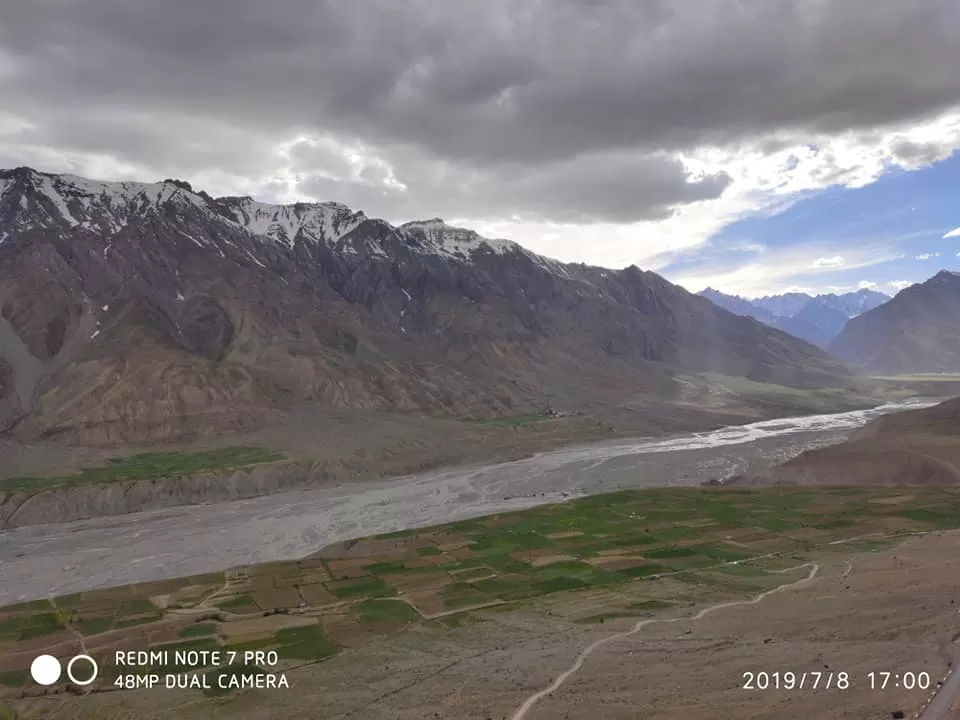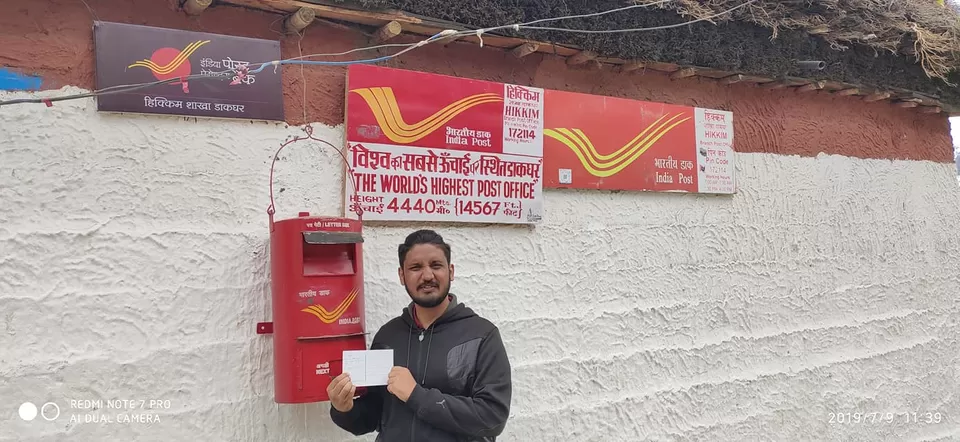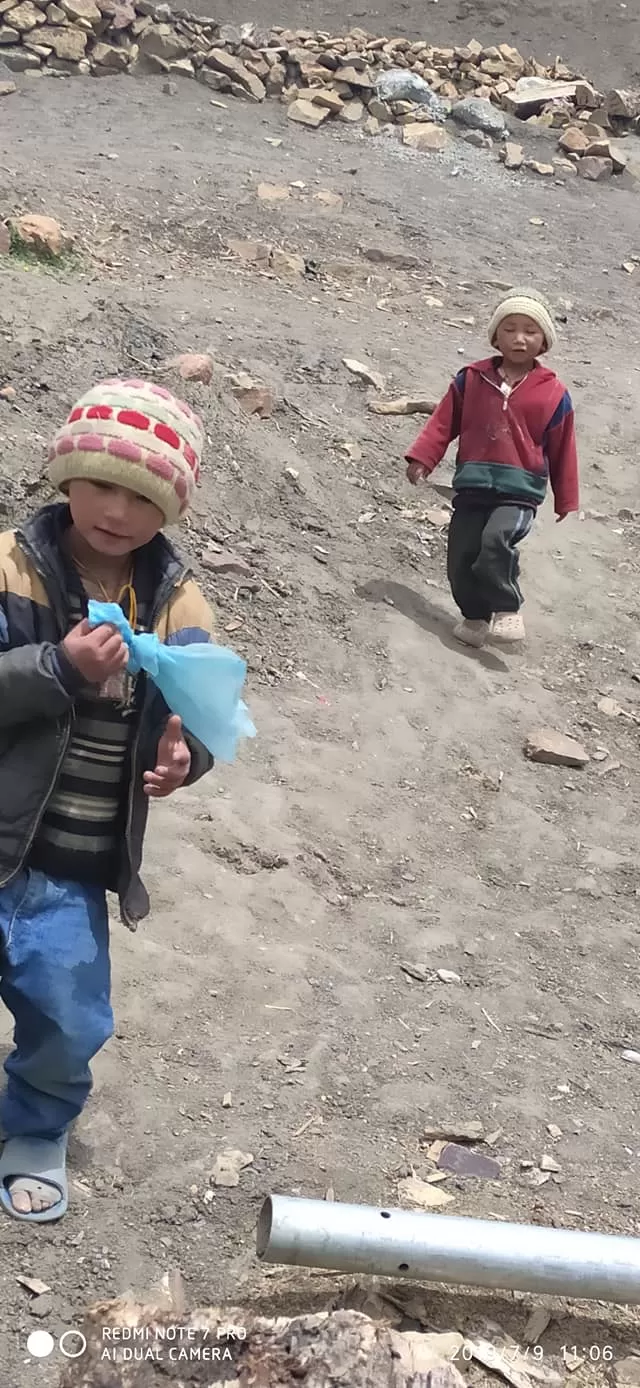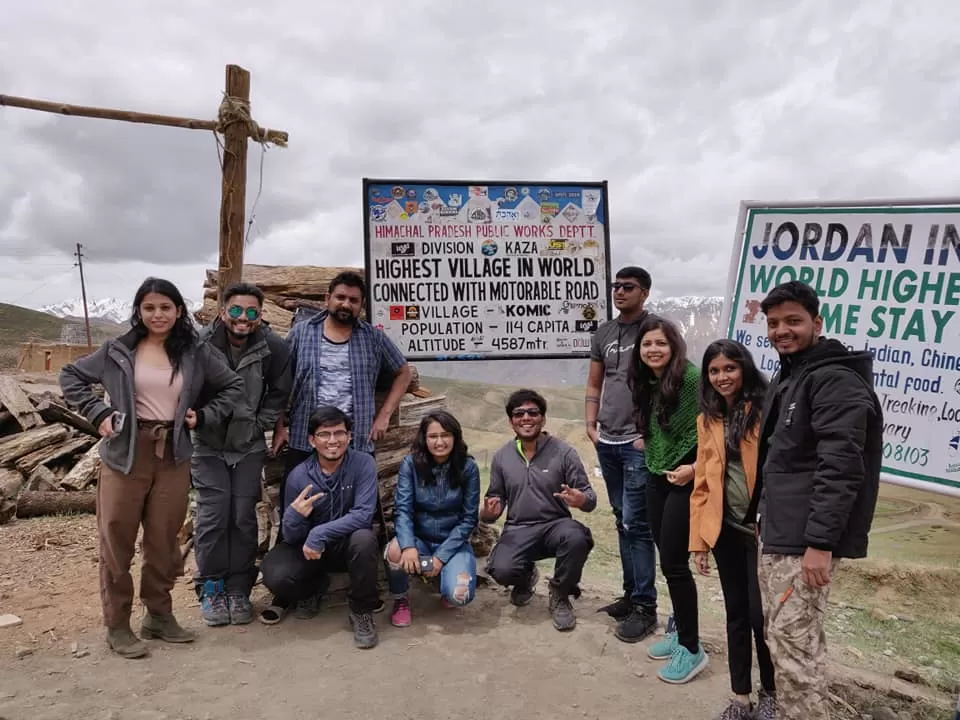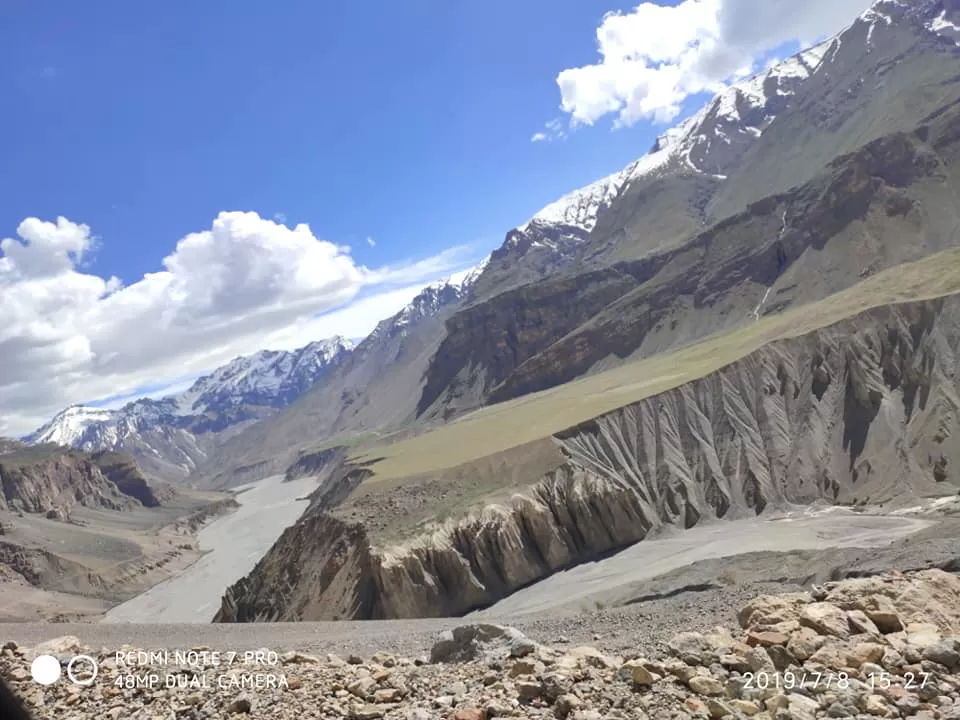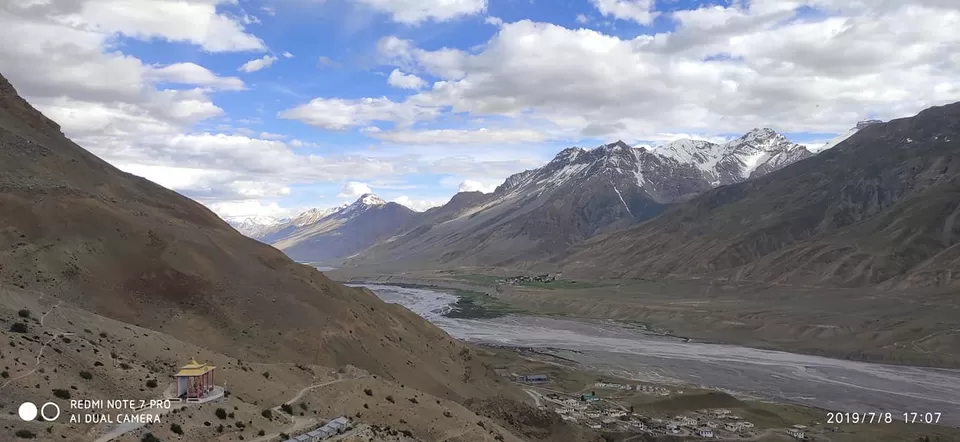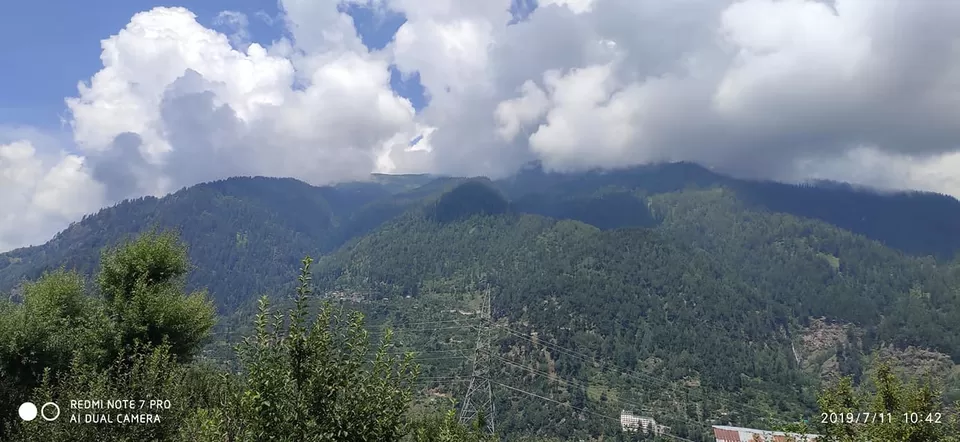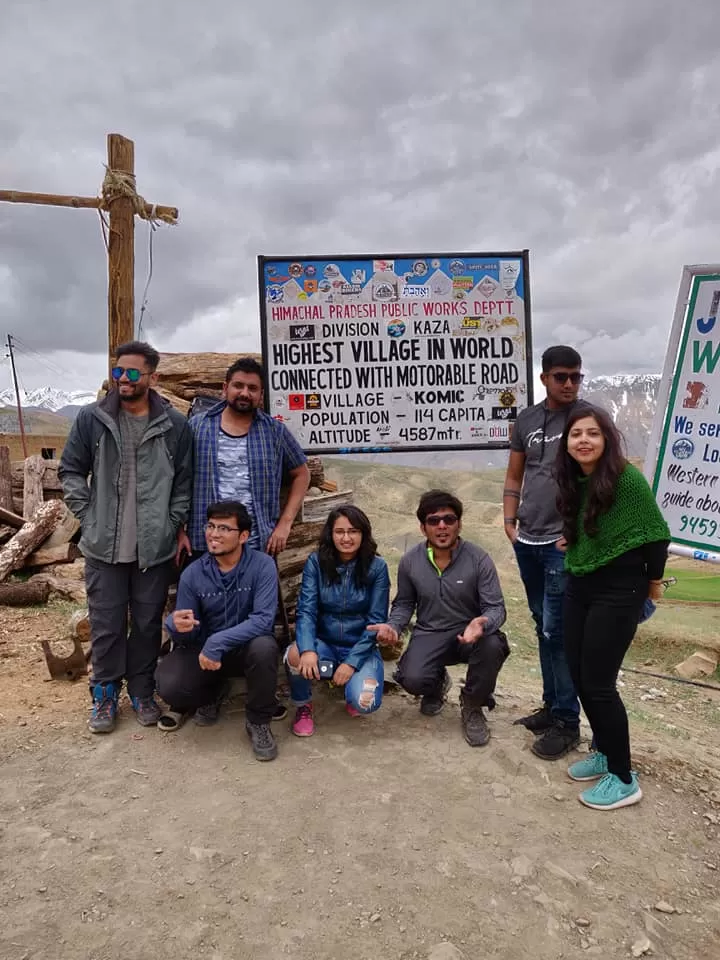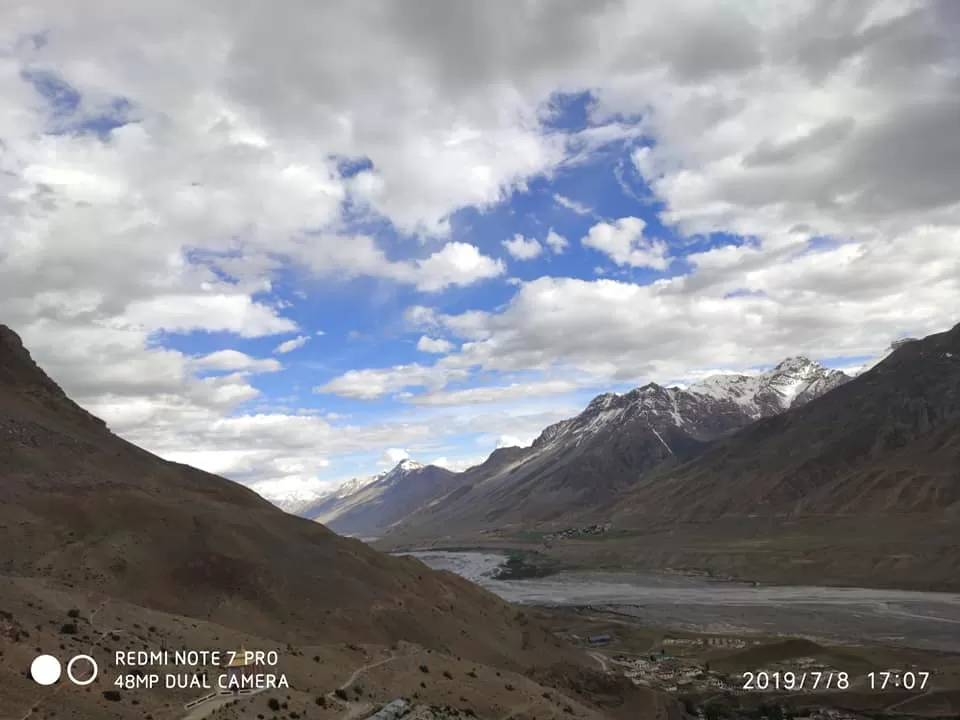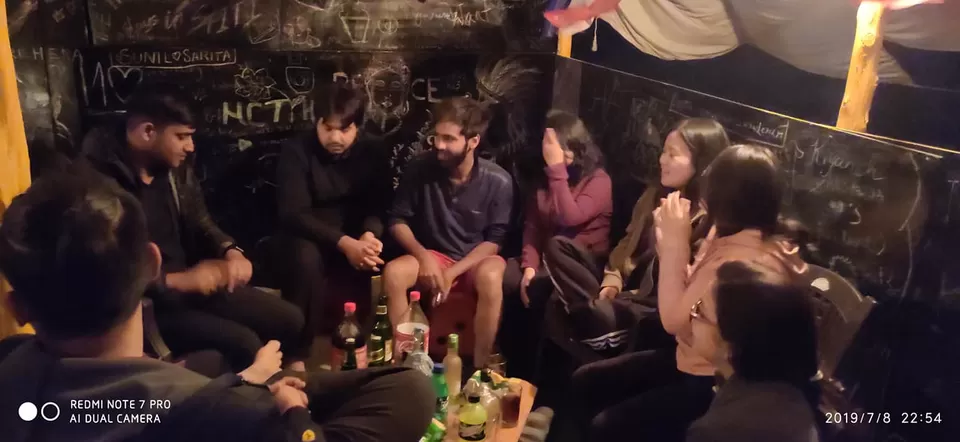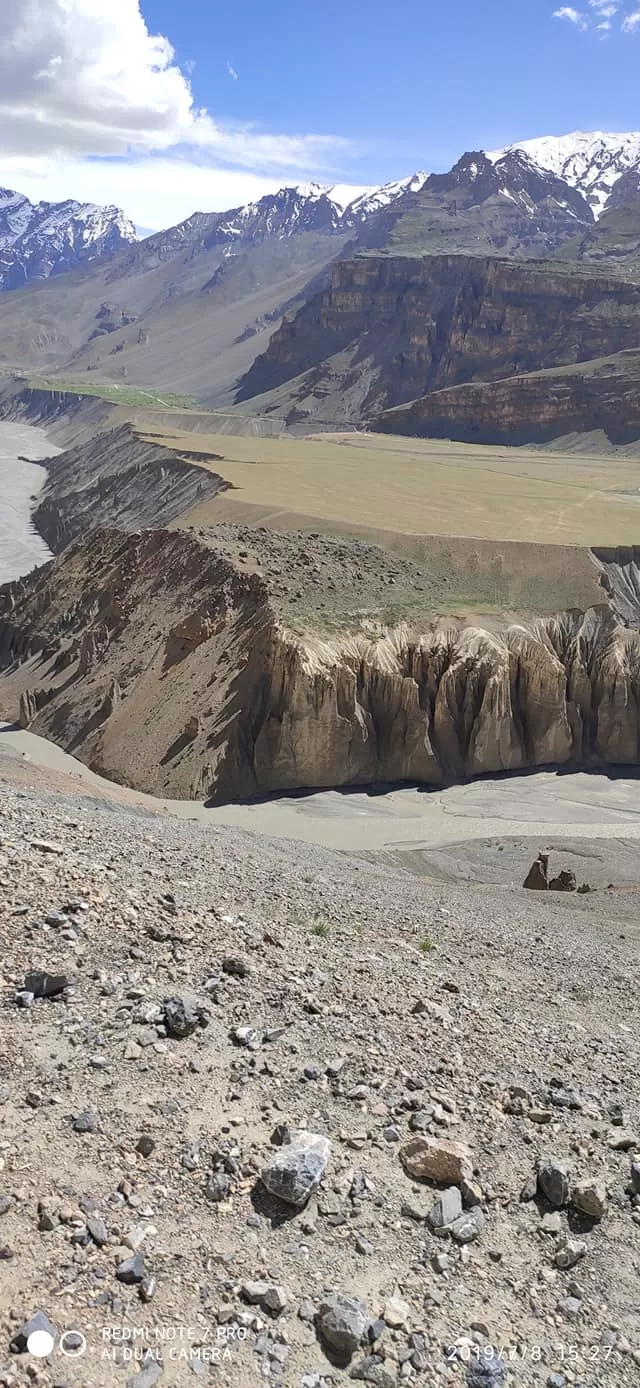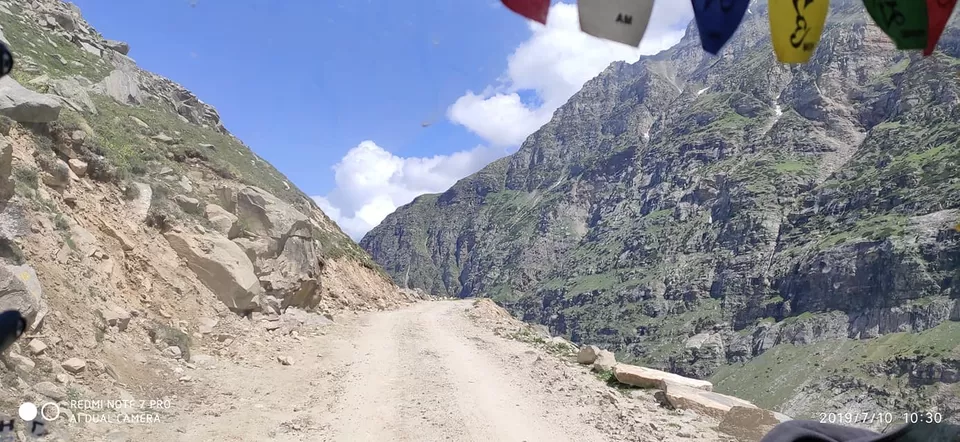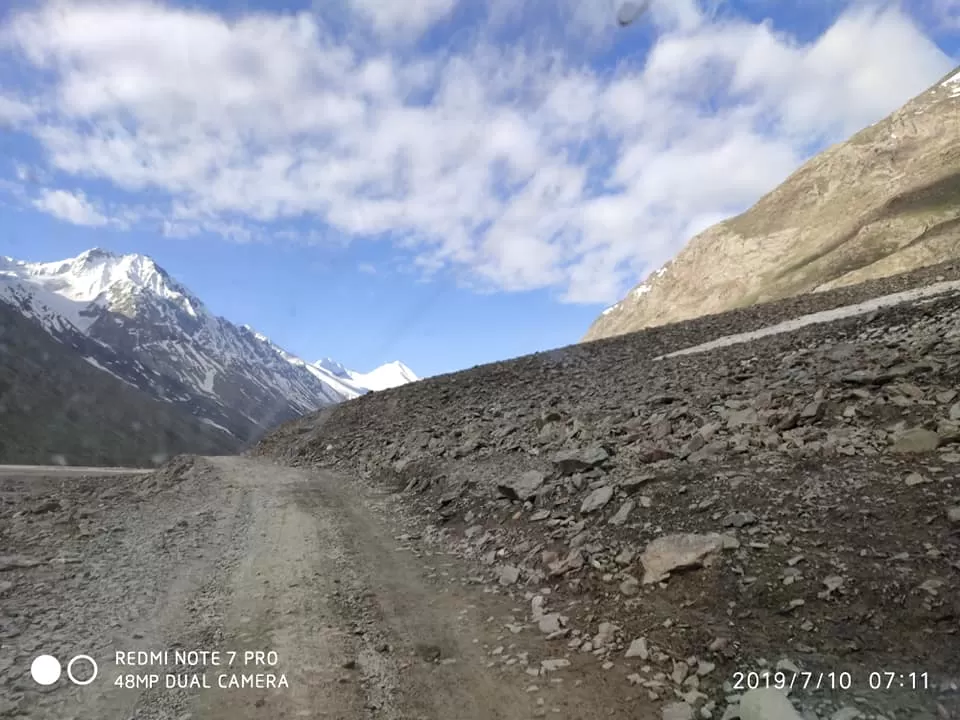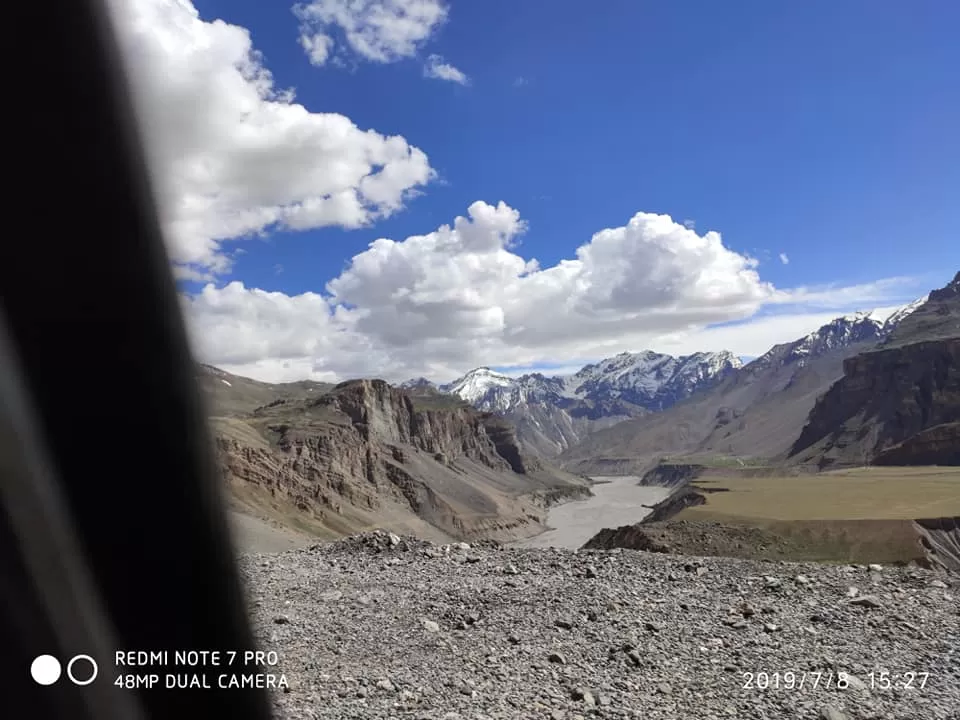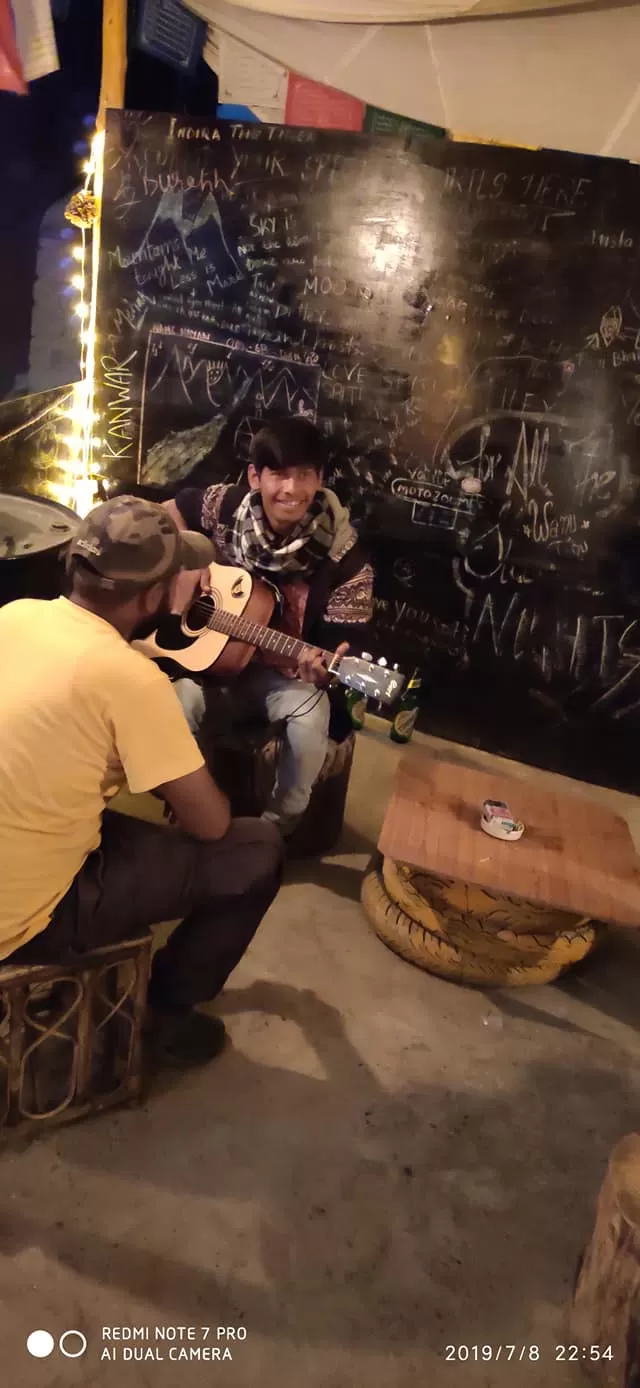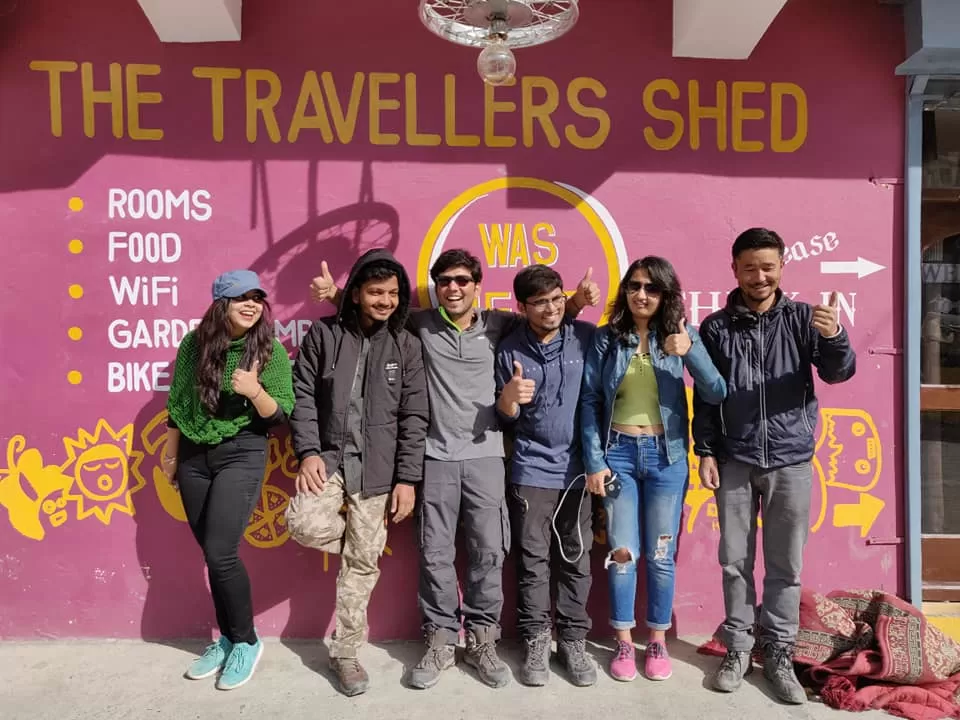 Day 5 : Chandratal to Manali and Lost Tribe Hostel Stay
We woked up early, had our breakfast and moved from camp towards Manali. On the way we had lunch at famous Chaha Chahi Dhaba at Batal, feeling was not good as our trip was ending, but my solo 2-day trip is still planned to stay back in Manali. We reached Manali bus stand, met all travelers and final goodbye and group departed.
So now I need to reach Jagatsukh a village near to Manali, I enquired about the bus, the bus was standing there, I boarded the bus and took a ticket to Jagatsukh for Rs 10 and reach Jagatsukh. There I asked for Lost Tribe Hostel as I heard about this Hostel. Reached the place as it was Lil bit down in a village surrounded by Greenery. It has Capsule dorms which is a different concept I seen here. Also, it has 6 Dogs,3 small and 3 big and all were very friendly. This property is managed by a team of 4-5 ppl who left their normal life moved to mountains. Place is good if you want some peace at crowded hill station, this Hostel is the place, just sit in lawn on chair and stare the high green mountains with a hot tea and also playing with cute puppies. I had a dinner outside a nearby shop, I requested uncle Ji to cook Paneer sabzi and that was too tasty.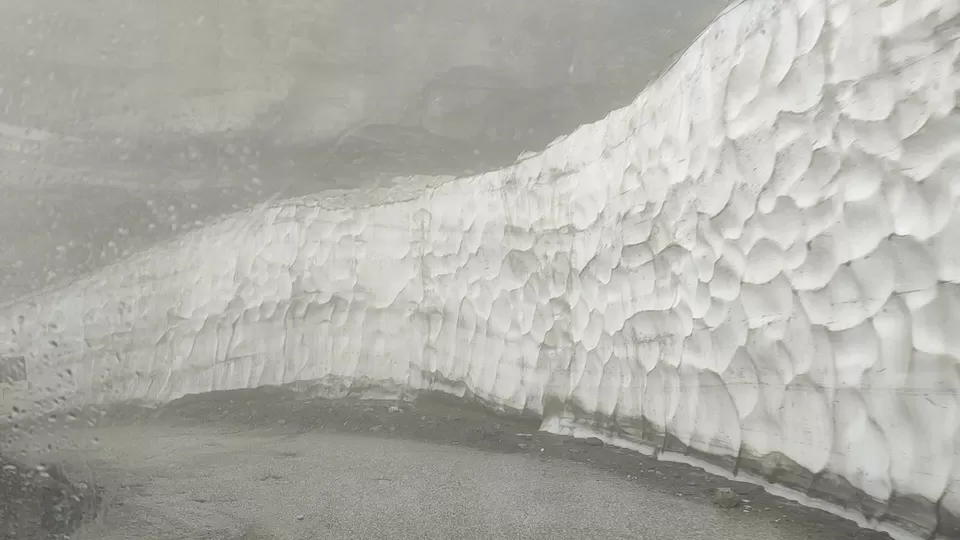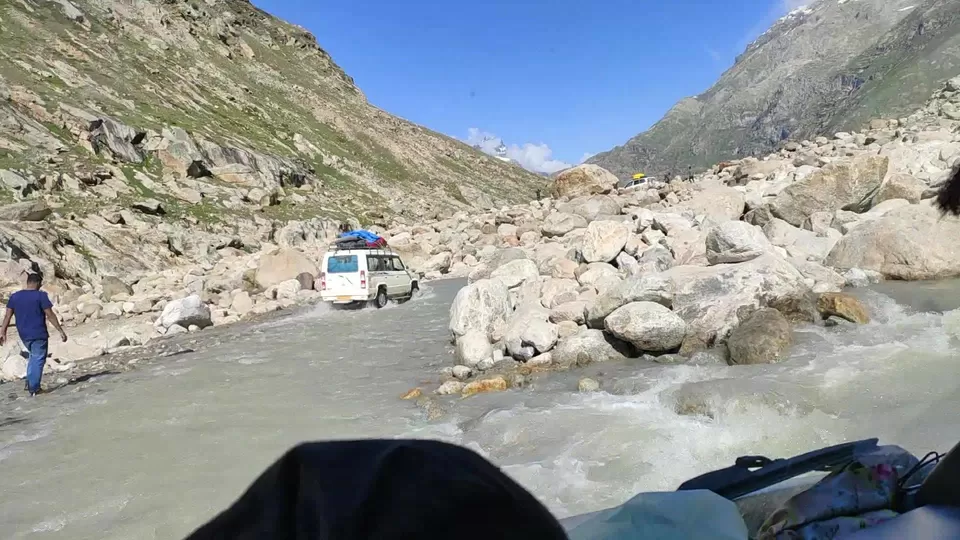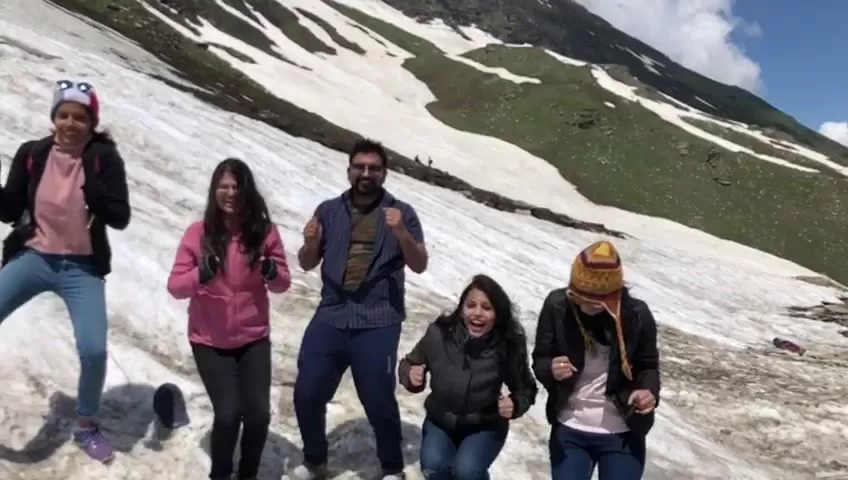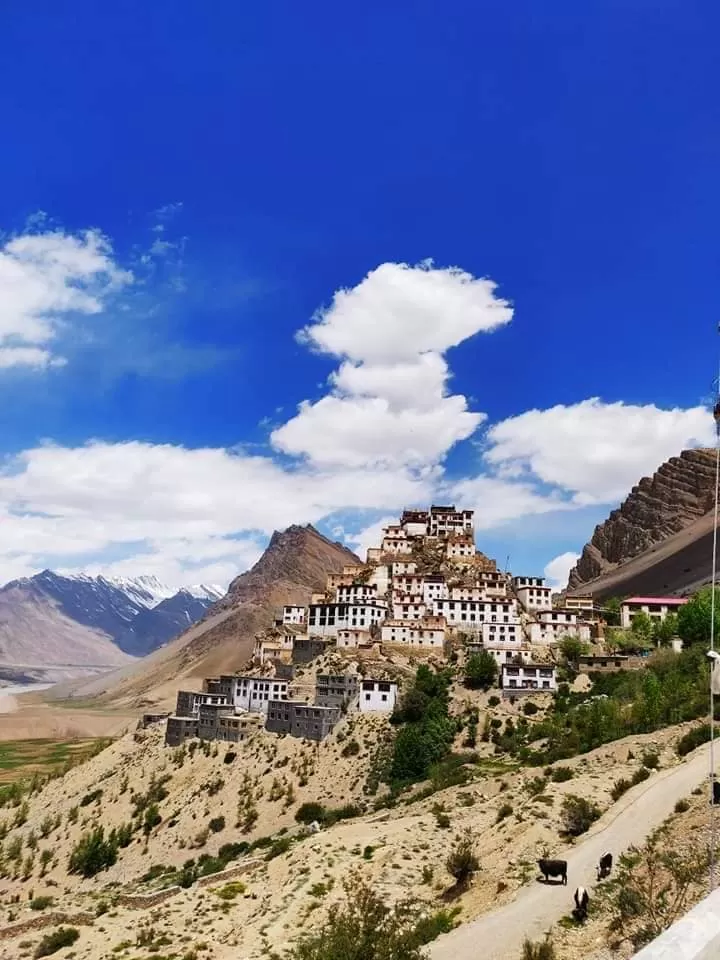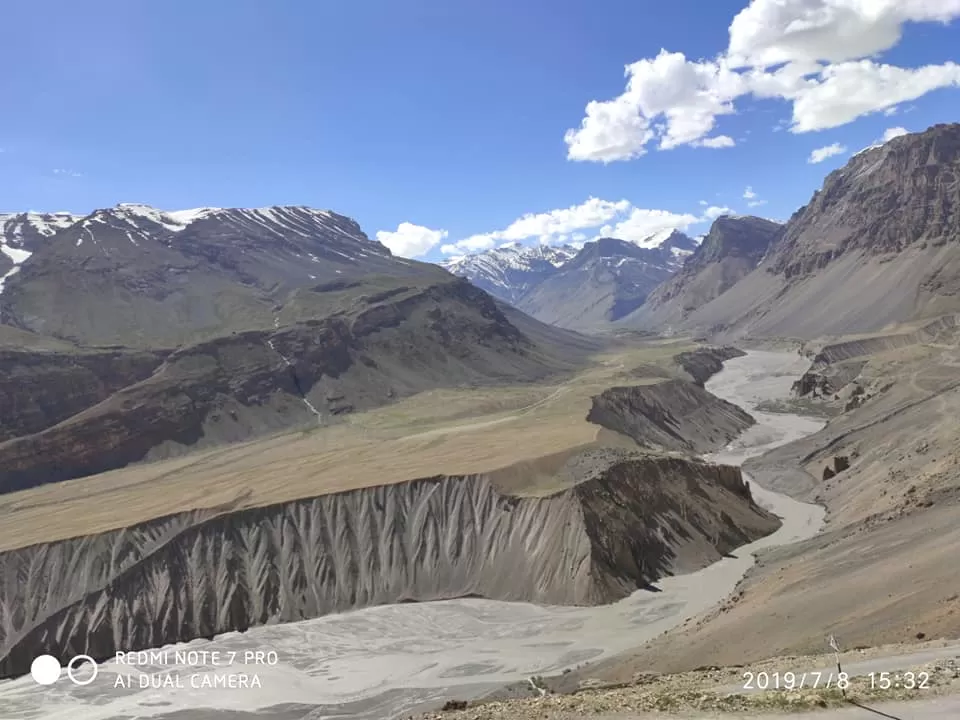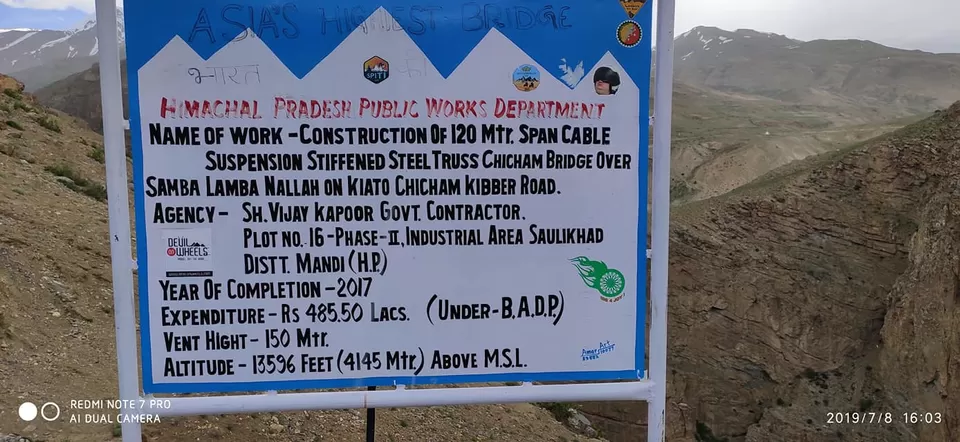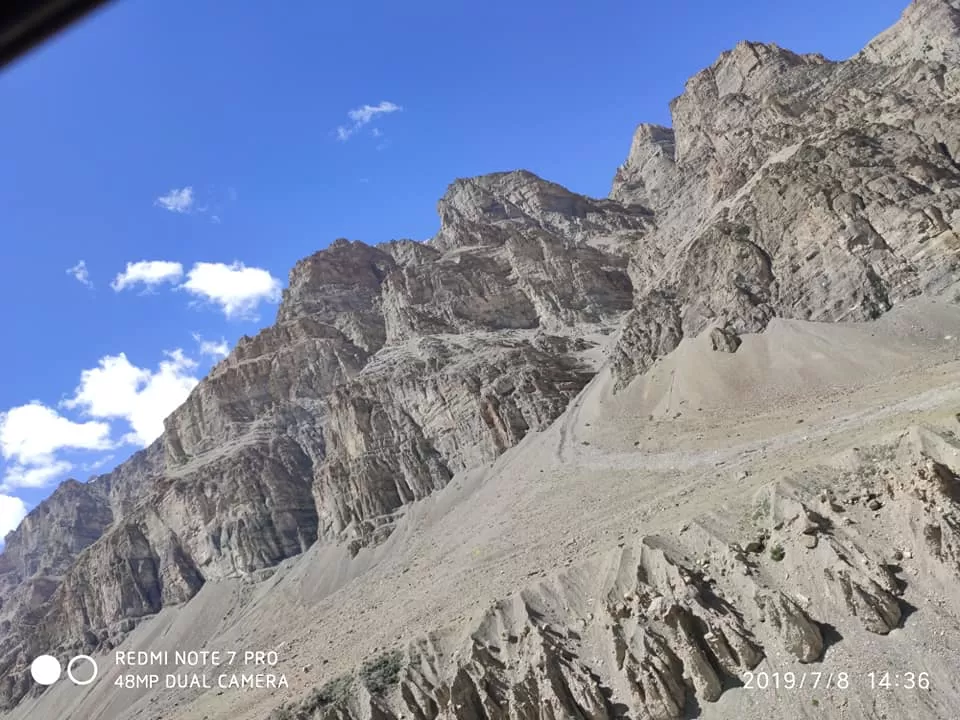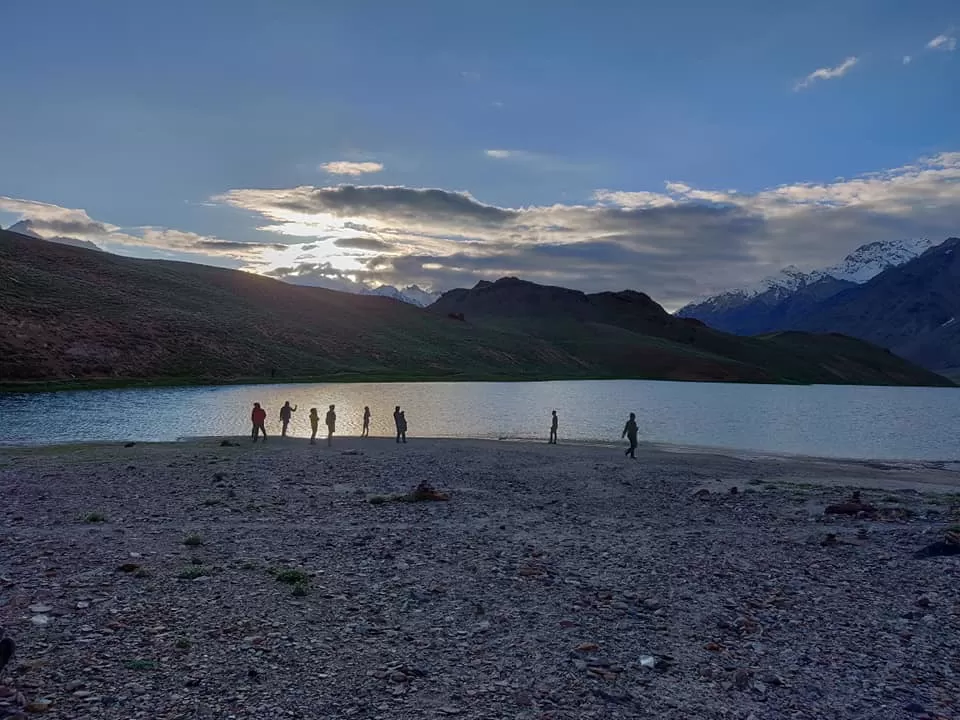 Day 6 : Rest Day at Lost Tribe
Woked up with chirping of birds, went out for a small walk with cute dogs as they kept following me, I planned for 1-day stay here but I extended my stay, as don't want to leave the place, relaxed for one more day. Had lunch in hostel, did some office work, talked to the guests, and spent a day. Feeded some bread,milk etc to dear pets,videos are must watch as they were too cute ,can't explain.
Day 7 : Back to Delhi
Woked up Lil late and had breakfast, today I need to leave in the evening, Booked the Volvo ticket for evening.
Booked Indo Canadian Volvo ticket as heard from someone as its more comfortable bus as compared to other Volvo.
Around 15:00 I packed my bag, took some clicks with the ppl there and went out. Those big dogs started coming behind me, they were sitting near me on the road while I was waiting for a bus, this was too touching feeling. I spent the same time with humans and with these animals or more time interacting with humans as compare to them, but these cute four-legged friends came along me to Seeoff me, waited with me till the bus arrived. It was not a good feeling leaving my dear friends but need to go. Boarded the bus and reached the bus stand, from there I walked a little bit and reached Mall road, had lunch. I need to reach the Volvo bus stand which was away a little bit so I walked for 15-20min.
Reached bus stand and searched my bus, it was good, too much spacious with LED screen in front of each seat. The bus departed and journey back to Delhi in hot weather, though internally was not happy but excited to start thinking where next now. Reached Delhi in morning and reached home by 10:00
It was an awesome fulfilling soul experience I had in last week, seems like came back from a different world.