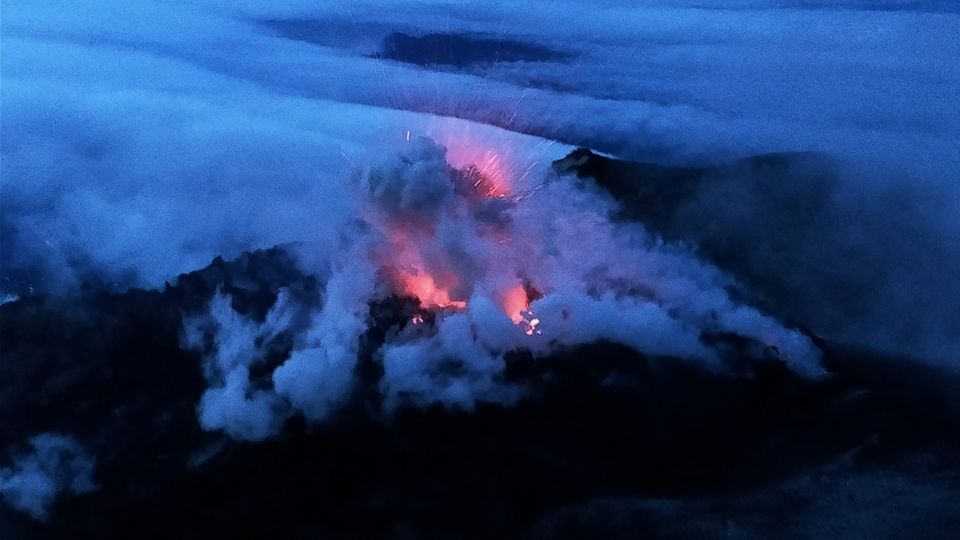 I had been working mostly in Indonesia in 2017 and around the first week of December when I was planning my Christmas vacation (extended weekend), I got a notification on Facebook Messenger saying an old friend of mine was in Jakarta. Three years ago, back in 2015, we were on a project in Indonesia and had gone to Mount Bromo (click on the link to see some pictures from that trip), a beautiful volcano near Surabaya in Eastern Java. In the backdrop of Bromo, we saw a perfectly conical mountain and wanted to hike it only to learn that it was Mount Semeru - the highest volcano of Java (at 3676m). People usually go on a 3 day - 2 night trek to set foot on Semeru. We did not have the luxury of time back then.
Forward to December 2017, my friend (Ramil) and I decided it was only apt to complete that unfinished story of Mount Semeru. Ramil also mentioned of a certain crater which has a unique blue flame - Mount Ijen. With thoughts of seeing the blue flame and the orange one, we began planning what can only be described as one of the most impromptu trips of my life.
We took a flight to Surabaya and had our train onward to a tiny little town called Banyuwangi. The journey was a 7 hour one and a would-be memorable one. 3 hours into the journey, in the cafeteria of the train, we bumped into two backpackers from Netherlands - Julia and Marissa. They had been classmates back in school and were travelling for a couple of weeks through Indonesia. And as coincidence would have it - they were on their way to see the blue flames of Ijen as well. Almost instantaneously, we decided to hike together - the four of us.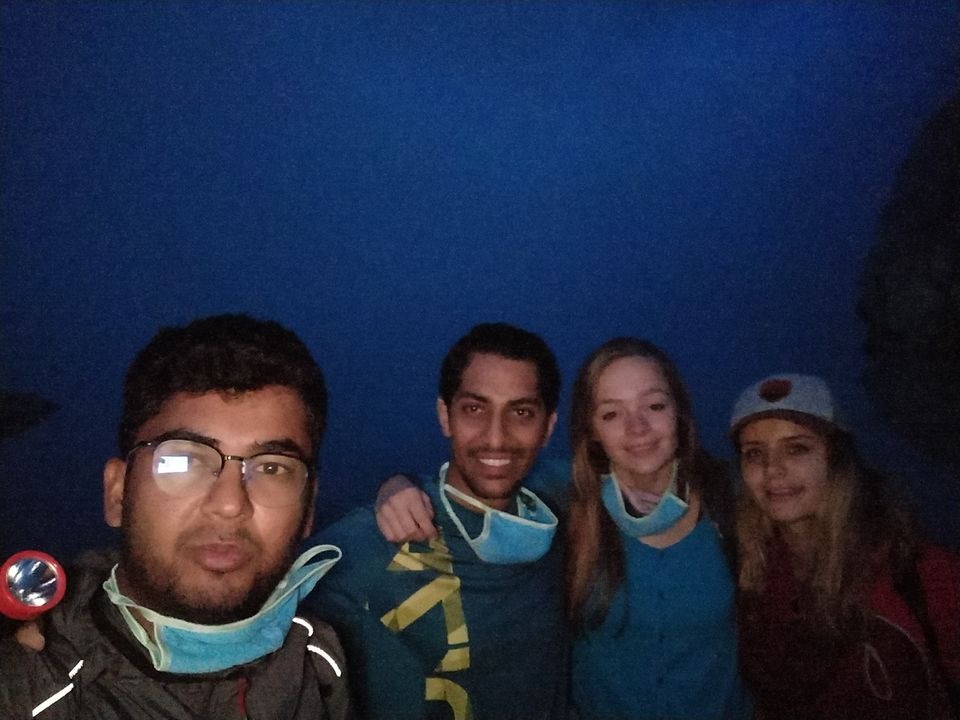 We reached Banyuwangi at 7 pm and headed straight to our Airbnb. Ibu Hjanies was an excellent host. I would strongly recommend staying here. One can either take a scooter to Ijen hike starting point or book a jeep (at 6,00,000 IDR). We took the jeep and started towards the crater after picking up Julia and Marissa at around 12 30 am. We reached the starting point at around 1 30 am. Every non-Indonesian has to purchase a ticket to enter the hike (at 3,00,000 IDR per head). We got them and started hiking in the dark with loads of other people at 2 am. It is a 1.5 hour hike which takes you to the top of the crater, where you can start smelling sulphur.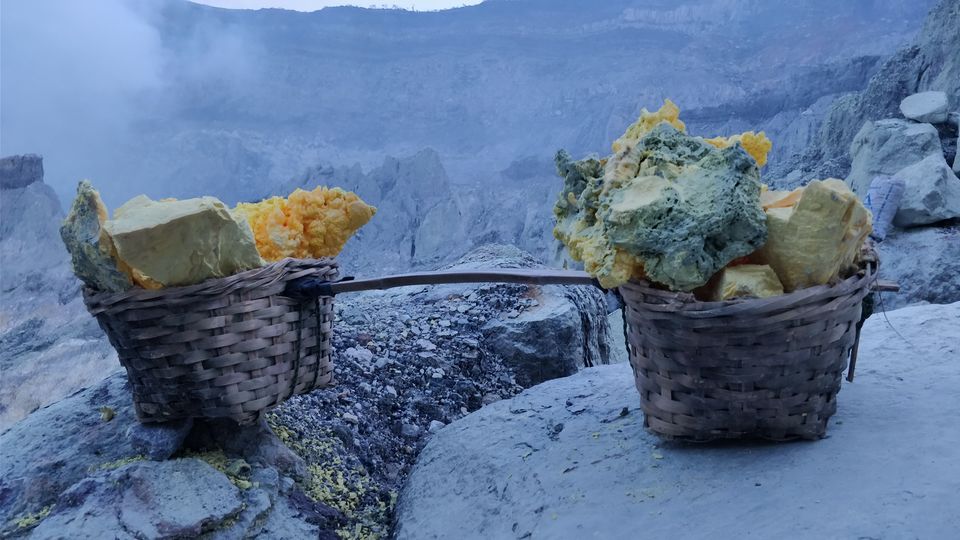 From the top of the crater, you need to descend into it. Within half an hour you reach a point which leaves you completely spellbound - you see a small section of the hill, which has huge sulphur deposits that is burning and emitting smoke, and at times when the smoke clears, you can see mysterious blue flames all over is different patterns. While the smoke is nauseating, the visuals are simply stunning - A Christmas Miracle. Nowhere else in the world you get to see such natural blue flames. The flames disappear after sunrise (so please reach there by 3 30 - 4 to catch them)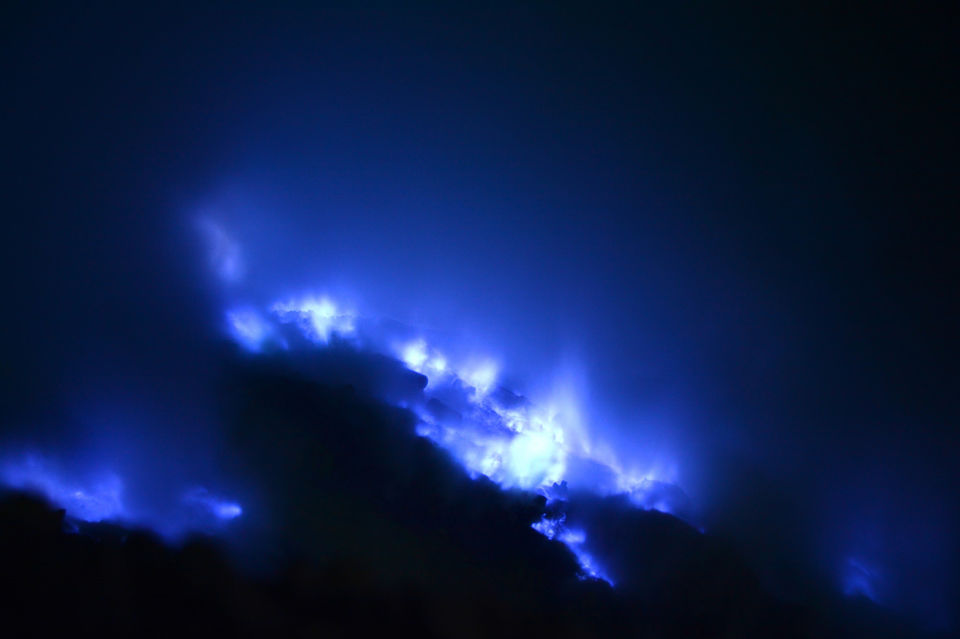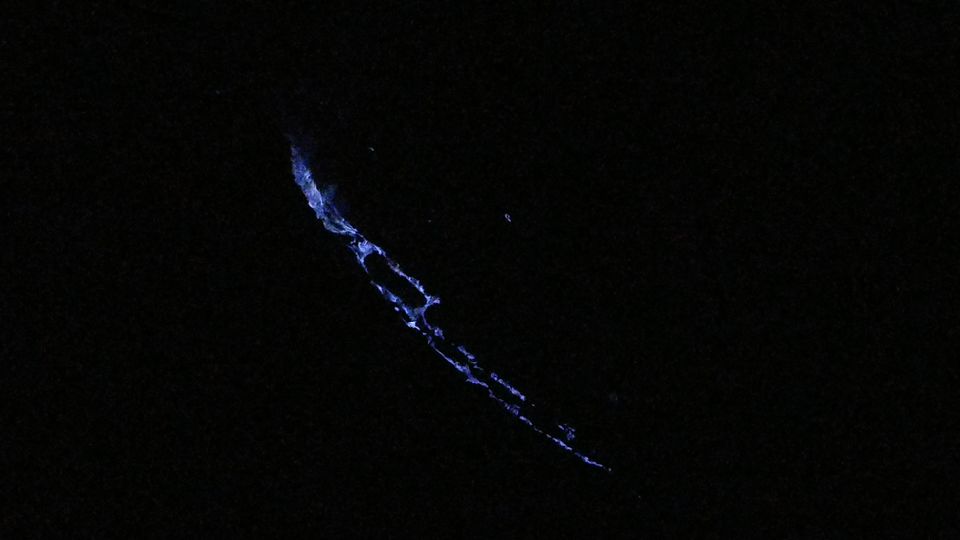 At around 5 am, when the sun rose, we caught a much better view of the crater. One can see a lake right beside the hills which were burning in blue an hour back. Once you head back to the top of the crater, you are rewarded with even better views. You can spend a good couple of hours exploring the landscape.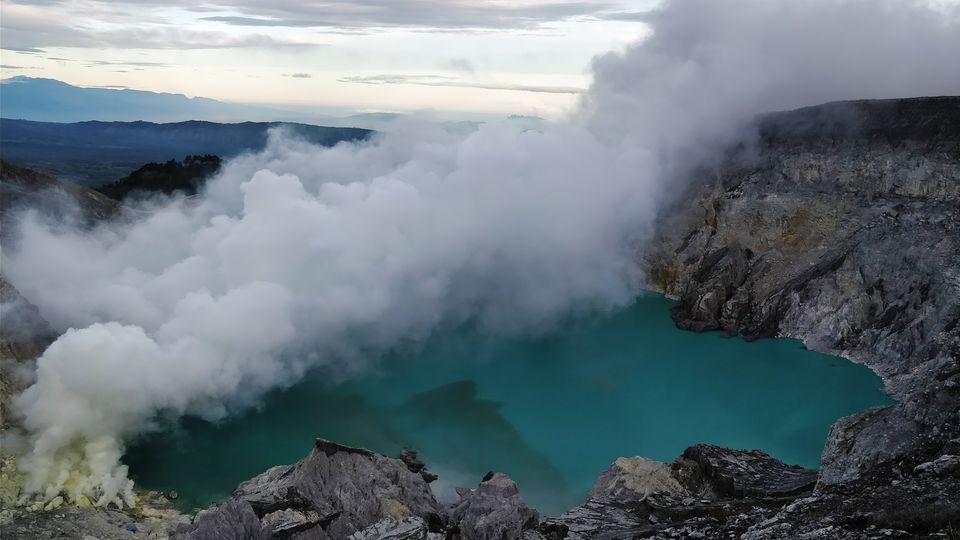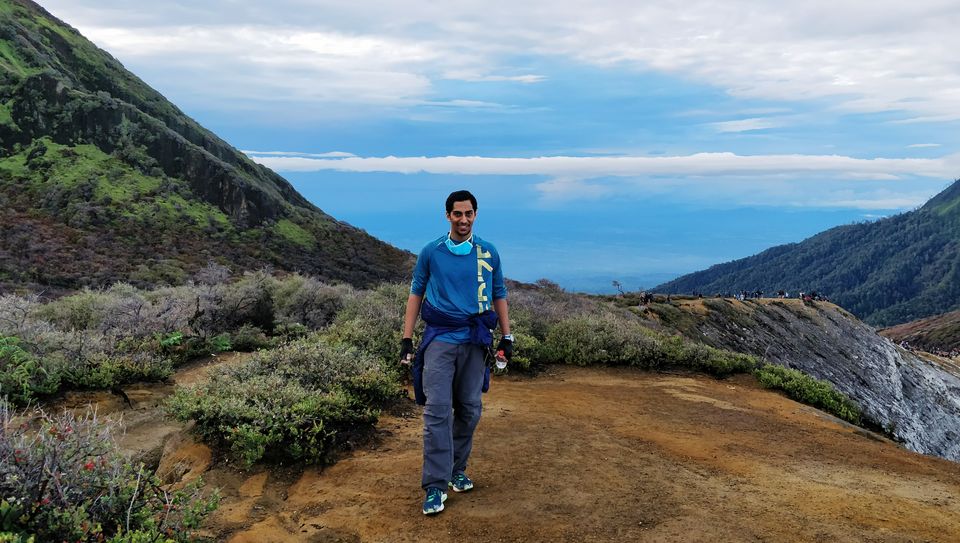 But we had a train to catch to our next destination and hurried back. After parting ways with the two Dutch girls (the entire hiking experience was so much better with them - conversations around Netherlands, India, culture, Game of Thrones, Lord of the rings and what not), me and my friend took a train to Probolinggo.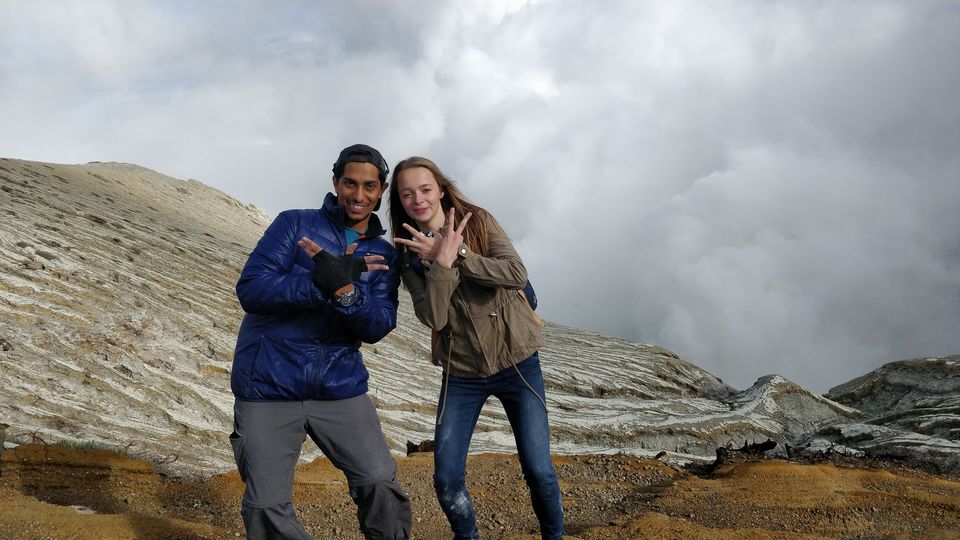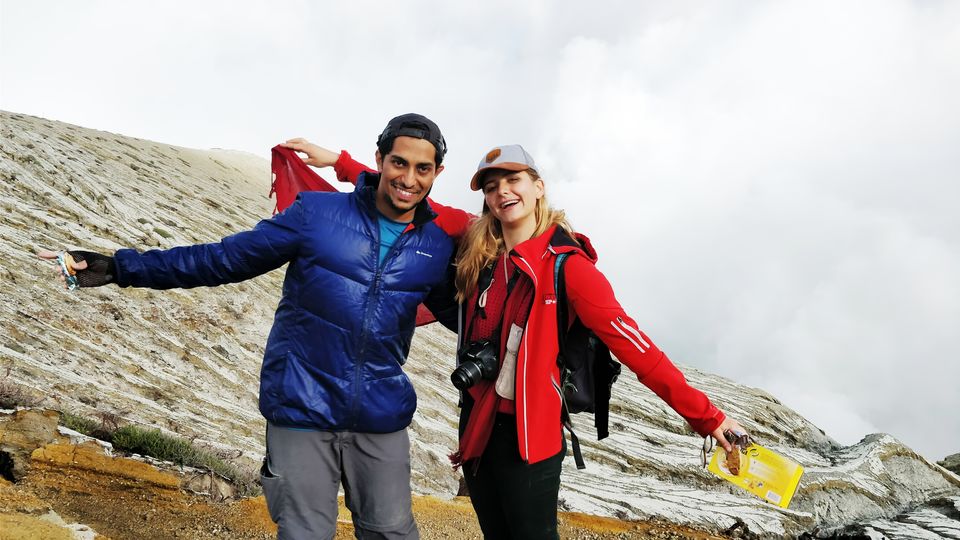 (One usually does not find a lot of information on Mount Semeru on the internet and one reason I chose to write this blog was to help people be more clear on what they can expect) We thought we could head to Ranu Pane, which is the base village to start your hike to Mount Semeru, directly from Probolinggo. But no, not any vehicle can enter the Mount Bromo National Park (which has Ranu Pane). So we thought it would be easier to make our way from Malang (around 45 kms from Ranu Pane) and took a bus to Malang. We tried looking for an agency which can help arrange a vehicle for us to reach Ranu Pane but we simply couldn't find anything. We then did the best thing one can do in a situation like this - headed for some beer to a restaurant which had a good vibe and live football screening (i think ManU was battling it out with Leicester City) - Fat Louie.
We woke up in our hostel next morning and made our way to a village called Tumpang - we got a lead that there are buses which ply from Tumpang to Ranu Pane. Ranu Pane is a good 45 kms from Malang - walking was not an option. On reaching Tumpang, we found that there are jeeps which take you to Ranu Pane but they cost a bomb - 5,00,000 IDR. And given it was Christmas weekend, no jeep was available. With our hopes of hiking Mount Semeru seemingly diminishing, Ramil and I sat outside an Indomaret (grocery store) on the road that leads to Ranu Pane. It was around 8 30 am and we knew we had only 3 more hours before the registrations office for Semeru would close. When suddenly a jeep having three people pulls over and two of them get down to enter the shop. Very casually we asked them if they are going towards Ranu Pane and on receiving a positive response, we asked if they could drop us there. They agreed, without a second thought.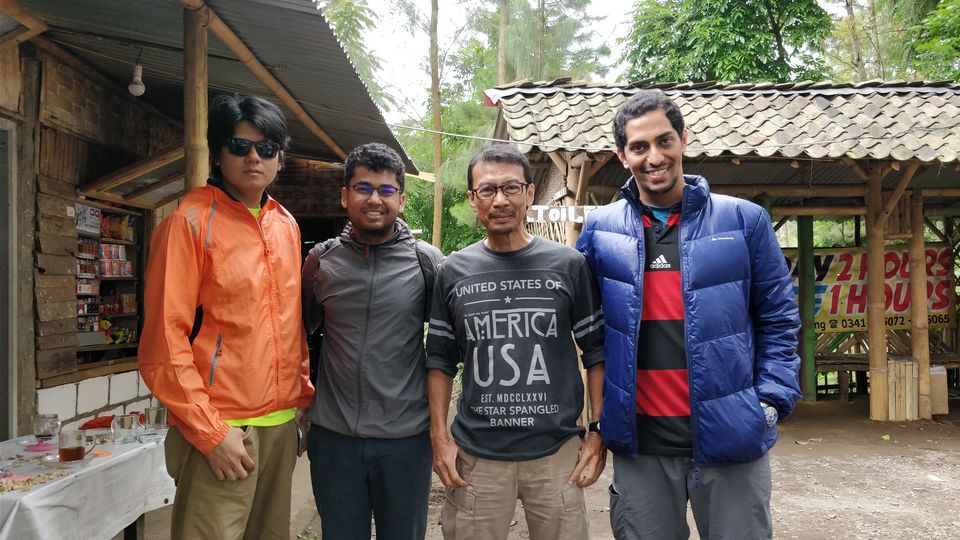 With a rekindled hope, we were on our way to Ranu Pane. We learnt that these people are from the United Nations Development Program and were going to the village to work on a Water Project. Wow. Pak Fais, Pak Yoppi were super helpful with suggesting the tips for our trek. We reached the registration office around 11 am and learnt that a medical form and a xerox of passport was needed. We rushed back into the village and came back with these copies. Then the person at registration told that there is a fee of 3,00,000 IDR per day for any visitor inside Bromo National Park. Desperate times need desperate measure - we used our "We are student backpackers - we have no money" card and were able to talk the person into letting us in at only 10,000 IDR per day. Huh!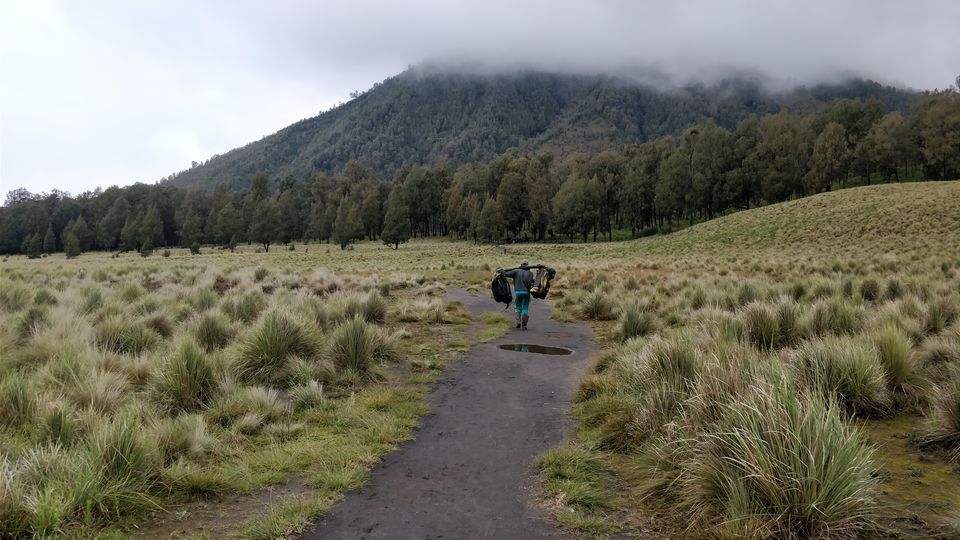 It is highly advised you take a porter with you on the hike. As we reached almost towards the closing time, it was quite difficult to find one. After half an hour of searching we found one who was willing to come with us (at around 2,00,000 IDR per day). We then arranged for our sleeping bags, tent and mat from the nearby stores and were all set to begin the hike at 1 30 pm. Only issue was, it was raining cats and dogs.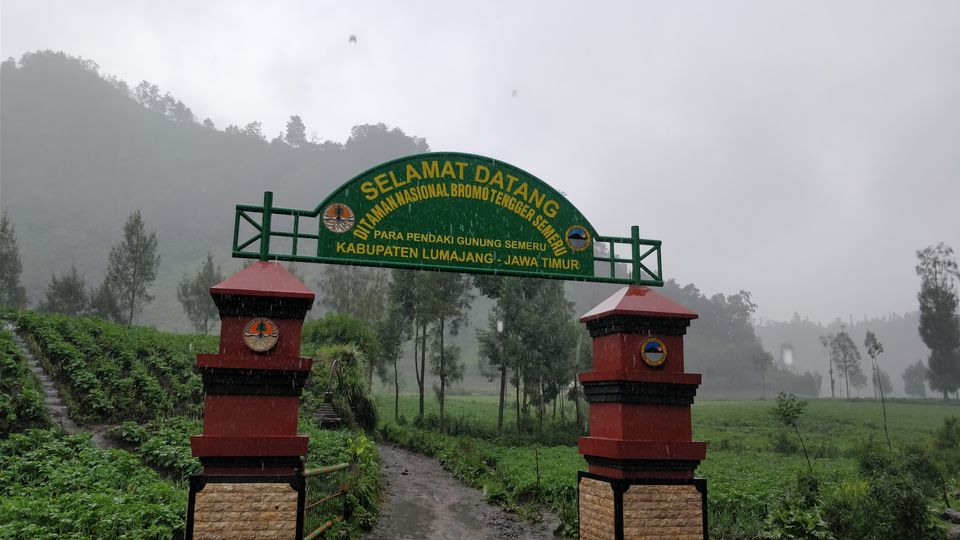 The route is as follows:
Ranu Pane to Ranu Kumbolo (13 kms); Ranu Kumbolo to Kalimati (7.5 kms); Kalimati to Mount Semeru Peak (2.7 kms)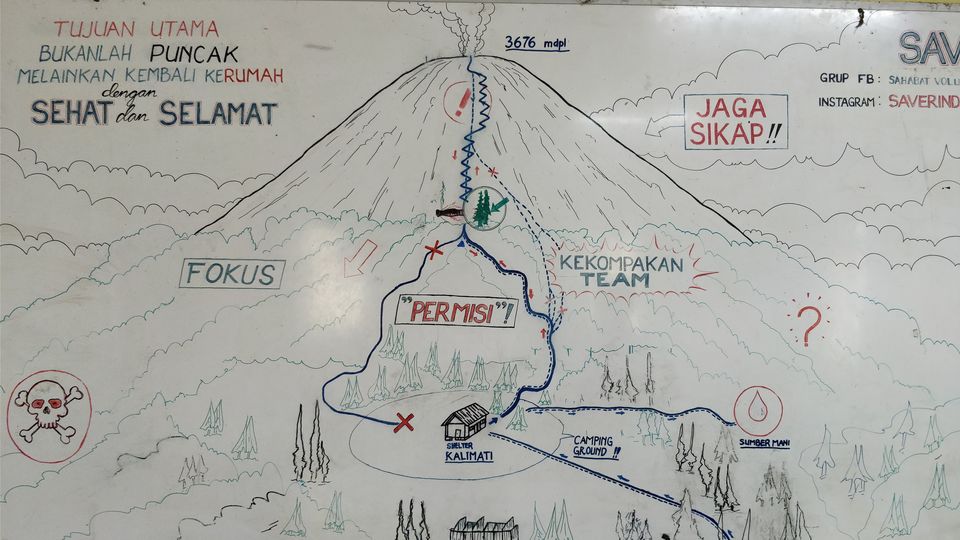 People usually take 4-5 hours to reach Ranu Kumbolo from Ranu Pane and stay overnight before heading to Kalimati. We did not have the luxury of time. We started from Ranu Pane at 1 30 pm and dashed through the vegetation to reach Ranu Kumbolo by 3 45 pm. Ranu Kumbolo is one of the prettiest lakes you can see. It is also a good point to have some snacks and a cup of tea.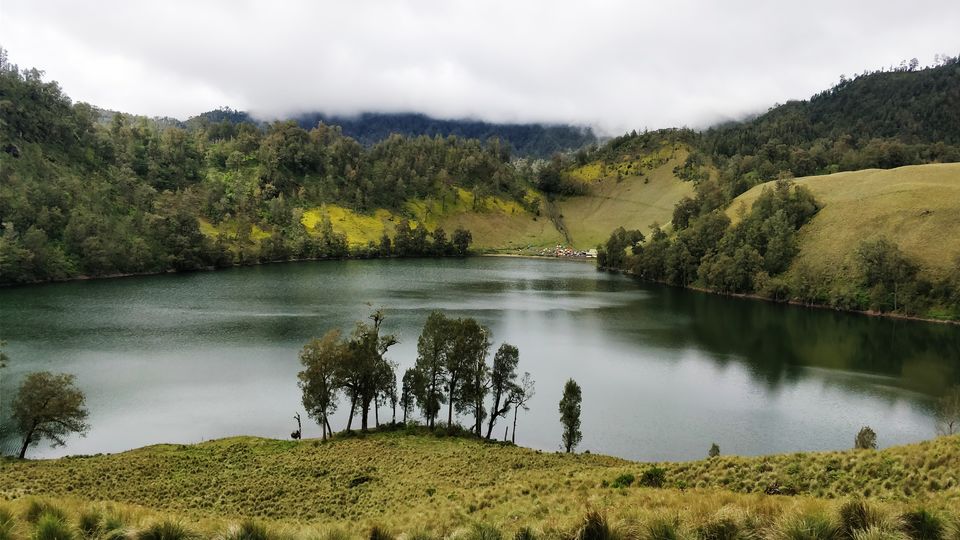 We started from Ranu Kumbolo at around 4 pm and again ran through the varying vegetation to reach Kalimati by 5 15 pm (on an average, people usually take 3 hours to cover this stretch). The vegetation varies from a tropical rainforest to Savannah to coniferous trees to alpine. Quite a treat watching this change. Kalimati is the base camp, where people set up their tents. People are very friendly here. Our tent-neighbors were from Bandung (close to where I work) and very super kind to offer us dinner they were preparing. We returned the favor by offer chips and energy bars. Post a good dinner and fun stories exchange with the folk from Bandung, we retired to bed early around 8 pm.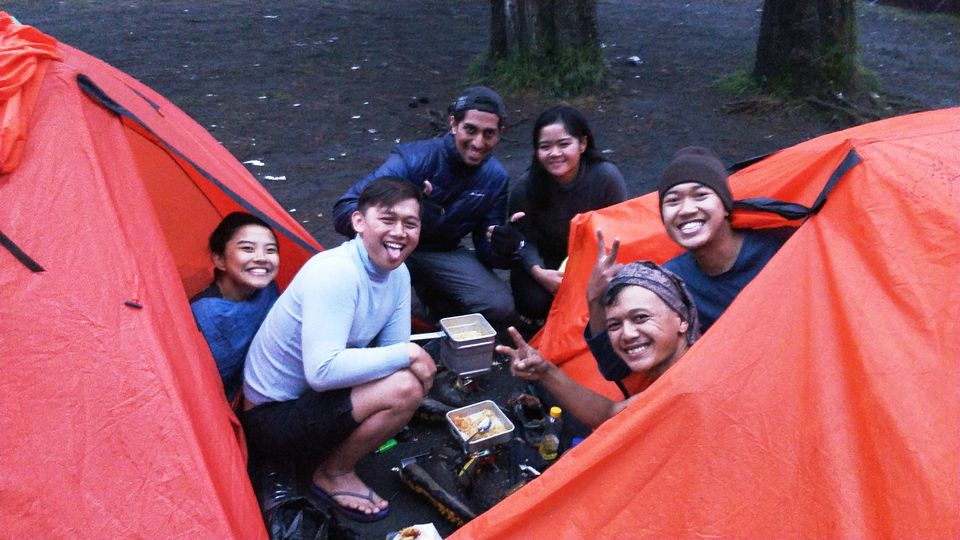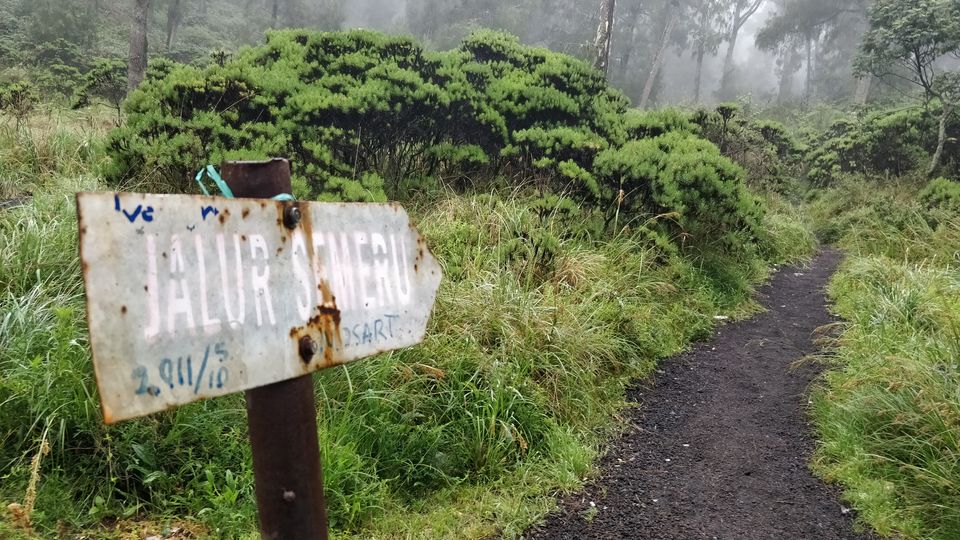 Hiking to the summit usually starts around midnight - it is highly recommended to have a good torchlight. The aim is to catch the sunrise from top of Semeru - I was in for much more than that. After 1 hour of hike, you reach point called Arcopodo, from where the forest cover starts disappearing and what lies in front of you is a almost 45 degrees incline. The most challenging part is dealing with all the scree - with every two steps you climb, you slide down one because of loose ground. Thus a patch of only 1.5 kms takes around 3 hours to climb. The idea is to go zig-zag and not straight up.
As you keep climbing, you notice that now you are above the clouds and there are two kinds of lights ahead of you - one from the stars in the sky and two from the torches of people ahead of you on the trekking route. After an exhausting 3 hour climb, we were finally on top of Mount Semeru. The feeling was unreal. It was around zero degrees but we weren't feeling anything - just joy of finally summitting Semeru. It was then that at a distance (around 600-700 metres), I saw the reflection of an orange light off the smoke. I knew what it was and I knew I had to go there.
People are not allowed to go near the mouth of the volcano - for obvious reasons. It took me close to 10 minutes to reach the point from where I could see the boiling lava in all its glory. I perched on a good vantage point and was trying to get a good shot of the volcano when suddenly there was a loud boom. The mini-eruption spewed lava a good 20-30 feet up into the air and I ran back not knowing what might happen next.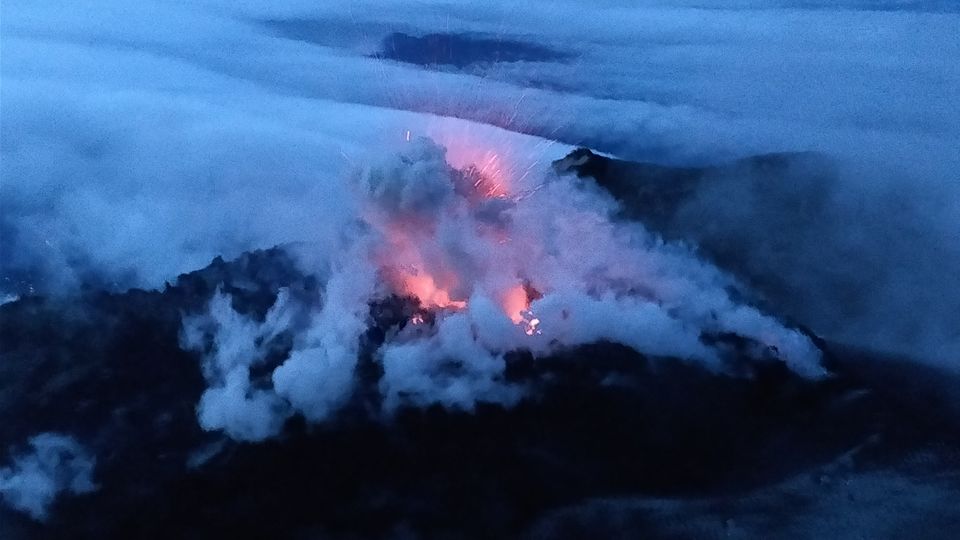 After a 2 minute sprint, i turned around to see a huge smoke rise from the mouth of the crater. The rumble stopped and I knew I am gonna live to die another day. I headed back to the summit point only to be greeted by dirty looks of my fellow travelers. The views from up there were spectacular.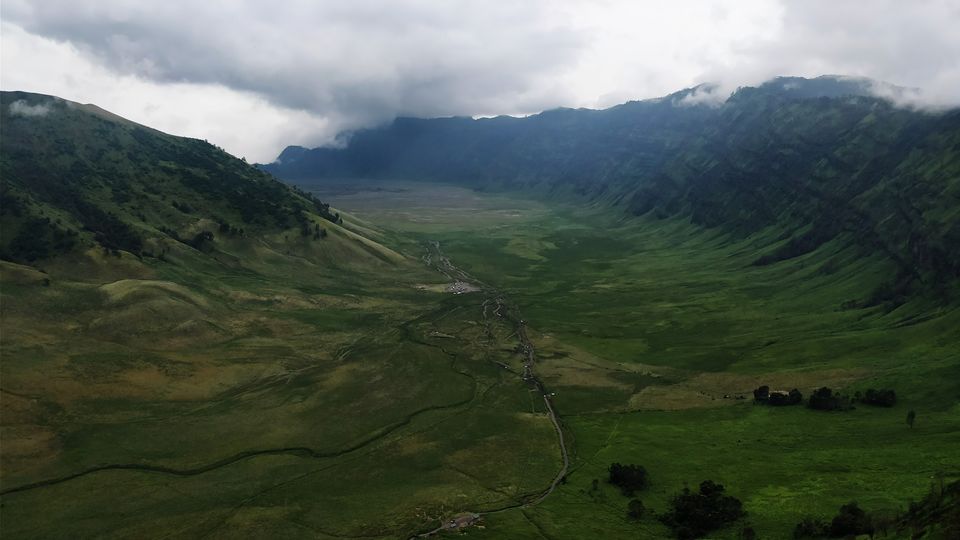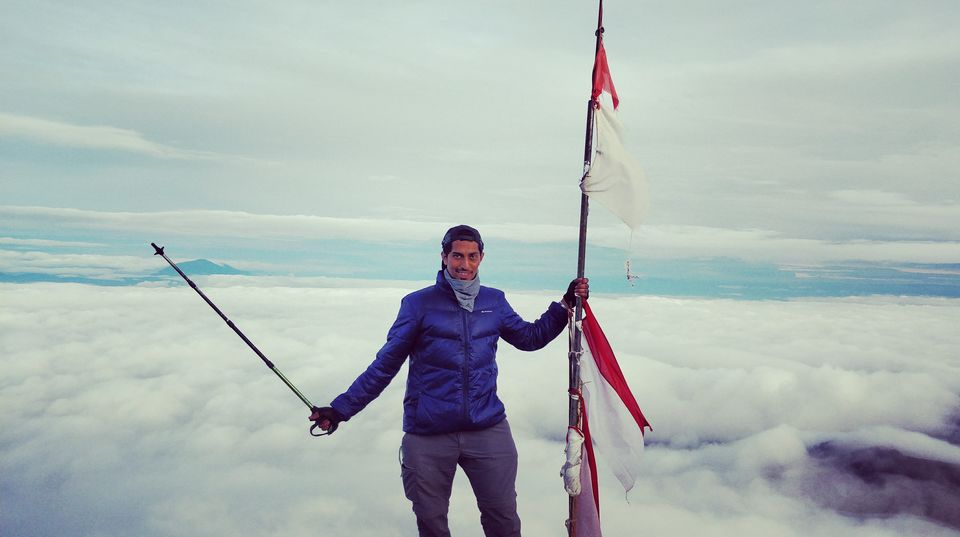 This trip has been on of the most adventurous one in my life so far. Hoping for many more :)
Pro Tips:
a) You will be told that having a gas mask is really compulsory but both the hikes (Ijen and Semeru) can easily be done with a normal pollution mask
b) Registration for Mount Semeru closes by 12 30 - 1 pm (in a village called Ranu Pane); please reach early as it becomes difficult to find a porter the later it gets
c) You need a medical certificate while registering for the hike - if possible get one in Malang/Surabaya wherever you are coming from as it is expensive (50,000 IDR) in Ranu Pane
d) You can hire a porter at around 2,00,000 - 2,50,000 IDR per day (would strongly recommend taking one)
e) You must have a tent, sleeping bag, sleeping mat - it gets really cold in the night up there at Kalimati base camp
f) If possible, book a vehicle before hand to drop you in Ranu Pane (not everyone gets lucky with a hitchiking)
g) If you have enough time, 3 days and 2 nights is ideal - but we were able to complete the hike in 2 days 1 night (you need to be fit to pull this off)
h) Mount Semeru hike is closed during peak monsoon season (from around end of December to beginning of March)