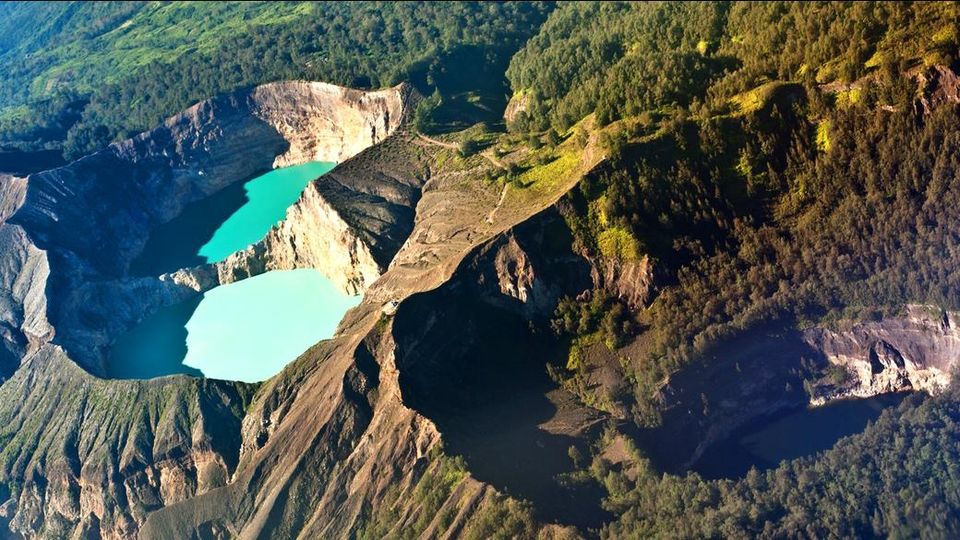 Bali is renowned for its beautiful beaches, crystal clear waters, gorgeous waterfalls and it's wild night life. Amidst the relaxation and rejuvenation, people often forget that Bali is also the ultimate destination for spunky adventures!
Bali has venturesome hiking trails that offer breathtaking views. In fact, few of the most impressive sights are found on some of the most adventurous hikes to active volcanoes in Bali.
Active volcanoes take hiking to a whole other level with its ever- changing and dynamic landscape.
So, strap on your best pair of walking shoes and head to one of the best hikes of your life:
(Thank me later :P)
Kawah Ijen is an active volcano located in Java,Bali . It's popular for its electric blue flames, making it one of the only place in the world where they are visible. It is surrounded by a beguiling turquoise coloured lake. So pretty that one might get tempted to dive in right away. However the lake is rich in sulphur hence one cannot swim in it.
Even though one cannot swim in this lake, it's definitely a treat to the eyes. People usually trek this striking gorgeous volcano at nights as that's the only time when the blue flames of Ljen are clearly seen.
Tip
Hikers are advised to wear gas masks to protect them from the noxious fumes of the sulphuric gases.
Along Ljen volcano is mount Merapi. One of the most active volcanoes in Indonesia. The name itself translates to the mountain of fire. If you're up to taking a leap of faith and trekking this mountain, let me tell you, it's gonna be worth every bit. This mountain offers breathtaking views of the surrounding Mount Sindoro, Sumbing, Lawu and Merbabu.
As mount Merapi rises to 9,551 feet, hikers are required to be unexceptionally fit as the climb takes about four hours hikers and needs hikers to begin their ascent in the middle of the night on challenging slopes and unstable rocks.
Tip:
Prepare your body well and ensure you are well rested before you attempt this climb.
Kelimutu is a relatively less active volcano located at Flores Island, Indonesia. It offers a once in a lifetime views. It's well known for its scenic lakes that periodically changes colour due to oxidation-reduction, imbalance in volcanic gases and contact with volcanoes underlying activity.
The colour of the lake changes from blue to green to black and on rare occasions even red!
Tip:
The best time to visit is the dry season of Indonesia is between July and August.
Mount Lesung is one of the most quintessential rainforest day hikes accessible anywhere in the world and unquestionably one of Bali's best hike.
The hike to mount Lesung begins at Tamblingan Lake encircled by the alluring lush rainforest. Through the forest, there are a number of temples and significant structures that will amaze you.
Once you hike to the top , you'll be delighted with spectacular views of the volcano's crater, as well as the Munduk Valley.
On the way back down there is a beautiful temple by the lake. Reaching the temple requires you to board one their traditional canoes.
Tips:
Book an overnight hike if you wish to view the magnificent night sky and sleep under the stars.
Mount Bromo is located in a plain called the Sea of Sand in Java, Indonesia, and is definitely one of Indonesia's most hiked mountains.
This mountain experiences white sulphurous smoke blowing out of its crater everyday. The tour consists of hiking up the gorgeous mountain, viewing the sunrise, experiencing it's scenic beauty and going all the way to its crater. It also offers splendid views of Mount Penanjakan.
Many locals offer jeep rides and horse rides to the stairs of the crater for the tourists who don't wish to walk in the sandy region. The smoke coming out of the crater is one of the most attracting sights at Bromo.
Tip:
- Since this is a very popular tourist destination, avoid going on the weekends and Indonesian holidays.
- Carry dust masks, bandanas or scarves as the area is very dusty.
- Wear layers for it is freezing cold at the top.
So what are you waiting for? Get your backpacks ready and head out!
Explore the best of travel inspiration, follow @tealgirltales for more!