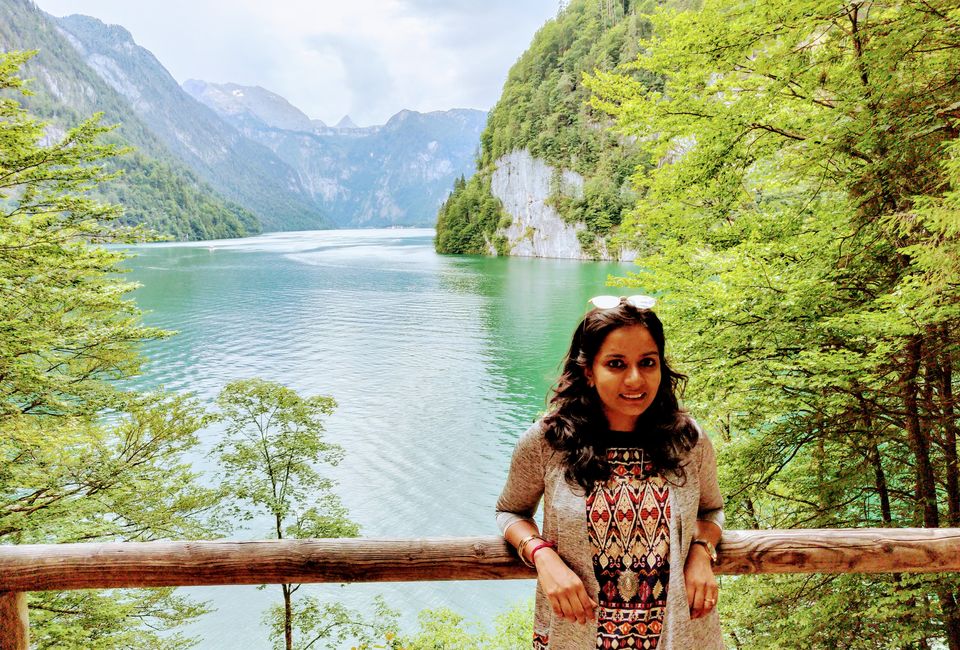 Well, ever considered a solo trip?
This year I travelled solo through Europe and I must say, nothing has been more liberating than traversing the alpine mountains and vivacious cities of Europe alone, conversing with strangers with absolutely nothing in common. It was an exploration of not just Europe but also a chance to explore oneself, that can leave you refreshingly confident.
I'm here to tell you the story of my first visit abroad and moreover, my first ever solo trip anywhere.
Go through this and make it a part of your 2019 bucket list!
Yes, you can!
So I started with trying to understand how safe it is for women solo travellers in Europe. I read into quite a few blogs and to summarise, Europe in general and more particularly Western Europe was quite safe for female solo travellers.
Finalising cities to visit!
Europe is a house of innumerable picturesque places and fitting everything you want to see to a 15 day trip is nearly impossible!How do you really decide what to do and where to go?
Well, I decided to follow my heart.
I watched a number of videos, read a couple of blogs, spoke to several friends and relatives, who have been to Europe and there I was.
So, I decided that I will have to spend the maximum number of days in Switzerland, a country every Indian would grows up daydreaming about!
In Switzerland, I decided to spend 6 days mostly in Montreux, Gruyeres, Lucerne, Interlaken and Zermatt, cities of Geneva and Zurich being more of stop-overs.
Amsterdam was the next obvious choice. Since, my husband was in Berlin that time, I did squeeze in Berlin, into my itenary as well.
I had another 4 days and I wanted to go to a country which would expose me to a blend of art, history and landscape while being slightly offbeat for an Indian traveller.Austria fitted into the brief just as well! In Austria, I zeroed in on Salzburg and Vienna.
So, with places decided and less than 40 days left, I had so much to plan!!
Getting the Visa :
First things first, Schengen Visa.
So, from my experience it would be safe to apply for visa atleast a month in advance, 3 weeks time being bare minimum.The process of getting visa is pretty simple and straight forward.
Go the visa website.Download the list of required documents.In the meanwhile also schedule an appointment.
Since, Schengen visa allows entry into multiple countries, you need to apply through the country in which you stay maximum number of days. If the number of days of stay is equal, then you have to take visa through the country which you enter first.
Since, I planned to spend maximum time in Switzerland, I applied through Switzerland and got my visa a week after my visa appointment.
Micro-Planning:
Having only decided the countries and cities, the mammoth task of booking places of stay and deciding places to visit was still ahead.This was not only time-consuming but also mind boggling since, it was my first trip and I had no experience whatsoever in planning a trip!
So, the first thing I did, I opened a google spreadsheet and started noting down the following:

This is a must because, with so many places to visit and things to do, it can get really confusing and messy!
Place to stay:
Since, I was alone most of the trip, hostels were my first choice.Having never travelled alone abroad before, I had jitters deciding the hostels and hotels.
Three websites were my saving grace- booking.com, airbnb and hostelworld. If you are not fully sure of the plan, ensure that free cancellation options are available.Also mark the deadlines for free cancellation in your calendar. I decided to stay as near the city centre as possible, so that I could save time of travel as well maximise my experience.
Sight seeing:
A lot of European cities have city passes, which give you entry into a lot of attractions free of cost.Plus, a number of passes come with free inter-city travel as well. Some cities like Amsterdam have multiple pass options, so, it would be a good idea to check, which of the passes suit your requirements well, in advance.City passes also save a lot of time because you can avoid standing in queues for buying tickets in each attraction .So, city passes are a must have!
Two quick tips here:
Firstly, I missed on visiting Anne Frank Museum in Amsterdam because,I didn't book the ticket sufficiently in advance!So, if you are keen on visiting any attraction that requires early booking ensure that you book it online and sufficiently in advance!
Secondly, wherever possible, visit the most important attraction in the city before noon.For example, I visited Schönbrunn Palace as soon as it opened at 8am, after which the crowd swelled up unbearably!
Packing list for the Trip:
Carry enough local currency!
Credit cards levy transactional charges generally ranging from 3 % to above plus a host of local food joints do not accept cards, so, having cash helps.
It is advisable to always carry enough cash in hands! But be reasonable- don't over carry as well, especially when you are travelling alone!Also, if you're travelling to multiple European countries ensure that you have sufficient local currencies!For example , Swiss francs when you are travelling to Switzerland etc…
Also, ensure that you have an international debit card.A number of banks will require you to activate your international banking services.So do make a call to your bank's customer care well in advance!
Travel light!
Especially when you are travelling alone, if you don't travel light you are sure to regret.Having to travel to another city every second day with all your luggage, use local transport etc., it surely made me feel sorry for myself carrying heavy luggage day in and day out!!
Have a sling and a backpack!
On my day outings I would always carry a sling bag, which would contain my passport, wallet and phone at times and sometimes a backpack, which would have water bottle, sunglass case, a small umbrella, shawl and basic makeup accessories etc., Having your passport and essentials in a bag visible to you at all times(and backpack is not!) is very important.
If I were to list out some of the other essentials for your packing list they would be- A selfie stick(especially since, you are travelling alone!), Adaptor(one or two), Power bank,Sunscreen, Comfortable shoes etc.,
Must-Have Apps:
Google Maps:
Well,I don't have to explain why you need this.
Here maps:
I had downloaded Here maps for all the cities and town I intended to visit and I must say, since, Internet wasn't working a couple of times, it was of great help.
Google Translate:
Reading a restaurant menu or a street name or a travel booklet, google translate can be quite a friend!
Railway Apps:
Depending on the country you visit, ensure that, you have their train apps. For instance, sbb, in Switzerland was the most helpful. This app helped me book tickets in a click with special online discounts and also gave precise timing of the train, the right platform, connecting trains etc., Similarly, in Austria there is obb, which also helps in instant ticket booking and tracking the trains.
The Parting Note:
Well, armed with a lot of enthusiasm I stepped into Europe and this was undoubtedly my best trip ever.
While pictures explain the beauty of the place, I found Europeans most generous and willing to help!I had instances when I asked help with directions, people opened up their google maps explained the directions and even walked with me for a bit. All of it made me feel good and more confident about travelling and staying alone!
This is the story of how I planned my Europe trip.I will explain my experiences of exploring each of these places in my next blog!
All the best for your next trip!!
Frequent searches leading to this page:-
Europe honeymoon tour packages, Europe honeymoon tour packages from Delhi, Europe honeymoon tour packages from Mumbai, Europe honeymoon tour packages from India, top things to do in Europe in winter, best things to do in Europe in winter