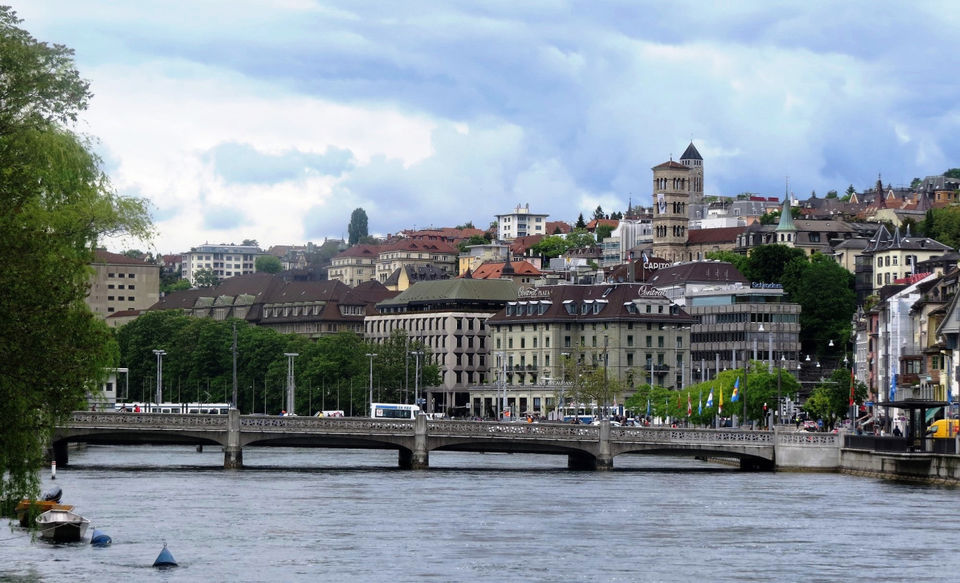 A tour of Zurich's Old Town feels like a walk through a living history museum, full of Renaissance-era structures and narrow, twisting lanes that seem frozen in time.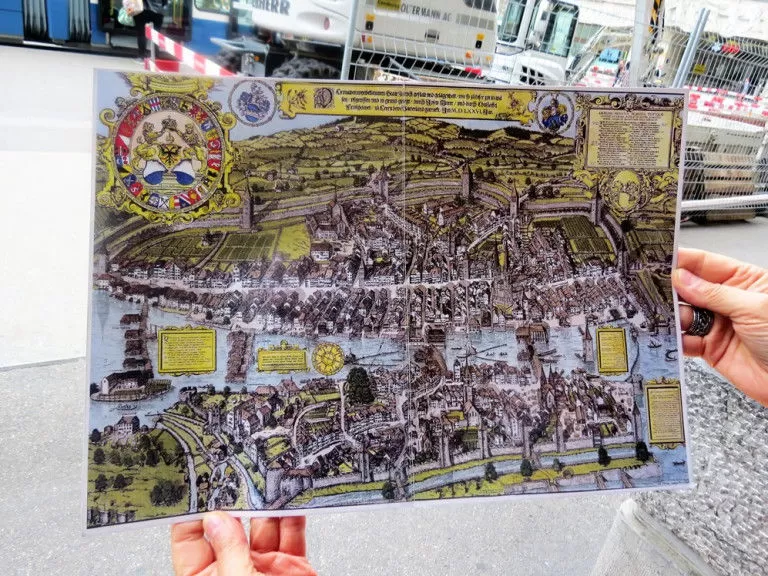 Once every few weeks, the citizens of Zurich are privy to a new piece of 'art'. Without warning, oddly shaped statues, installations or concepts that defy definition spring up on unsuspecting street corners. The citizens tend to detest the upstart at first but over time, every work of art becomes an indistinguishable part of the city, much like the churches, guilds and town hall of yore. Zurich's Altstadt (German for 'Old Town') encompasses Kreis 1 (District 1), parts of which are on the banks of the lovely Limmat River. My plunge into three century old history begins the moment my guide Annemarie pulls out a map dating back to the 1860s.
Bahnhofstrasse and Burkliplatz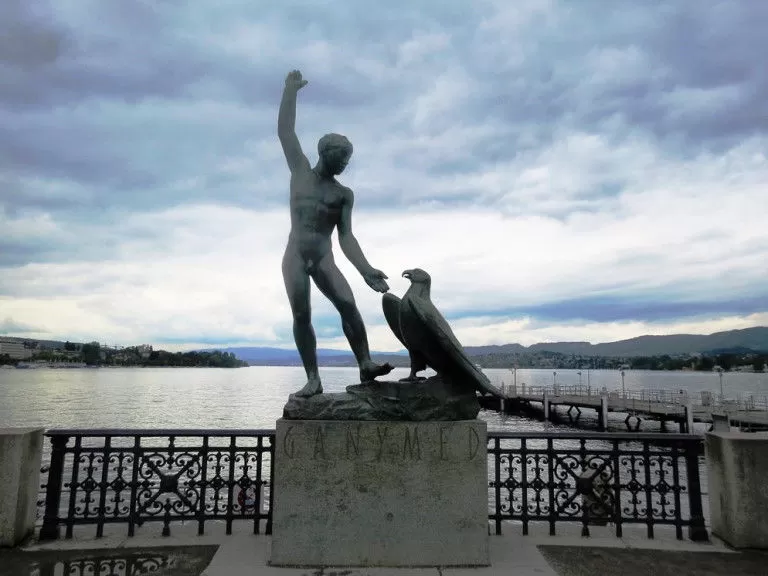 We begin our walking tour at Bahnhofstrasse, where I'm staying. This posh area is the best luxury shopping destination in Zurich and its streets are lined with banks and boutique shops including Bucherer, the famous watchmaker and the adjoining Uhrenmuseum Beyer, dedicated to the world of horology. At Café Sprungli in Paradeplatz, we spot beetle-shaped chocolates and Annemarie tells me that these insects once plagued the city of Zurich until they were almost eradicated by offering citizens incentives to trap them. At the end of the street, we see the lake-side Burkliplatz, dotted with plump swans in an area that was once a swamp. An arresting statue of Prince Ganymed pleading with Zeus to take him to Mount Olympus occupies centre-stage.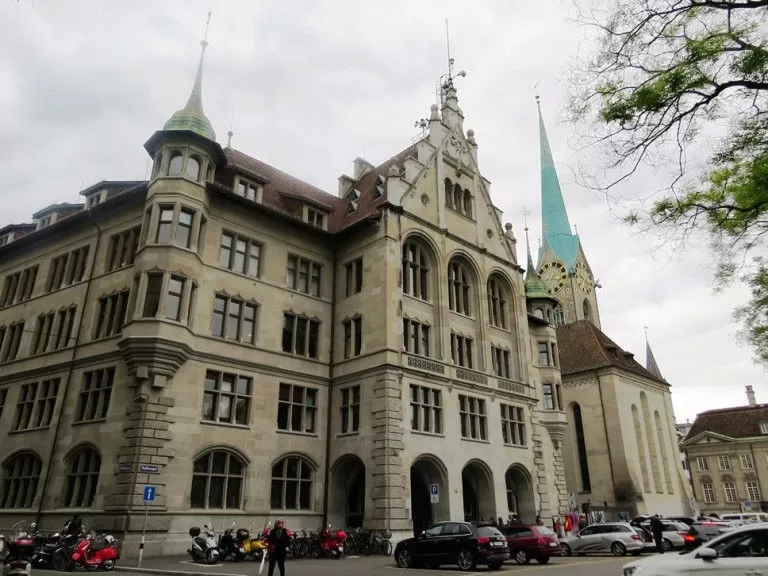 We turn into a quiet street called Stadhausquai, home to the Frauenbad bath house for women, which turns into a bar at night. Opened in 1885 to allow women to wash themselves as they didn't have bathrooms at home, today it's a popular public pool often frequented by sunbathers. Zurich's bars cater to all kinds and this one is called Bar Fuss Bar, translating to 'Bare-foot Bar'. Opposite the bath house is the Renaissance-era city hall Stadthaus, where Swiss citizens come to be joined in holy matrimony. At the quay, a wedding party sails away on a boat, waving goodbye to cheering onlookers. Annemarie tells me that this is a Swiss tradition for good luck. In the distance, we can see the double towers of the Grossmunster, a Romanesque-style Protestant church built by Charlemagne at the graves of the city saints Felix and Regula, as per local legend.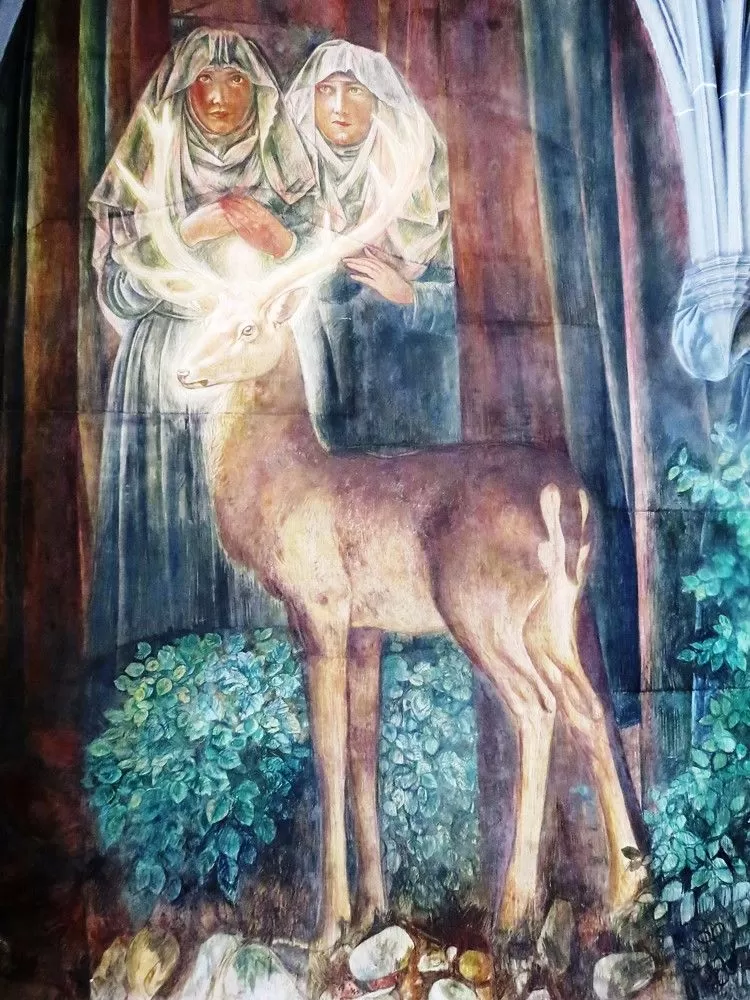 In 853, King Louis the German had two unmarried daughters and it was for them that he built the Fraumunster Church on the remains of a former abbey. Led by Hildegard, the Benedictine Convent ruled over Zurich, Uri and the Albis Forest. The church is worth a visit for its beautiful Chagall windows, each depicting a different story from the Bible. According to Annemarie, a white stag was often seen protecting the King's daughters and its image forms a leitmotif in most of the paintings.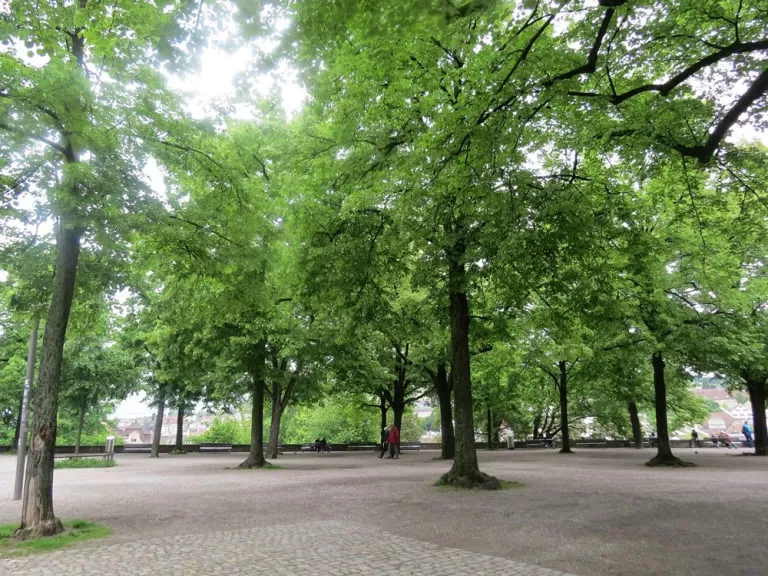 We emerge on to a beautiful town square full of medieval buildings in the Lindenhof quarter called Munsterhof. My attention is drawn to the blue coloured Restaurant Zunfthaus Zur Waag, which used to be a guild house for wine merchants. The walk from the square to Lindenhof Park is littered with road signs in interesting shapes like keys and dragons. Annemarie informs me that this was to indicate the name of the road to folks who couldn't read in the olden days. We come face to face with the clock of Peter's Church, which is Europe's largest clock-face, beautiful murals, water fountains and flags atop most homes. The climb to Lindenhof Park takes us across hills shaped by the Ice Age, now turned into cobble-stoned paths. From the park, I get a spectacular view of Zurich city, with its ancient buildings and the glittering Lake Zurich.
We end the tour with a peaceful walk by the Limmat River and a stroll through the streets of Augustinergasse, famed for its carved wooden bay windows and colourful coffee shops.
-Buy: Authentic Swiss crafts from Schweizer Heimatwerk and truffle of the day from Café Sprungli, both on Bahnhofstrasse
-See: The wedding celebrations at Stadthaus (the city hall) and on the boats on Lake Zurich
-Do: A boat cruise down the Limmat River, which takes you past the city's grandest landmarks
-Stay: The four star Hotel Glockenhof offers affordable comfort and is centrally located at Bahnhofstrasse, a stone's throw away from Rennweg tram station.
-Eat: The world famous Hiltl Restaurant for cutting-edge vegetarian and vegan cuisine, Restaurant Zum Kropf for the authentic Swiss experience and Quai 61 for a mesmerising view of the lake.
-Visit: Zurich is bright and sunny in the summer months (June to September) but witnessing its snow-laden streets at Christmas is also delightful.
This blog was originally posted on Trail-stained Fingers.