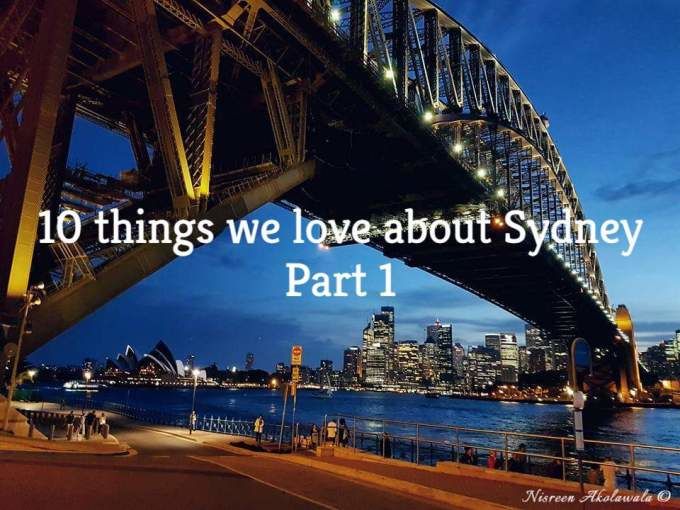 1. We don't need to wait for NYE to witness breathtaking fireworks at the famous Darling Harbour, it happens every weekend!
2. We totally dig the sunny balmy weather most of the year, perfect for beach bums and BBQ under the sun.
3. There are unlimited beaches you can explore in less than an hour's drive from home. Sydney has around 100 beaches in all, some of which very much feel like your very own private paradise.
4. The local Sydneysiders are as friendly and chilled as you can imagine.
5. Sydney being the perfect melting pot of the world, you have so many new and unique cuisines to discover and try like Greek/Lebanese/ Turkish/English/African/South American/Indian/Pakistani (the list can go on and on). All you foodies can enjoy a new flavour every week!
6. We have many national parks bordering Sydney, where we can indulge in hiking/photography/ discovery/cycling/swimming/full moon walks/ beach explorations, all this and more just in a day trip. Royal National park, located within an hour from Sydney is the second oldest national park in the world, second to none other than Yellowstone National park in the USA.
7. Mountain lovers do not fret, we have our very own Blue Mountains, not very far from the city where you can enjoy hikes/ scenic waterfalls etc.
8. There are beaches close to Sydney, where you can sunbathe with (hold your breath)….Kangaroos. Yes, this is true. Hit the Pebbly beach in Murramurang National Park and see it for yourself.
9. If you just have a day in hand and want to indulge in Snorkelling, do not worry, there are breathtaking snorkelling heavens surrounding Sydney. Head to Shelly Beach/Little Bay or Clovelly to enjoy snorkelling.
10. There are cute little country towns, which you can explore within an hour's drive from home. Handmade pies or fish and chips, colourful trinkets or beautiful countryside homes with attached farms having horses; you can explore all this and more.