If you think about it, our lives are shaped by translocation to a great extent. Barring a few exceptions, we have always moved from one place to another and it is a constant activity. Most of these motions are obviously monotonous to the extent that you hardly think about them. Basically, we just go through the motions while in motion.
But there are movements of another kind which tempt us to stay on in them. They often present us with revelations - in fact, experiences, as we might like to call them. They all will be different from each other but share this delightful aspectthatyou are undoubtedly left richer with the education of a new geography and culture.
My wife and I touched down at Sir Seewoosagur Ramagoolam International Airport in Plain Magnien, Mauritius after a 6-hour flight from Mumbai just before a bright and sunny noon. Widely popular that she is, the tiny island nation gave us her first identifiable view from several hundred feet above and was inviting in her beauty. The blue sea-white sand combination is clearly a magnet for wanderers and vacationers alike. It is a view that leaves you with an indescribable peace and blankness.
We have often proved to be inadequate travel planners and yet again managed to keep our vacation short. Notwithstanding the fact that Mauritius spans around 65 km North to South and 40 km East to West, 5 days by any measure are not sufficient to completely soak in the local atmosphere and sights. However, I could still confidently brag about the very aforementioned education that I gained in this short span. And this was the real bonus to the otherwise expected yet pacifying vistas of blue sea.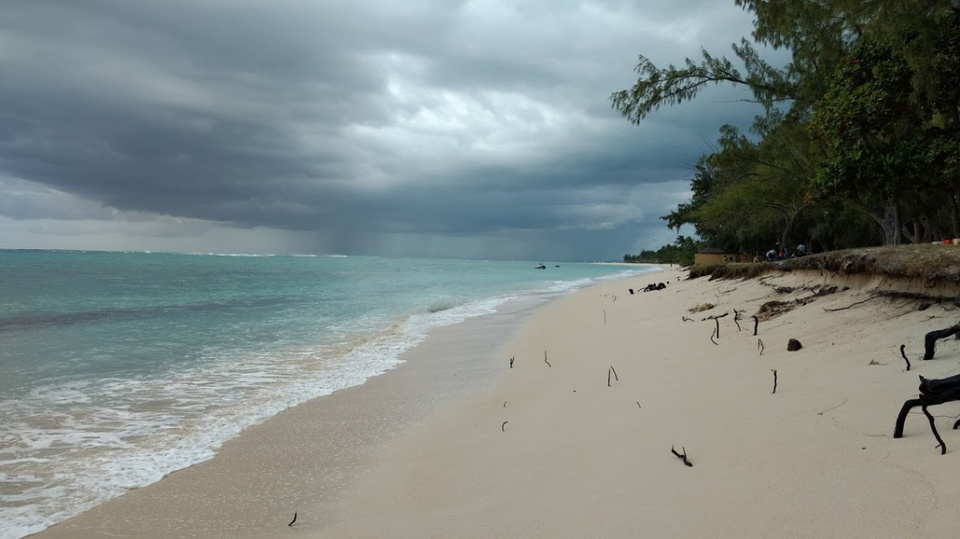 Yes, the sea and the sand here are nothing short of stunning and there is a multitude of beaches you can go to either take a dip or a stroll. We did the right thing to hire a car to drive around the country (this is the best way to move around here as public transport does not score very well on frequency and someone coming from India will find the traffic culture pretty favourable) and upon ample advice from the better-informed, did not forget to drive along the southern coast. This is a must-do and you wouldn't want to give the beaches of Le Morne, Bel Ombre and Gris Gris a slip. Cap Malheureux and Mont Choisy in Grand Baie (Grand Bay) to the north of the island stand apart as well though the latter might have more tourists given its proximity to the capital, Port Louis, which to my taste had comparatively little to offer. The latter boasts of a nice 'eat-street' on the Le Caudan waterfront and apart from places of some historic significance (like the Aapravasi Ghat, where the first Indian immigrant indentured labourers set foot on the country and the National History Museum), the capital city houses plenty of government offices built in colonial architecture. Slightly south of Grand Baie is the very popular and commercial beaches of Flic-en-flac and Tamarin. In Tamarin, there are some companies like Dolswim that will take you out into the sea to spot dolphins and further out, if you are lucky, to spot sperm whales and hump-back whales. We were given a visual treat by a group of around 20 dolphins and one of them even thrilled us with an acrobatic leap right out of the water. Unfortunately, due to a weather alert, we couldn't sail further out to the sea and therefore couldn't keep our date with the whales.
What was even more charming was the little town of Mahebourg in Grand Port district. This is where we had chosen to stay. We had made the booking through Airbnb and stayed at Auberge Seafever, a beautiful home by the seaside owned by Connie and Perry Hector who turned out to be the best hosts you could imagine. They were great ambassadors for their country and generously gave suggestions on our itinerary. With a population that you usually get to see in an Asian urban neighbourhood, this place has the imprint of national history. It was only a few kilometers north of Mahebourg that the Dutch who were the first foreigners to colonise this land arrived. It is blessed with a lovely waterfront and you get to begin your day watching the local fishermen at work by the shore. Again, the place has no dearth of serene beaches - head to Point d'Eisny and Blue Bay.
Ile aux Aigrettes is an islet only 5 minutes by speed boat from Mahebourg and unlike the main island of Mauritius that was formed out of ancient volcanic eruptions, it was formed from coral limestone. This islet is a nature reserve and sets to serve as an ecological hotspot that is today home to a diverse flora and fauna which centuries ago had their original habitat on the main island, until of course, the humans arrived there. Most of these species have now been re-introduced on Ile aux Aigrettes. The most popular imports are the giant tortoises, some of them over a hundred years old (the oldest, slightly grumpy, is named Big Daddy). Thankfully, these species, although wiped out from the main island due to excessive hunting and deforestation, were native to islands like Seychelles as well and therefore got the chance to be seen around in this part again. Unfortunately, the dodo wasn't so lucky.
Another must-see place near Mahebourg and something that will be a slightly different experience is the Rault Biscuit Factory. In operation since 1870, it runs out of a privately owned property, obviously by the Rault family (whose current primary descendants live in far-away Australia) and makes biscuits out of finely ground tapioca. It is a treat to watch the few workers in action (you are taken on a guided tour) and the factory still has retained primitive methods to make the biscuits.
Hitting the road to traverse the tiny island-nation was indeed the best way to explore her. The backdrops are replete with small mountains, many of them offering popular hiking trails (although we did not get to try our hand on that). Sugarcane plantations are abundant and 60 percent of the local population here are of Indian origin and descendants of the indentured labourers brought in from India by the British to work on these plantations. Many of them today have hardly been to India but have astonishingly preserved the age-old Hindu customs. We happened to be in Mauritius at the time of Ganesh Chathurthi (which we had left behind in Mumbai and ran into here) and it was deja vu for us as we witnessed the processions and immersions of the Ganesh idols in the sea. Grand Bassin, on the eastern end of the Black River Gorges national park, popularly known to the local Hindus as Ganga Talao is a pilgrimage centre.
We were actually pleased to find the beaming faces of the locals of Indian origin when they realised where we came from. That apart, Mauritians are a very helpful and cheerful lot. English is widely spoken although French and Creole are the primary languages. In fact, by the time the British took over the island from the French, the French culture and cuisine had more or less become firm and the Indians who arrived sooner or later adapted to it. Much of what you see in modern Mauritius today is an amalgamation of French and Indian ways.
It is not without reason that Mauritius is a very popular tourist destination for wanderers from afar. The mix of beautiful beaches, adventurous hiking trails, forest covers and sugarcane plantations along with a pleasant weather for most part of the year and a very welcoming native population will easily allure anyone to these shores. And tempt them to return as well.