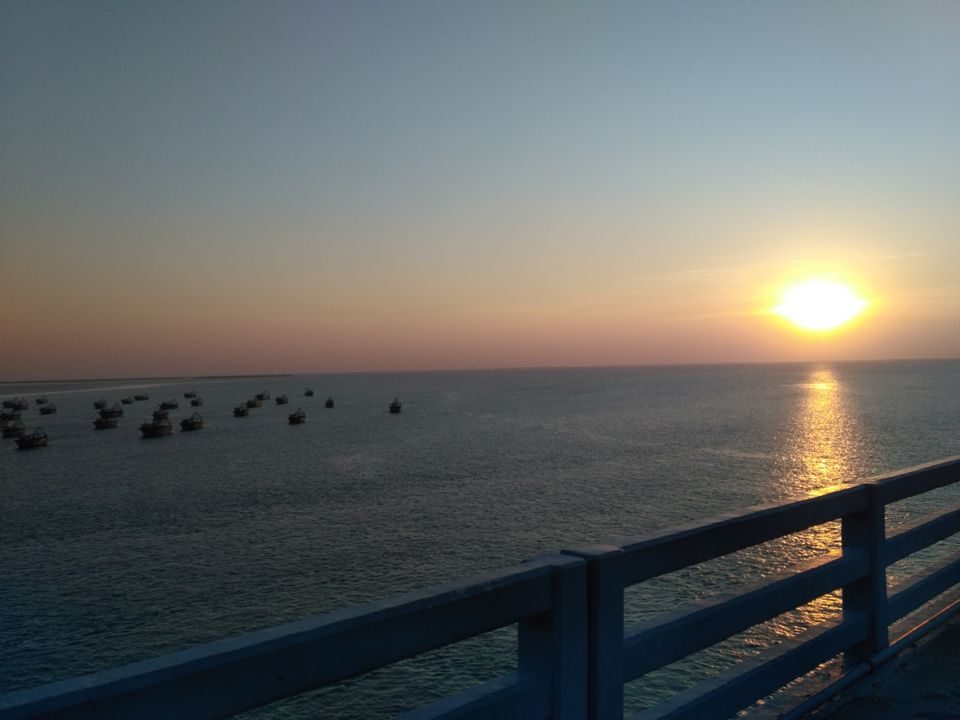 Rameshwaram is a town in Tamil Nadu state of South India- the main attractions being the Pamban bridge which connects to the Island over the sea and the Ramanathaswamy Temple.We started early morning by bus from Madurai and reached there at around 1.00pm.
It has always been my craze to be at Rameshwaram ..The reason? Ahhh what else than the Pamban bridge!!
And the first question that I asked Dad on hearing about the Rameshwaram trip was if we were going by train..But Alas!!No..All Tickets were already sold out by the time we planned.
No worries,I'll soon plan another Rameshwaram trip by the Pamban rail bridge!!It's an engineering marvel.
•Before we got on the bridge,the first thing we saw was DR.A.P.J. ABDUL KALAM NATIONAL MEMORIAL..All the last things that this former 'best' President of India( in my eyes) used during his last speech at IIM, Shillong are displayed here including his laptop, trousers, shirt etc.Also all his achievements are listed across the walls of the Museum.Even his
Body is rested there!!
•Pamban Bridge is the biggest attraction of Rameshwaram.
•Sri Panchmukhi Hanuman Mandir & Floating Stones-
Well,the most interesting part here is the floating stones.They are just wow!! Several people including me touched them and even pushed them in the water but they remained intact and kept floating.It's said that Hanumaan ji once used these floating stones to cross the seas while going to rescue Sita. Whenever Hanumaan ji pronounced the name of Lord Rama, the stones became floating!!
•Lakshmana Tirtham, Rameswaram
•Ramanathaswamy Temple- This is the ancient Hindu temple of Rameshwaram dedicated to Lord Shiva.It is one among the 12 jyotirlingas of the country!!
•Agni Teertham- Here people take a bath before darshan of the lord Shiva deity.. It's not mandatory though.
These are the places I visited..There maybe a few more spots to see.We didn't have too much time in hand since we had to return to Madurai where we had halted and Madurai to Rameshwaram is a long long distance..
I wish to go back to Rameshwaram soon once again just to reach there by rail path!!
Cause I'm in love with the PAMBAN BRIDGE!!