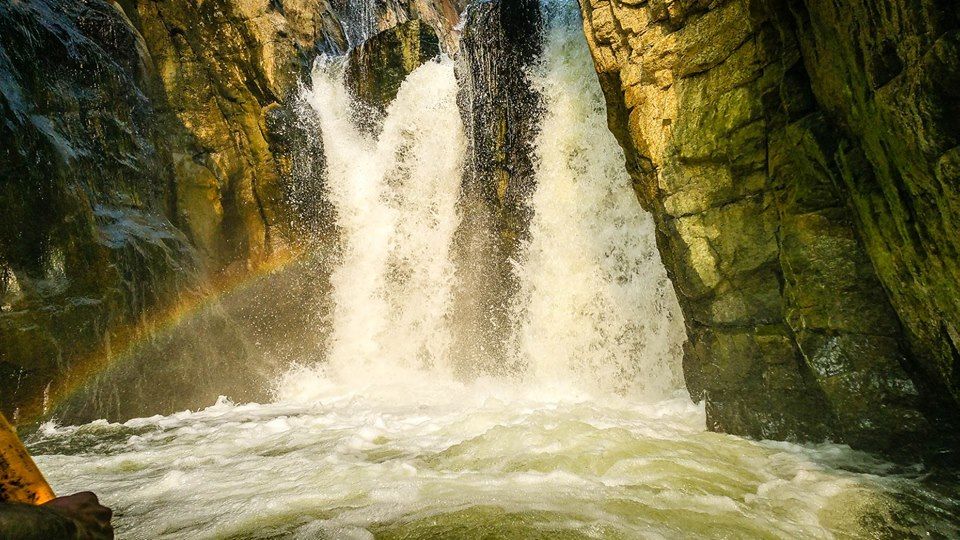 Is the weekend coming up? Can you manage to get out of bed for only 1 day? Are you wondering what to do with it? Look No Further, I'm about to tell you a tale about a beautiful River you can visit that 2 Indian States have been fighting over... for decades!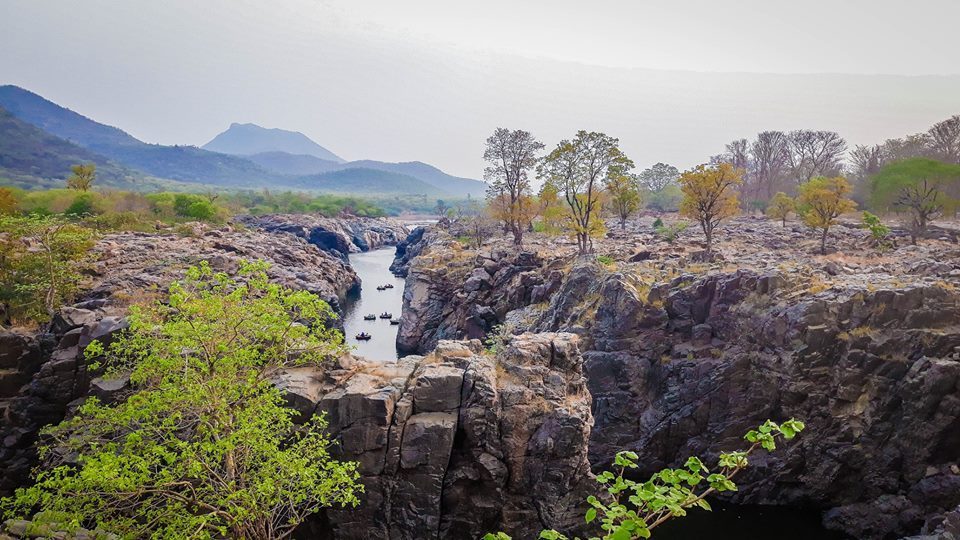 Once upon a time, there was a great big river called the Kaveri, also known as Ponni. It flows through 3 major Indian States and a Union Territory of the South of India. For years this river has provided its water for Irrigation, Household consumption and Electricity generation. Lately, the water levels in this 3 rd largest Indian river have started depleting due to which, this Lifeline River has become an emotional subject for the people of Tamil Nadu and Karnataka.
None the less, besides water this River has a lot to offer when it comes to Visual Beauty. One of them are these waterfalls called Hogenakkal. It is located in the Dharmapuri District of Tamil Nadu. The distance from Bangalore is about 150 kms which amounts to approximately 3 hours of driving.
A good monsoon season makes these falls absolutely divine and that's why they are promoted as the Niagara Falls of India. Don't be surprised, our country is known to compare its smaller destinations to similar foreign counter parts in order to attract tourists. Whether or not these comparisons hold true, is completely subjective.
BEST TIME -

The best season to visit here would be between October to March once the rains have filled the River up. You can drive or ride to this place comfortably because the roads throughout are well maintained. There are planned tour buses that can bring you here as well as hired cars with drivers or just drivers for your own car.
ROUTE -

There are 2 ways to get here, one is a shorter route through a Forest Reserve, where the roads are not as smooth as we would want them to be, and the 2 nd is a slightly longer route with clear roads that take you to the exact same places. Essentially both the routes take the same amount of time. Trust me, I took both of them, once while going and the other while coming. Let me add that I genuinely regretted taking the forest reserve route. Since my mother was with us and she suffers from a severe back issue, this happened to be the worst decision I had made all day. Google Maps will show you both the routes and yes you can trust Google Aunty's directions in this case
GETTING THERE -

Also, there are 2 ways to access the falls.
The 1st one starts a bit earlier where you take a detour and reach a spot where you take the coracle straight to the top of the falls. This is usually taken when the river is full of water and when the falls are in its full glory. The 2nd one is through the village. You park your car / bike behind a bus stand and then walk to the main gate. There you have to stand in a long queue for tickets and life-jackets. Then once you get in, they assign you a coracle which will only help you cross a small stretch of rivulet after which you have to walk for about half a kilometer and descend a bunch of steep stairs to reach the River Kaveri main Coracle ride route. This route is mostly taken during off-season times when there are only smaller falls that you can see close-up while coracle riding across the Kaveri.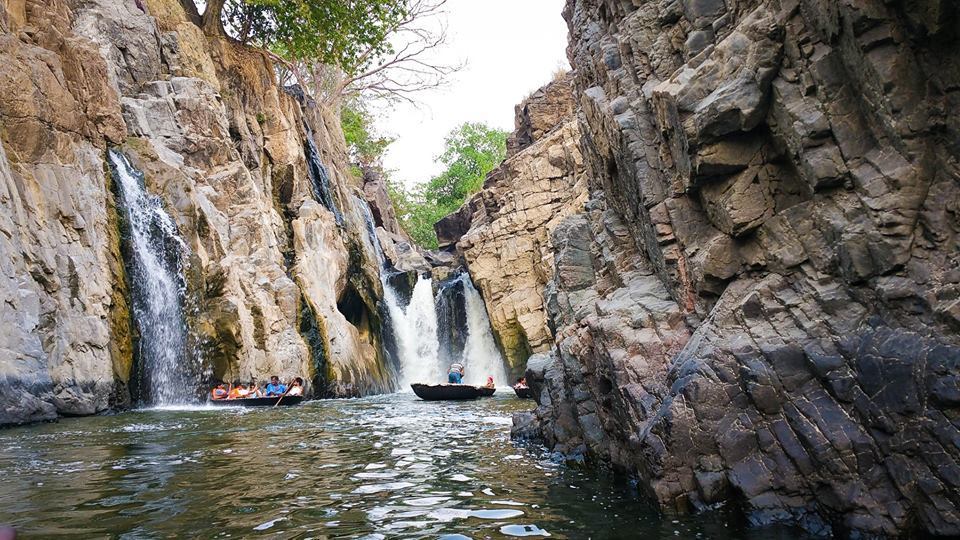 IN CASE OF LESS WATER IN THE FALLS -
I took the 2 nd access and I honestly wasn't disappointed. I got to -
Bath under the falls Enjoy a Nutso fun guy dance on the rocks See waterfall rainbows Allow a photographer to take an Instant Photo of us for INR 50 Appreciate the serenity between the rocks Look at Fisher women sitting on the rocks sell Fish to the people in the coracles See islets on both sides of the river; we had the option to get off, but because my mother was in quite a bit of pain, we decided to skip that View of Tamil Nadu on our right and Karnataka on our left Watch my Husband ride the coracle Bump into other coracles and get splashed at
COST AND TIMINGS OF RIDES -

The Coracle Ride costed us INR 750 per coracle. This cost included the cross over, the transition, the queues and the actual ride. I'll be honest, I'm not sure when the first ride starts but the last ride is at 17 00 hrs (5 pm). So make sure you are well within the time to complete your ride by sunset.
AMOUNT OF TIME NEEDED -

We left home at around 8 00 hrs and reached back home close to 19 00 hrs easily after all that traffic at the toll gates. My point is, one day is more than enough to visit Hogenakkal falls and since there is nothing else around it that you can club, you don't need more time than that.
At the falls, we spent a good 3-4 hours which included having lunch, waiting in queues, the 45 min coracle ride, transitioning from one side to the other, exploring the surroundings as also the men & women separate bathing areas, having lemon sodas & coconut water and stopping to click over 500 pictures.
FOOD -

I wanted to specially add that there are no big proper restaurants nor separate Pure-Veg restaurants in Hogenakkal. There are small shack-like arrangements where they serve you their local Rasam-Rice, Veggies and Fish Fry on a banana leaf. Indeed, Vegetarian meals are available too and the taste of whatever we ate was fantastic. If you are a non-vegetarian, I recommend having the Fish-fry without fail. The freshly caught Kaveri river fish is absolutely to die for! The rates are about INR 70-80 a meal.
PRO TIPS -
- Since the only way to reach the Falls is by riding a coracle, the aged & people with back / hip / leg / knee etc. ailments, please do not visit this place unless you are absolutely sure you can manage

- Wear comfortable shoes since the stairs can be slippery Wear light, quick dry clothes in case you decide get wet under the falls or take a bath in the water

- Carry you own soap to wash hands before and after meals Don't carry too much because there is no place to keep bags, so if your coracle gets wet, all your stuff gets wet

- Be mentally prepared for a hoard of people at all times
- Only 4 people allowed per coracle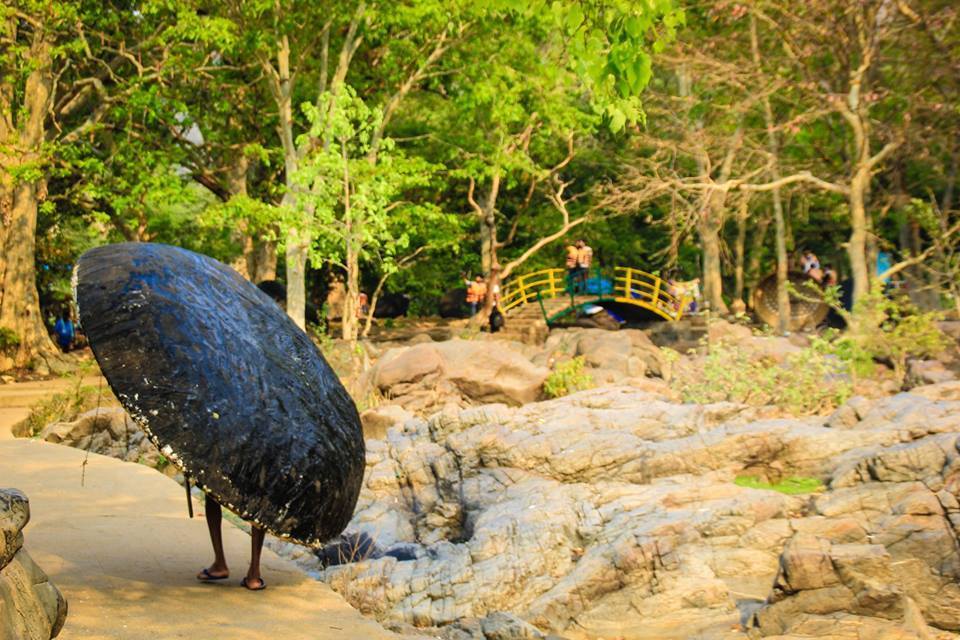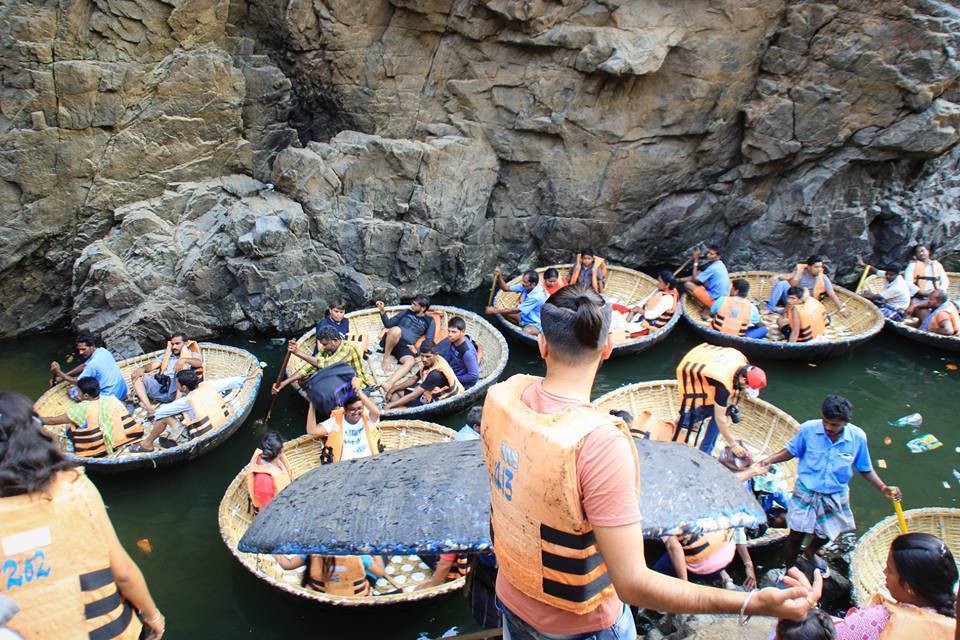 MY POINT OF VIEW -

If you want my opinion, you can surely visit this place twice and it won't be a waste. Once when you ride the coracle and get to the top where you can see the Niagara Falls effect and the other time when you take the coracle through the rocks on the main coracle route as shown in the pictures.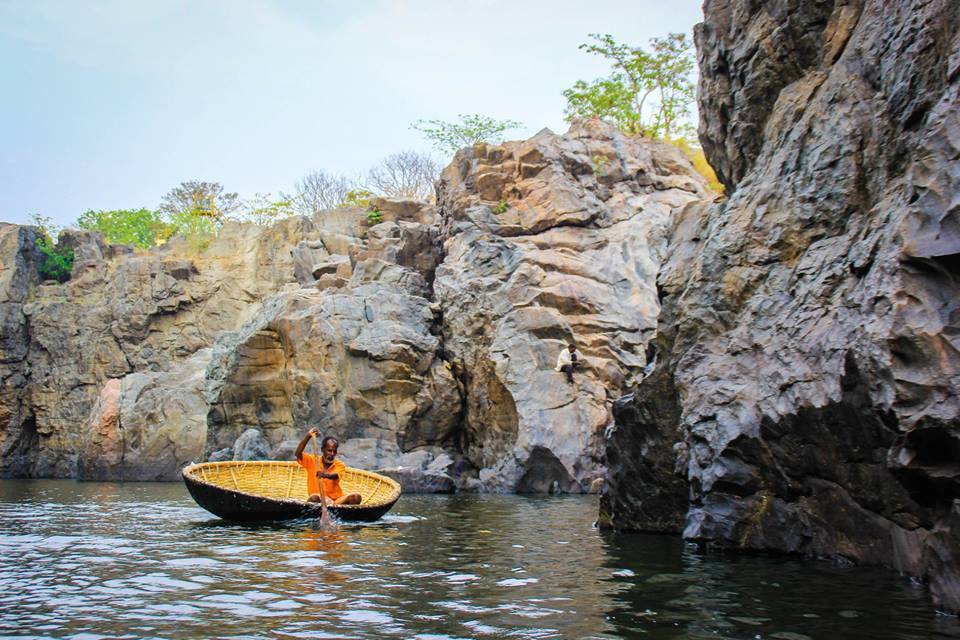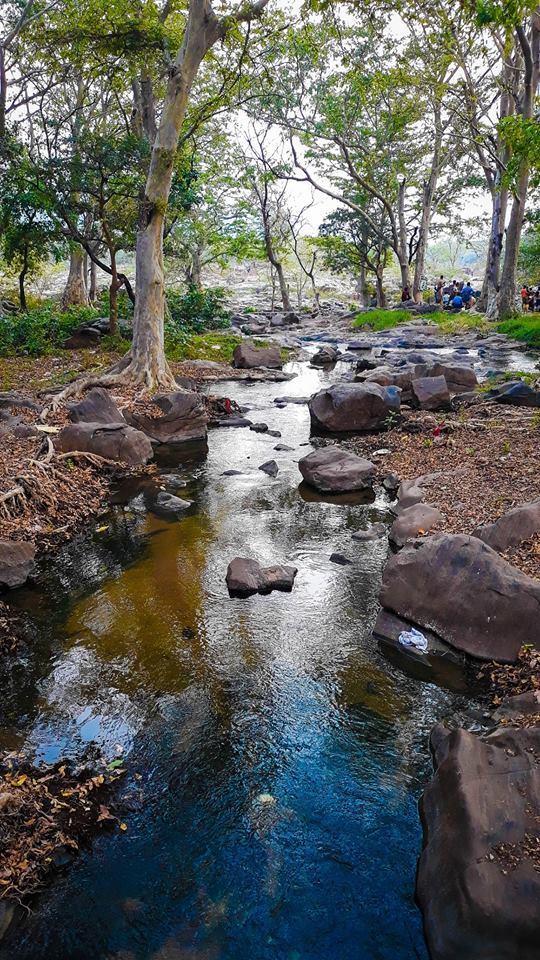 So that's all the info I hope will be good enough for you to plan your trip. If you have anything to add or ask, please leave a comment below.
Also share this post with any of your friends who are wondering what to do over the nearing weekend.