Well!! Nature you never disappoint and never fails to fill the viewer with ecstasy. Nature is a fashionista, it flaunts its beauty and takes glory in its countless forms and colors. Every shape it takes like that of sea or mountains, flora or fauna, scenic landscapes or greenery, it never fails to make viewer awestruck. What is best about nature is real hard to say. Well this time it mesmerized us by taking the form of waterfall.
It was a random weekend plan when only REST was on our mind, I along with my hubby met my best buddies from college, its good how we gel up with them so nicely, and they asked us to accompany them to Hogenakkal waterfalls, we oscillated to and fro between Rest and travel and at last traveler in us won. We said yes and thanks we did.
Hogenakkal is a waterfall on Kaveri river in Dharmapuri district of TamilNadu, located around 130 km from Bangalore.
River Kaveri enters TamilNadu border carving its way and forging ahead from Karnataka, and then it descends through Rocky terrain creating a panoramic view of Hogenakkal falls. Hogenakkal is formed by two kannada words Hoge and Kal, Hoge means smoke and Kal -rocks. Collectively it means smoking rock as the force Kaveri descends through rocks it creates lots of mist and looks like smoke.
We started our journey at 6:00 am on Sunday morning from Bangalore by Car, it was cold and cool breeze was welcoming morning Sun.
We all greeted each other and since then laughter fun gossips continued for entire journey.
The route we took was: Bangalore - Hosur - Denkanikottai - Anchetty – Pennagaram – Hogenakkal.
On the way to satisfy our hunger we stopped for a tasty and fulfilling breakfast at Andevanapalli at hotel Royal Rani mess opposite to Indian bank, Andevanapalli branch. The food was good and fresh, and then we continued our journey.
Route is full of scenic beauty, lush green vegetation and many hairpins turns with ever enchanting green valleys, the journey was so beautiful that we forgot the destination for a while there were lots of monkeys at sides of the road.
Around 1 km before the destination they charged RS 50 as entry fees. We reached at around 10 am and parked our vehicle at first parking. We have enjoyed a refreshing lemon soda from roadside and have got our tickets from the counter for RS 5 each to go to hanging bridge to enjoy a view of the waterfall. However, you cannot cross the bridge and venture out on rocks, on Karnataka side to get a panoramic view of the waterfall as it is closed by the government, but no worries the sight from the bridge itself was exhilarating enough, focus on positives and enjoy, this should be the motto of a traveller.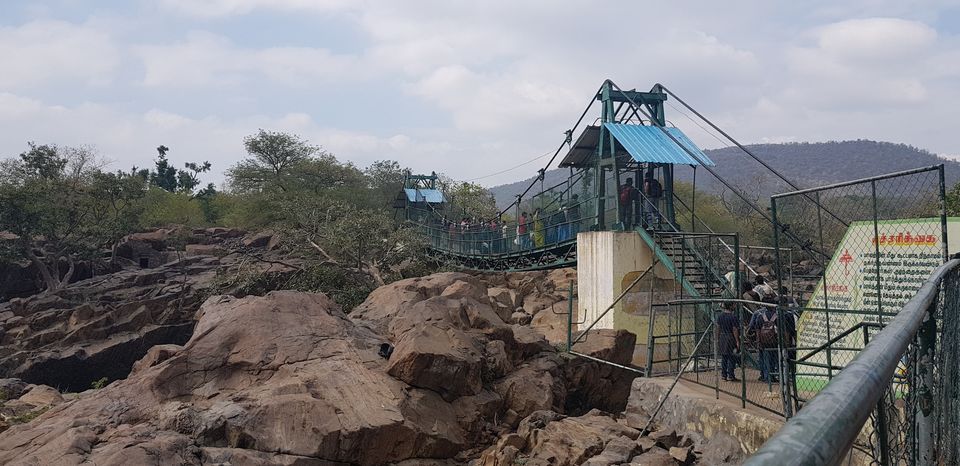 We stood on the bridge for 15 to 20 minutes, the mighty thundering waterfall was a delightful sight. There were many birds like Egret, Pond Heron and diving water ducks. One water ducks came flying and dived into the water to catch its food, there were three such dives it made and went straight under the water and returned with a fish and ate, that was great to watch.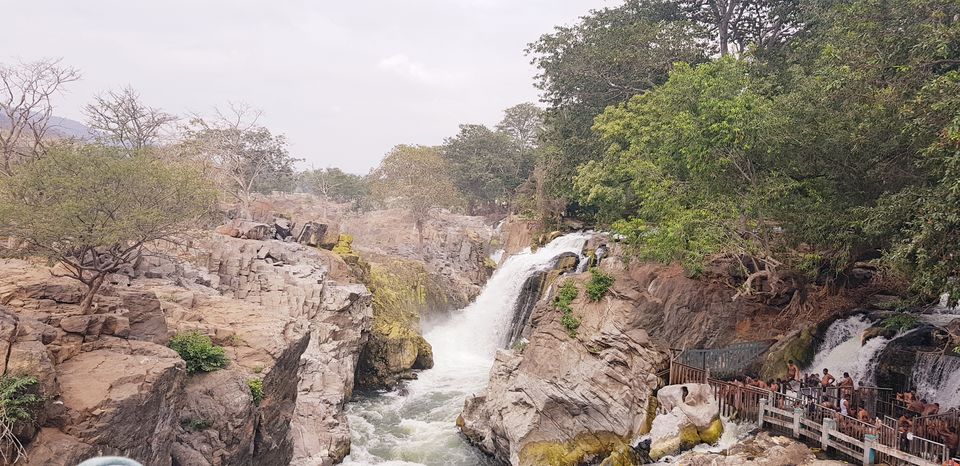 From the entry point to hanging bridge, view was little miserable. Many men were getting oil massage, it was crowded, many were taking bath with a soap and then lots of ladies were selling fried fish and fruits which looked unhygienic. The sight was little miserable and commercialized, but yes couldn't be repelling enough to skip visiting this beautiful waterfall, as the best it has to offer was yet to come – the coracle boat ride ????.
We took a ticket for Rs750 for a coracle boat for a group of 4, the boat man has given us the life jackets. We were about to go for this boat ride to view the mighty waterfall. The coracle boat called Parisal in TamilNadu is made up of Bamboo and are waterproof at the bottom, it is rowed by one man. As we moved ahead the view was getting better, a river flowing on uneven big and small rocks, the long green trees and its leaves swaying with the wind, the exhilaration on the people's face while being close to nature.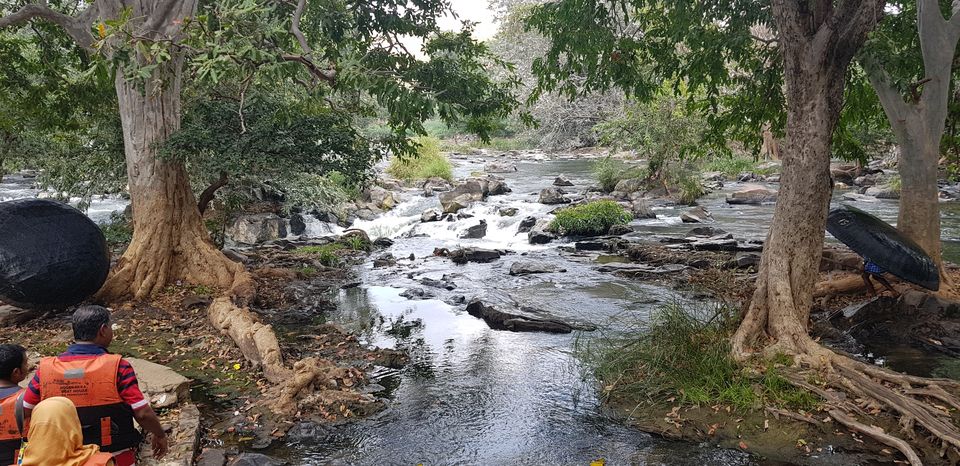 Sooner than we thought we needed to get down and the boat guy was to meet us at the other end, from where the actual journey was to start inside the caverns into the river Kaveri. We had crossed several wooden bridges on the way, where we could see many small falls.
We walked on those big uneven rocks and came down from stairs at a point where our boat man came and has put his boat on the water surface and let us get inside the coracle boat, it was a scene of river traffic with lots of coracle boat, and a crowd waiting for their turn to get inside their boat.
Oh God, it looked great, we started and were gazing at the big rocks and then at the water current, soon we were taken to the mighty falls, it were around 4 to 5 waterfalls, two were gushing with joy running free and wild with full force, the boat man took us real close and the mist fell on us , rejuvenating experience it was.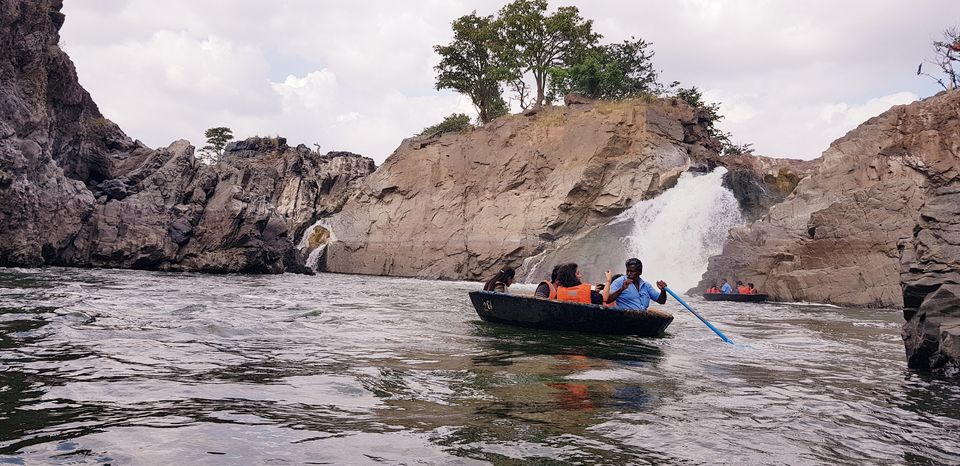 There were 3 falls with comparatively quite less force and we were enthralled when the boat was parked below that fall, and we were wet thoroughly, soaked into the water, it has given us unparalleled joy, and was a revitalizing experience.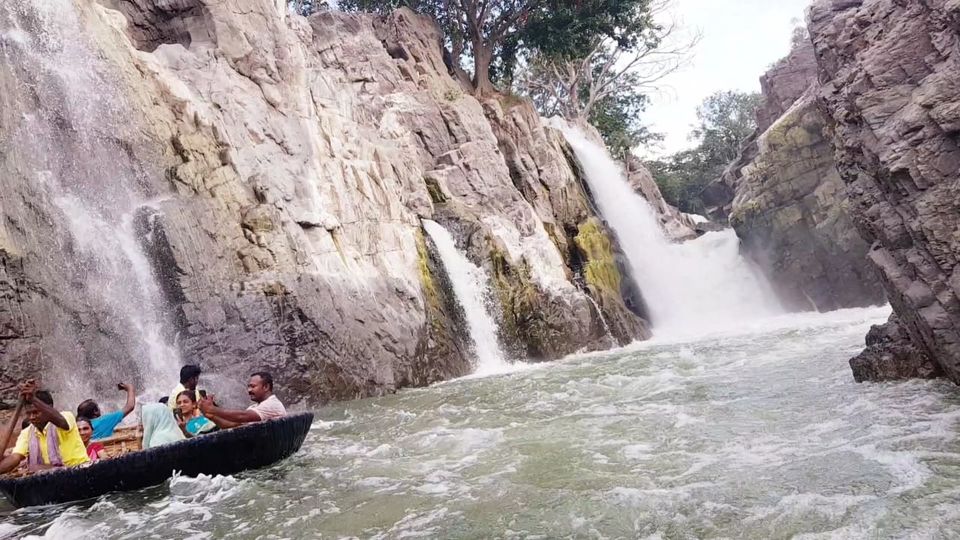 After that the boatman rowed and we enjoyed the beautiful views around Carbonatite rocks which are considered oldest of its kind in South Asia. The cold emerald green water surrounded by these rocks were scenic and pleasant views.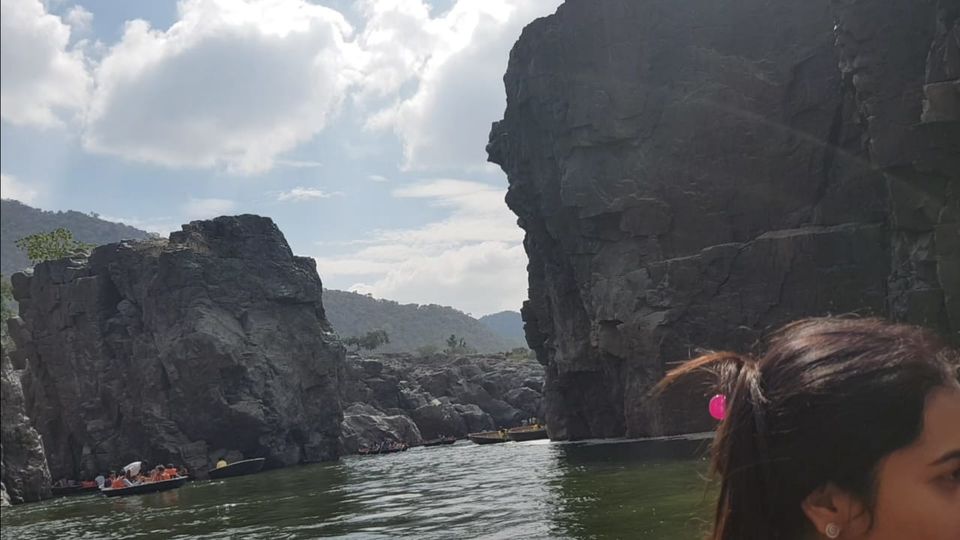 There were people fishing, cutting and frying the fish on the rocks that looked lot more cleaner so we have enjoyed the river food delicacies, trust me it was yummy and looked a lot more hygienic than the ones outside. We ate and enjoyed and continued the journey in Kaveri, constantly touching the cold flowing river water, we stopped at the end and enjoyed Kaveri river bath and had fun.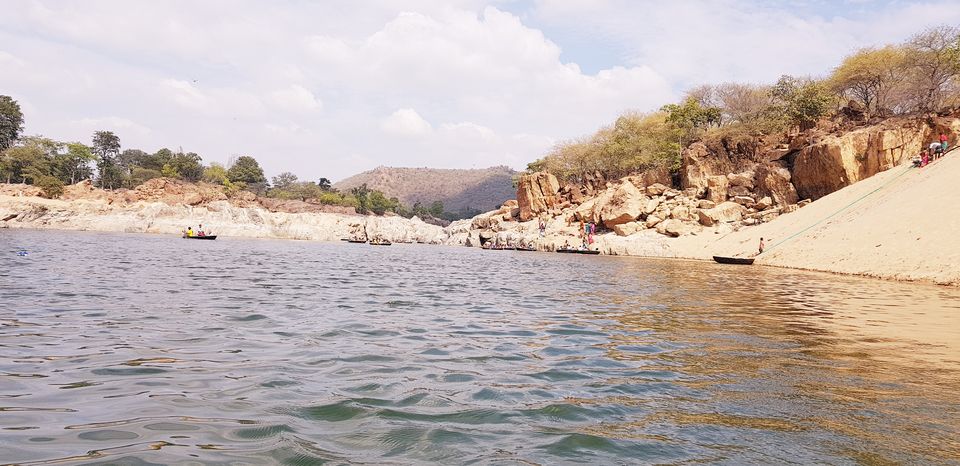 As we have started return journey, we went back to falls and enjoyed Nature's shower again. When you are in the lap of nature , returning is difficult but yes it comes to an end to start again.
We followed the same pattern of returning , go get drenched in the waterfalls again, get down and climbed the stairs, forged ahead on the rock, and came at the shore and returned through our car after having a meal at TamilNadu Restaurant. We reached back to Bangalore at around 8:30 pm. All four of us were happy to have this memorable trip together.
For the sake of your soul venture out and travel.
Happy Travelling!!
Frequent Searches Leading To This Page:-
bangalore to Hogenakkal 1 day trip, weekend holiday to Hogenakkal from bangalore, weekend getaways from bangalore, bangalore to Hogenakkal holiday trip, holiday trip cost of Hogenakkal from bangalore