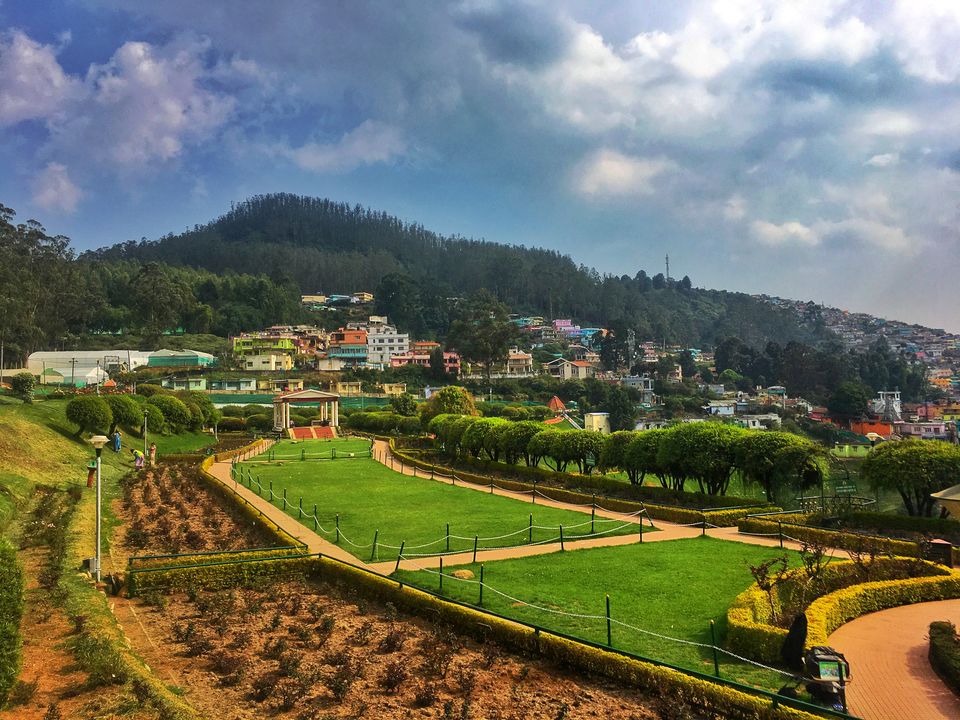 Ooty also known as Udagamandalam is a popular hill station in Tamil Nadu. Over the last few decades it has continued to remain a popular choice for family vacations and for honeymoons. The lush green surrounding hills, the pleasing climate, aromatic tea estates and the captivating gardens add to Ooty's beauty.
I visited Ooty with my grandparents. My grandfather had been to Ooty about a decade ago, so it was throwback trip for him, but sadly it was not the same Ooty he was expecting to see. This is how destructive we humans are ! Unless we throw plastic bottles and wrappers near waterfalls, lakes or gardens, we don't feel satisfied about visiting a new place. Tourism is considered to be a major employment source for a majority of population residing in the hills. But the toll that nature has to pay is heavy. Ooty which was once known for its greenery and freshness, is not the same anymore. The air is polluted, there's heavy traffic during the day, thanks to the innumerable cars. Though commercialization has hit Ooty but it has still been able to sustain its charisma.
Reaching Ooty :
Nearest airport to Ooty is the Coimbatore airport. Most people visit both Ooty and Kodaikanal together as they are 6 hours away, though it might seem to be a long journey but the route is one of the most scenic road journeys in the South.
Sightseeing in Ooty :
Doddabetta Peak : Doddabetta peak is South India's highest peak. From here one can enjoy a panoramic view of Ooty and the surrounding highlands. There is a telescope house from where one can get even more mesmerizing view of the Nilgiri Hills.
Botanical Garden : This garden is spread across 22 hectares of land and it maintained by the Tamil Nadu Horticulture Department. The garden is home to many exotic species and has over thousand species of fauna. The main attraction is the Fossil tree trunk which is about 20 million years old.
Government Rose Garden : The garden boasts of having the country's largest collection of roses with over 3000+ varieties. Here you can find roses of every possible color. An annual flower show is organised where artists showcase their talent through flower sculptures and garden designs. The garden looks so beautiful that if feels like someone has painted the world in alluring colors.
Ooty Boat house : Ooty lake is an artificially constructed lake with picturesque natural surrounding. The lake is home to several families of ducks.You can enjoy boating here.The Ooty lake is a popular hub, you will be able to find a variety of hotels and shops near the lake.
Tea Factory : Nothing excites me more than the idea of having tea. Tea gardens are my favorite go to place and what can be better than the Nilgiri tea gardens. The Tea Museum here is a must see for all tea lovers. One can even get a chance to witness the process of manufacturing of tea which is an enriching experience.
Nilgiri Mountain Railway : The Nilgiri Mountain Railway in Ooty is a UNESCO World Heritage site. This train which is also known as a Toy Train, still runs on steam locomotives. The train passes through several tunnels, curves and woods, the journey is nothing short of beautiful.
Staying in Ooty : The most popular accommodation options in Ooty are present near the Ooty Lake. I stayed in a hotel called "Hotel Lakeview" which was one of the prettiest hotels I have stayed in, the hotel had individual cottages instead of rooms, with each cottage having a cute little garden near it.
Weather in Ooty : The craziest thing about Ooty was the weather. I remember complaining about getting tanned during the day and at night the temperature fell so drastically that I didn't have the courage to leave my blanket. The weather in summers is really unstable, more like relationships these days ????
Ooty without any doubt is the perfect weekend getaway for people staying in Bangalore and nearby places. The road trip is spectacular, the weather is pleasing, the food is delicious, not to forget the amazing handmade chocolates ! The romantic Mountain railway ride, the mesmerizing sunset at Doddabetta peak, the beautiful rose garden, Ooty has everything to offer that will make your weekend a memorable one. Ooty is popularly known as the 'Queen of Hill stations', despite the hardships it has still been successful in sustaining its beauty.
Once a Queen, always a Queen !
For more travel stories follow my blog :