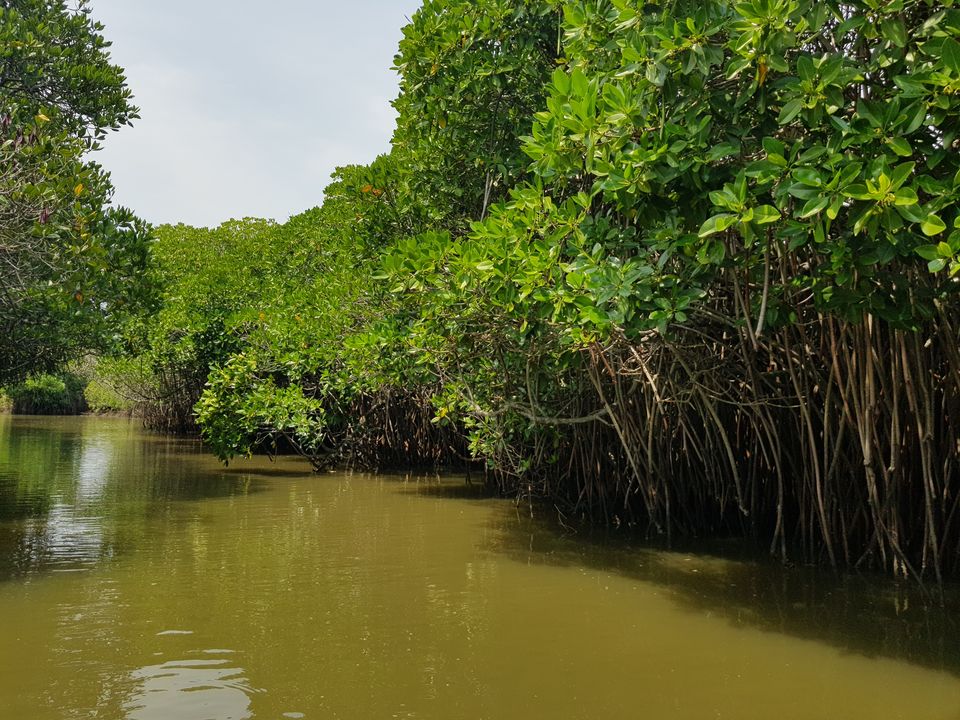 When we hear the word "Mangroves" the first name that strikes us all is definitely "Sunderbans". "Pichvaram??? What on earth is that???" This was my instant reaction when I first got to know about this place (Listen,I'm not to be blamed for not knowing about it. Just like most of you, who'd be hearing its name for the first time, I guess. After all its not on any of the touristy trails). Was planning a trip to Pondicherry and the travel researcher in me awakened when I got to know that Pichavaram, the second largest Mangrove forest is right next to the place I'm planning my trip to. Even though I had decided and promised my own self that this is gonna be a completely relaxing trip, minus any of my "To-do-Lists" or my extensive researches on the internet, but "FOMO" as they say (Fear Of Missing Out) set in and I decided to just keep a day from the trip to visit this place that was completely unheard of.
Managed by the Tamil Nadu tourism, this Mangrove is spread across 1100 hectares and is separated by the Bay of Bengal by a sand bar. I was astonished when I got to know that it consisted of around 50 islands and 4400 canals. It's approximately 20 Kms from Chidambaram, in the Cuddalore district of Tamil Nadu. From Pondicherry, it takes anywhere between 2 to 4 hours, depending on your mode of transport. Since we had already hired a bike, we drove all the way through the picturesque paddy fields and reached there in approximately 2.5 hours. The drive in itself is quite interesting with glimpses of the sea and the sight of locals selling fresh coconut all through. Buses ply too on the route, but can take almost 4-5 hours. Hiring a cab is another option, an expensive one though.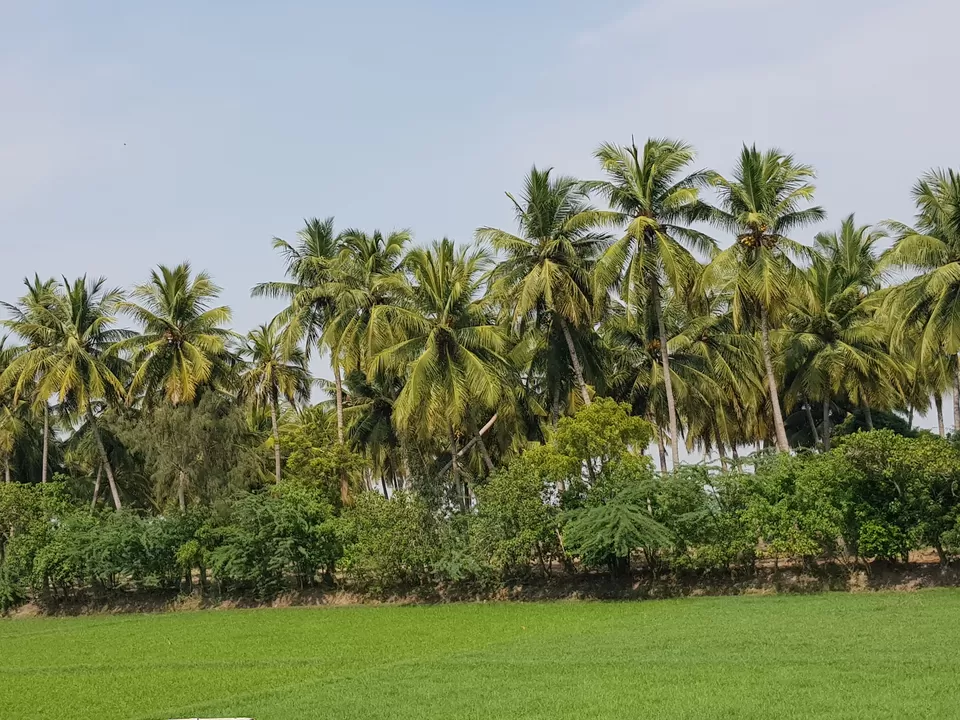 We reached the place at around 10 in morning and headed straight to the ticket counter, which was deserted, as expected. The mangroves can be explored either by row boats or speed boats; both the rides are priced differently. You can choose either, however my personal recommendation would be to go with row boats. No specific reason as such, but then, it has a very natural rustic feel to it, something that speed boats won't be able to provide. The row boats added a unique charm to this already pristine beauty we were witnessing for the first time. My boat man, somewhere in his 40's , could neither speak English, nor Hindi and I was wondering how would I even complete this journey with a complete stranger, right in the middle of the jungle, without any knowledge of what he is saying or asking. We were literally playing dumb charades and trying to figure out what the other person was saying or probably asking (which was fun!! )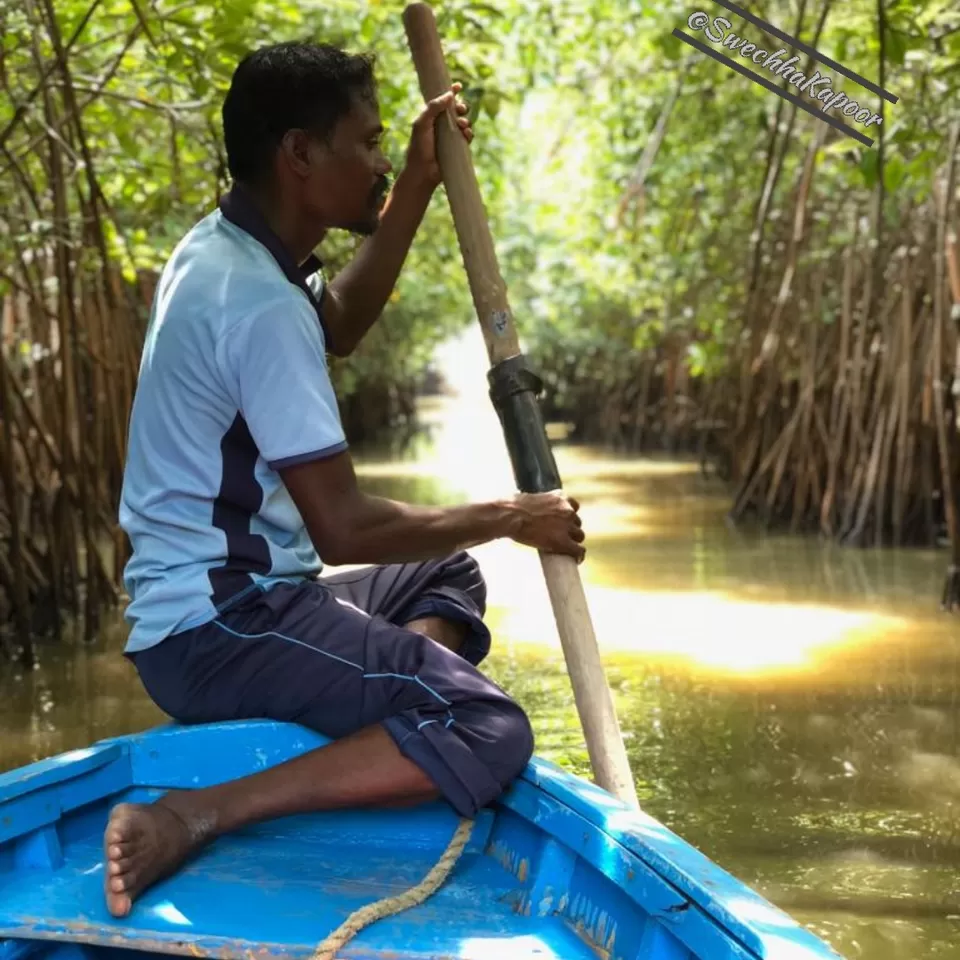 When we started, it looked like a very average lake, like the ones you find in any hill station and that made me question my own decision of driving all the way from Pondy. However, a few minutes ride into them and I was totally blown away with what my eyes were witnessing. A completely peculiar sight, with mangroves all over and not any sight of land anywhere close, it was an experience worth having. I was completely engulfed with the beauty of the mangroves when suddenly, the boatman said something which I could not understand. After loads of actions and reactions, I finally realised, that he said-"that's all, this is the point till we are allowed to go". And I was like, are you kidding me?? I mean, we just started, hardly 20 minutes and now, when I'm actually soaking it all in, you are saying its over?? But then, I knew what was about to come and as expected, he signalled a gesture, which I could easily understand. "Money, yess, there you go", I said to myself, now I know, I'm still in India (haha) and not a strange land.
He asked for 500 and we finally settled it at 200 bucks. He took me to an extremely dense canal. It was quiet, all I could hear was the rowing boat's noise. All around me it was just water and the mangroves, trees with roots protruding from everywhere. Initially I was as excited seeing the surroundings, as a child is, seeing a candy, but as we went deep into the mangroves, my heart skipped a beat. It was getting dense with every passing minute, at most of the places the mangrove roots above my head created a shed so thick, that not even sunlight could pass through it. He probably sensed my fear, and assured me that its absolutely safe. After spending almost an hour like that, we took a turn and went to the starting point of these mangroves.
No words, no picture clicked, no matter how beautiful they may seem, can make you understand the feel of being in a mangrove in person. It's an absolutely fascinating place and definitely worth visiting!!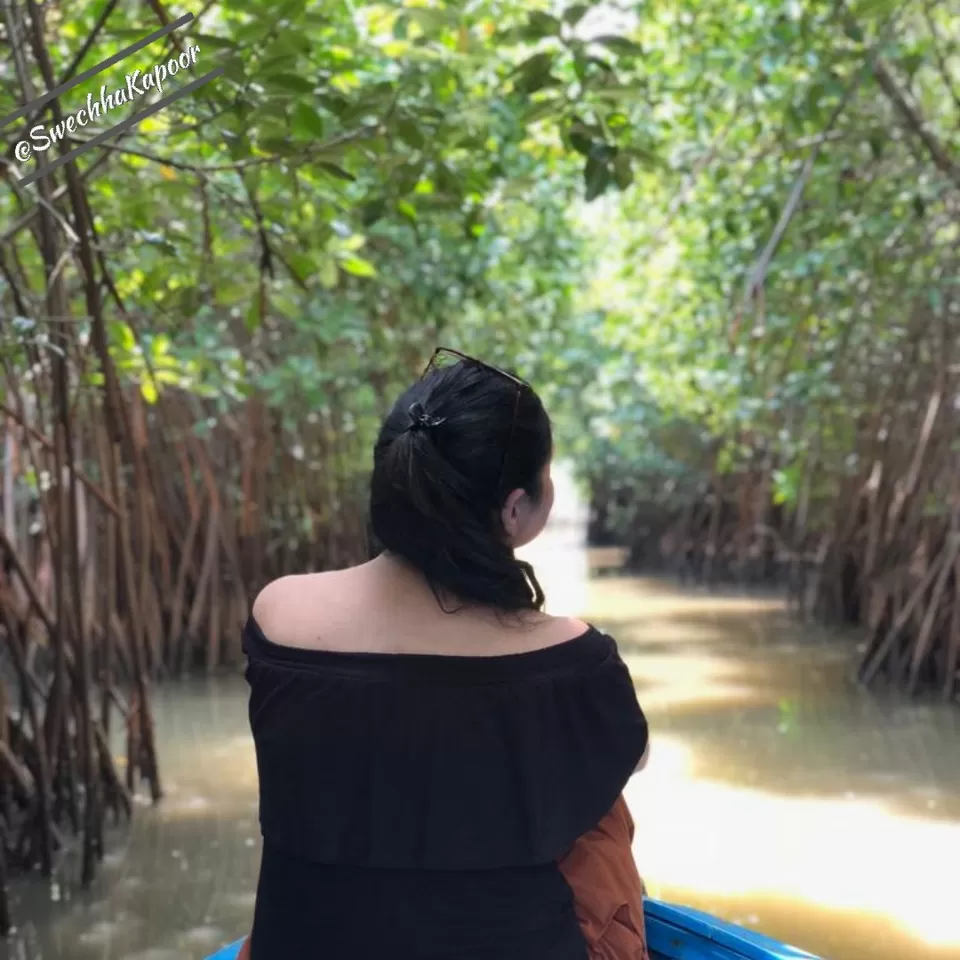 When to Visit: Nov To Feb (Avoid the summer months, public holidays, weekends)
Where To Stay: Pondicherry or Chidambaram
How To reach: Bus, Cab, Bike (Nearest railway station is Chidambaram, buses and cabs ply from there).
Timings: 9 am to 6 pm
Charges: Row Boat – Rs. 300
Speed boat – Approx Rs 1000
It would be better to carry your own water and food items as there are no options available there for the same. Also, carry a cap and sunscreen as well as a scarf, all being a must have, lest you wanna get a bad tan or even sunburns. One more point to be noted is that language might be a problem, since they neither speak English or Hindi.