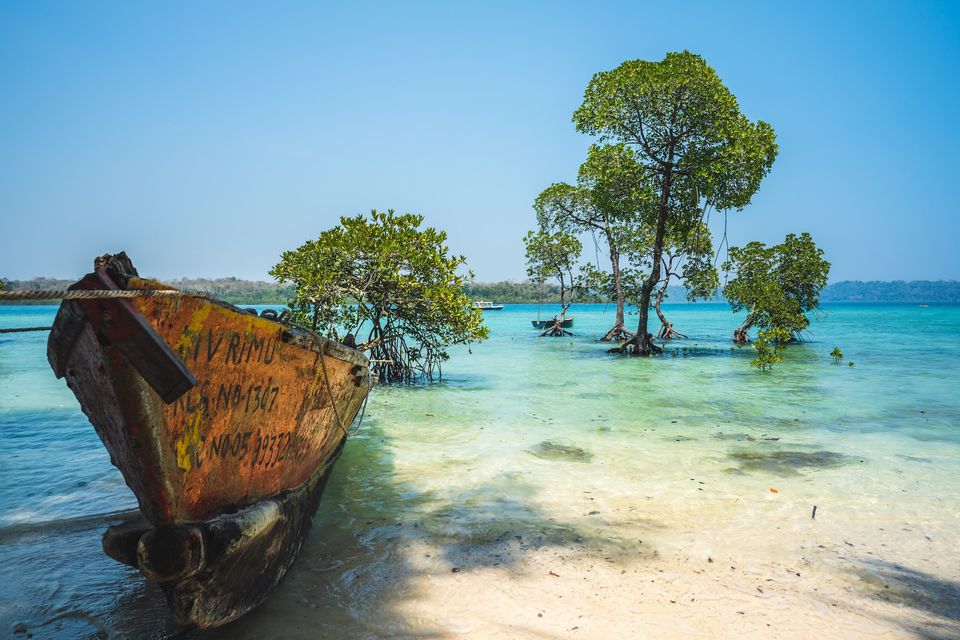 India is blessed with the blue waters and soft sands of Andaman Islands. And with growing popularity, instead of choosing to travel internationally tourists are exploring this beautiful coastal place blessed with flamboyant marine life. In order to start planning your next vacation in this beautiful untouched tropical island if you are wondering what is the best time to visit Andaman Islands in India, you have come to the right place.
Check out the best times to visit the the low seaon which may not be favourable to everyone. From the best times to travel to Andaman to the cheapest months, you can plan your trip with ease following the weather guidelines.
Andaman in Summer and Winter - Peak Season
Summer season is the best time to visit Andaman when the island enjoys a beautiful tropical climate.
Summer months: Summers in Andaman begin from April till June. The entire island is warm and surrounded by lush greenery with soothing sea breeze.
Temperature: The average daytime temperature ranges from 28 - 34 degrees celsius, while nights are comparatively cooler with the mercury levels stooping down to 24 - 27 degrees. During the summer season, the tropical glory of the island is at its peak. Visit the acclaimed beauty of Radhanagar in Havelock, strolling by the shore with the background of a marvelous setting sun. The Ross and Smith Island Beach, Laxmanpur Beach of Neil Island, and the Wandoor Beach in Port Blair are unmissable places to visit in Andaman Islands.
Winter months: Technically, Andaman does not experience 'winter' at all.
Temperature: Starting from October to March, the climate is very pleasant and cool, with an average daytime temperature falling somewhere between 25 to 30 degrees celsius, and nighttime temperatures dropping down to about 20 to 22 degrees. There's absolutely no chill here during these months, though. So if you're looking for nice winter chills and subzero temperatures, Andaman isn't the right pick.
Activities: If you are keen on some water sports, summer is a good time to refresh yourself by indulging in some stimulating water sports like jet skiing, scuba diving, surfing, snorkelling, paragliding and many more things to do in Andaman Islands.
Andaman in Monsoon - Low Season
Andaman has a good wet season with heavy rainfall.
Monsoon months: The rainyseason in Andaman begins from July, and lasts upto September. It is the second of the two seasons that grace Andaman.
Temperature: Ranging from 24 to 32 degrees during the day, and dropping to 22 - 27 during the night, the climate is pleasant. The tropical climate of Andaman receives a heavy rainfall which is about 300 mm. So if you are someone who does not like constant rains, this season may not be the right choice for you.
Activities: Monsoon is not the right time to do waterspouts and hence Andamans water sports like scuba diving, snorkelling, surfing, and jet skiing are shut during the monsoon. There are usual flight delays due to the weather as well. But if you are looking to just relax and enjoy some rainfall, then this is the perfect time for you to indulge in some spa sessions, good food and indoor activities.
The bottom line is that if you wish to enjoy a classic island experience, with sun soaked beach days, summer and winter is the best season to visit Andaman Islands.
Check out this article below to book a stay when you visit Andaman Islands:
Explore the Tropics of Andaman Islands and Stay at These 21 Hotels & Resorts Picked for All Budgets
Earn credits and travel for free with Tripoto's weekend getaways, hotel stays and vacation packages!
Explore the best of travel inspiration on Tripoto Instagram!