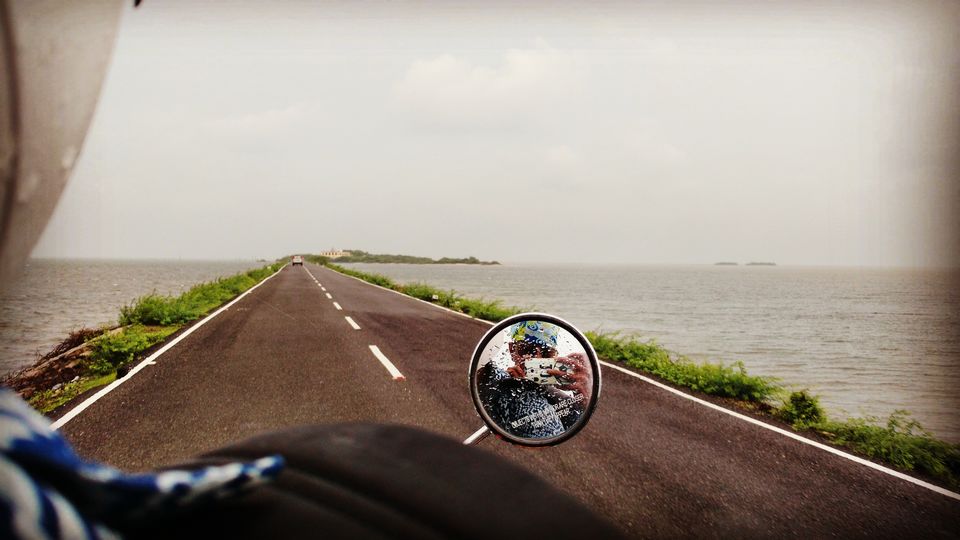 Rameswaram.... Located on the Pamban island separated from the mainland of India , it is considered to be one of the holiest places in India being part of the char dham pilgrimage. But for me rameswaram was special for another reason, the land where 'Peoples President' was born and raised. The land of Avul Pakir Jainulabdeen Abdul Kalam.
I had planned visiting the place a year ago, but couldn't do it as it was my final year in college. So the time has come... To set foot in the sacred land. It happened as a continuation of my diwali trip to madurai. I had time,energy and money left.... So dressed up, filled in petrol, and rode south with my friend .
We had lunch ,took a nap, and started off the journey from madurai by around 15:30 hrs. Rameswaram stood 160 kms away , but reached there in 3 hours. The roads were good, climate was perfect, surroundings were beautiful and we drove with passion. ;)
We reached pamban bridge just when the sun was about to set. The calmness and the enchanting view made us stay there for 15 minutes before heading on to Hotel Tamilnadu . Got a room there , freshened up and ate supper from the restaurant within. After the food, we walked around the temple and sat near the place where people do the 'Bali' and started blabbering about LIFE and ofcourse Afterlife :p .
Next day morning, got up by 05:30 and had showers. Wore casual wears and went barefoot to the temple, as we were supposed to be drenched in sacred water from 22 wells inside the temple . Keep away your phone, valuables in the room and carry just your body and soul with you.Don't forget to take a bath again as the water is supposed to be a bit salty. So its like 24 showers within 2 hours :).
The hotel provides complimentary breakfast and we filled our tummies as much as we could. Next stop was supposed to be at kalam's place. But on the way, we came across a dooradarshan tower .
Kalam's house is situated about 3 kms from the temple. It's situated on the first floor of a building, fully airconditioned, and kept clean. There we can see numerous amounts of doctorate degrees that he has received, his milestones, numerous awards and some of his childhood images and history. The one that kept me staring was the uniform he used to wear as an aerospace scientist. No photographs were allowed to be taken.
From there we headed on to dhanushkodi, which I will be writing about in my next blog.If interested , anyone can have boat ride in the sea at the bay near the temple. We have to wait till people turnup for the boat journey, the authorities told at least 25 should turn up. So we didn't waste time waiting there.
Another suggestion would be to have food from the gujarathi thali meals near the temple. It was just special, and tasty. So that's it..... Rameswaram - check √ :) .
P.S - From madurai - Two day trip as its ideal to stay at a hotel and start from there in the morning. Cost around 1200 per head.
From Bangalore - Two daytrip, can cost around 2000 per head.