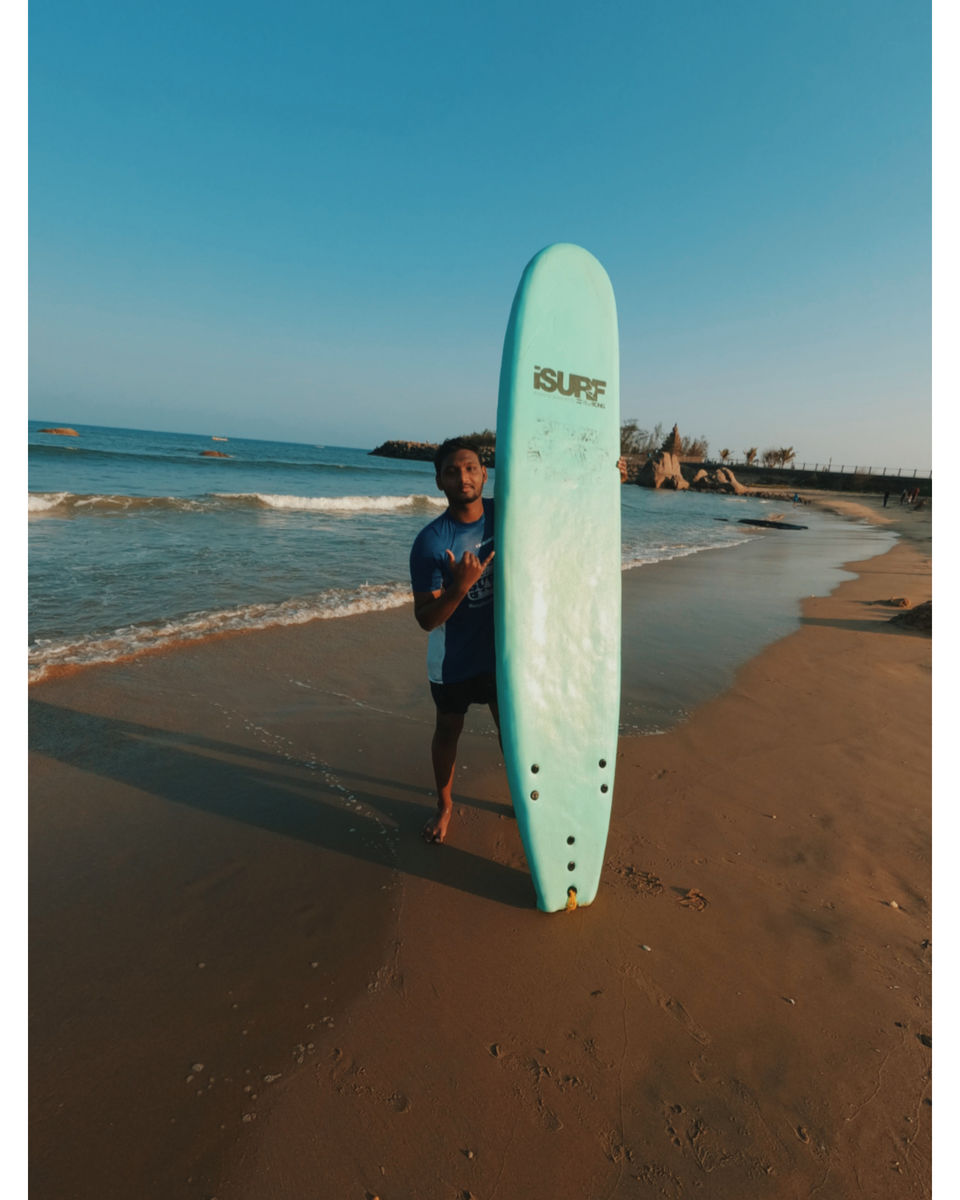 Surfing has always been in my bucket list since I saw some videos on YouTube I guess , I don't remember it that well . It just surprised me , how people could do that in waves . After that I just wanted to do it. Since then I always wanted to ride the waves like those people I saw in the videos . Then I surfed the internet about surfing and got to know that KOVALAM BEACH and MAHABALIPURAM has surf schools. So there was a gathering in MAMALLA BEACH RESORT . When we attended that gathering I could not just return back home without surfing because the surf school in MAHABALIPURAM was so close by it was just 3 kms away.
So I convinced my dad somehow and took him there . The Surf School I went was MUMU SURF SCHOOL. The whole process will be about 1.5 hrs and the cost is 1500/- Rs .I say its good for the experience you will be getting. They will brief you about the board and then in the sand we have to practice all the drills and then after you have and idea you will be sent into the ocean to SURF FOR THE FIRST TIME . They will push you with the waves for you to get a hang of your board and to first balance the board without standing up. That itself will be a joy which you wont forget for your lifetime. Then after you balanced the board on the board , they will tell you to stand up for the first time and you will not do it the first time . If you do it your first time then you are not from this world. You would fall into the ocean several times but it wont be sad or disappointing , you will actually enjoy falling into the salty sea water, but after 5 or 6 times falling into the ocean you will stand on your board for the first time till wave dies. And the feeling of cruising in the wave for the first time will be magical because it is magical that someone on a board can ride a wave. The adrenaline rush you feel while surfing is really addictive. Its all about the BALANCE. If you find your balance you are 90% learnt surfing.
So then you will do it several times and when the time is up that's when you really feel sad. So this is truly a awesome experience I had while surfing and I encourage all the adventure lovers to try it and I deeply encourage people who are not adventurous and afraid of the sea/water to take this up as a challenge . After this try your whole mind will be at ease and you will not be afraid of the water and the wave. You will be ready to tame .
If you have ay doubts regarding this DM me @roshan_rockzzz
Watch out for the vlog about surfing. It will be out in week. So do subscribe and stay tuned!
Channel Link :https://www.youtube.com/channel/UCwCSAgMR0PHisotkgsyRYmg
Do follow me on tripoto for awesome travel content