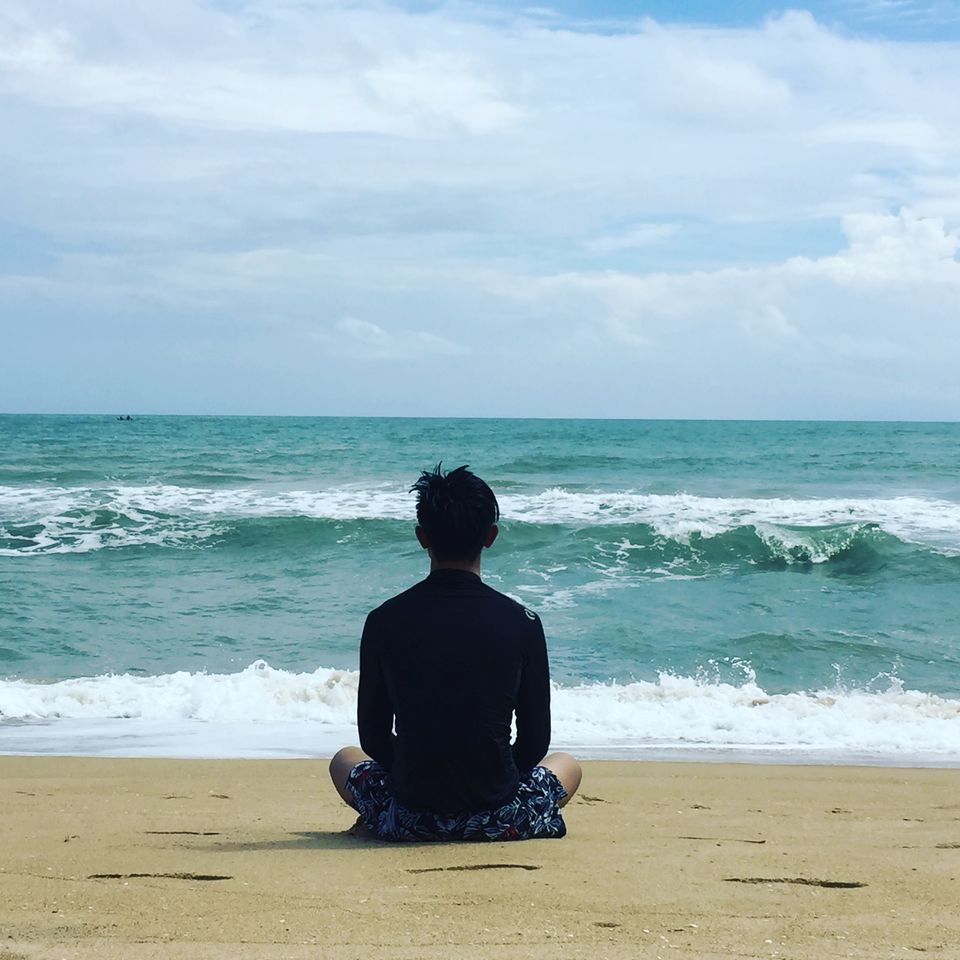 Anna, if you have ever been to Chennai and interacted with the locals you will soon realise that Anna is not the name of the lady to your left but the big man on your right, smirking right at you.
Like always, I planned my trip 3-4 days prior got lucky on booking the bus tickets from Bangalore to Chennai. And boom we packed our bags and kissed our girlfriends goodbye. We were free. We zoomed our way to the bus stop and our journey began. On the bus, we spoke about our times in high school, some mischiefs, some proud moment and a whole lot of memories. The enthusiasm of going surfing kept us awake and the conversations kept us going on the journey.
We reached early the next day, to gloomy skies and packed toilets. Running around with packed bags to look for an opening. After our business there, we booked a taxi and drove down the beautiful East Coast Road. Believe me when I tell you we saw a rainbow while we started our drive. It was the start of beautiful days. The song stuck on repeat was "Half of my heart" - John Mayer. I swear it could not get better. The sun was mild and for the first time I was not drenched in sweat. The coast line was slowly visible and the ocean looked alluring. We could not wait to get our feet soaked in water and put on our broad shorts. The drive though short was I dunno, rejuvenating on so many levels. We being from Darjeeling had brought our fair share of Wai- Wai which we were munching on the way. The driver loved it too and had a good laugh when we told the name of the noodles, he must have thought we were kidding.
Surf Turf, Covelong. When the first wave of air hit me I knew I made it, sandy toes and salty kisses. We checked in to the school and just sat there mesmerised to the vast open seas. Waves crashing in gently, lesser people more fun.
We met our Instructor and were accompanied by one more girl, ( She was old, haha Jk). In the next hour and a half he gave us the introduction to surfing and taught us the techniques of how to push and pop. The art of balancing and the way the waves are formed and everything that was essential in order for us to survive in the ocean. I felt like a surfer already. All I had to do was to ride the waves!
Darn, never in my life has it been so difficult to simply get up. I know I know there may be other things but surfing is a sport that requires supreme balancing, especially when you are a noob. The amount of salt water I drank cured me of the hangovers I had in Bangalore. It was exhausting, I swear I felt like I paddled enough to reach Andaman and Nicobar island only to see the shoreline a feet away. The first step is the most...... is all I could hear the instructor shouting from behind. Them boom my friend balanced on the first attempt itself. Darn, he's a natural and I swear even though it was his first time he made it look easy. It was a fun session. Took me a few more tries before I could balance and stay on the board. The first time I balanced, I was so happy that I jumped off. Yeah! try it and tell me. It was such an enriching experience. We only realised how much time we had spent when we came out of the sea and felt our bodies weighing that it normally would. Forty minutes of solid work out.
After a work out in the sea, it would only make sense if we had sea food and boom crab sticks and prawns lay in front of us. We ate our hearts out and emptied our pockets. Totally worth it. We spend a good time in the school soaking in all the beach air and vibes that we got. Shared experiences with the lady who joined us. We had a good conversation and listened to Jack Johnson and soaked it all in.
Thanks to OYO we found an accommodation nearby at a great rate. The room had a great view and the I swear the bed called out my name and told me never to leave. I did exactly that. Slept like a log after a steaming hot shower. We had the AC at 17 just like temperature back home. It was heaven!!! tucked in the warm blankets when it hot and humid outside. Feeling a bit chilly now are we.
The next day we went in like pros and got our ass kicked by the waves yet again, we were getting better though. We were finally making it to the shore line and were even paddling better.