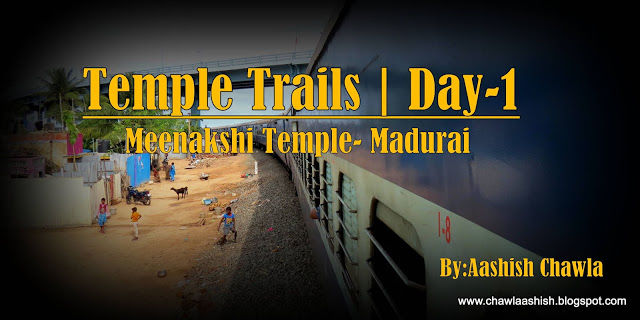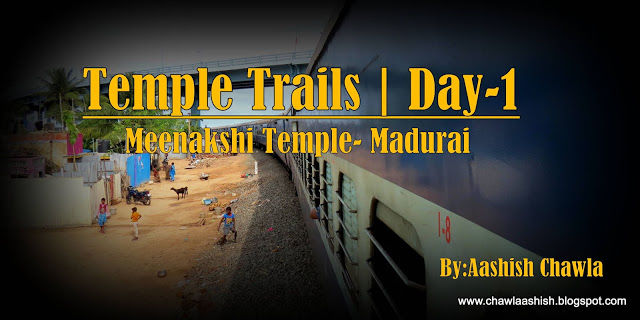 Incidentally Rameshwaram would be our 8th Jyotilingam.
Getting down at Airports or Railway stations and finding a vehicle who will not flee you is a big task. At Mudurai airport the taxi guys started with Rs.500 for taking us to the Meenakshi Temple and came down 400. But eventually we took an auto for Rs.250 who dropped us at the Meenakshi temple.
We immediately decided that we will explore the temple and latter do the darshan, Luckily for us the temple was not crowded at that time of the day. Hence we were done with the Darshan in no time.
We had to deposit all our luggage, our cameras and even our mobile phones before entering. This means I wasn't able to click single picture inside the temple. However it means that even if you have luggage with you, you need not worry, simply deposit the same in the locker room and visit the Temple.
Meenakshi temple is an ancient temple situated on the southern bank of vaghai river. This temple is dedicated to Meenakshi a form of Parvati and Sundareshwar ,a form of Lord Shiva.
1. Meenakshi temple had a violent past, during the 14th century it was plundered by the moguls time and time again.
2. Though the temple is ancient, but what we see today was more of the rebuilding works carried out after the 14 century and later the temple was expanded by Nayak ruler , Vishwanatha Nayyakar.
3. Another highlight of this temple is that it has 14 gopurams. Few of them are very tall especially the main four entry gates.
4. South gate or Gopuram is the tallest, ad-measuring 51.9 metres or 170 feet.
5. The pillars adorning the temple are very beautiful. In-fact I haven't seen such tall pillars with intricate carvings on them.
6.Inside the temple there is a shining golden Pole which shines ever so brightly.
7. Then there is a water pond within the temple complex, where I was told that the devotees could cleanse themselves,however I didn't see anyone going to the pond. Probably it must have been closed. 8. One more interesting thing that I came to know was that the outer boundary wall of the temple runs 800 feet and were built later so as to protect the temple from plundering.
9. Then there is famous 1000 pillar hall. I was told actually it's not 1000 but 985 in mumbers , I did try counting but lost the count. This 1000 pillars hall also has a museum attached to it and you need to pay 5 RS entrance fees.
10. The Gopuram have many sculpture depicting various scenes from the holy text. The colour sculpture on the Gopuram are really very beautiful.
I can go on and on but the real beauty of the temple can be felt by actually visiting it. How I wish I can bring to you the beauty of this temple, but its my bad luck that till 2nd March 2018 carrying mobile phones were allowed, but then a fire broke out destroying certain portion of the temple which resulted on the ban order for mobiles. Click on the link to read about the ban order. phone-ban-in-force
The mesmersing beauty of the temple wanted me to stay for some more time but the paucity of time was advising me otherwise, as I was in a hurry today, so I had promised myself that I shall be back again and will devote one full day only for this temple.
Friends Hope you are satisfied with my brief description of the temple. If you want detailed info you can click here and read.
We had this jigarthanda, which I felt tasted more like basundi with Malai and ice cream, but nevertheless it was worth taking the detour to savor the taste of jigar thanda.
a) There are regular buses plying from Madurai MGR bus stand to Rameshwaram, so don't speak to anyone and straight away reach the bus stand and look out for the bus going to Rameshwaram(.Year 2018- bus ticket cost 135 per person.)
b) There are two bus stand in Madurai, one is Periyar bus stand from where City bus ply, and other is MGR bus stand from where the outstation buses ply.
The bus journey was like sitting in a formula 1 car, Driver was driving as if there was no tomorrow and over that high octane Tamil songs were blaring away on the speakers of the bus. But still I was enjoying every moment of this bus journey especially the sun setting on the horizon which was only adding the beauty to this journey. The 4 and half hour bus journey and we were at Rameshwaram.