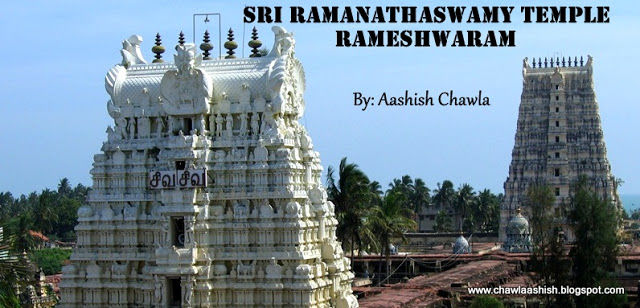 Click here to read about Day-1
The alarm on my mobile was ringing out loudly, jolting me out of my deep slumber.I wriggled out of my soft bed feeling the coldness of the AC, slowly I moved towards the table where my mobile was kept and checked the time on my mobile. I was 4:30 am. Normally I don't wake up so early in Mumbai but then I was not in Mumbai I was in the holy town of Rameshwaram and here the life starts full on at such unearthly hours.
It was 5:30 am when we left our hotel to go to Rameshwaram Temple, Our hotel was at a walkable distance to the temple,so we started walking through the narrow sandy lanes, with small houses on each side and in few minutes we reached at Agni Theerthaam.
You must be wondering what is this Agni Theertham, well let me give you some info on this. Agni theerthaam is nothing but a small part of the sea just near the temple where the devotees take a dip in the ocean before proceeding to the Rameshwaram Temple.
Agni theerthaam is one of the 64 sacred baths in Rameshwaram, it is one of the most important theertham and receives a large number of tourists each day. Located on the beach side of Sri Ramanathaswamy temple, Agnitheertham is the only theertham situated outside the temple complex.
Holy rituals such as prohithams, yangnya(yaham), tharpanam(ritual for the ancestors who were dead) are performed on the shores of Agni Theertham. Amavasya or No moon day and Poornima or Full Moon day is considered to be the most auspicious day for taking the holy Dip.
Indian Pilgrim places are never short of myths or tales so naturally how can Agni Theertham escape from it. You see Sea and then you hear the word Agni which means Fire, Baat kuch hazam nai hui bahut confusion tha dimag me, hence I enquired with one of the local guys, so he started to narrate the tale as to how Agni Theertham got it's name, It so happened that after winning the war over Ravana and saving Sita from the clutches of Ravana, one day Ram overheard a washerman shouting at his wife that he is no Ram that he will accept her just like Sita , who was with Ravana during her captivity. Who knows whether she is pure or not !! Hearing this Rama asked Sita to prove her purity as to whether she was touched by Ravana or not, Sita was hurt and furious but she didnt say anything. She requested Laksham the younger brother of Ram to set up a Funeral Pyre and once it was done She simply entered the flame of fire to prove her purity.
She prayed to Fire God to protect her if she is pure and Sinless.Because Sita was pure, the fire didn't burn her and Fire god appeared before Lord Rama and said to Lord Rama "Your Sita is pure Please take her to Ayodhya with you". It is believed that because Fire or Agni god touched a pure and sinless woman like Sita, thereby committed a sin,The fire god therefore, then prays to Lord Shiva to cleanse him of his sin and takes bath in this ocean waters, Thus the name Agni Theertham.
We too took the holy dip, hoping to cleanse our sins and soaked in all the energy of the morning sunrise and moved on to go to the temple.
As we were going to the temple we were approached by a local priest who ensured us of proper darshans and holy bathing at the 22 Wells of the temple. We paid him Rs.1500 for his service. We could have done this on our own too but just how you take a guide to understand a particular monument I felt, Let the priest be my guide today.
Rameshwaram Temple :
Rameshwaram Temple is also known as Ramanathaswamy Temple.
Just like Meenakshi temple here to you are not allowed to carry camera, or mobile phones inside the temple.
This temple is dedicated to Lord Shiva and there is a legend behind the construction of this Temple, accordingly to which Lord Rama while returning from Lanka prayed to Lord Shiva to absolve him from the sin of killing a Brahmin ( read Ravan here) Lord Rama wanted large lingam to pray so he instructed Humuman to get lingam from the Himalayas. However he was late in bringing the lingam so Sita quickly made a small lingam out of the sand available on the nearby seashore.
1.It's one of the 12 jyotilingam in India.
2. It is also one of the dham out of the Chardhams, other three being Bhadrinath, Puri and Dwarka. Incidentally with the visit of Rameshwaram Im done with my Chardhams pilgrimage.
3.There are two lingams inside the sanctum - one built by Sita, from sand, residing as the main deity, Ramalingam and the one brought by Hanuman from Kailash called Vishwalingam. Lord Rama instructed that the Vishwalingam should be worshiped first since it was brought by Hanuman - the tradition continues even today.
4.There are 22 wells or Theertham inside the temple.beginning from Mahalakshmi, followed by Gayatri, Savitri, Saraswathi, Gavya, Gavyaksha, Nala, Neela, Sethumadhava, Gandhamadhava, Brahmahatya Vimochana, Shanku, Surya, Chandra, Chakra, Shiva, Sarva, Satyamrita, Gaya, Ganga, Yamuna and finally Kodi which is supposedly equivalent to a dip in the Ganges River,
5. Like most of the temples in South India this temple too has a tall boundary or compound wall admeasuring about 865 feet from east to west and 657 feet from north to south.
6. The outer set of corridors is reputed to be the longest in the world, measuring about 6.9 m in height, 400 feet each in the east and west and about 640 feet in the north and the south.
I think I have given you enough information, but if you still want to dig in more click here to read.
Now let us move on to our journey. We deposited our shoes at the shoe stand near the temple. We then proceeded to buy tickets for taking bath of 22 Wells. Luckily for us, as we had hired this local priest he bought the tickets and we were on course moving from one well to another and the priest pouring well water on us. Even though we were all wet, It was indeed amazing experience for us.
Once we were done with this we changed into the dry clothes that we were carrying with us. (They allow you to carry your clothes) mind you the changing room is just a kind of enclosure with no roof, I wish at least for ladies s ection they should build a decent changing room.( It's sad that this temples get so many people from all over the places and yet they cannot provide for basic necessities) I changed into the lungi..oops sorry my South Indian friends corrected me,said it was not lungi
We had darshan of Lord Shiva and moved out of the temple.
As photography is not allowed within the temple premises so sorry I cannot share many photos of the temple itself from inside.
We now decided to explore the local places in Rameshwaram, so please wait for my next blog on our local sightseeing of the Rameshwaram town. Till then have a great time.
PS. If you wish to read about my journey from the beginning please click here
How to Reach Rameshwaram:
By Air: Rameshwaram do not have an airport. Madurai Airport is the nearest airport(149kms)
By Rail : Rameshwaram Station is well connected with most of the major train routes.
By Bus: Rameshwaram is well connected with State Transport running regular buses, There is a regular bus services from Madurai (almost every 30 minutes)