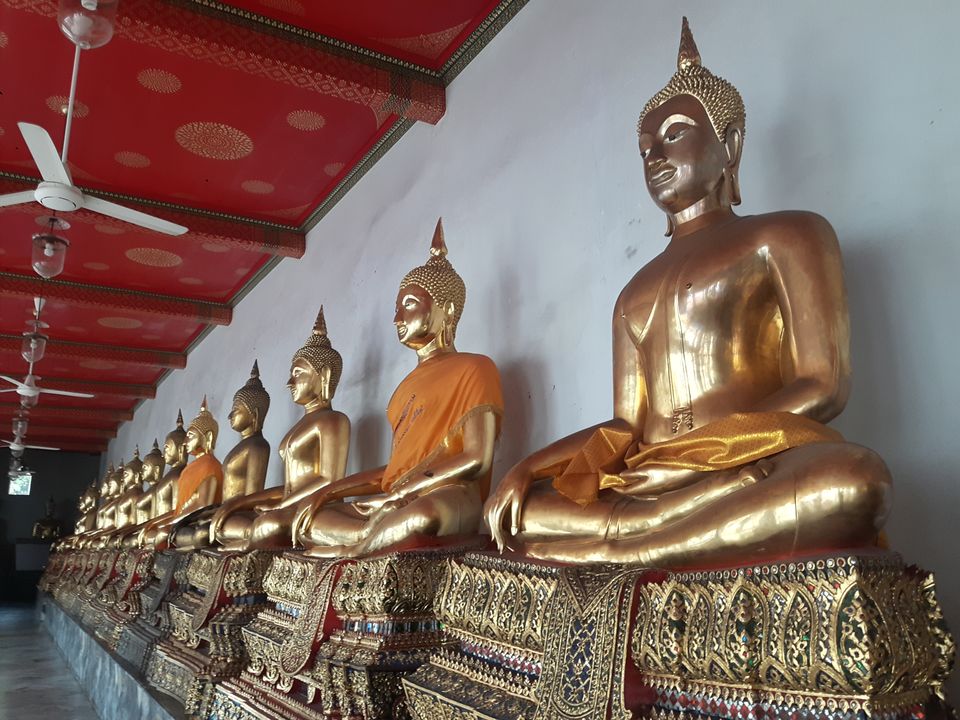 It was a call that I missed from my current employer about my selection. And I was desperately trying to reach the number I missed. Finally, I received a callback and the voice said 'Congratulations! You have been selected as an International Tour Leader!'. Back then, this was the happiest thing I had heard. I was excited and happy unknown to any of the challenges I mentioned in my Tour Leading - Dream or Nightmare blog.
I was set for my first international tour to Thailand covering Pattaya and Bangkok in this particular tour. I was wakened up to the beautiful view of the city of Bangkok with tons of bridges flowing over each other.
For most of the Indian tourists, Thailand is the first international destination to travel to. Here are some tips and important things you need to know when you travel to Thailand- Land of Smiles, Land of Freedom (since it was never colonized by anyone).
A. Visa
1. Thai visa can be done in two ways. Either you get it done before you travel or vibrant country like Thailand offers a very convenient option of on arrival visa.
2. For on arrival visa, you again have two options; one for normal processing visa and one is for fast track visa, in either of the case it is mandatory for your passport to be 6 months valid after your date of arrival in India.
3. Fast track visa procedure costs you 1,200 THB asking for none or hardly any of your documents.
4. However, when you go for normal visa processing it costs you 1,000 THB; and the immigration officer will ask you to show the documents such as return air ticket, travel itinerary. Depending upon the arrival time of your flight; this option can take really long time.
5. Most importantly whether you already have a visa or you are doing it on arrival; according to Thailand immigration rule, you have to carry currency equivalent to 700 USD or 20,000 THB per person. If you are traveling as a family then you need to carry 1400 USD or 40,000 THB per family.
B. Currency
1. The local currency of Thailand is Thai Baht, shown everywhere as THB. Wherever you travel in Thailand, for your payments to locals, you need to have THB with you. However, at various places some of the international currency is acceptable.
2. The currency rate is not generally too high, and you can find exchange corners almost in every nook and corner of the cities in Thailand.
3. As you can see the photos of the Thailand King on the currency notes. Thai people love their royal family for all the good they have done for the country. Remember any wrong words about them can bring you in serious trouble.
C. Weather
Thailand weather is hot and humid all around the year making it the destination you can travel at any time of the year. As my Thai friends say; there are 3 kinds of weather in Thailand ' HOT, HOTTER and HOTTEST'.
Thailand actually has 3 seasons- Summer, Monsoon, and Winter. Summer season is from March to June; April and May being the hottest months of the year. Monsoon starts in June and ends in October, in some places it runs till November. But Thailand doesn't have heavy rains and it doesn't rain constantly. However, it makes sea quite rough. Winter season falls in November till February. It can still be hot for almost all tourists since Thailand doesn't get to experience a long winter and cool snaps of air can only be felt during December for a weeks time or so. In the north or northeast of Thailand can really get chilly though.
D. Food
Thai Cuisine the national cuisine of Thailand attracts many tourists. With its strong aromatic dishes and spices varying from sweet, sour to spicy sometimes if you don't inform the chef it can be spiciest for you. Check out Top 10 Thai Dishes and Fruits.
E. Transportation
While you are traveling in Thailand, you have many options available for you daily commuting from one place to the other. The government has provided varieties for public transportation and that too at a fairly good price. Whether it be a long distance or short distance you have multiple options of traveling by sky train, water taxi, meter taxi, tuk-tuk and song taew. Check out Thailand Transport - Quick and Fast.
F. Shopping
Shopping in Thailand can be a wonderful treat for the shopaholics. Whether you are brand specific or looking for some quirky street shopping; the land of smiles has it all for you. Whether you want it to be a quality product and yet cheap or you are just willing to spend thousands of THB even for the smallest things; you are at the right place.
G. Points to Remember
1. Traveling in Thailand is safe and secured, but wherever you go; be careful of your valuables and be sure to keep them with you all the time not leaving them unattended.
2. Thailand has got abundant departmental stores of 7/11 and Family Marts where you can buy all the necessary thing you might need in a day.
3. While traveling in Thailand, network providers of the country give you great options for calling, messaging and 4G internet packages. My suggestion is; instead of using your home sim on international roaming mode, simply buy a sim card in one of these stores and save your money. Recharges are also available at the same stores.