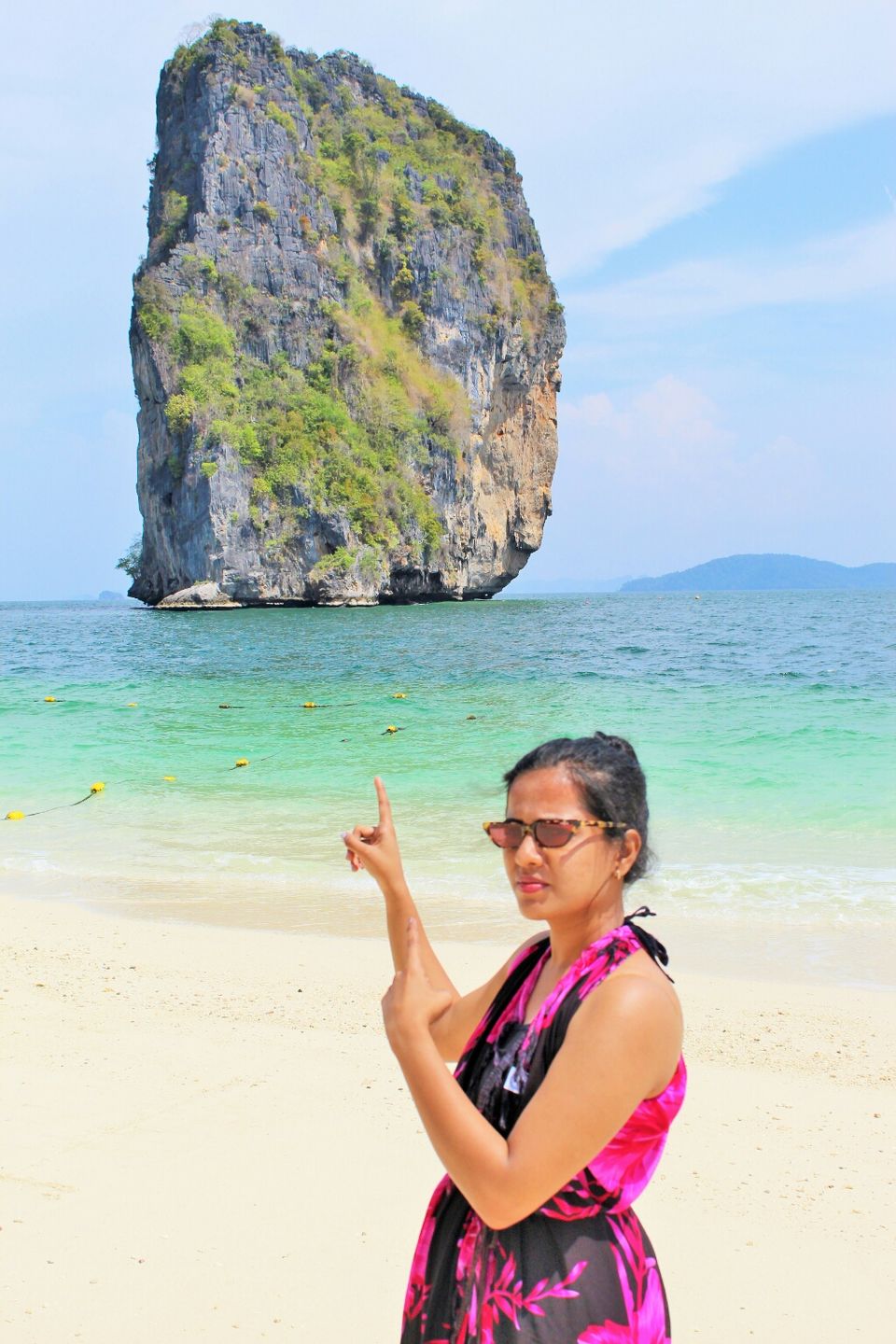 So after a very long struggle I finally convinced my husband for a phuket tour. Claps for me, please. He's a kind of person who enjoys his own company by sitting at home watching that idiotbox a whole day.. or you can say, 'doing absolutely nothing.' Can you imagine how hard it went for me to convince and take him out of his 'comfort zone.' Jokes apart. Finally, we booked our tickets at eleventh hour and it made a huge hole in our pockets (also thanks to jetairways tragedy)😅.
So it was 5days 4nights journey which was a very short one for me but my husband who's the busiest person on earth had some work pilled up so I ADJUSTED.😁.
We took a direct flight of goair which flies daily to and fro between Mumbai and phuket. And finally after approx.5hours journey we landed on the land of elephants. We already had all our bookings done. A personal cab took us to the beautiful city 'patong' from phuket.
We just reached Patong and did not want to exert ourselves that day. We took ourselves to the pool and chilled out for a while, had lunch in a desi restaurants (We were scared of trying their nonveg food). In the evening though, we went to see Patong Beach which is the most popular destination in Phuket Island. The resort town is mostly renowned for its three-kilometre long beach and for its tremendous and hectic nightlife, but there are also a good number of natural and manmade attractions and sites.
Also, Phuket is a shopaholic's paradise! The island has a great variety of shopping, from bustling open-air village food markets, noisy night markets, street stalls and local shops to western-style department stores and upmarket specialist shops. Prices naturally vary, going from amazing bargains to credit card-melting designer labels.
Located downtown, diagonally opposite Bangla Road, the Jungceylon Shopping Complex has radically changed the face of shopping in Patong and is one of the major shopping attractions in Phuket. So this is how that day ended.
Next day we woke up at 6am as our guide had strictly warned us to wake up early to catch a ferry to phi phi Island. Shared vehicle arrived sharp on time i.e. 7am exact. What I loved about Thai people is they're very punctual. While booking the trip, prefer speed boat over cruise. The cruise are very slow and can take a couple of hours to reach the destination. A speed boat will help you save time in reaching the islands and you can spend more time on the picturesque beaches. Moreover, it will be fun when the guide will crack jokes on those who feel uneasy due to the speed boat bumping and jumping around while in the sea.
The tour companies which arrange these trips are quite professional and once you have booked your tickets, you don't need to worry about anything else. Below mentioned are some of the pics of our island trips. We went to Phi Phi Islands and khai nai Island, Phang Nga Bay, Maya Bay, monkey Island.
I thought the beaches of Florida and the Caribbean were beautiful but Phi Phi islands is on a whole another level. I couldn't believe how gorgeous and clear the water was at these islands. It's one of those locations you see on the Travel Channel or National Geographic magazines. It was just unreal.
Phi Phi islands is not the easiest location to get to. You leave from Phuket and have to get to a specific dock where all the boats leave from. We stayed at the Best Western, which was in Patong, an hour from the Phuket airport, and it took about 40 minutes to the marina. Then, it takes another 45 minutes to get to Phi Phi islands. Luckily, we were on a speedboat, but if you take a ferry, it will take 2 hours. Although it's a long journey, it's definitely worth it.
Phi Phi islands is broken into several different islands. We did a boat tour, which the hotel booked for us, that stopped at 5-6 different islands and I think it was the best way to go since we only had a day to explore the islands. The tour lasts the whole day from 9 AM - 4 PM. A minivan picked us up from our hotel promptly at 7:30 AM and picked up several other guests at a couple different hotels before heading to Royal Phuket Marina, where we hopped on our speedboat.
When we started approaching Phi Phi Islands, I was so amazed at how beautiful the scenery was that my jaw dropped. I felt like I was living the dream! The waters were so clear and bright blue and the vertical cliffs surrounding it were breathtaking. On our first stop, we were allowed to jump off the boats into the beautiful waters and I felt like we were in some kind of movie. Everything just seemed too beautiful to be real. We stayed here for about an hour and had fun jumping off the boat a few times and swimming around the clear waters.
Before our next island visit, we stopped in the middle of the sea to do some snorkeling. I have never snorkeled before, so I have to learn how to do snorkeling for the next time.
On our next island stop, we had the option to eat at a restaurant or relax at the beach. Although our tour came with a free lunch at the next stop, we were starving at this point, so ate at the little restaurant on the beach. We ordered some good 'ol fried food like chicken fingers, fried shrimp and fries. Our empty stomachs were very satisfied after that meal.
Next stop was downtown Phi Phi. This is where we had our free lunch but I'm so glad I ate beforehand because their buffet food was average at best. I tried a few dishes and everything was dry and bland. We walked around the downtown area for a bit and there were some stores, massage parlors and more restaurants. We decided to relax at a bar called Jungle Beach and sat at a booth with a beach view.
On our way back, we made a quick stop at Monkey Island. I was excited to visit monkey island as I saw pictures of visitors with monkeys on the beach but we didn't even get off the boat on this stop. We saw the monkeys on the rocks and they were so hard to spot because they blended in with the rocks. We took some pictures for a few minutes and moved on. It was completely opposite of what I was expecting.
Before heading back to the marina, we stopped by one more island. It was a nice relaxing beach with a bar, beach chairs and swings on the trees. It was the perfect last stop for some relaxation and sun bathing..I'm so happy I made the last-minute decision to visit Phi Phi islands. It was seriously the most beautiful islands I have ever seen and I feel incredibly lucky I was able to experience all of this.
So the bumpy rides hit us hard. My each and every joint was paining alot that day we stayed in hotel room, went out of it just to have lunch and got ready by 5pm because guess what..!??
Phuket Fantasea Show is inspired by Thailand's rich and exotic heritage. Multitude of activities and entertainment: a Carnival village with games, handicrafts and shopping; a 4,000-seat theme restaurant offering a grand buffet of Thai and international cuisines; and a breathtaking Las Vegas-style theatrical show, where state-of-the-art technology and special effects enhance the grace and beauty of Thailand's myths, mysteries and magic in a wondrous extravaganza certain to delight the whole family. Show starts from 7pm - 10pm. We left by 5pm and reached around 6pm took tickets from counter which was previously booked through agent. I'm not aware of the exact ticket cost now but I'm sure it is pretty expensive so if you're still a kid at heart then only invest in it. I enjoyed the show like a 3year old girl 😂.
Next day, we visited krabi province with a big boat. Just look at the pictures, man! It was so breathtaking. We followed the same schedule as of phi phi. Lunch was prepared by them, some rice curries and grilled chicken. After spending entire day on islands like kon poda island, chicken island, Princess islands which are located nearby we headed to rassada harbour in the evening.
So without much ado, just go for it. It is worth each penny.