PHHHUUUUKKKEEETTTT !!!!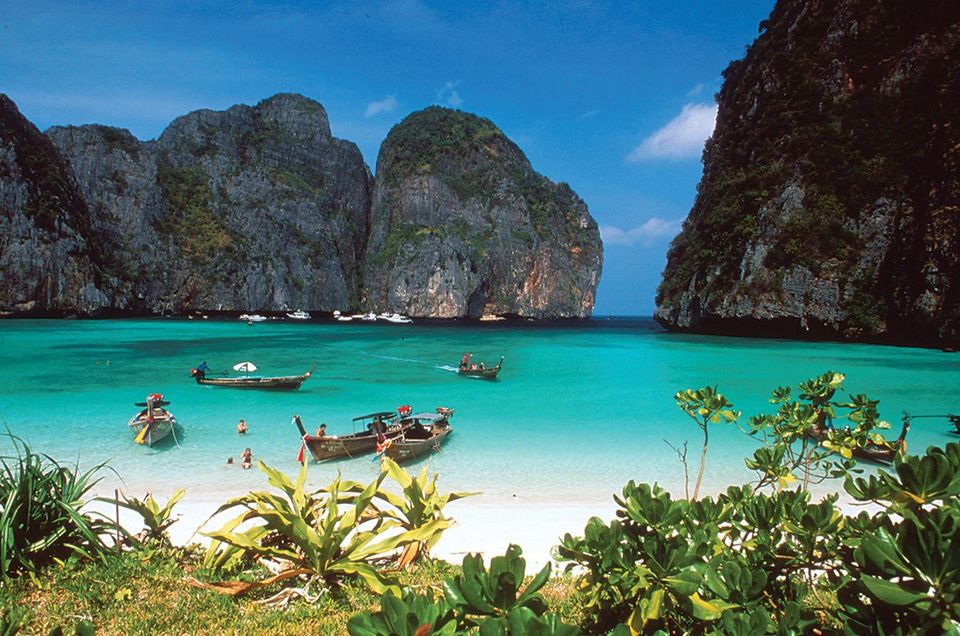 Pure white sands, aquamarine waters and limestone cliffs await travelers who visit Thailand's southwestern island of Phuket. Surrounded by the Andaman Sea and about an hour by plane from Bangkok, this island is a little piece of paradise, which comes with a relatively low price tag for everything from its accommodations to spa treatments and boat tours. But along with its tropical appeal, Phuket beckons to travelers wanting to experience its flavorful cuisine and its rich culture, heavily influenced by its reigning religion: Buddhism. This is a small background about Phuket.
Yes, this is the destination that I chose to visit with my husband to celebrate my first year wedding anniversary. We started our journey from Mumbai to Phuket via Bangkok and reached Phuket on a Sunday early noon. The landing itself was amazing amidst the blue waters. I should say that the flight was smooth and services in Thai airways met my expectations. As soon as we landed, we could directly come to Baggage Hall as our immigration was done in Bangkok airport & we had got visa on arrival too.

We had booked a beach facing resort - Sea Sun & Sand Hotel & Spa near Patong beach in Phuket which is known for its night life & a post area too. We managed to get into a can & that was an hour drive from airport to hotel. That was a small lobby & hotel looked so small at entrance. I was bit disappointed at the moment. Once we checked in and a porter assisted us & came along with us to show the room. Ahh, it was huge inside.. 3 tall blocks standing next to each other & our room was in last block for which we had to change 2 lifts & cross 2 blocks. It almost took 8-10 mins for the first time to reach our room. Meanwhile we crossed swimming pool, restaurant in respective blocks & we felt the property is no more small & we need good energy to walk all the way to our room.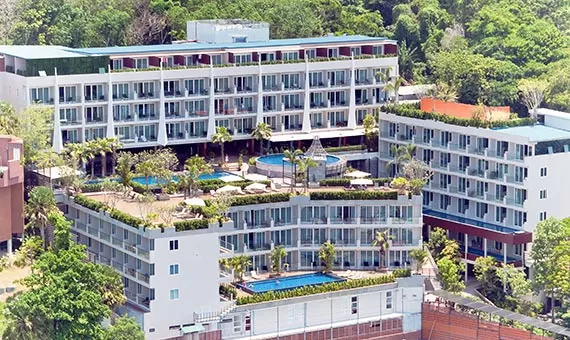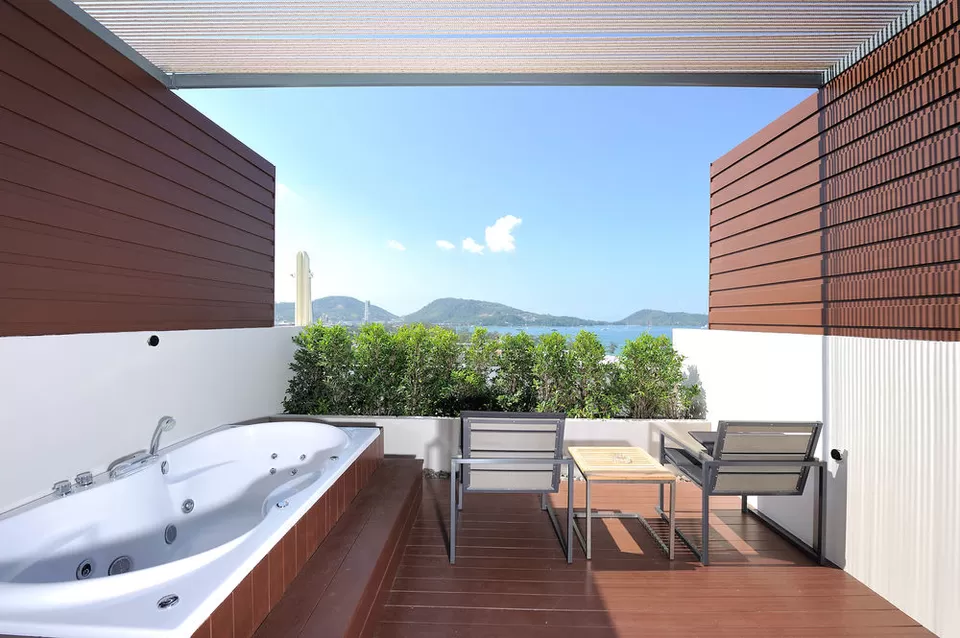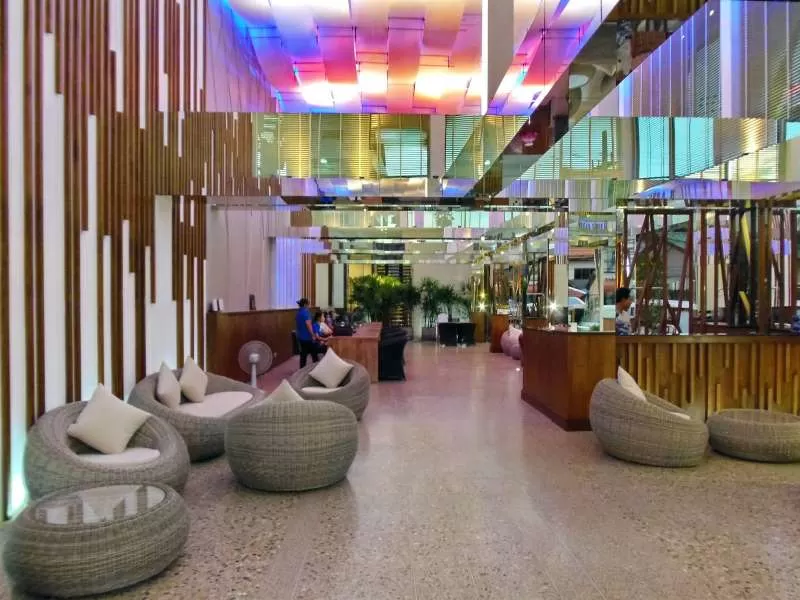 After relaxing for sometime, we planned to go to nearby shopping mall - Jungceylon mall. That was less than a kilometer walk which was shown as per google maps. Yet we decided to go by cab & reached mall. Jungceylon Phuket in Patong is still the largest shopping mall on the island. It's almost a city within a city. With a lot of souvenirs shops and foot massage centers in the lower floor, many restaurants a lot of attractions in the upper floors. It is a perfect hideaway for tourists when it rains, or when the heat becomes unbearable… and occasionally people go there for shopping. Located in the very center of Patong beach at the end of Bangla road, this mall also features the Millennium Resort, a huge and popular hotel, plenty of restaurants, six rooms cinemas, a bowling and Big C a two storey supermarket. And the list goes on…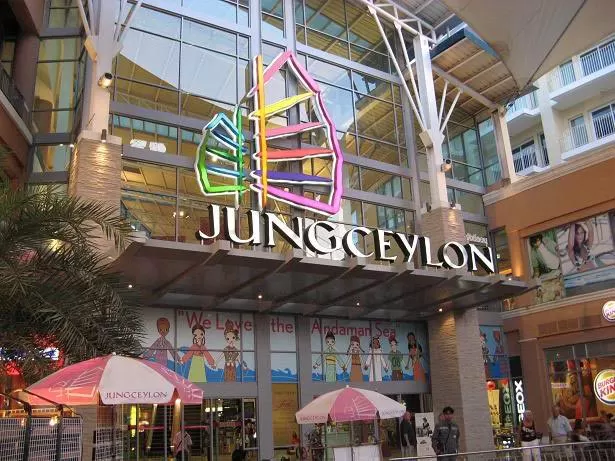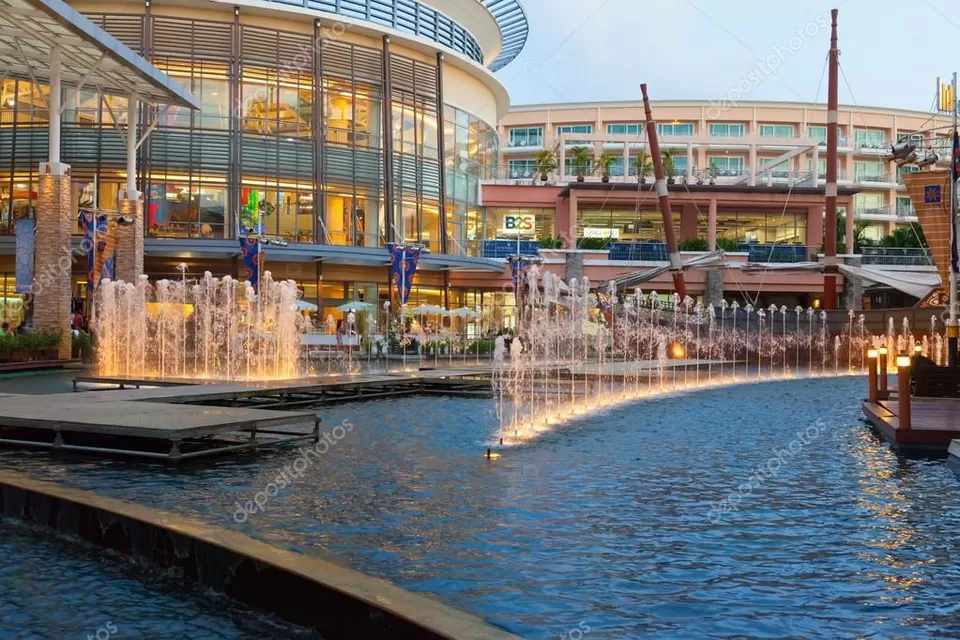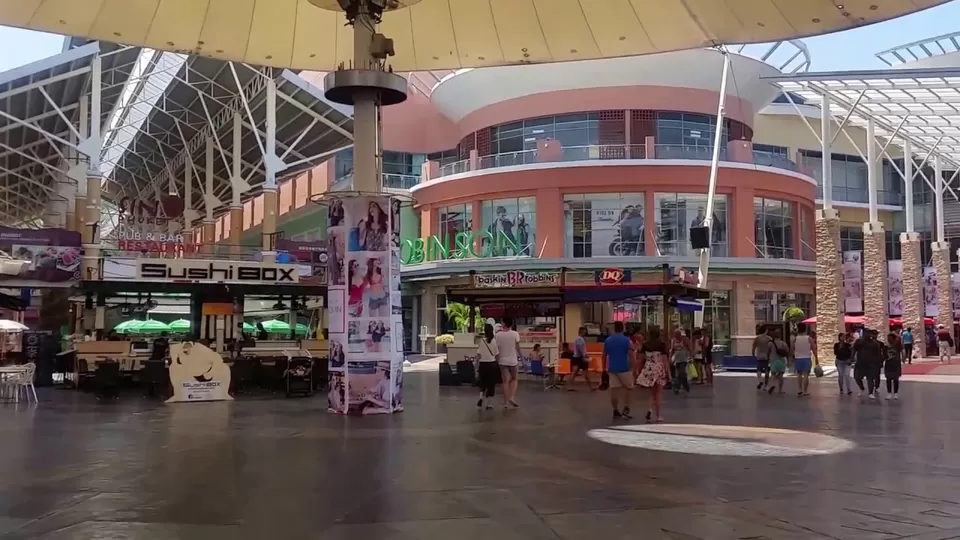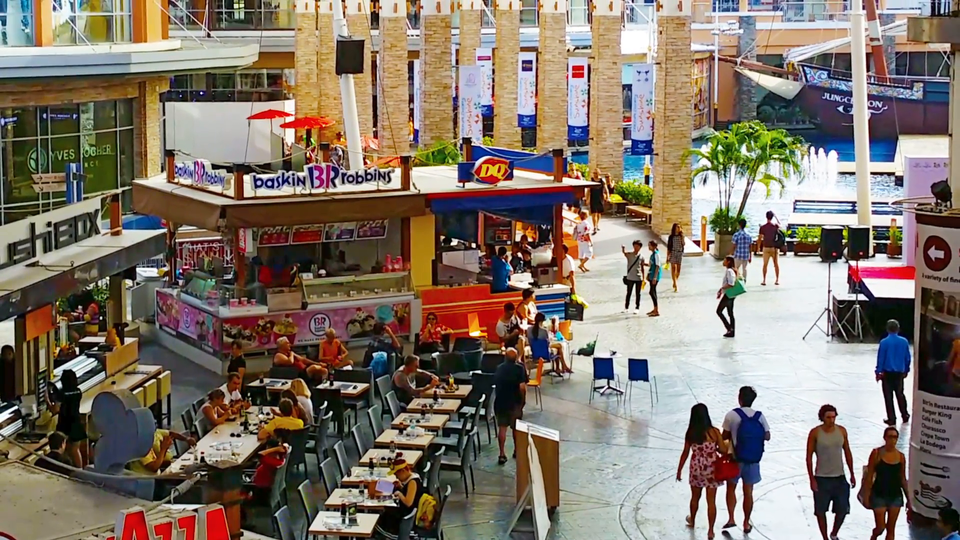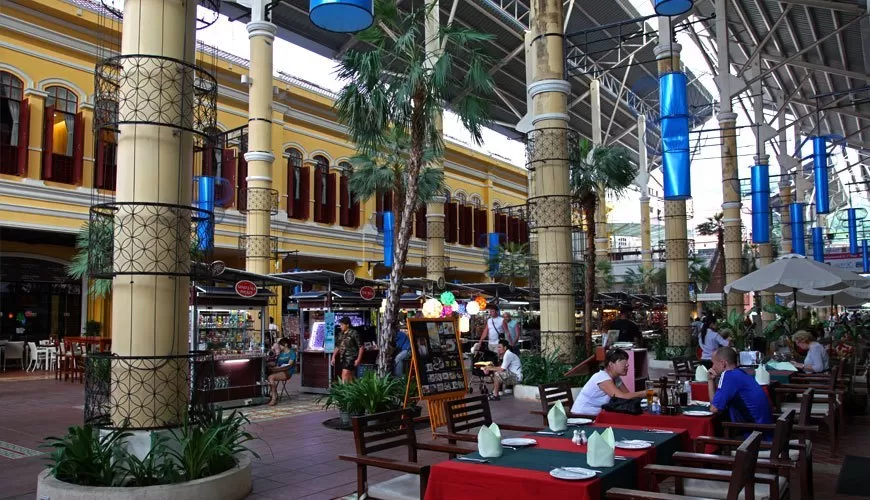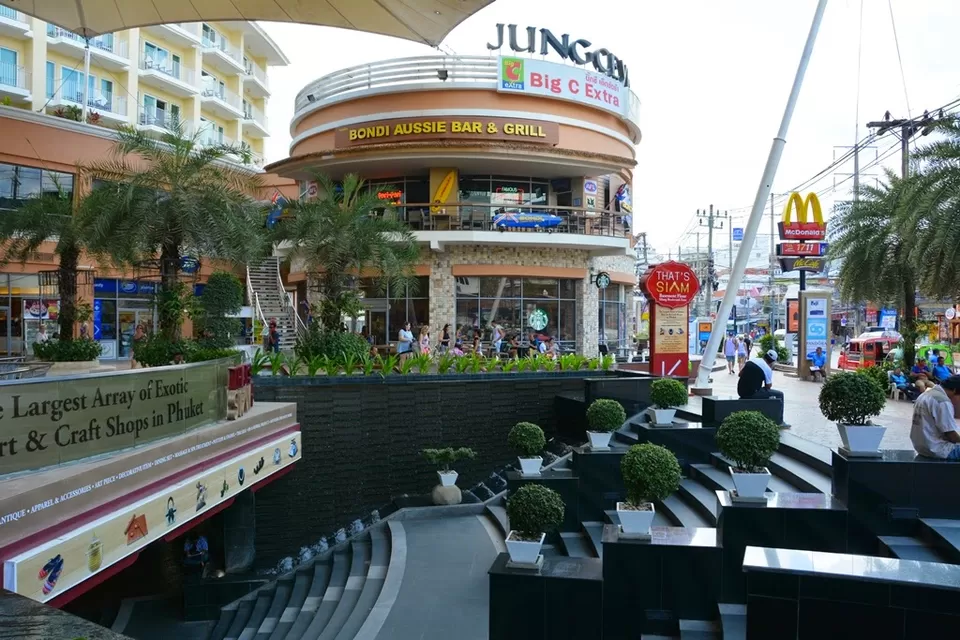 We strolled around for sometime & badly wanted to try a Thai massage. The big spa which caught our eyes is - Pimnara Spa. It is located on the ground floor, within Phuket Square Zone of Jungceylon Shopping Mall Patong. If you are health and beauty lovers and looking for a good standard spa in this shopping mall, then you should not miss this spa. Facial spa and many more treatments which you can come and choose your favorite ones and enjoy your package.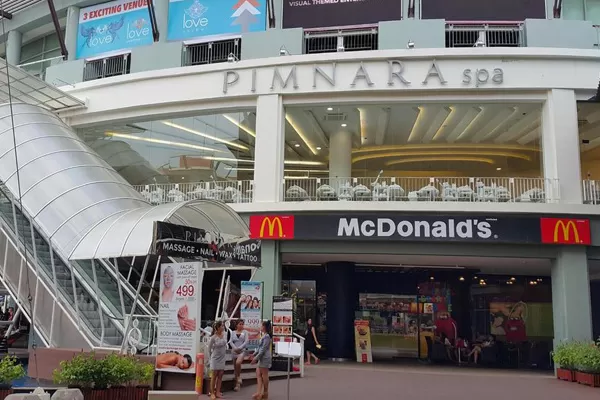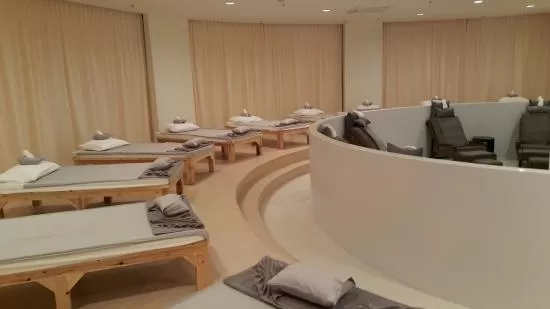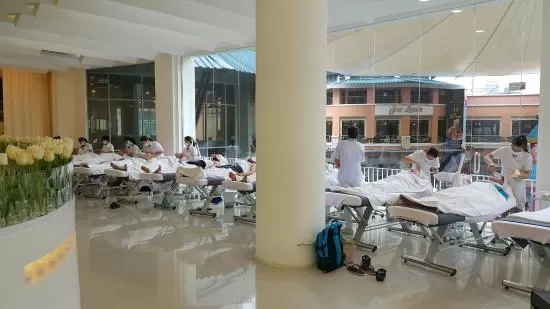 We opted for a foot massage followed by a Facial, which was really good, relaxing & excellently done. We were searching for Indian restaurants nearby to have our dinner. But we couldn't find any nearby mall, but it was right next to us, we missed to locate it, which we found next day. As we did not get into any restaurant, we walked towards Bangla road which was right in front of the mall.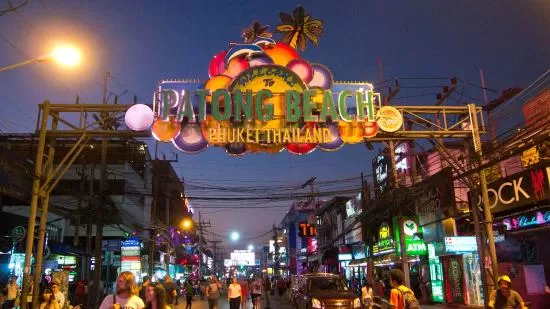 As the sun slowly sets off the western Andaman Sea, the heart of Patong Beach awakens from it's sleep. The road, innocent enough by the light of day, is slowly transformed back into the infamous party hub. It is something that you cannot truly understand until you have seen it with your own eyes. On the main Bangla Road are bars lining both sides of the road. Bangla Road is not for those who are overly conservative or judgmental.
We took a beach side walk in the late evening, where we could feel the cool breeze with fresh air, felt like a peaceful place after exiting from Bangla road. We went back to our hotel at dinner time. We saw Indian cuisine in the food menu & ordered an Indian meal. Literally we wasted it as the taste was not at all good & I felt like puking because of the smell.
This day we had pre-booked for Phi phi island guided tour. We were picked up early in the morning and took us to starting point where they gave us instructions for the tour. We purchased fins on rent as we wanted to do Snorkeling. There were many Indians that we could see in the group. We all stepped in to a speed boat, myself & my hubby chose to sit at front of the speed boat to enjoy the tour at the fullest.
Weather was sunny, sun was sparkling in the sky, we were all set to get tanned for the day. Phi Phi Islands are situated 40 km south-east of Phuket and consist of six islands. The major ones being Phi Phi Don, which hosts the bohemian town of Phi Phi Islands, and Phi Phi Leh with Maya Bay which featured in the movie "The Beach". Phi Phi Islands are famous for its limestone cliffs rising sheer out of the emerald green waters, white powdery beaches and its many coral reefs offering great diving and snorkeling.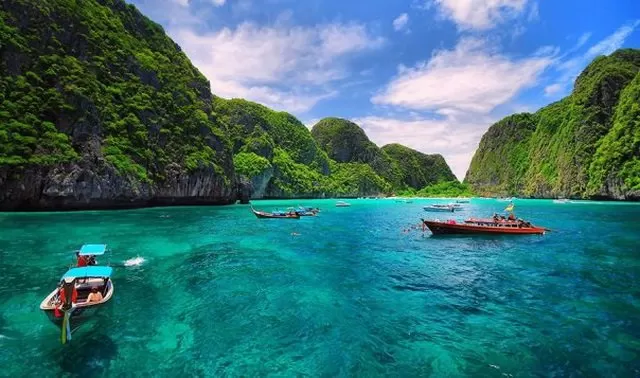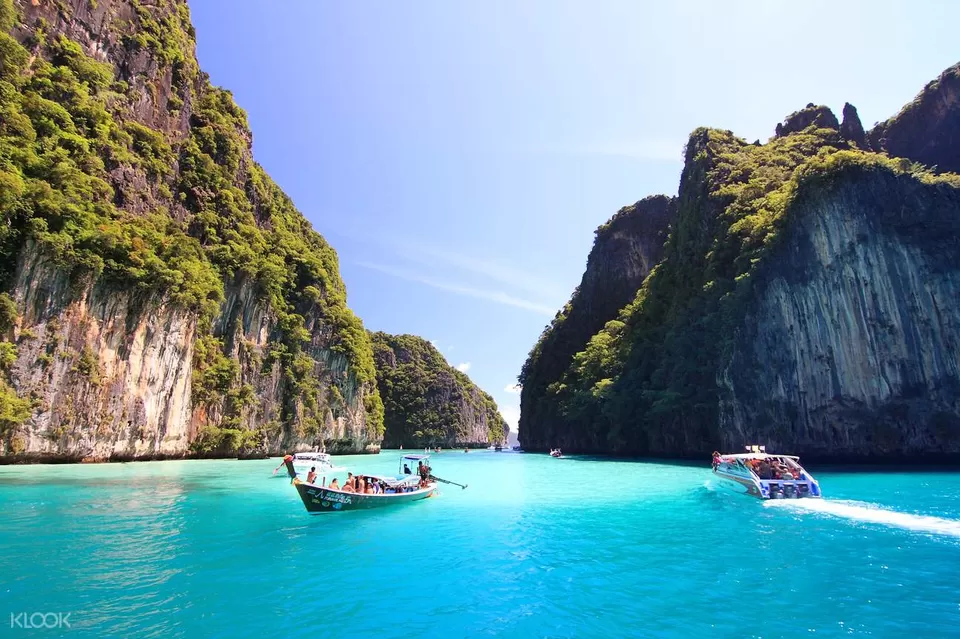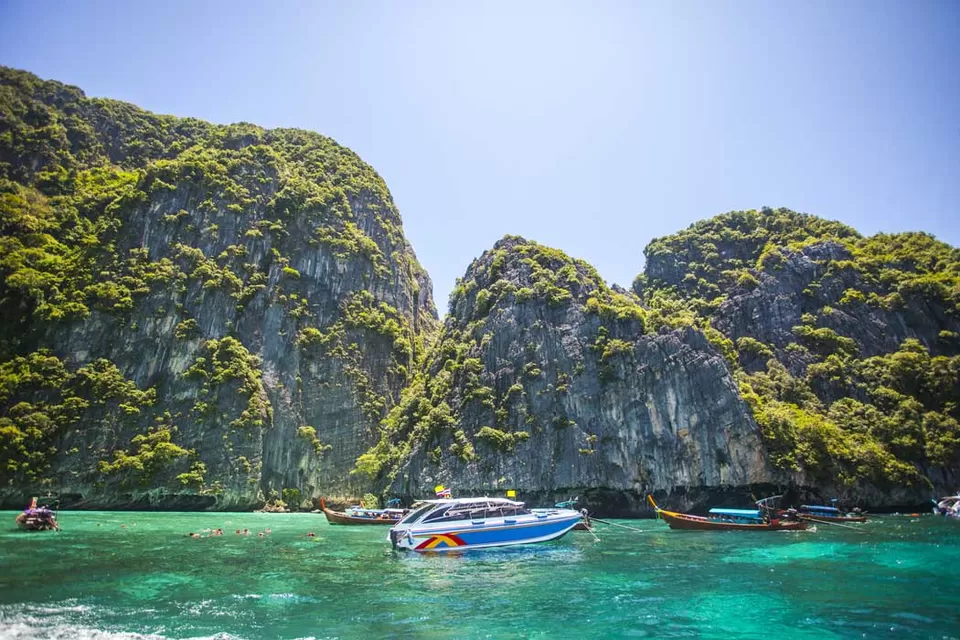 We did snorkeling in Phi Phi Don Island & that was unimaginably amazing experience. Though I was scared when I entered water as I was not used to breathe from mouth, felt it difficult initially & later I enjoyed watching all types of coral reefs and marine species.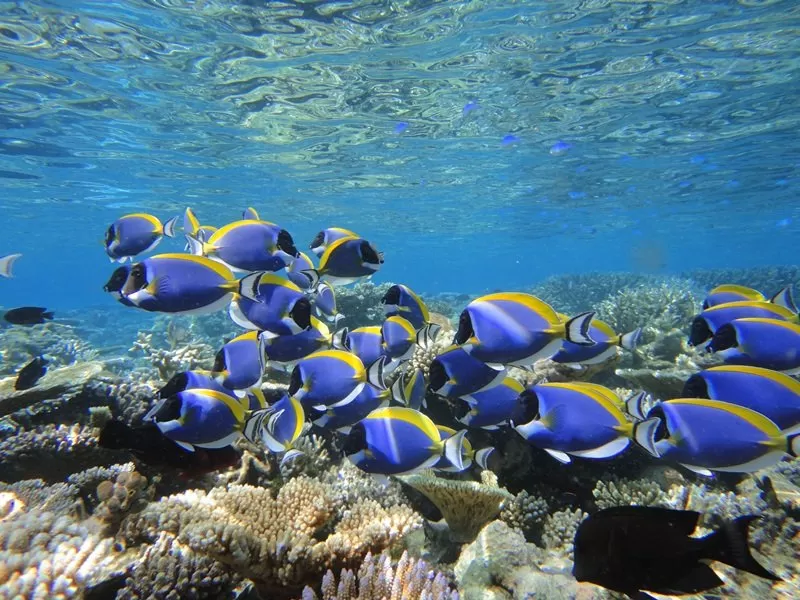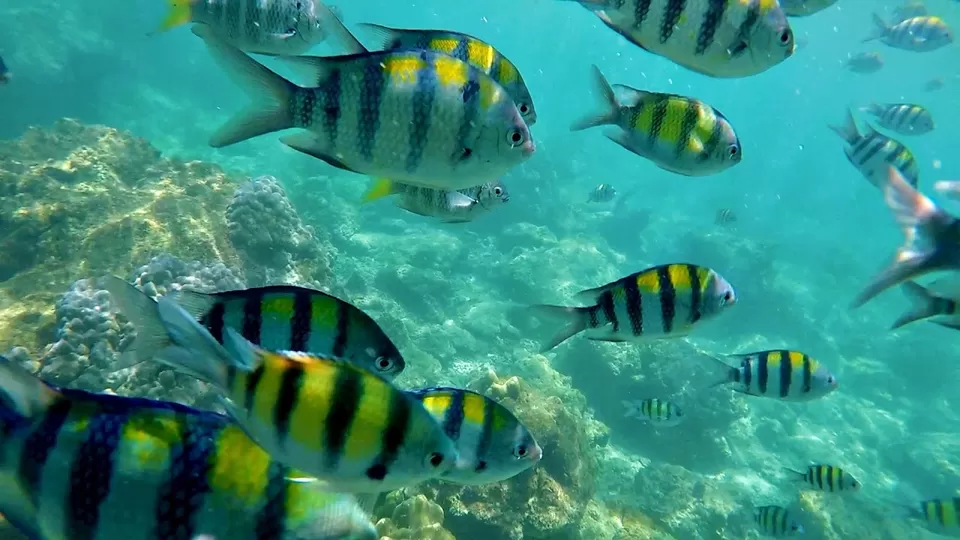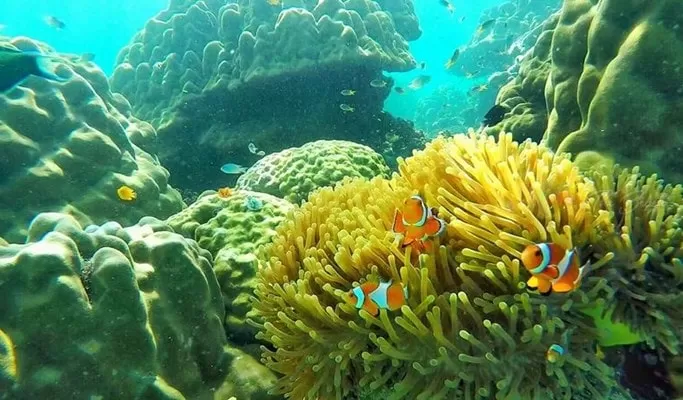 We were too tired once we came out of water. Lunch was served to us but we didn't enjoy the taste of it as we were tired already. The next stop was Maya Bay, before that we could Viking cave.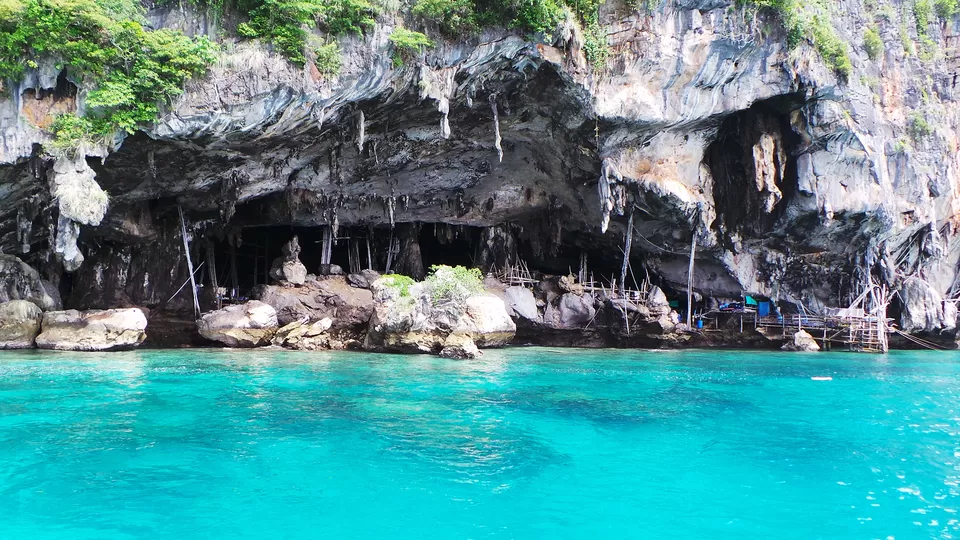 The downside was that we did find litter floating around at many spots in the sea. But overall, the beauty was too breathtaking and made us slightly less bothered about the crowds. Maya Bay looked like a lagoon where only one side land & other sides covered with water.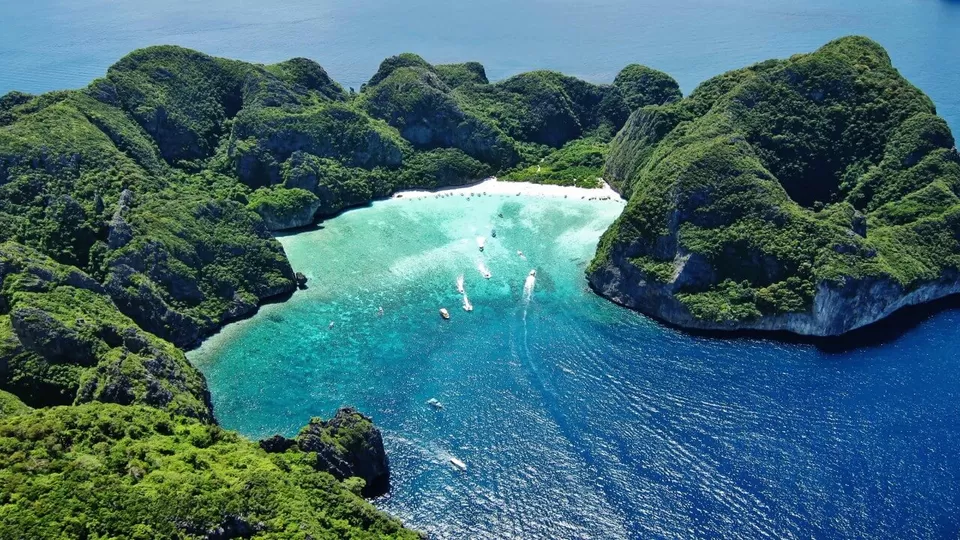 The last stop for the day is Khai Nai island. Its a small island where people were allowed to do snorkeling again. Instead we opted to sit in a sea facing restaurant and enjoy a milkshake. We had very less time here as it gets closed by 4.30pm daily and boats were supposed to leave the island before that.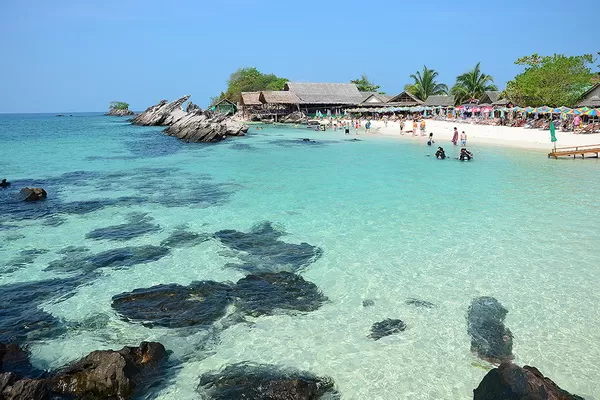 We were dropped back to starting point from where we started in the morning & then back to hotel. It was bit tiring day may be because of a sunny day, got tanned very badly, under water activities etc..
Now we needed a massage desperately to relax ourselves which made us to head to Jungceylon Mall again & hunt for a massage center. That evening we tried a traditional Thai massage in the lower ground level of the mall. That was truly relaxing. We also could find an Indian restaurant, just opposite to the mall - Madras Cafe, where we enjoyed having South Indian meal.
The day arrived for which we were there to celebrate - Our Anniversary. It was special to both of us and it was last day in Phuket too. Hence we chose to go on a city tour of Phuket where we could explore the city and it was a rainy day.
We visited Karon Beach at first & due to rains, we were not allowed to spend much time there as there were already red alerts being issued for the day. Then we reached a view point, where we could see a beautiful view of Kata & Karon beach.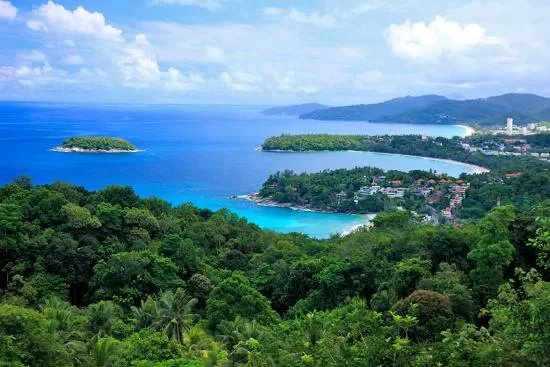 Later we visited Wat Chalong Temple. It is located in the heart of Chalong and is considered to be the most important temple in all of Phuket. There are mainly hundreds of tourists that flock to the temple every single day. Regardless of the crowds, it really is one of the top attractions on the island and a definite must for any first time visitors to Phuket.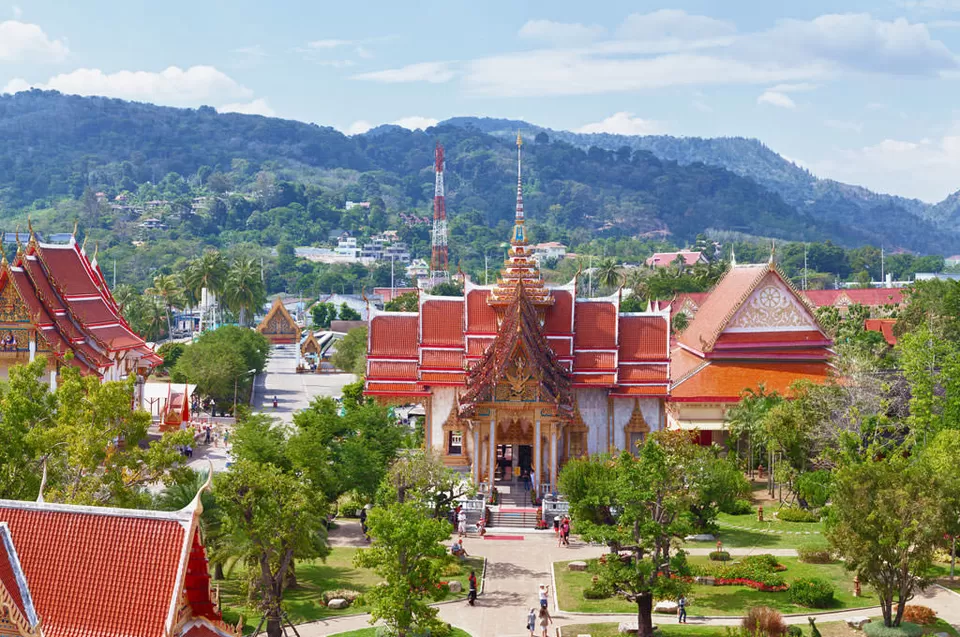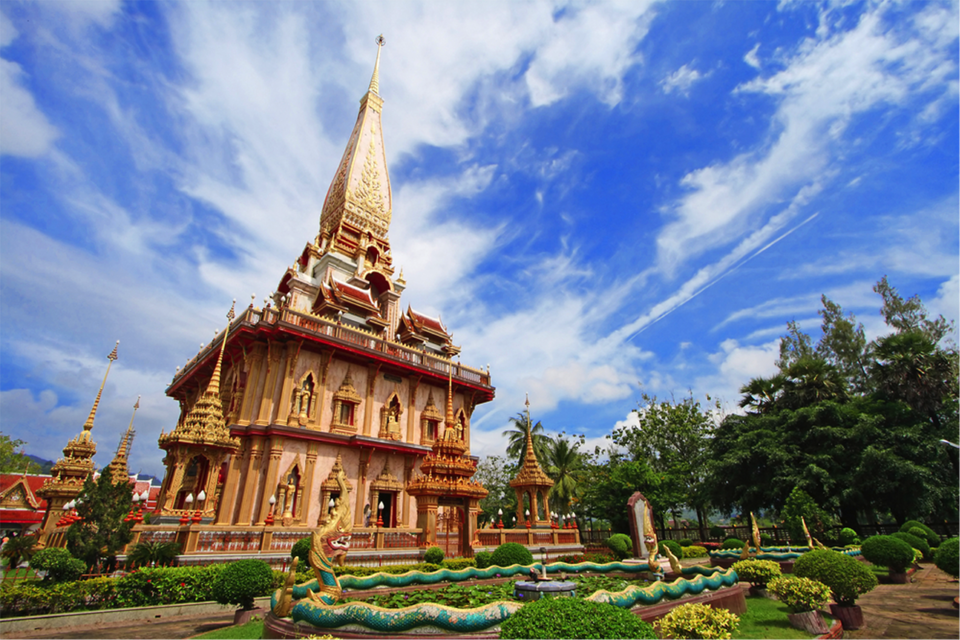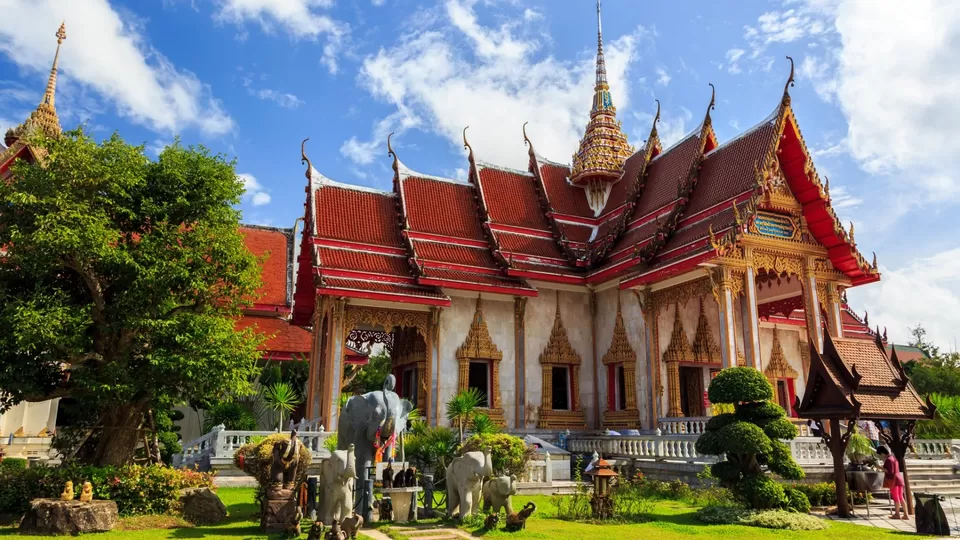 Then we were taken to a Pearl Factory & its showroom & allowed us to shop for sometime. They had a huge collection from tiniest pearl to the biggest one, where I ended up buying few. It was a feast to our eyes to see so many jewelry made out of pearl. They also showed us to how to identify fake pearls.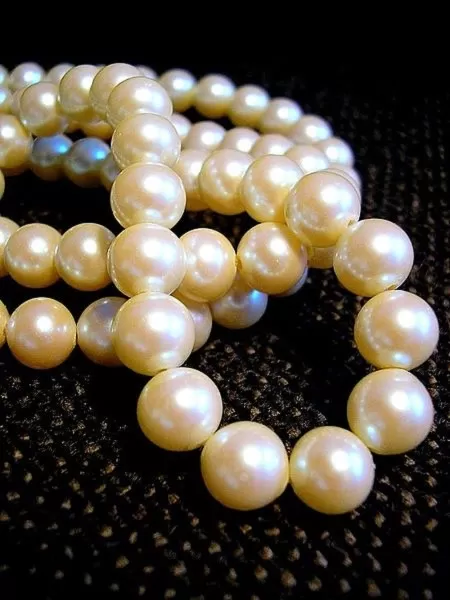 We were further taken to a cashew-nut factory. This is must for all cashew-nut lovers. The Sri Bhurapa Orchid was the first cashew factory in Phuket. On arrival we were greeted by one of the workers that showed us around. The first thing we did was a taste test of the juice of the cashew nut which is believed to have valuable medicinal properties which tasted quiet nice. The factory and display area also has a large range of dried fruits and dried seafood. A tour of the cashew nut factory will provide an insight into the processing of cashew nuts and to see how painstakingly these treasured and fragrant nuts are extracted and baked.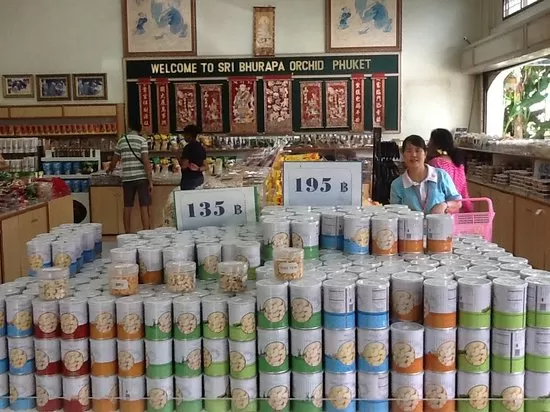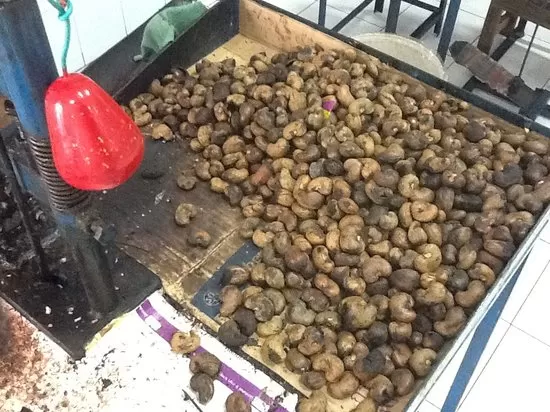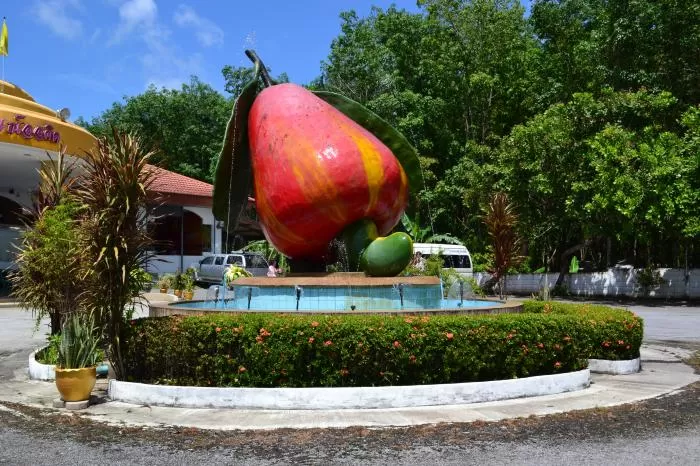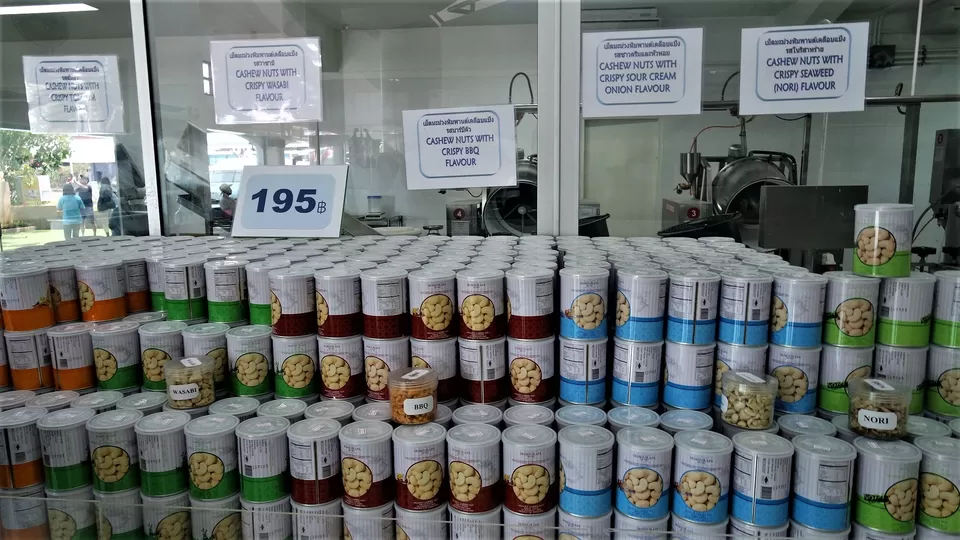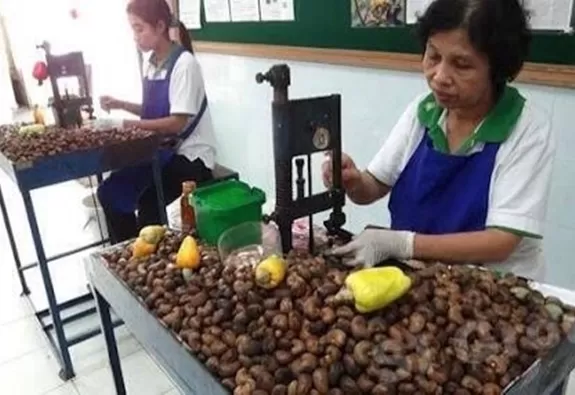 Our next stop to a wholesale store which had all types of souvenirs of Thailand, clothes, aroma sticks, scented soaps, handicraft things and the list goes on. We were allowed to shop there for some time and we didn't expect what was coming our way in the next stop.
Next stop was to Tiger Kingdom, a major attraction for the day. Its a unique zoo, where you will find only tigers right from new born cubs to biggest one. This zoo lets you interact directly with tigers in their cage under supervision. Ahh, this was unexpected to us !! The place is surprisingly large, clean and very well organized and as soon as you enter you'll see the several options offered to the visitors. There are four sizes of tigers: smallest, small, medium and big and price is according to the popularity. Obviously the cute cubs and the massive adults are the most popular but you can choose all kinds of combinations according to your budget, just be aware that it doesn't come cheap. Since everyone who enters the cage has to pay the full price, whether you want to take your photo with the tiger or not, the total bill can be quite high. So we thought a lot & finally opted for small tiger which was few years older along with photography option.
Note that for your own safety there are rules to respect: wash your hands before walking in. Don't bring your bag inside as tigers apparently love to play with the straps. Don't use flash, don't walk alone in the parks and don't make loud noise. Once we saw the size of the beasts, we certainly didn't feel like doing anything that could upset them. The animals are in excellent condition, nicely groomed with a beautiful fur, no bad smell and cages are kept clean. Many of the tigers are lazing around, leading to the usual statement 'tigers are drugged', which no one can of course prove or demonstrate. The guide's answer was they are not, this is the daytime behavior of well fed tigers.
We stepped inside cage & there were 4 tigers in different corners of the cage & all the cages were interconnected. I was really scared a lot but our guide was constantly saying to be confident & face it. The moment I saw the tiger's face, those furious eyes, wild face & it was just right in front of me. Uffff, I was blown away with pride. We even played with its tail & back too. We got clicked so many pictures which we got through a CD once we came out. It was a truly unique experience, which you can enjoy by purchasing a single ticket or a package.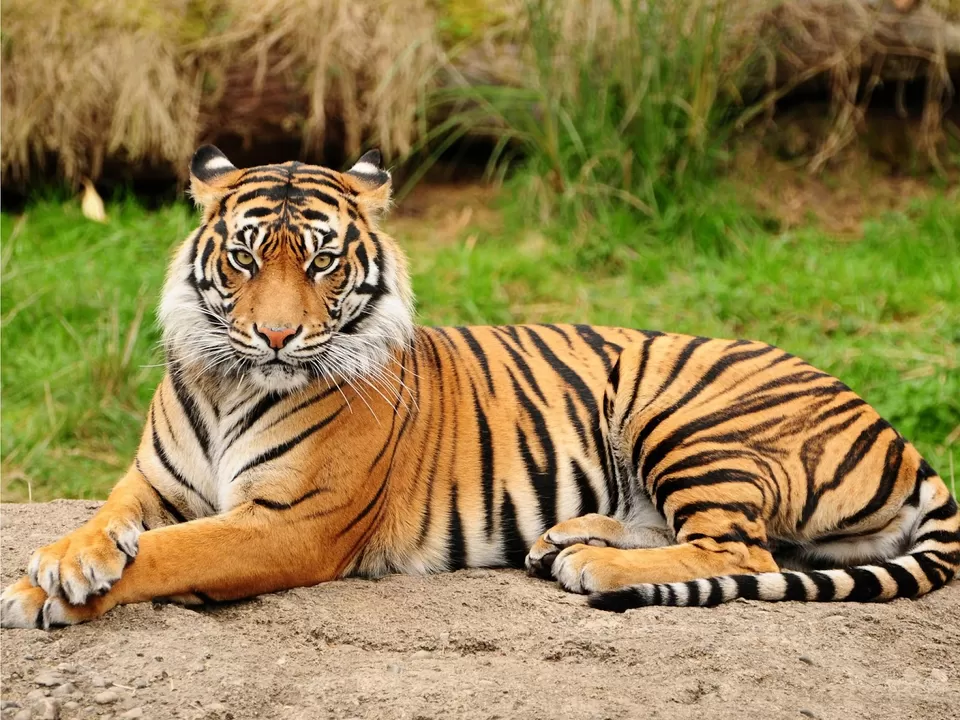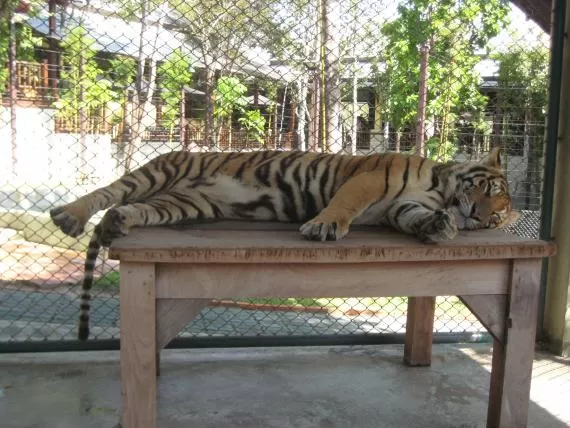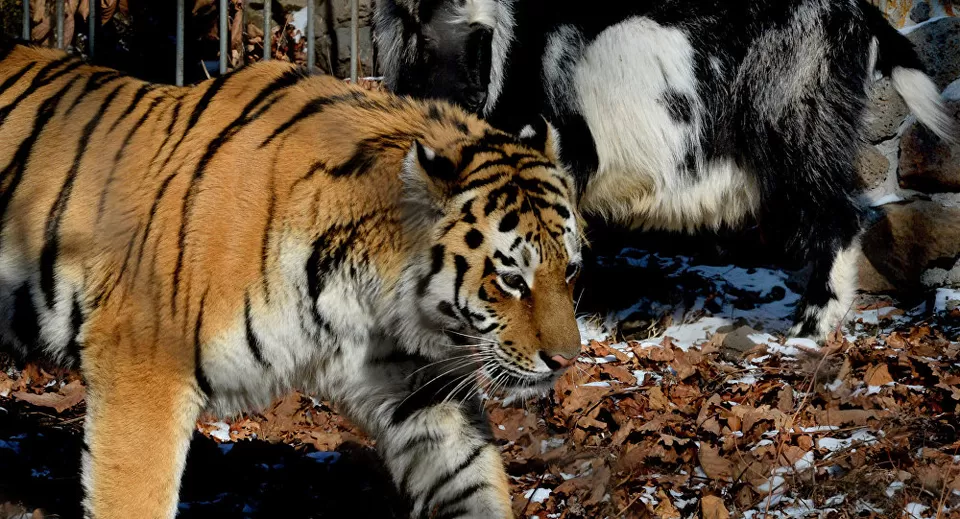 We went back to our hotel with a satisfaction and pride that we have literally touched one of the wildest animal. Trust me, its not a joke !!
Since it was our last evening there & also our anniversary, we went back to Jungceylon mall, shopped together, took a couple spa, dined together. This was our way of celebrating anniversary & we really enjoyed every bit of it.
We had our flight back to Mumbai via Bangkok so checked out soon from hotel & reached airport on time. All our immigration was cleared in Phuket airport itself within no time & we had good amount of time to explore the airport. That was a beautiful airport though !! We reached home same day late night carrying memories for lifetime.