We were on our way back home from our honeymoon in the Maldives and if you understand what I mean, I was already dreaded by the idea of starting with the same mundane schedule of wake up-office-come back-sleep-wake up and do it all over again! At that time, the idea of planning our next trip brought us some solace and we stumbled upon this magazine talking about the secret island of Thailand-Koh Kut!
This was followed by months of research and I guess what intrigued us more was we could not find much to read or watch about this tropical paradise. Suddenly it was important for us to find this secret island, walk on its soft white sand, swim at its beaches, visit the fishing villages and experience their local life…….
For all those who are hearing about Koh Kut for the first time, it is located on the Eastern Part of Thailand close to Cambodia. There are limited options to travel to Koh Kut and we took the Bangkok-Trat-Koh Kood route.
Travel
BOONSIRI FERRY provides to and fro trips to Koh Kut from Suvarnabhumi Airport (one will need to take a taxi from the Airport till Boonsiri's office at 62 Tanee road which is a half an hour journey). From here, a van picks you up and takes you till Laem Sok Pier. At the pier, you board a catamaran that either drops you till Koh Kut or your resort (you will need to check with Boonsiri if they provide drop facility till your resort). The return is similar only difference being you will be dropped at Laedkradang or the Airport Railway Link which according to me is better since you just need to take the metro (for 1 stop) and reach Suvarnabhumi Airport! The metro ticket cost us 15 Baht each compared to the taxi ride of 350-500 Baht!!! We booked the entire to and fro through Klook and Boonsiri's service was incredible and on time.
The Island
The entrance of the island is marked by a huge statue of Lord Buddha which is not only picturesque but makes you wonder if the island is greeting you on your arrival and wishing you a safe stay. Koh Kut is spread across 162 sq.km with a population of around 2000 people. The best way to travel around the island is by hiring a scooter which is easily available at 250-500 Baht. The island is hilly and don't get surprised by its sharp slopes and not so modest inclines (at times, similar to a roller coaster ride!) We visited the 3 popular beaches, Ao Tapao at the north, Klong Chao somewhere in the middle and Bang Bao comparatively at the south of the island.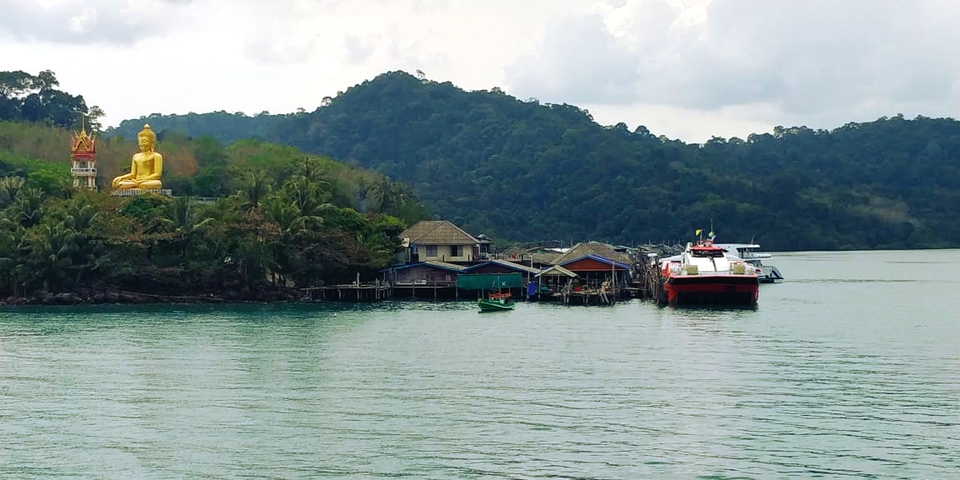 The Beaches
If you think you have seen white sand beaches with clear blue water, you might want to give it a second thought. The sand and water at Koh Kut are so clean that the sea bed is visible even when the water depth is 1-3 meters. Almost all their beaches are perfect for snorkeling. In fact, there is a great spot at Ao Tapao beach for snorkelers which is around 100 meters away from Seafar Resort. It's an ideal spot for families with kids to snorkel particularly during low tide when the water is not even 5-foot high. My husband Ayan filmed a Manta Ray and an Octopus at the very same spot! Please make it a point to not dump trash on the beach.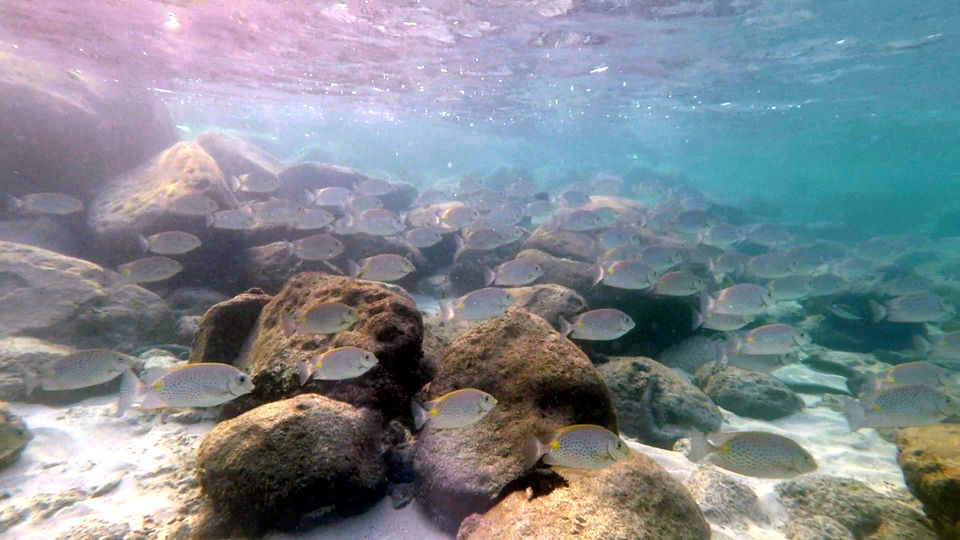 Accommodation
There are plenty of resorts by the beach and if you are a backpacker, there are many options available as well. We were staying at the Seafar Resort run by Po at Ao Tapao Beach. According to me, the best part of the resort is their staff and service but according to Ayan, it's their pier where you can watch the sunset while sipping beer!!! The staff at the resort always wears a smile. In fact, we were celebrating our first wedding anniversary and they were kind enough to arrange a candlelight dinner with a free dessert (which by the way was sufficient for 4 people)!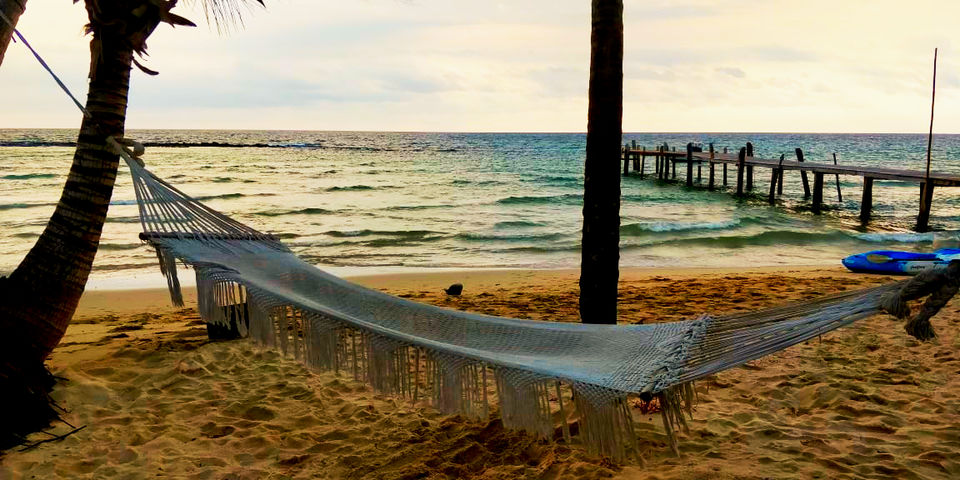 Local Culture
Development brings along many pros and cons. While at times, the pros might outnumber the cons, it's a shame when your little paradise loses its originality and authenticity to the development and turns into another city with traffic, crowd, crime etc. You are in luck with Koh Kut here since it's yet to receive the tourist overflow. Thus, don't be surprised if you are served fresh seafood (right off the ocean) at the fishing villages. It's a paradise for seafood lovers as each evening we saw most of the restaurants serving barbecue fish, prawns, oyster, squid, and the list continues. Also, hope the almost zero nightlife does not surprise you either. Here the localities believe in "early to bed, early to rise" mantra.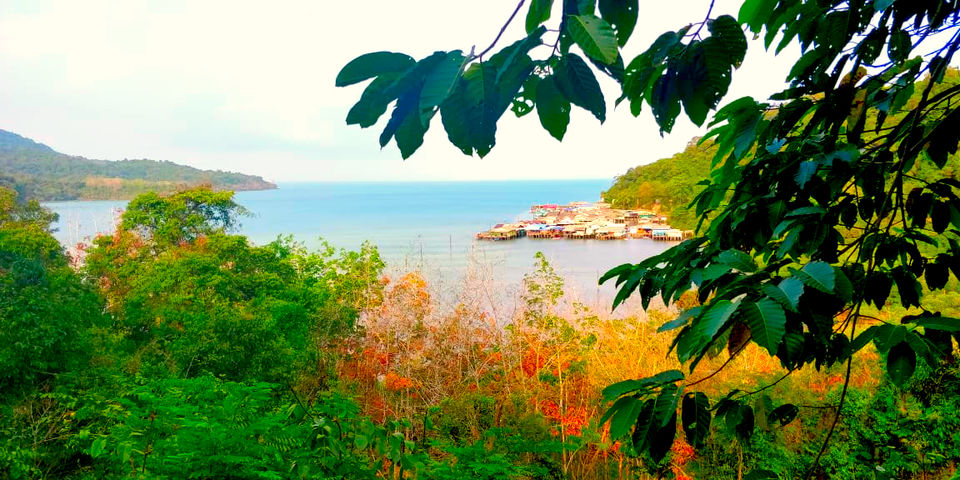 Worth Mentioning
There are three waterfalls in the island the biggest being Klong Chao Waterfall near Klong Chao Beach. The waterfall is beautiful with a small natural pool for you/kids to swim in. There's also a swing to jump into the natural pool for that insta worthy video!
Whether you are an advanced diver or a beginner, diving is a must at Koh Kut. We dove with BB Divers and they believe in safety first. Our dive instructor Mark made our experience fun and memorable. Also, if you are in luck like us, you may even get to see a sea turtle!
Koh Kut has many restaurants and we did not get an opportunity to try all of them. Thus, don't quote me on this, but Fisherman's Hut serves the best food on the island. Also, do visit the fisherman's village at Ao Yai (South-East of the island) for mouthwatering seafood. This will bring a cultural touch to your trip and you also get to see the villagers serve you their fresh catch of the day. There is a viewpoint on your way which is worth a stop but we recommend you visit the spot only after you have visited the village. This will enable you to truly appreciate the village's cultural richness and simplicity.
So if you are planning a trip to Thailand anytime soon, take out a week or two to visit this hidden gem and be rest assured, you won't be disappointed but overwhelmed with what nature has to offer. It's a perfect destination for travelers who would ditch the midnight parties and instead gaze at the countless stars while falling asleep to the sound of the crashing waves.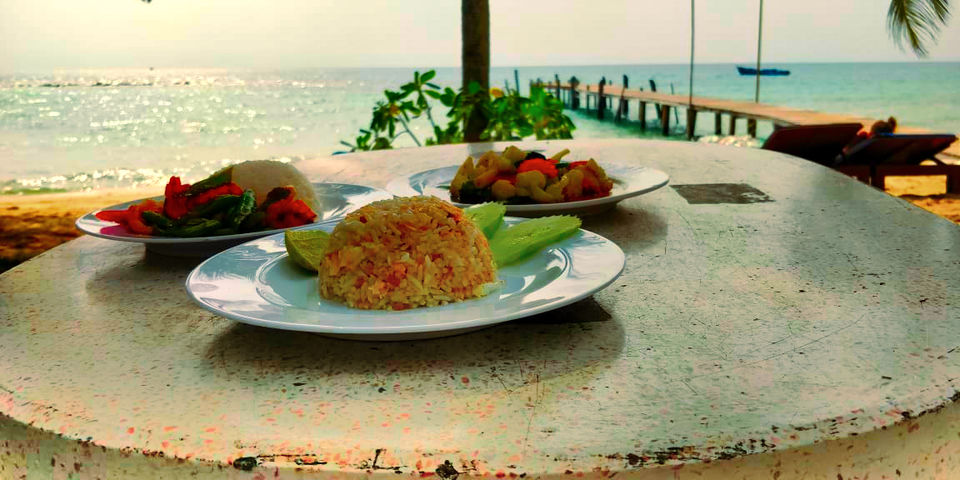 For updates on our travel adventure, follow us on Instagram (the_spirited_travelers). DM us and don't shy away from sharing your feedback, queries or just drop in to say HELLO!