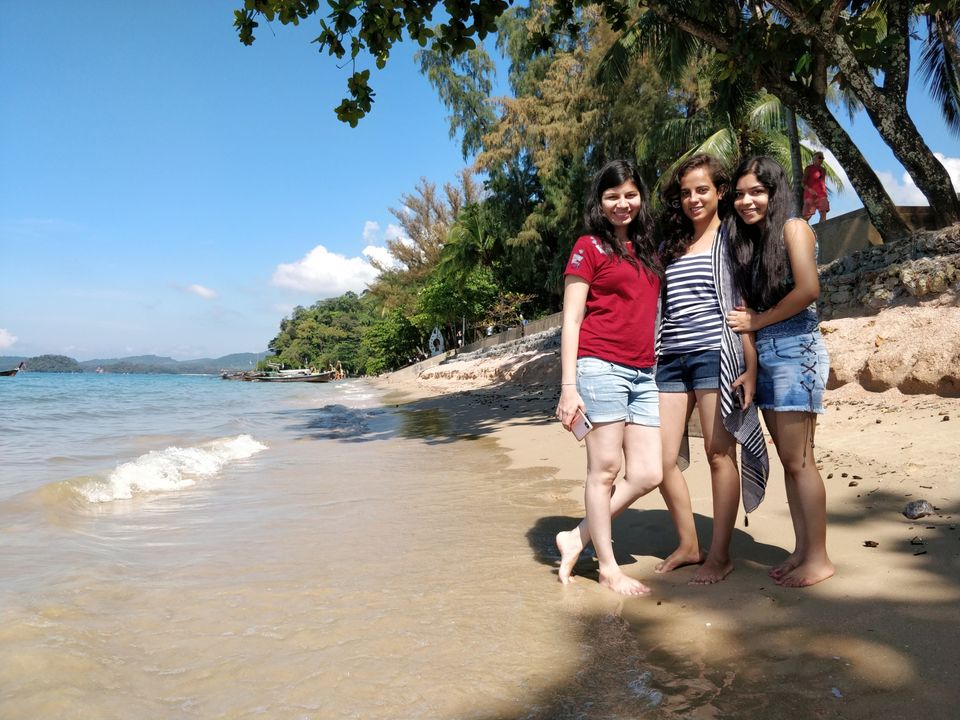 Thailand is a quintessential, tropical destination for travellers all around the world.
Honestly it is safe to travel overall however if I tell you that women can visit any part of the world with 100% safety guaranteed then I'd be lying (I mean, who are we kidding right ?)
Being a female comes with it's own spooky warnings, they are often the target of criminals too. I wish it were not true but unfortunately it is..
Does that mean we have to pander to the antiquated ideals of patriarchy set by the society and never travel anywhere solo or with our best friends? Absolutely not.
I'm here to tell you that travelling to Thailand is 100% safe(it totally was for me and my friends #girlstrip) provided you take care of the following things.
1.Get a sim card with data as soon as you arrive at the airport and track your route all the time.
There are tons of sim card shops at the airport. You should be easily able to get a sim card with 4G data for 500-600 BAHT(roughly around 1k) for 15-20 days.
It is imperative that you track your route whether you are in a tuk-tuk/taxi/bus/cab. Thai people don't understand english much so it's important to be vigilant and keep GPS activated all the time so that there are no surprises at the end of your trip.
2.Book a girls only dormitories in hostels
There are plenty of great hostels throughout Thailand where you can socialize, have fun ,meet people from all around the world and get to know about their experiences. It's an unparalleled escapade in it's own.
I'd suggest anyone to book hostel before reaching Thailand. There are pretty good & reliable sites/apps to do so ( eg: hostelworld). Most of them have separate dorms for girls. It should help you eschew all kinds of uncomfortable situations and keep you super-safe.
We visited pretty quaint, reasonable and social hostels with some diligent and awesome hosts.
3.Never leave your passport as a deposit anywhere under any circumstance.
Your passport is the only way in and out of any country. Losing it would naturally result in some unprecedented havoc (a no-brainer).
Many shops/service-providers ask you to deposit your passport while renting a scooter/car/bicycle. If some damage is inadvertently caused to the vehicle(trust me it happens a lot), it would hamper you in ways, you probably didn't even know existed.
Never leave your precious belongings and important documents in hostels/hotels at any cost. Trust me even the lockers are never full-proof. Always carry a small backpack containing the important items wherever you go.
4.Party scenes in Thailand.
Throughout Thailand the party scenes are pretty amaze. However, it's indispensable that you don't overindulge in any way whatsoever. Make sure that your drinks are never left unattended.
Do not rely on a stranger or a recent acquaintance in way possible. It might feel gratifying at the moment but refrain from doing so,to keep yourself out of unnecessary trouble.
Have fun while you're at it but be wary of the circumstances :)
5.Clothing at temples or otherwise.
There are some gorgeous temples throughout Thailand especially the ones up in the North(look them up :)) If you don't put on humble clothing while visiting them, it is frowned upon and regarded as a disrespect toward the culture..so, avoid doing that.
Cat-calling is completely absent in Thailand but be wary of the fellow travellers thou. Always carry a jacket or a shirt, put it on if need be while taking a cab back to the hostel.
6. Visit 7/11 stores in case of an emergency
7/11 stores happen to be one of the best things with respect to safety and guidelines in Thailand. Every 1-2 kms, you'll find a 7/11 store which has pretty much everything to offer from sim cards to burgers and from facewash to shampoos.
If you are stuck or confused or going through a mental breakdown and need any kind of help or need to book any bus/train tickets, you can visit these shops, they are open 24x7 everyday. They provide a great customer service.
So 7/11 is a safety net for all the travellers out there.
7.Read about scams on the internet prior to visiting any place.
Innumerable scams take place pretty much everywhere around the world. Some are specific only to the location you are visiting. Take some time to read about them carefully be it pocket-picking, scooty scams, jet-ski scams etc etc.
Be cautious from day-one and make the best use of the reviews given by the customers of popular travel sites.
8.Important contacts in case of any emergency.
As soon as you get your new sim, in case you are travelling with your friends..store their numbers and put them on speed dial.
Thai tourist police generic helpline number is 1155. It's important to keep it handy if required.
Also store the details of Indian embassy present in Bangkok,Thailand in case of any mishap.
Always always and always fully charge your phone and carry a charge-bank with you.
9.Don't be afraid to ask for help.
Local people of Thailand are very sweet and they'll try to help you in every way possible. We visited one of the schools when we were in Bangkok and we still have some cute vivid memories from that visit.
Always ask for help from multiple people whenever required.. don't shy away from doing so.
Get to know the people, the culture and the history of Thailand.
10.Confidence is the key ( or maybe one of the keys)
Remember that if you look under-confident , you might come across as an easy target for the assaulter/robber/crime-master.
Carry yourself with a fresh air of confidence everywhere. The more prepared you go, the more easily you will be able to travel.
It will be a smooth sailing afterwards.
No matter what don't forget to enjoy and have the experience of your lifetime.
Thailand has everything to offer from it's tropical beaches, exquisite temples and turquoise green crystalline waters.
Until then..safe travels, Sayonara :)