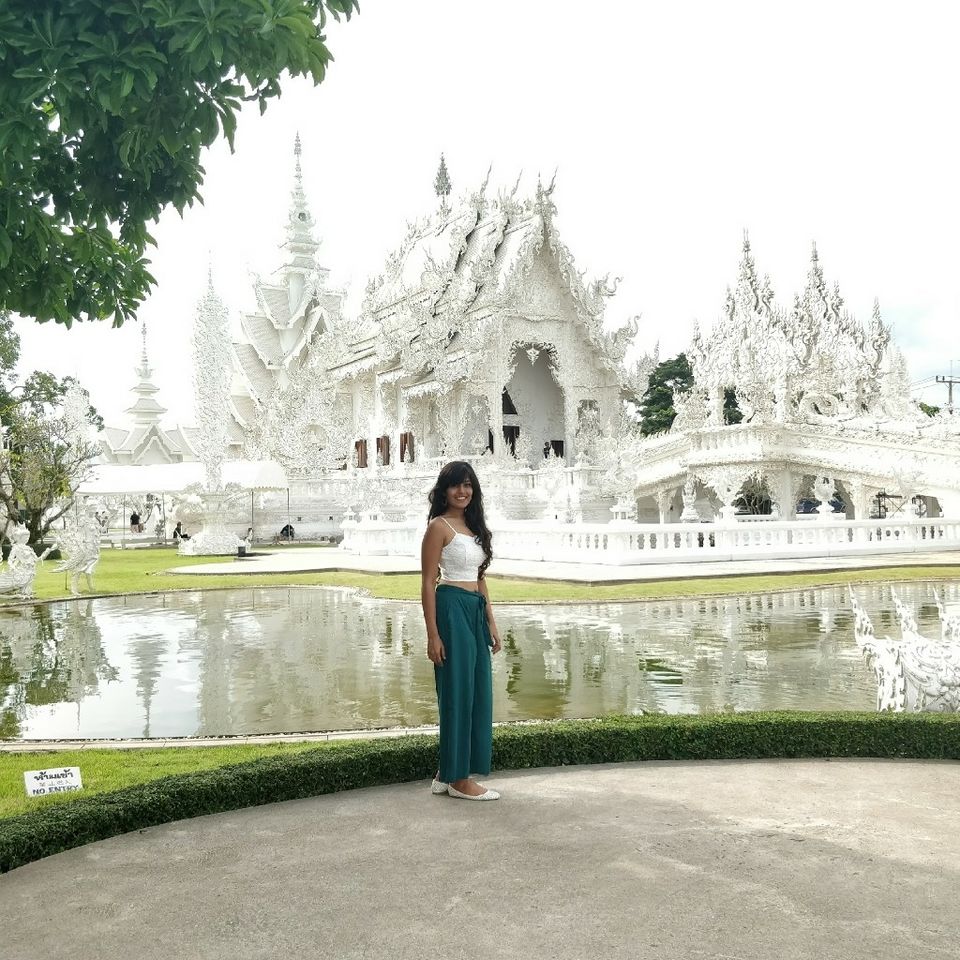 We (a friend and I ) decided that it was time we went backpacking and hence we agreed on the Idea of one of the beautiful South-east Asian countries , well one of the other factors that helped us make this choice was that the Indian passport holders get a visa on arrival for most of these places , cause i know getting a visa here in India , man it sure is a tedious job , hence , this time we decided to take the easier route out and probably a prettier one as well and therefore Thailand . This country and its diverse array of regions from the beautiful lush green north to the vast blue oceans was what lured us in .
So when I choose a place , I always want to cover the country at a whole , but that's not always possible , so always do your research on the places , the different regions that would possibly entice you . Reading about Thailand we came to a conclusion that we would definitely would love to cover the parties of Bangkok , oh lets not forget the tuk tuk ride, the beautiful North which had extravagant temples and then travel to the adventurous southern region where the Andaman Sea takes over . This trip we did was for 13 days as the visa on arrival allows you only 14 days in September from the day of the arrival , i know the visa on arrival process might be a little confusing for us first timers out there so if you want any information regarding the Visa on arrival you can check out the article Thailand Visa On Arrival process that i wrote.

We planned on going in September , as we got really cheap tickets , to and fro travel tickets as it is the off season in Thailand and considering that we thought the stay might be cheaper too , but travelling throughout Thailand , one thing we realized was that we can definitely get a cheap and a decent stay in the north Thailand but as you move towards the south ie the islands , the stay cost gets a tad bit inflated. But we did plan on the best of both worlds , in the sense that for the places we were prepared to travel a lot or had many activities planned during the day , we opted for a cheaper stay as we wouldn't be spending too much time in the hotel or resort , but for the locations we thought we wanted to just kick-back and relax we opted for beautiful villas. All in all a trip well executed . Anyways without further adieu let me tell you about the trip and do's and dont's and possibly how you could go about it .
Day 1 (Bangkok) - I had an early morning flight to Bangkok from bangalore and it took about 3 and half hours , preferred this as we would have the entire day to check out the places there with sufficient time provided for us to get the visa as well , reached at about 6 a.m. headed to the visa counter and got my visa on arrival , the entire procedure took about 2 to 3 hours . Once we were done getting the visa and collected the luggage , we got out and opted for the bus service to head to the our stay in khao san road (the party place of Bangkok) , so instead of choosing a cab service which might cost you about 400 baht (800 inr approx ) we chose the bus service that costed us about 60 baht (120 inr) also you can ask people to help you out with bus service to the location you might be staying at , there are also counters in the airport which provide a mini bus or a privatized vehicle which you can share with a few people , totally safe option too . Once we reached Khao san road , it was a great feeling , there was food everywhere , great options for shopping , lovely cafes , pubs etc and seemed like a crazy , lively street . After checking in we headed to The Jim Thompson house , will take you about 80 to 100 baht to reach there , you have to buy a ticket which will cover the entrance fees and also provide a guide for the explanation of how that place came into being. As that was done , we headed back to khao san road ,for a party there , there are lovely cafes and pubs so go take your pick and explore ;) and party hard.
Activities : Jim Thompson house tour and khao san road.
Stay : Rikka Inn ( khao san road).
Day 2 (Bangkok) - So prior to reaching Bangkok we had booked the tickets for Safari world there , you can go about booking the tickets from www.trazy.com , it's a legit site and they provide a package for safari world and if possible do opt for the one which includes transfer+tickets+food , it cost me around 1100 baht (2200 inr approx) , you need to also enter the hotel you will be staying at with complete address details so they come pick you up from the hotel in the morning . Accordingly they picked us up from hotel at around 7 as they said they would and therefore we started off for Safari world , took us about an hour to reach there . Safari world is definitely worth a visit , cause it had fun shows with orangutans , elephants , seals etc and you can also feed the animals and take pics with them , the lunch though was not that great , but it was a day well spent , After the visit to Safari world we told the trazy folks to drop us at Chatuchak (one of the best markets in Bangkok) , but due to rain there weren't many shops open and hence we were off to our spot aka khao san road.
Activities: Safari World and Chatuchak night market .
Stay: Rikka Inn
Day 3 (Bangkok-Chiang Rai) - For this day we decided we would cover the temple and the Grand palace and then catch a late flight to Chiang Rai , So we went to the grand palace , do make sure you wear appropriate clothes for the place, at least those that cover the shoulders , or just carry a shawl , that's what I did , if you do happen to stay in Khao san road , the Grand palace is just a 10 - 15 mins walk from there and after that you can just take a ferry to reach Wat Arun , the ferry ride would be about 4baht (8 inr approx) and there is good lunch place right around the corner from Wat Arun , both these monuments are majestic , add it to the places to see for sure . Headed to the airport Later and we took a flight to Chiang Rai our next destination. Cab from the airport to our resort in Chiang Rai (Phowadol Resort and Spa) cost us about 200 baht.
Activities: The Grand Palace , Wat Arun .
Stay : Rikka Inn (Bangkok), Phowadol Resort and Spa(Chiang Rai)
Day 4 (Chiang Rai) - Chiang Rai happens to be in the northern part of Thailand , and has beautifully sculpted temples(the white and the black temple) and also the Singha(beer) park and Chivit thamma da coffee house and hence our 2nd destination, So we opted for a car that would take us to the infamous black temple and white temple (Wat Rong Khun) also the singha park as it was drizzling and that cost us about 1300 baht , but trust me a better option would be a bike , probably cost you about 200 baht to rent it + 100 baht max for the petrol . Each of the temples are beautiful in their own way and when you head to Singha park do keep in mind to at least reach a 2 or 3 hours before the closing time cause you can rent a bicycle by the hour and go around the park , it's brilliant , do not miss out on that . Also we couldn't have ended the day in a better location than Chivit thamma da coffee house , That place is truly spectacular as its right near the kok river , the food , the drinks are highly recommended, please do make time for this stunning place .
Activities: White temple, black temple, Singha park and a lovely dinner in Chivit thamma da coffee house
Stay : Phowadol resort and Spa .
Day 5 (Chiang Rai)- This was one of the days I was looking forward to cause this day we were planning on going to the golden triangle , place where you can see Laos and Myanmar from Thailand and it's just a ferry ride away seemed like a spot I definitely din't want to miss , so we got up early , visited a few temples on the way and then went to the opium museum cause we were curious , not about the fact that if we could get some opium there :P , nah (well maybe a little) , but just about the basic history as too how Thailand became one of the largest producers of opium in the world . Well this place was sure a good history lesson ,that probably our portions in school din't cover and about 1 km away was the golden triangle near the Mekong river , so it might just take you about 5 minutes at a whole to scan the spot near the Golden triangle and take pics , hence if you do want to plan your day ahead , please do so , we couldn't help but head back to chivit thamma da coffee house .
Activities: The golden triangle , opium museum , Chivit thamma da coffee house ( again)
Stay: Phowadol resort and spa
Day 6 (Chiang Rai - Phuket - Koh yao yai) - For those who probably don't have the island Koh Yao Yai on the list , please add it immediately , beats phi phi island hands down , also if you haven't added Santhiya resort and spa on your list of resorts to go to kindly do so asap, probably spend a few days there cause the resort has many amenities like paddle boarding , kayaking , yoga , snorkeling and also kick boxing sessions for absolutely no cost levied, also the resort is too stunning to be missed , you can actually check it out here santhiya koh yao yai resort & spa and if you do happen to stay here you can also ask them to arrange your travel from the airport to the resort will cost you about 1250 baht . While there , do stay in the Ocean view pool villa , it's magical .
Activities- Kayaking, paddle boarding .
Stay - Santhiya Koh yao yai resort & spa
Day 7(Koh Yao Yai - Phuket - Phi phi)- So considering our budget only allowed us only a one day stay in Santhiya resort , we decided to proceed to our next destination , PHI PHI . I was excited about this as well cause we had some lovely activities planned , so we checked-out from Santhiya at about noon and headed to the pier to get a ferry till Phuket , so you guys should know that there are no direct ferry or speedboat to phi phi unless you pay a lot probably , but either way , it takes about 25 to 30 mins to reach Phuket from the pier in Koh yao yai and the pier where the ferry departs for phi phi is about 5 mins away , takes some time to walk and also we were on a time crunch hence took a cab to the pier where the ferry for phi phi departs from and then bought a ticket for the journey on the spot , you can do it for most of these journeys. And it took about 3 hours in the ferry but we finally reached Phi Phi , and we discovered that our resort is on the other side of the Phi Phi island and hence had to take another speed boat to reach our resort, so a suggestion for the first timers , do find a place to stay near Tonsai beach as that's the hub for all the activities and good restaurants as well.
Activities : We were busy travelling this day.
Stay : Tohko resort ( not recommended (unless you are uber adventurous :P) , no fan in the hut or proper electricity facility and is infested with numerous insects)
Day 8(Phi Phi island) - The day we did Scuba diving , so I know it can be a little confusing cause there are so many scuba diving centres, we went ahead with PKT diving and one of the best decisions we made , so basically they take you for 2 dives in different locations of the marine park its going to cost you about 4000 baht (8000 inr approx) the cost includes the tickets for the marine park + the costume ,etc + the food + 2 dives for (45 to 50 mins each) , and opt for it in the morning so you can be done with the scuba dive by around 1 , if you start at 8 a.m. and can possibly visit Maya bay etc with the same marine park ticket and do opt for scuba diving and not snorkeling , trust me you wont regret it for sure , the coral reefs are alluring and you can get to swim with the diverse variety of fish , maybe sea turtles(if you are lucky, which we were) and later in the evening you can head to the Reggae bar or maybe the other more peaceful pubs ,take your pick.
Activities: Scuba diving , maya bay , Reggae bar
Stay: Tohko beach resort.
Day 9 (Phi-Phi - Koh Samui) - Well this was one long day wrt travelling , so do add koh samui on the list of your islands to visit anyways , also the flights a little expensive and we were on a budget hence we stuck to the ferry at a whole the travel came upto 1500 baht from Phi Phi to Koh Samui , so basically you have to go to Tonsai bay to get a ferry to Krabi from krabi as you step out of the krabi pier there will be people helping you out with the Koh Samui transfer , one option is that you directly opt for a ferry from Krabi to Koh Samui please do check the timings online many sites are there , next option would be get a bus till Surat Thani pier and then from their get a ferry to Koh Samui from Surat Thani , so we opted for the second one Krabi -> Surat Thani -> Koh Samui . This travel would require the whole day , so don't make any plans for this day in case you plan on going through with the same itinerary . And for those who were as confused as we were , about which beach to stay on in Koh Samui , so if you would like some peaceful time it's definitely the Lamai beach and if you would love the oh so crazy , full of life place then Chaweng beach is definitely your place . Also most of the shopping and water activities happen in Chaweng though there are a few in Lamai as well.
Activities : day spent in travelling.
Stay : Sand sea resort and spa , Koh samui ( Lamai beach)
Day 10 (Koh Samui) - This day was dedicated to all the water activities we had planned for also checking out what chaweng was all about , most of the activities happen near Chaweng we had heard and hence we were off to Chaweng , so i definitely suggest you rent a bike it will cost you about 250 bhat (500 inr approx with a full tank) else one can always take the shuttle service there , they have these huge red cars , where the rear of the cab is modified for many people to sit in and also they are very frequent will cost you about 100 bhat to reach Chaweng from Lamai. Once you reach Chaweng you've got to also check out the market and the amazing places to eat preferbly after you are done with the activities, so many options though . So we went to the beach , went ahead with the activities like fly boarding etc , do not miss this , come what may , it is crazy fun , for 15 mins its gonna cost you about 1500 bhat and there are so many more water activities that would totally lure you in . After the crazy water fun we were famished and proceeded to one of the cafes in Chaweng and there is also a Hard Rock cafe in Samui in case one wants to add any HRC tees to your collection . After loafing , crazy shopping we got back to Lamai and checked out the scenes there , it is very peaceful in this corner of Samui but excellent restaurants here as well . So it definitely was all about Eat , Pray and Explore for us ;).
Stay : Sand sea resort and spa , Koh samui ( Lamai beach)
Day 11 (Koh Samui) - Koh Samui on bike - So we finally rented the bike and decided we explore the island , Samui being a small island and very well planned out took us very little time to explore but it was fun riding in a new place especially with a view of the vast sea beside us , we thought we would have a light brunch and begin the day , so headed to Chaweng to spend some time in one of the other very inviting cafes had a nice brunch and headed out to Bo Put which had the Big Buddha , it has an amazing view of the beach right behind the Buddha statue , we were in awe , once you are done with visiting Bo put you can head to the other side of the island , shouldn't take you long at all , so get that bike and go head out to explore the island on wheels .
Activities : Exploring the island.
Stay : Sand sea resort and spa , Koh samui ( Lamai beach)
Day 12 (Koh samui - Surat Thani - Bangkok) - So this is the day we made the most of the ravishing Villa we stayed at until it was time to check-out , boo hoo ! anyways we were heading back to Bangkok from where we had our return flight , so it takes about 3-4 hours to reach Surat thani airport , well you can go about booking a flight from Koh samui but they were a lilttle over the budget , hence we thought we'd probably fly out from Surat Thani for which you can take a ferry , kindly do check the timings in advance so you don't miss out on it , would cost you about 800 Baht for the package which includes the ferry ride and the cab till the airport , it's a good deal . Next thing we know we are in Bangkok in Rambuttri road, a road that is parallel to Khao San road and is full of life and that's how we spent the night loitering and discovering the street and all that it had to offer with the music , the lights and good vibes .
Stay - Sleep Withinn , Rambuttri Road
Day 13 (Bangkok to Bangalore) - This whole day was dedicated to moving around Khao San road and Rambuttri road and the whole last minute shopping spree anyways when that was done , i booked a taxi to the airport , it is a combined cab service , basically you can go pre book it , there will be a few other people and the transfers are there on hourly basis , make sure you pre-book this also it will just cost you about 150 Baht from khao San road.
By far one of the best and most scenic trips i have done , so many activities Thailand has to offer , if you haven't thought about it , make sure you happen to add Thailand to places you have to visit , plus it has a visa on arrival ;), that's the good stuff :D. Hope you found the article informative . Please do Reach out for any queries.
Frequent searches leading to this page:-
Top Thailand tour packages with price, Thailand tourism best places to visit, Thailand tourism packages from India, Thailand tourism best time to visit, Thailand tour package for family