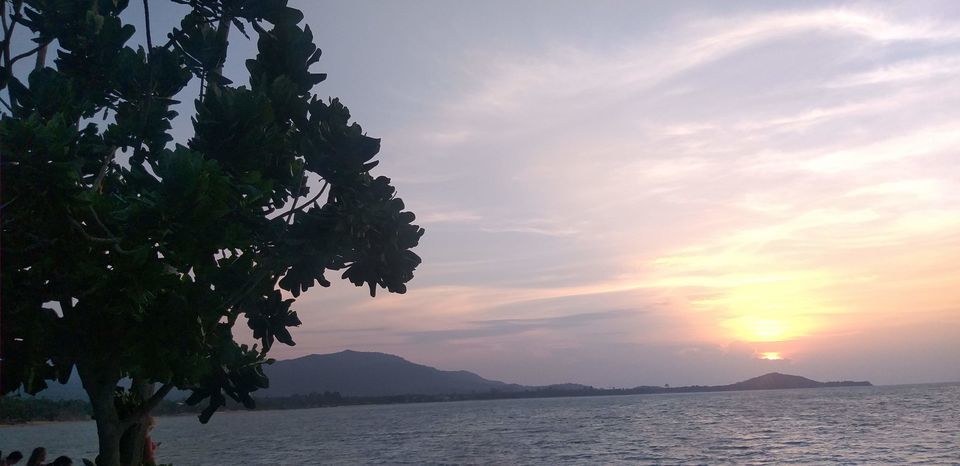 Work. Earn. Travel. Repeat. Exactly the way our first international trip was planned. We were very clear on the destination part as we wanted to go to a place which comparatively a very famous country to visit. The reason behind that was we will have a lot many people to refer to for any information which wasn't in the internet.
Thailand it was. Almost 30% of the people we know have been to this country.
Our travel dates were 4th May to 11th May 2019.
Trip Details: Delhi – Bangkok – Koh Samui – Koh Phangan - Delhi
We booked our flight tickets on 15th Dec 2018. Our flight to Bangkok was via Singapore with a halt of 1hour in Singapore and same was the return.
Flight Fare: $430 approximately for 2 passengers return fares.
Bangkok being one of the most popular cities of the world needs no introduction. It's a busy city and the activities start early around from. Day 1 was mostly shopping for us as we had only one day in Bangkok. Being a weekend we headed straight to the world's biggest weekend market – Chatuchak Market(https://www.placesofjuma.com/chatuchak-weekend-market-bangkok/). Undoubtedly the best and the cheapest place to shop in Bangkok.
Same day we had an overnight bus to Surat Thani to catch the ferry to Koh Samui. There are three ways to reach Koh Samui from Bangkok – Flight (Expensive and Fastest), Train/Ferry, Bus/Ferry.
One can book the Bus & Ferry tickets together and same with the train and ferry tickets. We opted for the Bus and Ferry option. The bus was quite comfortable which takes you from Bangkok to a place called Surat Thani, from there you reach the Don Sak ferry terminal and take the ferry to Koh Samui.
Bus and Ferry Fare: $28 approximately for 1 passenger
The ferry was quite comfortable too which has an air-conditioned section as well as an upper deck to enjoy the blue waters and the sun. We reached Koh Samui at around 11:30am and reached our resort by 12:30pm. TIP: Its always better to book a shared minivan right from Don Sak Ferry terminal for your journey from Koh Samui pier to your resort. The fare is approximately $6.5.
We stayed in Escape Beach Resort in Koh Samui(http://www.escapesamui.com/). Located right beside W Resorts it is one of the best budget places to stay in the island. Apart from the entry which is slightly tricky this place provides everything that a traveller looks for. The swimming pool of the resort is perfectly placed and you can have one of the best sunset views from the island.
Koh Samui is one of the largest islands of Thailand and there are a number of activities that one can participate in around the island. The best way to explore the island is to rent a two-wheeler and explore. It is always recommended to rent a two-wheeler from a trust worthy place- probably from the hostel/hotel you are staying in. the cost of renting a two-wheeler will be around $7 for 24hours.
Chaweng Beach is the most happening place in the island and you can try the famous Thai street food there in the evening as the road infront of the beach gets lively and bustling with all the hawkers and shops lighting up. I would always suggest a tourist travelling to Thailand to always shop from Bangkok as that's the cheapest city to shop from.
One can also pre book their scuba appointments at Chaweng as there are a number of vendors arranging the day scuba trip. We did our scuba diving at Koh Tao which is around 1.5hours from Koh Samui by Ferry. Koh Tao by the way is one of the top 10 places to dive in the world thanks to its clear water.
Scuba Diving Cost: $125 for Beginner level.
As far as food is concerned in the island there is no dearth of options. Starting from local street food to cafes like Hard Rock Café to Mcdonalds are all available in the island. For basic requirements there are many 7-11 stores where one can buy all kinds of basic requirements including beer!! Don't miss the pancakes available at Chaweng Street mostly sold by Burmese people.
Over the years Koh Samui has become one of the most sought out places to travel around the world. Its always advisable to do all the booking by your own and not depend on travel packages. That way one can always chose between exploring the island freely and also relaxing at the beautiful beaches of the island like Chaweng Beach, Lamai Beach and Maynem Beach. Koh Samui serves the purpose of one of the best places around the world for Beach vibes. One can simply chill and relax in the island far from the hustle and bustle of the cities specially if you are coming from India. One can also witness the world famous Muay Thai in the island which happens almost every night
Compared to other places of Thailand Koh Samui is a bit expensive but still value for money compared to the mood it creates. For example a can of Chang beer in Bangkok will cost you $1.13 and the same beer will cost you $1.23 in Koh Samui. Local Food is always the cheapest option and they are simply delicious. The roadside pancakes are absolute value for money - $1.26 for one pan cake and you get a great variety of pancakes. If you are nit that fond of seafood you can always go to several Mcdonalds and Burger King outlets in the island.
We came back from this trip with an absolutely fresh mind and would like to thank all the concerned authorities, people involved in making this trip of ours s nice and refreshing.
This is the first blog that I have ever written in my life. Please comment and let me know my areas of improvement and what new things I can do so that the readers can get maximum information out of it.
Special Thanks:
Singapore Airlines – For providing the best flight experience. The staff were extremely kind and generous.
Thailand Government – For making everything inside Thailand so systematic for tourists. There wasn't a single moment when we were stranded and clueless. Punctuality and road discipline of the people of Thailand is something gets should get a big shout out.
Escape Beach Resort – Thank you for you marvellous hospitality and facilities. We couldn't have stayed at a better resort than this. You guys were extremely polite and kind. We will recommend everyone to spend one night at this beautiful resort when in Koh Samui
Thank you to the all the people we have missed out here….and last but not the least thanks to the UNIVERSE for making my first foreign trip possible!!
"Traveling – it leaves you speechless, then turns you into a storyteller." – Ibn Battuta