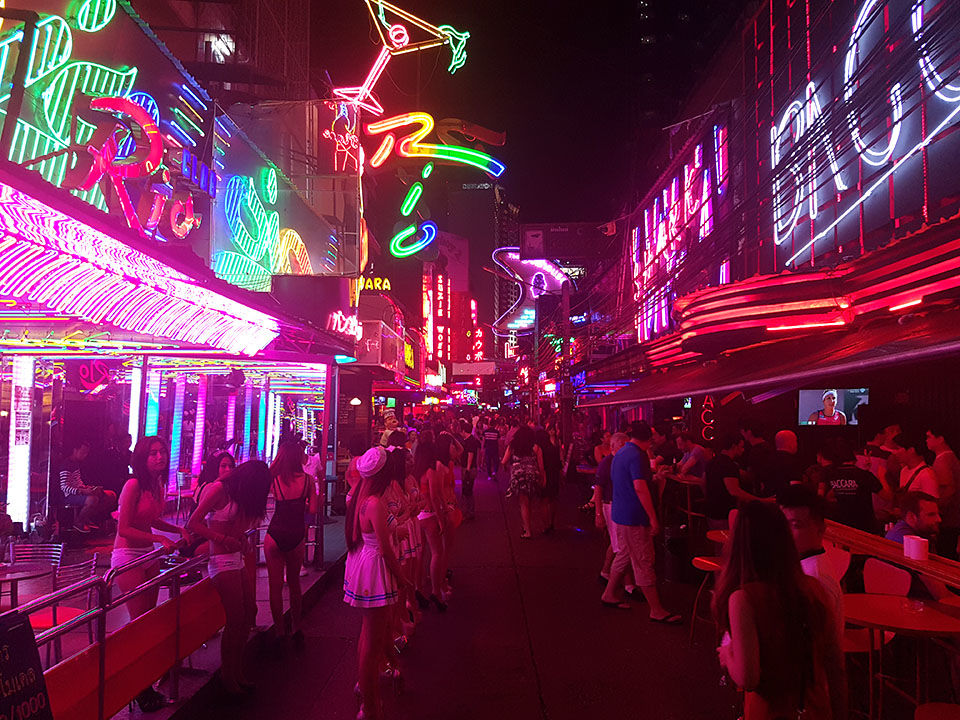 When does it wake up, when does it go to work, what does it do to have fun, how happy are they – these are some questions that need to be answered to get a feel of a place. A monument, a restaurant, a Facebook check-in or selfie at its cosmopolitan hub will never provide you with the answer. You need to know the generalities so that you can admire the uniqueness.
Time is the only dampener. I have realised that you cannot claim to know a country but just the part that you visited and that too, slightly. Visiting Paris is not equivalent to visiting France nor does a visit to Switzerland, Germany and France amount to visiting, or for that matter, knowing Europe. So let's stick to places where we actually spent time.
Another runaway was on the cards as the birthday approached. We settled on Thailand. Given the paucity of time, I had to choose what I wanted to see and do in that vast country. Northern Thailand was out of question. There was too much travelling involved and I wouldn't have managed to even cover one place properly. So I stuck to exploring the food in Bangkok and checking out the islands of Koh Samui, Koh Phangan and Koh Tao.
I had chosen the location of the AirBnB's precisely where I wanted to travel around. The first one was close to Chinatown where I had planned to stuff my mouth with numerous delicacies. The chaos of Bangkok will definitely calm the heart of an Indian. It does feel like home. A few rules you must abide by when you are in Bangkok if you want to save some money. Tuk-tuks are a rip-off. You are much better off with a taxi. Use a combination of the metro/subway and taxi to get around. The bike taxis are also wonderful.
Tossed the bags and off to Chinatown. Broad roads occupied by street vendors offering an infinite number of dishes for you to devour. I swear I hadn't salivated so much in the recent years as much as I did here when moving from one alley to the other. The grills shimmered and the oil dripped on to the coals, and the ensuing smoke drew you ever closer. We started off with a clear pork soup and some fried pork dumplings. Seafood noodles really filled us up. Octopus, squid and prawns do get quite heavy.
The other great part about Bangkok is its 7-11 stores and the Family Mart stores where you can pick up all essentials and beer, all through the day. We even got ourselves some packed breakfast for the morning as we had to leave early morning for Koh Samui. The bacon sandwich is to die for.
For the rest of the journey, let's talk through pictures:
Surat Thani was a different side of the cosmopolitan Thailand that we had seen in Bangkok. We landed here and were transported to Koh Samui by a combination of bus and high-speed Catamaran.
Birthday Meal - Couldn't have asked for a better meal on my birthday night. Steamed pork with papaya dip and Garlic & Pepper fried Pork.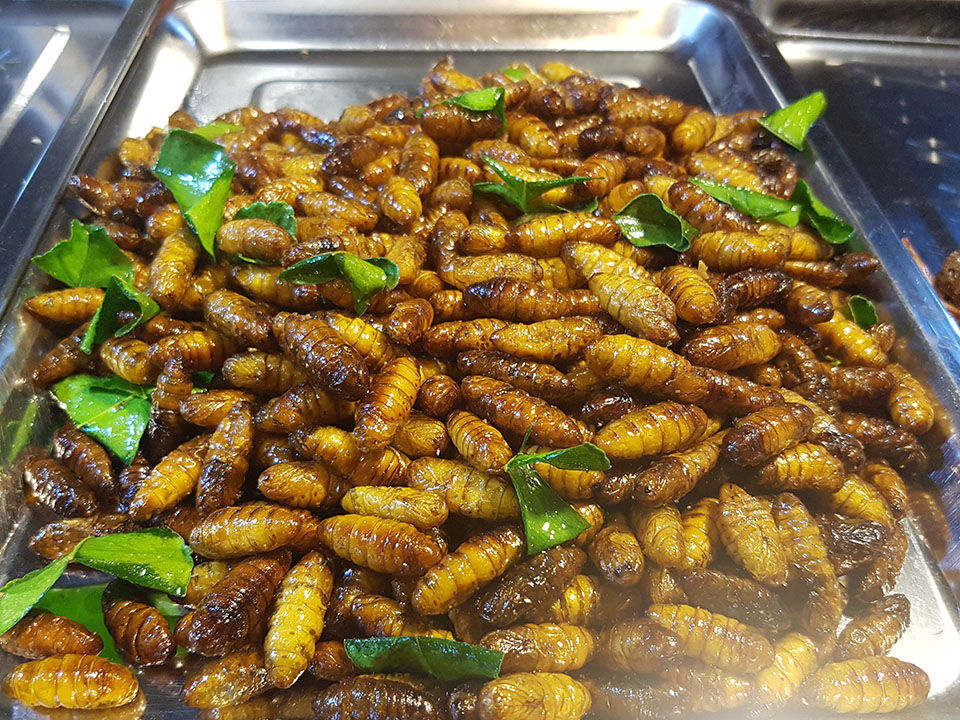 Yes, I ate them too. I have a video to prove it. To tell you the truth, they weren't that exciting. Deep fried, I couldn't understand what they tasted like. Had no unique flavour to them.
The popular Chaweng Beach. We ditched it for a much better and secluded beach that we just stumbled while mapping the island.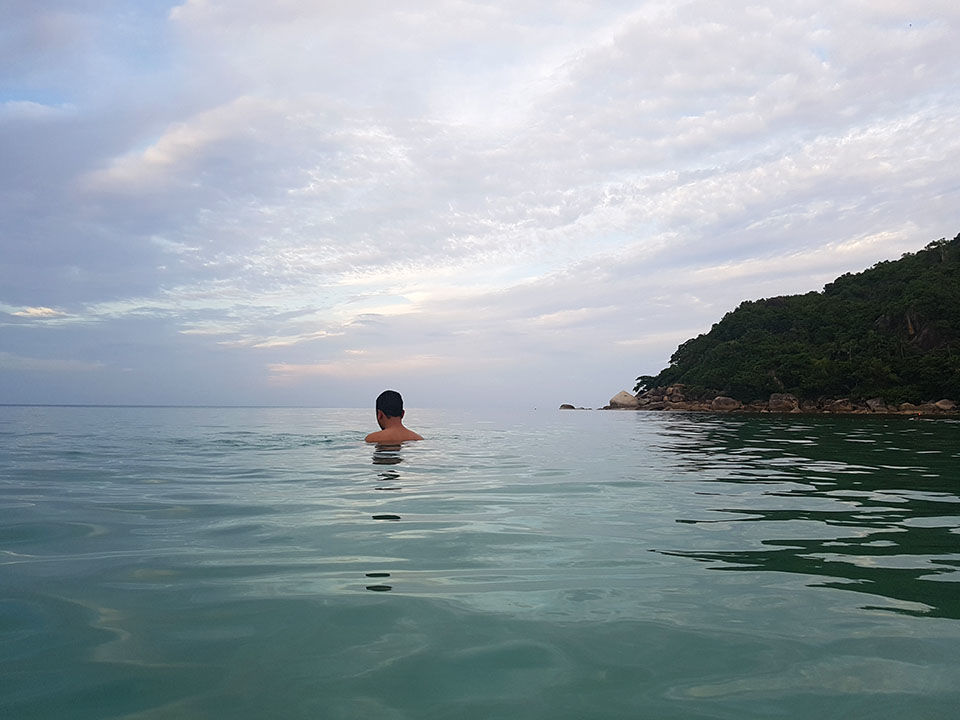 This beach was devoid of the madding crowd. The route was through resorts, so not many people ventured here thinking that it might be a private beach. We were here all through our stay, just swimming and floating around.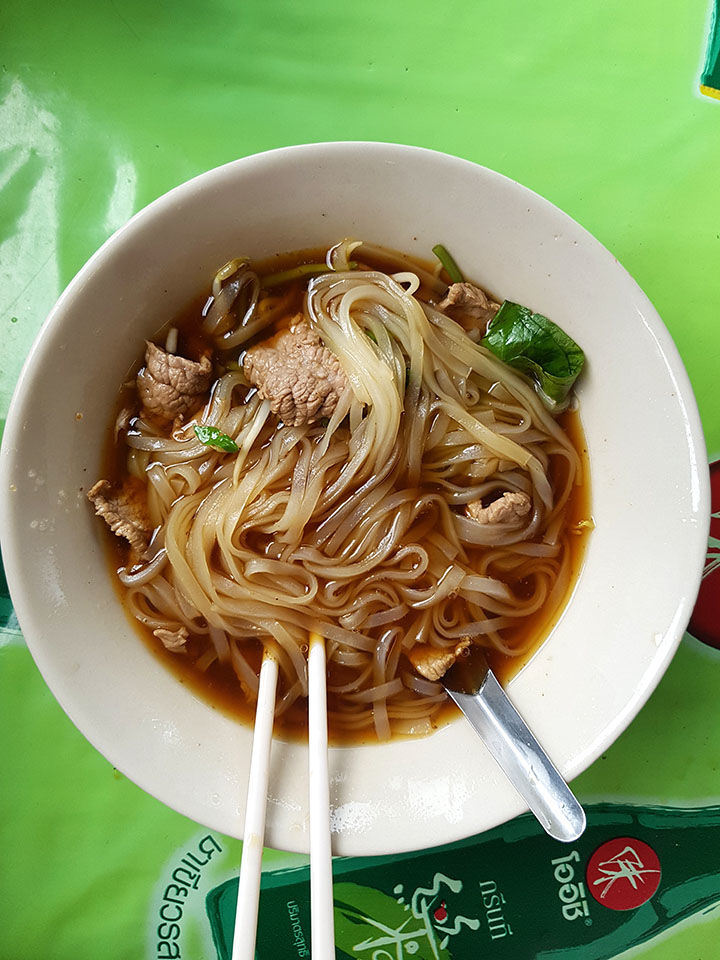 The Beef Noodle soup is a saviour for the tired and hungry soul. We had taken a scooter ride to explore the island. By the time it was over, I was starving. The small restaurants serve some pretty amazing meal-in-a-pot. While Shefali looked over for some cute pots in a nursery, I was devouring this.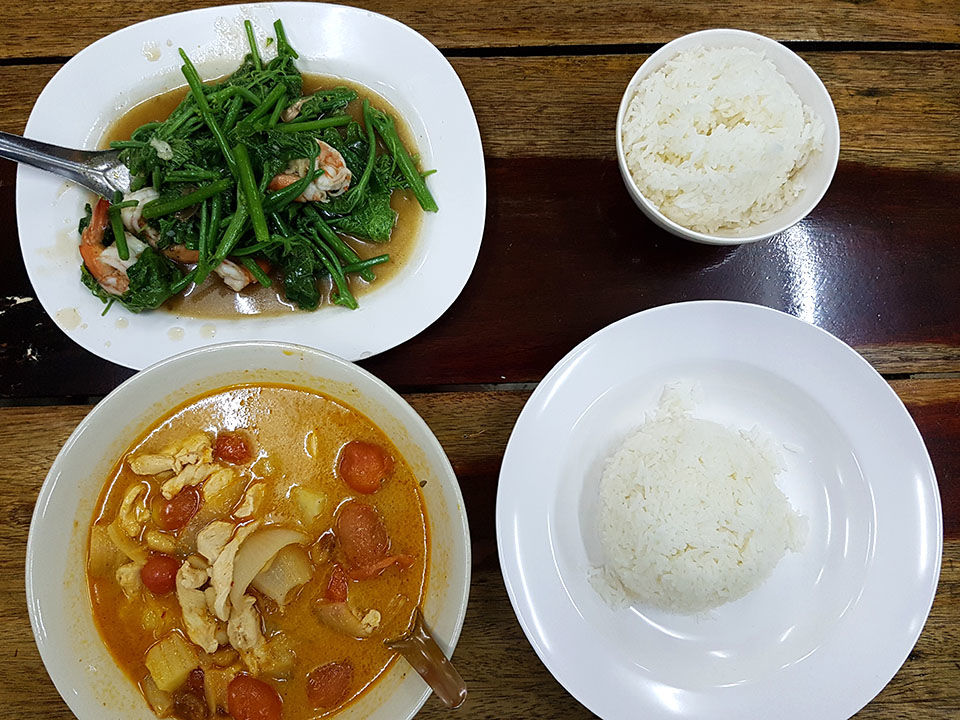 No matter what, good food always brings a smile. We made sure to try our different places for eating while at Koh Samui. Here you see Chicken Masaman Curry along with prawns with green veggies. I have yet to come across bad food in Thailand. And they always serve you food with a glass full of crushed-ice to pour water or soda over. It's a thing in Thailand.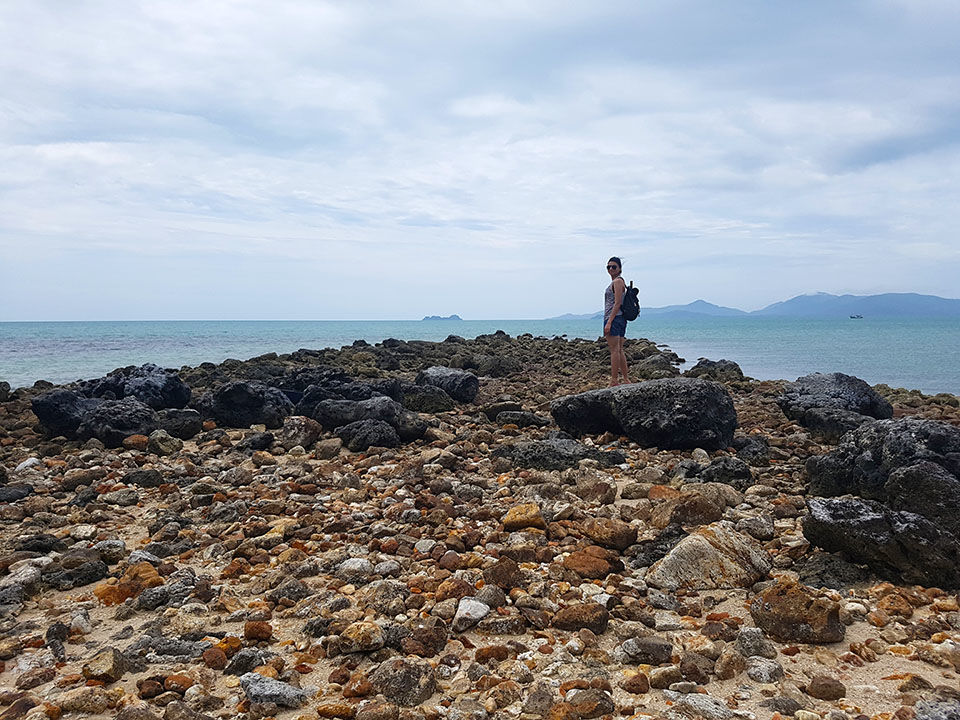 All the food tried to clamp us down, keeping us from exploring the islands. But, we managed to break free from its evil shackles. The islands do have some stunning locations. You just need to look for them. Secluded and beautiful.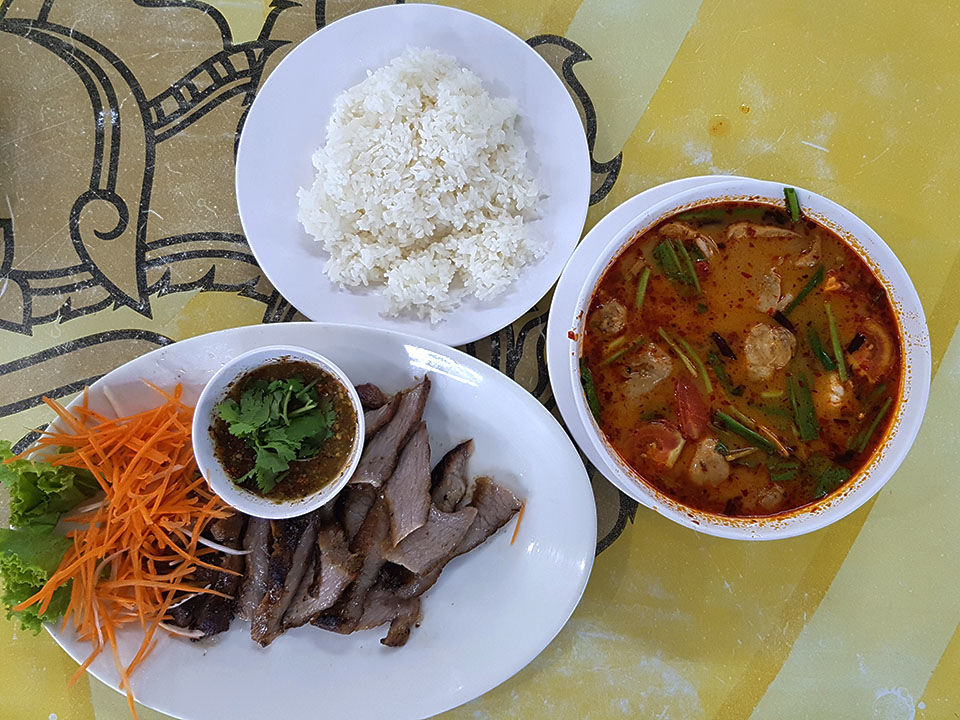 The last dinner at Koh Samui had to be good. We ordered for a portion of tom-yum-goong and juicy pork-neck. With every bite, juices were oozing out of the pork pieces. I do not need to tell you how tasty this was. Though we were full, we still ordered for a portion of mango sticky rice. Well, we couldn't get up for an hour from our seats after this, but it was worth it.
When in Bangkok, I had to see the Cowboy Soi. It's a small alley, say about 150 metres long. Dance bars, girls and ladyboys will try to pull you in for a drink or a lap-dance. If you are with a girl, they will let you off with a slap on your dick.
I bet my life that you'll never find a better Tom-Yum-Goong dish. The freshwater prawns and the ingredients are put in a boiling pot along with herbs and the homemade paste. It is only made fresh and when one orders it. Though the place is filled with people and hence the pot is always boiling. The resulting tom-yum-goong is creamy and the prawns are not chewy because they are not overcooked. If in Bangkok, this is one place you need to visit.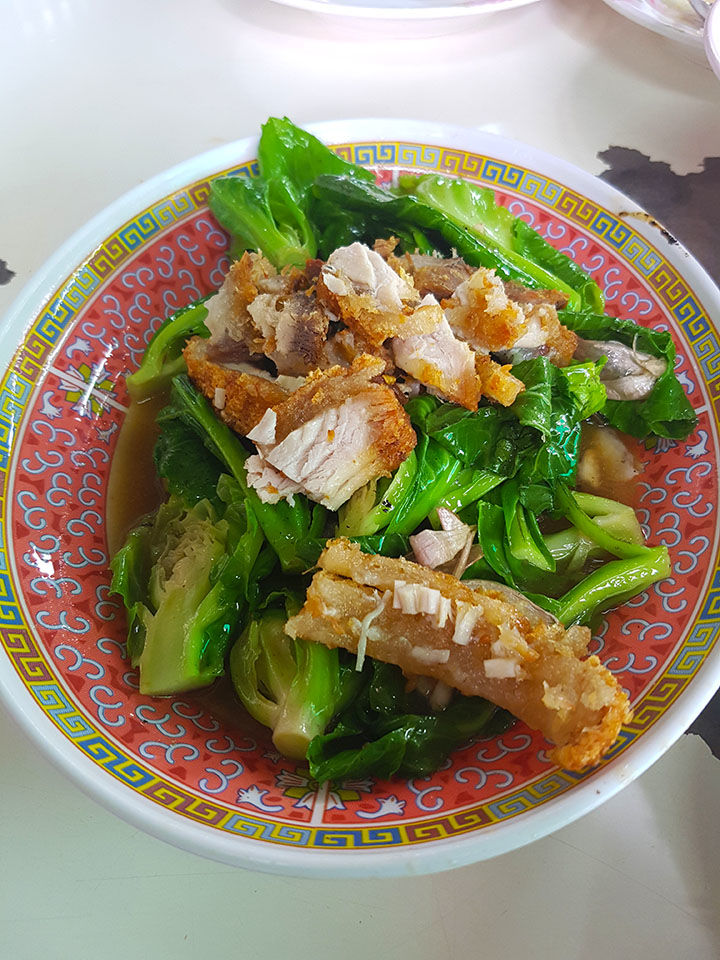 We had also ordered some pork with veggies. The slightly salty taste went very well with the creamy tom-yum-goong.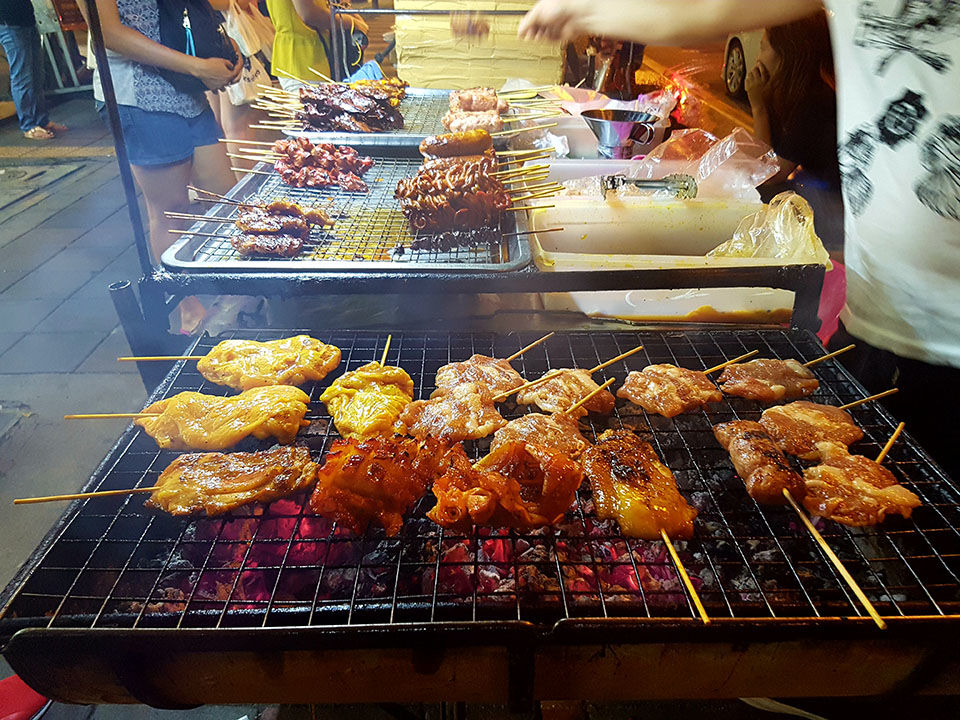 The street food scene in Thailand is great. It is one definite identifier of the city of Bangkok. Cheap and tasty, this makes you happy.