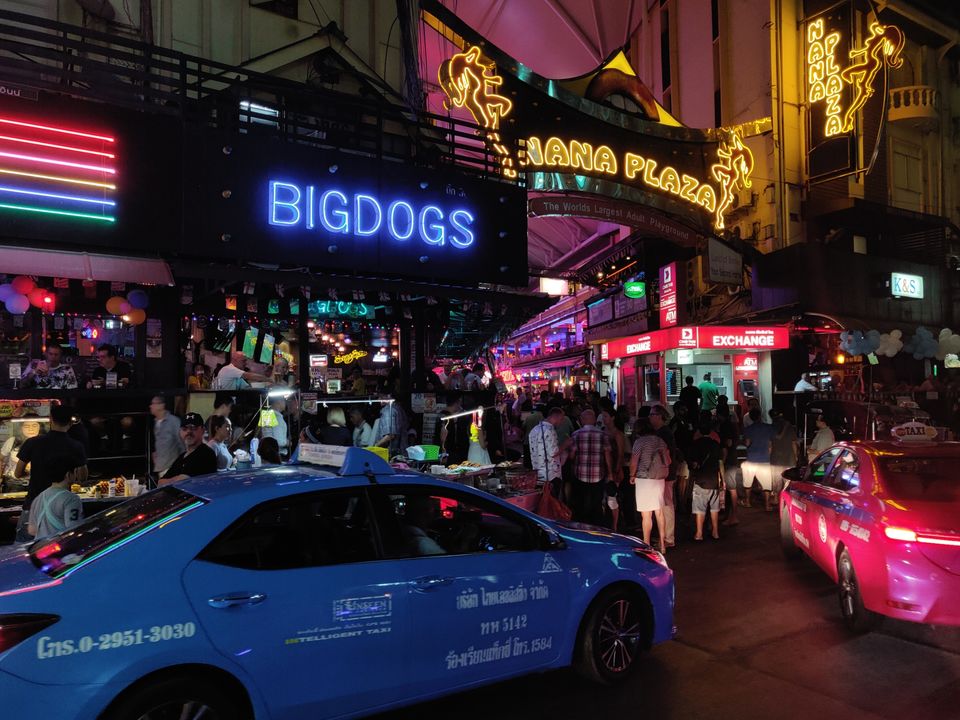 We boarded a flight to Bangkok from Indore with a 3 hour layover at Kolkata. The journey was long but we were so excited that none of us were tired. We dreamt of the streets in Bangkok and the beaches in Phuket.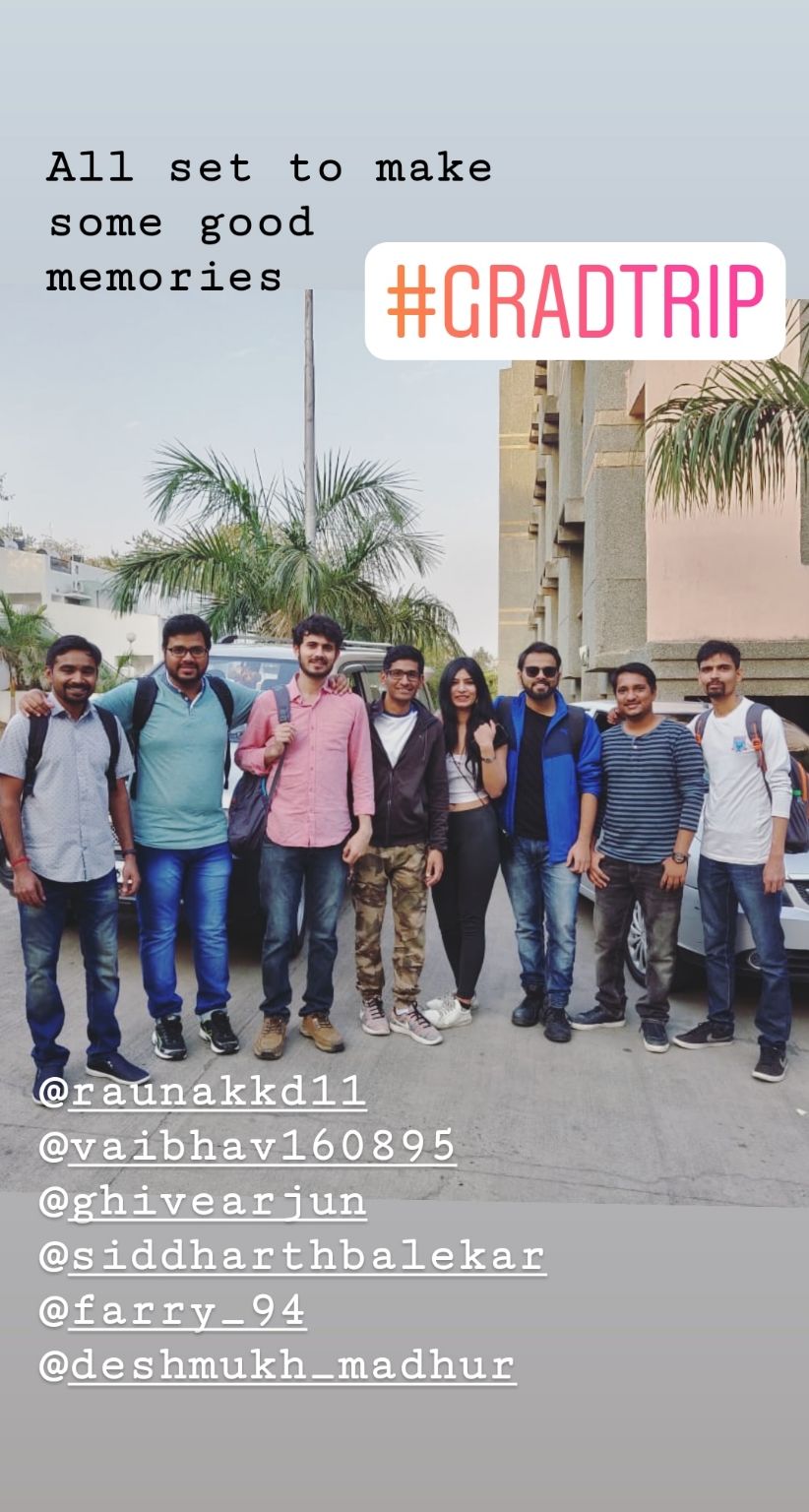 We reached our hotel at around 12 noon after spending a huge amount of time at the Bangkok airport for our Visa. By this time, most of us were tired and ready to take a siesta. But 4 of us were up for food and visited the nearest seven eleven store. It was at this visit that we first tasted the best beer of our life - Chang's. A mild beer can that is so smooth that you may be able to drink all day long without a drop of guilt. We then took a bath and left our rooms to visit the nearest food street. After eating delicious pancakes and potato fries, we ended up at the mall looking for more food. We then visited the Asiatique riverfront which was so beautiful that one could spend hours here through it's shopping lanes, food stalls and of course Chang's beer. From a distance, you could see party cruises on the river with people dancing and drinking to their joy. Late night around 2:00 am, 5 of us left for the famous Khaosan Road. We were surprised to see do many people at that point in the hour, drinking as much as they could. You could also see a lot of gaadis selling laughing gas. We did end try up trying it, but somehow it didn't work on us. After drinking and enjoying the street, we took the cutest travel ever - the Bangkok Tuk Tuk that dropped us to our Air Bnb safely!! It was a great day.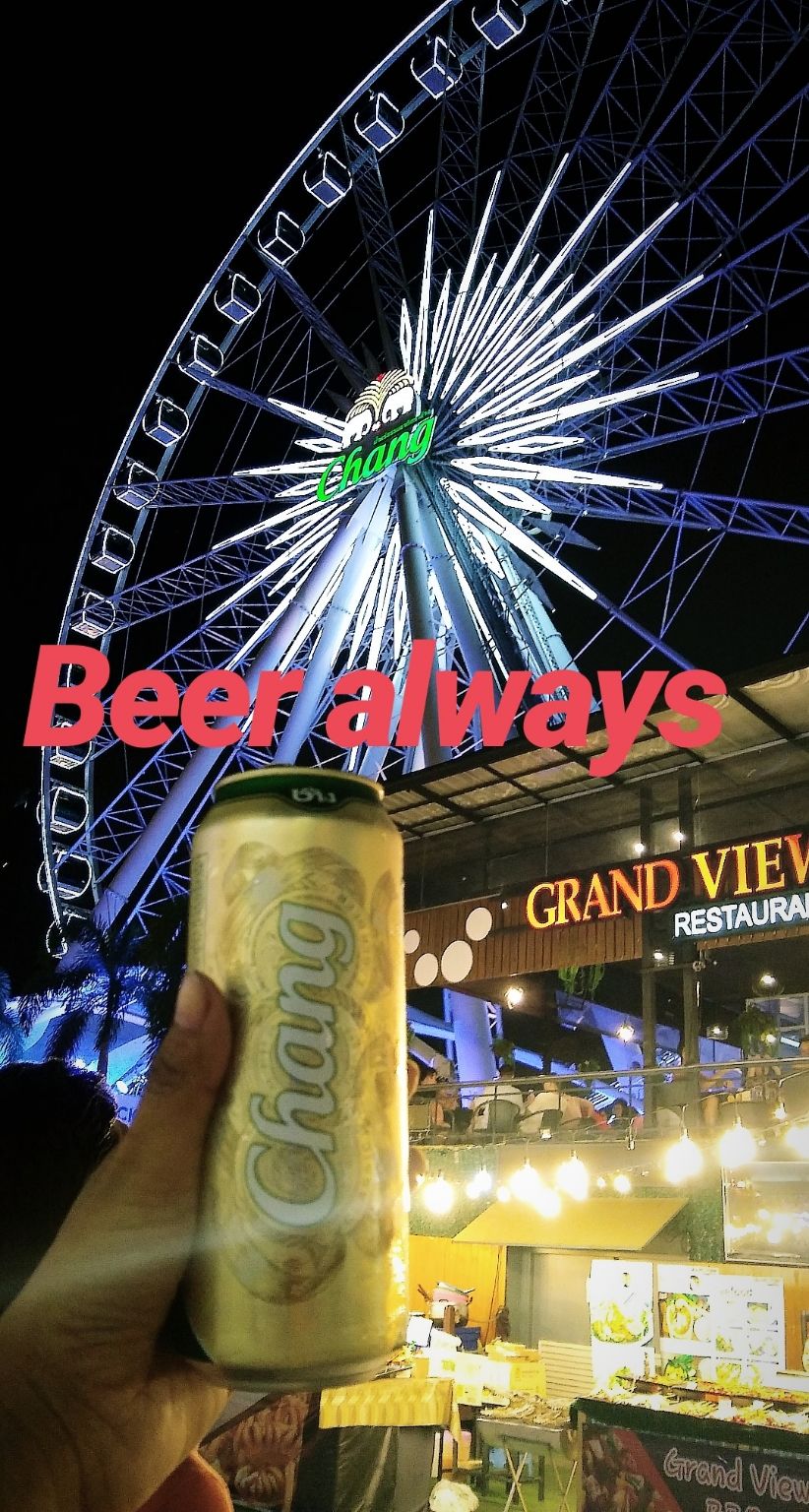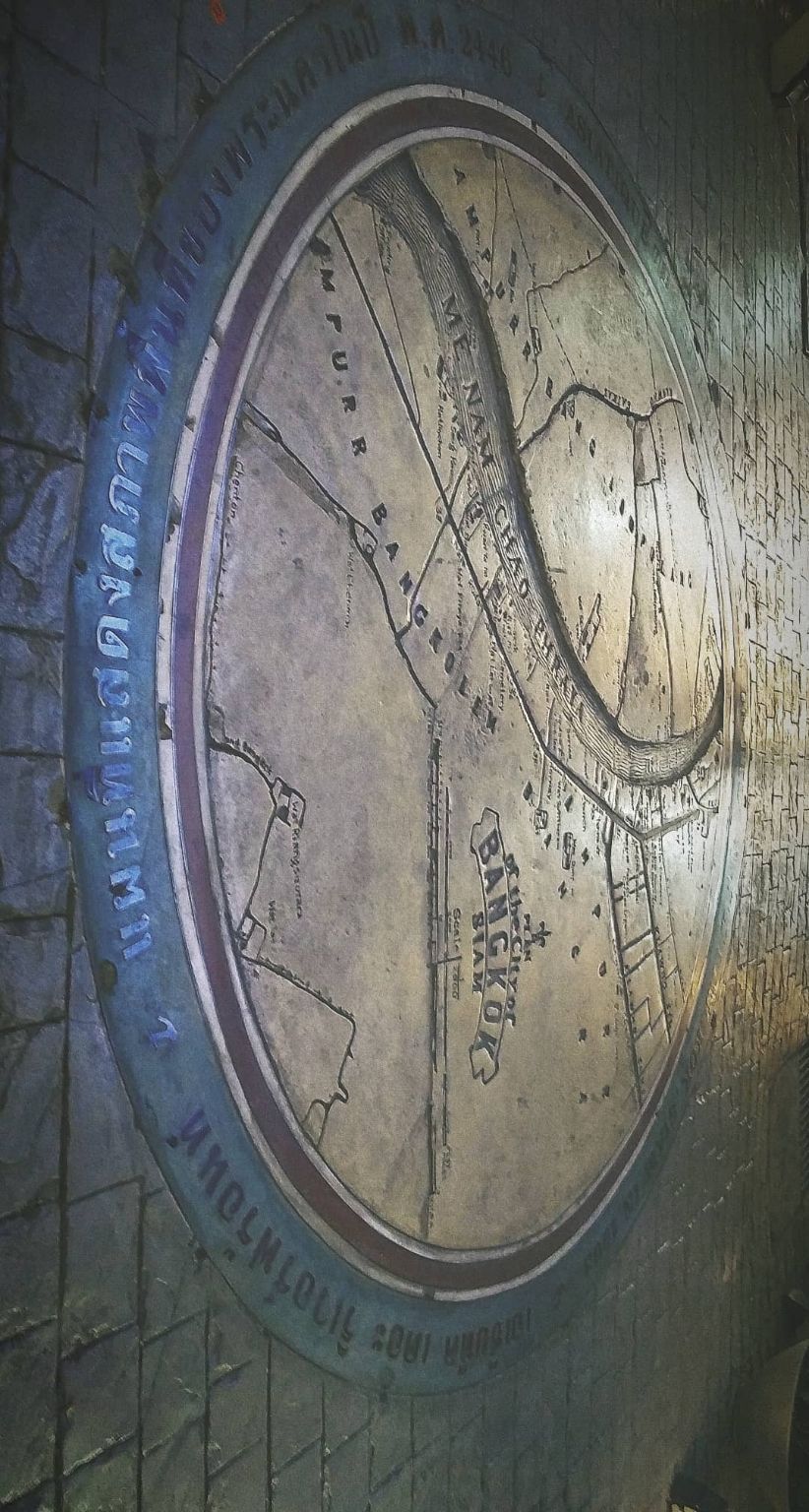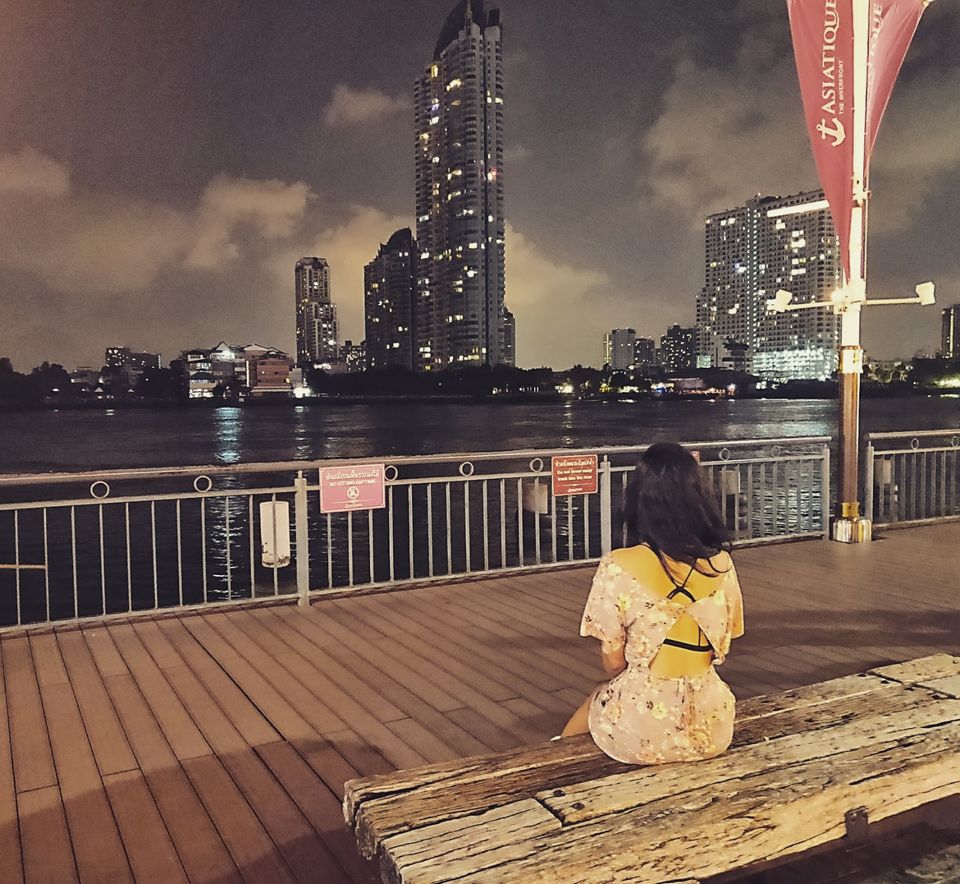 The day began with a visit to the famous monasteries in Bangkok namely Wat Pho and Wat Arun. Both of them require entry fees ranging from 200-300 Baht. After that, we went to see the Sea Life BKK Ocean World. However, the entry fees was 900 Baht and we had already reached late due to which a lot of shows we're not unavailable. Since, we didn't find it worth for 900 Baht, we ended up roaming the mall. I would suggest you to book tickets online one day prior instead to visit this place since it costs around 550-600 Baht online.
We next visited the famous Nana Plaza - the adult playground! I would recommend you to visit Soi Cow Boy instead of the original Nana Plaza of you are up for a happening night.
The original adult playground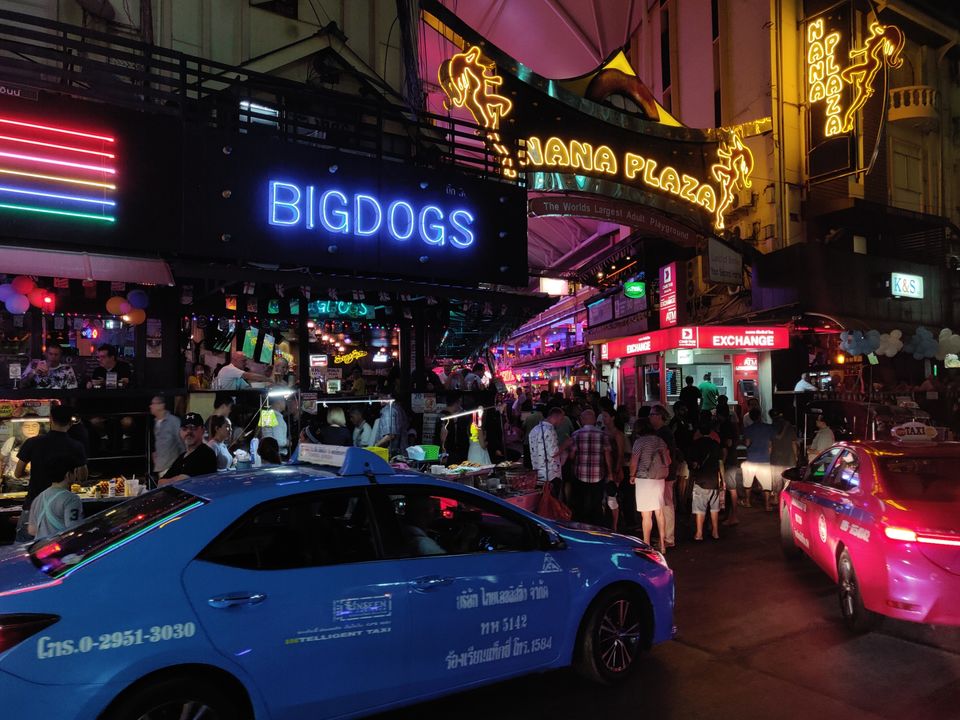 Early morning we took a taxi for 9 people to Pattaya. The journey took us around 2 hours to complete for 1200 Baht. The Air Bnb at Pattaya was at an amazing location with a pool. We ended up spending the entire afternoon instead the pool having beer. In the evening, we set out to visit the renowned Walking Street. This street runs in parallel with a food street that sells a plethora of Indian food, of course at exorbitant prices.
Walking Street is close to the beach, hence you can chill there with your friends. All lanes connecting this street to the food street are filled with strip clubs and bars. So, there is something for everyone here. There are a lot of shopping stalls and I found their prices to be the best. Hence, shop here instead of Phuket or Bangkok as prices are amazing here.
Do not forget to eat banana pancakes, mango with sticky rice and seafood if you like it.
The big Pattaya City logo is a great spot for pictures on the Walking Street. For those who wish to see the famous Alcazar Show, book online tickets a day prior which costs around 600 Baht for a VIP seat, cheaper than the in-house price. Also, this is the day when you negotiate with tour vendors for the Coral Island trip for the next morning.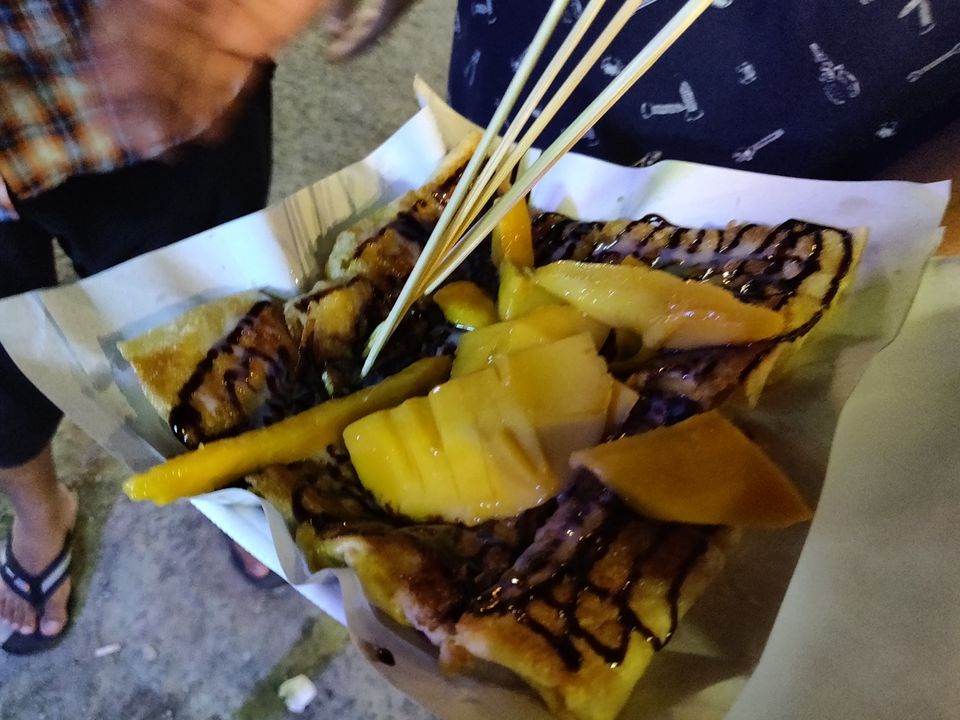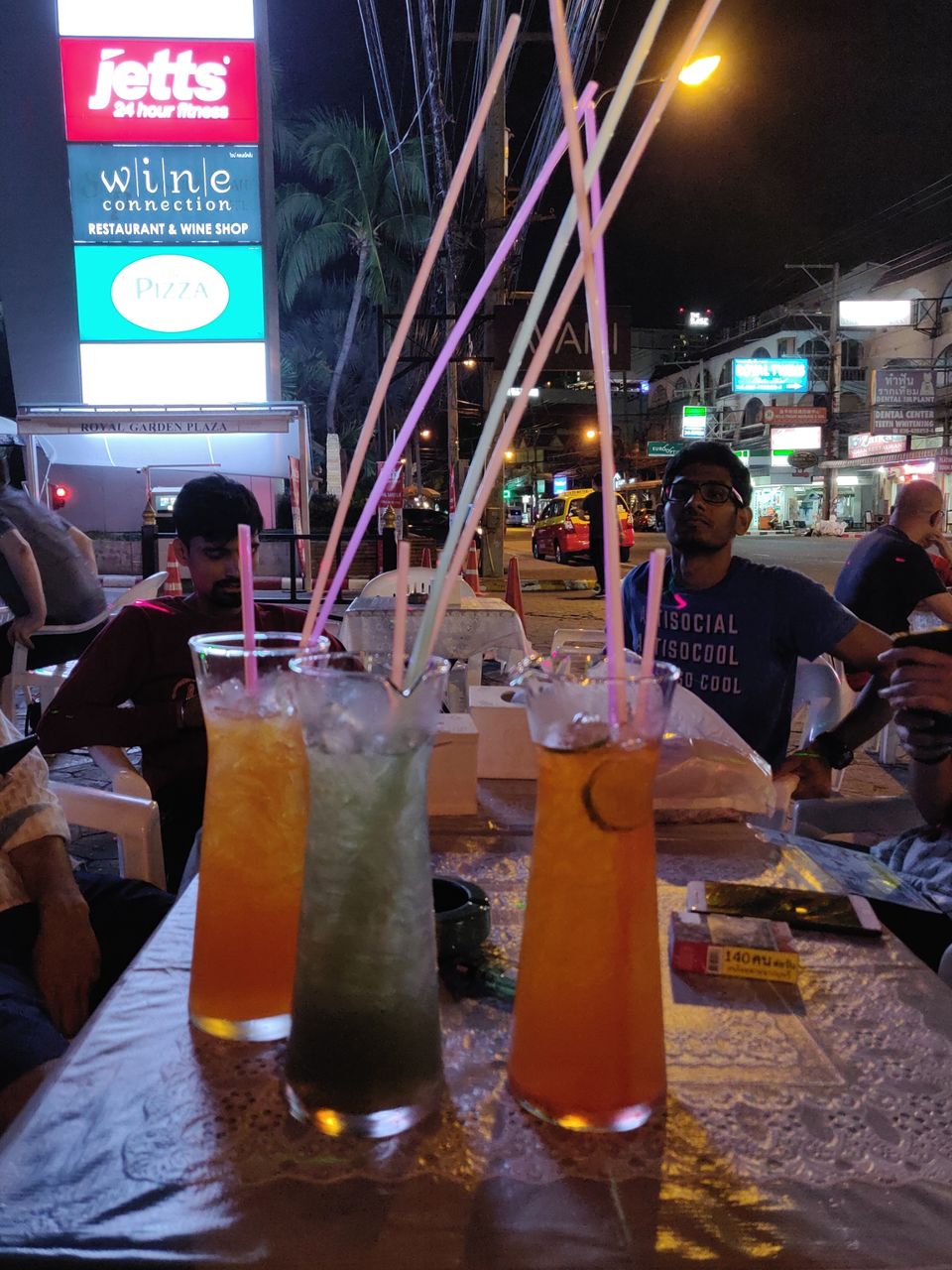 We left for our Coral Island trip the next morning. It cost us 1200-1500 Baht per person for the Coral Island tour, snorkelling and sea bed walking with lunch & photos and videos underwater. I would suggest you to negotiate more and bring this down to 1000 Baht or less. The islands were mesmerizing with water really clean and blue. You could even feed the fishes underwater if you opted for sea bed walking. By the time, we reached our rooms most of the people were tired and went to sleep. Some of us took a walk around to arrange for bikes. Each bike cost us around 200 Baht for 24 hours with 1000 Baht deposit per bike. International license is required, however you may still manage without it. We first visited the viewpoint for sunset. After that, we visited the Pattaya Night Market near our Air Bnb. There was so much variety of food and drinks and something really enjoyable by Indians. You could try all dishes for really low prices. Shopping was also great here. The Greek place here was the best. After this, we visited Jomtien beach and sat through the night. It was at this point that we tried the local Hong Thong Whiskey from seven eleven stores with Coke. It was amazing and really worth it for 250 Baht (500 ml bottle). Must try for all!!
The story is continued further in 'To the land of smiles: Part 2'.
https://www.tripoto.com/trip/to-the-land-of-smiles-part-2-5c8f60d8cdef6?ref=mobwapp&source=awp
Hope this helped you!!