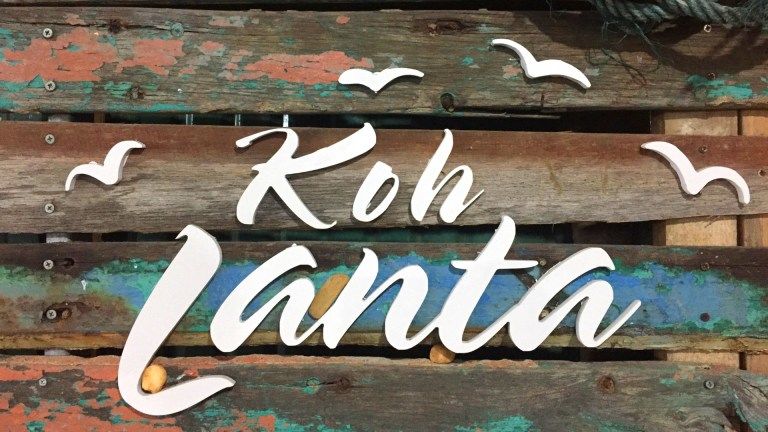 Thailand – A country that has always called out to me ever since I started traveling. With its tropical islands, beautiful beaches, lush green jungles and stunning mountains, Thailand is that one destination that fueled my wanderlust and inspired my journey in many ways. It was perhaps befitting for me to start the most beautiful journey of my life by going back to this very special destination. As much as it was a sort of homecoming for me, I was even more excited to embark on this journey with my wife and travel buddy Ruzin. I could not wait to introduce her to the people, culture, food and landscapes of Thailand with a hope that she would relate to the reasons why this place holds a special place in my heart. Within a space of nine days, we were to explore the capital city Bangkok, the idyllic island of Koh Lanta and the popular beach destination Phuket. In this feature, we bring to you a short guide to Koh Lanta island and its surroundings over a duration of three days of our stay there.
Koh Lanta is a district comprising of four groups of islands – Koh Lanta, Koh Klang, Koh Rok and Koh Ngai. The Koh Lanta islands are probably the most visited by travelers with Koh Lanta Yai being the most popular although the smaller island of Koh Lanta Noi is home to a beautiful ecosystem of mangroves and wildlife. We stayed at the Lanta Fevrier resort along the southwest coast of Koh Lanta Yai which was a bit away from the lively Saladan area. The entire west coast is dotted with nine beautiful beaches while the center of the island comprises of hilly terrain, caves, thick forests and a small waterfall. There is plenty to explore in and around this island and we surely made best use of our time here.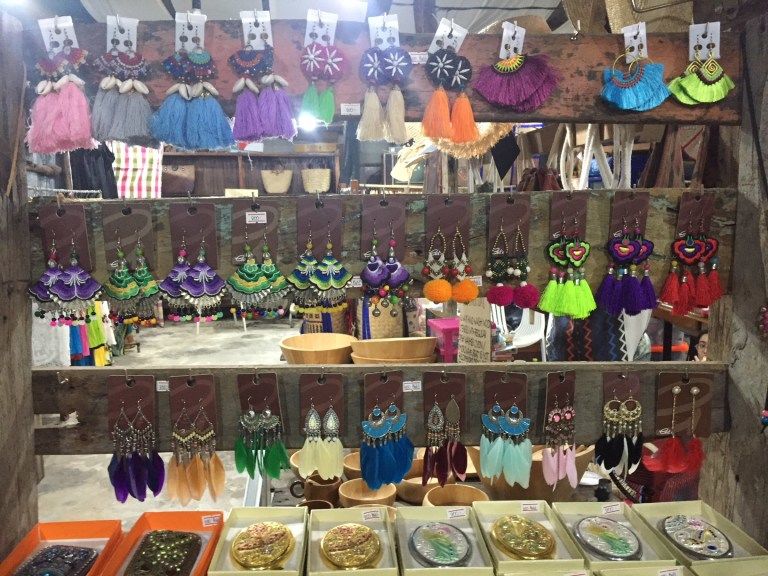 Moving away from the beaches of the west coast, lies a tiny town where time stops and the Thai way of life takes precedence. Home to an thriving fishing community, Lanta old town located on the east coast overlooking the small islands to Koh Lanta's east. What was once a trading port in old times, is now a well preserved sleepy little fishing village that is reminiscent of the bygone era. A small stretch housing souvenir shops, restaurants and traders runs along the waterfront leading up to the village. Taking a stroll in Lanta Old town would briefly take you through history when Chinese traders settled down in the area. Old Chinese style houses, spice traders and restaurants on stilts protruding out in the sea gives this place a charming laid back vibe. Spend an early evening exploring the different shops at your own pace and enjoy the dusk amid the stunning view of the eastern sea off the island from one of the restaurants overlooking the waters. A bit of heritage, some very slow pace and the sea right beneath your feet is what you get at this relaxed little place.
Walk through the local pop-up market
You know you are in the right company when you and your better half have similar travel habits. Exploring the local pop-up markets during our travels is a must for both of us and we were quite delighted to come across one while we were driving around the island. This lively market is held twice a week ( Monday and Tuesday ) at two different places along the west coast of Koh Lanta Yai. The local vendors set shop across the entire area selling a wide range of products such as clothes, crafts, fruits, vegetables, seafood, meat and of course food. At the cheapest of prices you will be tempted to do quite a bit of shopping if you are into local products. For us, the food stalls were a big draw as we had a look and bite from almost each and every one of them.This market is a great way to mingle with the local community amid a lively afternoon vibe.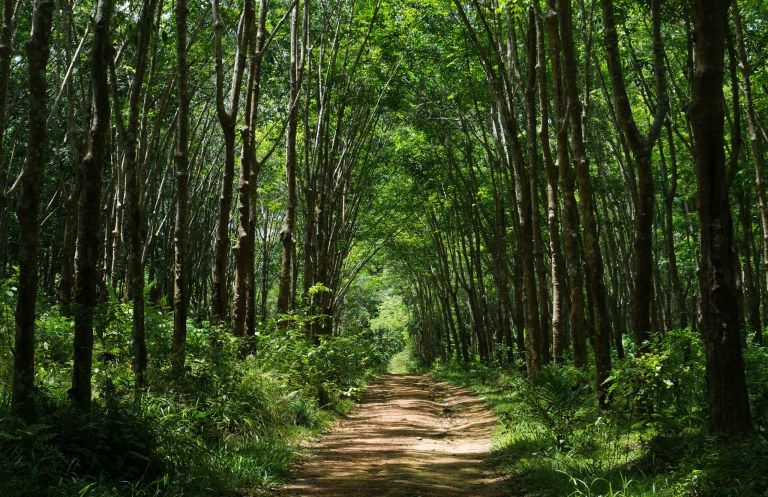 Located at the southernmost end of the island, Koh Lanta National Park is a marine sanctuary that is home to diverse terrestrial and marine life, hiking trails through forests and hills, a scenic white sand beach and the beautiful Koh Rok island. Among the several highlights of this area is the lighthouse located on the Ta Noad Cape with scenic views of the twin beaches on either side. The Ta Noad beach is one of the cleanest beach on this island with pristine white sand flanked by palm trees and crystal clear waters making it a wonderful place to swim or just chill on the beach. The entrance to this park is THB 200 for foreigners and is accessible through the west coast road that runs all the way down to the south of the island.
Feasting on authentic Thai cuisine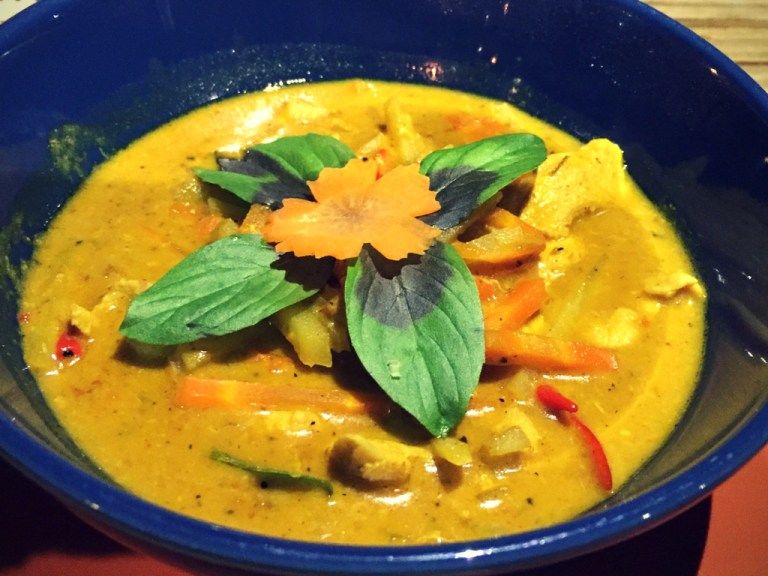 It is a well known fact that Thai cuisine is hugely popular across the world due to its unique and earthy flavors. Some of the Thai dishes have been my favorites over the years but I was apprehensive about how Ruzin would react to it given her profound love for Indonesian food. Little did I know that during the entire trip, she would end up feasting on Thai curries for lunch and dinner. The aroma and flavors of the Thai curries ( Green, Red, Yellow ) are absolutely unparalleled across global cuisines and that is what sets them apart. Besides the curries, the street food in Koh Lanta is quite an attraction, especially the fare at the food stalls in the aforementioned market. Barbecued meat on sticks are to be found aplenty along with sausages, quail eggs, crepes and the famous Thai noodle dish – Pad Thai. We were lucky to have found Aem Aim restaurant close to our hotel as the food there was simply delicious. Special mention to the steamed fish with lemon sauce besides the usual curries and papaya salads served there. Finding good authentic Thai food on this island would not be that difficult but we ended up visiting this cute little restaurant two nights for dinner as the food here was amazing.
Island hopping and snorkeling around Koh Lanta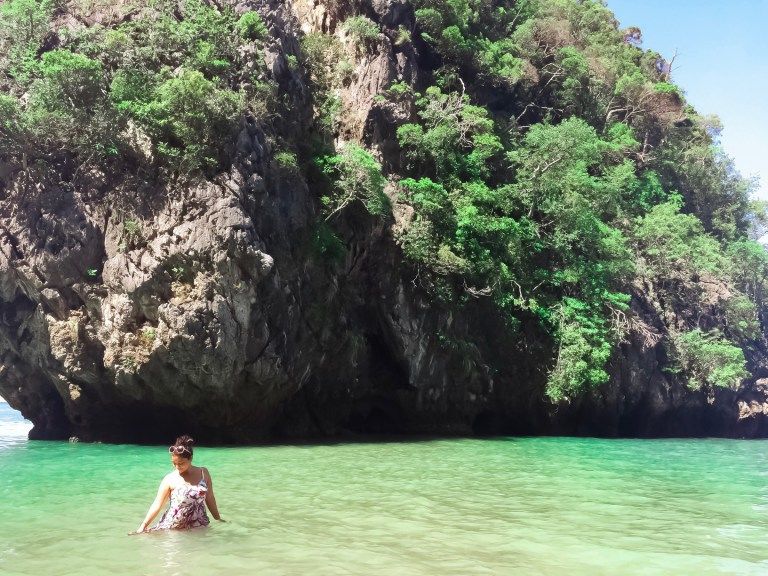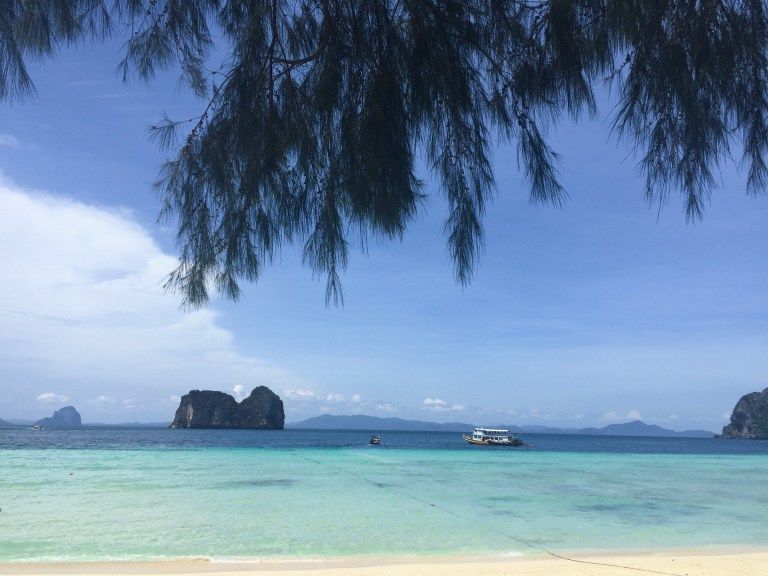 My previous travels in Thailand had one sure thing in common – a couple of island hopping and snorkeling trips. Our time in Koh Lanta was not going to be any different. In fact, island hopping trips from Koh Lanta are worth it as the prices are much lower than the ones in Phuket and the journey is equally, if not more scenic. We went on the seven island snorkeling tour and Ruzin put her negotiating skills to great use by getting a really cheap deal. This trip takes you to and around seven different islands where you can swim, snorkel and have a lot of beach time with several brilliant photo opportunities. A visit to the Koh Ngai island is a must do as this lesser known place is indeed a little piece of paradise. Crystal clear turquoise waters and white sandy beaches with the lush green mountains in the backdrop makes you feel in a completely different world. Not far away from the beach is a colourful reef where you can snorkel and witness some stunning marine life. During the entire trip, the landscape changes from tiny islets to huge limestone cliffs lunging out from the ocean. Be ready to feel overwhelmed by the gigantic but serenading scenery that I am sure you would not stop admiring.
Our three days in Koh Lanta were quite exciting and we were pleased to experience this simple little island with its laid back atmosphere. Riding around the island on a rented scooter is the best and cheapest way to explore this place. The local community comprises of 90% Muslim population but they are some of the most honest, friendly and hard working people you will ever meet. Saying that the people were hospitable would be an understatement as they more than made us feel at home and many times they went out of their way to help us despite the occasionally obvious language barrier. This island is not for partying or crazy night outs. Instead, visit here for the slow pace that most of the popular islands in Thailand are devoid of. The beaches are beautiful, the hills are mesmerizing, the food is as authentic as it gets and the people become family after a few minutes of interaction. Koh Lanta is a true beauty.
How to get there
Fly to Krabi and arrange for a shared minivan transfer all the way to your hotel in Koh Lanta. The journey takes around 2 hours and it cost us THB 450 per person.
Fly to Krabi and take a shuttle to the ferry pier for Koh Lanta. The ferries run twice a day during the low season and also depending on the low/high tide.
Boat transfer from Phi Phi and Phuket are also viable options but avoid it if you are skeptical about rough seas.