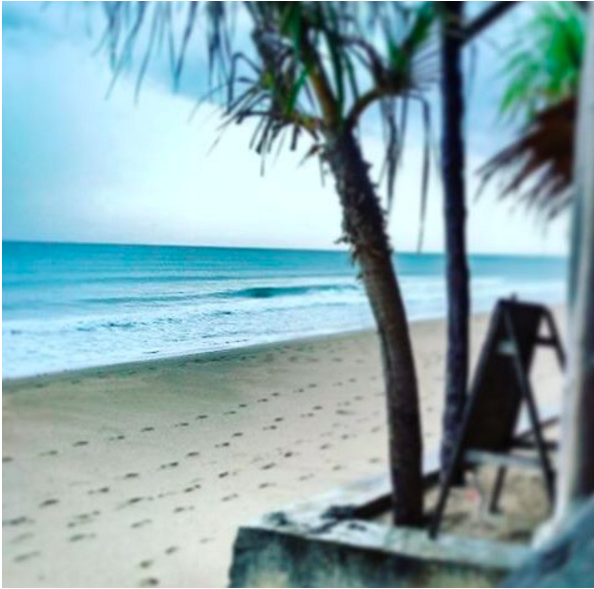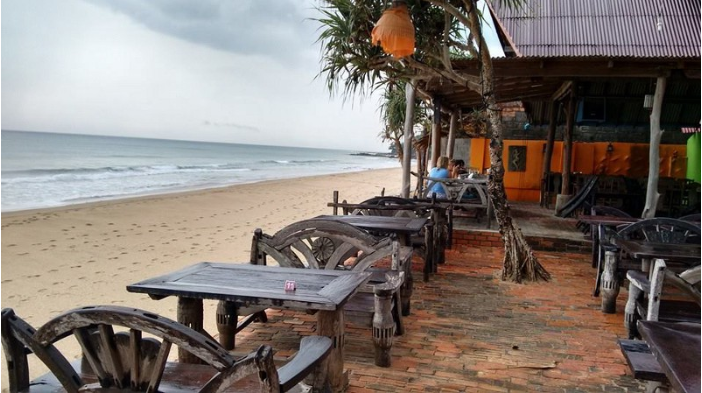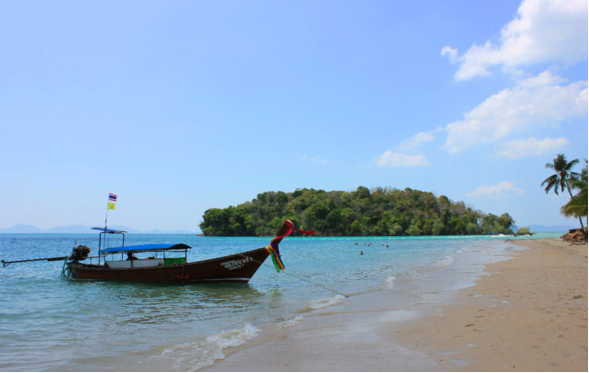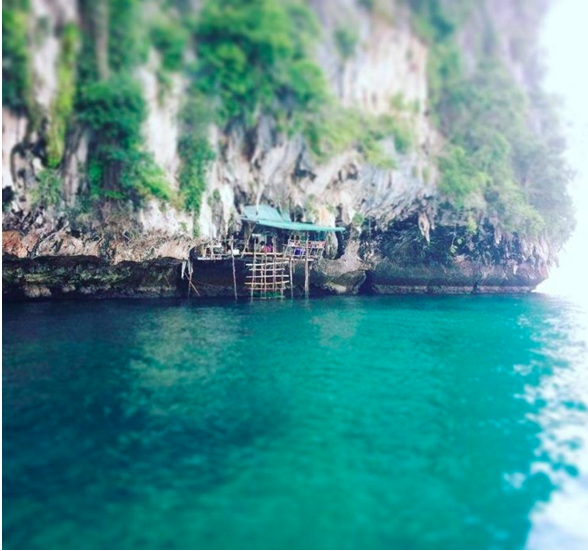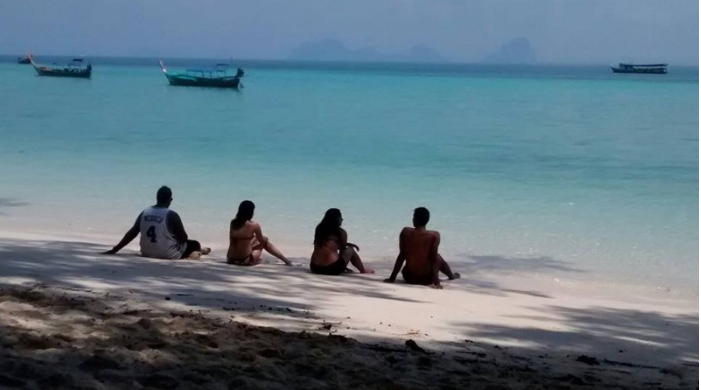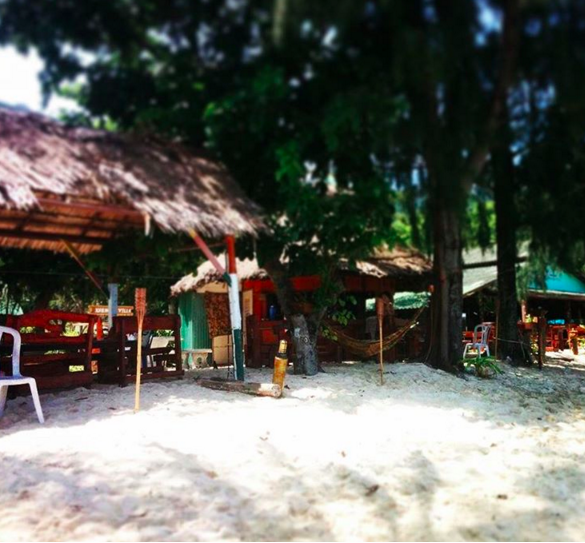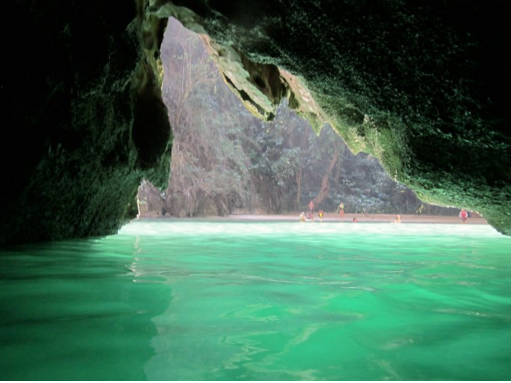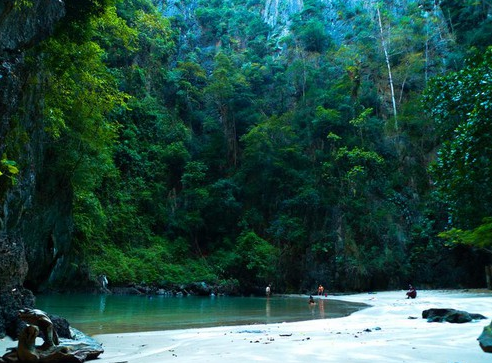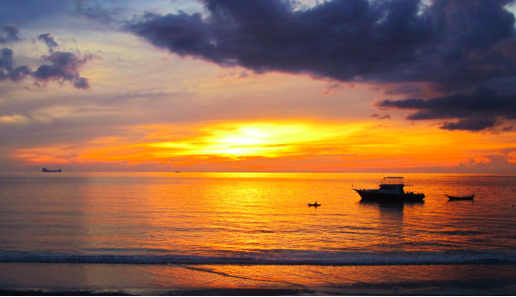 Crystal blue water, white sands, warm sun kissed beaches, limestone outcrops rising out from the sea and coral reefs teeming with marine life. Sounds like an image out of a picture postcard? That is just another day at the captivating Koh Lanta.
If you are in the mood for relaxing by the beach or do some deep sea diving or some snorkelling, or visit a sanctuary on elephant back or indulge in some delectable Thai cuisine, then look no further, Koh Lanta has it all.
A tropical paradise for escapists and adventurists alike, Koh Lanta is the name of an entire archipelago of 52 islands which rise above the emerald green waters of the Andaman Sea. Koh Lanta Yai is the largest island here which is approximately 30km long and 6km wide, spotted with white sandy beaches, luxurious resorts and rubber plantations.
How to get there?
Koh Lanta, an archipelago of 52 islands on the West coast of Thailand is an hours boat ride away from Krabi or a couple of hours by van and a ferry. For all the photography and Instagram enthusiasts out there, keep sure that you have your camera on. You will never get tired of the scenery here!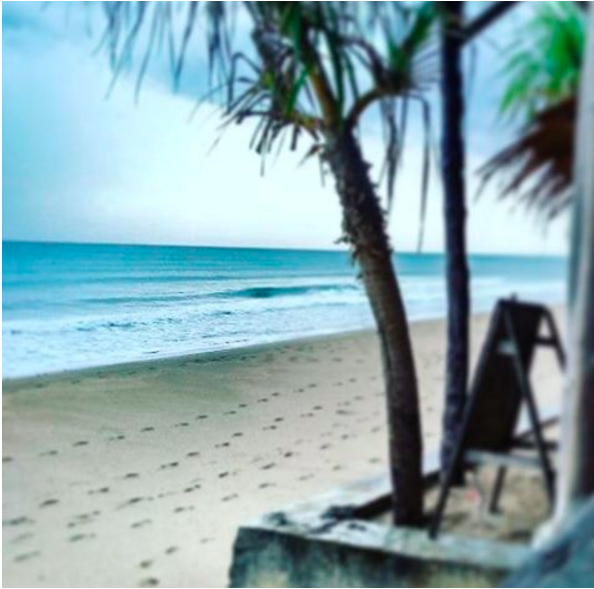 Island hopping from Koh Lanta:
After settling into my cosy cottage that overlooked the sea, I decided to spend my next day doing the famous four island tour from Koh Lanta. With some enquiring around and a lot of bargaining, I got myself a great deal from a local cheerful lady who had a little bike rental and island hopping tour shop. Her reassuring demeanour and contagious laughter had me rest assured that tomorrow would be a great day and I was in good hands.
I woke up the next day to a sumptuous traditional Thai breakfast and downed my food with a big glass of the best coconut shake I have ever had, while looking at the beach and the vast expanses of the Andaman sea that lay beyond me. I was picked up by an open topped motor van and was greeted by a father and son duo who were going to be my tour guides for the day. Their limited knowledge of english and my more so limited knowledge of Thai, ensured that we would have a fun day communicating with each other! My tour van also had some other fellow travellers from across the world, with whom I became good friends during the course of the day.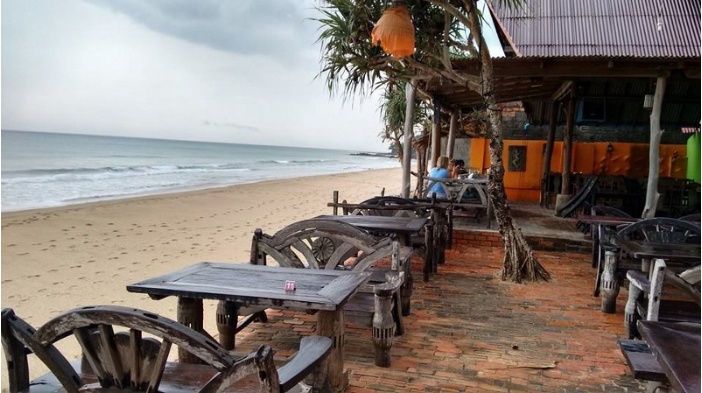 After a short ride amidst the lush greenery and captivating sceneries of Koh lanta we reached the small fishing village off one of the islands many beaches. From here we were to embark on our adventurous and spectacular Four island tour in our traditional Thai long tailed fishing boats.
The four island tour had us visiting the the islands of Koh Chuck, Koh Ngai, Koh Maa and Koh Muk,also known as the Emerald cave.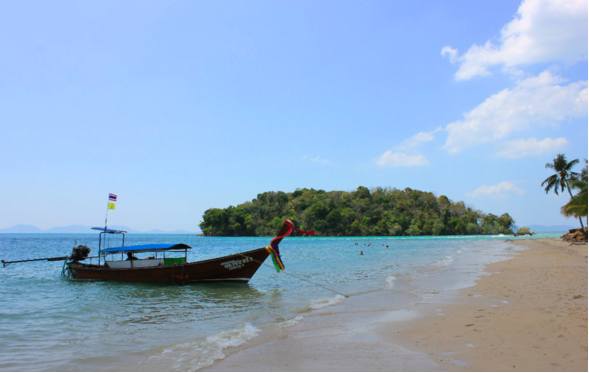 We set sail riding the waves with the wind in our hair, the sun in our face and excitement rushing through our veins! The sea does feel a lot more choppy when you are in a smaller boat and the sudden big wave would have a lot of us fall off our seats! We anchored off our first island of Koh Chuckafter about an hour of sailing. This island has sheer limestone cliffs that extend out of the sea and it serves as a natural harbour for a legion of coral and marine life. We were handed our snorkelling gear and the instructions were simple, "jump into the water and take your time". This was my first time at snorkelling and the sight and colours that I saw underwater, left me breathless! I saw a swordfish dart across me and a large squid that gently passed by me, with a pace that felt like it was on vacation mode too! There were schools of multicoloured fish that would swim by us, totally oblivious to us weird four legged, awkwardly swimming non aquatic beings amongst them!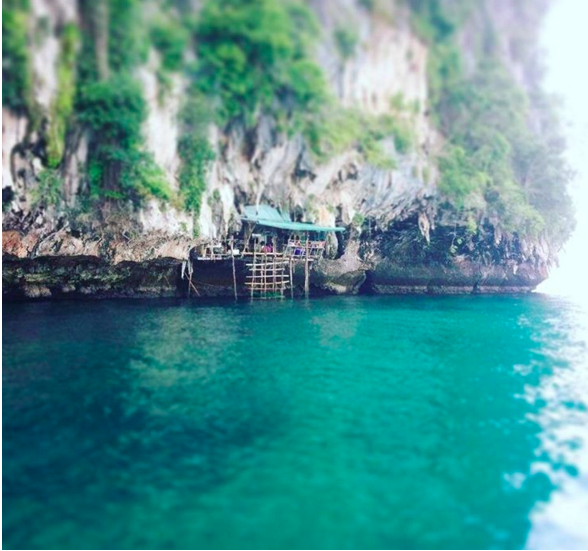 After about 40 minutes of underwater magic it was time for us to set sail to our next island, which would be our destination for lunch. We set sail towards this gorgeous white sanded beach with dense foliage lining the horizon. Our next destination was the quaint Koh Ngai. Koh Ngai is the perfect romantic getaway. This gorgeous island hosts white sands with views of distant limestone kaarst sprouting out of the sea that are picture post card perfect!
We were served a delicious home cooked meal of the traditional Thai green curry with steamed white rice and a kimchi salad, which we enjoyed while in awe of the beauty of this tropical paradise. We ambled along the white beaches, swam into the sea, gazed into the horizon and marvelled at what we were truly blessed to see in front of us.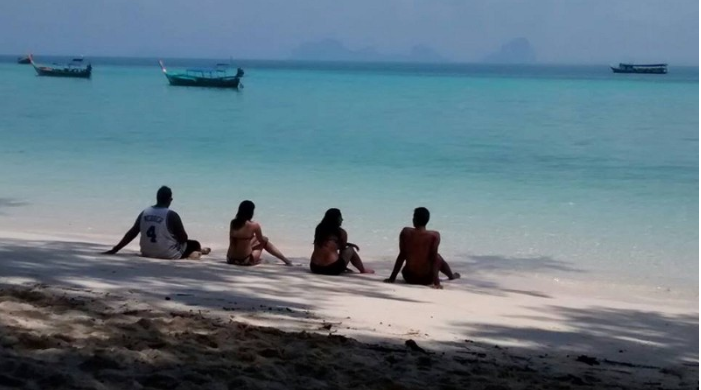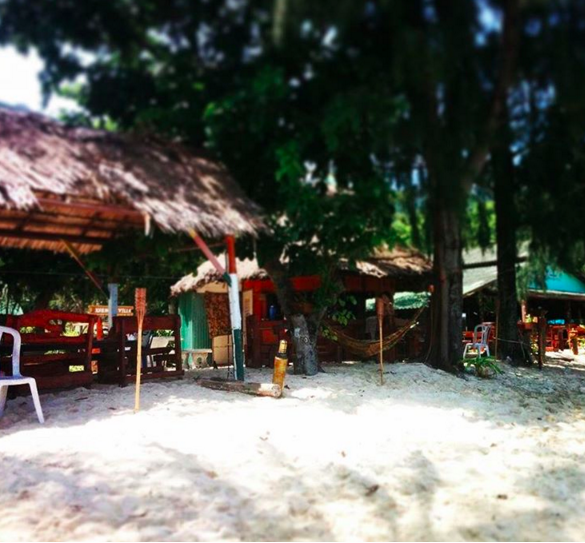 Our next destination was a rocky outcrop rising steep out of the sea which was a short ride away from Koh Nagai. Koh Maa is a lovely limestone kaarstoutcrop one amongst the dozens that line the Trang sea.
It was time to put on our snorkelling gear once again and dive into the emerald green waters near this island. We were greeted with schools of such brightly coloured fish that life on land seemed to be drab and colourless after witnessing this underwater jamboree. I made a mental note to myself that my next purchase has to be a GoPro camera to capture this underwater paradise.
As I was admiring this display of colour, I suddenly felt a sharp stinging sensation all over my body, which made me swim back to my boat and get out of the water. I came to learn that this water is full of microscopic sea lice which tend to get active around mid day and my alien terrestrial body was not welcome to them! It was only after rinsing my body with some fresh drinking water that the stinging ceased and I decided to respect the sea lice and not enter their territory again.
Last but not the least…
Our last pit stop which was definitely the highlight of our trip was the visit to Koh Muk and Morakot cave, also known as the emerald cave. The cave has a small access that can only be used during low tide. The beach at the end of the tunnel can only be accessed by swimming through this underwater cave with only a little head space from which you can breathe. The colour of the water changes from a blue to a deep emerald green to pitch black as you reach the centre of the tunnel and then as fear begins to grapple you, you literally get to see the "light at the end of the tunnel". And what a sight it is! White sands surrounded by sheer vertical high cliffs with dense foliage and sunlight bouncing off the emerald coloured sea! The excitement is palpable amongst everyone and you are left speechless marvelling at this hidden gem.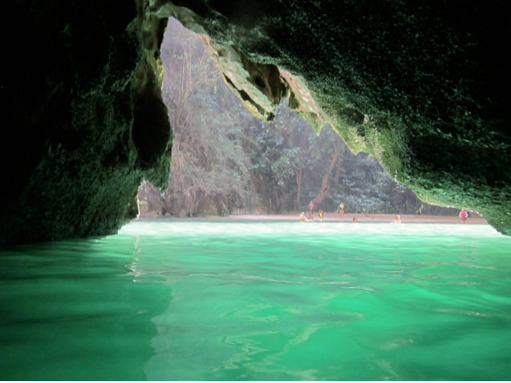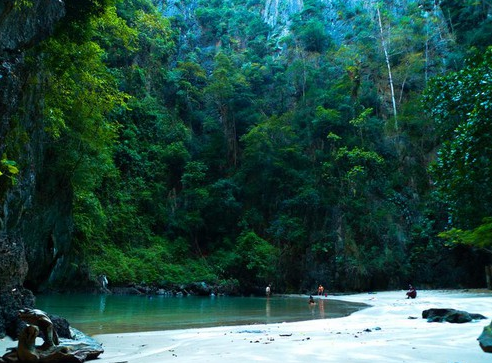 We embarked back on our boats exhausted but spellbound with the beauty that we witnessed on this gorgeous day. The ride back to Koh Lanta was panoramic and by the time we got back, the sun was just about kissing the horizon. We alighted our boats a satisfied and humbled bunch and bade farewell to our always smiling tour guide and his adventurous little boy.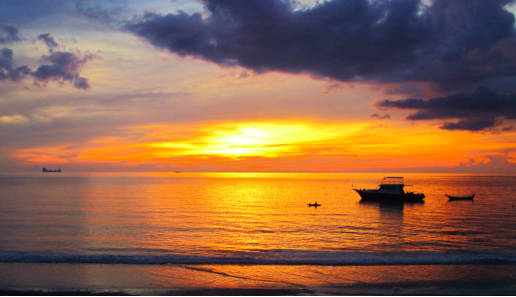 I left Koh Lanta thinking to myself, "the sea once it casts its spell, holds one in its net of wonder forever!"
To experience the magic of Koh Lanta and re live the four island adventure, get in touch with me at Offbeat Tracks.