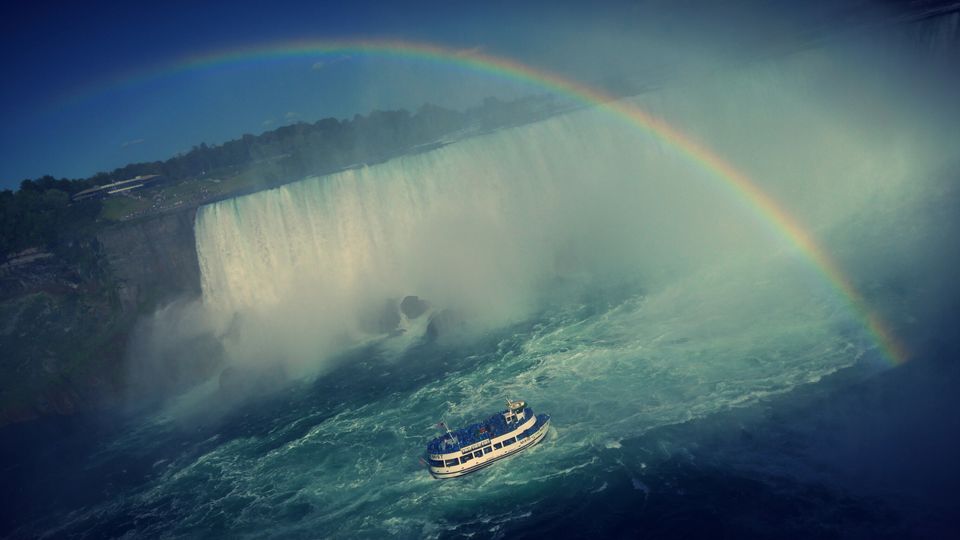 Niagara is one of those places that shake your ego only cos it's so magnificent and magestic that you realize how tiny you are in the grand scheme called nature. And then again it's one of those places where you don't mind being this tiny spec cos you are admiring the beauty and are in awe of this glory. Niagara is the perfect destination to enjoy long panoramic views of nature..
During summer, you can see multiple rainbows all at once with sunlight reflecting through the gallons of water. During winter, you can see the ice cracking and hear the winds howling. But nevertheless, Niagara never ceases to amaze you whatever the weather maybe.
From April to October, you can take boat rides on the Maid of the mist/ Hornblower that take you as close to the horse shoe falls as possible. Enjoy the spray of the falls while you admire the beauty of this beast closely.
Niagara has so much to offer and staying over at many of the inexpensive motels might not be a bad idea if you would like to explore a bit more than the falls.
Things to do:
1. The best part is a boat ride on Maid of the mist/ Hornblower. Nothing can beat this.
2. Jog behind the falls takes you literally behind the falls. You get to walk underneath the mighty Niagara and the loud pour of gallons of water over your head. The view is incredible. I know I use magnificent and incredible a lot but once you get there, you will know why.
3. White water rapids to experience the fury of the waters and the speed in which it travels.
4. There is zip lining near the the falls if you are into that sort of thing. You aren't very close to the falls but I guess another way to view the Niagara shouldn't be missed. It costs about $50 per person.
5. There are loads of places to see from the giant wheel for a bird's eye view to the Ripley's believe it or not to the wax museum.
6. There is a massive park across the Niagara for a quick picnic or to read a novel.
7. Last but not the least if you enjoy photography, this place is for you.
Niagara is that place that stays close to your heart once you visit it. Its not exactly in the heart of Toronto but a must visit. You won't be sorry.
Until next time
Cheers
Nandy