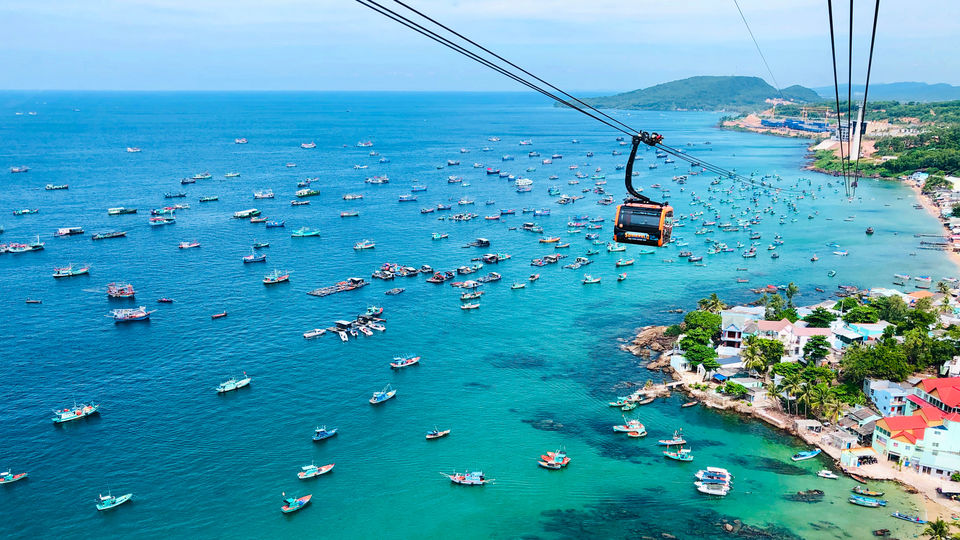 Chinese and Japanese nation are polar opposite just like there is no similarity between India and Bhutan in spite of being neighboring nations.
For travel enthusiast worldwide, Here is your checklist for best Asian countries to visit right now. Asia has a lot to offer because of its unique conglomeration of vastly different countries within the largest continental borders.
Each country is extremely unique and diverse and can leave the travelers marveling at the extent of diversity.
Unlike the European or South American counterparts where every nation bears a striking resemblance to each other, Asia is completely opposite. The best nations to explore on your Asian Tour includes.
Here is the list of best Asian countries to visit :
1. Thailand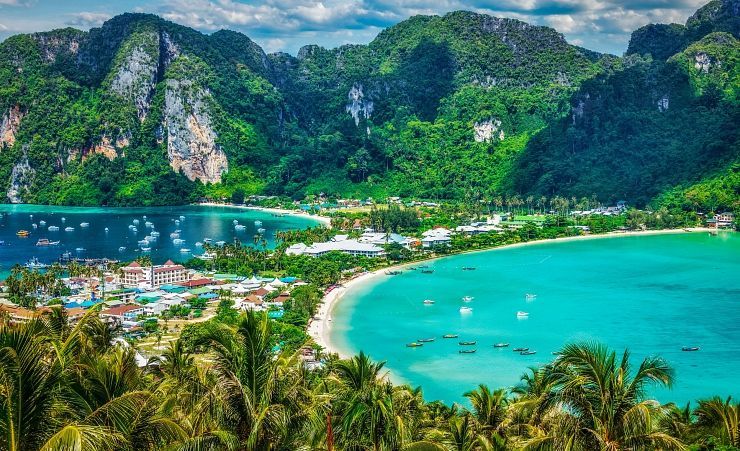 One of the favorite and most loved destinations for a vacation in Thailand. A land that is home to old history and great traditional values, there is a lot to see in this country.
From year-round festivities to authentic Thai experience, Thailand has a lot to offer to all those travel enthusiasts. If you are planning to visit Thailand check out some interesting facts about Thailand to know it better.
What to see and do:- Thai massage and Thai Cuisine are the first to check off your list. Divided into 76 provinces, with multiple districts in each of the provinces, Thailand has 4 major geographical regions to your tour and explore.
The Northern Cooler Chiang Mai and nearby areas-, The North Easter Amnat Charoen and areas, The central Bangkok and areas, Eastern Chachoengsao and the Southern Chumphon.
Jim Thompson House, Wat Pho, Sukhothai Historical Park, Chatuchak Weekend Market, Wat Phumin, Wat Phra Kaew, The Grand Palace, Wat Phra That Lampang Luang, Erawan National Park are just a few places to explore in Thailand other than the Tropical Islands (Pattaya, Krabi, Koh Samui etc), Buddhist temples and various UNESCO Heritage sites spread all around the country.
How to reach: Thailand has about 105 airports and 6 heliports connecting the entire country well. Suvarnabhumi Airport in Bangkok is the busiest International airport that not only helps tourist reaches Thailand but also travel to adjoining countries.
If your Thailand journey starts from here then have a look at our guide on where to stay in Bangkok. The State Railways of Thailand connect the internal areas of the country making transportation easier.
When to visit: The cooler month between October and February is the perfect time to visit Thailand if you want to avoid the heat of the summer or Rain of the monsoon.
Recommended read: 10 Biggest Mistakes To Avoid When Visiting Thailand
2. Cambodia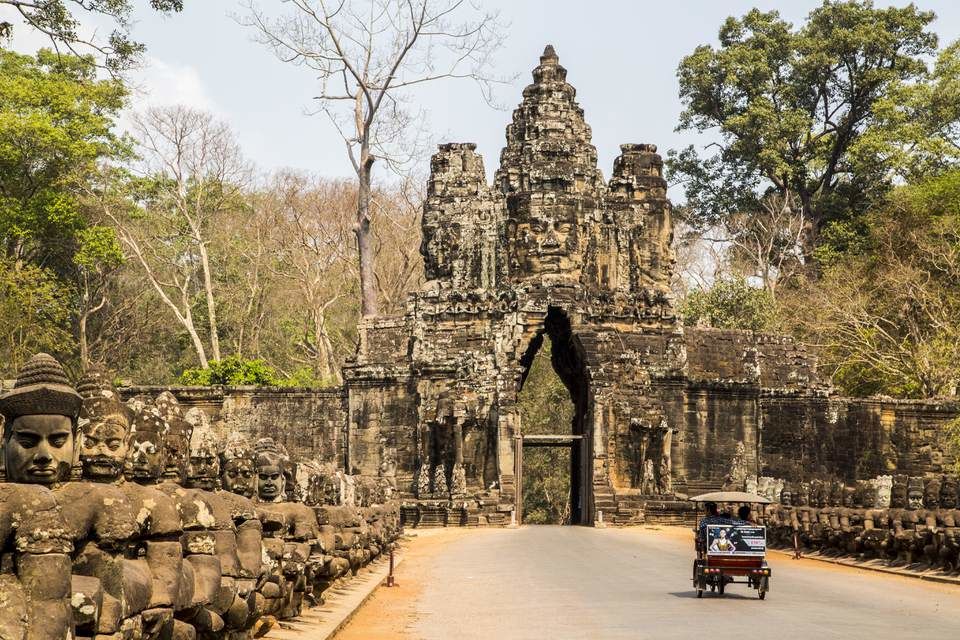 Cambodia popularly known as the Kingdom of Cambodia is a country located in southern portion of Indochina peninsula in Southeast Asia.
The capital of Cambodia is Phnom Penh, the official language is Khmer. This country has a population of over 15 million. Its official religion is Theravada Buddhism.
What to see :-
Khmer Performance –witness the stunning Apsara Dance in Phnom Penh
Ta Prohm-wander through the temple for 'Tomb Raider'
Phnom Penh Palace-best tourist attraction
Angkor Wat-Largest temple in the world
National museum-check attractive Khmer artwork
Bayon-Temple with smiling faces
A Tonle sap-largest freshwater lake in Southeast Asia
How to reach:- The two international airports are Phnom Penh and Siem Reap. International Airports. Also, other means of transport are through train, bus, water bodies by arriving in nearby places like Bangkok.
When to visit:- The best time to visit is from November to February when temperatures and rainfall are the lowest.
3. India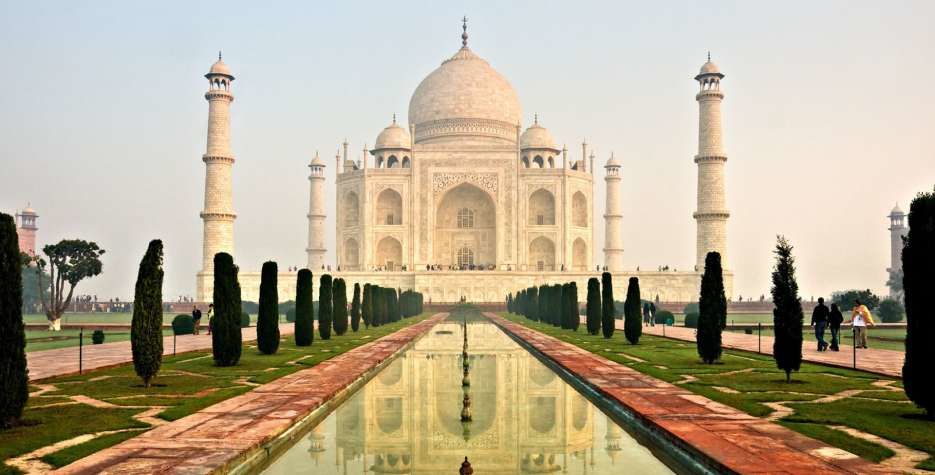 A country that is known worldwide for its extremely colorful and vibrant lifestyle, India is perhaps one of the most diverse yet stunning countries filled with 1000 yrs of history and stories.
There are so many festivals are celebrated in India which shows the cultural diversity of the country.
The thing about the best Asian countries to visit is its geographical and cultural diversity makes it a country will tone of things to do and explore.
From mountaineering and skiing along the snow-capped Himalayan region of North India to exquisite deep sea diving, snorkeling and scuba diving in the Southern and Island parts of the country to exploring deserts and sand dunes of the West India and the mangroves and river Islands of the East, India has unending list to explore at a single go.
What to see:-
The 4 zones of the massive country offer a huge list of places to explore
North India:- Gangotri and Char Dham, Skiing in Auli, Rafting in Rishikesh, Mountaineering and fox grappling in Manali, Jammu and Kashmir's Valley of Flower and Glaciers, Leh Ladakh, Taj Mahal of Agra, Red Fort of Delhi, etc.
Western India:- The great Indian Thar desert, Mount Abu, Rajput history of Rajasthan.
Eastern India: the- City of Joy Kolkata, Konark of Orissa, North Eastern Indian states of Assam, Arunachal, Nagaland, etc, Darjeeling, Gangtok.
South India:- The Ajanta Ellora Caves. Goan Beaches, Backwater of Kerela, Temples of Madurai, Rameshwaram, Trivandrum, Tirupati, Mahabalipuram Shore temple, Pondicherry, Coral reefs of Lakshadweep, Andaman and Nicobar Island aborigines.
How to reach:- India is connected to the world via numerous major International Airports. Mumbai, Bangalore, Kolkata, and Delhi is extremely well connected to almost all nations globally. But there are 160 more major airports that networks within the country.
The Indian railways is a massive network of Railways that connects every part of the country together making it extremely easy to travel throughout India.
When to visit:- Unlike the worldwide system, India follows 6 season pattern. It is best to visit India between September and March when the temperature is optimal all over.
4. Vietnam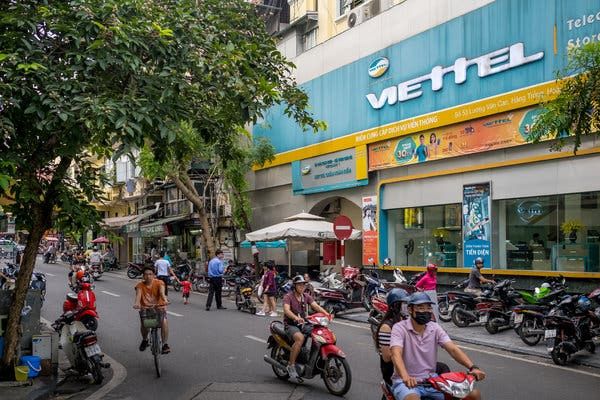 It is one of the beautiful country in the list of best asian countries to visit. Neighboring countries include Cambodia, China, and Laos. The population is about 90 million.
This country is known for his victorious history, profound patriotism and wonderful landscapes.
The Capital of Vietnam is Hanoi, the official language is Vietnamese. Its official religion is Confucianism, Taoism, Buddhism, Roman Catholicism, and Cao Deism.
What to see:-
HaLong Bay'
Cu Chi tunnels
Hang Son Doong cave
Ho Chi Minh City Museum
Cao Dai temple
Hoi An ancient town
Thang Long water puppet theatre
Precious heritage by re Hahn
Mekong Delta
Sapa
How to reach:- There is a way to reach Vietnam by road, rail, sea and by air. The three important international airports are Ho Chi Minh and the Hanoi-DaNang. Mekong Delta via Cambodia is the seaway.
When to visit:- The best time to visit is in from February to April at spring season and in autumn season from August to October. The temperatures at that time are more moderate and rainfall is also lighter.
5. Singapore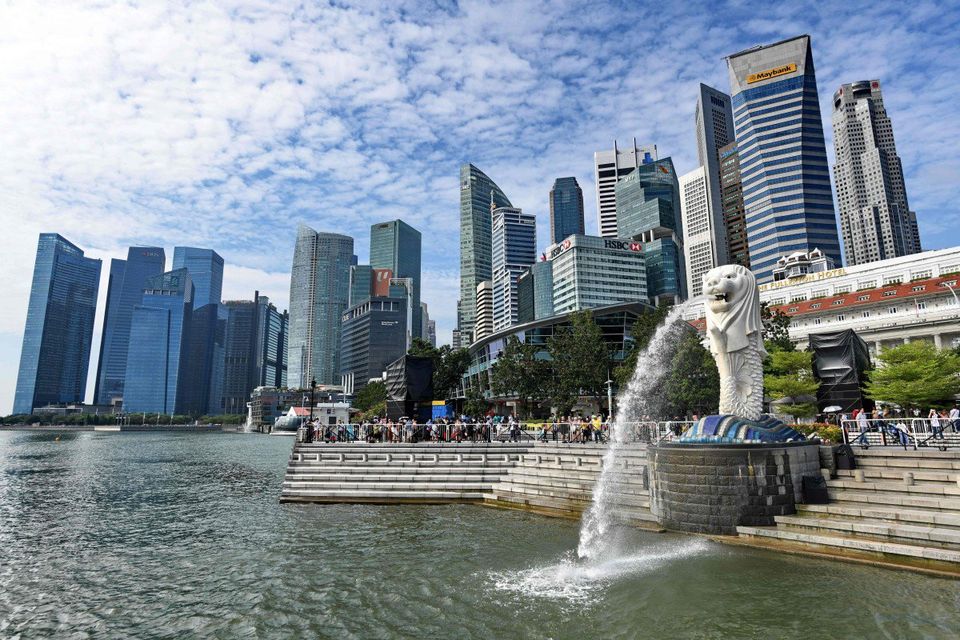 It is a sovereign city-state and island country in Southeast Asia that is a member of the Asia-Pacific Economic Cooperation, the Association of Southeast Asian Nations, and the Trans-Pacific Partnership.
It has a high development free market open economy and is devoid of corruption. The territory consists of one main island along with 62 other islets associated with it.
What to see :-
Singapore Botanic Gardens
E.A Aquarium
Marina Bay
Chinatown
Jurong Bird Park
Universal Studios
Singapore Zoo
Singapore Flyer
Night Safari
How to reach:- One of Asia's best-connected airports is Changi Airport. Also road, water and by rail journey to it is there. Singapore is associated with other places Malaysia, Johar Bahru and Kuala Lumpur by rail, with the route to Bangkok.
When to visit:- The best time to visit when you want to maximize dry weather is during the months of June, July, and August.
6. China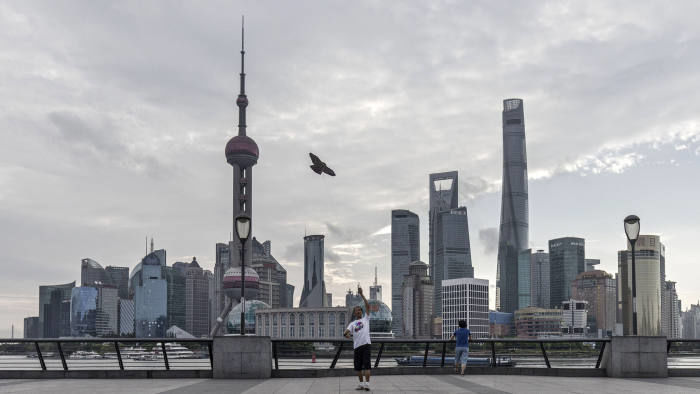 One of the fastest growing economies, China is also among the most populated and one of the top asian countries to visit if you plan your journey in asian continent.
The country is reach in history and architectural marvel that is bound to interest any travel enthusiast to want to explore it.
China has historical evidence of existence even in the early 1100 BC, thus making it a really old civilization.
Having a huge area covering vastly different geographical expanse, there are diverse aspects one can see in the country.
The arid Deserts of the north, the subtropical forest of the southern wetland, The Himalayan ranges of the central China and the densely populated eastern Seaboard region.
What to see :–
China needs a lot of time to explore and cover just like India, however some important places to see includes
Xian Terracotta army
Forbidden city of Beijing
The Bund of Shanghai
Giant Panda of Chengdu
The Yellow Mountain of East China
Hangzhou's West lake
The Great Wall of China
Nanjing East Road market of Shanghai
Tiananmen Square
Yuyuan garden
Leeshan Giant Buddha
Water town of Tongli
Avatar Mountains of Zhangjiajie National Park.
Jiuzhaigou
Macau etc
How to reach :- China is connected worldwide with its multiple International airports. Hong Kong is the busiest of them all followed by Beijing, Shanghai, Xiamen, Guangzhou and Hangzhou airports. The railway network is also massive and lifeline of the country connecting even the most difficult and inaccessible areas well.
The Russian Trans Siberian Railways also travel through China allowing international access even through railways. Other International railways include, Trans Manchurian and Trans Mongolian Railways that connect China with Mongolia and Moscow. There is also a weekly service connecting Beijing to Pyongyang of North Korea.
Seaports, river ports and roads also connect various adjoining countries with China.
When to visit :- The complex topography gives rise to multitude climatic zones and temperature variations in the country. Broadly the climate is either wet monsoon or dry season of summer and winter.
7. Malaysia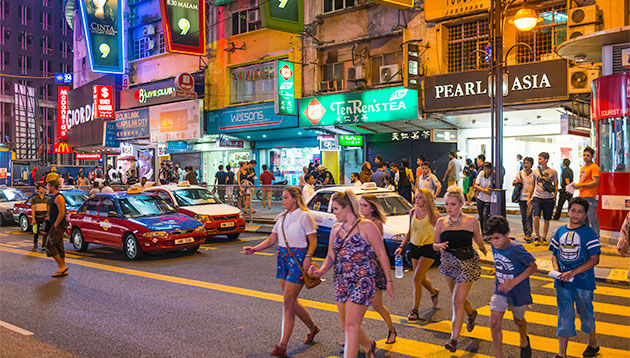 Malaysia is an exquisite place located in Southeast Asia. Malaysia's charm comes from its natural beauty and its diversity in culture.
There is much tell of some of the features of Malaysia including famous places, foods and drinks and its diverse culture.
What to see :-
Malaysia has storehouse of travel diaries that includes
the theme park Sunway Lagoon,
Cameron Highlands,
Kinabalu National park,
Panang hill, Sky Bridge,
Menara KL Tower and other historic places.
How to reach :- Kuala Lumpur International Airport is Malaysia's main international airport, no rail or bus service, there is road way but it is unsafe and time-consuming, also cruise packages are available but air travel is the most convenient option among all.
When to visit :- The best time is from March to September to visit the beaches on the east coast. For the west coast, travel from November to August as the heaviest showers are from September to October month.
8. Nepal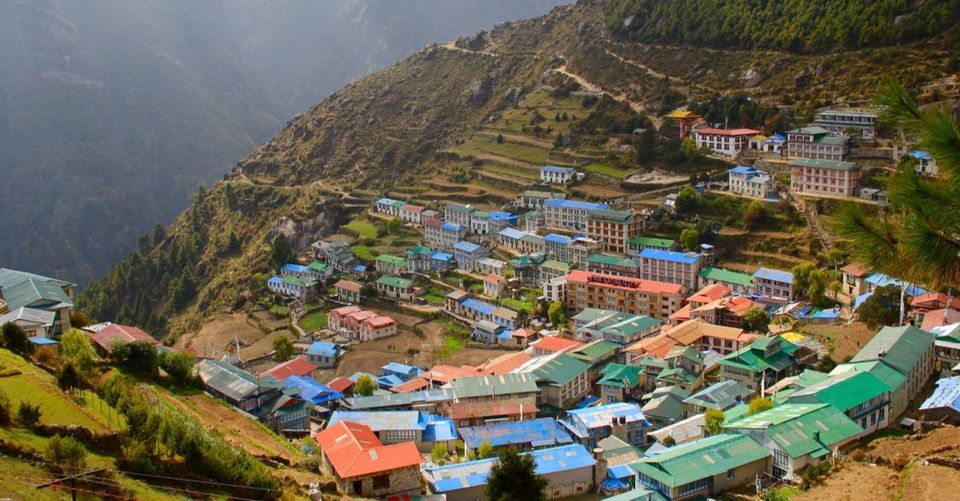 Nepal is a surrounded country in South Asia that is bordered by China and India. It is located in the Himalayas and has eight of the world's ten highest peaks and also becomes one of the favorite country to visit in Asia and best asian countries to visit. The government system is a federal democratic republic.
Nepal has a traditional economic system in which the majority of the population engages in subsistence agriculture, and the allocation of ready resources is made on the basis of primitive methods.
Nepal is a member of the South Asian Association for Regional Cooperation (SAARC).
What to see :-
Surely anyone who miss out these must visit things has a sheer waste visit over there as there are Chitwan, Bardia National Park, explore Pokhara, Pashupatinath temple, Kathmandu sightseeing, mountain biking and other water bodies.
How to reach :- The only airport is Tribhuvan International airport. There is no direct rail service and road journey would include long hours like from Delhi, India's capital to Kathmandu via newly launched bus service.
When to visit :- As the monsoon dissipates in September there are beautiful clear skies, fresh air and incredible views here in Nepal. In October and November, there are two of the best months to visit as dry days make trekking easier and offer good visibility. The verdant landscapes following the rains are ideal for photographers making a trip memorable one.
9. Philippines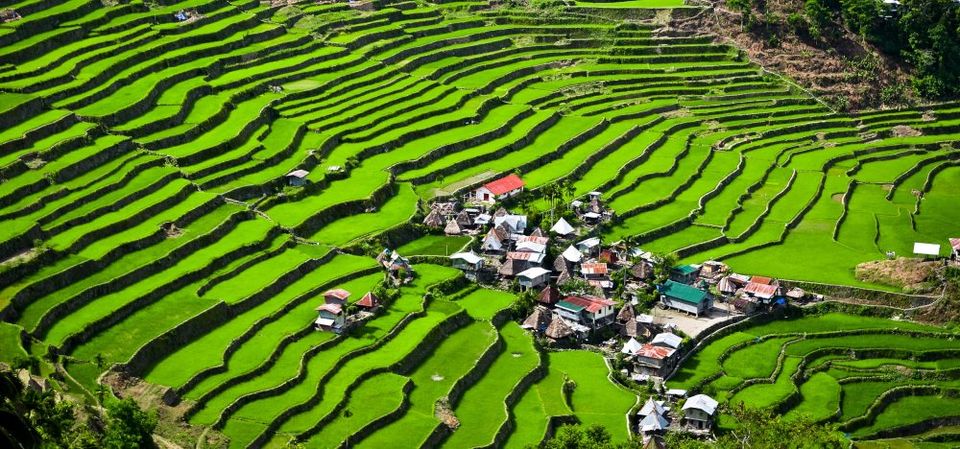 The Philippines is an archipelago of 7,107 islands that stretches from the south of China to the northern tip of Borneo. The country has over a hundred ethnic groups and a mixture of foreign influences which have molded into a unique Filipino culture in best asian countries to visit. The Philippines is known to be the third largest English-speaking country in the world.
What to see :-
The country is divided into three geographical areas:
Luzon, Visayas, and Mindanao.
The exotic place Hundreds Islands National Park,
Hinangdanan cave,
Chocolate hills etc
How to reach :- The busiest airports are Ninoy Aquino International Airport in Manila and Mactan-Cebu International Airport in Cebu with connectivity to many places around the globe.
The most preferred mode of communication for foreign tourists is by air as it an island area.
When to visit :- It is good in cooler and rainy months whereas the most popular visit is during the dry season, between November and April also the weather is unpredictable here with sudden typhoons.
10. Japan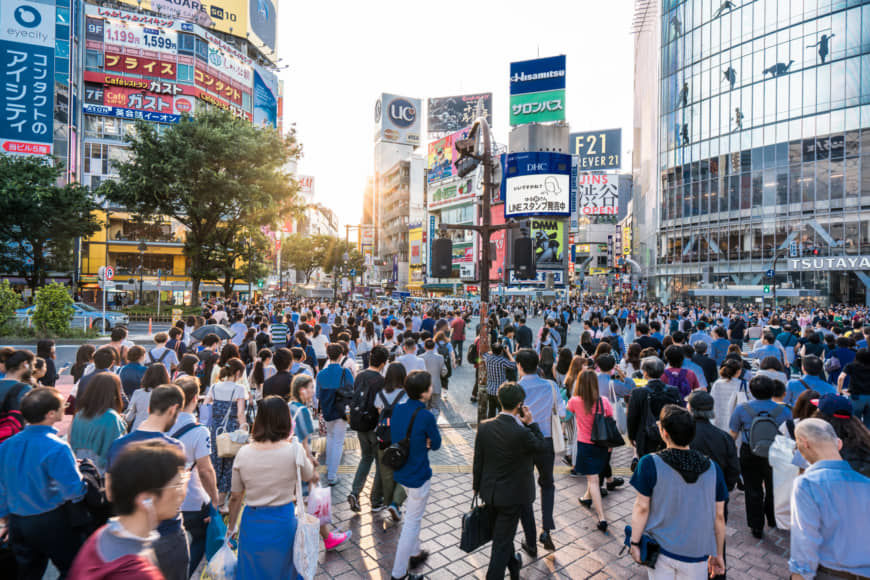 It is an island country consisting of four major and numerous other smaller islands. The islands lie in an arc across the Pacific coast of northeastern Asia, forming a part of the volcanic "Rim of Fire." The country stays protected by the seas as it protects it from invasion.
What to see :-
Some Japanese tourist attractions and off-the-beaten-path gems are on every tourist's bucket list includes
Osaka,
Kamakura,
Shirakawa,
Hokkaido,
Naoshima Island,
Takaragawa Onsen
Tokyo,
Kyoto and others.
How to reach :- Narita Airport, Osaka International Airport, Kansai Airport and Haneda Airport of Tokyo are the major airports of Japan connecting Japan internationally. Various domestic connecting airports allow access to the rest of the country.
Japan also has international Seaports connecting various other countries to it well.
When to visit :- Late spring (March to May) and late autumn (September to November) are generally the best times to visit Japan and winter time when the crowd is less. The Cherry Blossom season is when Japan is at its beautiful best, however it's crowded then. Sakura Cherry Blossom festival is a beauty beyond comprehension.
11. South Korea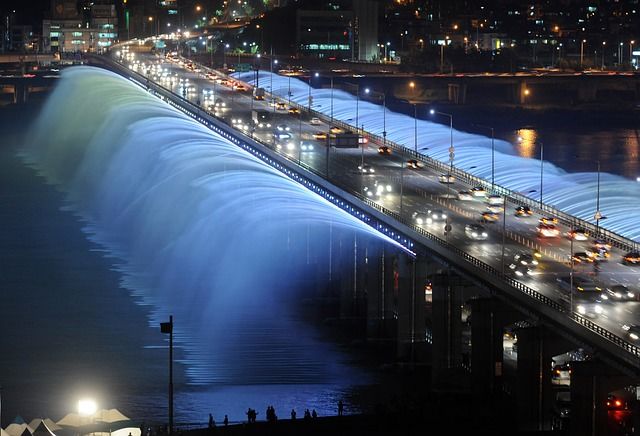 A country on the world map because of their immensely popular Pop culture and Korean dramas, South Korea is truly a nation of beauties in best asian countries to visit.
Though it is the boyband BTS, which bought the country out into the limelight in the past few yrs, this nation is filled with history and things to explore that one simply cannot avoid.
What to see :-
Some of the few places to explore among many others in South Korea include
Bukchon Hanok Village
Buy cosmetics at Myeongdong
Lotte World
Gyeongbokgung Palace
Mount Namsan
Seoraksan National Park
Naksansa Temple
Jeju Island
Seongsan Ilchul-bong
Ssanggye-sa
DMZ – the most dangerous border of the world connecting the North and South Korea.
How to reach :- South Korea's main gateway and largest airport is Incheon International Airport at Seoul. Other international airports include Gimpo, Busan and Jeju.
Korail provides frequent train services to all major South Korean cities thus making it easier to travel without any issue domestically.
International ferry connects Japan to Korea while the Trans Siberian Railway connects South Korea to Russia.
When to visit :- South Korea is best visited between May and December as the country tends to have extremely cold winter while summers are cooler comparatively.
Jinju Lantern Festival held in October is as spectacular as it sounds and should definitely be visited.
12. Laos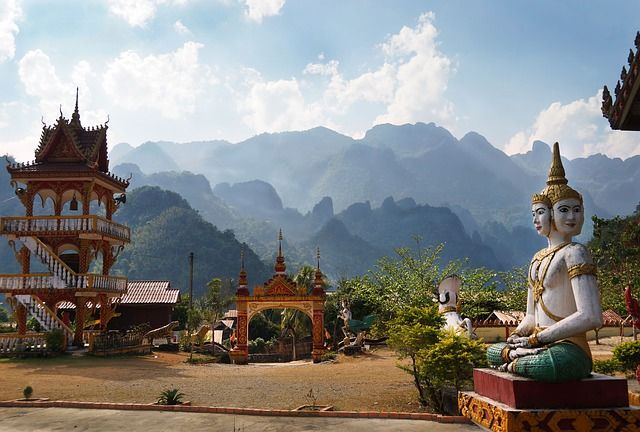 A Southeast Asia bordered country by Burma, Cambodia, China, Thailand, and Vietnam. It is seen that the most of the country is mountainous and thickly forested, and the Mekong River forms a large part of the western boundary with Thailand in best asian countries to visit. The government system is a Communist state.
What to see :–
Laos is renowned to a member of the Asia-Pacific Trade Agreement (APTA) and the Association of Southeast Asian Nations (ASEAN). Luang Prabang, That Luang, and many more natural beauties await here in Laos. Vat Sisaket, Bokeo and others are must visit places.
How to reach :- People arrive at Suvarnabhumi Airport in Bangkok and nearby hubs like Bangkok, Hanoi, Kuala Lumpur, and Singapore.
When to visit :- It is best between October and April, when the weather's warm and dry throughout. The lush greenery and waterfalls and other aesthetic beauties captivates our soul.
13. Sri Lanka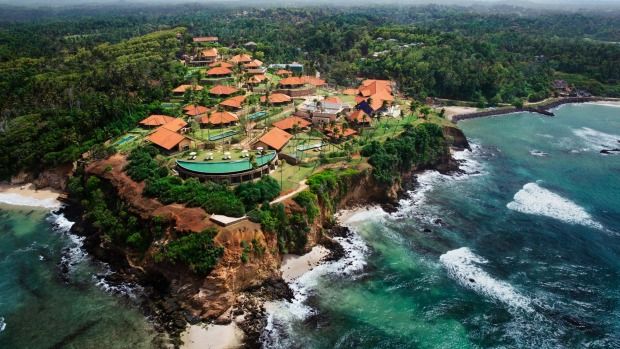 This tiny Island nation of Indian Ocean is reach in history and often called a mystery shrouded nation. Sri Lanka though small in size has a beautiful all round geographical expanse worth visiting and exploring in best asian countries to visit.
What to see :-
Gangaramaya Temple
Petta Floating market
Bentota
Kandy lake
Temple of Tooth Relic
Seetha Anman Temple
Dumbulla Cave Temple
Sigiriya Rock Fortress
Japanese Peace Pagoda
Yala National park
How to reach :- The Bandaranaike is the sole international airport located in the capital city of Colombo in Sri Lanka, providing direct flights from Europe, Asia, Australia and the Middle East.
Sri Lanka has a very good Internal Railway system connecting the entire island country. Colombo is well connected and central railway headquarters.
International cruise also connects the country to various parts of the world. Colombo is one of the major international sea ports.
When to visit :- Sri Lanka being an Island nation has a warm sub tropical climate all year round making it easily visit able all year round.
14. Bhutan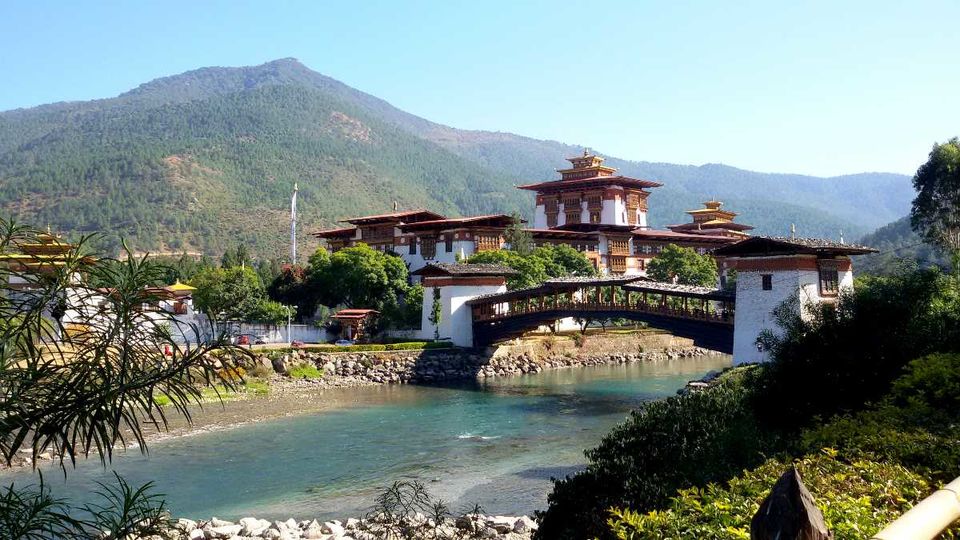 The only remaining Buddhist monarchy, this land locked country has been crowned as the "happiest country in the world" for many years. This country is truly picture perfect and worth visiting at least once.
What to see :-
Buddha Dordenma of Thimphu
Tiger's Nest Monastery – (Taktsang Monastery)
Dechen Phrodrang Monastery
Changlimithang Stadium and Archery Ground
National Memorial Chorten
Tashicho-Dzong
Phunaka Dzong and the suspension bridge of Po Chhu River
How to reach :- Paro International Airport is the one and only international airport to enter into Bhutan by air.
Phuentsholing, Samdrup Jongkhar and Gelephu are the only land borders one can choose to enter through alternatively.
There is NO DIRECT TRAIN ROUTE in Bhutan. Hasimara situated in West Bengal India is only 17 km away from Phuentsholing and the nearest Railway network.
When to visit :- Bhutan is comparatively cooler all year round with a monsoon season between May to October. It is best to visit Bhutan between November and April. The Royal Higlander festival is one of the best time to visit the country if you really want to see it at its peak best.
This article was originally published at travlics.com.