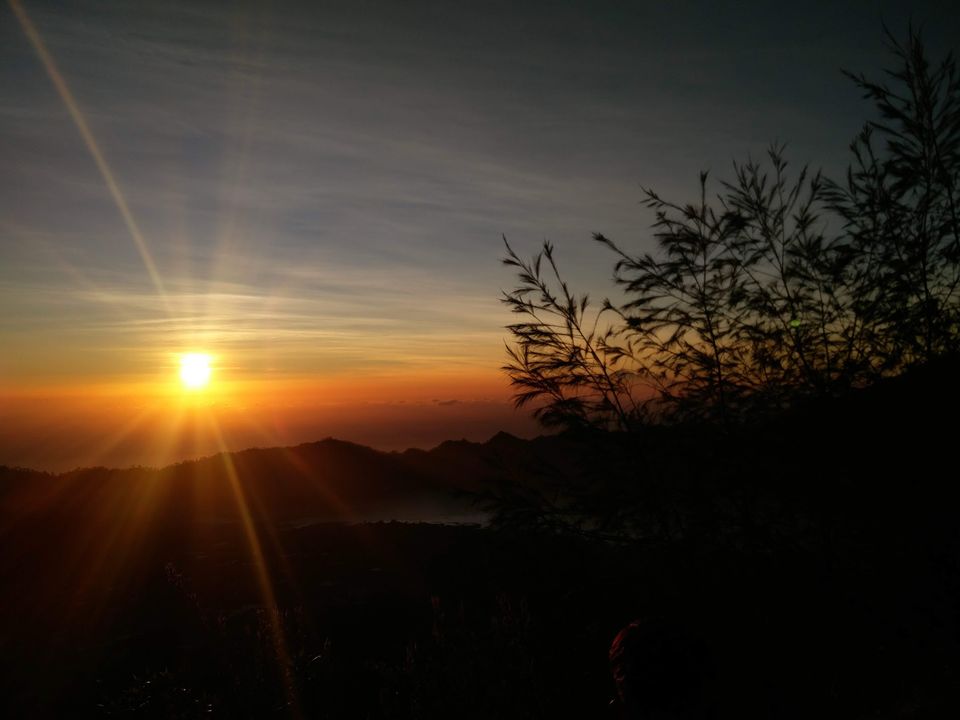 Bali was supposed to be a work trip for me. It just so happened that my bosses very generously extended our trip for another 3 days, so we got some time to relax after a hectic project.
We decided to stay at an AirBnB called Villa Catur Kembar in Seminyak. It was a lovely place, with 5 bedrooms, a small swimming pool and an awesome living area with an open plan kitchenette. The location was perfect too, just a 5 minute drive from the heart of Seminyak market area & 10 minutes from the beach.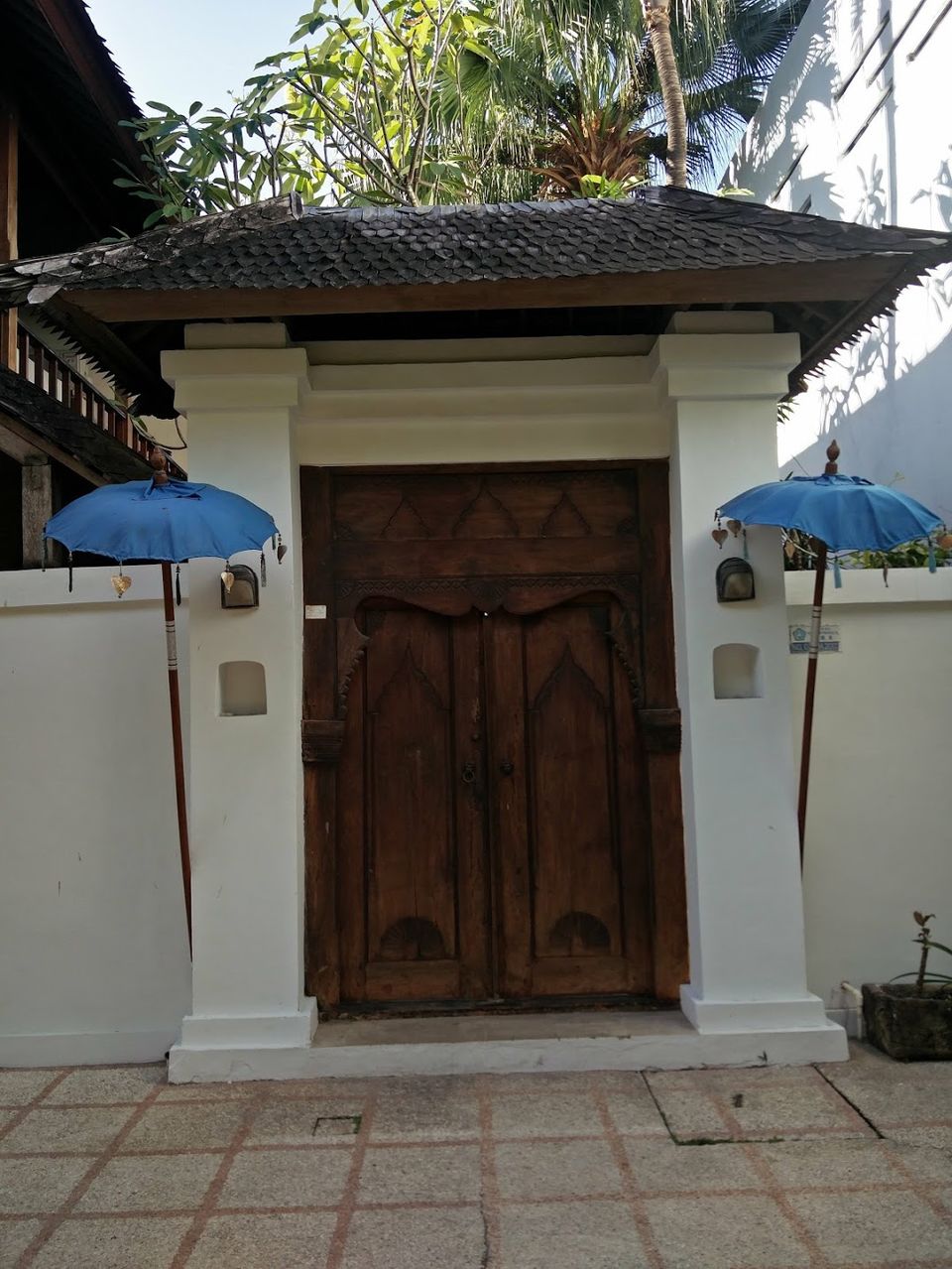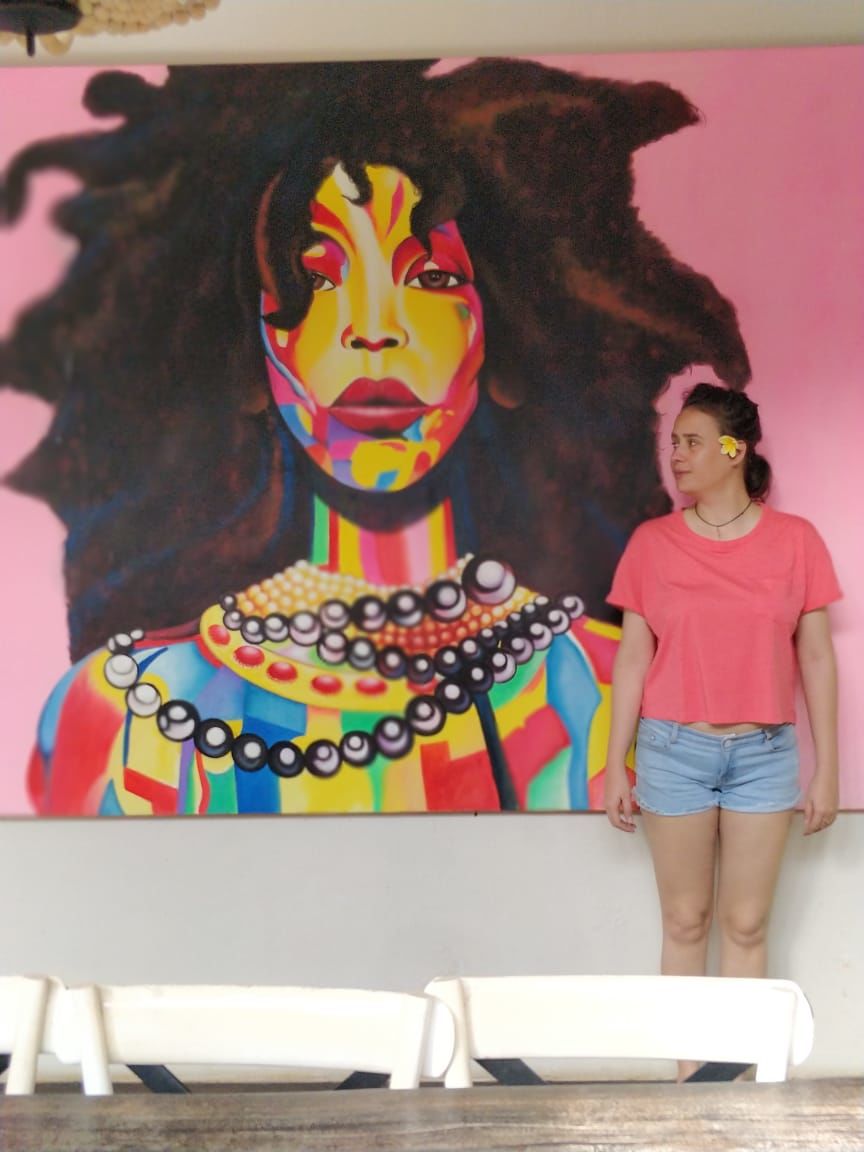 Our first night there, we decided to start the fun with some good food & drinks at Naughty Nuri's. They have this really fun Margarita challenge. You have to down 3 of their house margaritas , the reward being your names engraved into their walls! And boy are those drinks potent! Oh , and did I mention the girls do a little jig to the tune of Taylor Swift's "Shake it off" for every margarita that you down? This was a good start !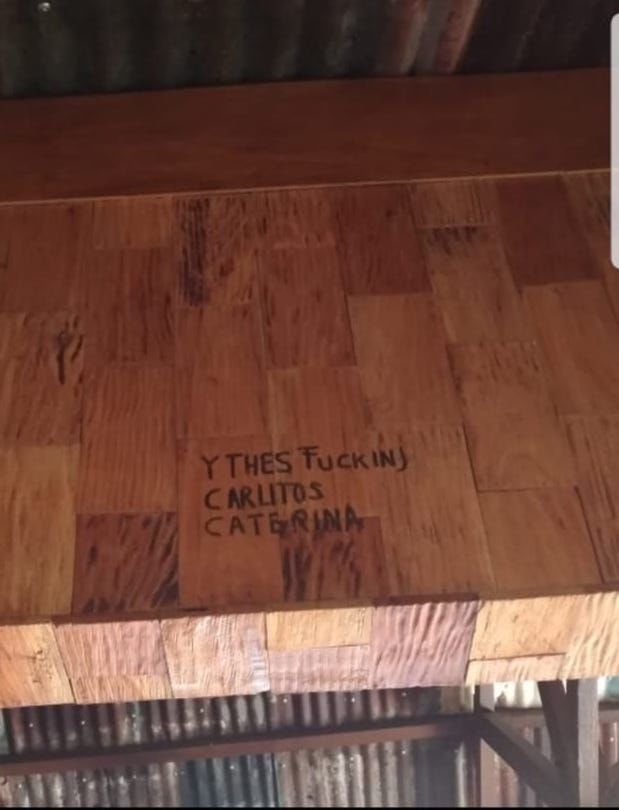 For the first day, we decided to keep it easy, waking up in our own sweet time, and then heading out to Ubud to experience the famous Bali Swing!
It was a good hour and a half drive from Seminyak so we reached well after noon. I hadn't researched the Bali swing much, so it was a bit of a surprise to me when we got there. It looked very similar to some kind of touristy amusement park, which had swings instead of rides. I admit it was a bit underwhelming to start with, but once inside , the swings actually were a lot of fun. The lines for the swings? Not so much.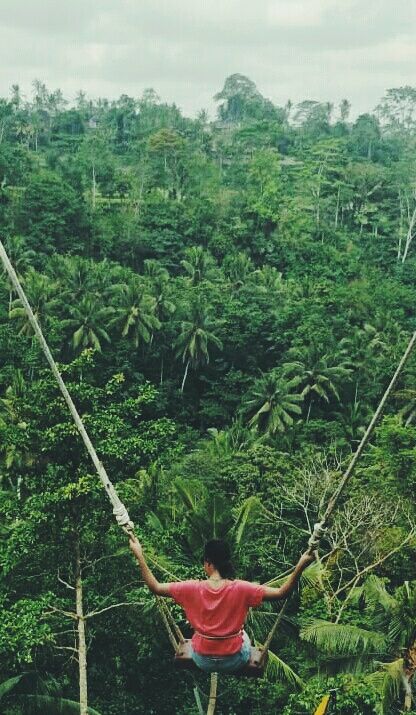 There are a lot of photo-ops throughout the "park" and there were a lot of people around who had come prepared in their best holiday/resort wear, to get that picture perfect shot.Do it for the 'gram!
The tallest swing is one wherein they put you in a full body harness, and it is the most impressive of the lot. By the end of it, I was actually enjoying myself.
We headed back to Seminyak, just roaming around. We found a tiny flea market with some interesting finds, and picked up a few titbits. Later, we headed out searching for a place to grab some dinner. We settled on Bottega Italiana a nice little Italian restaurant with some seriously good gnocchi.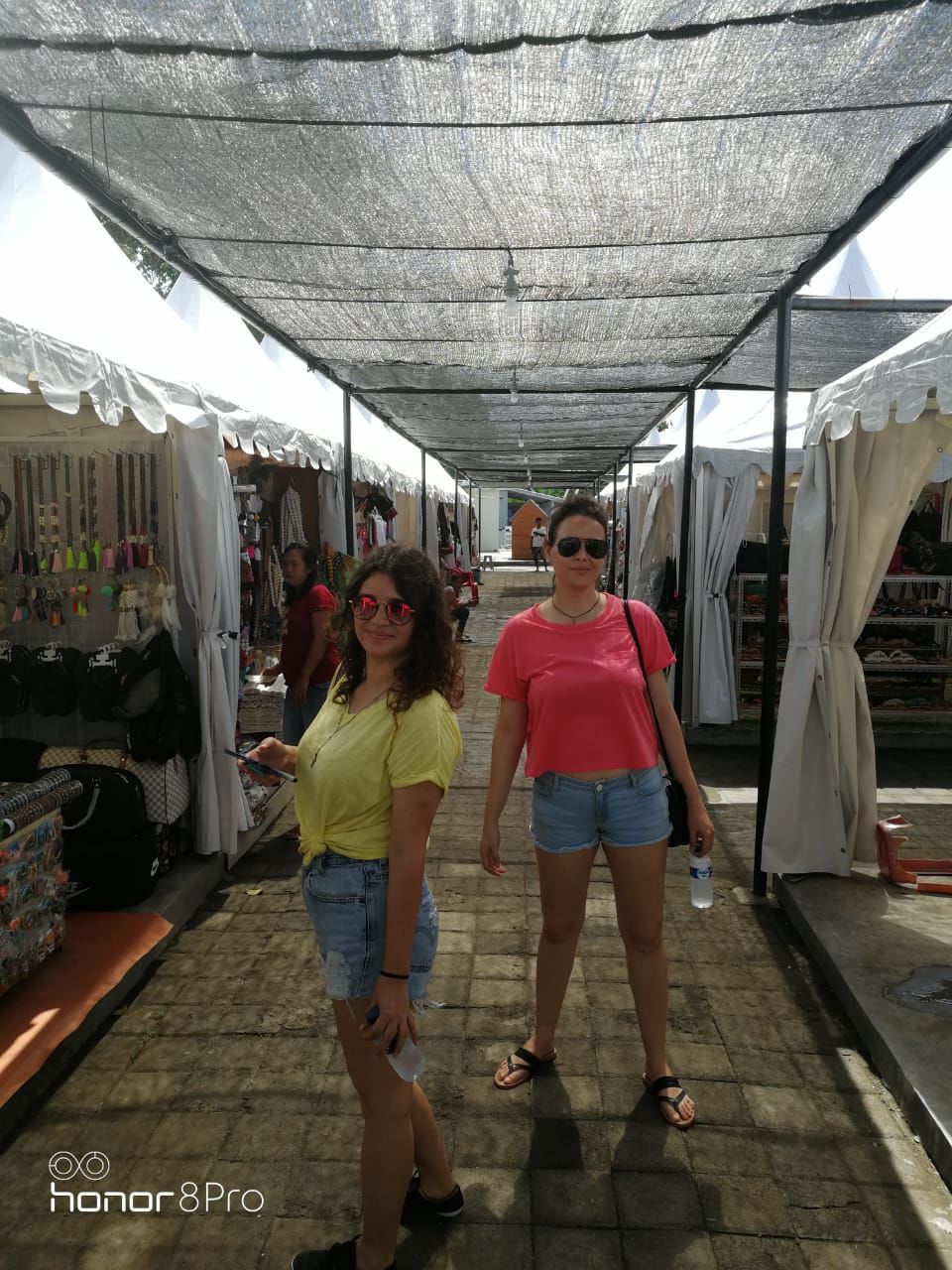 We wrapped up early, as we had decide to do the Mt.Batur trek that night. A word of advice, ask around in multiple agencies, and always always always bargain! The more people joining you in the trip, the bigger the bargain.We decided on an agency and they confirmed sending a car to pick us up at 1:30 am. The driver was prompt and we slept the entire way, which was a good 1.5 hours.We did borrow some of the cushions from the AirBnB for the ride :) Once there, we met our guide who gave us torches to navigate in the dark and we set off soon after. Make sure your agency includes these torches in the package, as they are definitely required.
The trek is not a hard one , and anyone who is fairly healthy can do it. I had my share of wheezing and heaving as usual, but then that's old news now. My sister Annie had joined me this time around, this being her first trek and it was double the fun! However, it did take some convincing for her (and my guide) to believe that I wasn't going to fall to the side of the road and pass out!
Luckily , the skies were clear, and we had a brilliant view of the Mt.Batur and the other surrounding peaks as we ascended, with the starlit sky as the perfect backdrop. Towards the top, you get to see the Lake Batur too. Too bad my night photography skills suck!
The path turns quite steep and rough about 10 minutes before you reach the top, and by then the line of people hiking with you gets bottlenecked and you have to move in a single file.And then, just like that, you are at the top.
Our guide , a young guy of 17 , showed us to a spot where we sat on rickety benches to await the sunrise. It was quite chilly up there, and we were thankful for the sweaters & a stole each we had carried with us.
What I was most grateful for, however, was the steaming mug of hot chocolate our guide handed over to us once we had found ourselves a seat.There was breakfast too : a boiled egg and some kind of banana sandwich, which aren't really culinary delights, but who cares!
The wait wasn't very long, and soon we could see the red streaks of pre-dawn spreading out from the horizon. We had a beautiful view of Lake Batur, the surrounding villages with Mt.Rinjani & Mt.Agung a stark silhouette against the brightening sky.
And the best part? We had a (I assume) local guy break out into song accompanied with some guitar strings while we watched the sun rise. "Blowin in the wind" never sounded so good!
We headed down soon after sunrise, and the descent was much faster. A bit too fast, in fact, with me doing an involuntary long jump resulting in scraped elbows and knees.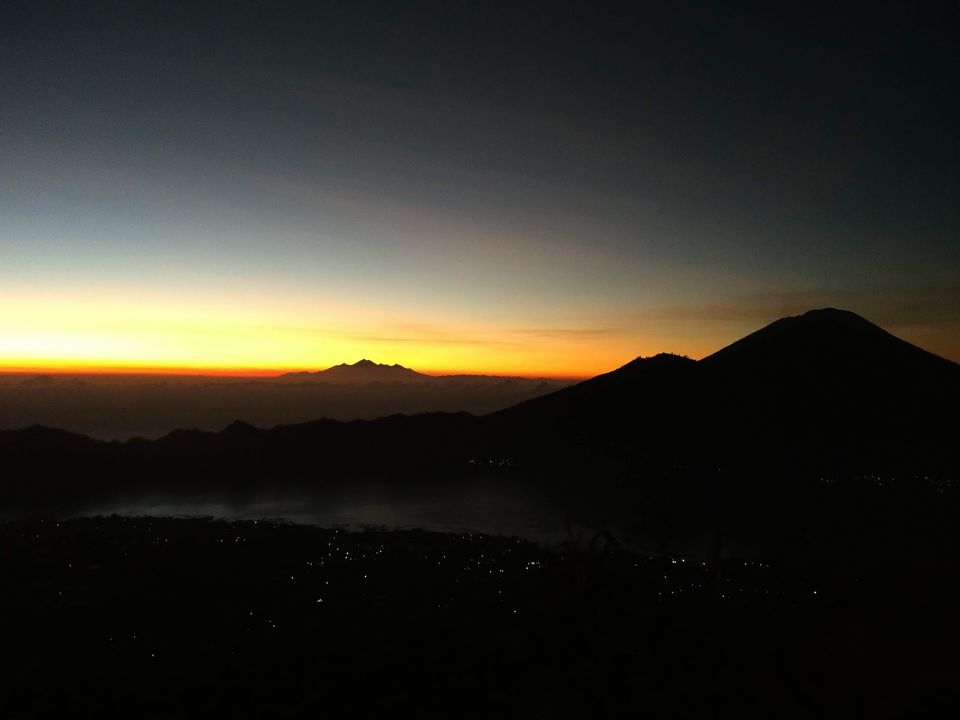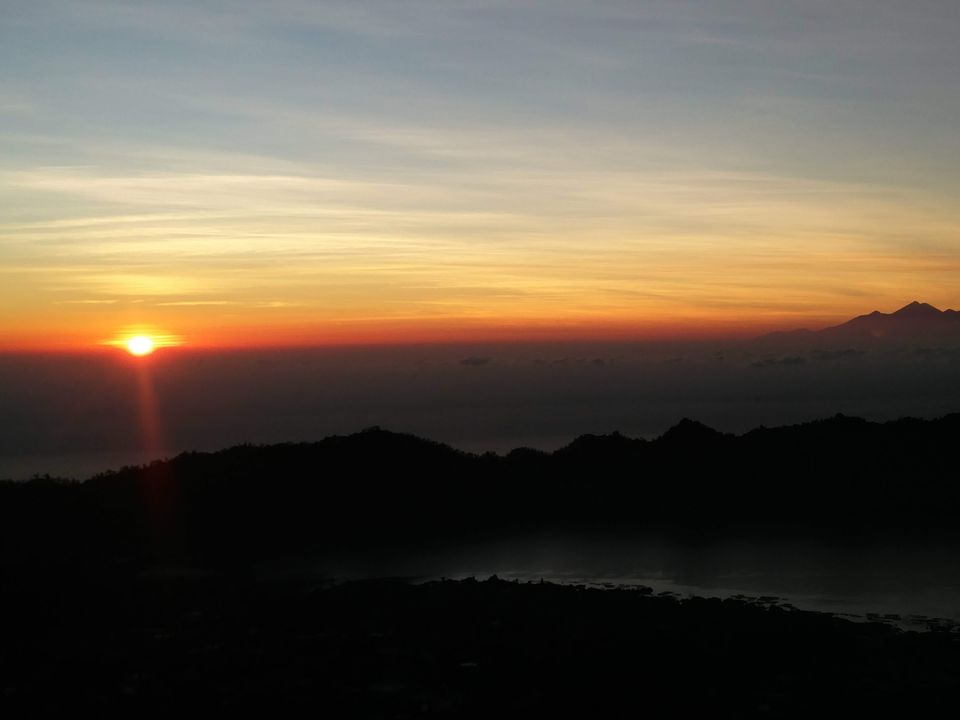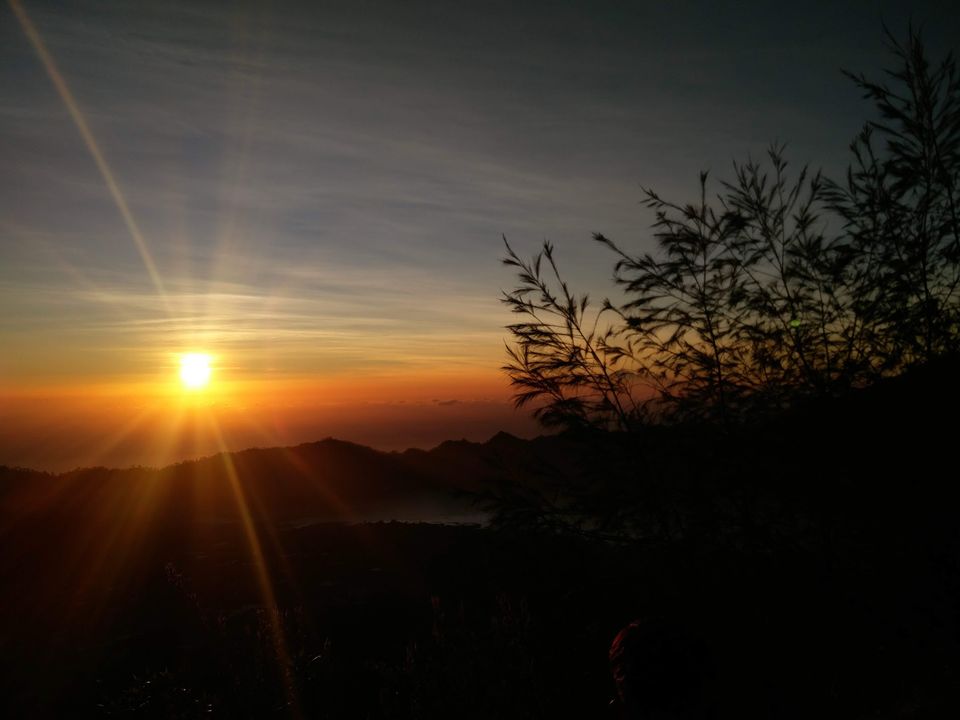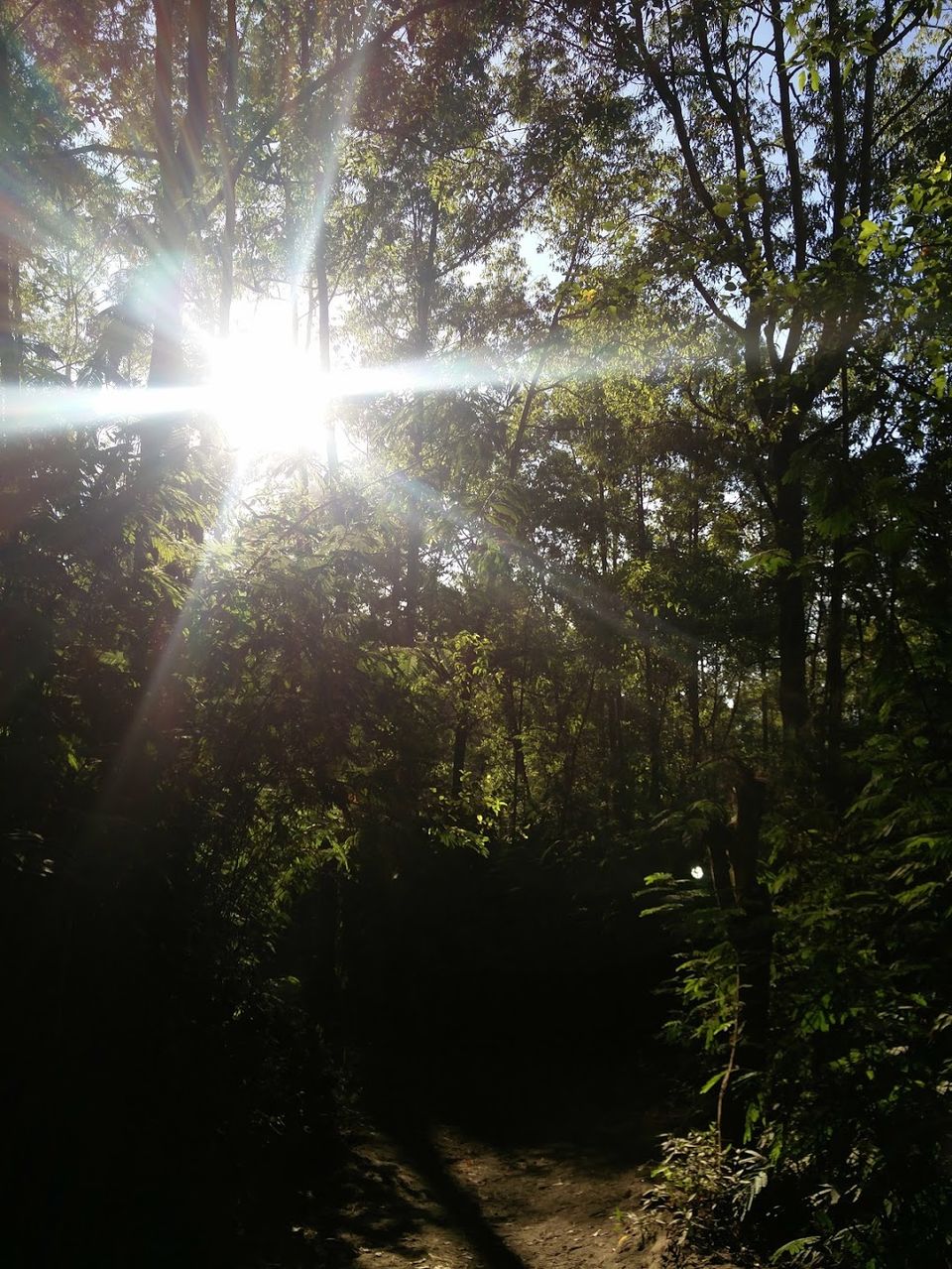 Once down, our driver was there waiting for us, and we got into the car, grateful for the "borrowed" cushions. And then, well, we passed out. We were back in Seminyak by around 10:30 in the morning, and wasted no time in showering and getting into bed for a good snooze.
We surfaced around 3 in the afternoon, and agreed to meet up with the rest of the gang, who had decided to do their own thing while we went on our trek. After a quick lunch in one of the many road side eateries (The Halal Boys) we made our way to the meeting point , the Woo Bar at the W Hotel, where we quickly made a beeline for the pool. We were in time for a lovely sunset and made the most of it.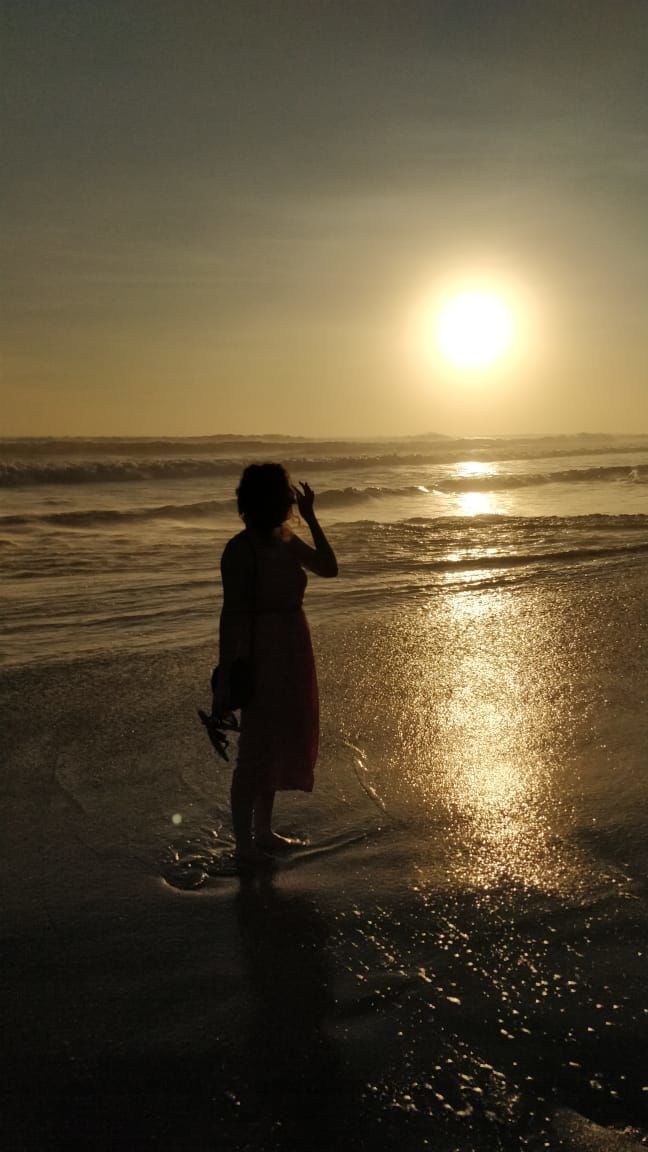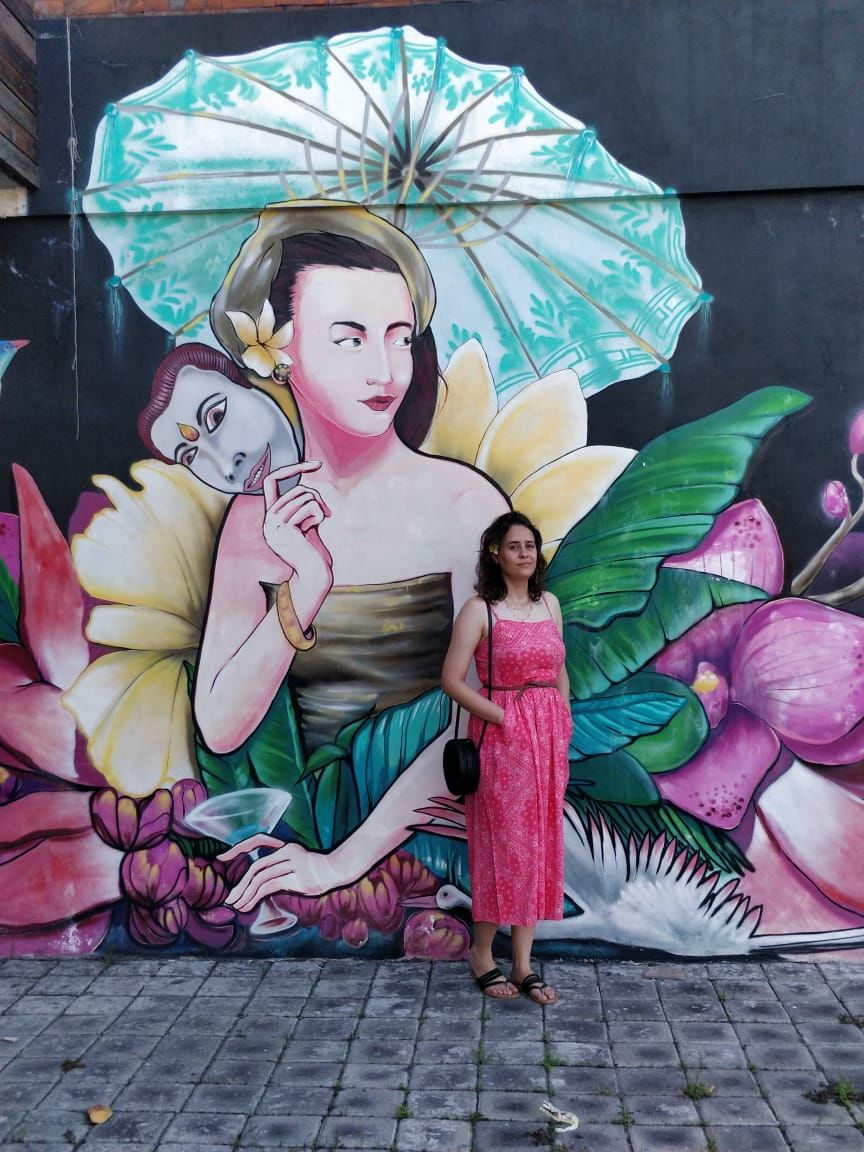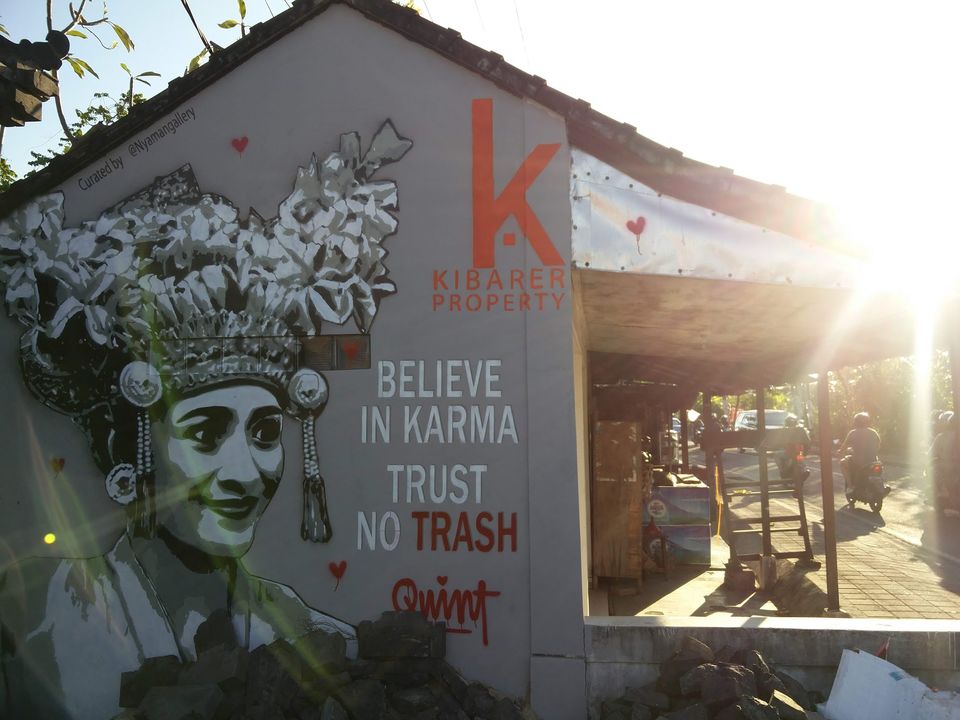 From there we roamed around Seminyak , doing some shopping and just hanging around till our bellies told us it was dinner time. Being our last night, we wanted to make it good, specially as it was going to be Annie's pre birthday treat!
We headed to a place called Nooks , a little off the main Seminyak strip, overlooking a paddy field. Good food and a lovely setting, worth a visit for sure.
The next morning, we decided to grab a last bite outside, and made our way to Cafe Organic, for a hearty breakfast with some lovely murals to stare at while we hogged before we made our way to the Airport to catch our flight back home.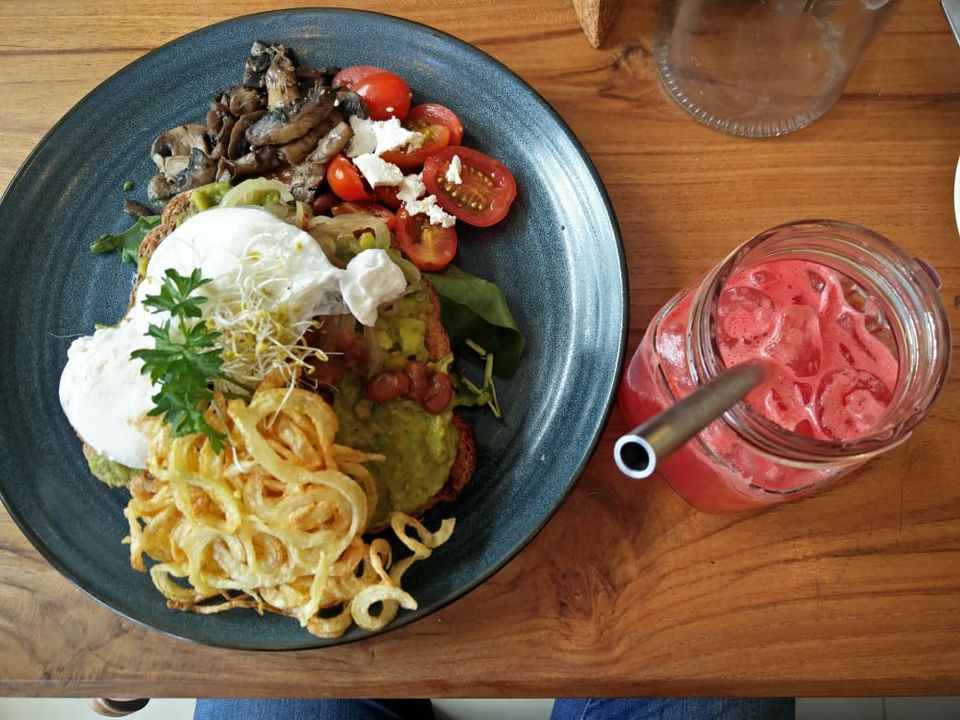 For a longer stay, you could definitely look at some more awesome places like the Uluwatu temple, the Rock Bar, the GWK Cultural Park, Potato Head and oh boy, the list just goes on and on.
But hey, why don't you be the judge of that yourself and plan a trip there?