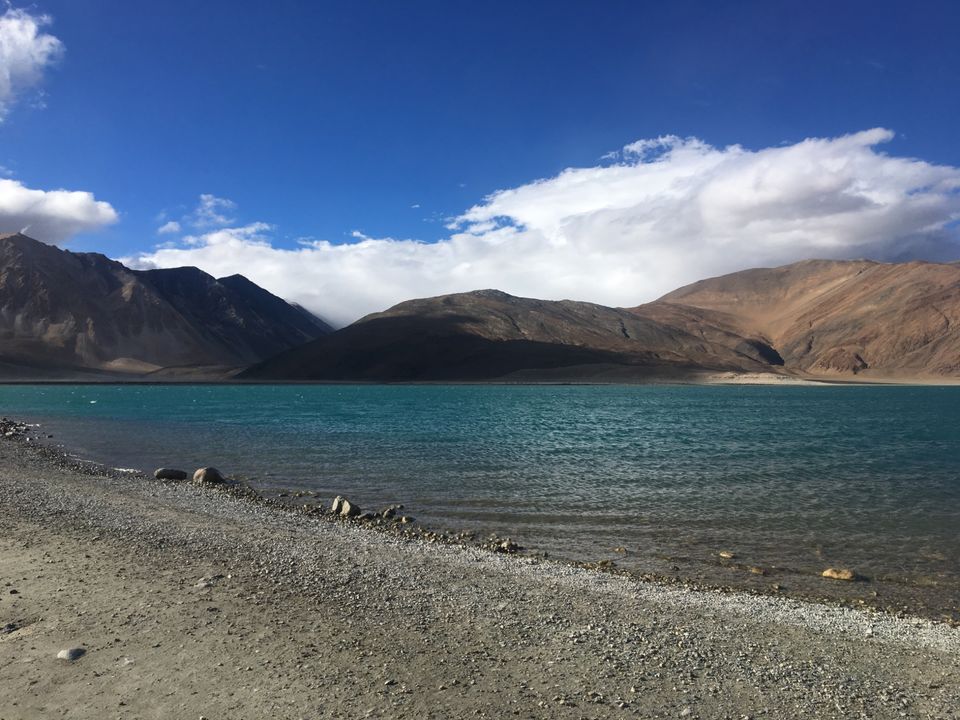 Going to Pangong is the highlight of a Leh trip.
Thanks to Amir and Kareena.Now we all want the Bollywood cliche experience. But seriously hats off to Kareena to head there in a lengha,bulk load of jewelry and no sweater !!!
My gang and I were hit with Reality!
We headed to Pangong from Leh, early in the morning.
Reality 1: It's a 6 hour drive. Yeah sure what's the big deal. We drove from Manali piece of cake. Well it's mighty bumpy route. You might need to wear a helmet in the car to prevent the future brain hemorrhage you will be getting.
Ok well they were working on the roads so ...maybe you'll be saved.
Reality 2: Rains. Nature has plans of it's own, Rains can cause landslides, which cause the roads to get shut which will not allow you to go to Pangong on the day as planned and it might ruin your trip and might make you wonder if you should have invested your money else where.
Reality 3: Zero visibility. So the rains cause fog,which is so thick you can't see the car ahead of you. But no worries you will have a local driver who knows the roads so well , So so well that he might just want to look behind and enjoy with us all instead of the road !
After these reality hit us, my gang and I had lost our hope.
Grey mountains around us were growing inside us.
Our local driver tried to keep our mood up. He was very considerate about us and kept saying wait till you see !
Finally when we approached the final leg of the drive.
Our Driver shouted "Are you ready".. we all groaned " Born ready man"...again he shouts " Are you ready" ... We were still not seeing anything, moods all off. And again he shouts "Are you ready say 3 ..2... 1...".....okay man where now !we all sat up .. looking around .. searching...
Then the car takes a turn ..and then we see this..
a light little blue triangle surrounding the grey mountains.
Oh Joy!.. our spirit we're high again. Though it took us another 45 to actually get there.
After that it was just like in the movies.
We were ready for all the Pure Blue Bliss.