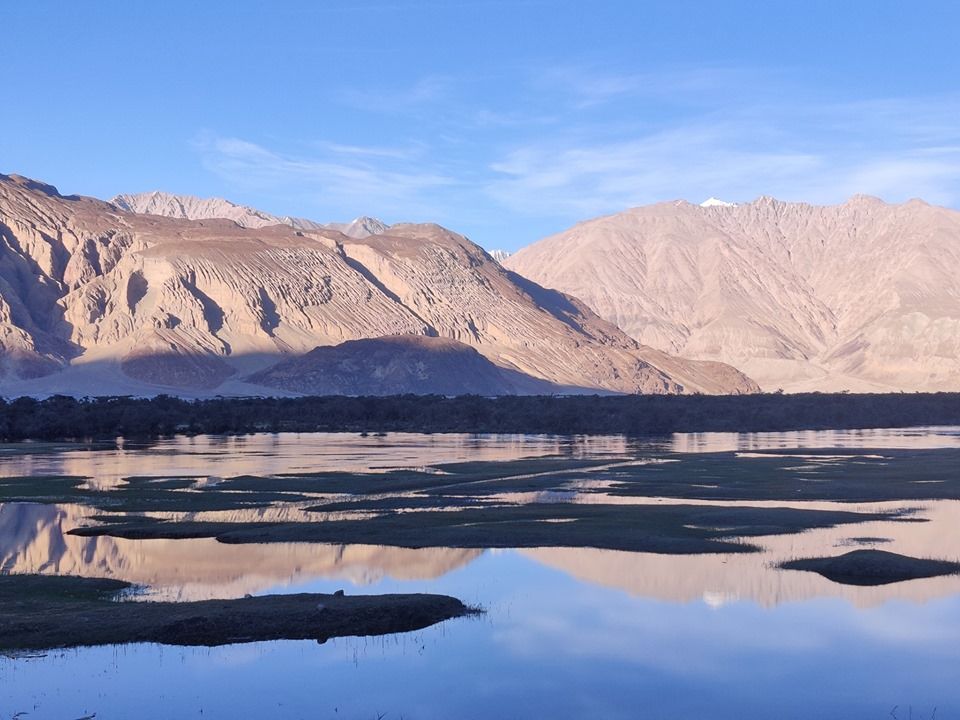 A land of colossal mountains, highest passes, ever-changing landscapes, and pristine lakes, yes! you guessed it right, I am talking about Ladakh.
A dream destination that tops the bucket list of any adventure enthusiast.
After planning for almost 3 years, we finally made it!
I, my husband, our friends Shishik and Pawan were determined that it's now or never and that's why we got going by selecting our travel partner 'The Great Next' and making an advance payment in the month of May. And it made us smile wider because we knew that whatever it may be, we are going to hit the roads at the end of August.
Here, I must mention the efforts put by the bestie duo- Shishik & Kartik (my husband) for selecting the travel company and taking care of accounts and all other necessities, while I and Shishik's husband Pawan, relaxed and waited for the day to come!
We decided to go with a travel company instead of taking our own bikes (which we initially planned) because we wanted to relax, enjoy riding through the virgin nature without being worried about the stay, permit,s etc and also we wanted to meet people whom we have never met before, that is other fellow riders in the group and it was so well done, our travel partner was right there to take care of stay, food, bikes, fuel, permits, medical assistance and all that we could think of and our group of two other pillions and 2 solo riders was all that we could have asked for.
Our trip coordinator sent us the route itinerary after asking us about our preferred dates, our 11 days trip had to start in Srinagar by picking up the bikes covering Sonmarg, Kargil, Turtuk, Pangong Tso, Tsomoriri, Nubra Valley, Leh, Sarchu, Jispa, and then end in Manali. Our excitement knew no bounds, I won't lie, I could not control smiling knowing that I get an extra day to look around in Srinagar as I haven't been lucky enough to explore it till now, though I am already in my 30s :(
Finally, after a lot of video watching, multiple visits to Decathlon, setting up the camera, buying a GoPro, unlimited gears for the GoPro (husband's requirement) just when we thought we are ready, we received a bad surprise after turning on the T.V.
It was the starting of August and the Government declared to lift off Article 370 from J&K, no doubt it was great news but at that point of time we were just being greedy and all we could think of was our trip, all flights to Srinagar were getting canceled and roads were blocked by Indian Army due to security reasons.
Well, our men were relaxed and just sat back, while I and Shishik (Shishik did more) kept following up with the airlines and Harshal (our trip coordinator), who was patient enough to calm us down and gave us the hope that whatever it may be, our trip will be on, but we may have to change the route.
Finally, Harshal sent us the updated itinerary minus Srinagar, Sonmarg, Kargil, and Tsomoriri, I was pretty sad but then again the excitement of seeing Ladakh on a bike told me to cheer up and go with the vibes.
So now our new route was:
Manali- Jispa- Sarchu- Leh- Nubra Valley- Turtuk- Nubra Valley- Pangong Tso- Leh- Sarchu- Manali
Since, now we were taking the same route back so 4 of us chose to skip returning by bike and decided to stay back in Leh, explore the city, and then fly from there.
Finally, after a lot of waiting, excitement, and planning, the day arrived! Our friends, Shishik and Pawan reached Delhi from Bengaluru, we were all set with our backpacks!
On 30th August we boarded our bus to Manali (we decided to take an extra day since it's the first visit to Manali for our friends)
(Day-1) Otherwise, reach Manali on this day.
Checked into Hotel Seven Hills followed by a briefing given by Nitin from the travel company and the most exciting part was meeting the beasts- Our Royal Enfield 500CC bikes and the trip captain- Tenzin (a part of the awesome trio of trip captain, driver, and mechanic)
(Day-2) Started the bike trip from Manali, rode till Jispa covering Rohtang la and Baralacha la approx. 138kms, spent the night at Gemur Tent, with river view and surrounded by beautiful mountains. Enjoyed the bonfire at night and bonded with fellow riders from the group.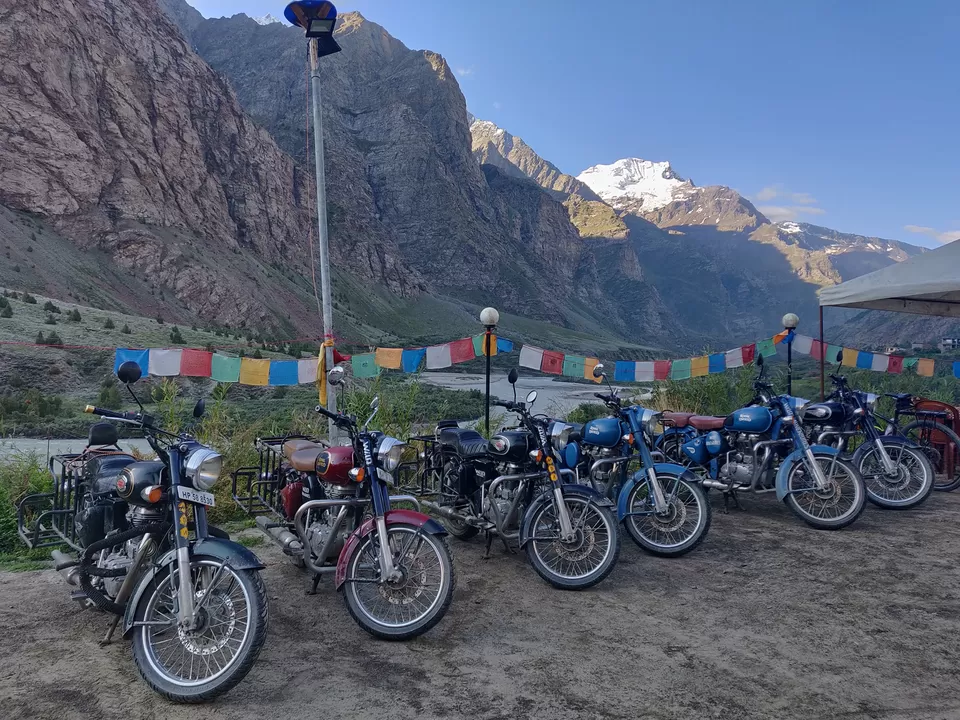 (Day-3) Rode from Jispa to Sarchu only 80kms, stayed there at a tent. Now here you must not forget wearing your gumboots and rain pants, since you have to cross Baratpur Nala, which is called a Nala but turns into a massive water crossing when it rains.
Well, many of you might think why to stay after riding such a short distance. The answer is, to get acclimatized. Now you are at a height of 14,070ft and yes! the night might be difficult for many. You may experience headaches and breathing difficulties due to a lack of oxygen, so I suggest pop up a Diamox the previous night.
But hey! hey! all the photographers out there, you all might just forget about oxygen scarcity because Sarchu has the clearest sky and you will certainly get to capture the Milky Way and Star Trails.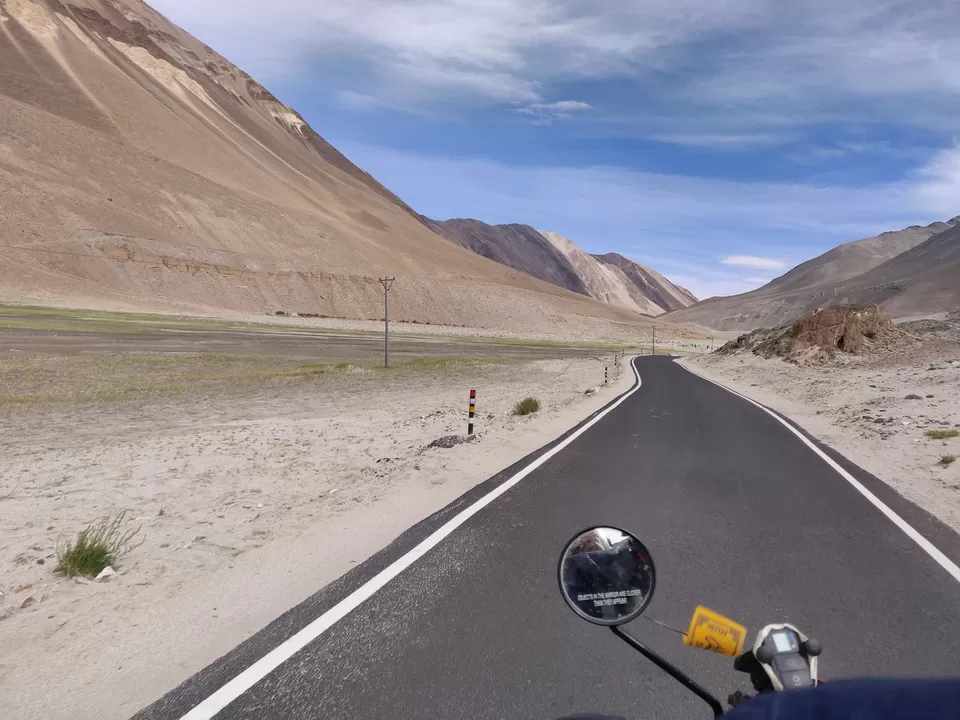 (Day-4) Now after a sleepless night, again we were all set to hit the roads and rode 250kms to reach Leh. After Sarchu, you will be entering J&K/Ladakh, also it is the day to encounter Nakeela Pass ( 15,647 ft) and Tanglang La (17,480ft) you will experience off roads till Pang after that the roads are as smooth as silk.
Roads in Ladakh are as scenic as they can be but I found nature at its best with mountains changing colors, a river on the right with all sorts of colorful flowers, few kilometers before reaching Leh.
Spent the night in Leh at a hotel, explored the market, bought 'How I reached Leh' T-shirts (they have all possible routes embroidered in all sizes and colors), had a hearty dinner at Tibet Kitchen (must-visit for local food.)
Oh yes! Here you get new bikes since H.P bikes are not allowed in J&K. Ensure that you check your bikes and get them fixed by the mechanic from your support team, though the bikes look shiny J&K bikes are not well maintained.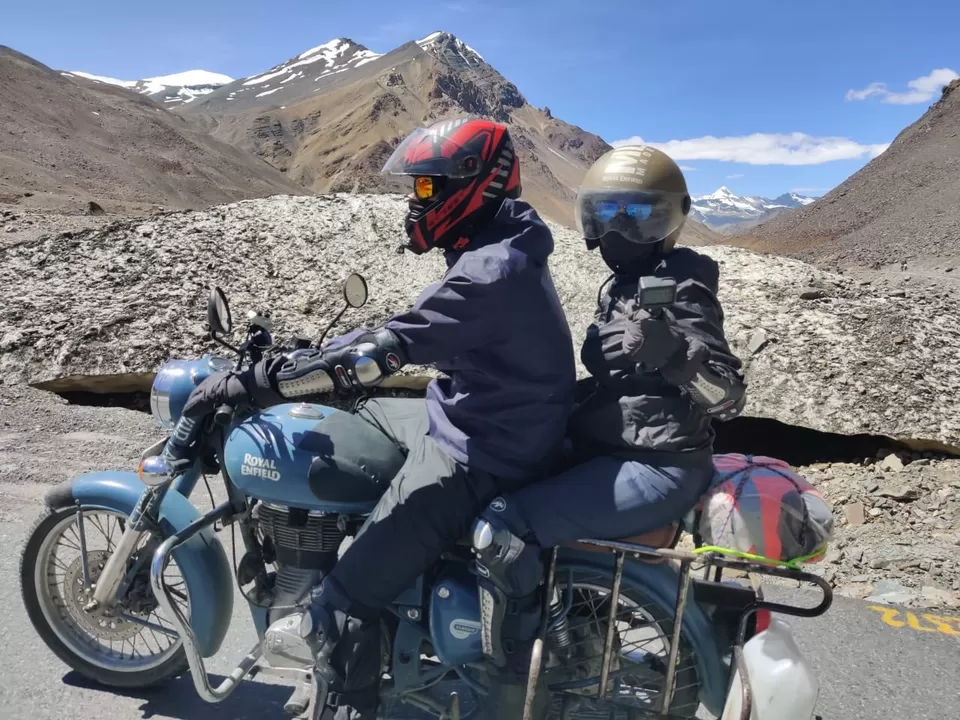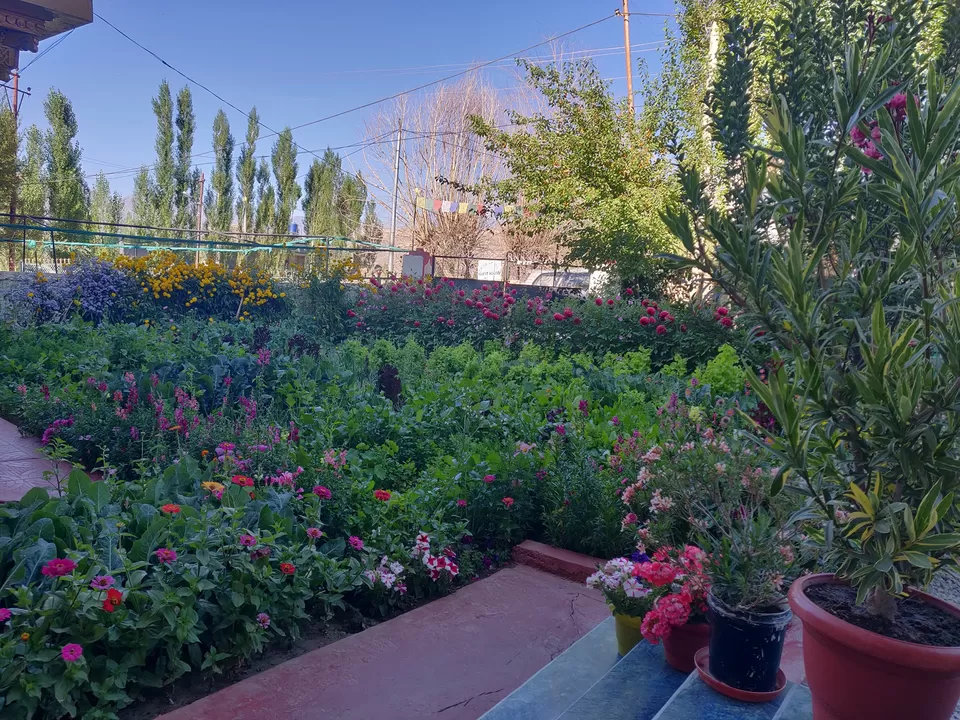 (Day-5) Rode from Leh to Nubra Valley (comprising of 3 main villages Diskit, Khalsar & Hundar) covering approx. 160.3kms. Today we also got to witness the 'Mighty Khardungla.'
The road from Leh to Nubra is full of sharp and blind carves, so extra caution required here. After reaching we stayed at a hotel in Diskit.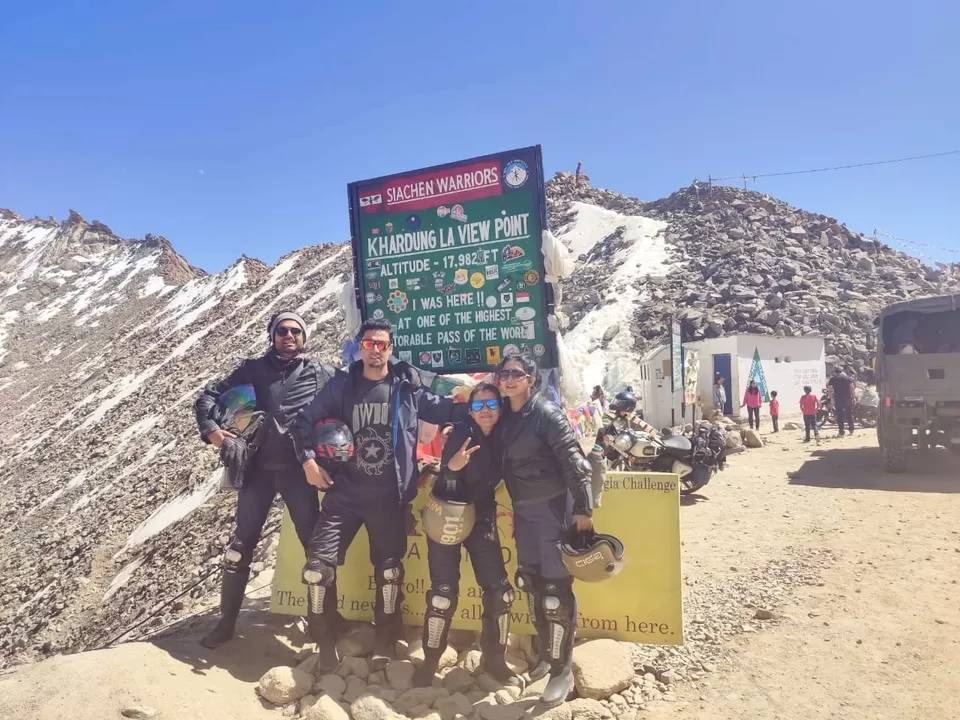 (Day-6) Rode to Turtuk from Diskit approx 90kms. Well, they say this is the last village of India beyond which you can't travel. I didn't find it very exciting since I had already visited Wagah Border.
But yes, holding our 'Tri-Colour' high and singing the National Anthem definitely gave goosebumps. On our way back we visited Hundar, the Cold Desert (Khapa-Chan.) You get to watch traditional Ladakhi dance here, ride ATV, and watch the famous Bactrian Camel (two humps) I would only say watch because I am strictly against riding animals and would urge everyone not to do so. Remember, your holiday is their every day, so please don't!
Spent the night at your Hotel, before you leave Diskit, make sure to visit Diskit Monastery in the morning.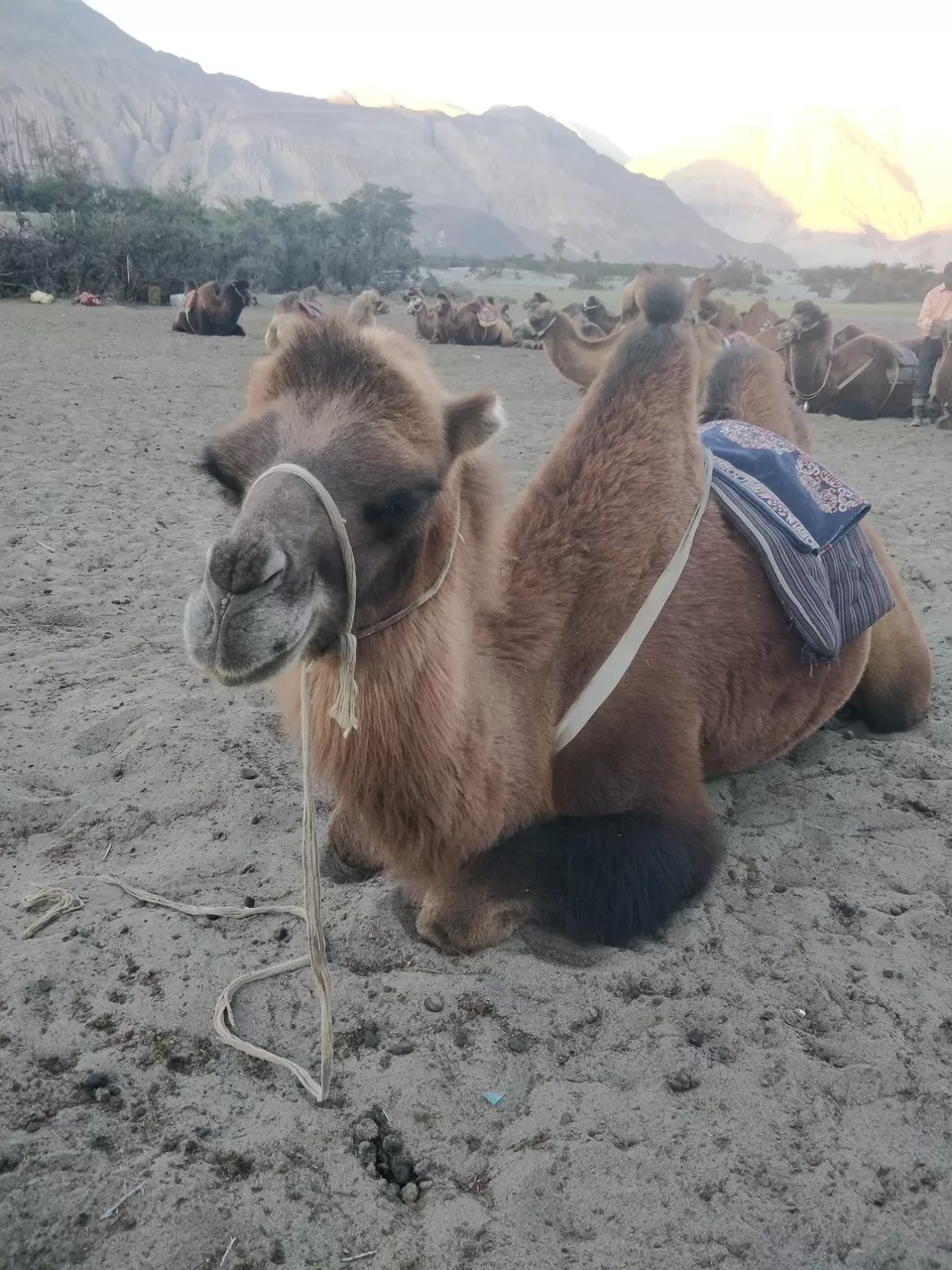 (Day-7) Rode from Nubra Valley to Pangong Tso covering a distance of approx. 150kms. Now here you are! Do not, I repeat do not leave without putting on your gumboots and rain pants. Today you will encounter 3 river crossings, the second one will have you looking for a route to ride, it did give me shivers when we had to cross these, though they were not as scary as some parts of the roads which we already crossed, I really didn't want to fall down and get in contact with the chilled water, so I almost fought with Kartik (the husband) got off the bike, walked to cross these rivers (we were lucky, the water flow was not much as we traveled during 'No Rain' season.)
After arriving at Pangong Tso, we checked into our tents, took off the biking gears, and put on our best attires which we saved for this spot, and got ready to get photographed.
We reached there before sunset, experienced the best shades of 'Blue' and an unforgettable Sunset.
A con that I found is, the impact of Bollywood and 3 idiots at this beautiful lake site, I mean, I really would not have wanted to spot, yellow scooters and 3 idiot bums in a place as scenic as this, but what to do, Indians, our craziness for Bollywood and the want of earning money by the localities have made a certain spot at the lake site pretty commercial. So, I chose to ignore it and took shelter in a Yak tent with my friend Shishik to run away from the super cold breeze.
We got talking to a local who said that during winters, it goes down to -30/-40 degrees, and Pangong Tso freezes but only localities know how to cross it, others who tried stepped at the wrong spot and got drowned.
At night we had a great time playing games and listening to ghost stories from our captain Tenzin and driver Arun around the bonfire.
Crossing the river as we have just found a water crossing on the Moon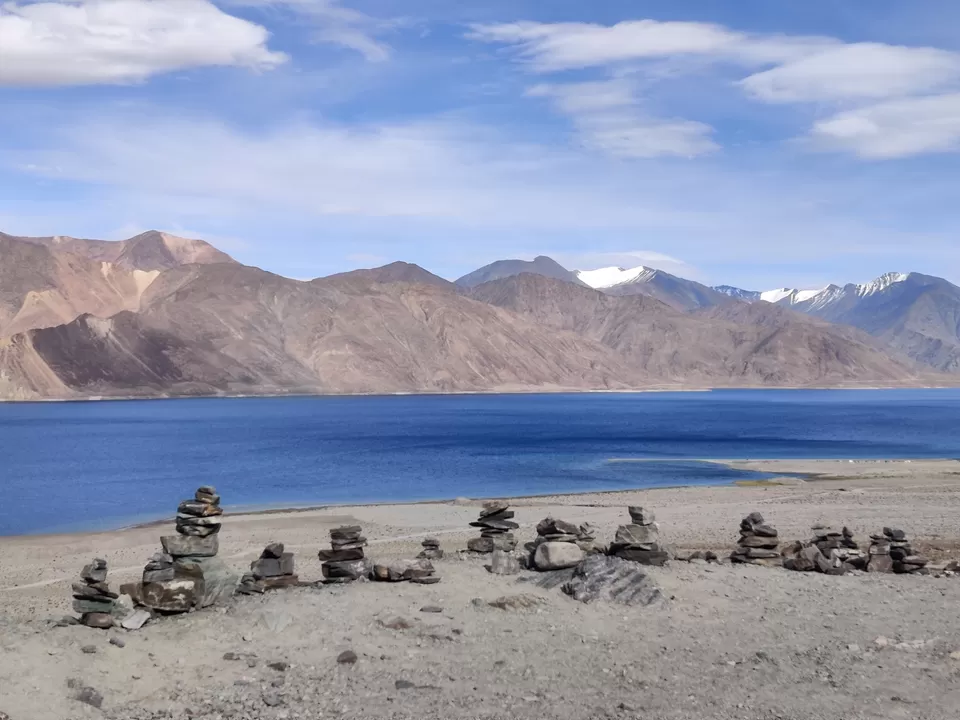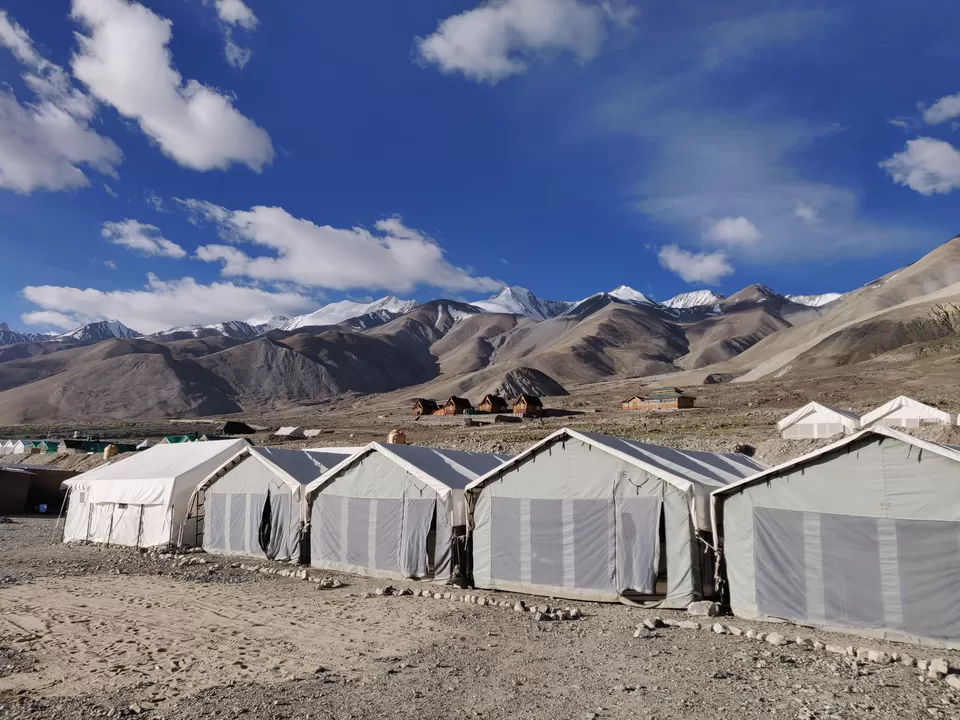 (Day-8) Rode to Leh from Pangong Tso covering a distance of approx. 225kms.
This was a difficult day for me! 20kms of off-road riding through snow avalanche area almost made my back numb but being the strong woman that I am ;) I made it, kidding. I actually forgot the pain after seeing another highest pass- Changlalng la.
I must say it was really cold, throughout our journey we had only experienced pleasant weather but the moment we started from Pangong Tso till Changlang la, we experienced cold that hit our bones while riding, so stay well-prepared!
In the evening the biker group decided to take a break, we all believe and swear by safe riding and hence we stayed away from all kinds of intoxications in the past few days. But as this was the last day of being together and we didn't have to ride, hence we celebrated the night with loads of beer at our hotel, I must not forget taking the name of 'Six Fields Wheat Beer' here, it is manufactured in Jammu & Kashmir and can easily give a run for money to any imported wheat beer.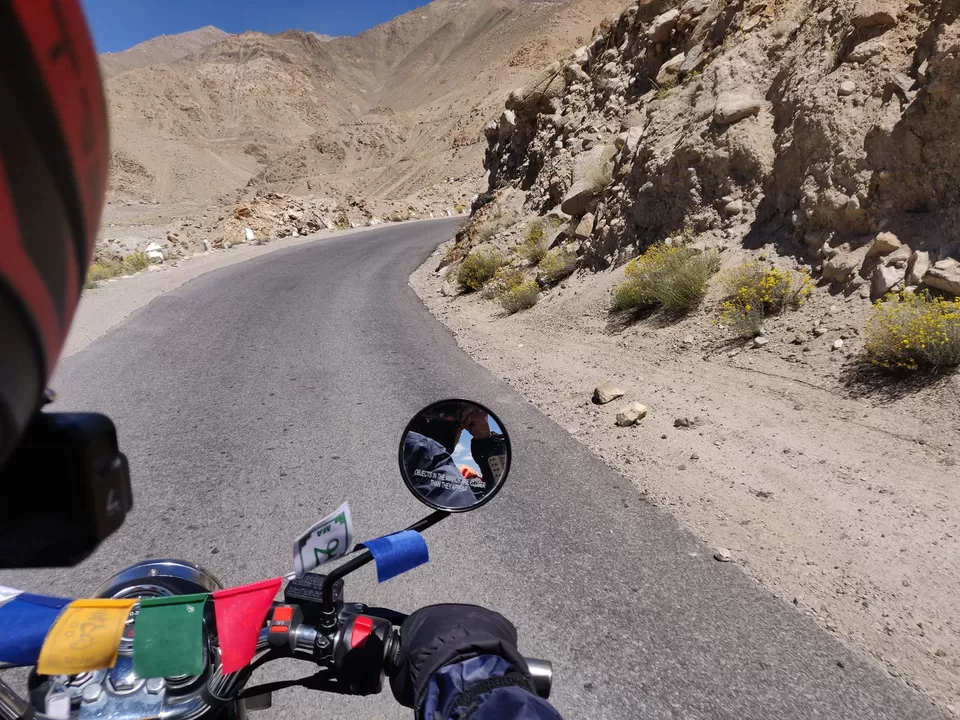 (Day-9) In the morning we said goodbye to our group who took the same way back and also to our bikes provided by The Great Next. It was an emotional moment :)
Post that the four of us decided to spend on food and shopping. Meanwhile, we hired 2 Royal Enfields 350CC for Rs.11,00 each/day, you can easily hire bikes in Leh, check with your hotel for assistance, or just google it.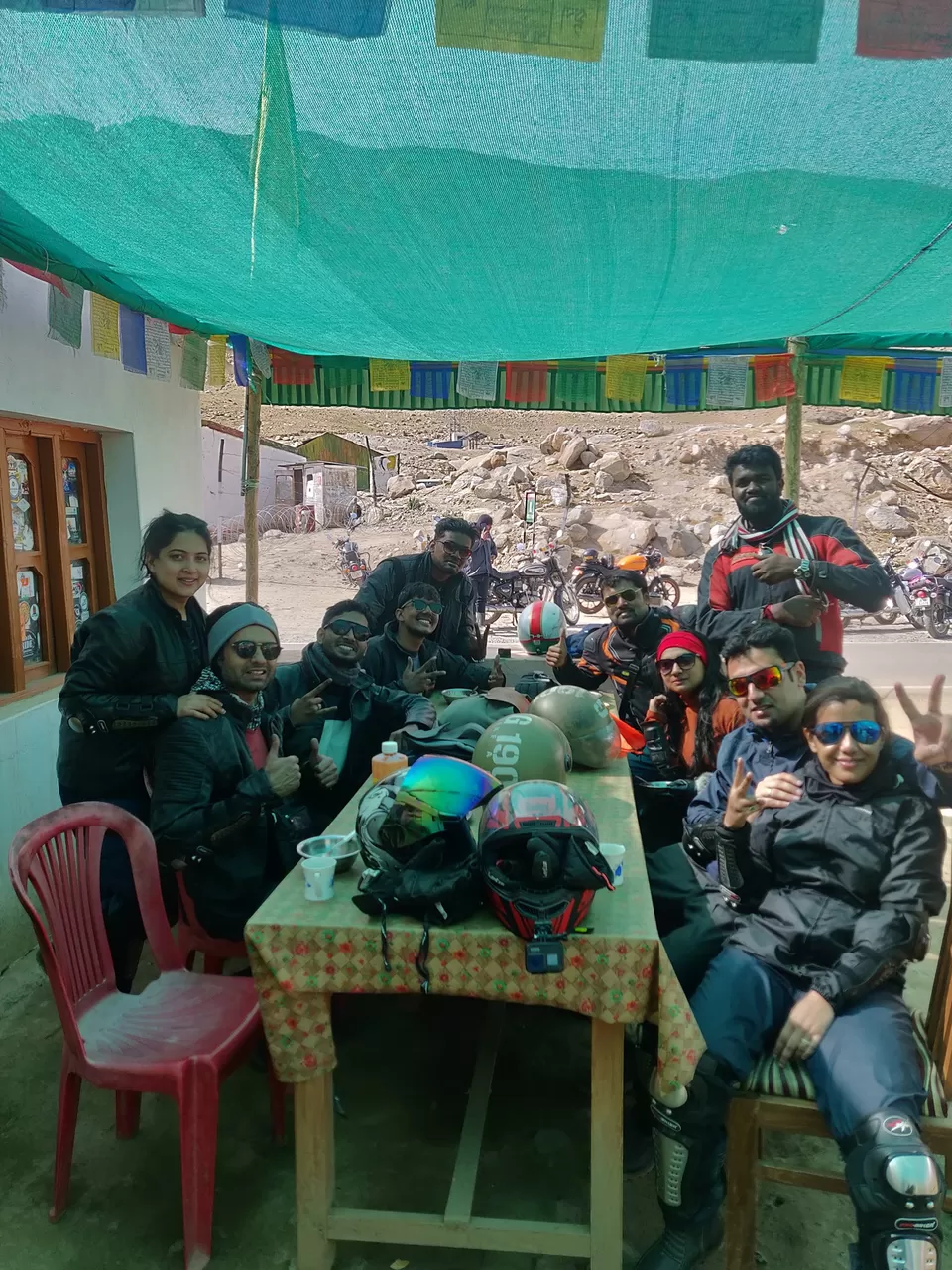 We hit the World Garden Café, located and Changspa road followed by a visit to German Bakery for lunch later serves the yummiest desserts. In the evening, we rode up to Shanti Stupa, try to reach there before 8 pm so that you can grab a cup of kawa or coffee at the café and sit back to enjoy the view. Later we chose Café Il Forno for dinner.
(Day-10) Visited the Thiksay Monastery followed by Leh palace, Zanskar-Indus confluence, Gurudwara Patthar Sahib, and Kargil War Memorial (be there before 7 pm to visit the museum and watch the light and sound show.) Oh yes, we also encountered Magnetic Hill on the way, which I felt is overhyped.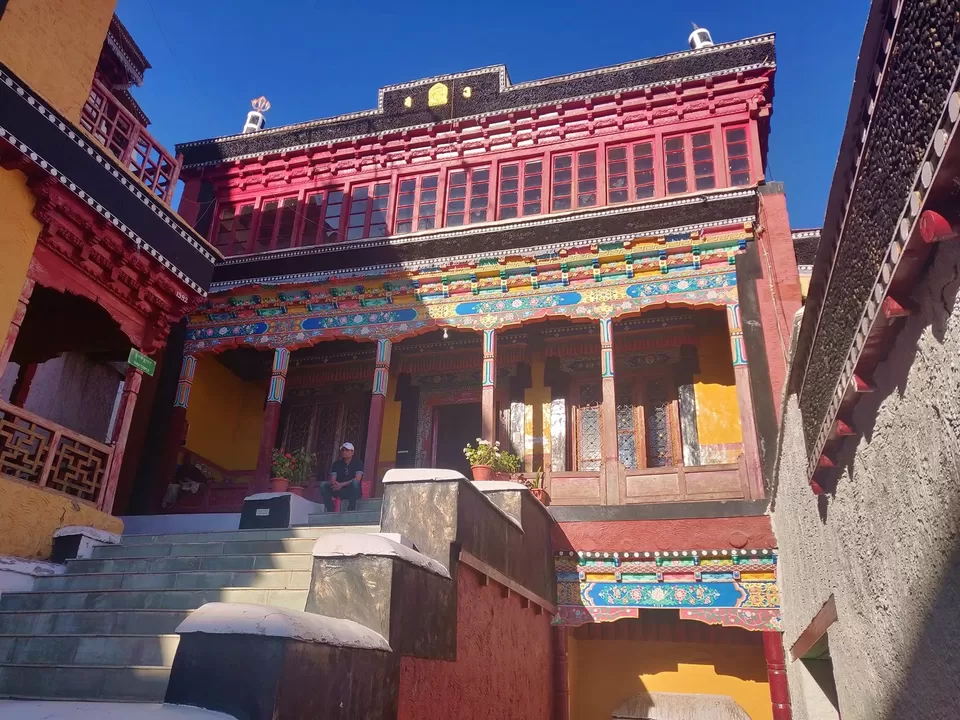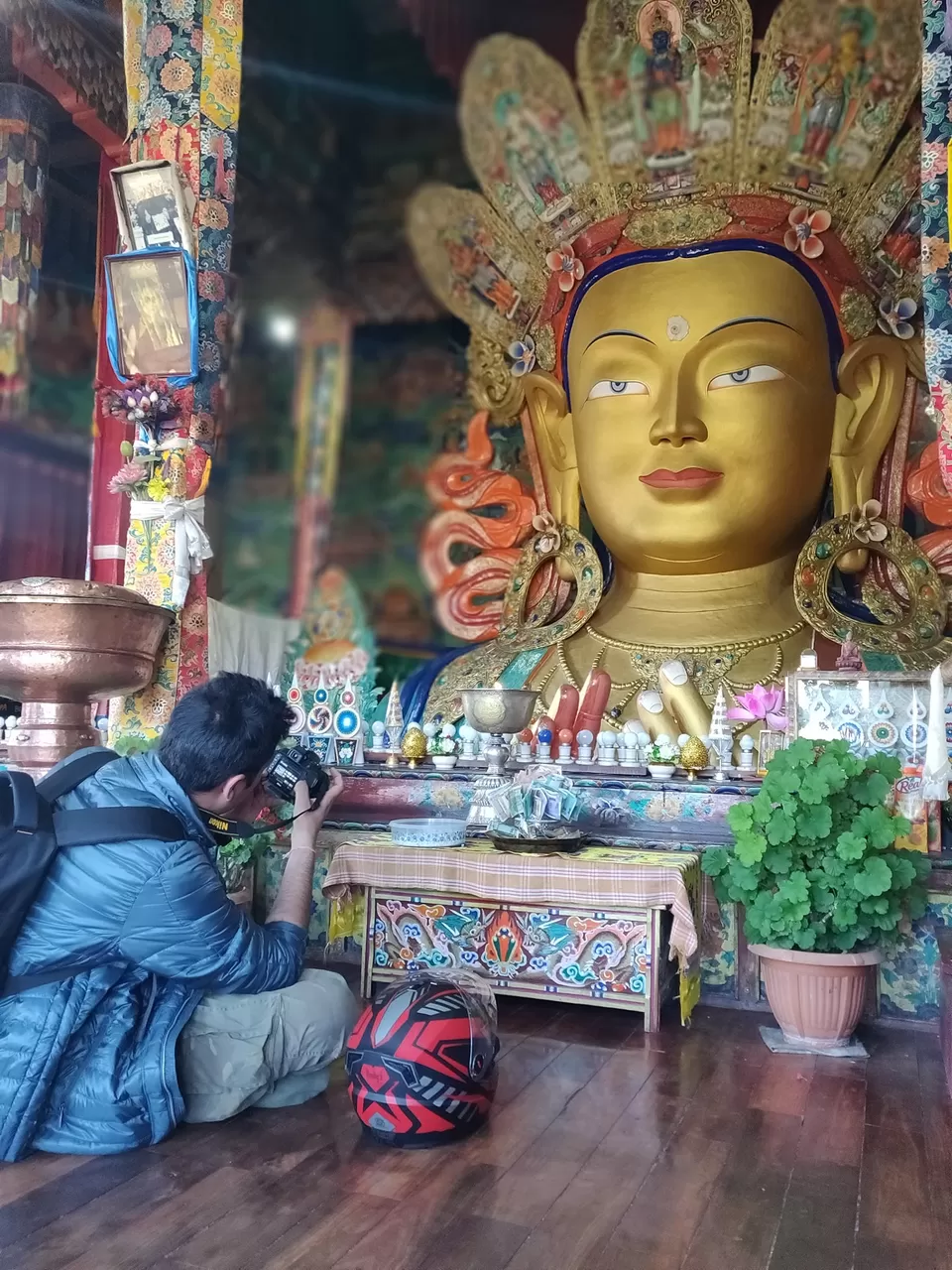 (Day-11) Left hotel at 6.30 am to catch our flight at 9 am. The airport is just 9kms away from the city, so you can stay away from the fear of missing your flight. And if you are fond of sleeping on the flight then please don't! You will miss the scenic take-off and snow-capped mountains once you are up in the sky.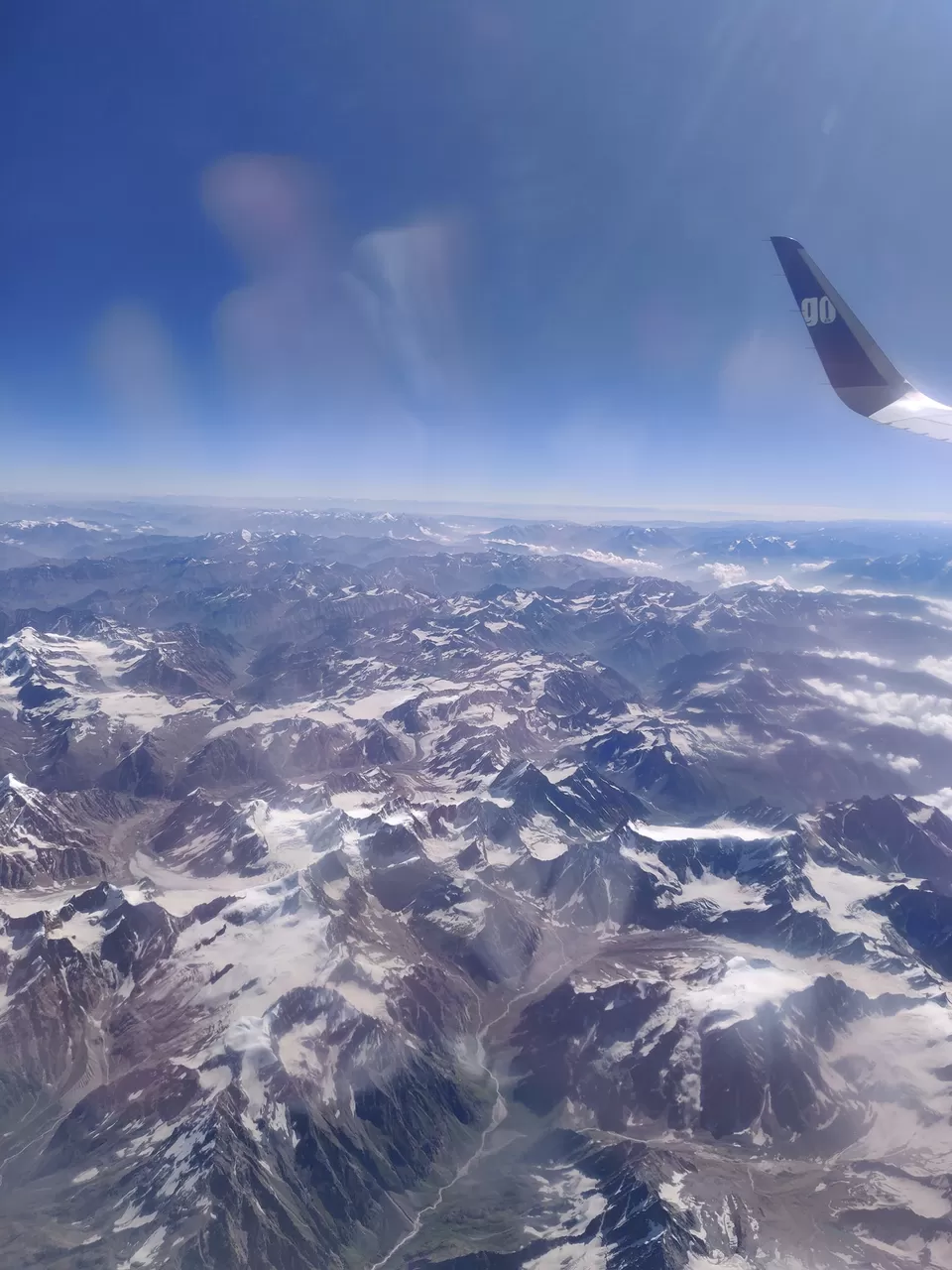 Well, this marked an end to our long-awaited, most discussed, and planned trip.
Someone in Manali told us that "when you go up there and come back, you come back as a different person", now I can connect to his thoughts. The experience of seeing 'Nature at its best' and encountering some of the riskiest roads, makes you value 'Mother Earth' and your life more. Nature can be so surprising, it can mesmerize you every moment with something new.
I feel Ladakh is still so beautiful because not many have reached there and those who have, know how to value and protect 'Mother Earth.' So, let's ensure that we all do our bit in protecting this 'untouched-by humans' part of our country from the species who travels & creates a mess that's 'human.'
I am thankful to Kartik, Pawan, Shishik, our group, and our travel partner for making it happen, it was a pure adrenaline rush that we experienced in these 11days.
So, till we meet again to hit the roads together, keep traveling, ride safe and save nature!
Things to keep in mind if you are riding during August-September:
1. Carry very few clothes- You actually won't feel like changing so keep it a minimum, carry comfortable pants, jeans are not very comfy while riding
2. Carry a rain jacket, pants, baklava cap, gloves, polarized shades put them on every day (if you are not wearing a biking suit) my friends laughed at me for wearing a rain jacket every day but it saved me from the wind and dust also saves you from applying sunscreen
3. Buy a good pair of gumboots otherwise it doesn't save you in the river crossings
4. Good quality helmet, knee, and elbow guard is a must, after all, safety is beyond everything
5. Dress in layers, so that you can take it off when you feel hot, if you are traveling in September then a sweatshirt and windproof jacket is more than enough during riding but keep your raincoats handy if you ain't wearing them, the weather is unpredictable
6. Sarchu and Pangong Tso would be cold, keep thermals, woolen cap, and gloves for these places
7. While riding from Pangong Tso to Leh, make sure you wear thermals, a jacket and then a windproof jacket, as I said it will really be very cold
8. Never overtake or honk, especially when you see army vehicles. They will let you pass anyway when they see you coming
9. Do not miss a chance to salute our Army Men, my respect for them have increased more after seeing them live in the extreme climates just to save us
10. On the way back from the Zanskar-Indus confluence, pay a visit to Gurudwara Pathar Sahib, it said that Guru Nanak Dev Ji stayed there and now our Indian Army is maintaining the Gurudwara, you must experience the way they welcome you and make you feel taken care of
11. Save some space in your bag, if you want to shop in Leh but do not forget to bargain, visit the Tibetian Refugee market
12. Speak to the locals, they are very sweet and friendly people
13. While riding in Ladakh, survive on maggie is a total myth! At the smallest of cafes and highway Dhabas you get a long menu to choose from and the food is yummy. You must not forget to try the local delicacies
14. Well, I am going to end with a note for crazy dog lovers like me, throughout the way you are going to meet these fluffy and cuddly dogs known as 'Gaddi Kutta' please feed them and play with them, they have so much love to give and will only add to the memories of your trip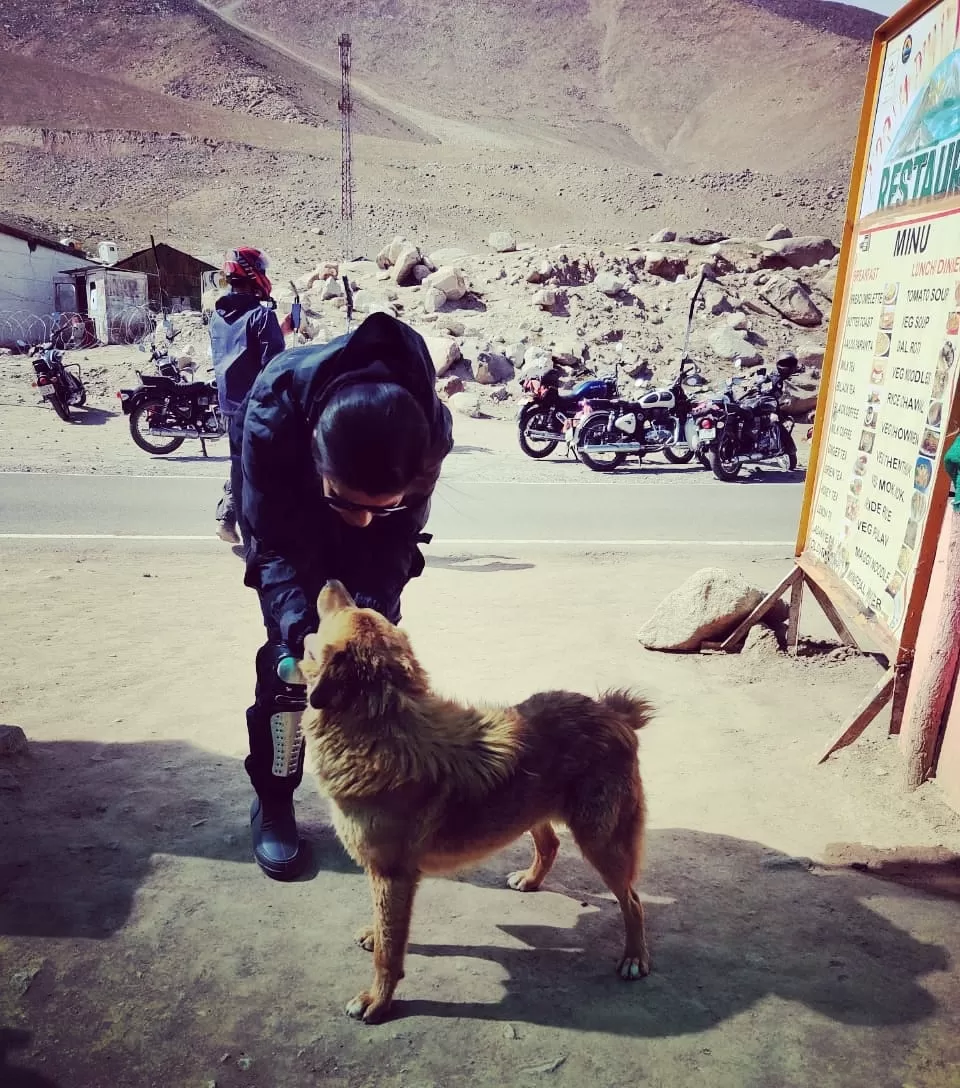 So, what are you waiting for? Get Leh'd!
Bon Voyage!
Disclaimer: This article has been published under my own interest, it is not a part of any paid partnership and not a property of any company or organization.
Trips cost mentioned is for 1 person.