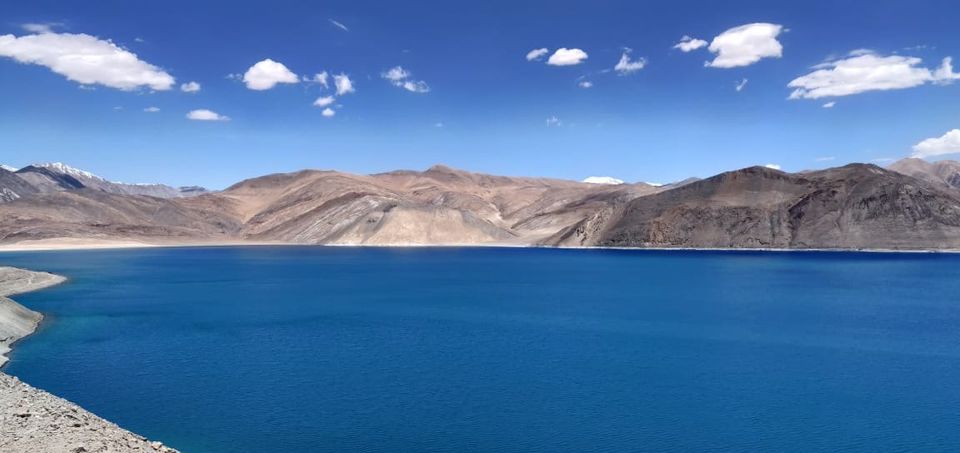 Leh is the joint capital of the newly formed union territory of Ladakh in India. It's a paradise on Earth (as you'd soon find out), though no picture can do justice to the magic that Ladakh spells on your mind.
I had a chance to visit Ladakh recently and hence the memories are quite untainted and fresh. It was an 8 day-long road trip with my childhood friends. I will try to write (and express through pictures) the itinerary we followed. Though this itinerary might not suit everyone, I'll write it anyway:
Total number of people: 5
Car: Mahindra XUV
Driver: We drove by ourselves
RT-PCR: Check
Permits to Nubra, Pangong: Check
Day 1:
After finishing off the day at work, we left at around 8 pm from our hometown of Mandi (Himachal Pradesh) and had booked our stay in a place called Sissu in the district Lahaul (~150 km from Mandi). We reached Sissu at around 1 am in the night and as soon as we reached, we hit the sack. Sissu is a beautiful town in case anyone wants to spend some time there (we didn't, during this trip):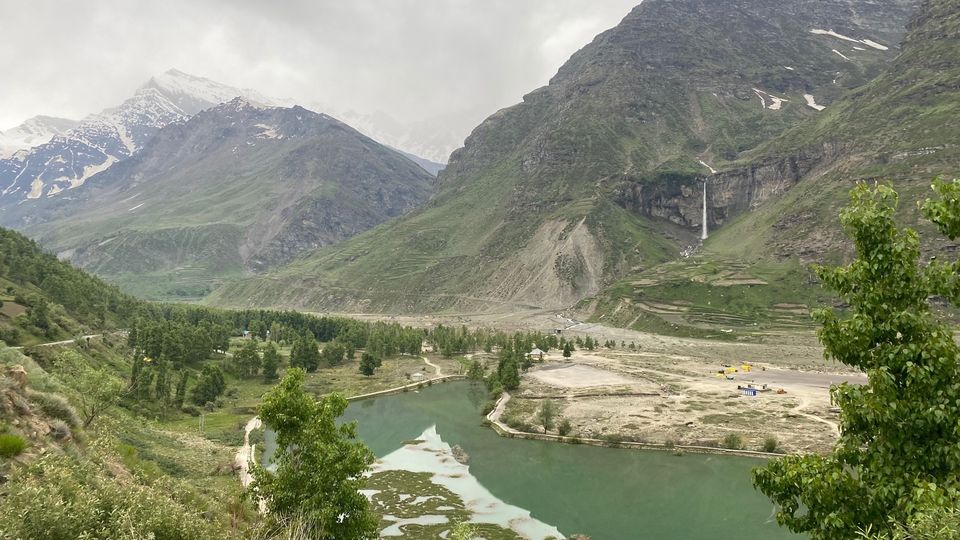 Day 2:
After breakfast, we left Sissu at around 8 am. We had planned to reach Leh (Roughly 400 km from Sissu) on Day 2.
An important note here: This 11-hour journey, as it shows on Google Maps, obviously doesn't consider countless other obstructions like landslides, insane traffic, Pagal Nala (it's when the water from the glacier intercepts the road impeding the vehicles to cross the road), etc. So, while we knew 11 hours is an optimistic approximate, we anticipated the journey to be 13–14 hours.
The journey started. After passing through the beautiful village called Darcha in Lahaul and the snow-clad mountains at Baralacha, we reached the last village of Himachal called Sarchu.
Following are some of the pictures which we clicked along this route: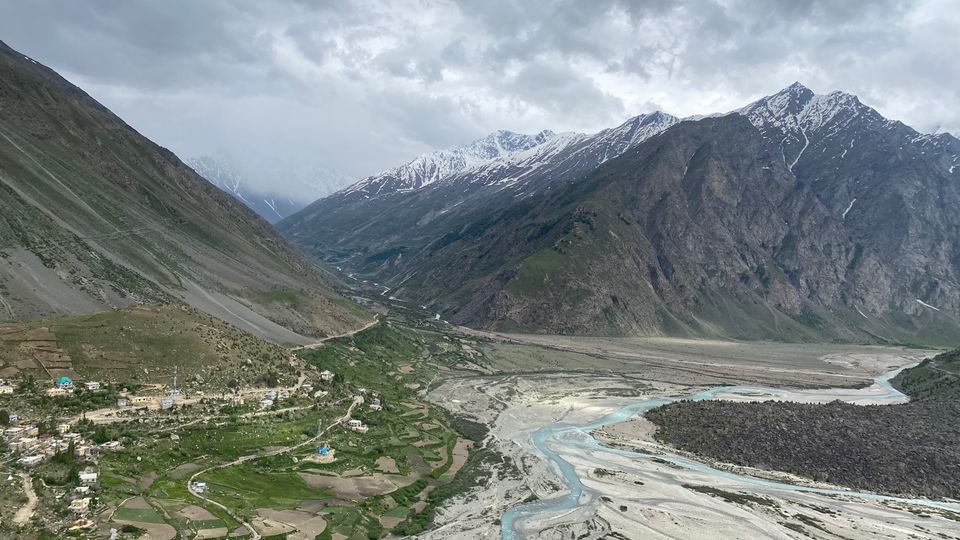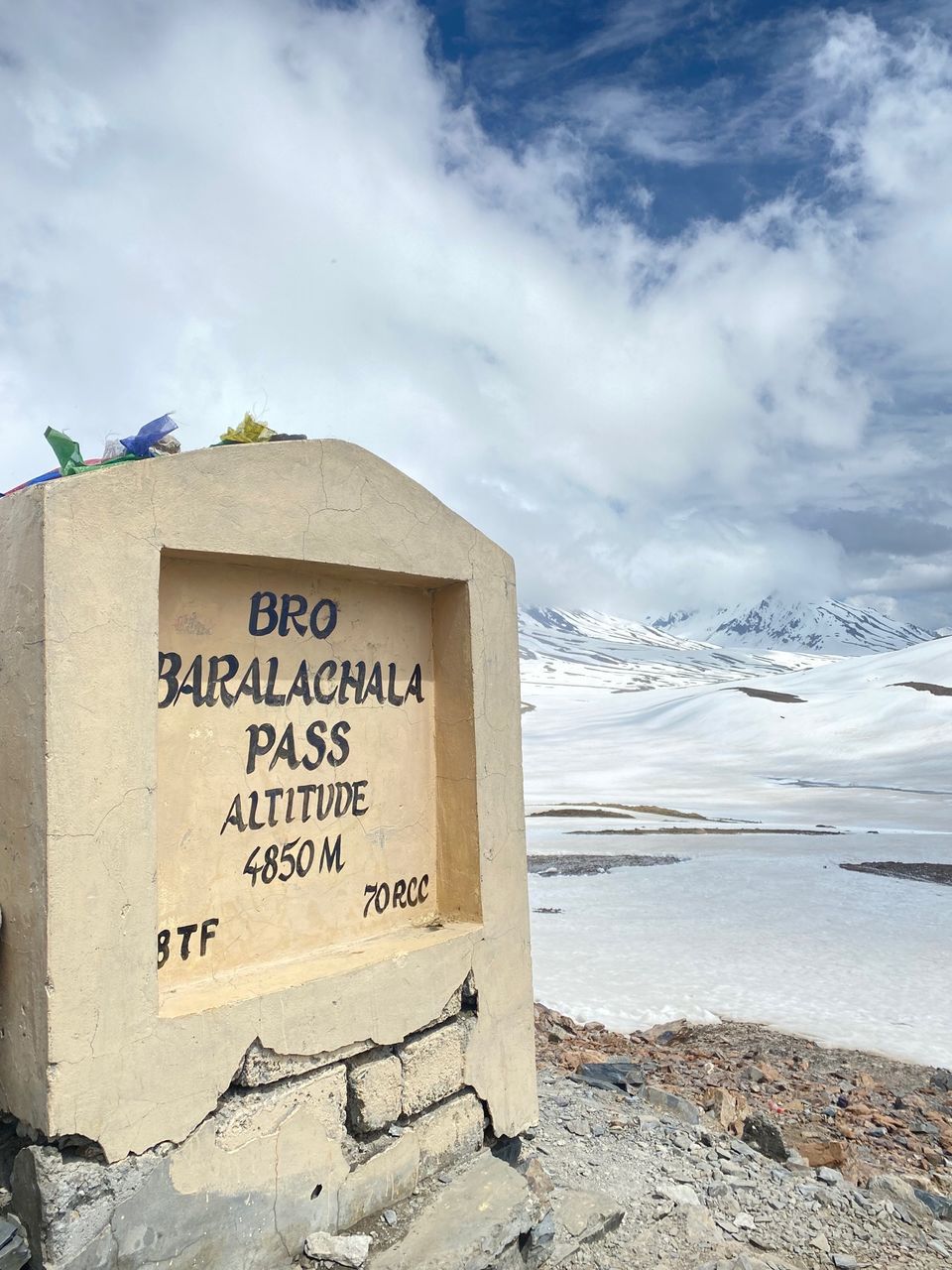 The road till Sarchu is generally okay and would obediently follow the time that's been shown in Google Maps. In Sarchu, they check for the RTPCR reports. We had our lunch in Sarchu and at around 3 pm we left for Leh.
We were on time and with the same tempo, we were expecting to reach Leh at around 9 pm (Leh is roughly 260 km from Sarchu). Though, we were wrong. We were so so wrong. Now the REAL journey started.
There's a place called Paang in Leh, which is roughly 80 km from Sarchu. And the road to Paang is so rough that to cover this 80 km, it took us ~6 hours. Along with the infinite pits on the road, the sandstorm and the traffic (because of some road construction work), added fuel to the fire. I'll let the following GIF speak of how rough the road was: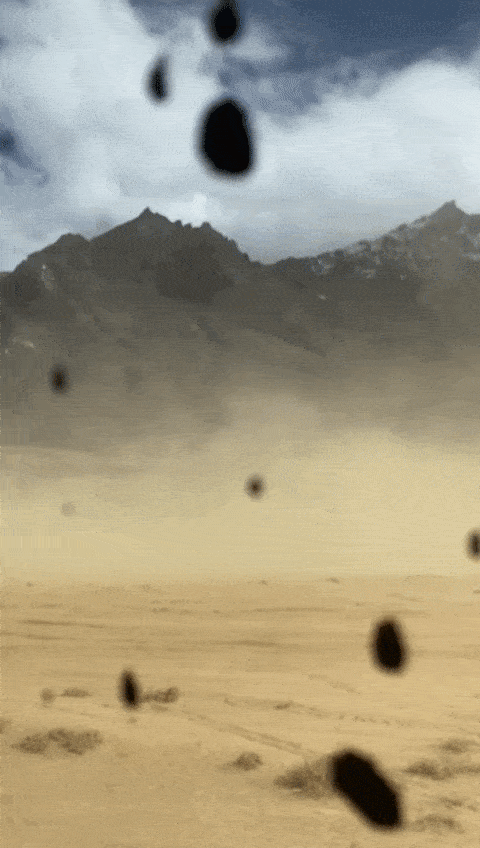 Well behind our schedule, we reached Paang at around 9 pm. Leh was still 170 km more. We were unsure if we should stay in Paang or should head to Leh. Everyone was worn out, though, after some discussion we mutually agreed to head to Leh.
The road from Paang to Leh is the best road you could ask for, especially after you have covered the Sarchu-Paang stretch.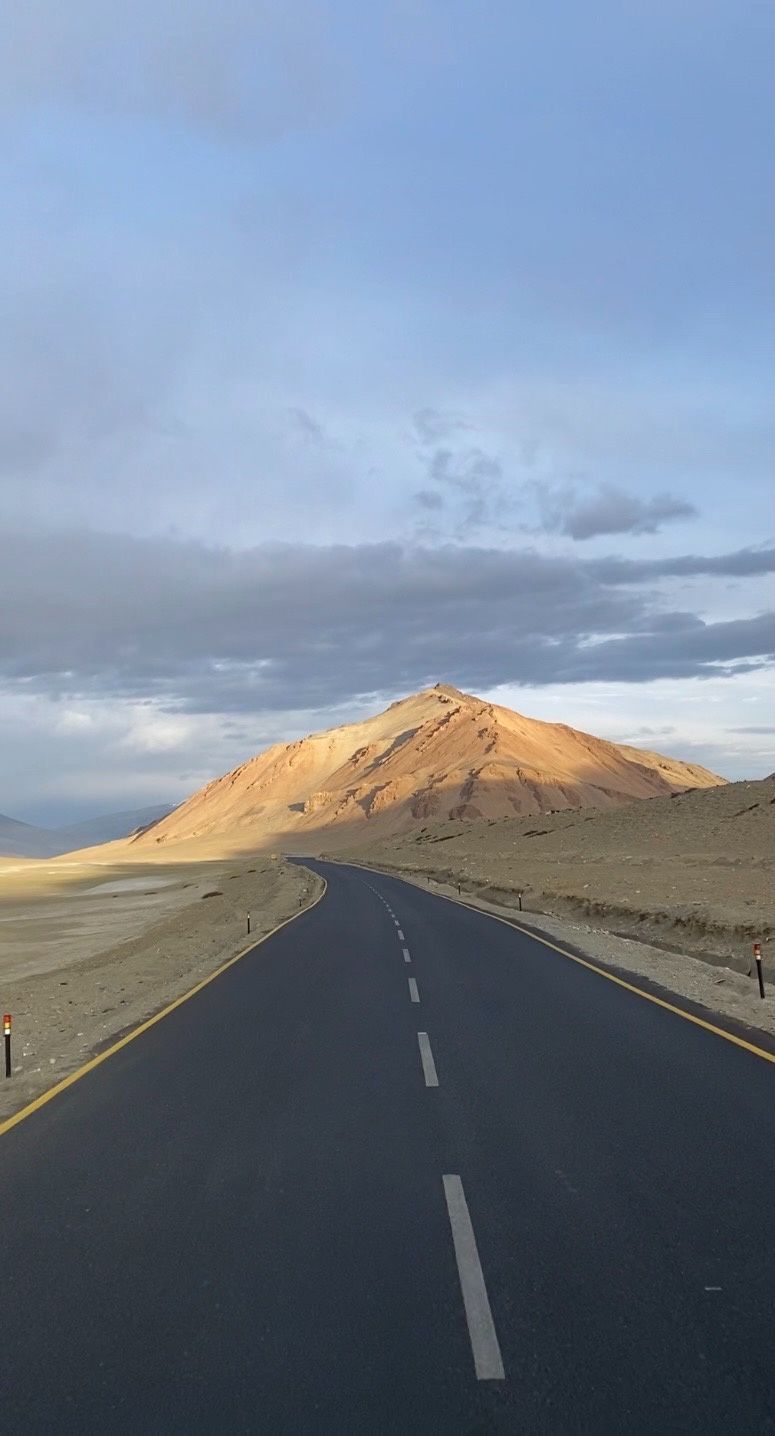 We had plans of covering Nubra and Pangong in the following days and going to Nubra or Pangong requires you to have a permit. DO NOT consult locals for this permit because they charge you unnecessary extra money. You can get your permit online in less than 5 minutes (Here's the link: Permit). Just make sure you print 4–5 copies of the permit.
We had our dinner at the famous Tibetan Kitchen, post which the old monk helped us take a good night sleep.
Day 3:
After a long Day 2, we woke up at around 10, and post breakfast, went to see the famous places in and around Leh.
We covered the Hall of Fame (Museum by the Indian Army), Magnetic Hill, Gurudwara Pathar Sahib (Incredible story if anyone wants to give a read: Gurudwara Pathar Sahib) and Shanti Stupa. Leh was flooded with tourists at the time, and in honest opinion, we just covered these places, because well, we were in Leh. Here are a few pictures: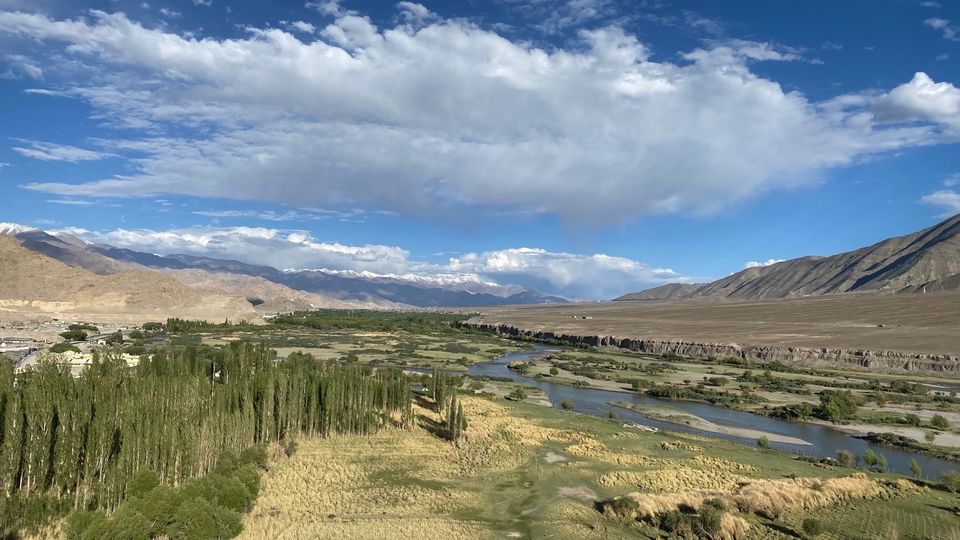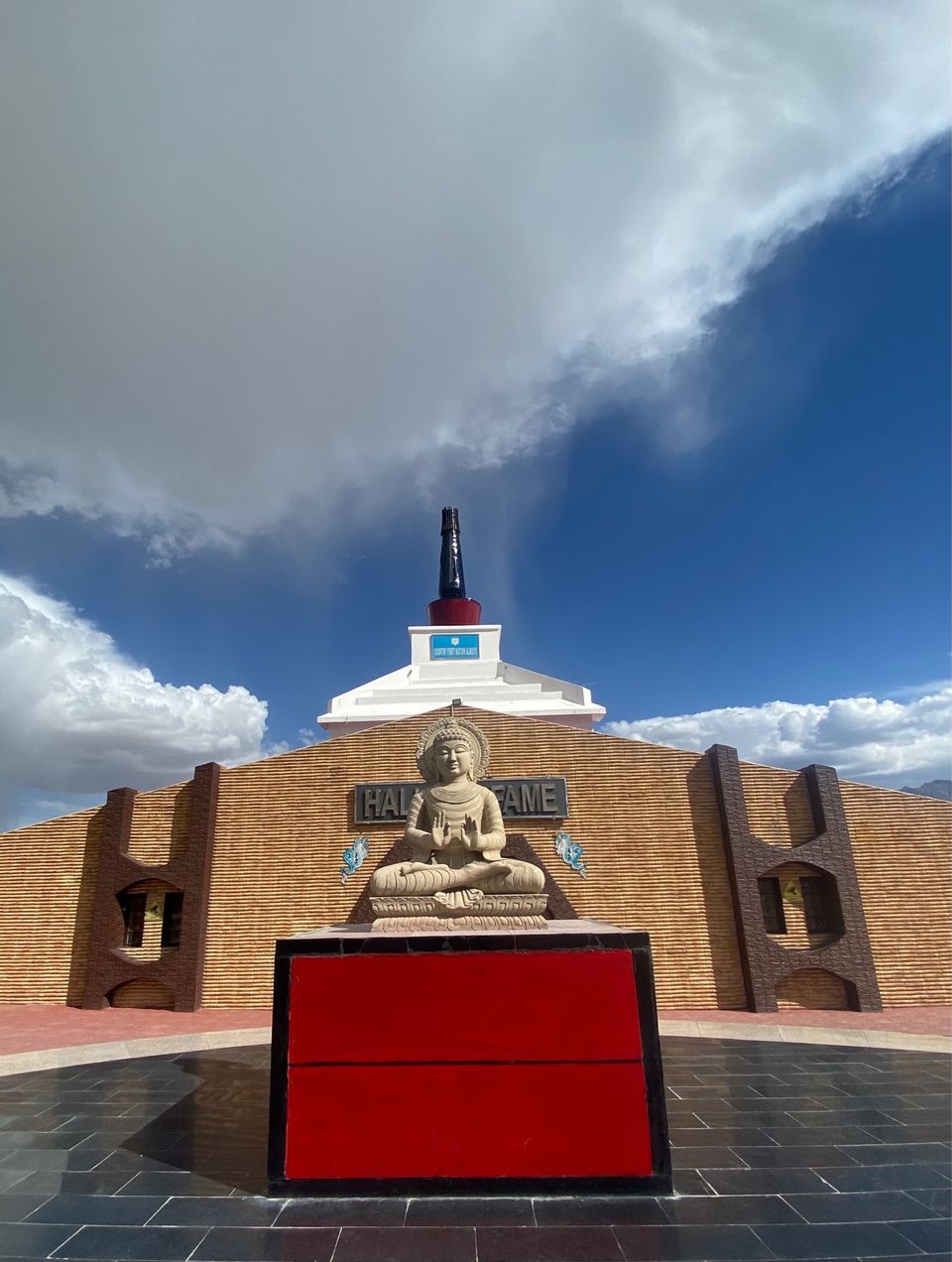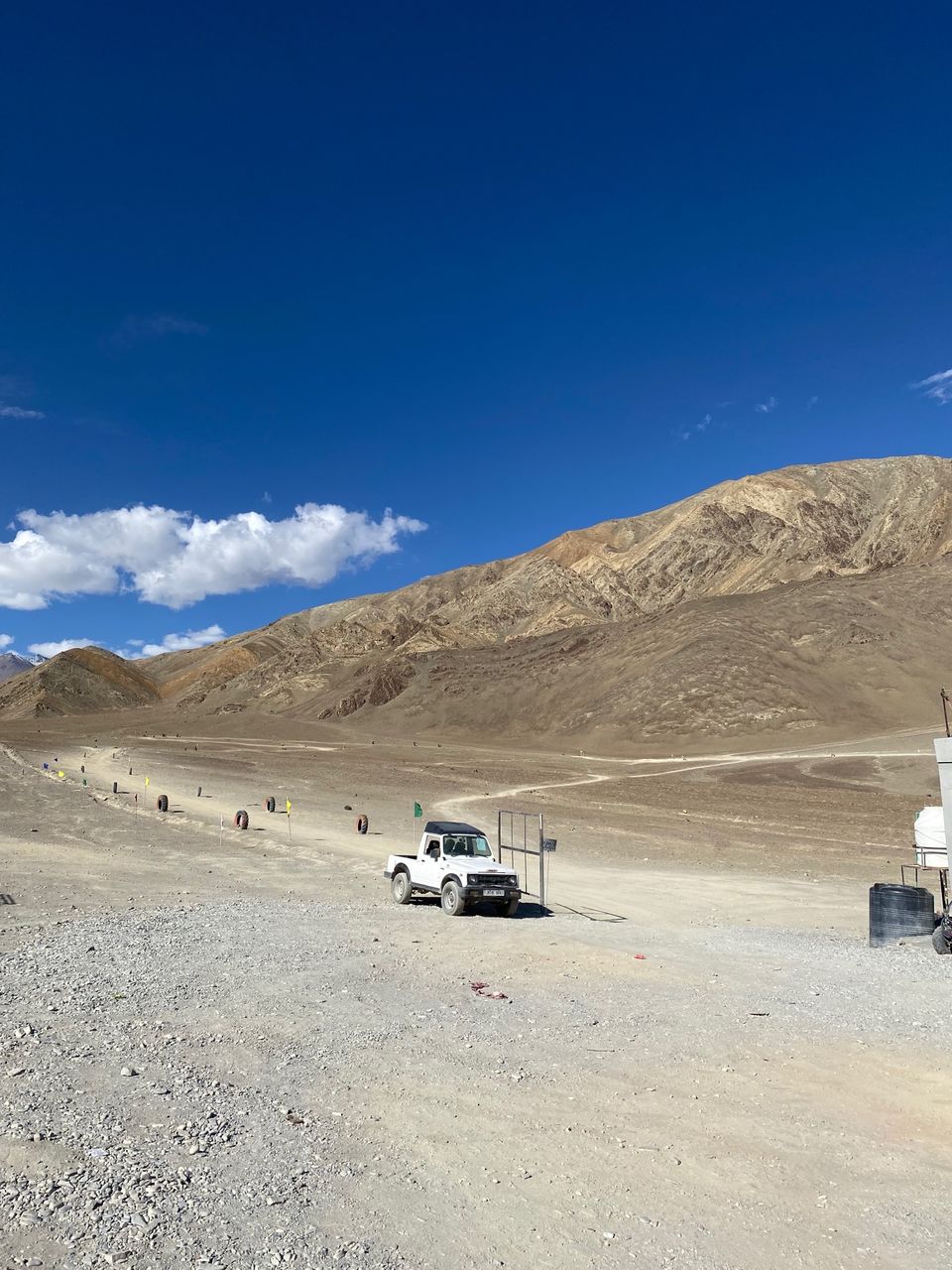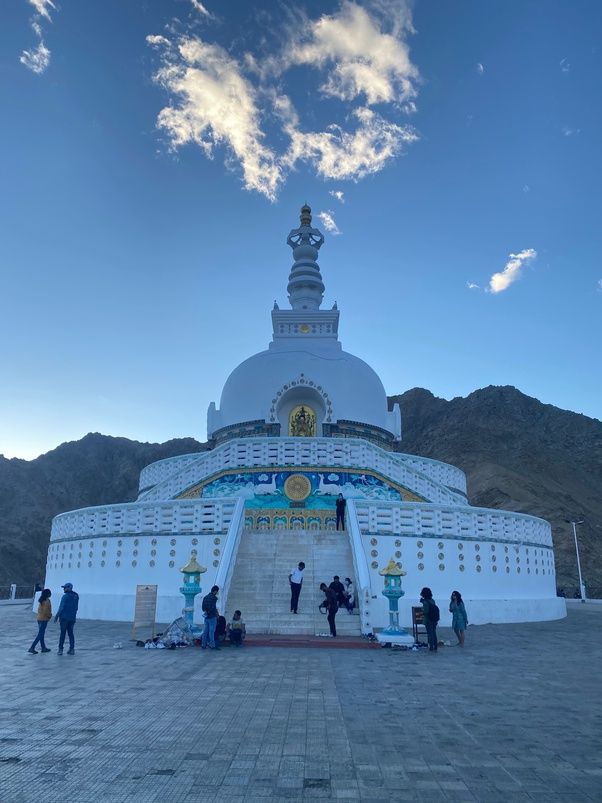 Day 4:
We left Leh for Nubra Valley at around 10 am. In Nubra, we had booked our stay at the army guestrooms. Nubra valley is a paradise, to say the least - you can see water, greenery, sand dunes and snow - all in one single frame: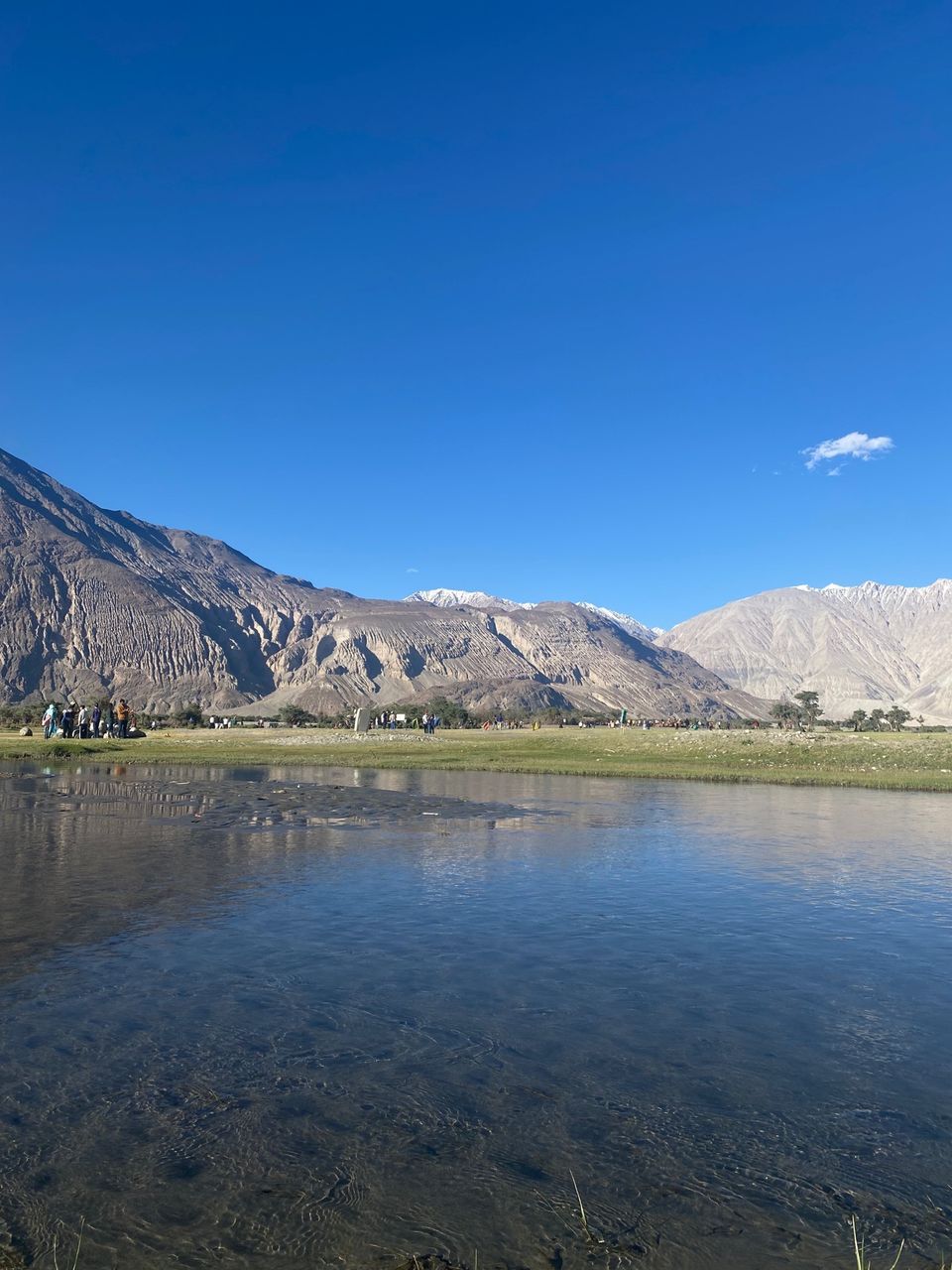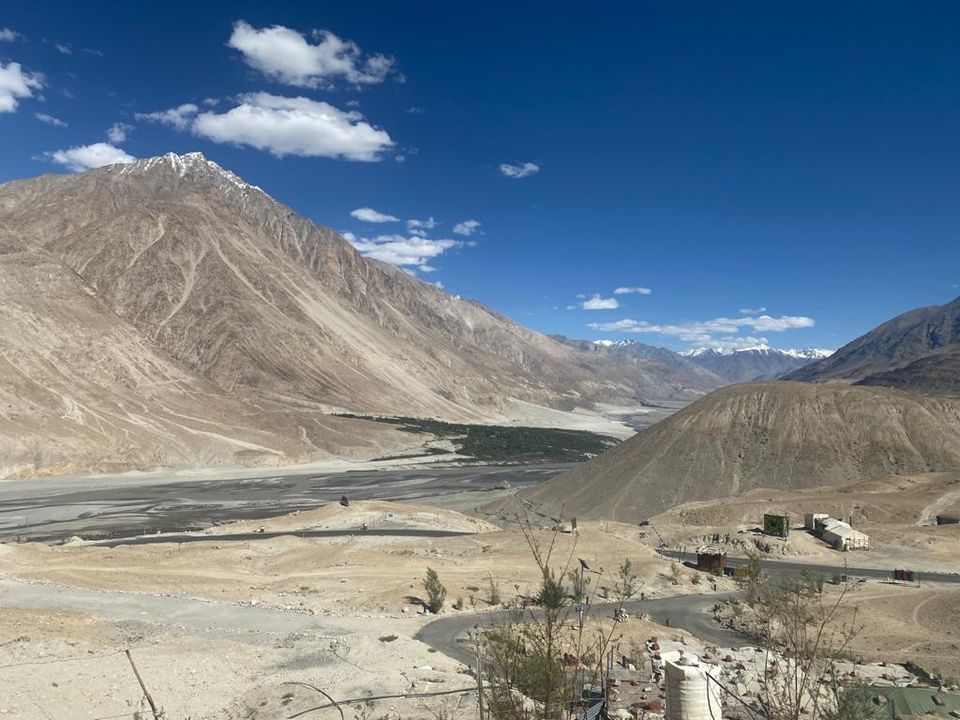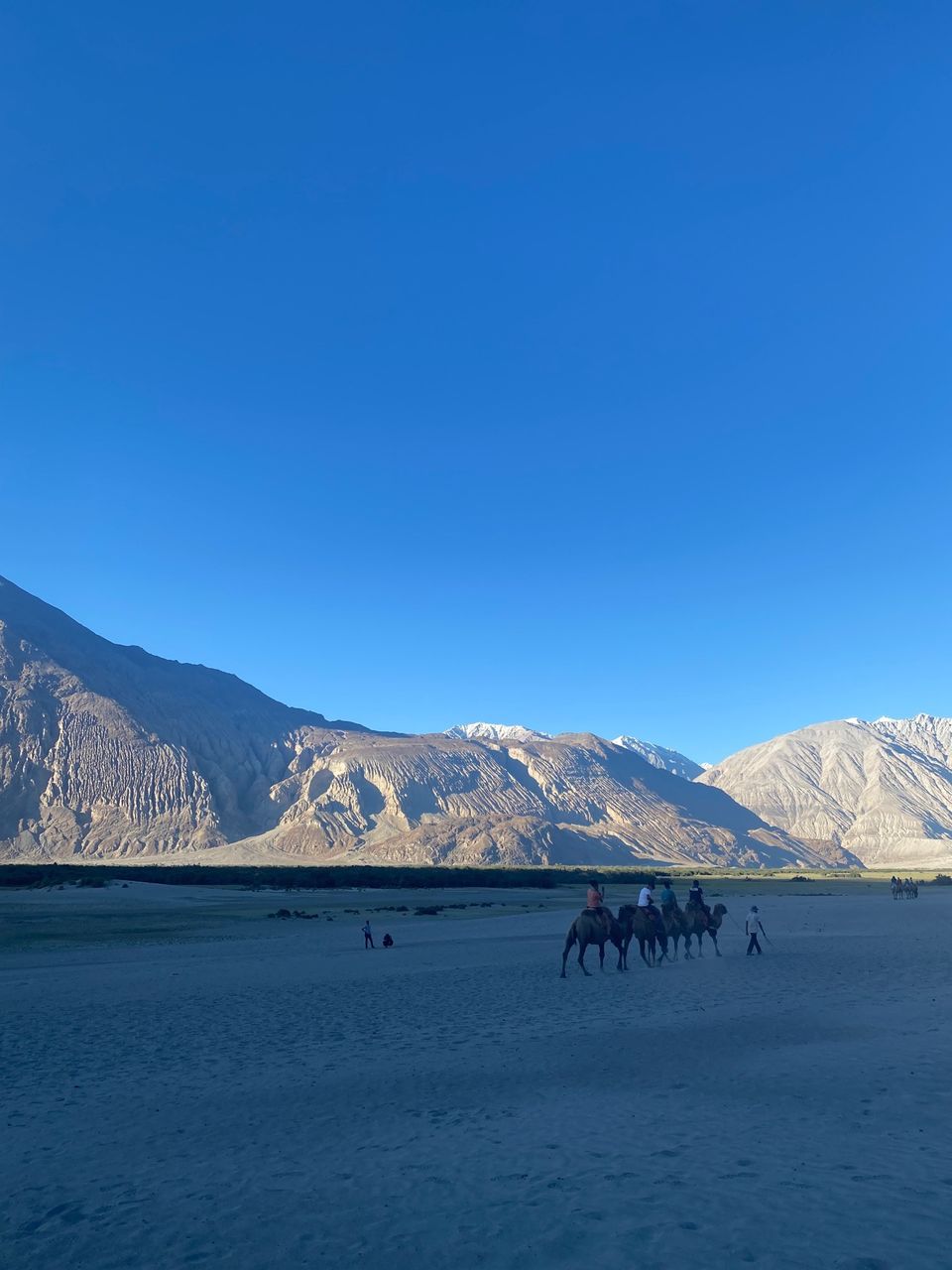 The unparalleled hospitality at the army guestrooms was the cherry on the cake, and spending a night there would surely go in one of the best nights of our lives.
Day 5:
We left for Pangong Tso. We had to reach a place called Tangtse (~35 km before Pangong Lake) which was around 170 km (~5 hours drive) from Nubra. We had planned to see the lake in the evening, but because the roads were blocked, we couldn't reach Tangtse on time. We reached at around 7 pm and hence had to postpone going to the Pangong Lake in the morning the next day.
Day 6:
We knew that the sun shines very bright in Pangong, so we left Tangtse at around 6 am. We reached Pangong Lake at around 7:30 am, and bwoy, the lake is gorgeous. I have been to some beautiful lakes in Himachal (Suraj Taal, Chandra Taal, Prashar Lake, Kareri Lake, etc.) but Pangong Lake is something different. It's a mosaic of myriad shades of blue, and it's so gorgeous that you will get transfixed by its beauty. Here are a few pictures to showcase the beauty of the mighty Pangong Lake: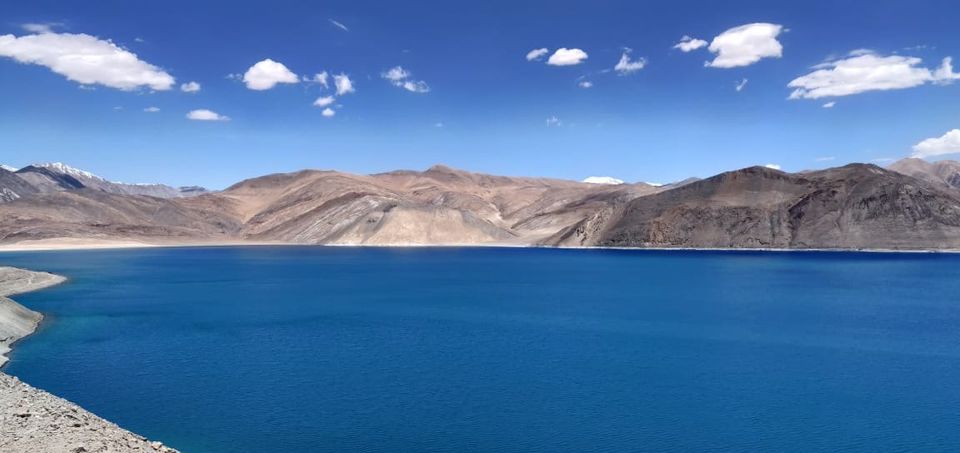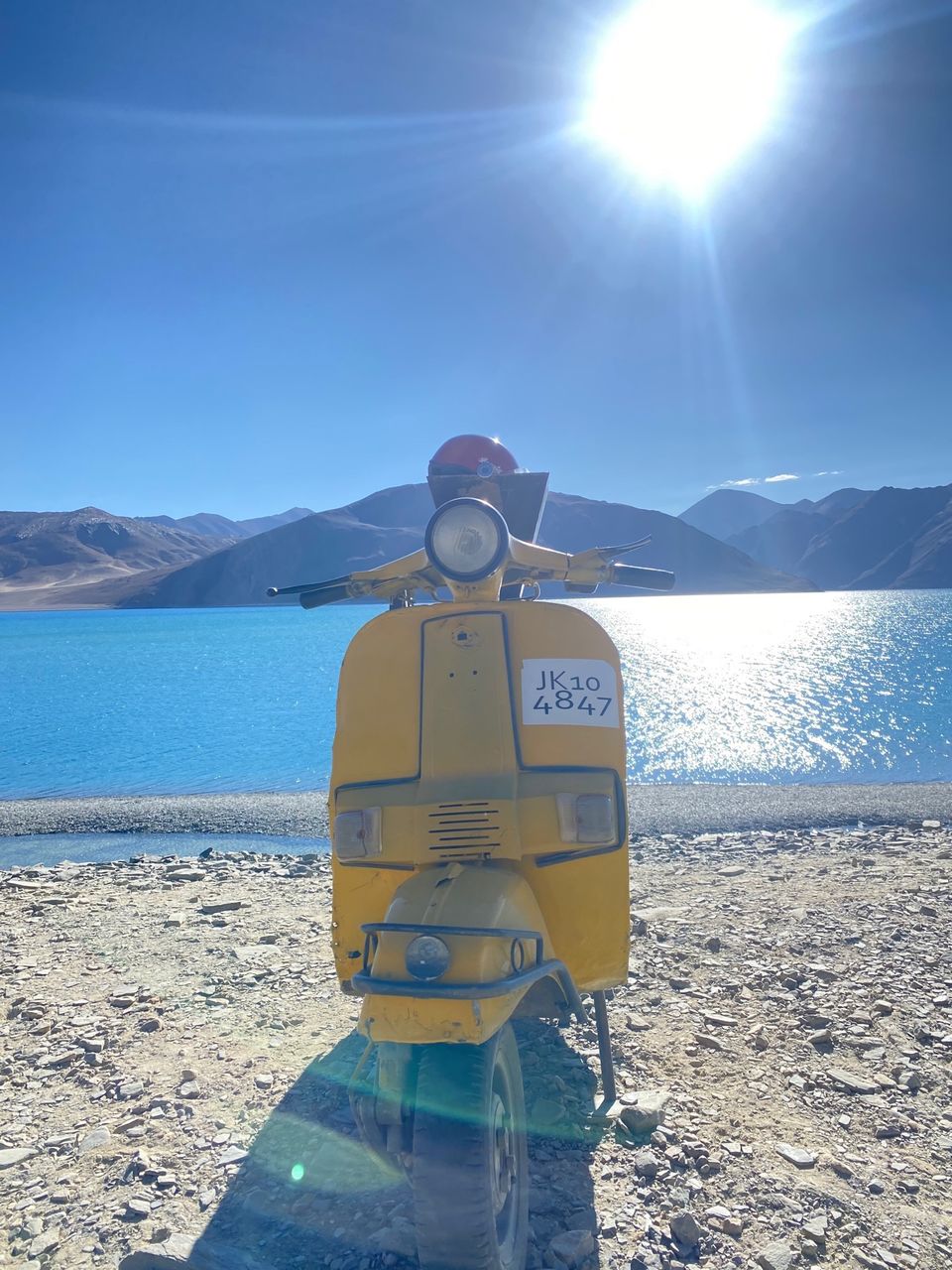 After spending the most fulfilling 4–5 hours at the lake, we decided to leave. The traffic and the tumultuous roads again delayed our plans, and we reached Sarchu at around 11 pm in the night. We were exhausted but to minimize our journey home the next day, we decided to leave to a town called Jispa (district Lahaul) which was still ~85 km. We were estimating that we would reach Jispa by 2 am. But nature had some other plans.
Day 7:
At around 1 am in the night, just before the Baralacha Pass, we encountered a Pagal Nala, and found a couple of vehicles stranded because of it. After talking to the people around, we understood that we had to spend the night in the car (We couldn't go back because the diesel tank of our car was almost empty). Luckily we had blankets in the car, which I swear to God, saved us from the bitterly cold wind.
We got up from our uneasy sleep in the morning when we saw vehicles finally crossing the water. Without any further ado, even we crossed it - and after crossing the water, we could finally take a sigh of relief. We had planned of reaching our respective homes on Day 7, but nature again had some different plans.
As soon as we reached Kullu, we came to know that the roads to our hometown Mandi are blocked because of the landslides, and though the roads 'might' open, it's very risky to travel in the night.
We decided not to take this risk, and instead spend the night in Kullu.
Day 8:
We didn't even have breakfast and left for home as soon as we got up in the morning in the fear that we might again encounter a landslide (The area is landslide-prone, and this was not the first time we were stuck because of a landslide). We reached home at around noon and concluded the trip.
TLDR: Ladakh is stunningly beautiful. Just make sure to carry your RT-PCR, necessary permits, and enough fuel. Also, just keep some time buffer, because no one is above the supreme nature and hence you would almost always never be on time.