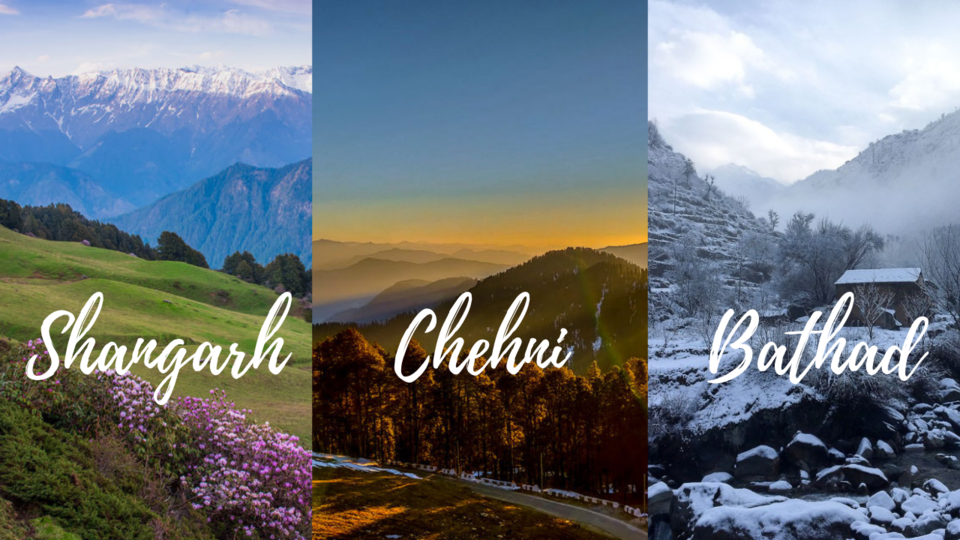 Jibhi is no more a hidden treasure. Dejectedly, we are losing it to over-tourism. It is continuously seeing visitors, is getting overdeveloped and overcrowded, is populated by cheap hotels, and is slowly transitioning towards a mainstream location. But the Himalayas are notorious. They call us habitually. What should we do then, if not surrender to the scrimmage of Jibhi?
Well, on one such quest, I came across some blissful, crowd-free and offbeat destinations. It is highly recommended to bookmark these austere locations and plan to live a life far from the city noise for a few days.
Shangarh is a hidden gem in the Great Himalayan National Park. There is a big ground surrounded by deodar forest - come here, get lost in giggles, or talk to yourself. The layers of mountains will bind you to its elegance, and you would likely pack up a rainbow in your bag and carry it home. It's a self-sustaining village with old, authentic architecture, natural springs, waterfalls and all things beautiful.
What to do in Shangarh: Skiing, snow trekking, mountain biking, camping, paragliding, wildlife tours, bird-watching tours.
Shoja is a tiny hamlet located in Seraj Valley and comes between Jibhi and Jhillouri pass. The snow-covered sloping mountains covered in all shades of green, conifers and deodars will hold you in a daze. As you breathe and sit in the peaceful environs, all you will listen to is the voice of silence.
The unmarred landscape is decorated naturally with the restraint of austerity as if life is meant to be simplistic here. The snow-covered mountains will hold you by the charm, and believe me, you would want to settle here for the rest of your life.
What to do in Shoja: Tirthan Valley, Raghupur Fort
Also known as Chaini, it is a secluded and pristine village predominantly known for two temple towers. Shockingly enough, these temple towers were built as garrisoning stations, defensive vantage points for safeguarding the town. If you make your way to the top, you will see the limitless valley, which is truly heaven.
Very few people live here, and the houses are built in traditional local architecture. To reach this tucked away village, you have to trek up to Shringa Rishi Temple. Shringa Rishi is the ruling deity of Banjar valley, and the temple is dedicated to him.
What to do in Chaini: Trek to Shringa Rishi Temple, Visit two temple towers
Note: Not to be confused with Gushaini village.
Gada Gushaini is another enchanting village nestled in the bosom of the mountains and forests of the Tirthan Valley. Let me also not forget to mention the brightest green grazing ground and tall pine forest patches. You will be mesmerised and will go back with a handful of beautiful memories.
What to do in Gada Gushaini: Sit by the creek dividing Kullu and Manali district, enjoy spectacular sceneries and unreal views of the valley.
Bahu is the 'Picture Perfect' location. But one of the best things to do in Bahu is to visit the Balu Nag temple hike. It is a delightful trek from the village and leads through thick deodar forests. The trail is narrow and slightly tricky to walk on, but the fruits will sweep off all your tiredness.
What to do in Bahu: Visit temples and shrines, and sit by the small pond that will make up your mood after the day's hiking.
The word 'Seraj' in Urdu means 'The Sun' or 'A Plume of Light'. As you wake up to the raw chirps of birds, dense mountains, layered dews on the grass, you will soon know that you are all set for a musical concert in Seraj.
To preserve the natural setting of Seraj, locals are consciously faring towards the Eco Village scheme, which aims to devise ways to build a resilient village community, develop their skills to deal with resource depletion, climate change and related environmental challenges.
What to do in Seraj: Pohlani Devi Temple, Siraj Valley, Keylong Museum, Det Nag Temple
Set amidst refreshing apple orchards, Sarchi is a small village rich in local architecture and houses constructed out of wood. The thick pines, deodars and oaks facade the whole way while also giving consistent views of the mighty mountains. It's a dream place. As you will realise its truthfulness, you will find yourself pumped up with mystical energy and delight.
What to do in Sarchi: A couple of houses, vegetable trees, an ornated sanctuary
Away from the humdrum, Bathad is yet another place near Jibhi which will slow you down. Get ready to set yourself in this surreal village with the mellow sound of the stream flowing nearby.
Come here during winters and you will see ice hanging on the branches just like leaves. It's indeed a paint of black and white, but still, very picturesque.
What to do in Bathad: Enjoy your time in the snow, with traditional food and tea, talk to the locals and enjoy dance performances.
In the end, let us remind you that tourist places can never show you their souls. Travel to this huddle where you will go on a journey of discovery of your inner self. You may not be able to cover all these places in a go; no worries, go back again—the locals are preserving them consciously. But, go back soon.
Connect with me on my blog and Instagram. I would be the happiest to see you on the other side.
Earn credits and travel for free with Tripoto's weekend getaways, hotel stays and vacation packages!
Think we missed out on something? Tell us about it in the comments below. Or write about it here on Tripoto and earn Tripoto Credits!