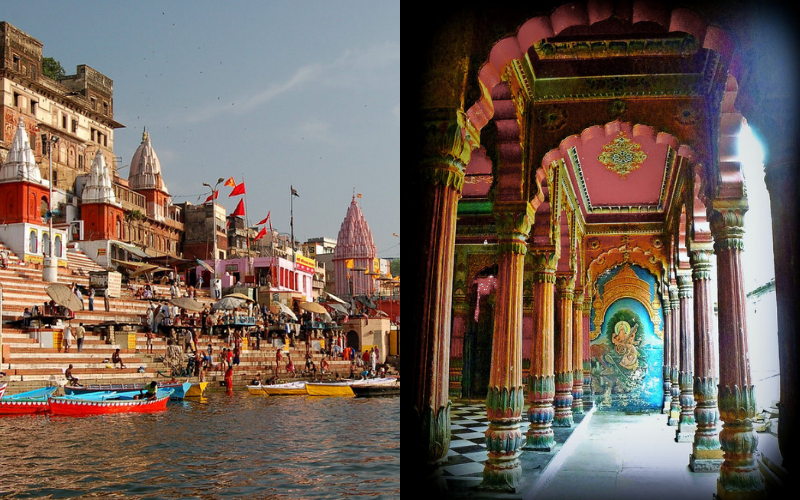 Varanasi exudes a distinguished aura of culture, philosophy, spiritualism, mysticism and traditions among all the cities in North India.
They say you can never get lost in Benaras because all the gallis run towards the ghats, perhaps you might just find yourself.
30-sec Intro:
If you love taking photographs of human emotions, crowded places that speak volumes (literally), cultural diaspora, myriad of colors and love capturing the essence of the city you travel to, you are going to love Varanasi.
Here's a list of some really fascinating things to do in Varanasi for free (well, almost!)
1. Watch the circle of life with a walk from Asi Ghat to Manikarnika Ghat.
One walk and you'll soak in a whole psychology lecture worth of human behavior and actions. This is a chance to learn so much more about the other side of our country, a new side.
How:
Be it foreigners, the Aghoris or the pilgrims performing the rituals, the ghats are always full of people. You start from the ghat where a newly born kid is given his first bath to the last ghat where a funeral pyre is set to merge the form with formless, thus completing the circle of life. Much food for thought here. You can also walk down-river to the Harishchandra Ghat, one of the two burning ghats of Varanasi. This is the oldest ghat, surpassing even Manikarnika in its sanctity.
There are many guided tours being conducted near the ghats, if you listen up close you can learn some really interesting legends associated with each place.
If you're lucky enough and have the guts, talk to the Dom Raja, who is the in charge of the 4000 years old funeral pyre, which sets every corpse ablaze!
Where: Start walking from Asi Ghat, outside Hotel Ganges View.
Cost: Free.
2. Discover how Banarasi silk saris are created.
For centuries Varanasi has been a hub for the silk trade. Banarasi Sarees are an inseparable component of every Indian woman's wedding trousseau. Banarasi saree is made out of golden or silver brocade with unspeakably enchanting embroidery.
How:
Visit the local workshops to see how the sarees are spun. You can watch the Banarasi silk sarees being flawlessly crafted both on handloom and power loom machines.
Where: Mubarakpur, Lallapur are two such places which use machines to make the sarees.
For an even more authentic hand-woven experience you can visit the weaver's village Sarai Mohana which is few kilometers from Banaras city.
Cost: Free.
3.Street-Food Binge
Kachori Sabji and Samosas
How: There are two different types of kachoris- badi and choti kachori. Badi kachori is stuffed with masala made of lentils called dal ki pithi and choti kachori is stuffed with a spicy potato mixture.
Locals savour the Kachori Sabji with piping hot desi-ghee ki Jalebi.
Where: Kachori Gali, Ram Bhandar, Thatheri Bazaar Luxa Road, Chachi Ki Dukaan at Lanka. The samosa Galli near Dashashwamedh Ghat has many small vendors that serve up fresh and crispy samosas.
Time: 7 am – 7 pm
Cost: Kachori and Sabzi at Chachi Ki Dukaan are for Rs.20, the others are from 25-35 Rs. Samosas for Rs.5
Chaat
A paradise for chaat lovers, this is unlike any other chaat you've eaten before. The explosion of flavours is guaranteed in your mouth after trying Meethe Golgappe, Dahi Chutney Gol Gappe, Dahi Papdi Chaat, Aloo Tikki, Palak chaat and Tamatar Chaat.
Where: Deena Chaat Bhandar, Gol Ganj and Kashi Chaat Bhandar
Time: Deena opens at 2 pm and Kashi opens at 3 pm, both welcome patrons till 10:30 pm but it often gets crowded.
Cost: 80 Rs for two.
Litti Chokha or Baati Chokha
How: Stuffed whole wheat dough balls are stuffed with roasted chana dal and spices inside. These stuffed balls are known as Litties and are roasted over charcoal. Litties are dipped generously in desi ghee and served with Chokha, which is made of a spicy mixture of boiled potatoes, tomato, and eggplant.
Where: Puran Das Road and also Near Sirohi
Time: 5 pm on wards
Cost: 300 for two.
Malaiyo/ Nimish and Lassi
Makhan Malaiyyo or Nimish is a popular winter season street dessert in Varanasi. Influenced by Persian cuisine, Malaiyyo is prepared by churning the milk slowly to create a creamy texture. Served in Purva or Kulhads, this creamy froth will literally melt in your mouth.
Where: 3 Pahalwan Lassi Bhandars which are three shops side by side & one opposite Guru Ravidas Gate. One can spot lassi shops and Malaiyo vendors in almost every nook and cranny of Varanasi.
Time: 7:00 am - 11:00 pm
Cost: 20-50 Rs.
Bhang filled Thandai/Lassi
Definitely, a fun thing to try would be the marijuana-infused chilled lassi, just the way the locals like it!
How: The stalls serve up Bhang Lassi as well as Bhang Thandai.
Where: Baba Thandai or Badal Thandai both are in Gowdolia Chowk. You would find a lot of shops near Benia bazar or Church, near Dashashwamedh Ghat.
Cost: 40-50 Rs for a glass. Bhaang is available on the side starting at Rs.2 depending on the quantity.
Try at your own risk, infuse a light dosage for first-timers.
5. Discover the legends behind the Aghoris at their epicenter.
Adorned with skeletons and skull, Baba Keenaram Sthal or Baba Keenaram Sthal-Kreem Kund is a world fame spiritual center and headquarters/pilgrim of Aghora sect across the world. It is one of the most ancient pious pieces of land, existing since the creation of the Universe.
How: This place is one of the most visiting places of Varanasi, by devotees, research scholars, documentary makers, and spiritual teachers. There are so many myths surrounding this cult, discover the real legend behind the mystic yet all-knowing super-powerful Aghori babas of India.
Where: Baba Keenaram Sthal
Cost: Free
6. Nauka Vihar: Take a boat ride on the Ganga.
Sail down the holy river, listening to the relaxing sound of "Chappu" and the jingle of bells, while the smell of camphor from the household lingers around.
How: You can choose to take a boat ride along the Ganges any time of the day, however sunrise and sunset make for the most surreal settings. The boat stops mid-way giving you a panoramic view of the Ghats lining the river, making a breath-taking sight, especially during the Aarti.
Plus, the boat-men love retelling fascinating folklore and mythological stories.
Where: The sailors will take you from Rajendra Ghat or Dashashwamedh ghat on a to-and-fro ride from to Harishchandra Ghat and back.
Cost: Approximately Rs.200 for a ride. (It also depends on the number of people)
7. Night Aarti at Dashashwamedh Ghat
Ganga Aarti at Dashashwamedh Ghat in Varanasi is not just a spectacle to watch, it's a surreal feeling.
How: As the sun sets the river glistens magically with the glow of thousands of diyas floating on water. The air reverberates with the holy chants and the temple beats. The aarti is a ceremony to thank and praise the river Ganga.
Where: The duration of the Aarti is 45 minutes.
Summer Timings: 7-7:45 pm, Winter Timings: 6-6:45 pm. It starts exactly at sunset time.
Dashashwamedh Ghat is the main ghat in Varanasi on the Ganga River. It is located close to Vishwanath Temple and is probably the most spectacular ghat.
Cost: Free

8. Historical and spiritual dive at Sarnath
Witness relics that date back to the days of yore.
How: Rare and special pieces in the museum sandstone Lion Capital of the Mauryan Pillar, which became the national emblem of India. The sites like the Tree where Buddha attained nirvana, the first sermon to his 5 disciples after getting enlightenment.
Where: Approximately 10 km away from Varanasi lies the oldest site museum of the Archaeological survey of India. Located right next to the excavated site, this museum has over five galleries and sculptures, artifacts dated from the 3rd Century BC to the 12th Century AD. Right across the main hall is Shakyasimha gallery.
Timing: 9:00 am to 5.00 pm (closed on Friday)
Cost: Rs. 5 per person for Indian Nationals.
9. Open Air Music Concert At 200-year-old Musical Mohallas.
Sarangi, Tabla, Shehnai, Tanpura, Sitar, Sarod, Santoor, and flute form a part of Varanasi's legacy, Classical music echoes in each part of the city. And even though some of Varanasi's musical traditions have faded over the years, Kathak storytellers and Kabir Panthis still live in the musicians' Mohalla and keep the centuries-old traditions alive.
How: Banaras Gharana is an acclaimed element of classical Indian Music. You would find most of the musicians in this area. Go for a walk and get astounded by the soulful music originating out of shut doors or the roof tops from the gullies.
Where: Kabir Chaura (the neighbourhood where Saint Kabir preached), as well as the nearby Ramapura area, is home to an overwhelmingly large number of illustrious musicians.
Write your own travel experience on Tripoto to get likes and comments from travellers around the world. Start writing now! The best trips will be featured on our Facebook and Instagram page.