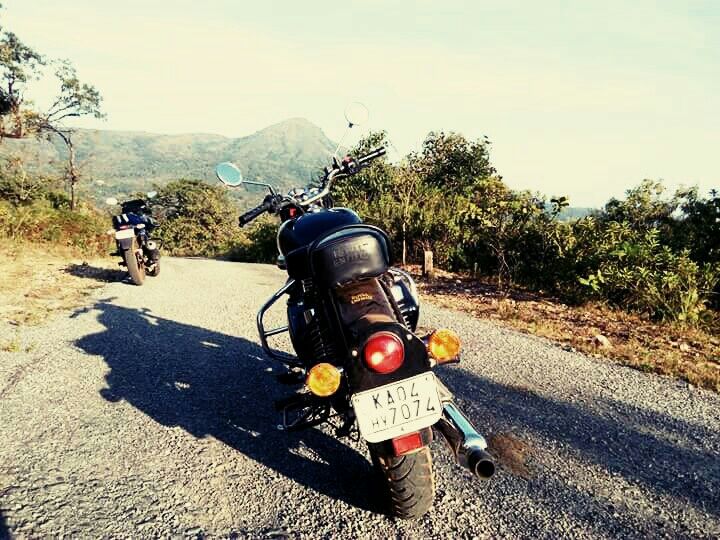 Hey guys i know that i ended my previous blog abruptly and here i am to continue with it.
So the frst day of our trip ended after visiting mullayanagiri and we halted at chikmagalur soundarya residency for the nyt. The next day we had a plan of visiting hornadu... though im not a guy who visits temples that often, this tym i thought of doing it bcoz of the wonderful routes amidst the western ghats.
And we started from chikmagalur at 6:30 in the morning and headed towards hornadu via balehonnur and kalasa. If there is one word for heaven then u need to ride through this section of road amidst western ghats. And continuing the journey our plan was to reach hornadu at 8.30 since the distance is 100 kms, but the road is full of curves and one averages just 30kmph so v managed to reach the place at 10 am😱 with many breaks in between. We are already late by an hour.
Headed to find a room.... there is a room beside the temple where they charge a flat 120 rupees for the room😃😃. The room was okay and adjustable for 4 persons and we were actually shocked to see rooms at such a low cost. Anyways we got freshned and planned to visit kudremukha for some off roading fun and i had did some research on the place and found that there is a falls nearby known as elaneer falls.
So we headed out towards kudremukha which is an amazing place to visit in the month of december.
We tried our hands on some off roading which was pretty tough and finally we reached a view point for enjoying nature.
Note: the road is really bad and the view points are not dat good too..... we were interested in off roading and wanted to have some adventure so tried it out.
After spending some time amidst nature it was tym that we headed towards the falls. There is nothing in particular to see .... the falls is just a small one where one cannot drive the bike. We tried our best to reach till the falls but in vain we parked our bikes and walked till the falls.... though not happy seein it we surely were not disappointed. After this schedule we headed towards kalasa temple had a quick view of the temple and when we see the tym its already 6 in the evening which meant that we needed to ride to hornadu in the dark. One more thrilling part of the journey was about to come since we loved to ride in the dark. It was absolutely pitch dark and we took almost 30 mins to reach hornadu and there ended our day by having food in the temple premises followed by a good night's sleep.
Gud morning guys😋 and it was the next day of our journey where we needed to move towards shringeri(another beautiful temple in the chikmagalur district) . There are two routes to shringeri

Route 1: hornadu-shantigrama-shringeri- approx 45kms

Route 2: hornadu-basarikatte-jayapura-shringeri-approx 65kms ( route less travelled)

When people told about the routes me and my cuzin were eager to explore the second route which passed through some scenic places.

And there started our journey from hornadu at 7 in the morning and it was a beautiful experience which we wouldn't have got in the ordinary route.😄

Our plan was to just visit shringeri temple and relax for the whole day and we were good in executing this😁😂.

Had some nice lunch and dinner in the temple and oh yes forgot to mention that they charge you 60 rupees for the room which is damn cheap.

Had a gud night's sleep and our plan was to head towards bangalore the next day.

Note: since we saw only the temple in shringeri i haven't described about it much.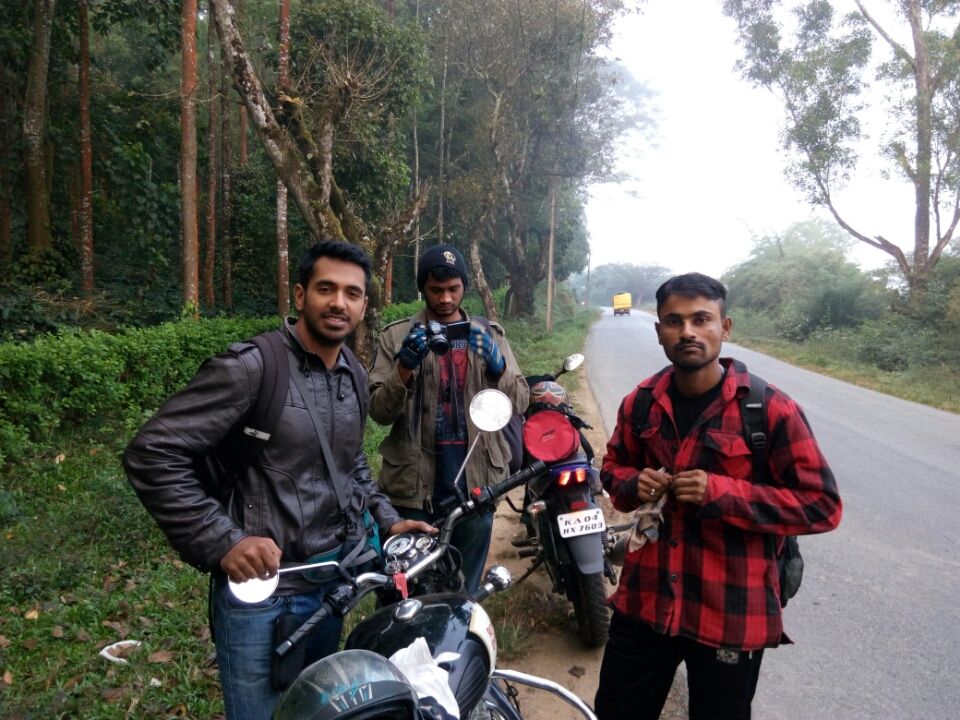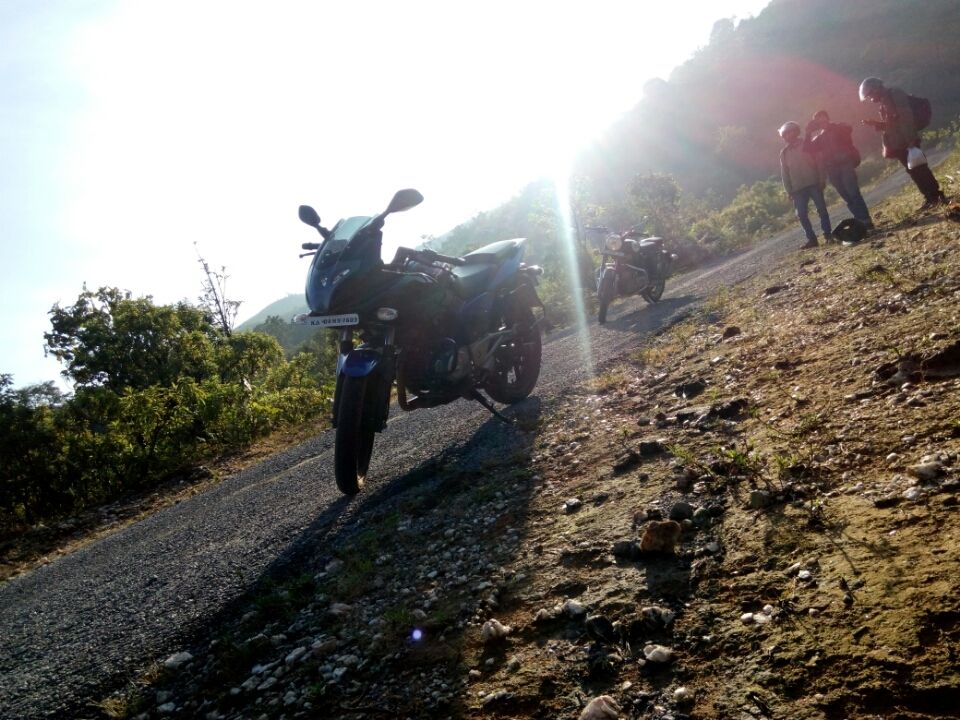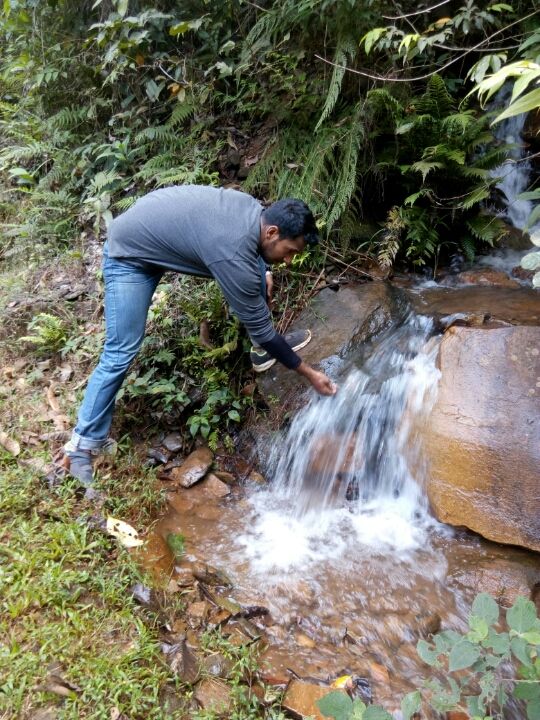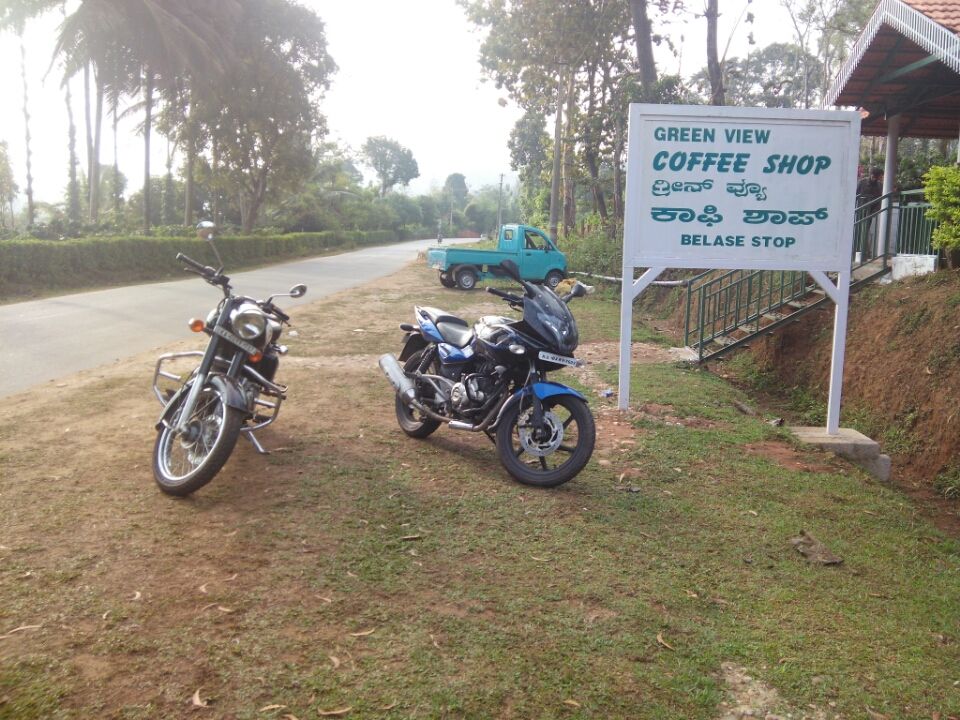 And there it was the day we needed to leave😓.
Left the room at morning 5.30 where we frrst headed to chikmagalur by 8.30 and had some gud breakfast at soundarya residency( the same hotel where we had stayed) and then the ride started all the way to bangalore.
There is no much exciting stuff to write when we are travelling back since it was the same old highway and the ride just went on and on with numerous breaks between.
Finally the tym is 2.30 and we were near nelamnagala nice road entrance. It was tym to say BYE to my cuzin and my friend. We were sad that the trip had ended and also happy about the fun we had for the past 3 days. A final gud bye and a warm hug ended the journey but the memories always stay in our hearts and mind. There has not been a single day that we have not discussed about this trip and everytime i feel like goin out for a ride when i hear this.
Route taken
Day 1: blore to mullayanagiri - stay at chikmagalur
Day 2: chikmagalur to hornadu - visited kudremukha and elneer falls - stay at hornadu
Day 3: hornadu to shringeri-stay at shringeri
Day 4- shringeri to blore
Price details
Soundarya residency @ chikmagalur- Rs 600/- per day
Hornadu - Rs 120/- per day
Shringeri-Rs 60/- per day
Total kms done: 1000kms approx