It all began when I forwarded this meme in the girls group, the dormant group which existed since we made a few trips last year. I got married and got busy, another girl who we tease that she moved into Tamilnadu whilst she shifted to electronics city and we never matched our dates to make a trip again.
So the members got active after this meme and our group organiser Manju started with her classic saying "nadri trip hogun !!" ( lets go on a trip )
After a lot of messages back and forth, discussing pro and cons, everybody's period dates, tons of places as suggestion we finally decided to do a bike trip from chikmagalur to shringeri and back to chikmagalur. After like a thousand chat messages, arguments and allegations we came up with the plan :
ITINERARY
Bangalore to Chikmagalur : Cauvery non A/C Sleeper , 11.30pm to 5 am. Very clean bus provided with sheets,blankets and pillow. Lovely suspension !!
Hotel Rajmahal: walkable distance from bus stand. check-in 5 am check-out 7am. Rs 500 for 4 people for freshup. Hot water provided.
Picked bikes from Royal brothers : 2km auto ride from Hotel, rs.40 for 4 people.
Royal brother Bikes : Booked from Friday 9pm to Sunday 4.30 p.m, Rs 1093 per bike. Active 5G. 300km limit over which 11rs/km.
Start from Chikmagalur : 8.30 am
reach Horanadu : 1pm. had sumptuous free lunch
Start from Horanadu : 3 pm to reach Shringeri. there are two routes viz :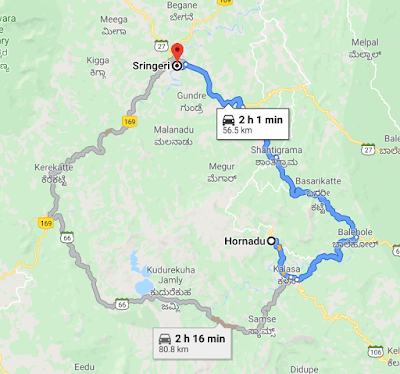 We decided to take the longer route as it is more scenic and also the route through basarikatte has gone bad due to continuous rains the previous week.
We scrapped the idea to go further due to rains. We stayed near Mullodi village.
Stay @ Mullodi : Bettadha Madilu. Rs.2500 for 4 people for 1 night, with food and hot water. Map here:https://www.google.com/maps/place/Bettadha+Madilu+Homestay/@13.1635687,75.3062977,15z/data=!4m5!3m4!1s0x0:0xa23fd25cbfcb6c6a!8m2!3d13.1635687!4d75.3062977
Sunday morning after breakfast : started to Sringeri via SK border at 8.30 am
reached Sringeri : 11 am, had breakfast, could not make it to temple as we were running out of time.
reached sringeri to chikmagalur : 12 pm to 4 pm.RAIN TIP : Mostly temperatures are up and its hot till 2pm and after the rain starts and doesn't really stop
Disclaimer: There is an interesting story ahead. If you are looking for an itinerary, do not read further :D
I was sitting there on the chair glaring into the pitch dark nature right in front the home and listening to myriads of sounds dominated by cooking frogs. There is no mobile network inside the homestay except for one particular spot and the old man who is the owner of the house comes out and tells me to call him if someone shows a torch far in the distance. That is how they communicate in this deep forests of Kuduremukha range.
Manju said " impromptu plans are the best". I can't agree more.
We left Chikmagluru around 8.30 am after picking up the bikes from royal brothers. The whole length of the journey is more of forests if not coffee and tea estates. The roads from Chikmagalur to Balehonnuru is wide and are in good condition. After a while we could see boards on either sides that we had entered into Bhadra Huli reserve ( Bhadra Tiger reserve) and were asked to drive cautiously. Reading the board with a huge tiger painted beside it, instantly gave me goosebumps and I started getting scared. I imagined scenes were a tiger walks slowly infront of us on the road, a tiger makes a voracious attack on me or a tiger chasing my bike. I imagined tiger flying out of forests and pouncing on me, sinking his huge teeth into my hands through my thick jacket. I could probably imagine all the worst scenarios that could have happened between tigers and me. Somehow, talking to Sushma who was sitting behind me who looked equally scared, thinking of dying by tiger attack we somehow reached Horanadu around 1pm.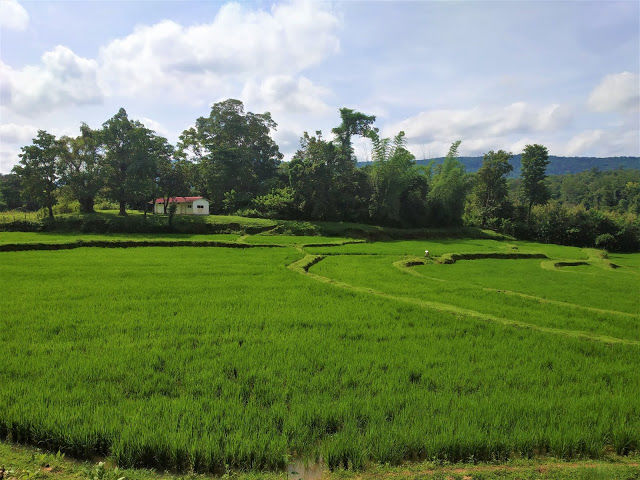 All along the journey while talking to people in the bus and trains, they were quite amused when they got to know that we did a bike trip. It was all girls group and to add to that, two of the girls in the group were married and this created more intrigue. Some of them appreciated, some of them discouraged and some of them were happy for us. I feel I am truly blessed to have a husband and his family the way they are!
By 1pm we reached Horanadu after taking a tons of pictures along the way and driving around 80km. We skipped the lengthy Que and hopped straight into the sanctum sanctorum thanks to our lawyer friend Pooja. She is a more like a mini directory of all the contacts around to get the work done. Believe me there's a big difference in having lawyers in the group. Anyway, so after our Prasadam at Horanadu we stepped out of the temple around 3 pm and the thick big blobs of water started falling from the sky. All this time since morning it was to pleasant of a weather to believe. Clear blue skys, cotton balls of clouds rolling slowly, shiny clean and wide roads.We had enjoyed every bit of our journey from chikmaglur to horanadu. Our next plan was to reach shringeri before 5 pm as it would get dark very soon in this area and it would also be risky for just 4 girls out in dark with no androgen protection.
We where staring at the pouring rain waiting for fifteen minutes. Like magic, the clouds cleared and there was blue sky again.We thanked god profusely for his grace upon us and started our scooters to move ahead.
Initial plan was to reach Shringeri through a single lane road passing through the sk border check post and kerekatte. As we started from hornadu and right after 20km, the rain hit us again, this time with more force. We pulled by a small hotel near the checkpost and sat down for a round table conference to decide what to do.
Manju, who is always heads up and creator of New adventures suggested that we take the same longer route through kudremukha, sk road and kerekatte to reach shringeri as this route is more scenic. The only other choice of route was to another road through ballehole village and we understood that the route is in bad condition due to heavy rains the previous week.
Through longer route we should be covering 60km in 2hrs I.e before 6p.m.
At the sk border checkpost, after getting the pass I waited for a moment and thought how my husband takes care of me. I thought of how he avoids taking risks during our trips just to keep me safe and here I was. On an unknown road, at 4.30 pm thinking of covering a bad road of 60km within 2hrs on a scooter and before it gets dark. Somewhere it pricked me. If my husband was there in this situation he would have never gone ahead with this plan. He trusted me enough to send me to the trip and Its my responsibility that I take only a certain degree of calculated risks. I suggested that, let's take a room nearby for tonight and figure out later what to do the next day.
It looked like everybody were thinking on the same lines so all of them gave a yes in unison. Manju, as usual with alot of contacts around these kind of natural places called up Abhilash and arranged for our home stay at Mullodi. I always feel she is into a wrong field doing C++ codes confined within four walls of her cubicle. For the kind of free spirit she is, she must have been a tour guide or a must have owned a tour company. After a tedious ride of 4km in the interiors of a small broken road of Mullodi village, we reached the homestay.
Happy and overwhelmed at seeing the guests Abhilash quickly arranged some raw materials to get out dinners on the table but there was a problem. His mom was out of the town and it was just him and his dad in the house. He did agree that his dad and himself will cook us the dinner but then those little girl voices in our heads didn't agree to it. Pooja, a cook enthu quickly made lipsmacking Alu Bhaaji with hot chapatis. We mixed some curd and onions for Raitha and our host made delicious rasam with red rice. Homestay felt very much a home as they didnot restrict us anywhere in the house. We rode our bikes in the rain and we literally had everything drenched in the bags except for Pooja who had wrapped each cloth set into plastics. I did carry bustbin bags but they were too small to wrap the bags. Anyway, we spread all our clothes along the windows and beds inside the rooms like its kind of a cloth decor. Abhilaash arranged for hot water for the drenched dripping souls, god bless. After sipping on hot malnad coffee, we took bath and headed straight to kitchen. With the girls singing, swirling around with loud music on, the hot piping food was ready.
After getting down from the cab, with sticky feet inside the wet shoes which I wore almost the whole day, trying to escape the little red puddles formed by the rains infront of my apartment, I reached to the gate. I had good white rice with aloo curry, thanks to my husband for cooking it delicious. At 12 a.m, like a ghost I threw myself on the soft curl-on bed inside the house and thought back the whole day.
On Sunday, we got up around 6 am to leave early from our homestay and We woke up to this!!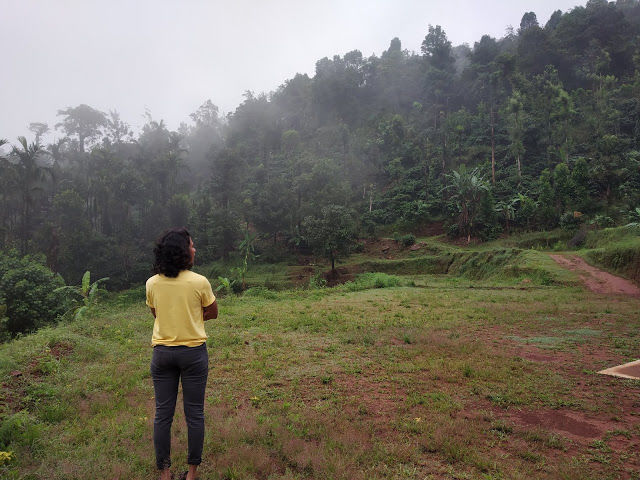 It was like we were in a dreamland ! It sometimes feels its worth living a life far into the woods putting in hard work rather than living in a choking city and putting in the same hard work to die a bit everyday.!
It was like a dreamland with cotton balls of clouds rolling over green forests. After freshening up , amidst soft white Neer dosa with green coconut chutney and conversations and difference of opinion, we started from our homestay around 8.30am. After an excruciating ride for 4 km to reach out to main road, we took the sk border, kerekatte route to reach shringeri
. Weather was bright sunny, white clouds and perfect for ride, we took alot of pictures on the way and entered into kuduremukha national park limits. Sk Broder has the checkpost where they note down your vehicle number and give you 1.5hrs to cross the exit checkpost. People are not allowed to park their vehicles along the way. Praying that it should not rain, riding within 50kmph limits, we reached Shringeri by 11.30 am.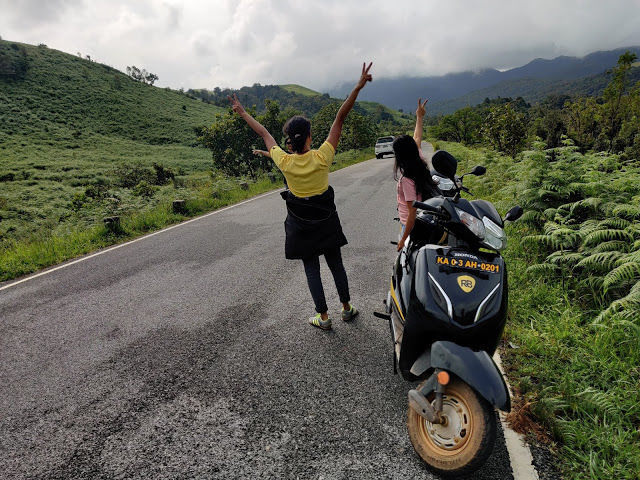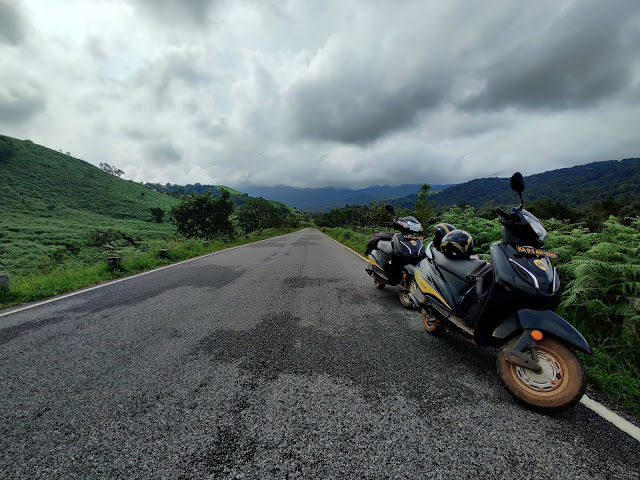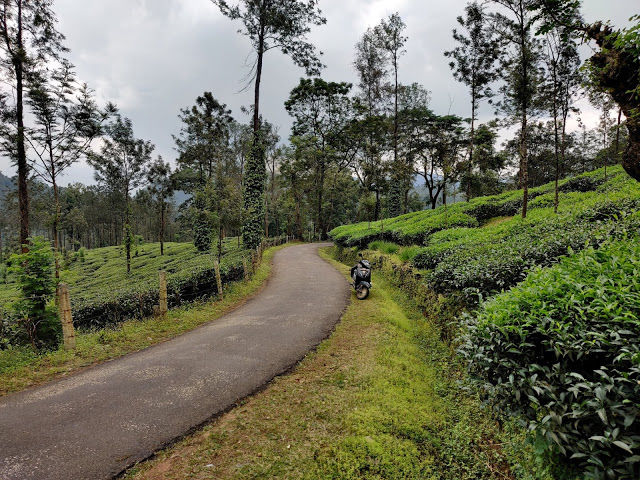 We had a regular breakfast and moved from there asap. Our next target was to reach balehonnur. Giving some stops on the way and driving through tea estates we reached balehonnuru by 2pm. Today was more like a mission with targets to complete and timelines to achieve. All we did is drive drive and drive. We started from a Maggie point at 2.45pm and we had to drive faster to cover 55km in 1hr 15min on the 100cc scooters. It looked impossible with the unwelcomed rains. Luckily the rains stopped and we started with prayers.
However even in the rush we managed to handover the bikes to royal brothers ( Manju emerging our victoriously that the guy didn't notice the dent she created on the black Activa after it fell down like an elephant near the check post from Manju's clutches). We reached chikmaglur bus stand by going in auto for 2km from the bike handover point.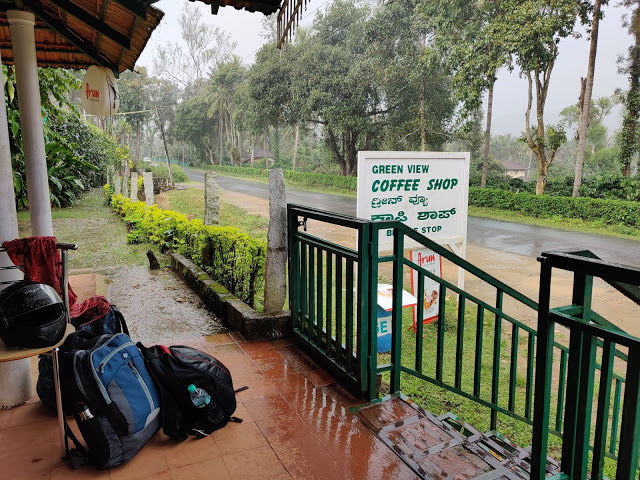 We boarded the red bus at 4.30 pm, riding a roller coaster ride on the bumpy roads to Birur, it felt like someone had put us into a mixi and grinding us. I pitied the drive who had an old iron chair to sit and he must be driving whole day. I closed my eyes and felt grateful for having an adjustable seat and a comfortable ac for me in the office and I thanked God for choosing me as the lucky one. After a tornado ride, we walked for a few minutes through quiet little houses in a green neighborhood of Birur and reached the railway station by 5.40pm. As we were rejoicing for reaching there before 6 pm which is when our train was suppose to start, the train decided to play a game here and was late by 40min.
The train journey quickly went by on random conversations about the trip, about life, about India, about job market outside India, about the tourism in India we didn't realize how quickly we reached Bangalore railway station at 10.20 pm.