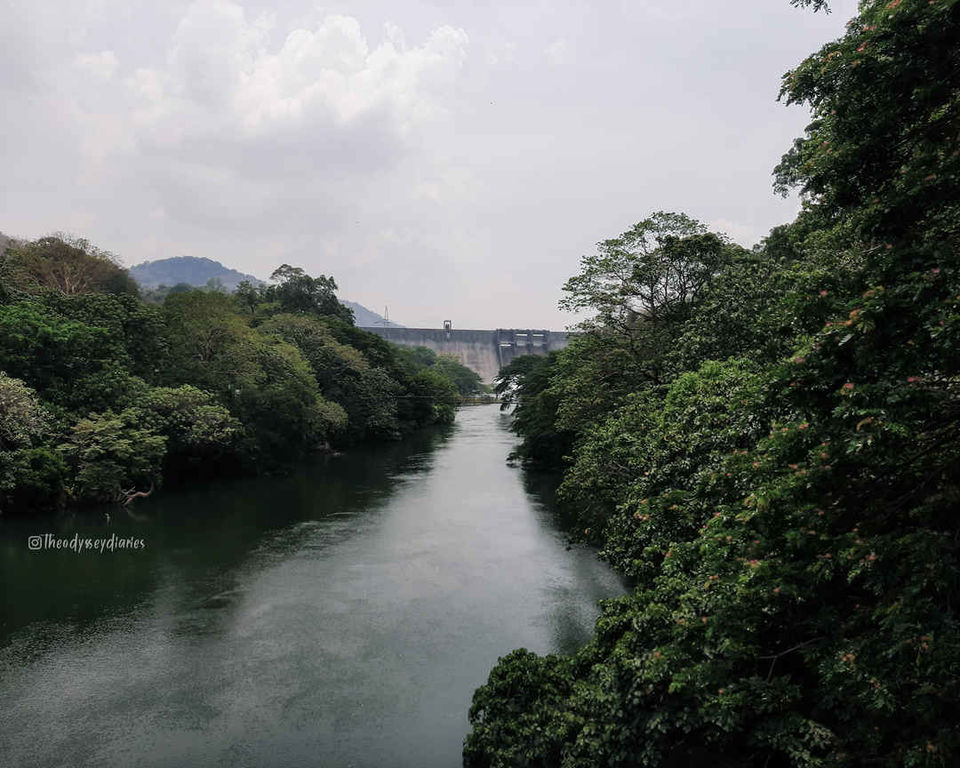 Unplanned trips are always better and memorable. After the semester exams on March 2021, we planned a trip to Thenmala, to enjoy a bike ride. Most of the times, very well planned trips are all postponed indefinitely. Hence we planned this trip for very next day!
Thenmala was only about 65 kilometers from Attingal. We started our trip at 6:00 am, next day. From Attingal, through Kilimanoor & Kadakkal, we traveled along the beautiful rural roads. At Chithara, we made our first stop at a small tea shop. There where a number of local people, commuters, etc. at the shop. We enjoyed sip of tea and bite of "vada" with the sights of morning village scenes. Route busses making their first trip of the day along the roads, people on their morning walk & on the way to job, dogs wandering here and there, everything seems so robotic, like a GTA game!!
After spending about 10 minutes there, we resumed our trip. The next main junction was Madathara, where we enter Thiruvananthapuram - Thenmala State Highway (SH 2). It was a whole different vibe, riding through Trivandrum - Thenmala road. The road is wide enough and was less congested. We could move freely without any traffic congestions, feeling the fresh air and morning breeze. On the way, we can see the entrance Arippa Ecotourism Village where the famous Arippa Bird Sanctuary is situated. This place is said to be a home to over 250 species of birds.
The ride through the road gives a mini forest ride feel. Riding through the beautiful road, enjoying the scenic sights, we reached our first destination Thenmala Dam around 8.40 am.
Thenmala dam is built across Kallada River, under Kallada Irrigation Project, which is one the largest irrigation project in Kerala
When we enquired the ticket counter, they informed us that entry will be started only at 9.00 am. So, we parked our vehicle in the parking space and went for a walk. As it was morning, and a river is flowing nearby, we could feel the coolness of gentle wind even it was the start of summer season. We bought some sweets from nearby shops and ate it sitting on road side seats, under a flowered "Kanikkonna".
At sharp 9.00 am, we went to the ticket counter and took entry tickets. We were the first visitors of the day. Vehicles can be parked inside the entry point also, with a small parking fee. We parked our vehicle inside and started walking to the dam. After a short walk, we reached the base of the dam and there, we could see an amazing sight of huge loads of water flowing out from a big pipe, from the dam. The visitors area, near the base of dam is full of trees. Water drizzles from that water-fall is falling all over the visitors area. We were soaked in water in minutes. It was really wonderful experience standing there, water drops falling all over the body, soaked in water, watching the river flowing!! By the time, sunlight had arrived and started making a beautiful rainbow illusion in the flowing water.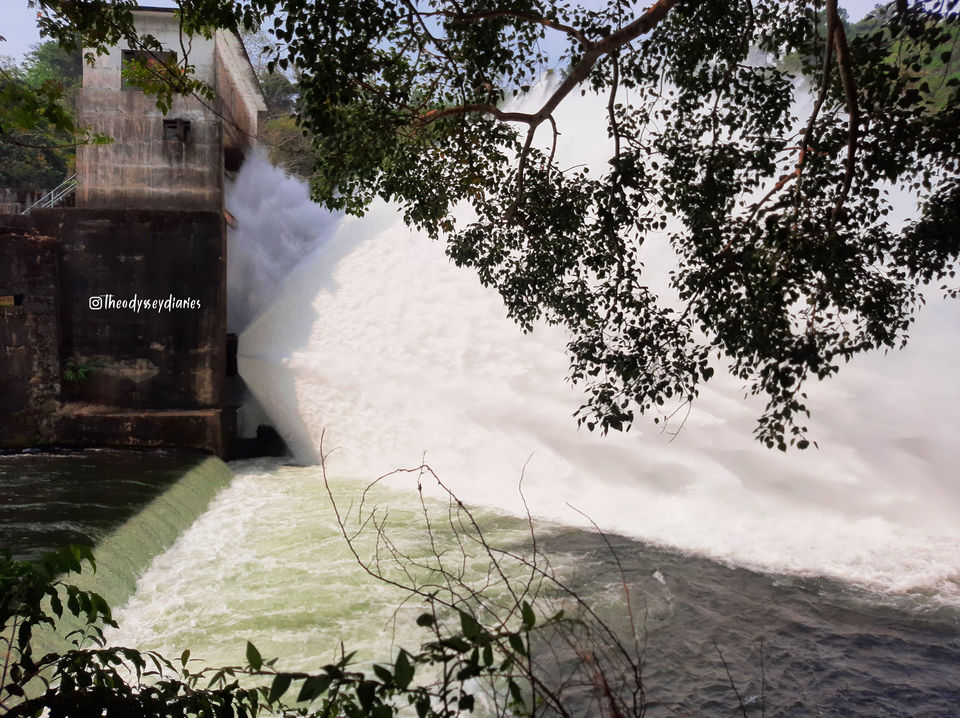 We spend about an hour there, taking photos and enjoying the drizzles. Then moved towards the path to reach the top of dam. After some concrete paved winding path, there are steps to reach the top. On seeing the elevation of the steps, we were sure that it will be definitely make us tired. So, we sat on the stone bench there and drank some water before climbing the steps. We slowly climbed steps, watching the giant dam, enjoying the beauty of nature. It was about 10.00 am and sun had already started to throw it's hot rays towards us. We reached the top of the dam, where we saw a breathtaking view of water reservoir. Since the summer had already started, water level was less than normal. The view of reservoir, which is bordered on both sides by the Shendurney Wildlife Sanctuary was worth viewing.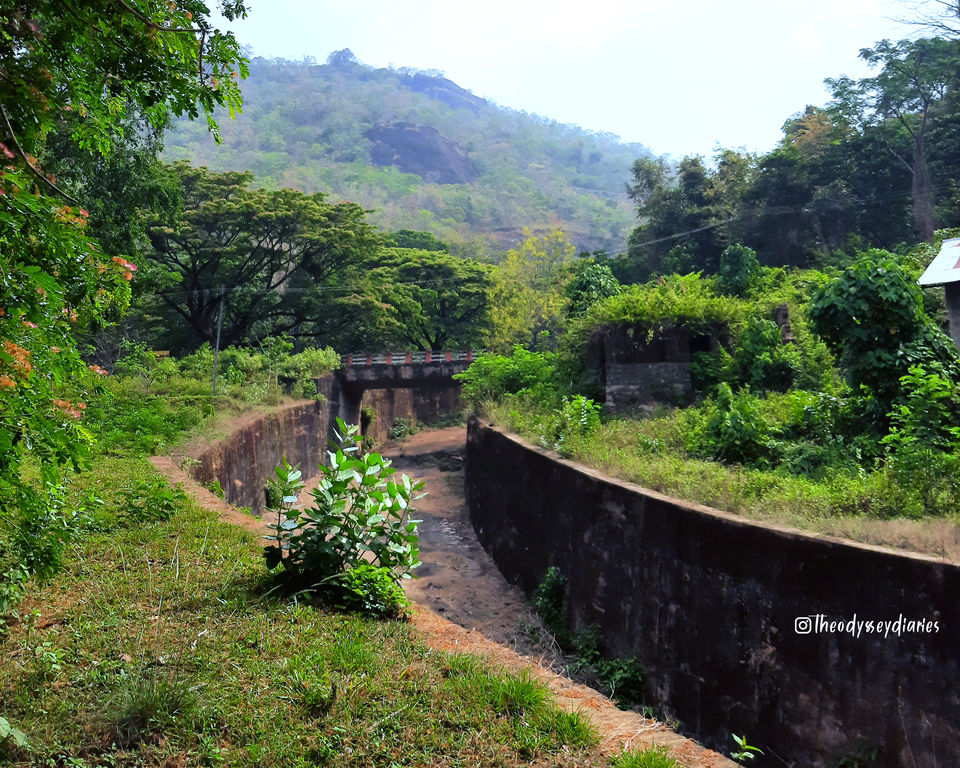 There were boards there indicating that photography was not allowed at the top of dam, may be due to the security reasons. We spent sometime viewing the amazing sight and moved to the opposite side of the dam. There was a small cafe there, where a lot of monkeys where wandering around it. We bought ice-creams and ate it sitting under a tree, listening to some calming Malayalam songs on phone. We enquired the cafe staffs about the return path and they said that there is a Hanging bridge inside the premises, through which we can reach entrance. They said it require separate ticket, so we decided to move the other way and arrived at the entrance again.
Our next desired stop was Palaruvi waterfalls and we en-route our journey towards Aryankavu to reach Palaruvi waterfalls. It was about 12 pm when we reached near the entrance of Palaruvi waterfalls. Even there were trees along the road to give us shade, the strong sun already made us hungry and decided to eat lunch before visiting waterfalls. We asked some local people seen there about restaurants and they suggested going Aryankavu for better restaurants. We went Aryankavu and ate chicken biriyani from a restaurant and took some rest on the nearby place where there was a loot of trees and had place to sit beneath it.
At 2.00 pm, went back towards Palaruvi waterfalls. Unfortunately, Palaruvi disappointed us. We went to enquire about the entry ticket to waterfalls and they said there is only a small amount of water there and also, due to covid restrictions, visitors can't go into the water. So, we decided to exclude Palaruvi from that trip!!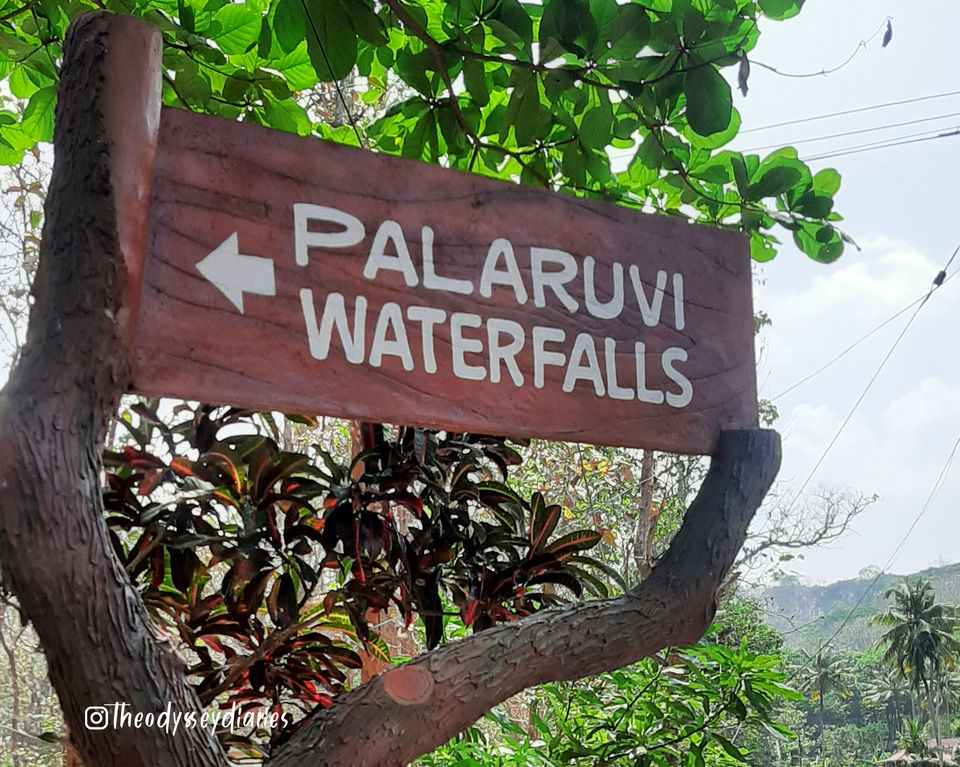 We got off there and moved towards our next destination, one of my favorite places in Kollam. The "Pathimoonu Kannara Paalam" aka 13 Kannara Bridge which is a major landmark on Kollam-Sengottai railway line. This railway bridge, which has 13 arches, is built during the British regime & is really an architectural beauty. The pillars of this 100+ years old bridge are almost 100 meter high. Kerala's last meter gauge railway line was on this and converted to broad gauge railway line in the year 2018. During that time, the bridge and pillars were cement coated and the real architectural beauty of the bridge was faded. However, the current bridge also gives an awesome view.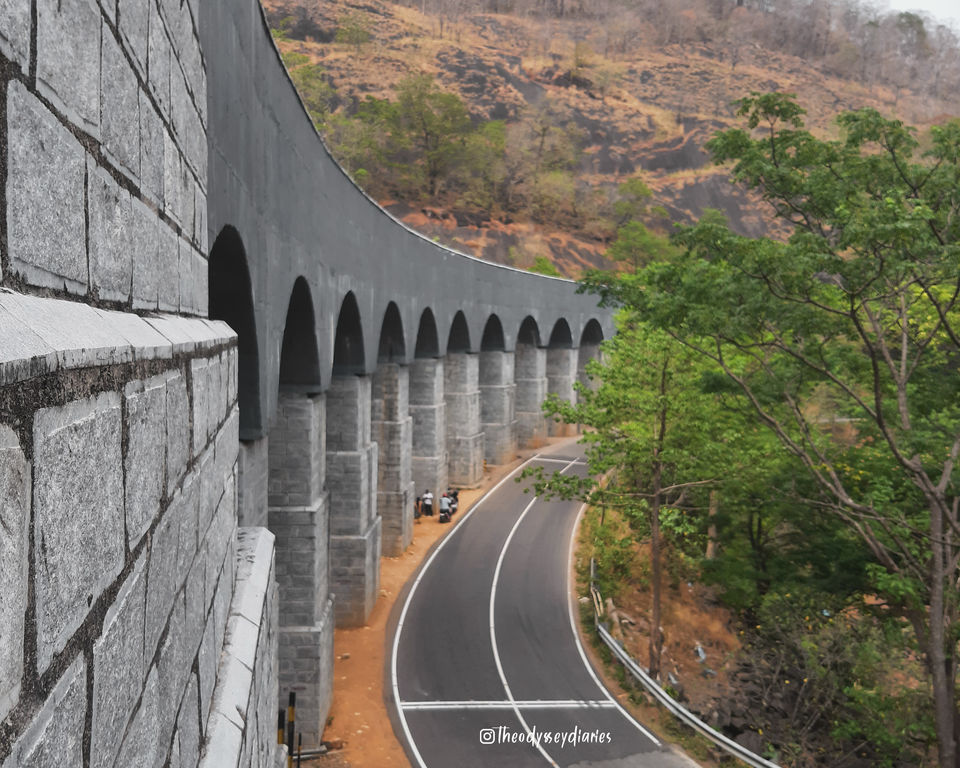 There are steps nearby the bridge through which we can climb to the top. On top, we can see a railway tunnel, which opens up to darkness. On the opposite side, the beauty of curved railway bridge, supported by 13 arches could be seen. Several people passing through the highway take some time to give them a stop and spend some time here. The mountains on the back of the bridge were filled with dry grass, since summer had already started. It would have been great if those mountains are filled with green grass and trees. May be off-summer seasons will be like that, with a greenery finish on the mountains.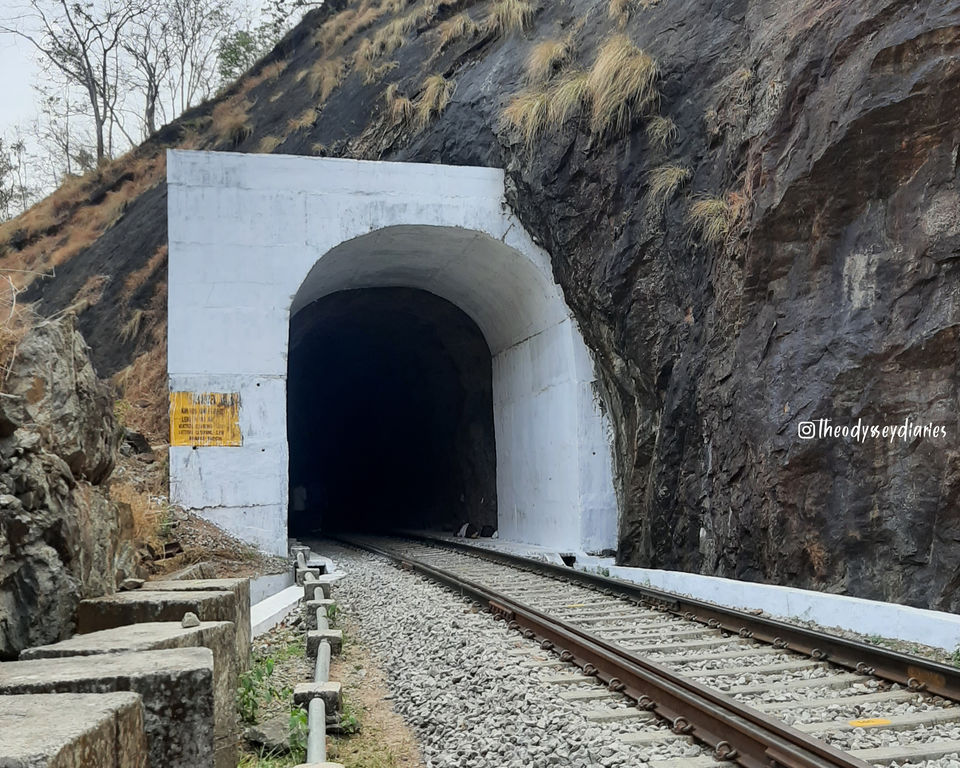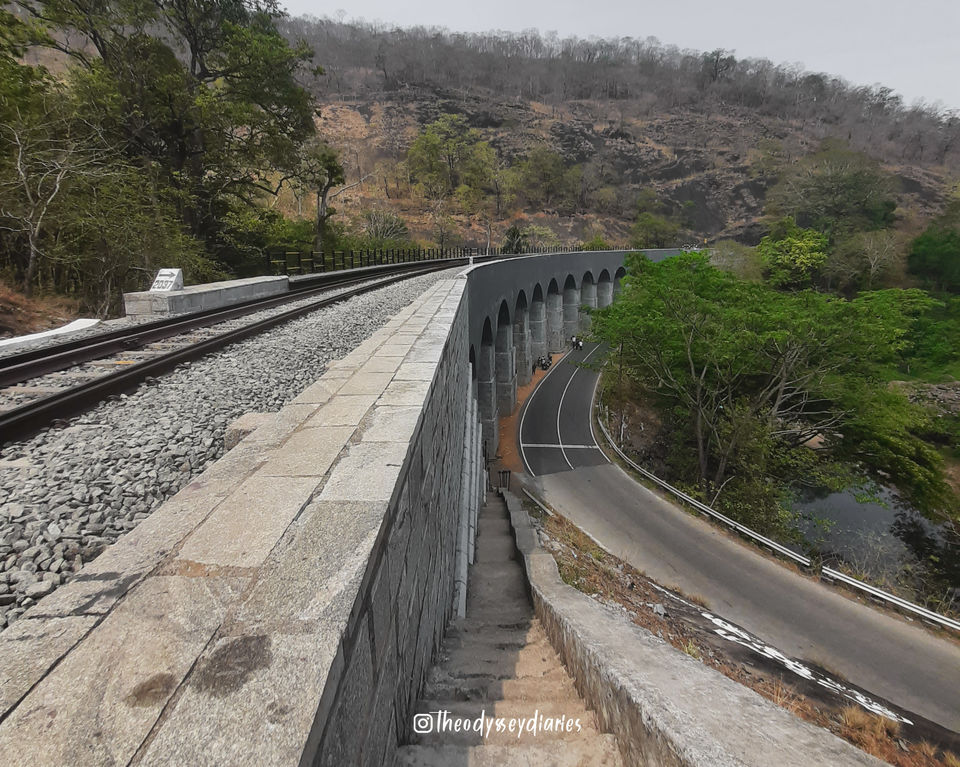 We desired of seeing the sight of train passing through the bridge, but we were unlucky as there were no train passing at the time. After spending about an hour, taking photos and enjoying the view of vehicles passing through the curved road beneath, we stared our return journey!!
We were not in a hurry. Slowly, enjoying the hot, but cool atmosphere, we ride through the roads with forest-like ambience.
HOW TO REACH
. Thiruvananthapuram - Thenmala State Highway 2 (SH2)
. Kollam - Madurai National Highway 744 (NH744)